As you know from my previous posts on cruises with Royal Caribbean, MSC and Virgin Voyages, I emphasize the culinary on cruising.  It's quickly becoming my travel business focus, as are (to a lesser extent) wine and beer.  That is why I'm grateful for my Peloton workouts – otherwise, I wouldn't be able to pursue this avenue and stay healthy.
The Holland America cruise that I went on last week to Alaska was no exception. But I did hear mixed views on how good their food was. Some sources opined that the meals onboard were the best around, while others weren't so complimentary.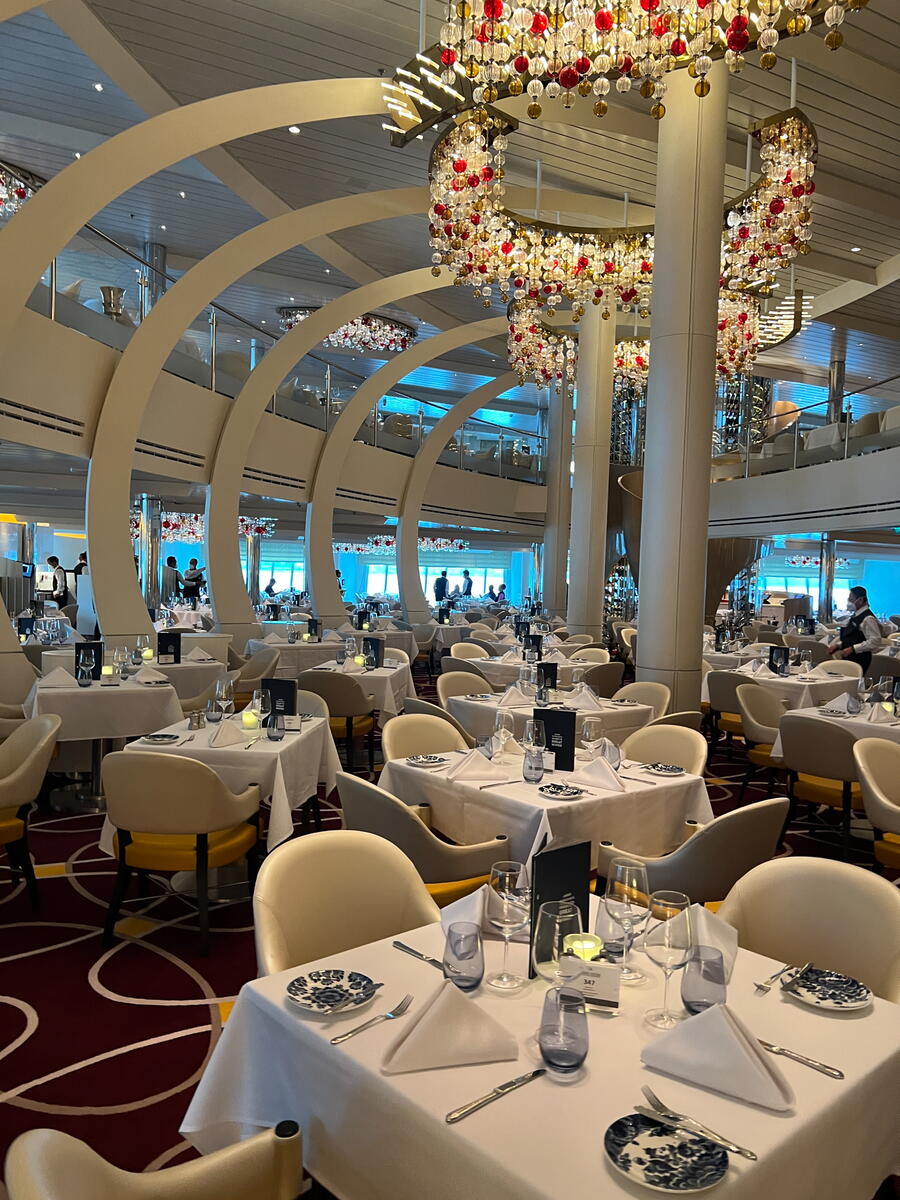 Here's my opinion: after spending seven nights and hitting just about every dining venue onboard Koningsdam, the offerings on this cruise were in the top three of all food I've enjoyed on a ship, along with Celebrity and Virgin Voyages.
One reason why Holland America has likely improved its food is because of the Culinary Council.  Seven decorated chefs from around the world have contributed their expertise to the what the cruise line serves its guests, as well as creating featured dishes at the different venues.
Just to be fair, I didn't go to one specialty dining restaurant, Rudi's Sel De Mer, simply because I had credits for two of those places and paid my own way for the third.  Also, when I viewed the menu, it didn't appeal to me as much as the other three did, so that's why you won't find it in this post.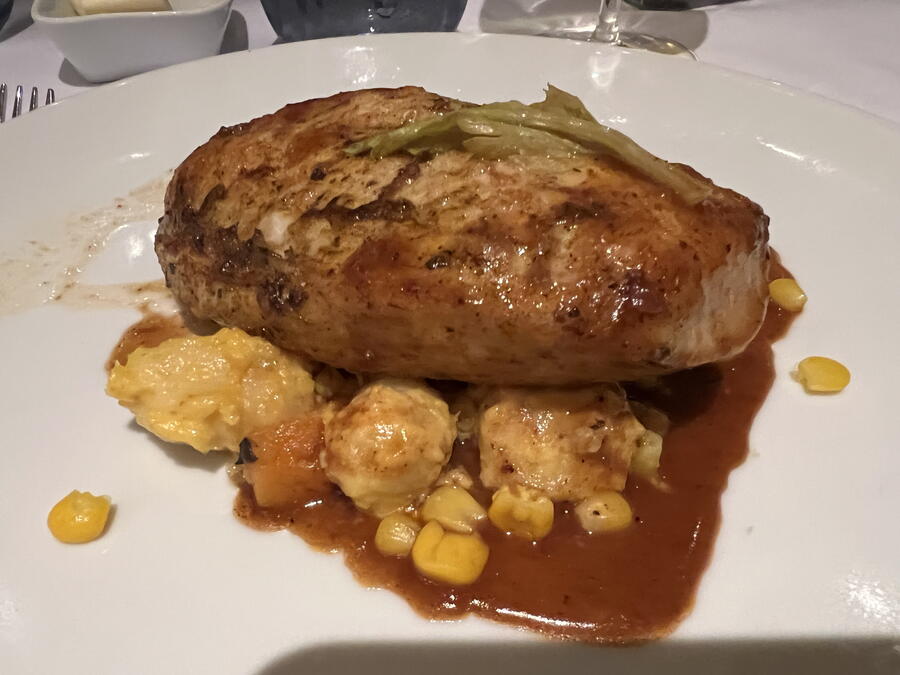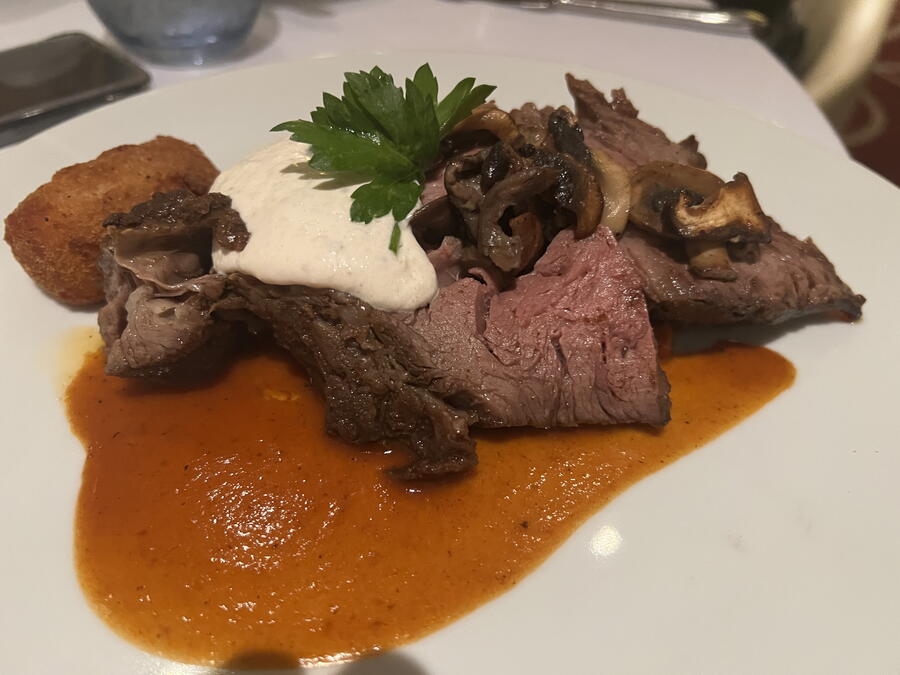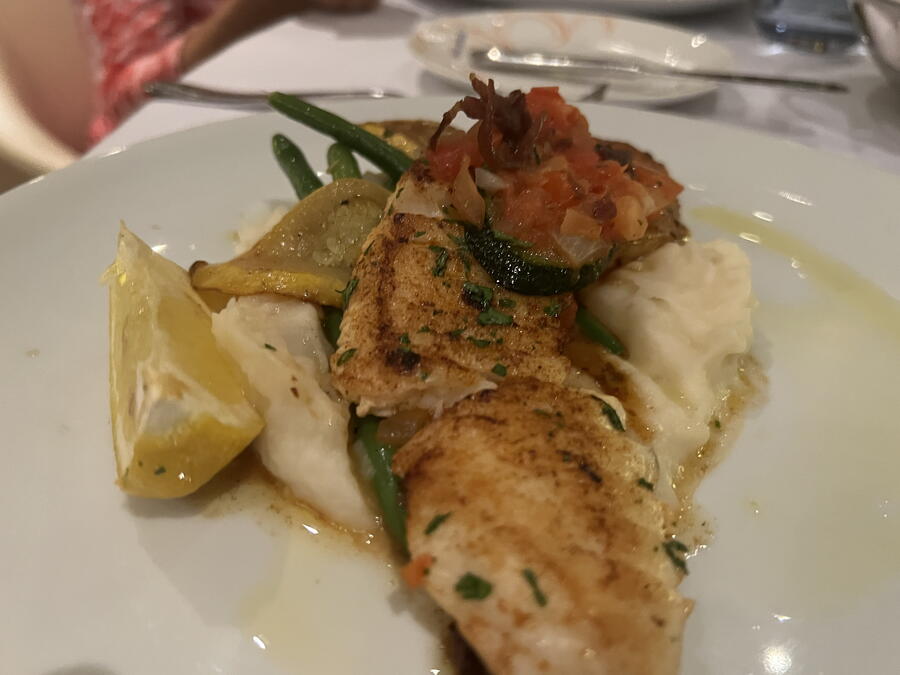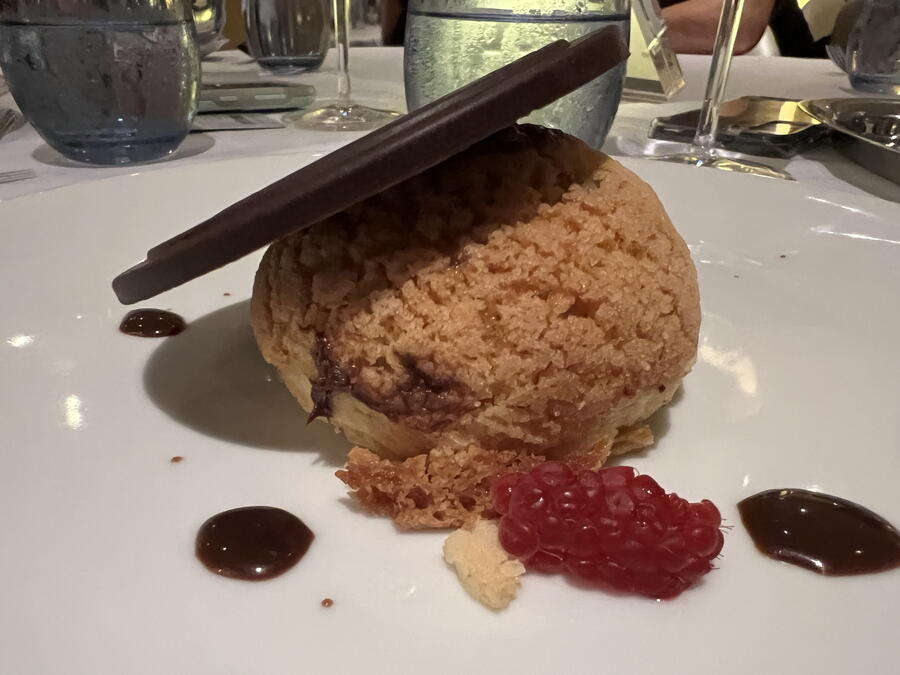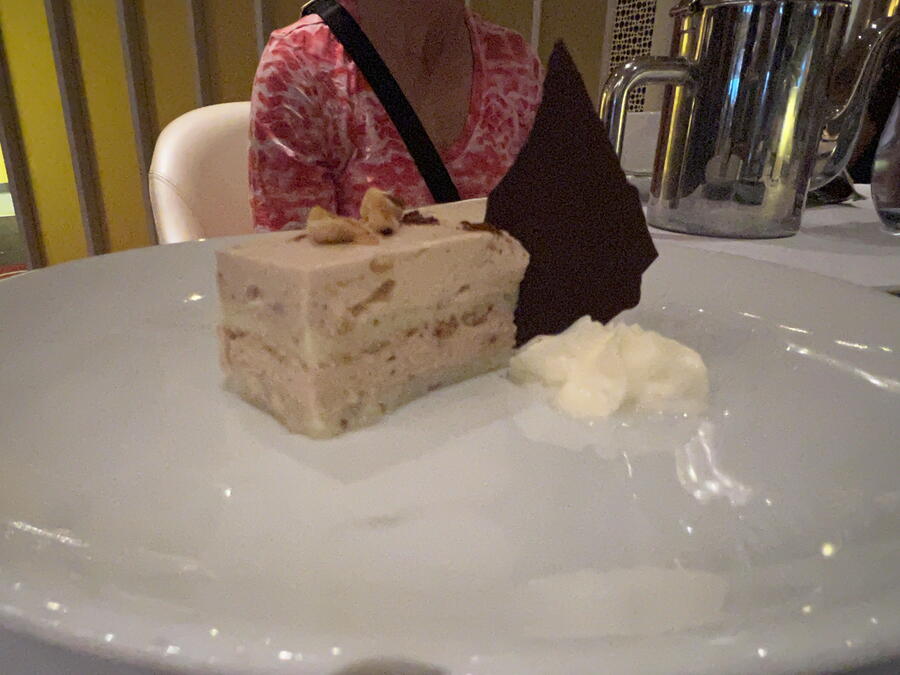 The Dining Room
That's the straightforward name of the main dining room on Koningsdam, and I only had three of my dinners here.  The spacious two-level venue was bright yet elegant, and even though I dined there solo twice, I felt that the servers treated me like a VIP.  
I did have two fantastic dinners – grilled salmon with rice pilaf and vegetables (the cover photo) and potato gnocchi with chicken, corn and carrots in a browned butter sauce.  Some of the other dishes here are from my dining companions' choices, on the final night of the cruise. Each of the starters and desserts I ordered were superb as well.  The only subpar dish was a chile relleno, which was undercooked and cheese cubes that weren't melted. But I should have known better than to order Mexican food on an Alaskan cruise. 
Lido Market
Like any other cruise ship, Koningsdam's buffet has a wide variety of food for breakfast, lunch and dinner. I came here most mornings and ordered my usual variations of breakfast – eggs, pancakes, fruit and oatmeal.  For lunch, I kept it simple with salads and soup.  Trying to be good and save my sweets for dinner, I availed myself to just a couple desserts.
Just about everything I ate here was fresh and tasty, which isn't often the case with buffet meals. The only complaint I had for here was that the servers only came by about half of the time to bring drinks, I'm fine with getting my own, but it's part of the service, it should be done consistently. 
The above video shows a quick walkthrough of the Lido Market - sorry if I went a little too fast.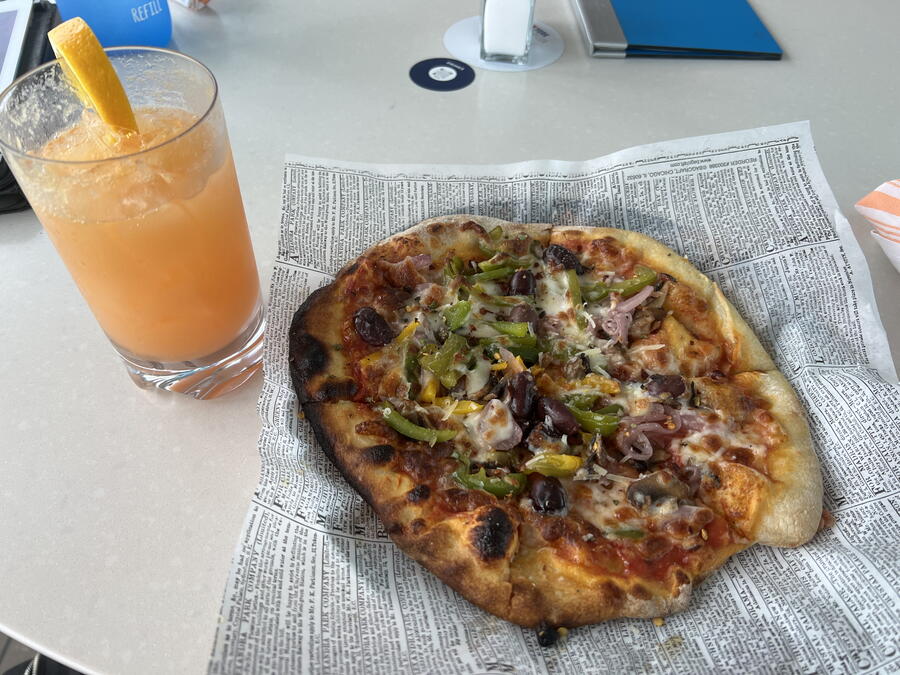 New York Pizza & Deli
This one of several eateries that falls into a fast-casual category. Sitting just above the Lido deck pool, it serves thin-crust individual pizzas, name after New York landmarks and neighborhoods, sandwiches and salads. Bagels were on the menu, but they weren't being offered for this cruise.
But obviously, I came for the pie. For two lunches, I scarfed down a veggie pizza which was topped with olives, onions, mushrooms and peppers (I had to pick off the green ones, since they don't agree with me).  The other was a prosciutto, arugula, mozzarella and balsamic reduction sauce. Each was just as good as anything I've had at a high-end pizza place.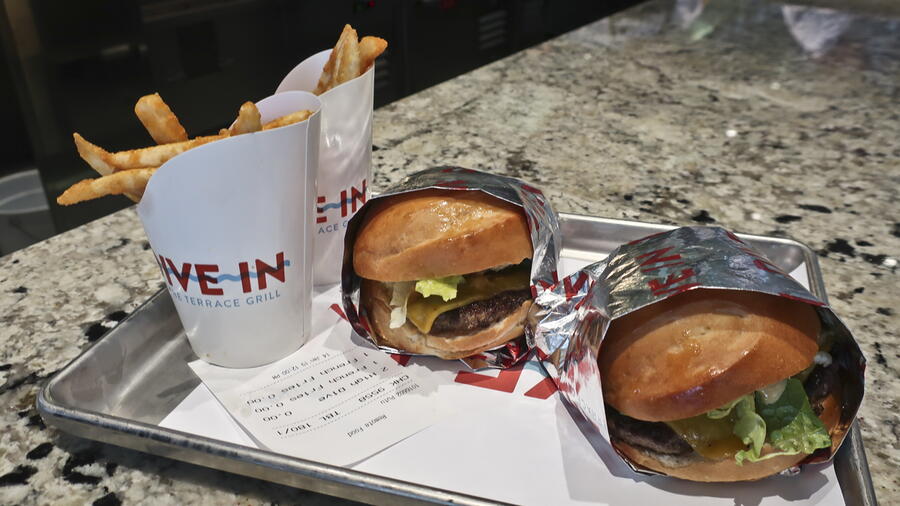 Dive In
Another fast-casual place is poolside on the Lido deck. Here, you can get gourmet burgers with a one-third pound beef patty, as well as hot dogs and super crispy French fries with a sweet-savory dipping sauce, cheese sauce, buffalo sauce, or plain (or naked as it was listed on the menu).
I chose a hickory BBQ burger with cheese, bacon, tomato, lettuce and onions, with a side of fries.  On that day I was avoiding going to the formal night in the dining room and just enjoyed my dinner, but unfortunately, I also didn't take a picture of it. I tried to find a good one and hopefully gave proper credit here.
For later this week, I'll continue my culinary journey on Koningsdam and talk about the specialty dining I enjoyed on my Alaska cruise.