For the first time before I went on a cruise, I had high expectations for the cruise line's cuisine.  In this case, my standards were met…and exceeded.
A couple of weeks ago, I wrote about Virgin Voyages and our cruise on their first ship, Scarlet Lady, over four different posts.  I wrote mostly about the ship, but I did mention some of the food onboard and showed plenty of photos.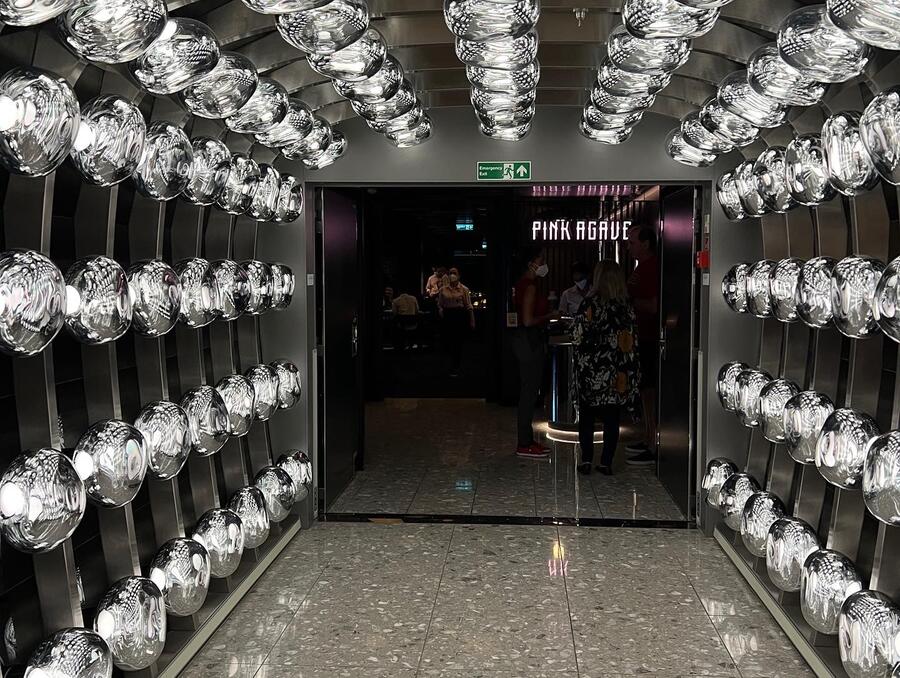 A different cruise dining experience
Now I'm going to dive deeper into the eateries RAS and I enjoyed aboard the ship and not just the five main venues I mentioned in my posts.  We also dined at The Galley, Scarlet Lady's food court (and please don't call it a buffet), mostly for breakfast and lunch, and the Pizza Place for…pizza.  The only other eatery we visited was the food stand at the beach club in Bimini, which served Caribbean-style lunch items.
Scarlet Lady has six main dining venues, and since we only had five nights, one got left off the list – The Test Kitchen. While I would have loved to sample the innovative dishes promised in the restaurant description, it wasn't going to satisfy my hubby.  
He just shrugged and said, "I had enough microscopic servings of dinner when I lived in Zurich." Not even having lunch there was going to entice him to go, so we didn't.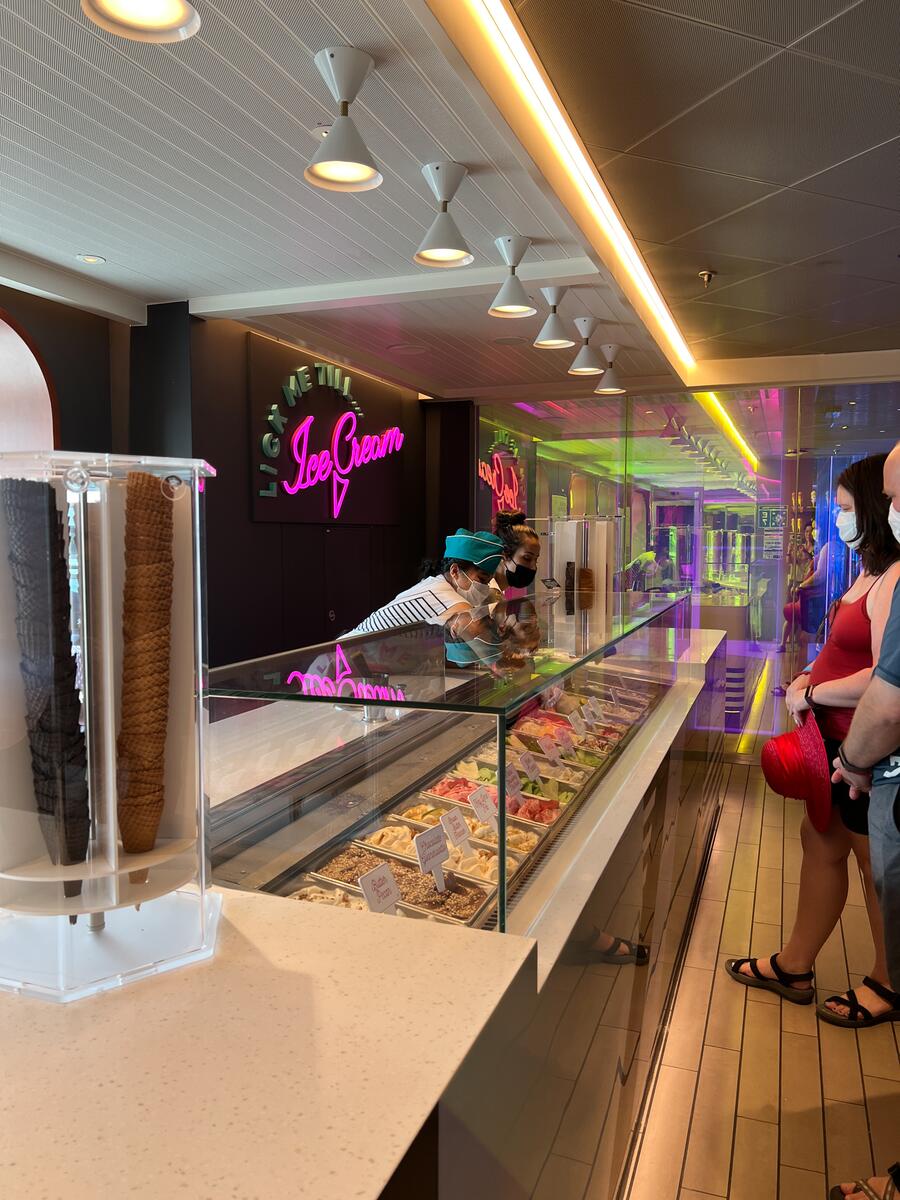 The only other place I'll mention is Lick Me Until Ice Cream. Yes, it's got an interesting name, but it served up some darn good gelato.  There were just two drawbacks about it – one, we had dessert at the other places each night, so we only went here once. And two, the stand just had about seven flavors of ice cream, so there wasn't much to choose from.  
Ranked by preference, here are the places we ate at on Scarlet Lady. In most cases, I've included links to the other posts, so you can see what these dishes looked like.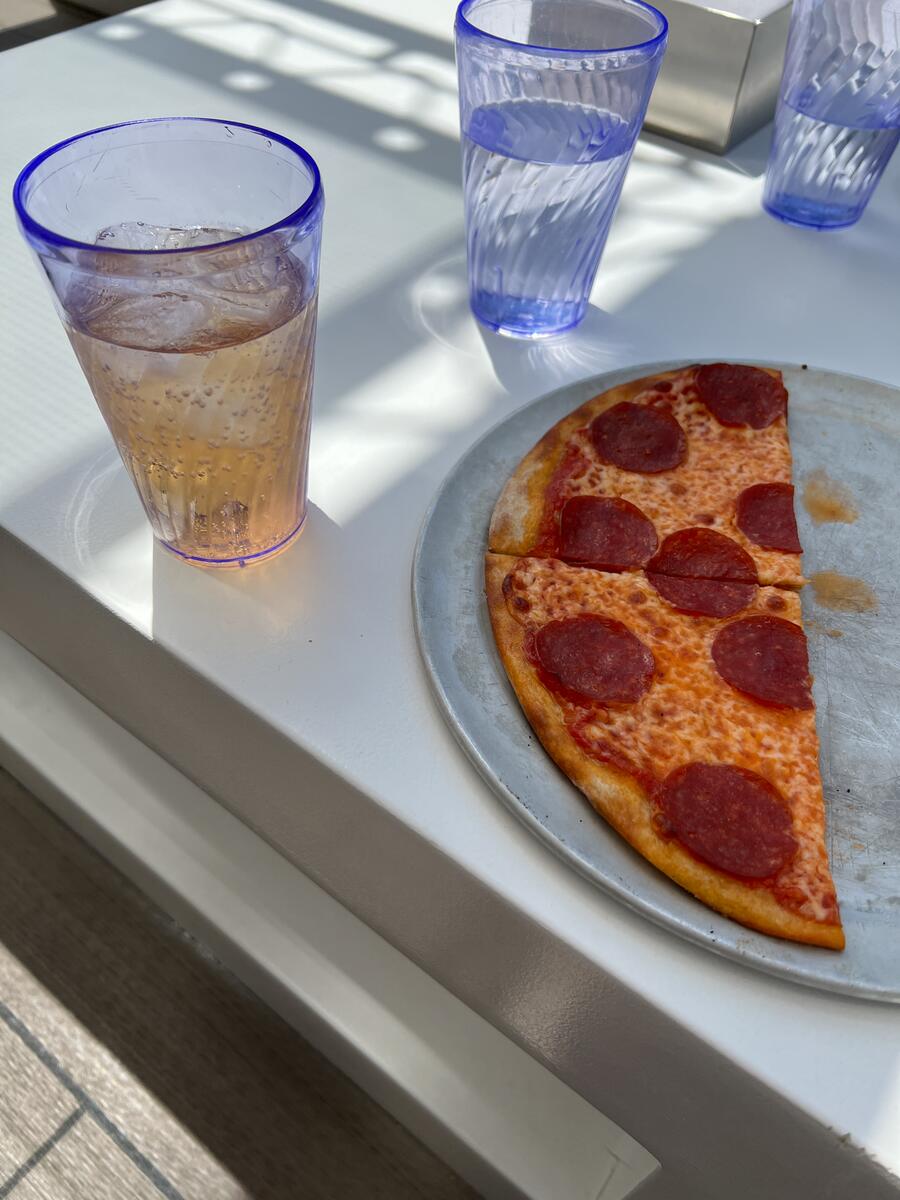 8.) The Pizza Place
If there was one eatery on Scarlet Lady that was just adequate, it was this simple stand.  The pepperoni pie we shared was tasty but somewhat greasy, where we had to fold the slices over to avoid oil dripping onto our laps.  Choosing a garden salad with balsamic vinaigrette helped to cut the greasiness, but since we were so hungry, I could let this culinary hiccup go.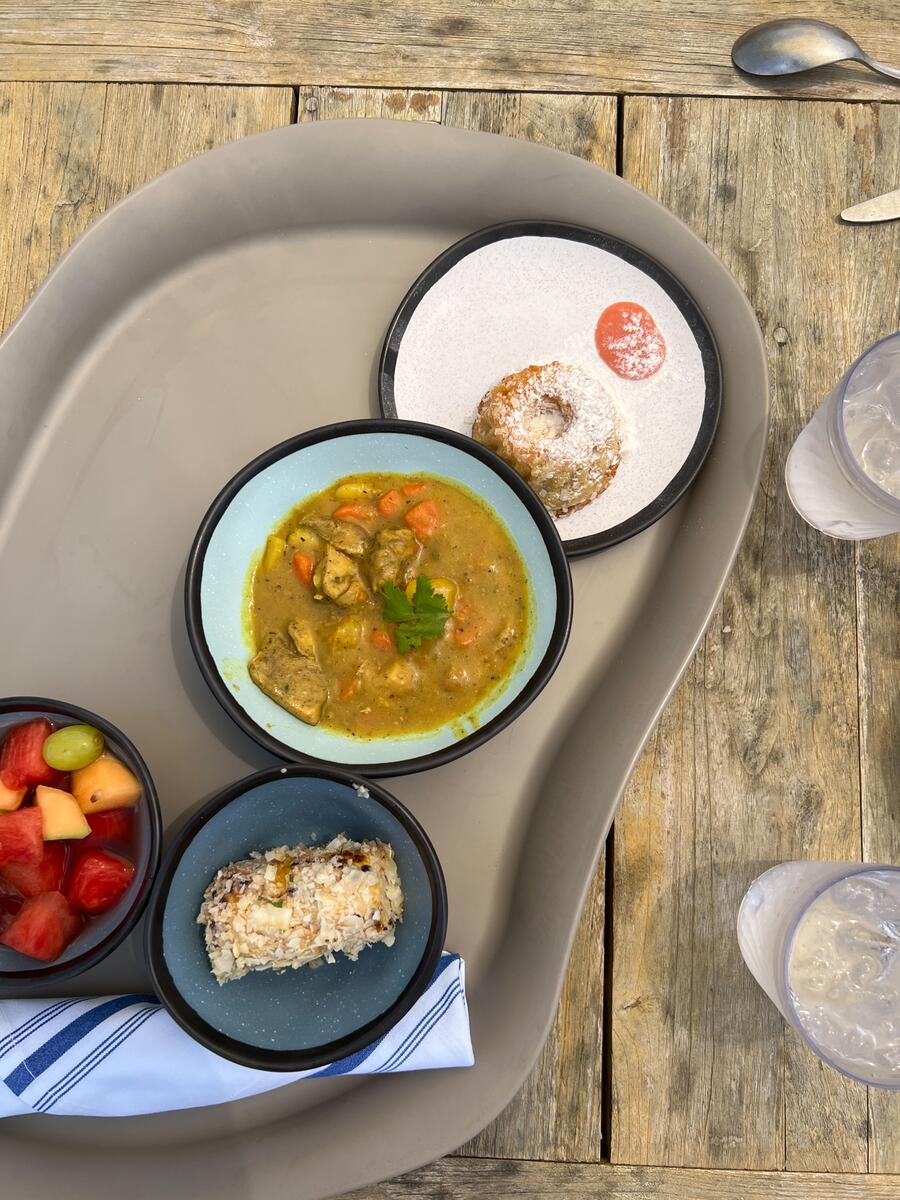 7.) The Beach Club food stand
After having meals on other cruise lines' private resorts and islands, they essentially boil down to a few staple items, all under the guise of an "authentic" Caribbean or Bahamian lunch: grilled meats, plantains, salad, rice, and rum cake or coconut something. That's exactly what we got at Virgin Voyages Bimini club, but I at least had a curried pumpkin and squash main dish, for variety.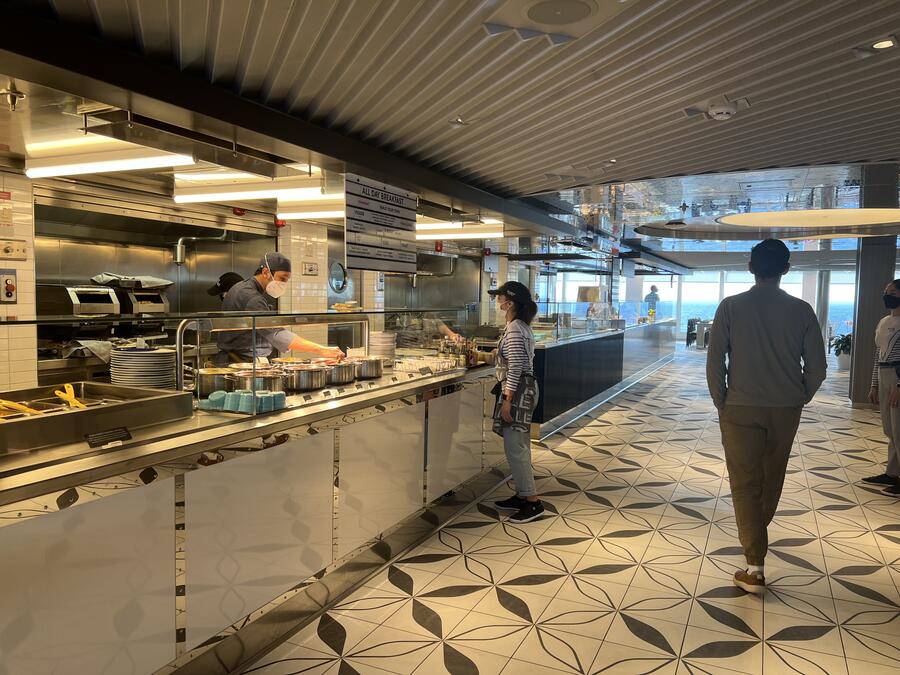 6.) The Galley
Virgin Voyages has decided to do something different with the usual cruise buffet, although it looks like one. You sit down at your chosen table and a server will take your order from one of ten different stands. Some of them will dish up food immediately without the server, and you do have an option to do grab-and-go.  Just about every meal we had here (mostly breakfast, lunch and snacks) was good to excellent.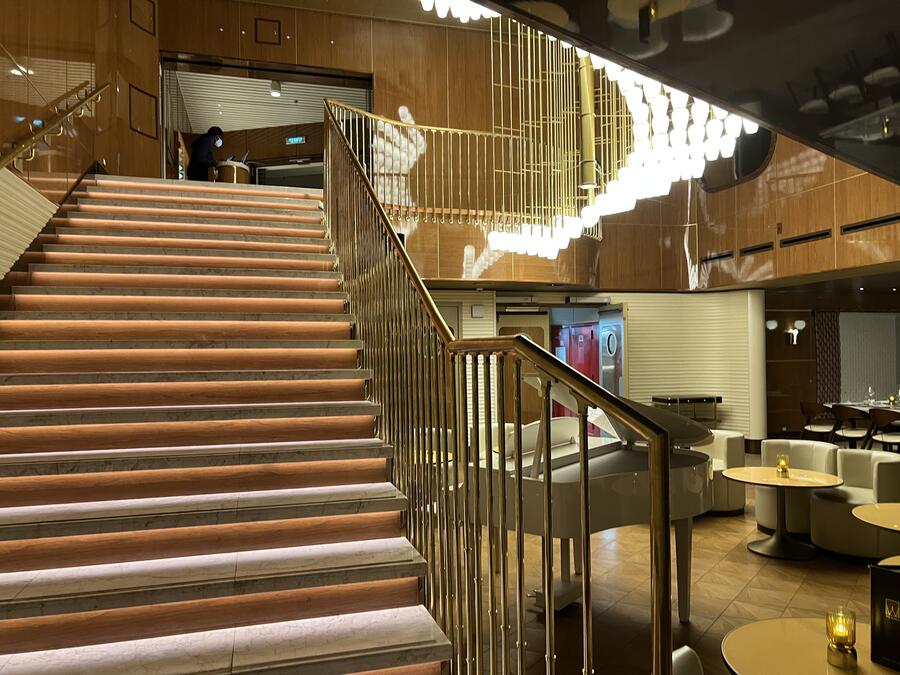 5.) The Wake
The wake on a ship is trail of whitewater as it sails through the ocean, so it's only fitting that this steak and seafood venue is aft on Scarlet Lady. A contemporary design and grand entrance staircase are all part of its elegance. The best dishes we enjoyed here were the starters and sides - clam chowder, wedge salad, sauteed mushrooms and twice baked potatoes.  Our fish and steak entrees were both just too big, portion-wise.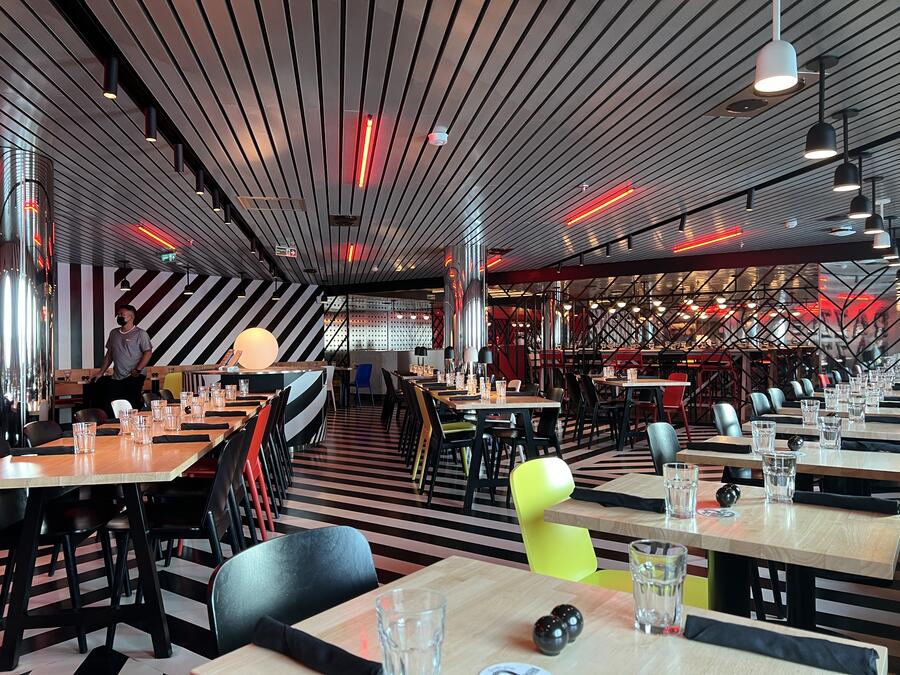 4.) Razzle Dazzle
Hands down, this "veggie forward" place had the most party-like atmosphere, with splashes of color and bold black and white lines. The food matched the surroundings. I loved the gazpacho, bursting with fresh vibrant vegetables, and the butternut squash entrée.  RAS couldn't go completely veg, so he had a roasted chicken that was drier than it should have been. But the rainbow churros and mocha cheesecake for dessert more than made up for it.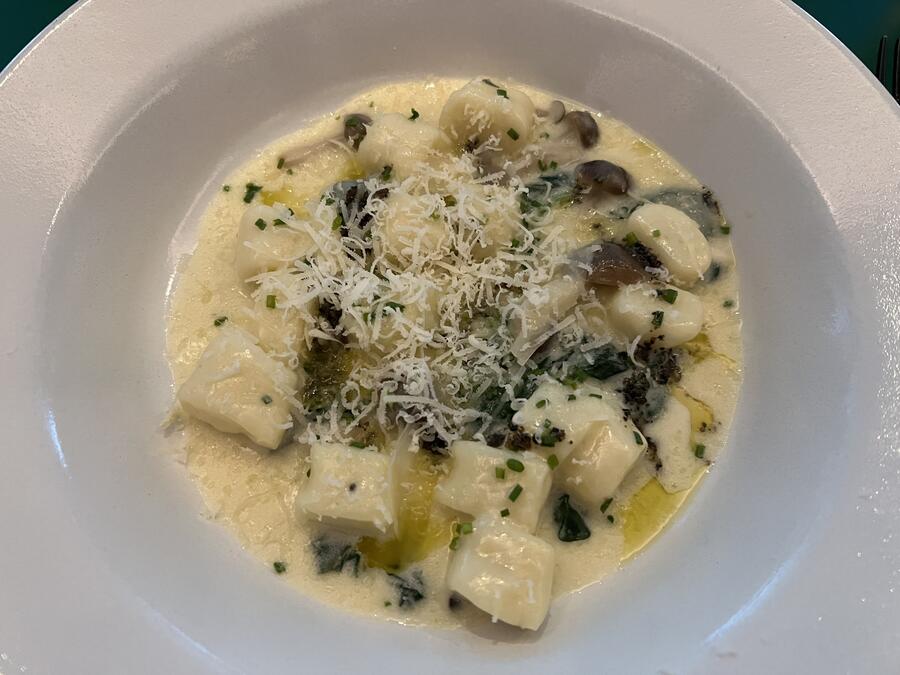 3.) Extra Virgin
This was the first dinner we had onboard, and it was quite good. Starting with minestrone soup and a Caesar salad, we then moved on to three entrees – gnocchi with spinach and mushrooms, grilled sea bass with potatoes and fennel, and black ink gemelli with seafood. Dessert was our Italian restaurant standby, tiramisu, which we had to share because we couldn't fathom getting a second.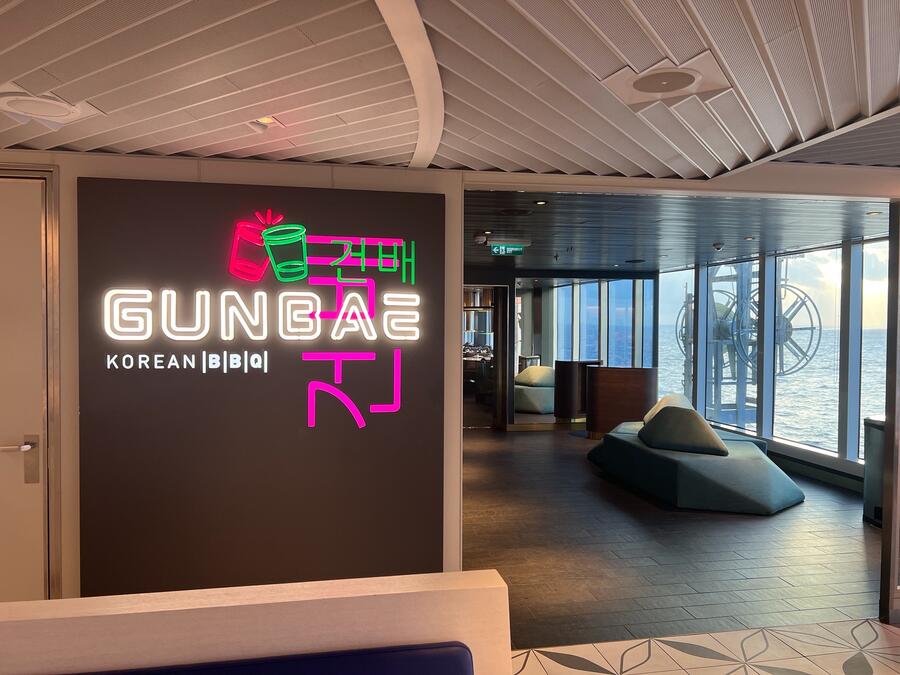 2.) Gunbae
Because of the seating in this Korean barbecue eatery, we shared our meal with an older woman Georgia and two sisters from New York. This setup was conducive to the drinking game that we all played with shots of soju, a Korean alcoholic beverage.  But that didn't take away from the banchan (pickled vegetable starters), galbi and seafood that was perfectly grilled and easily consumed.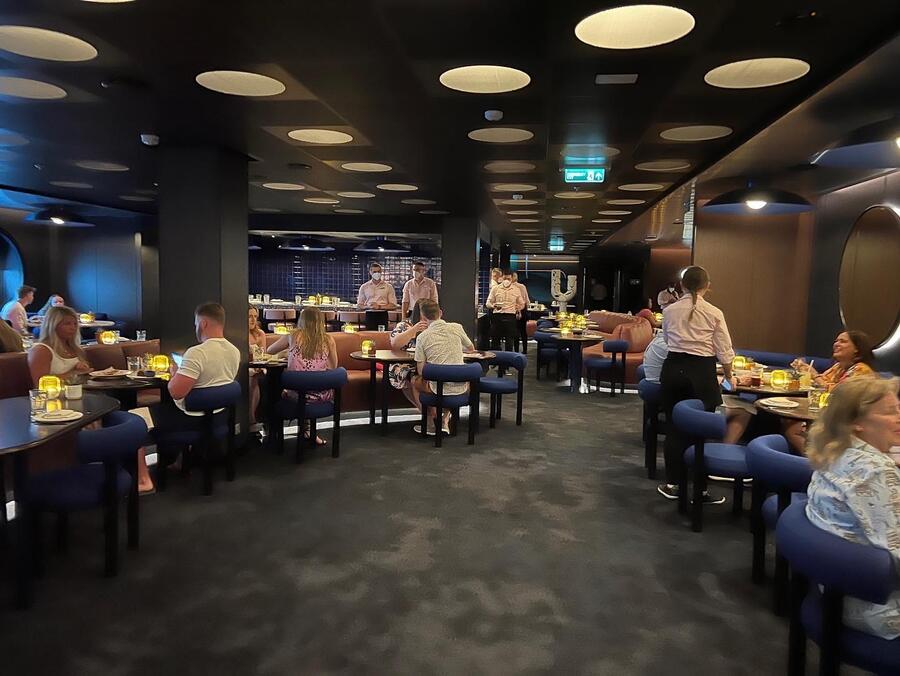 1.) Pink Agave
RAS and I have Mexican food at least once a week back home, so we weren't expecting much from this "elevated" take on our favorite cuisine. But having interesting twists on elote corn, potatoes with chorizo and chayote squash impressed us. Our entrees of stuffed poblano and seared halibut with mole and avocado sauce, as well as our desserts of tamal de chocolate and dulce de leche sundae, just made the whole meal spectacular.