One of my goals as a travel advisor and blogger/writer is to travel on every major cruise line.  As of now, I've sailed on Royal Caribbean, Carnival, and Princess.  As of this past weekend, I can check Celebrity off my list with our short weekend cruise on their newest ship, Celebrity Apex. 
Celebrity has truly created something that's different and dramatic with this ship, which is part of their new Edge class of vessels.  The first, Celebrity Edge, debuted in late 2018 and wowed cruising fans and travel professionals alike.  Now their second ship, Apex, started sailing in the past few months and is ready to do the same.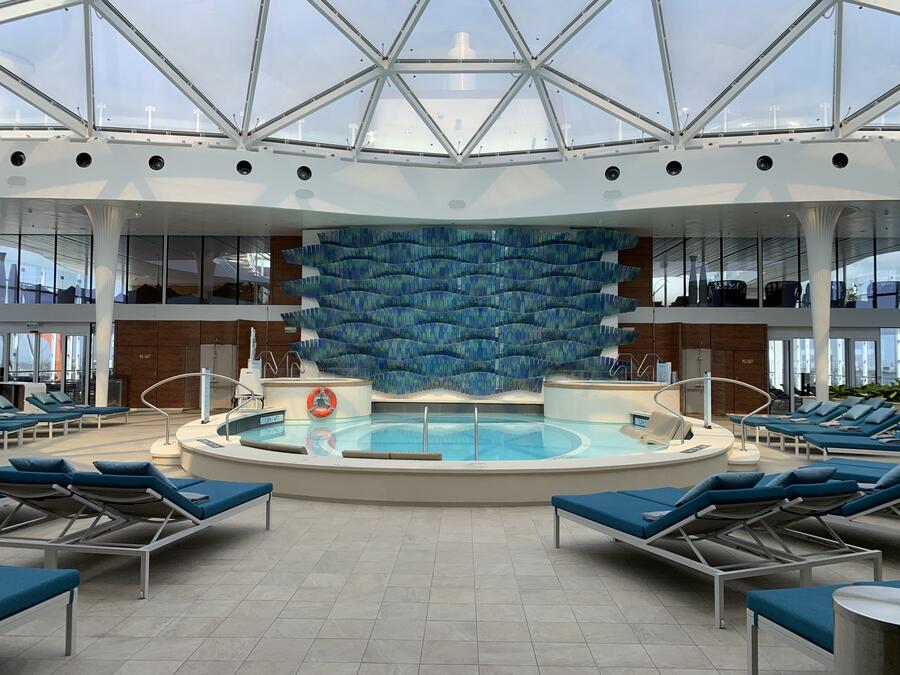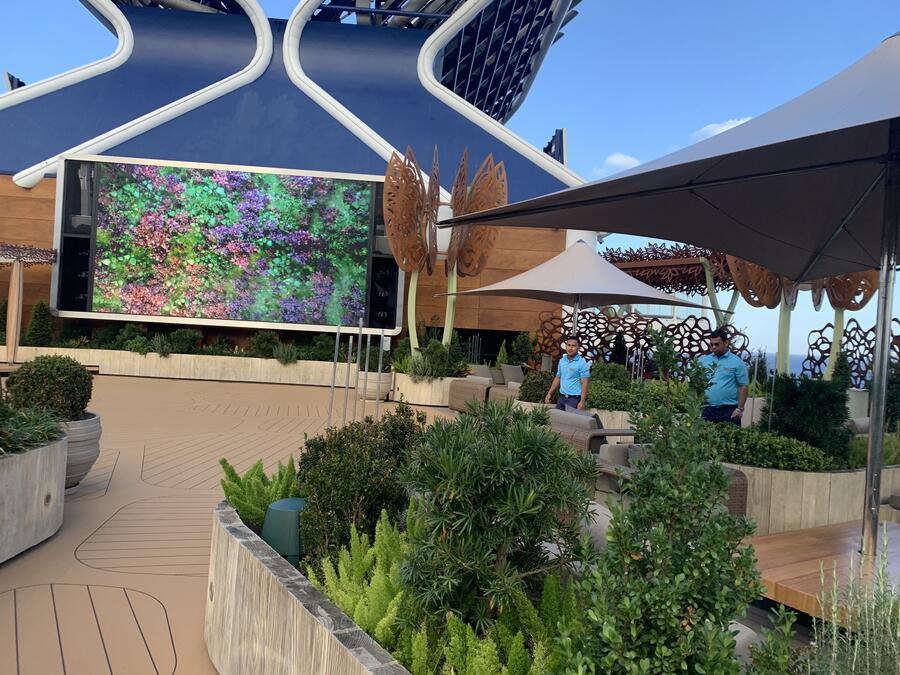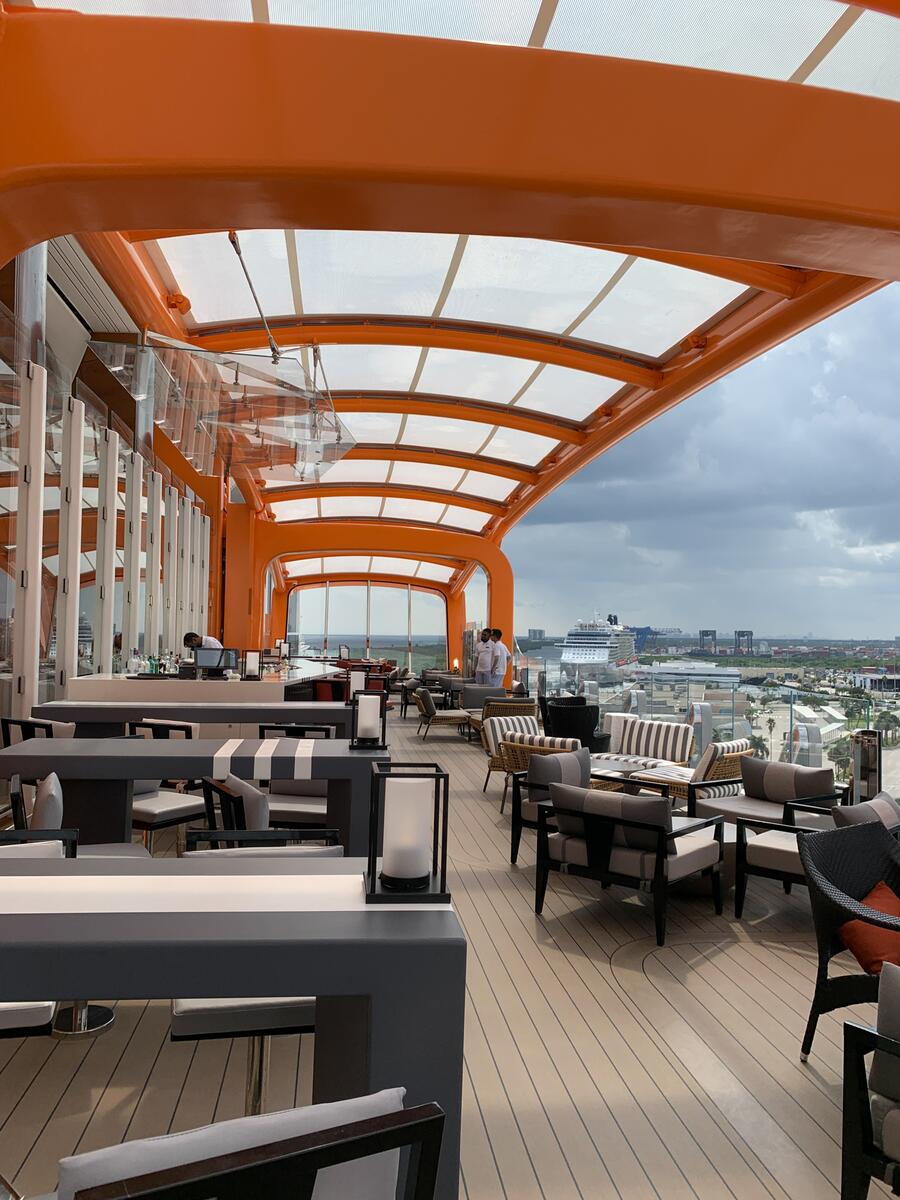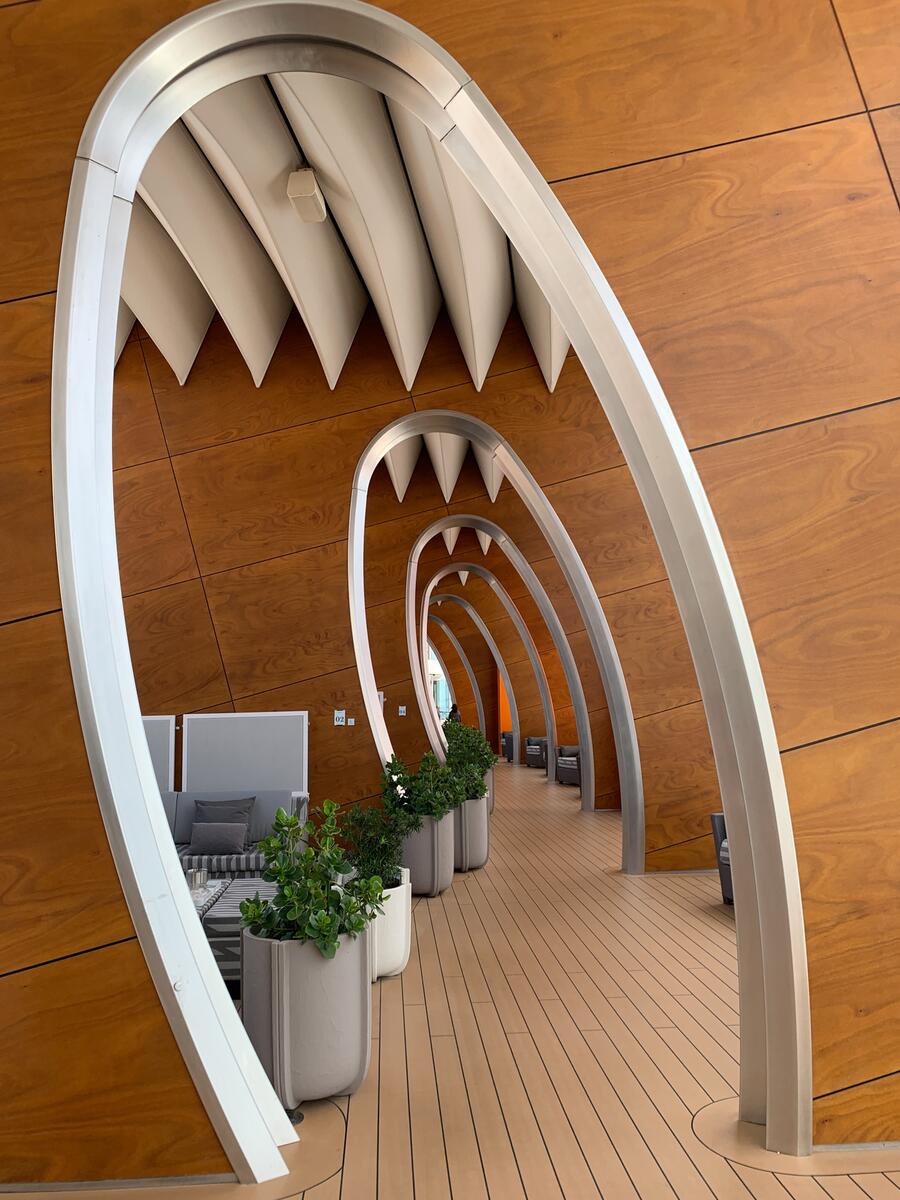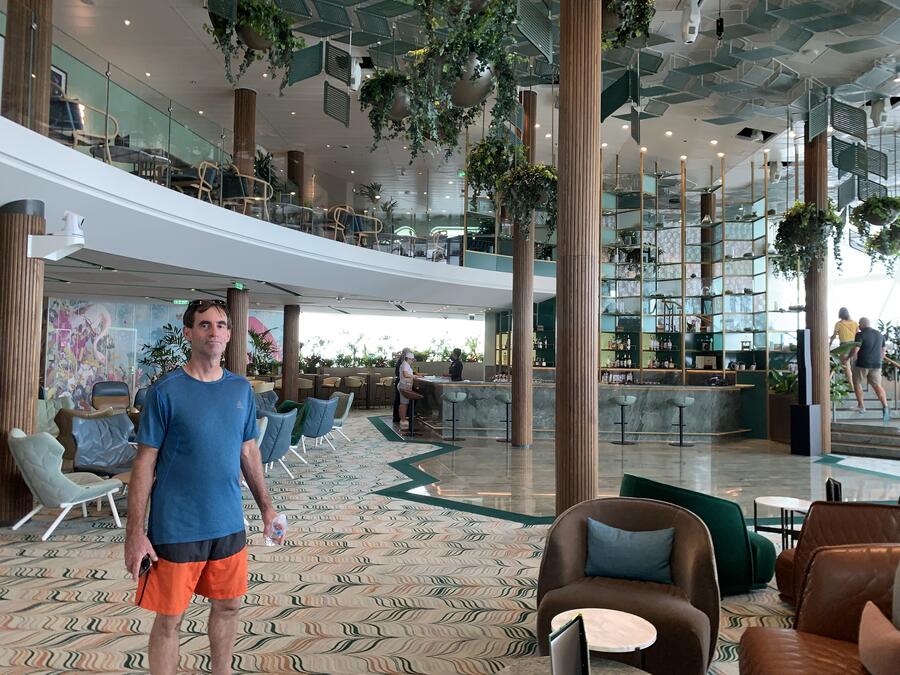 The overall look of the ship will impress anyone who has an appreciation for dramatic interior design.  Celebrity Apex simply looks different from any other cruise ship I've been on, and that was probably its aim.  Curving lines, prominent modern artwork and an emphasis on natural light and foliage are all hallmarks of this vessel.  
Perhaps the most defining characteristic of Apex and Edge is the Magic Carpet, which is moving exterior platform that serves as a tender docking station, an outdoor bar and specialty dining venue.  It's completely thrilling to experience this part of the ship, provided you don't have vertigo.
To offer a complete picture of RAS's and my experience on Apex and Celebrity in general, I'll spend three different blog posts, based on our three days of cruising.  Here's Day 1.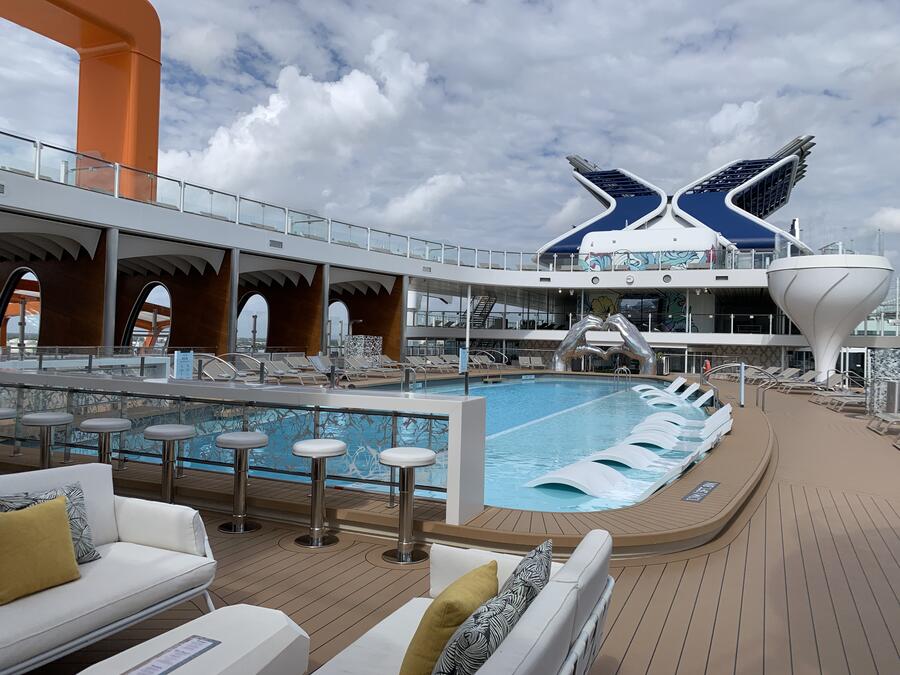 At the port
Coming into Port Everglades in Fort Lauderdale, we stopped at the new Celebrity terminal.  These dedicated buildings have become a trend with each of the major cruise lines, and this fit the luxe image that's characteristic of other premium cruise lines.  
Because of COVID-19 protocols, we had to show our vaccination cards and negative test results to about a half dozen people before boarding the ship.  But once we did that and went up the glass-enclosed maze gangway, the greeting crew told us we could take off our masks. Hurray!
Our stateroom
We stayed in a mid-ship infinite veranda stateroom on deck 7 which proved to be an ideal location.  The room itself was slightly larger for a cruise cabin, with a good-size bathroom and shower stall and plenty of storage space.  
About the only minor complaints were the location of the closet and the infinite veranda itself.  The closet was up against one side of the bed, which made it awkward to access it, while the infinite veranda often wasn't as practical as having a normal balcony.  It was often noisy to open and close, as well as the blackout blind in front of it.  Sometimes we couldn't even operate it because of weather issues.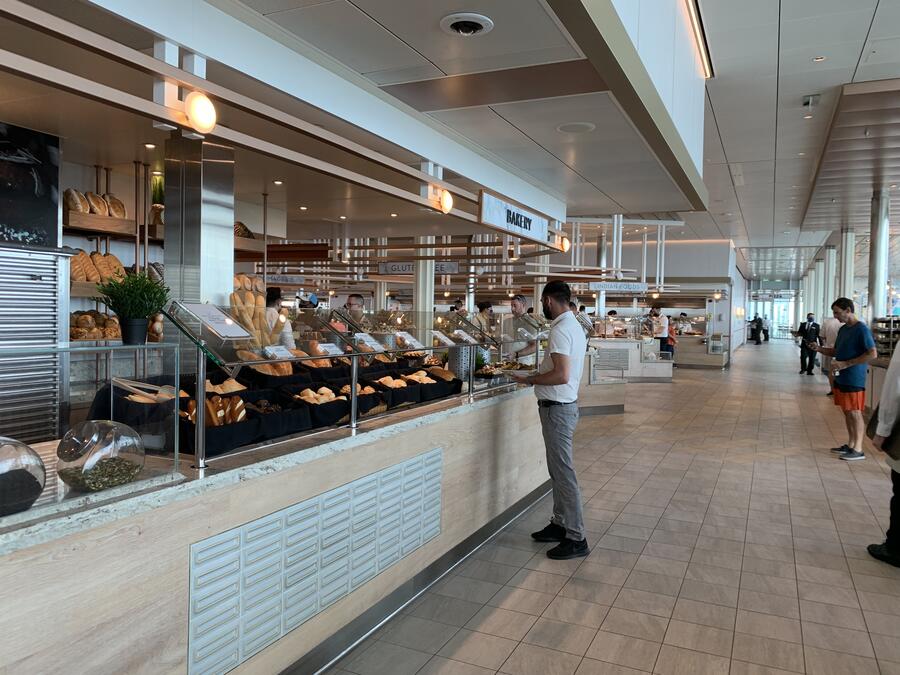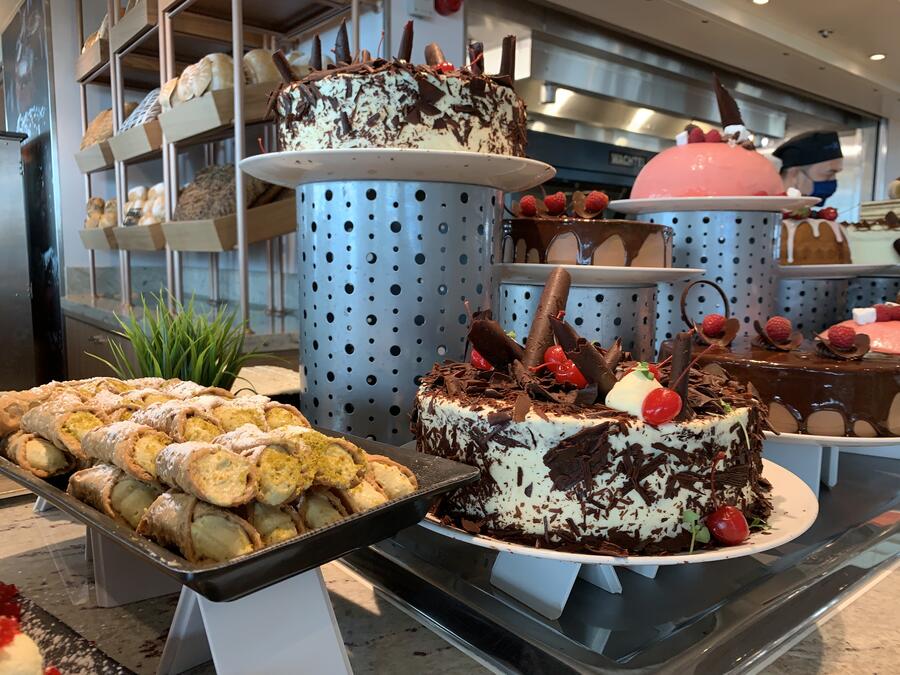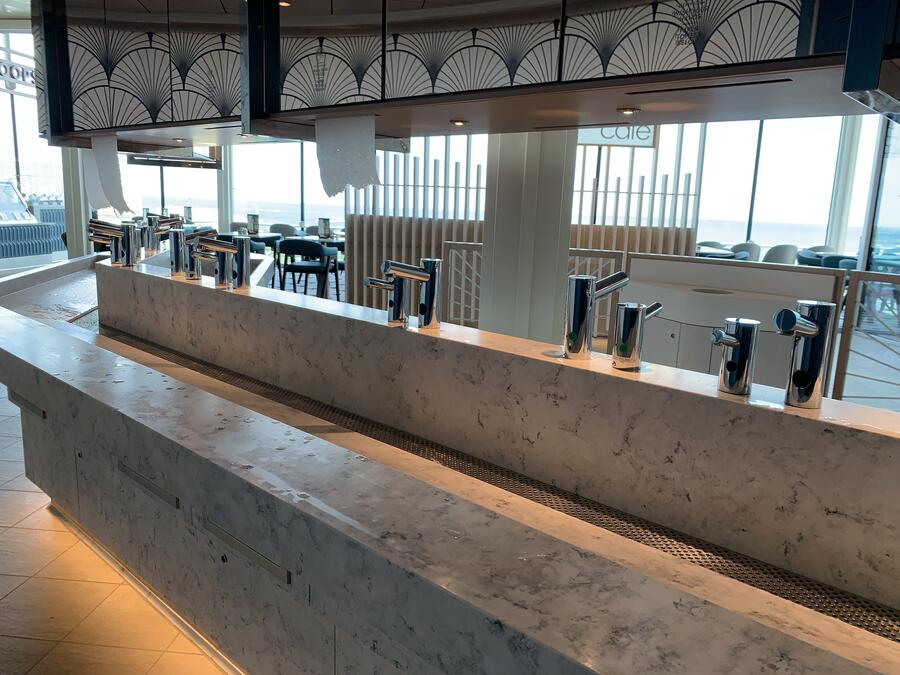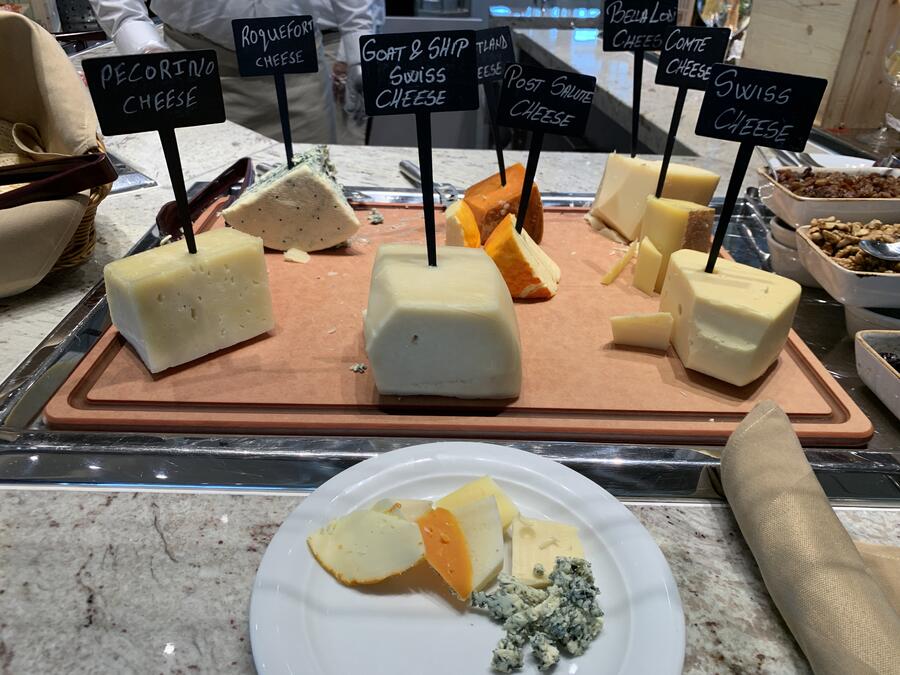 The Oceanview Café
For anyone who cruises, one of the highlights is often the buffet.  Even if you're not prone to pigging out, a meal on a cruise buffet is a great opportunity to try unfamiliar foods and enjoy favorites.  I liked Celebrity Apex's Oceanview Café, but maybe I was expecting an elevated quality of cuisine.  Nothing was bad – it was just adequate.  And RAS was disappointed that in every instance, servers dished out the food for us, denying him the pleasure of serving his own portions.  But a welcome feature of the buffet is the long sink to wash your hands before eating.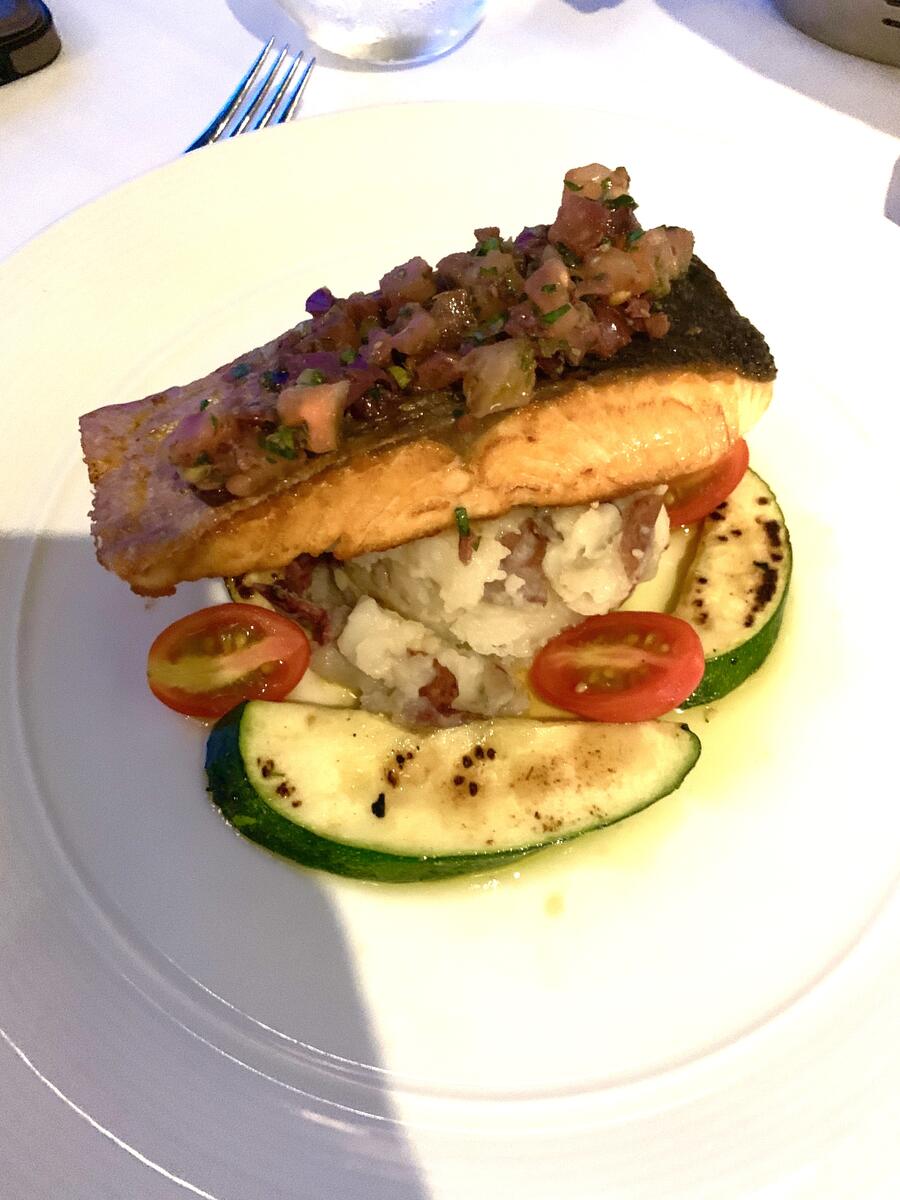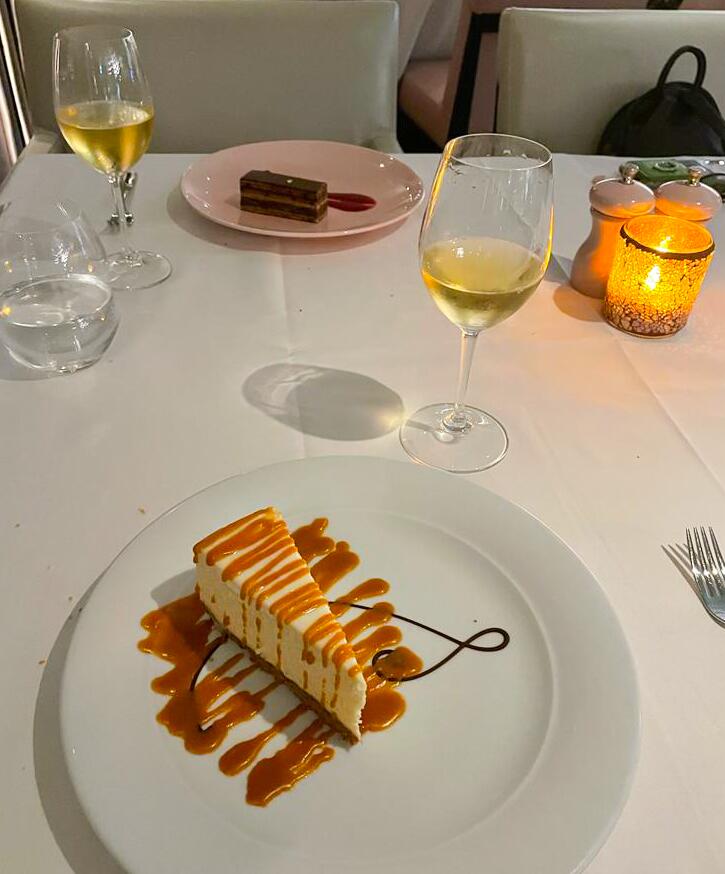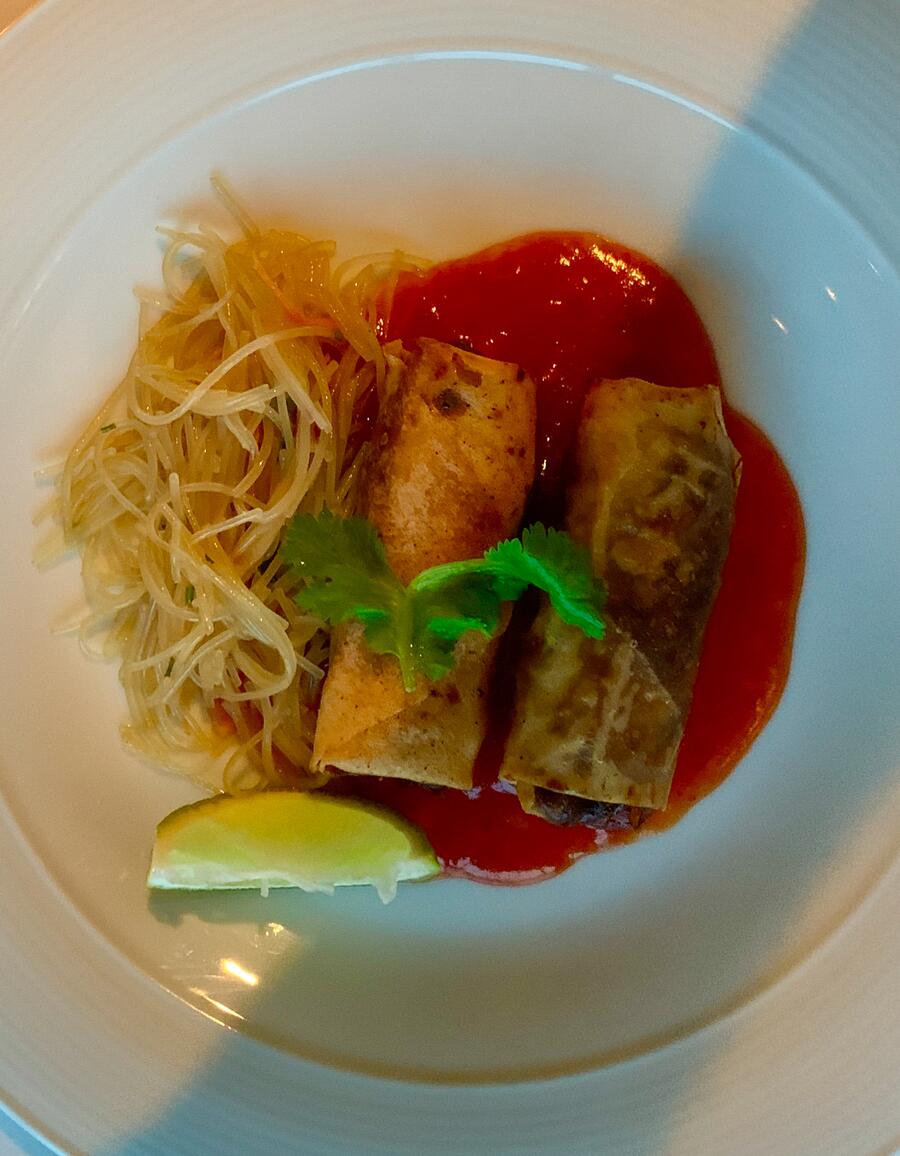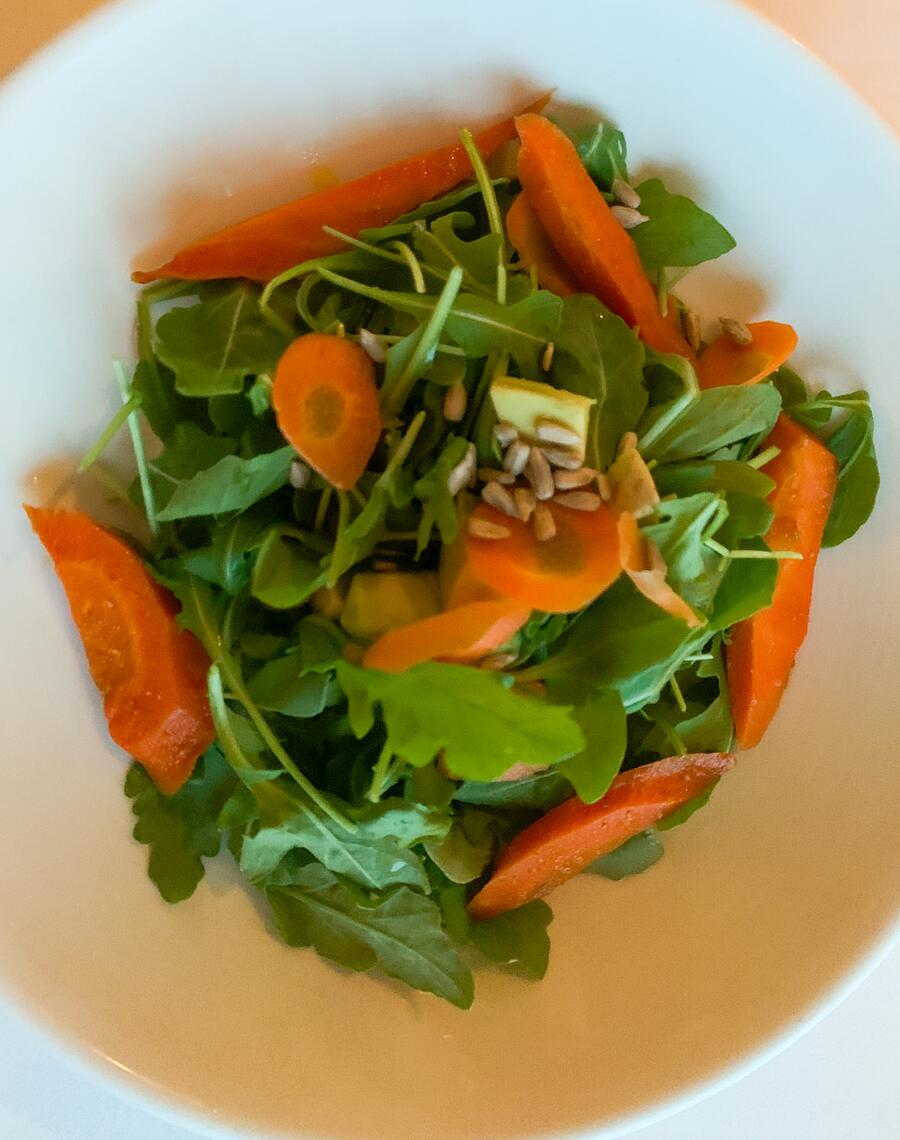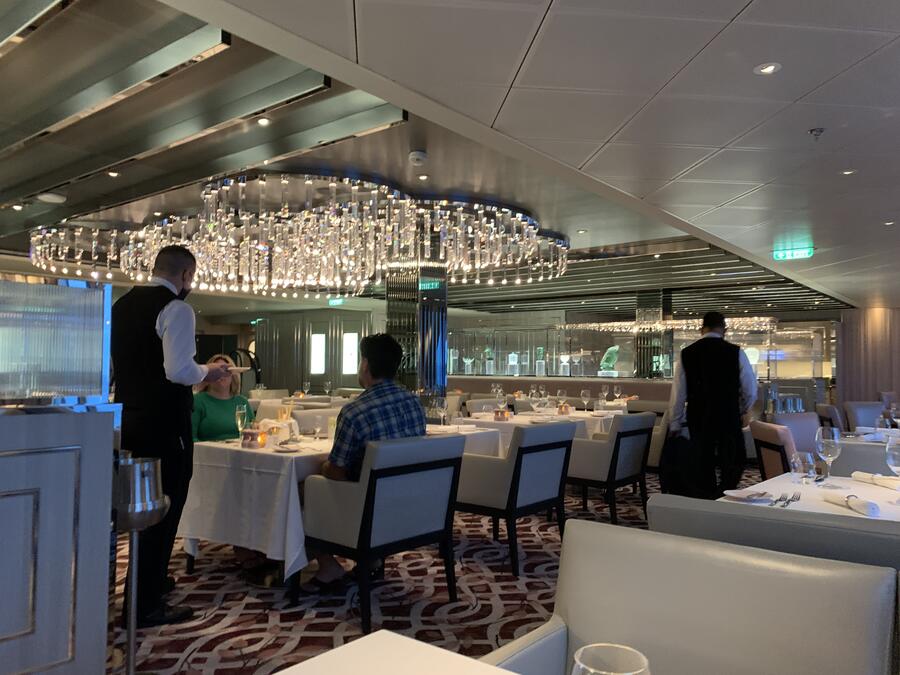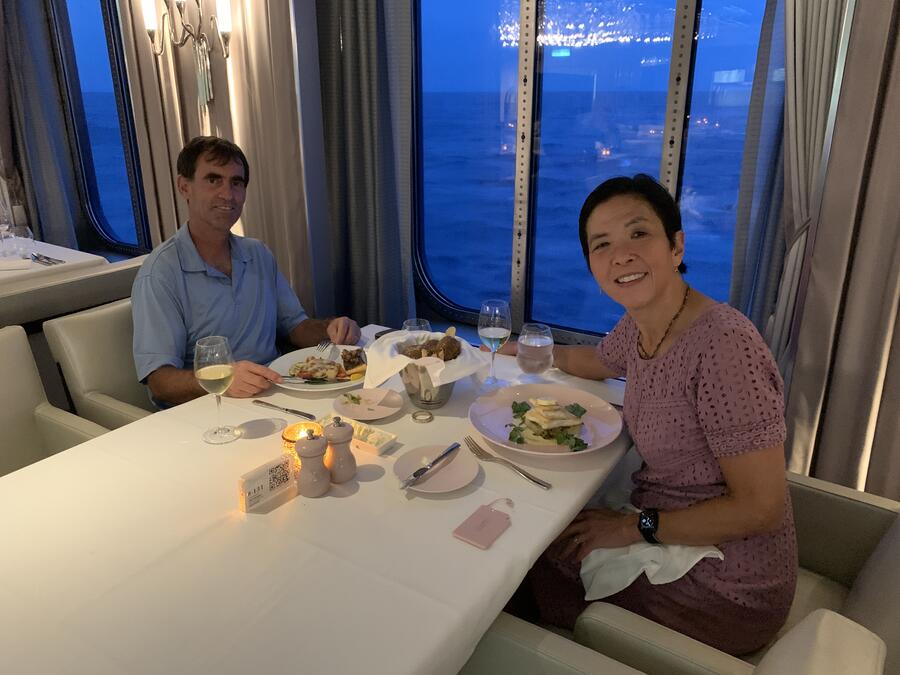 Normandie
Rather than have one main dining room, the Edge class ships have four different themed dining rooms that each have exclusive selections on their menu.  For our first dinner, we went to the French-inspired Normandie, where I chose a grilled salmon with mashed potatoes and seasonal vegetables, while RAS decided on home-style pork chops.  Since we had the premium drink package, we also enjoyed constantly refilled glasses of Celebrity's Kendall Jackson "Elegance" Chardonnay.  And of course, we couldn't skip dessert – a decadent chocolate opera cake and caramel cheesecake.
In my next post, I'll report on our second day on Celebrity Apex, which was our only port stop in Nassau, Bahamas.