Last week, I reviewed MSC Seashore as a whole ship experience. Now I'll let you know about its food, both the good and the not-so-good.
As I mentioned before, the specialty dining was the highlight of the onboard culinary offerings, while the buffet and the dining room were inconsistent and just sometimes mediocre.  I want to assume it's just due to crew staffing shortages and not being completely prepared for sailings.  But MSC has been operational since summer 2021, longer than most cruise lines, so I'm not 100% sure why their dining is middling.
Whatever the reason, I'll go by each venue and let you know what each was like for most of my meals - breakfast, lunch, and dinner.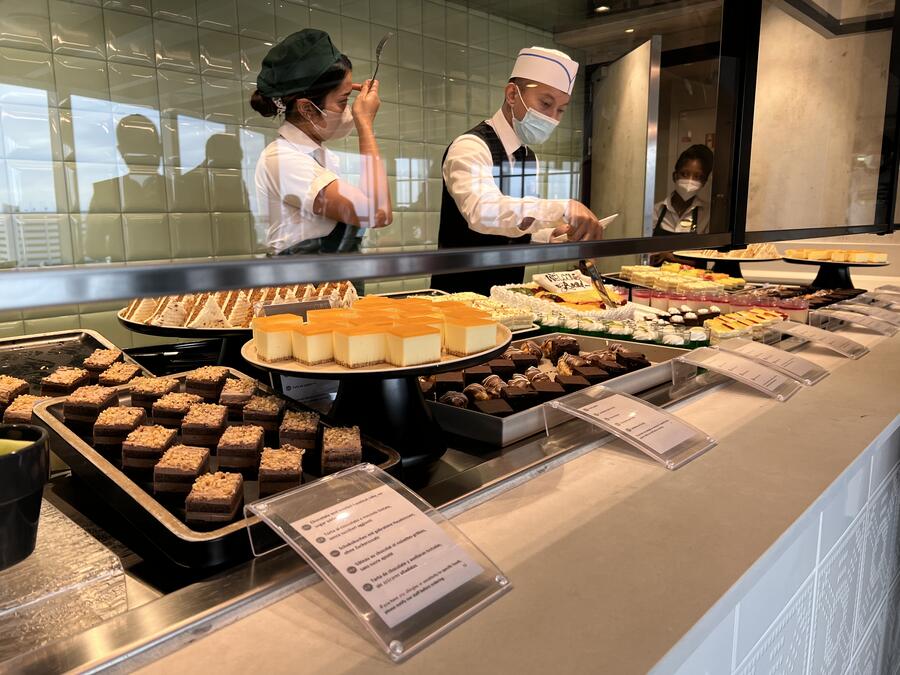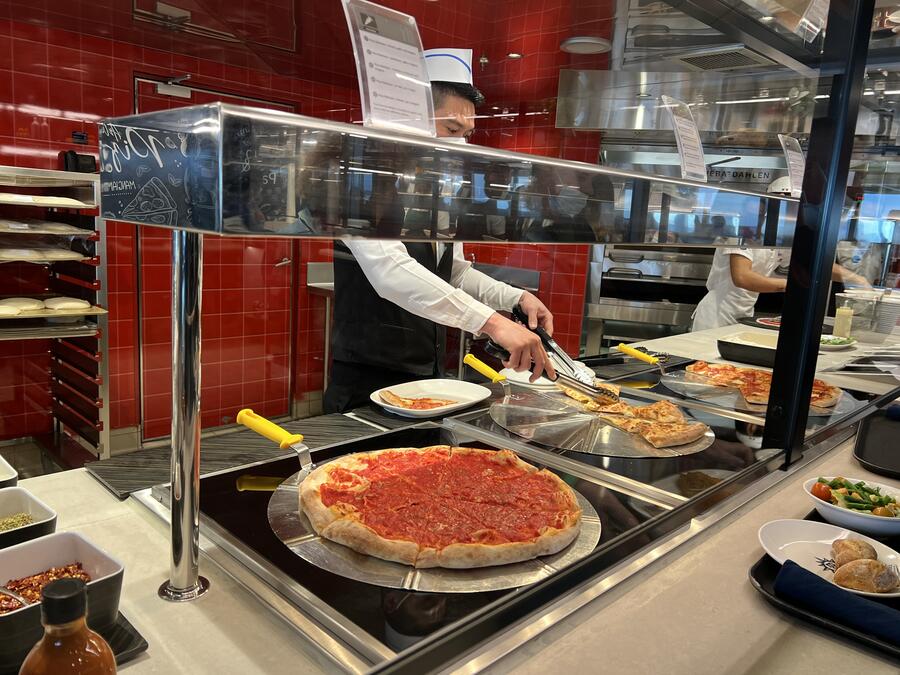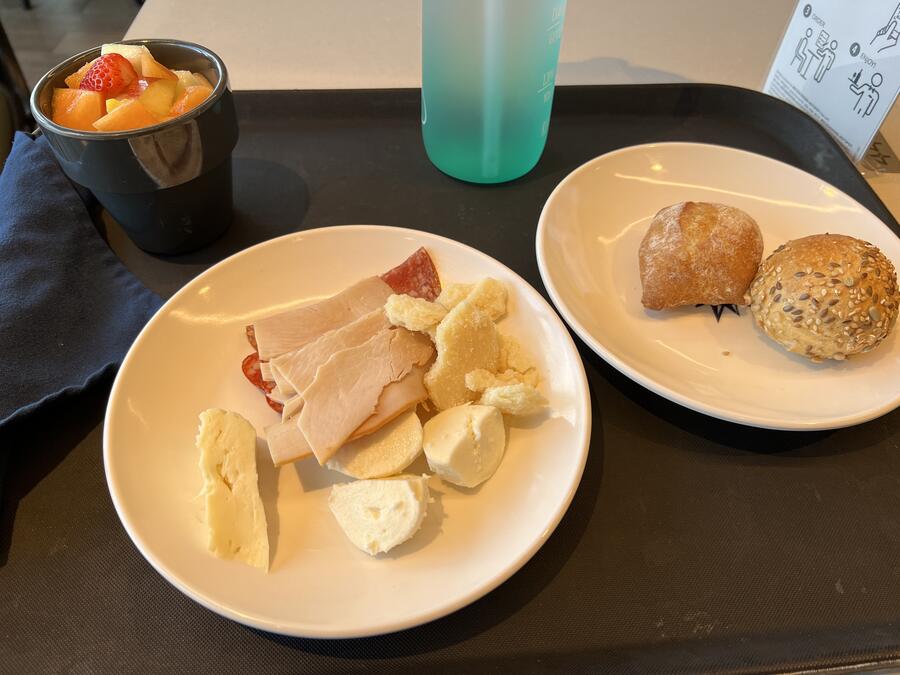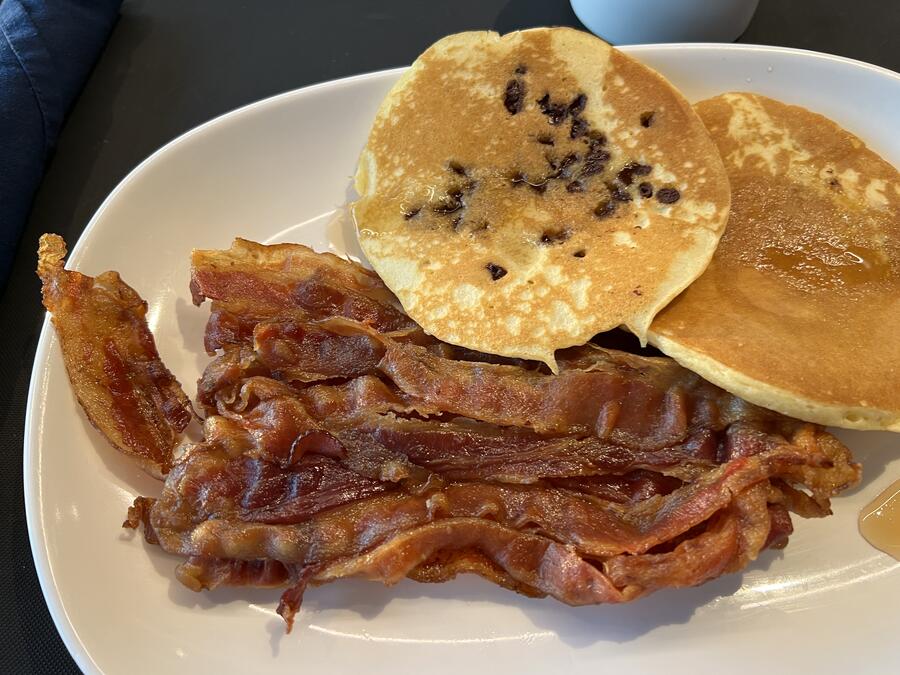 Marketplace Buffet
As I do when I first step onto a cruise ship, I check out the buffet for lunch.  Sometimes I'm not hungry for a full meal, and that was the case here. I created my own charcuterie with cheeses, meats, olives, and bread, along with water from my personal bottle.  That's something the buffet crew can't mess up.
I had four of my breakfasts here, three lunches and one dinner.  One day I even had pancakes with my bacon (see above). If I had to rate the overall quality on a 1-10 scale, it was probably a 6 out of 10.  Some highlights were the pizza, the pancakes, and the elaborate desserts.  But one thing that puzzled me was the lack of variety.  The menu never seemed to change, which is odd given the international nature of the clientele.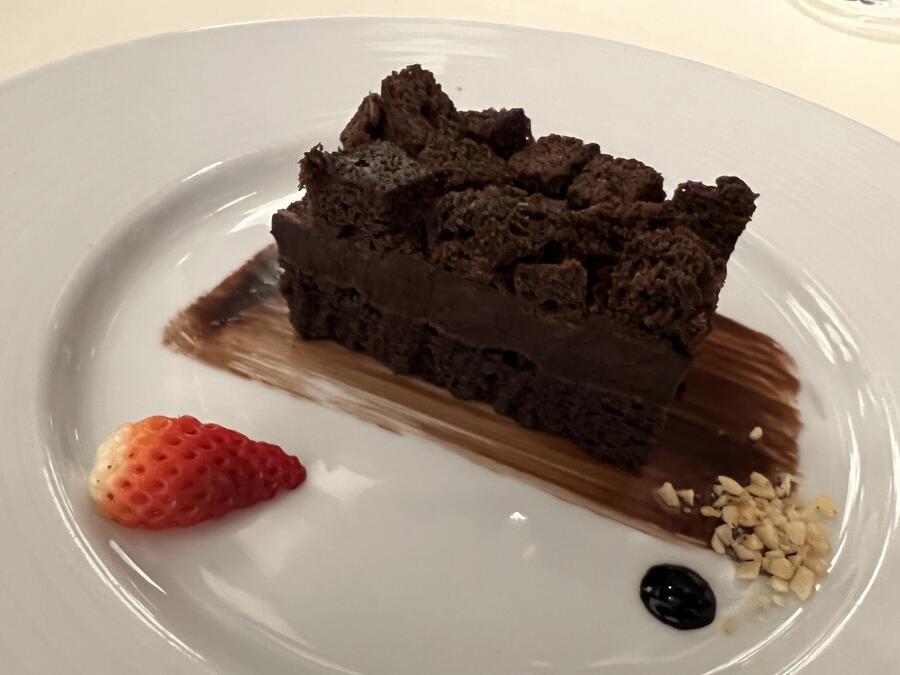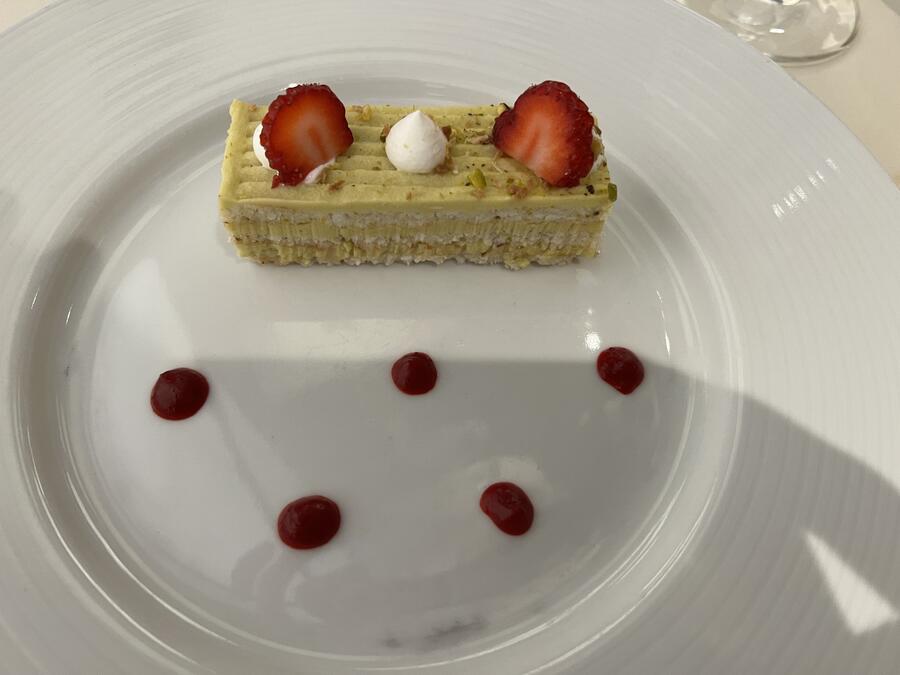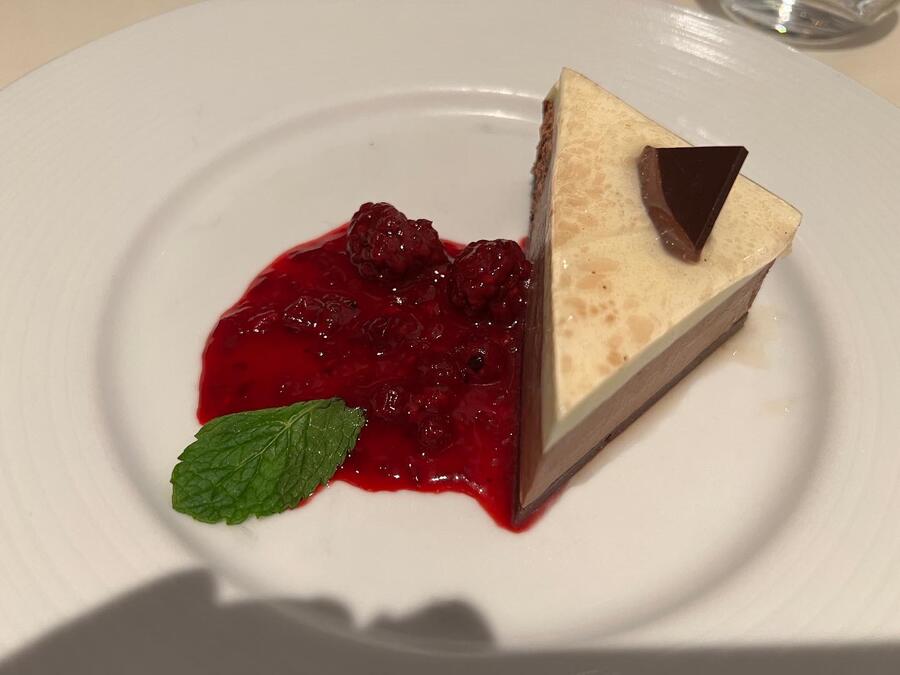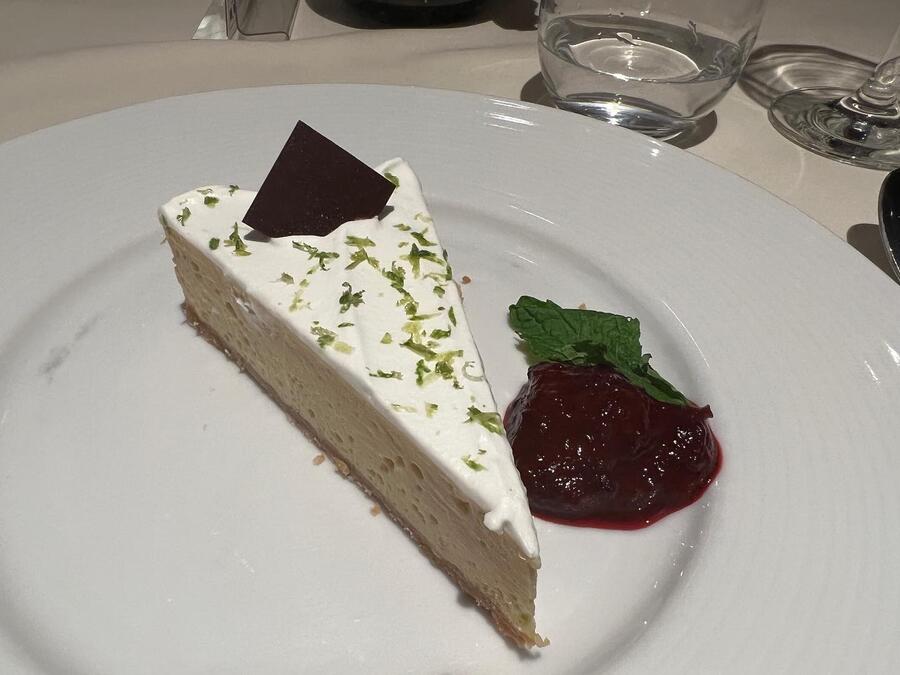 Tribeca Dining Room/Central Park Dining Room
When you're on MSC cruise, you'll be assigned to a dining room for dinner. Our group went to Tribeca, where the décor was understated and elegant.  But my meals were just adequate.  That was especially true for the jerk chicken plate, which didn't have any spice and barely any flavor.  I had heard from my fellow advisors who went there on the nights I went elsewhere that some of the meals were just plain bad.
However, all of us did enjoy the desserts, some of which are shown above.
On two mornings, I went to the Central Park dining room for a sit-down breakfast.  Those meals – a cheese, mushroom, and spinach omelet one day and Swiss muesli the other - were just fine.  For some reason, the orange juice was quite watered down, which prevented me from finishing the glass.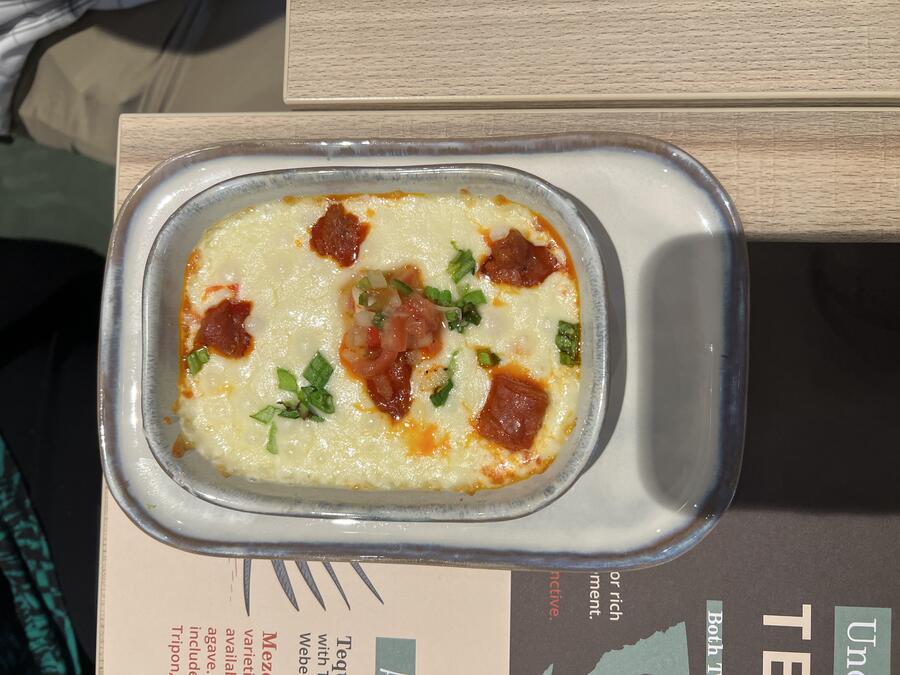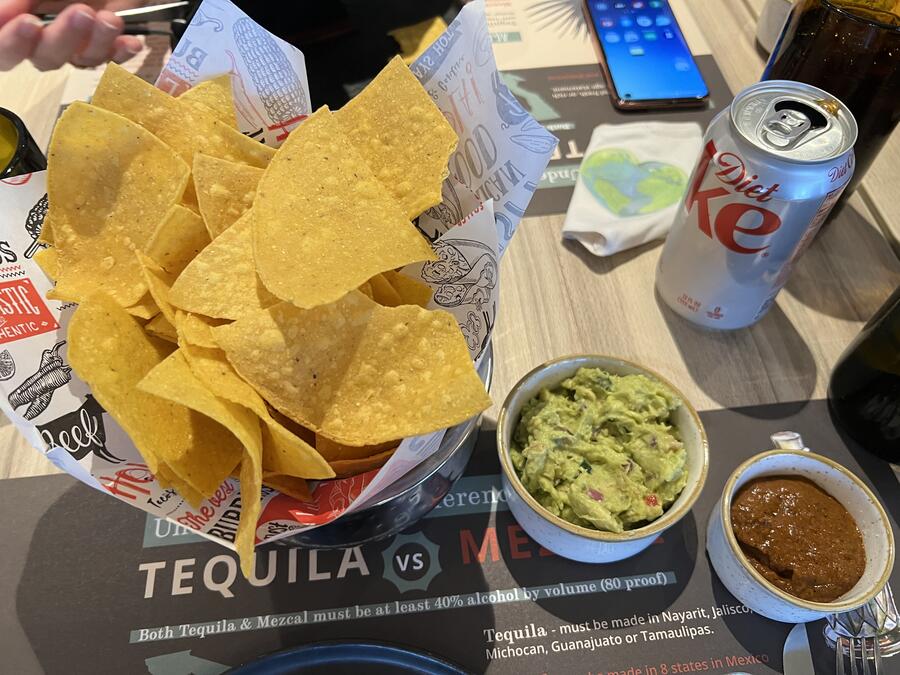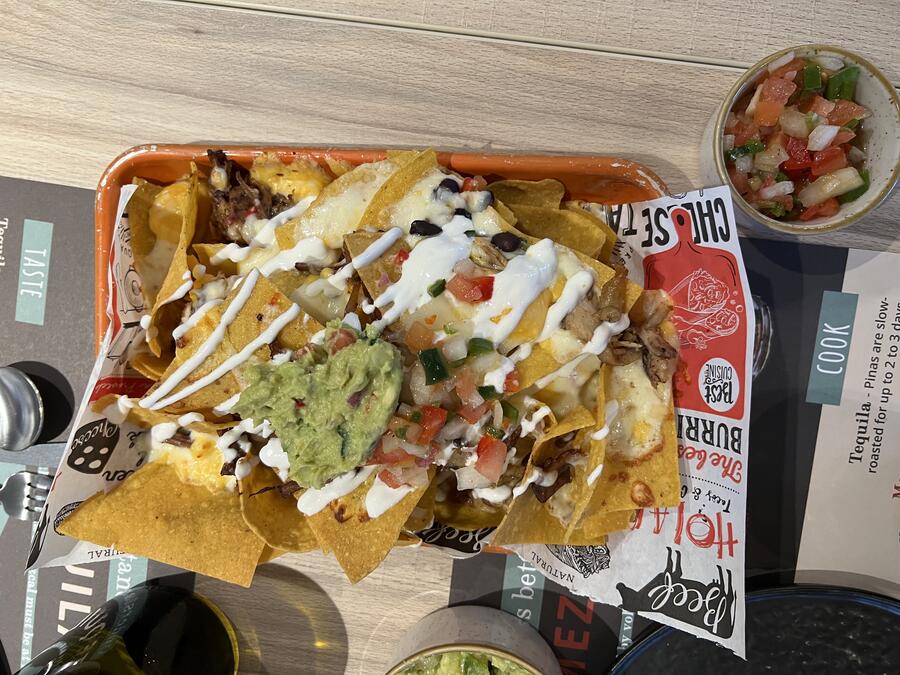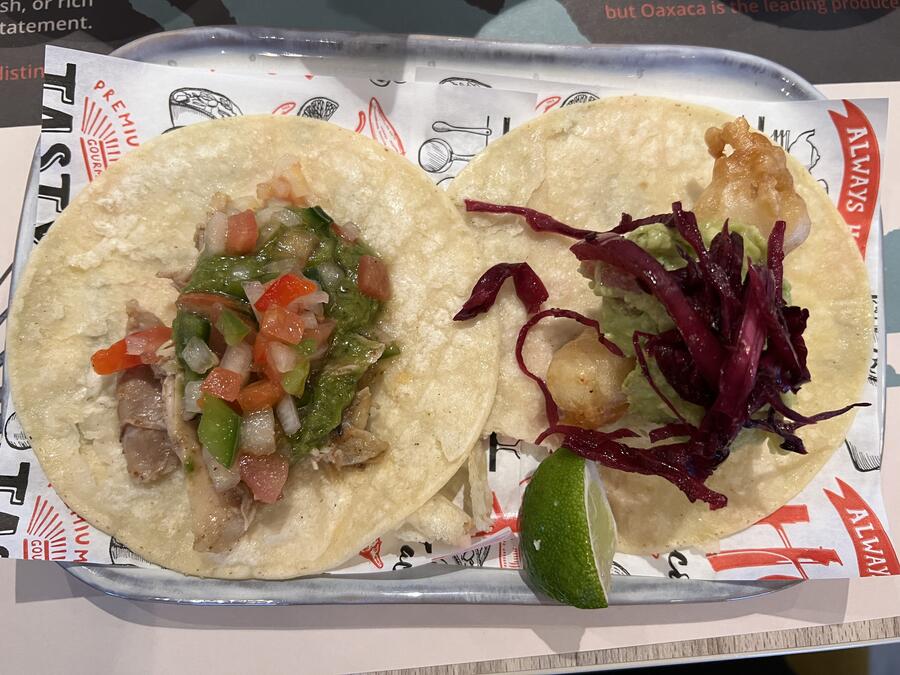 Hola Tacos & Cantina
At this Mexican eatery, centrally located in the atrium, I went with a small group of travel advisors for lunch, where we could either choose an all-you-can eat option for $17.99 or get items a la carte. Since this was part of my four-meal specialty package, I had the first.  My lunch of chips and salsa, grilled steak and beer battered fish tacos was flavorful, bright and piquant. Unfortunately, the portions of tacos were quite small, not much bigger than drink coasters.  At least the margaritas were fresh and citrusy.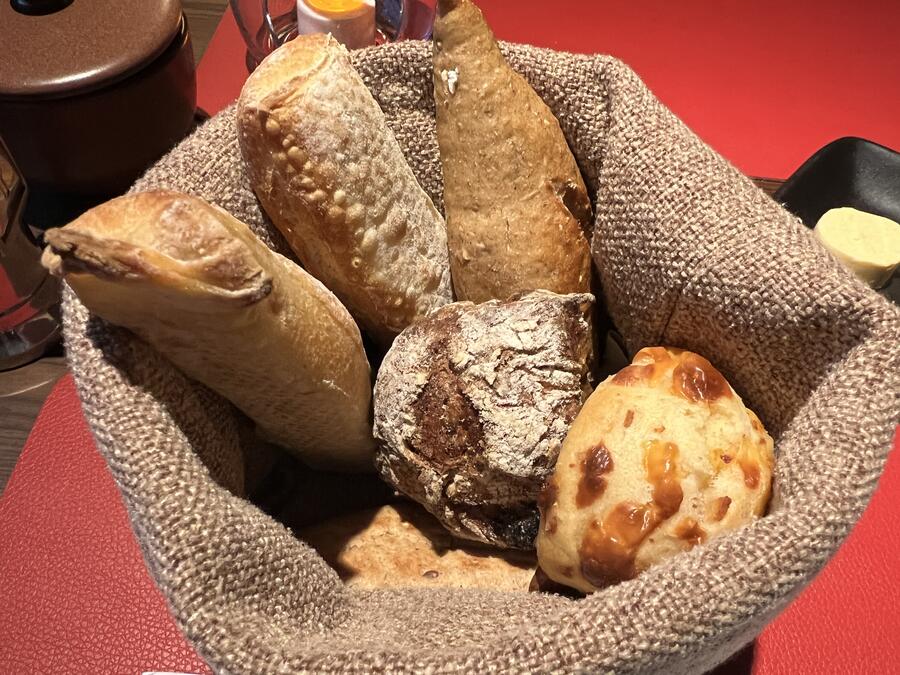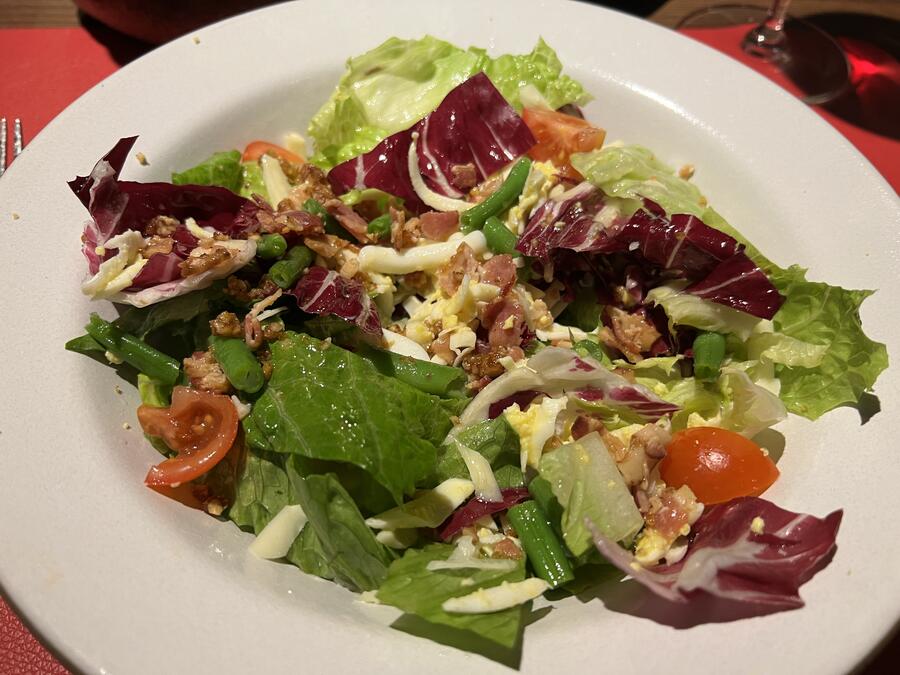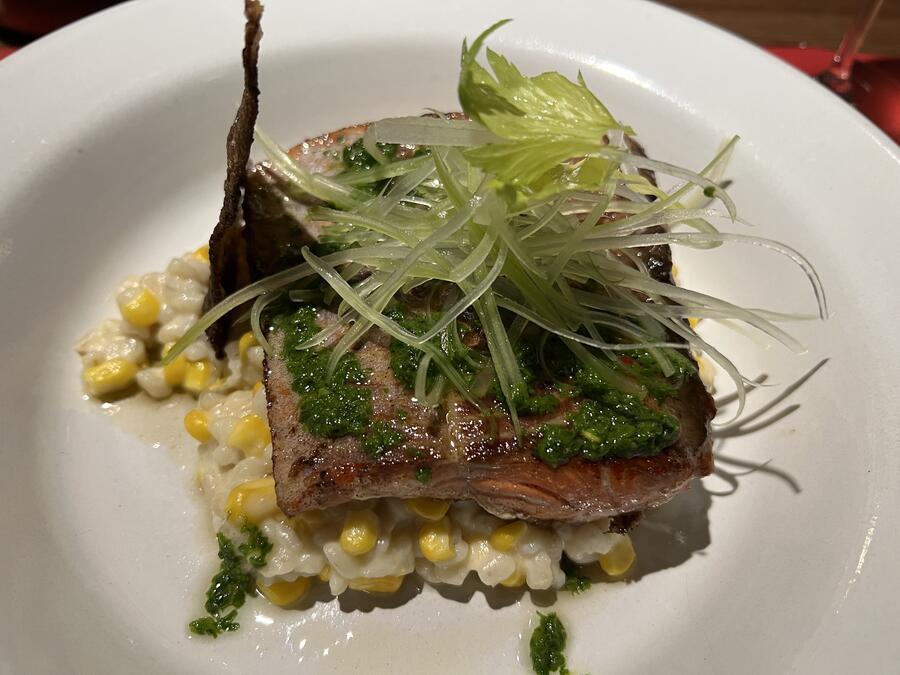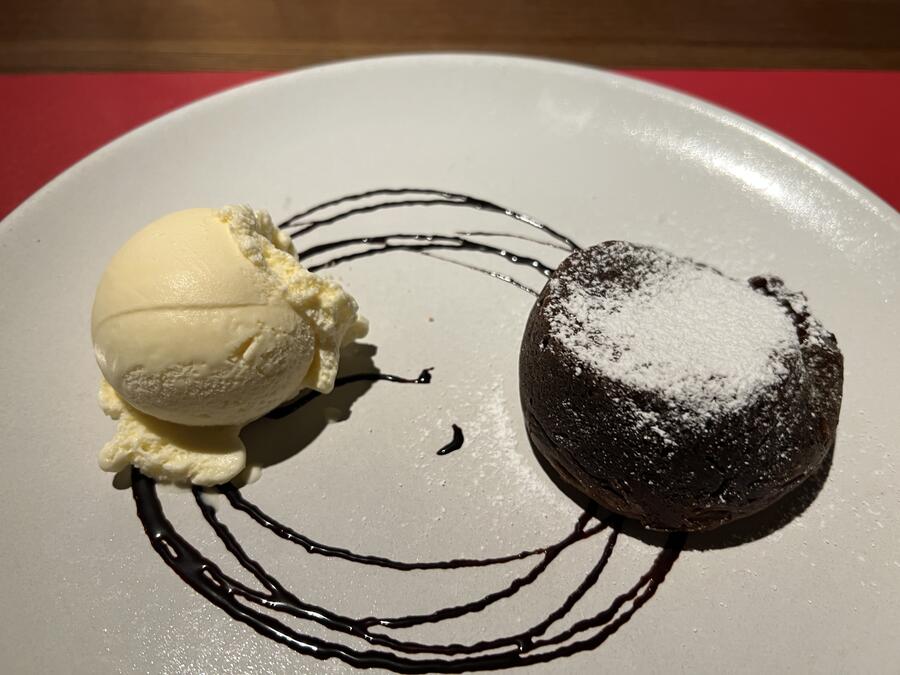 Butcher's Cut
I'm not much of a meat-eater, so the thought of going to a steakhouse seemed pointless.  But it was part of the dining package. Luckily, this venue had other plates to choose from, and I selected broiled salmon, which was topped off with an herbaceous chermoula sauce and sitting on a barley and corn risotto.  Naturally, even though my stomach was nearly at capacity, I had to enjoy dessert – a silky chocolate lava cake with vanilla bean ice cream, along with two glasses of Chardonnay.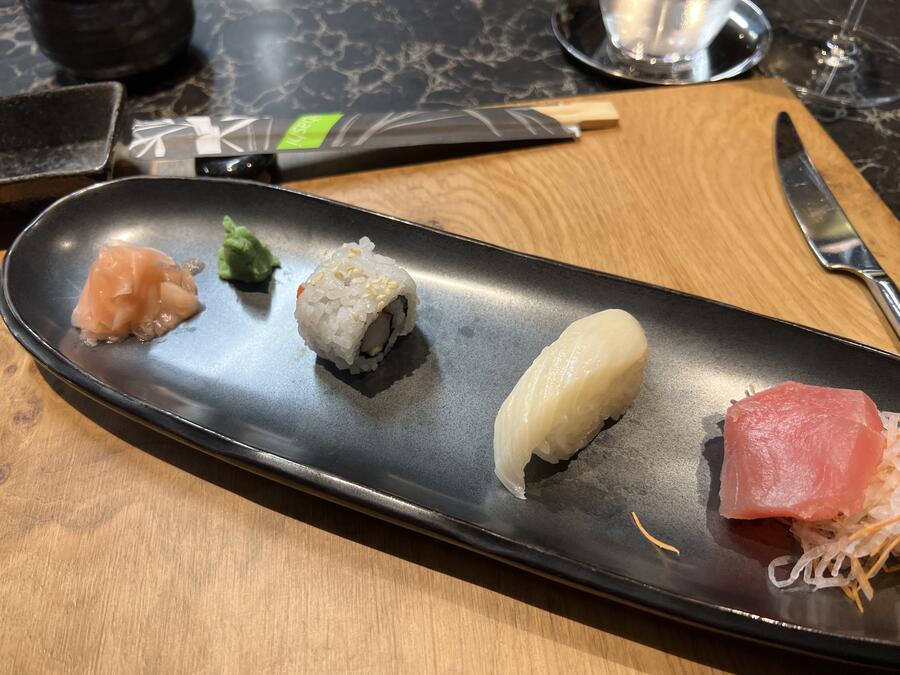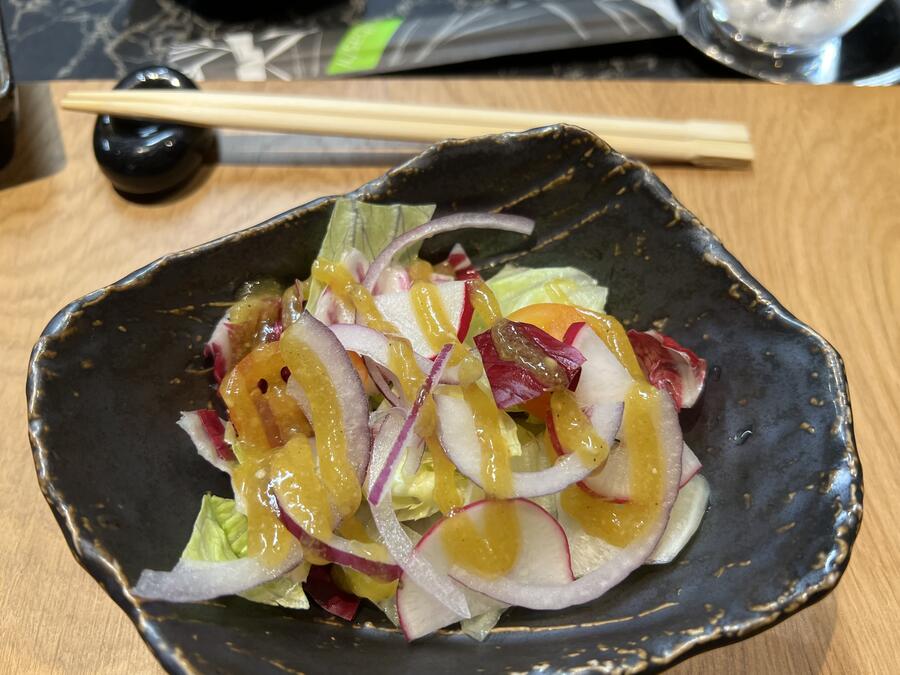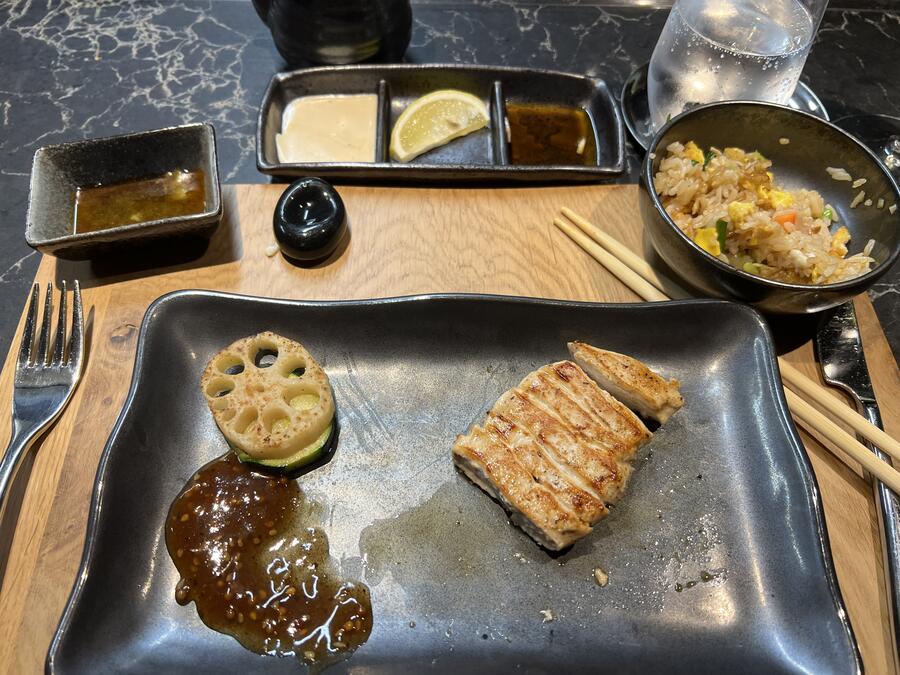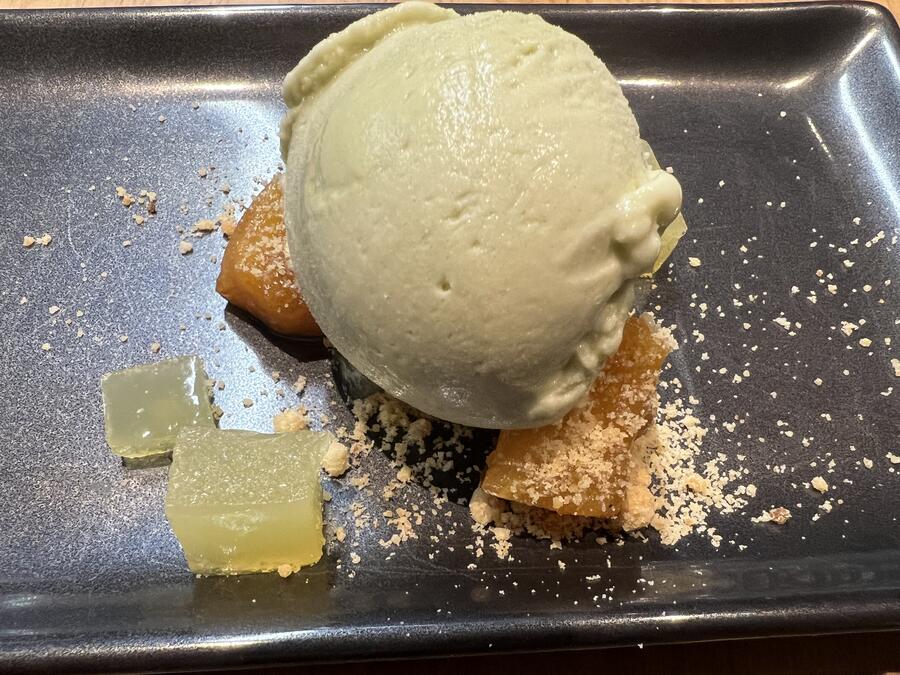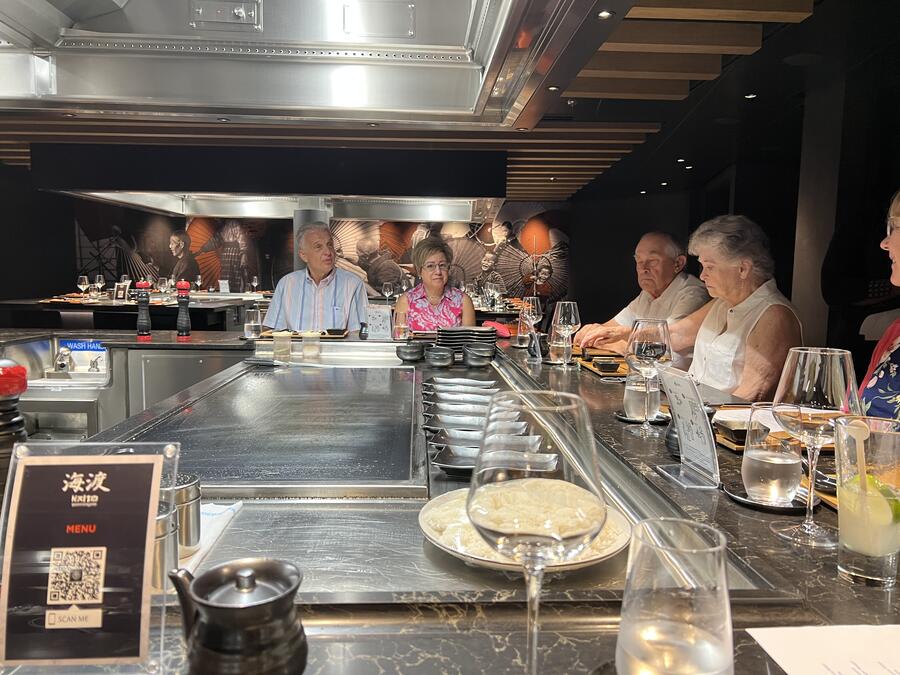 Kaito Teppanyaki
Japanese teppanyaki restaurants are both kitschy and fun, and sometimes they have good food. This place accomplished all three objectives, and I got to share dinner with some fellow advisors around a communal table.  We started with miso soup, salad with yuzu dressing and three pieces of sushi before getting to the main show.
Our chef flipped knives and spatulas, rapidly sliced meat and vegetables with surgical precision and cracked bad jokes before serving up steak, chicken and seafood with garlicky fried rice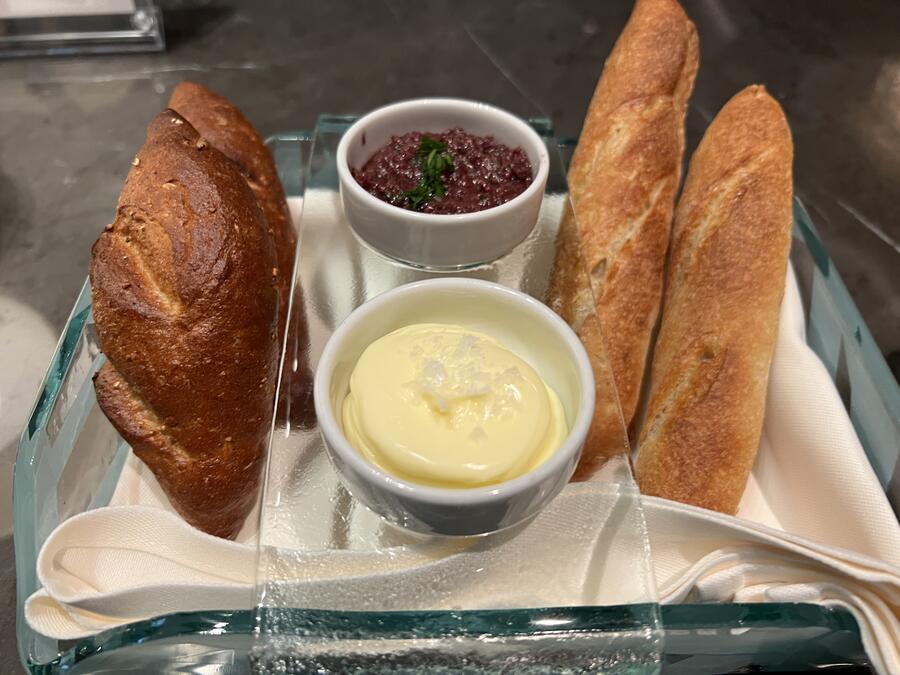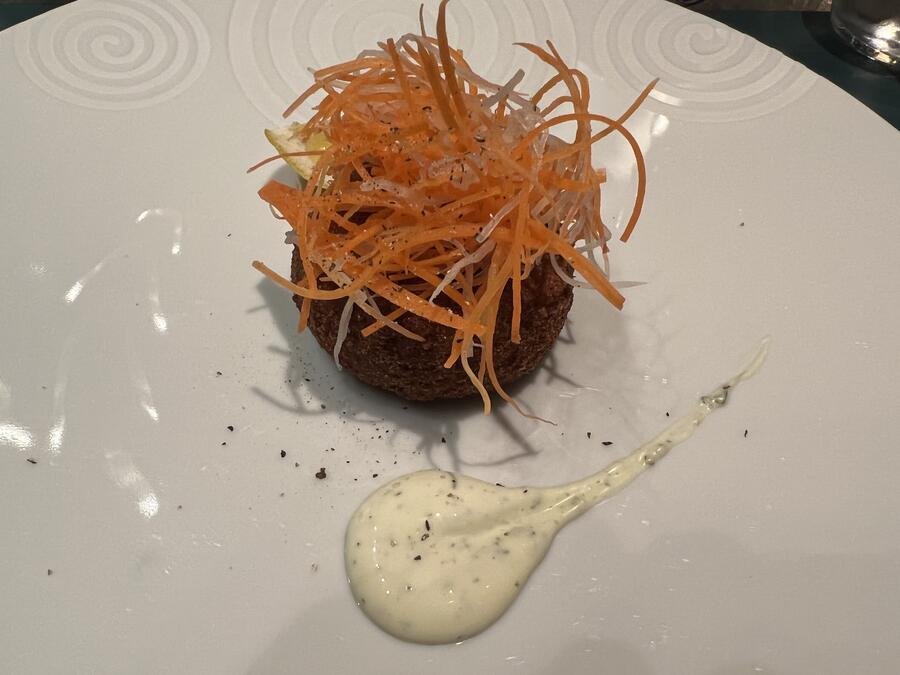 Ocean Cay
This was probably the best meal I had on the ship, and that's saying something from a person who doesn't love seafood.  My starter was crispy breaded crab cake topped with shredded carrot and radish. That was followed by a beautifully presented seared ahi with four different sauces and sides of asparagus and beets. I finished with a simple but smooth crème brulee.  Once again, I didn't have to dine alone, as a couple attending the training recognized me and invited me to join them for the meal.
Overall MSC Seashore has some fantastic culinary options. Perhaps with the regular return to cruising, they will also improve the foods in the dining room and offer more variety in their buffet.