JRS and I are on a long-term mission that's not necessarily unique, because many others have done this already and have well-documented content to prove it. But we're giving it a try anyway.  Our goal is to visit all 32 Major League Baseball parks when our favorite team, the Giants, playing the home teams.
So far, we've been to Oracle Park in San Francisco (of course), Coors Field here in Denver, T-Mobile Field in Seattle, Dodger Stadium in LA and Wrigley Field in Chicago. Now we can add Chase Field in Phoenix to the list, after a very quick Mother's Day trip a few weeks ago to see our guys lose (it's a long season, so it's all good).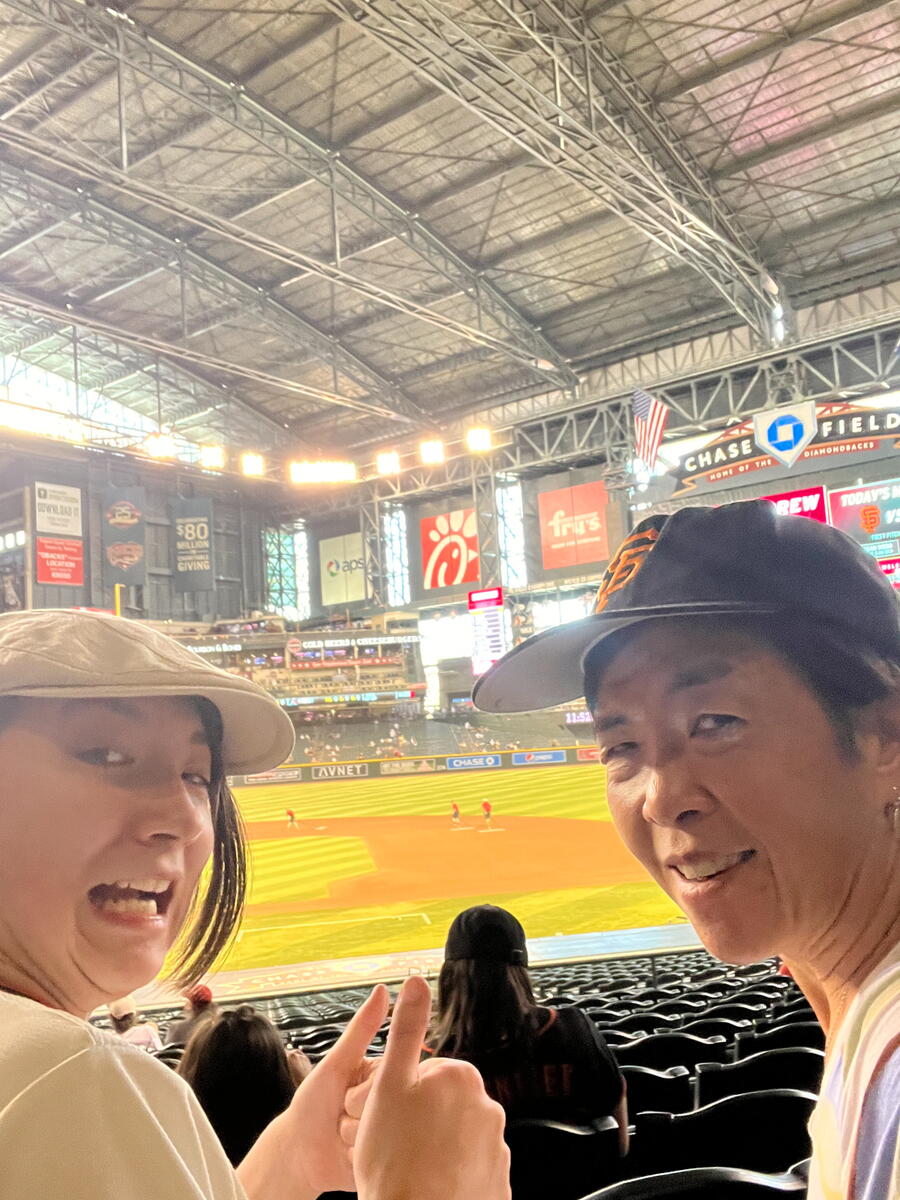 I lived in the Phoenix area in the mid 1990s and witnessed the construction of the park. This was shortly after the MLB granted the city a new expansion team, the Arizona Diamondbacks. It opened in 1998 and was then called Bank One Ballpark, which then changed its name to Chase Field when Bank One went out of business in 2005.  But I had never been to a game there until a few years ago, when RAS and I went to another Giants-DBacks game.
Even with the semi-oppressive desert climate and the Giants' loss, JRS and I still enjoyed going to this latest ballpark, and here are some of the things that make it fun.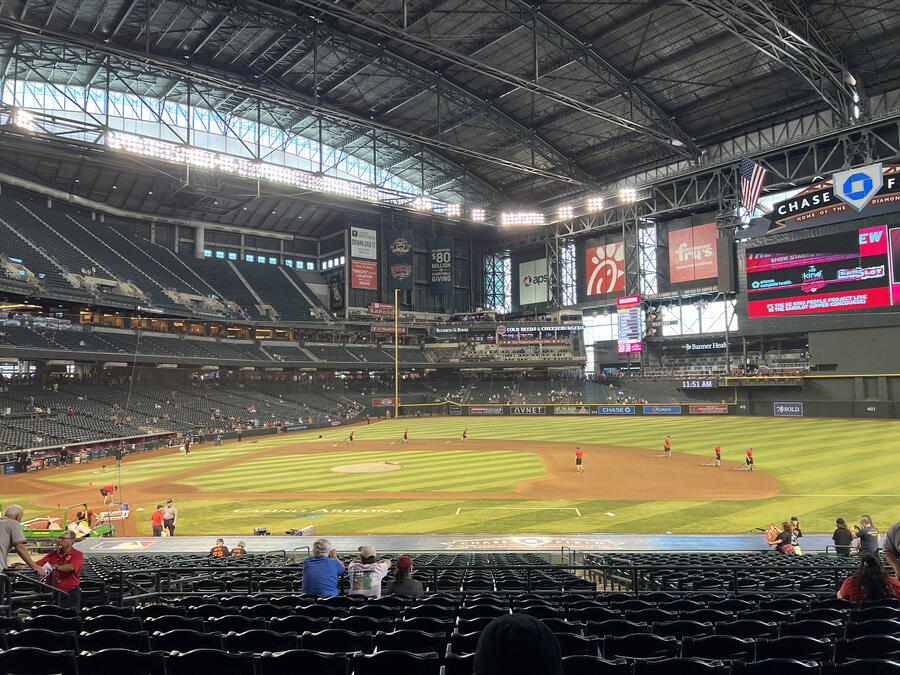 A venue protected from the heat
My older daughter detests hot weather, so going to the Valley of the Sun wasn't something she was looking forward to at all. I assured her that this ballpark was going to be comfortable, as its retractable roof allows for an indoor/outdoor park depending on the temperature, and the stadium is air conditioned inside. Chase is one of seven MLB ballparks with such a feature.
It also helped that we went in mid-May and not mid-July or August when it could soar to well over 100 degrees. It was only in the mid-90s, which was still tough for her, but she managed. It's that lovely Arizona dry heat that makes the temperatures seems less than they are.
Admittedly, even when I've seen telecasts of games at Chase, I've never seen the roof opened. I almost think it's always too hot outside to do that. But maybe that only happens in the time between late fall and early spring, when Phoenix's temperatures are relatively tolerable, like in the 70s and 80s, and they will host other events like concerts and other sporting events.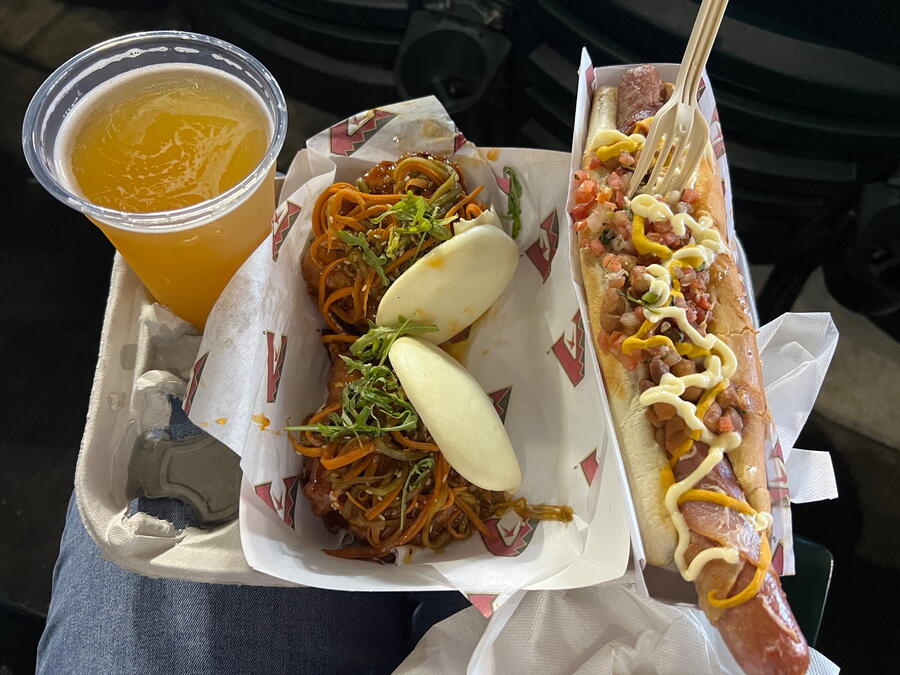 Variety in ballpark food
Most MLB parks have tried to improve the quality of their culinary offerings, with varying degrees of success. I must admit that the food at our local venue, Coors Field, is rather boring.  And not to be biased (although I am proud that they make the effort), but Oracle Park in San Francisco does offer the best, or at least the most variety.
At Chase Field, I was surprised by the diversity of ballpark food. While you certainly have your fair share of hot dogs and hamburgers, you can get some interesting takes on these favorites. They include the locally popular Sonora dog, wrapped in bacon and topped with pico de gallo, pinto beans, mayo and mustard. We also had Asian crispy buns with slaw and topped with a sweet chili sauce.  Both are sold at the Taste of Chase stand, along with Greek fries.
You can also get gyros, barbecue and steak sandwiches, beer battered chicken tenders, plus a good share of gluten free options. And it truly wouldn't be Arizona if you didn't have Mexican. Gadzooks and A-Zona Street Tacos seem to offer some solid favorites.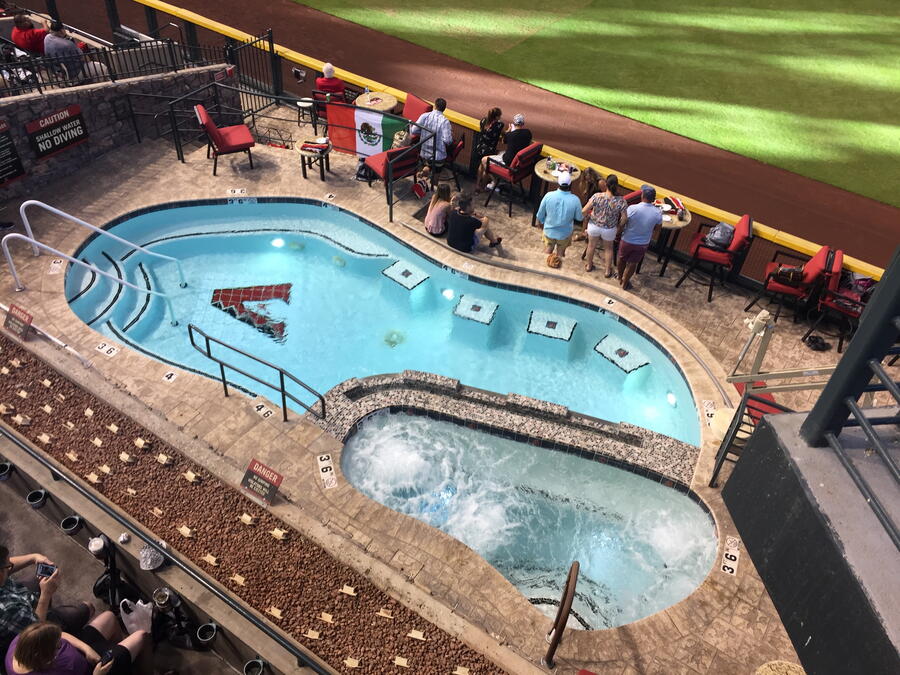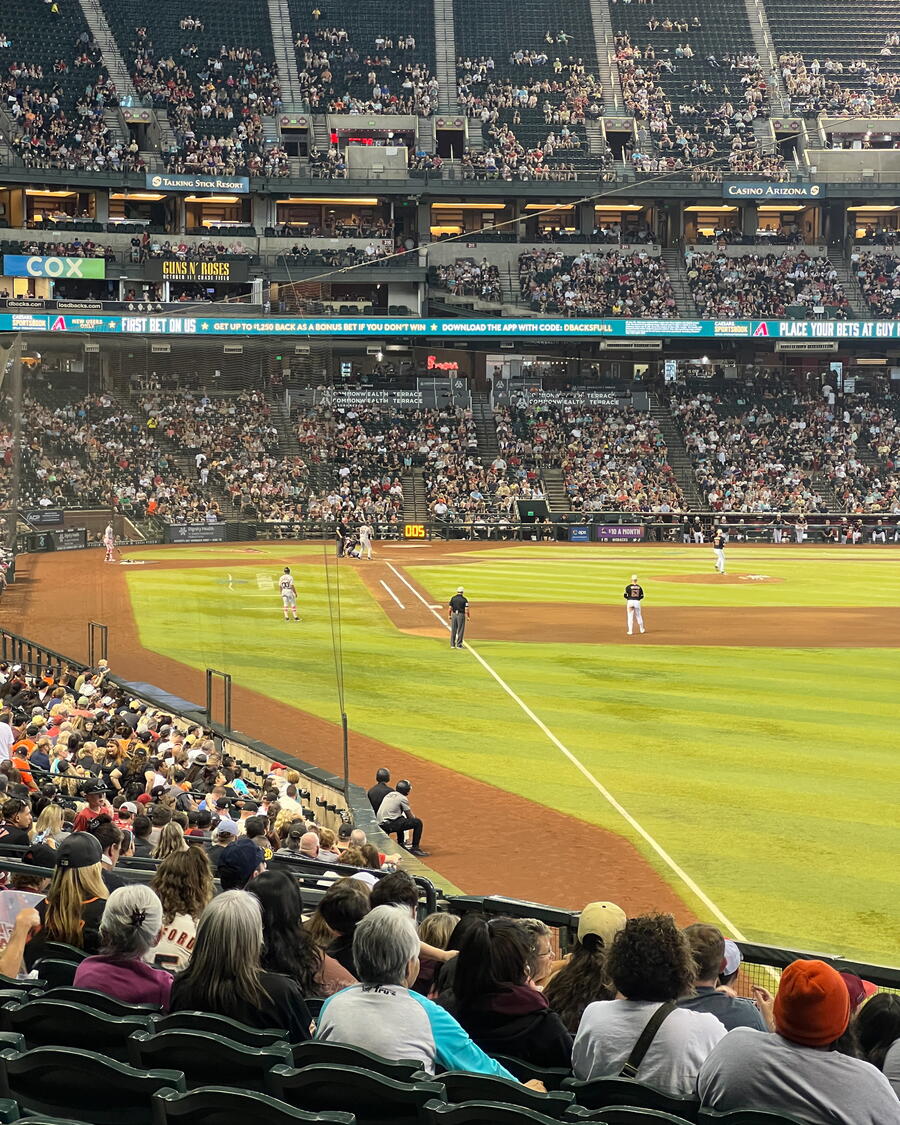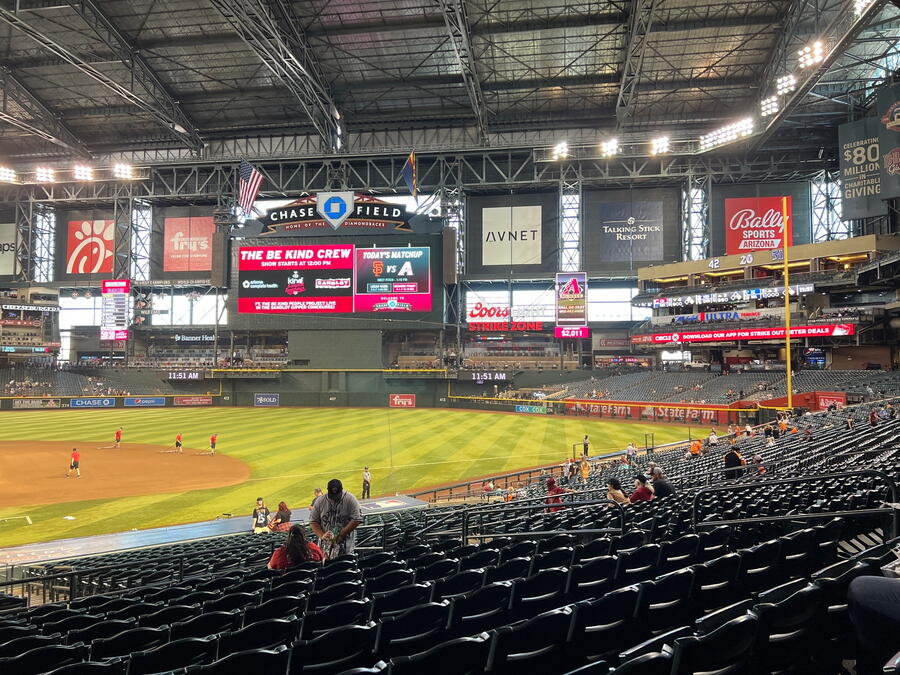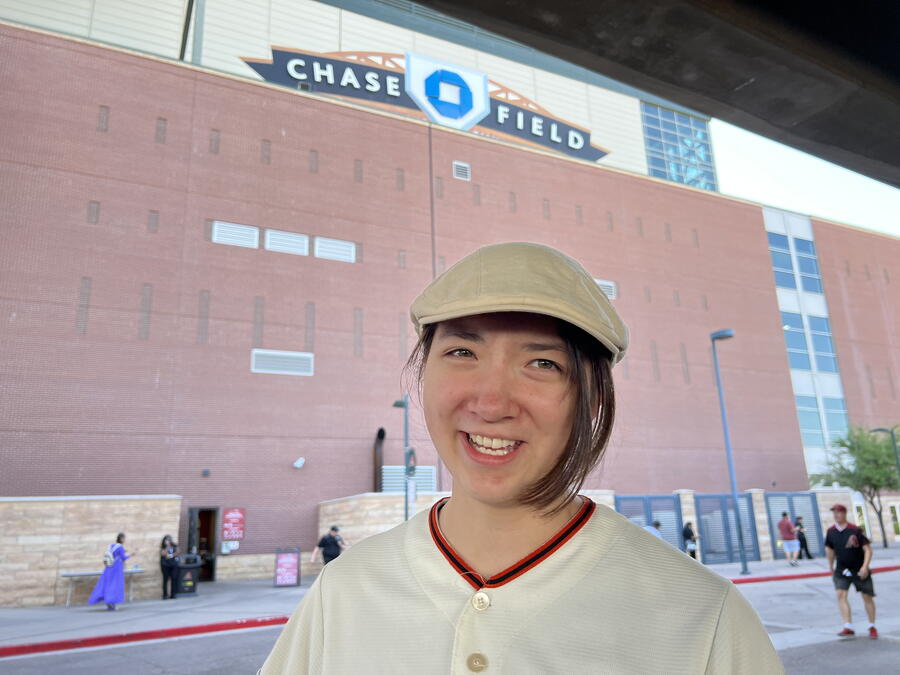 Easygoing fans and atmosphere
Attend a baseball game in some cities and root for the visiting team, and you just might get booed or yelled at or have some rude words thrown your way. That's happened to me a few times going to Dodger Stadium in LA. I've heard that fans at some East Coast ballparks get a little intense, too.
Luckily, that didn't happen to us a Chase Field. Maybe it's because the Giants used to have minor league farm team here before the DBacks, and they still have their spring training in nearby Scottsdale and thus have a fan presence. But even if they didn't, the Arizona crowd seemed to be casual about our rooting for San Francisco. Most of the population of the Phoenix area also comes from somewhere else, so the locals are well-versed in visiting teams' fans' behavior.
Also, how can you be too uptight about anything when your ballpark has a swimming pool area in the outfield?