When you go on a cruise, most of your meals are included in the fare. That makes cruising one of the most appealing kinds of travel around.
But sometimes – and especially since cruise lines have returned to sailing last summer – the quality of food varies greatly. On the four cruises I've been on since the start of the year, one has offered outstanding overall cuisine, while the other two have been inconsistent. If you've followed my posts, you'll know which is which.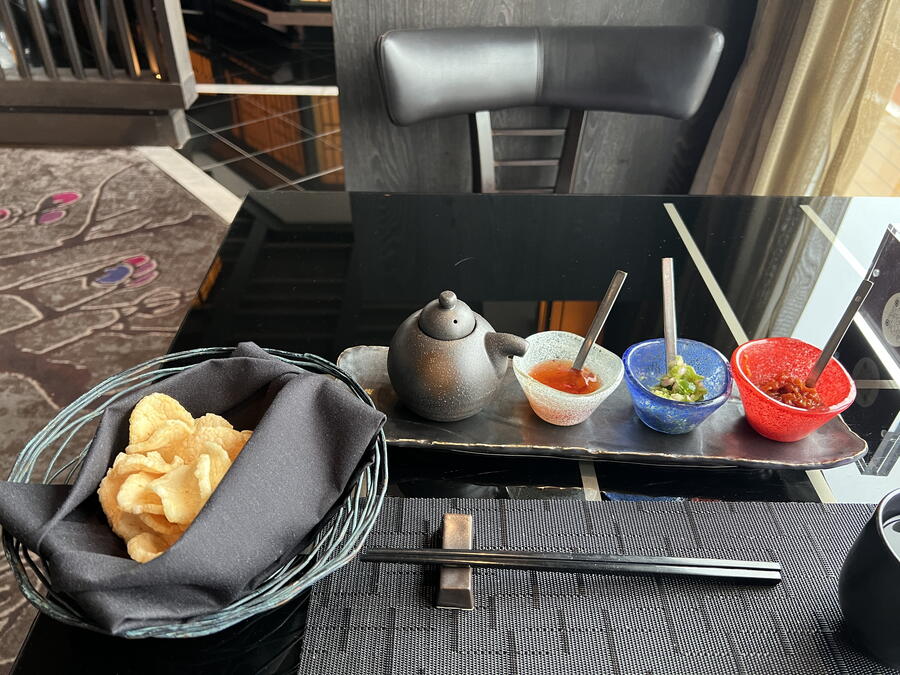 Why do a specialty dining place?
Going to a cruise ship's specialty restaurants might not be something you'd like to do, especially when most food is included.  But it's worth it to enjoy a meal on at least one of these venues. Some cruise lines will allow you to have multiple opportunities to try specialty dining with packaged pricing. That is what I did with MSC, and I'm glad I did because those were the best dinners I enjoyed during the cruise.
Last week, I reviewed the included food on Holland America's Koningsdam. I was onboard to go on a familiarization (FAM) trip to Alaska for travel advisors. While I've been to Alaska before with Royal Caribbean, this trip was quite different in that I deliberately sought out culinary oriented experiences.
Here are the three specialty dining places I went to during my cruise: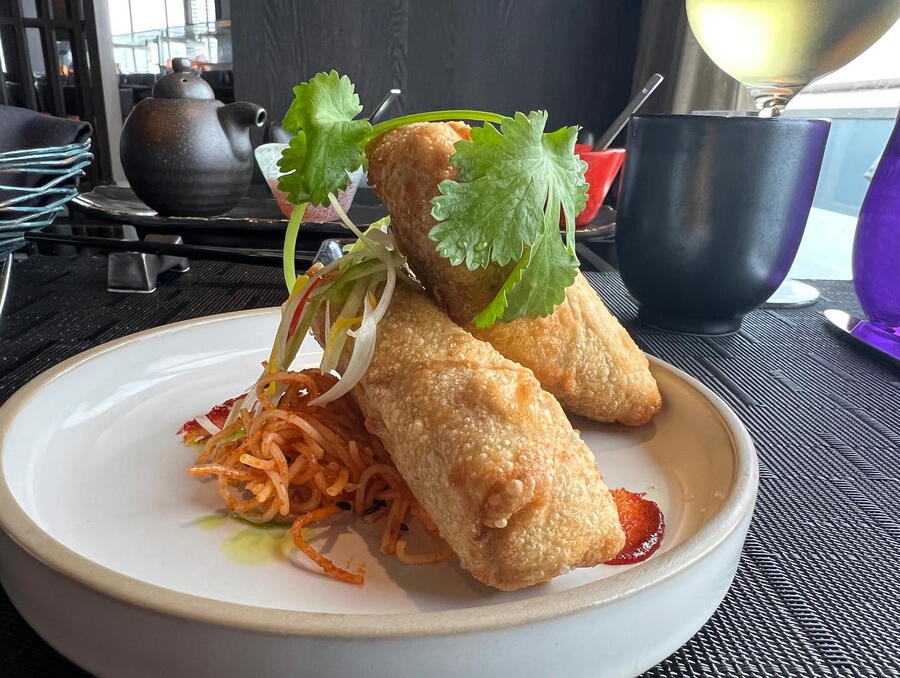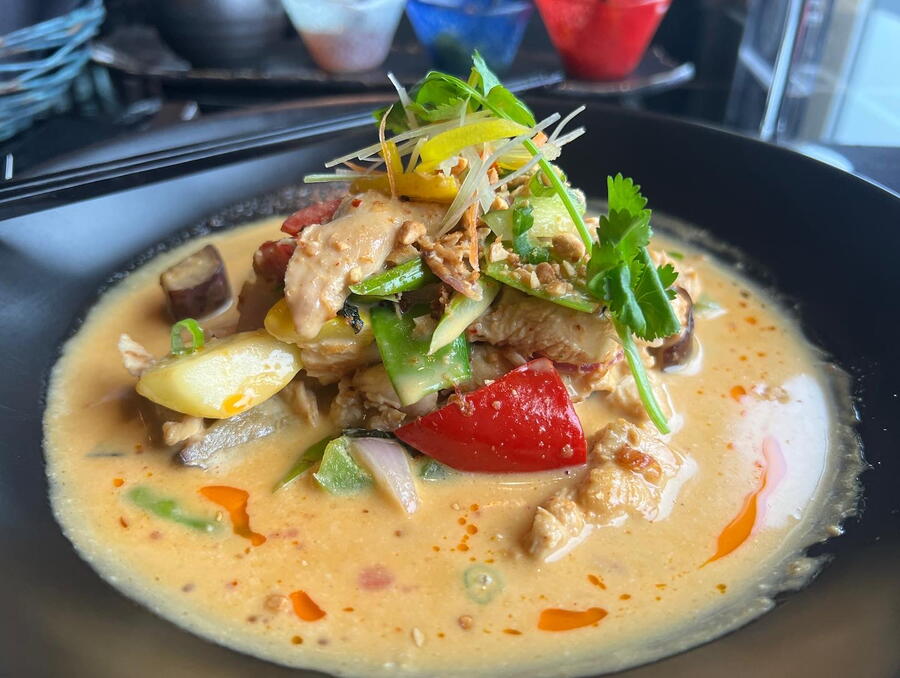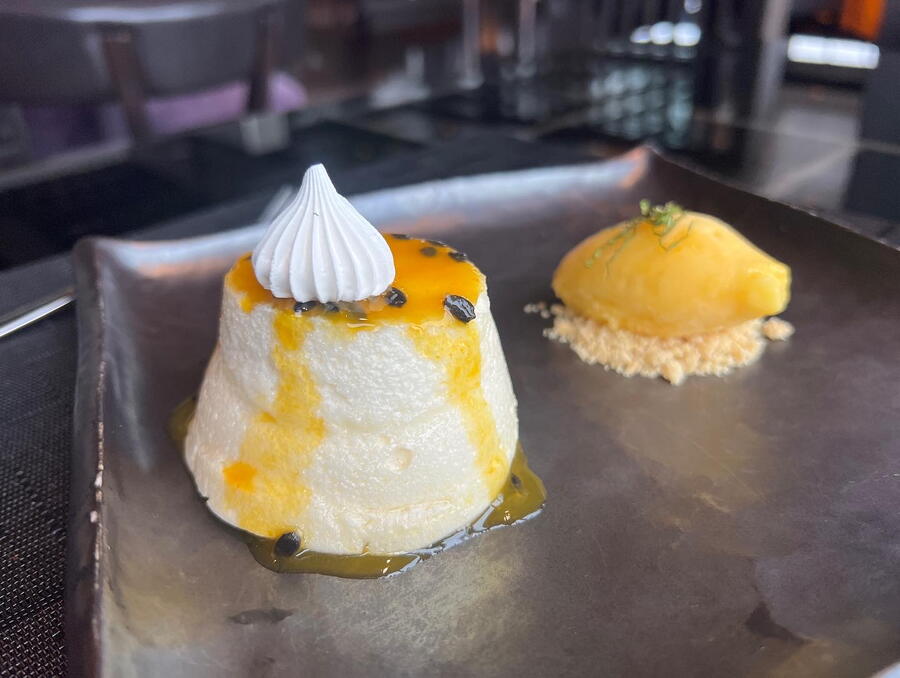 Tamarind
In this pan-Asian restaurant, with its minimalist but sleek interiors, you're likely to find something to enjoy.  Cuisines from China, Japan and Southeast Asia are represented on the menu and are inspired by the earthly elements of wood, water, fire and earth.  Within Tamarind is the sushi bar restaurant, Nami, where you can sushi along with other dishes.
For my dinner, I decided to go for three courses – shiitake and mushroom spring rolls for a starter, panang red curry with chicken for my main dish and mango posset for dessert.  Before that, my server brought light puffed rice crackers with three different kinds of sauces for dipping. The most flavorful was the Thai chili, which had the right amount of sour, sweet and spicy.
The one disappointment of my entire meal here was the spring rolls. They were a bit doughy for my liking, with not a lot of filling.  But the panang curry was amazing with the addition of coconut milk to the piquant sauce, and plenty of fresh vegetable to keep it vibrant. Finally, the mango posset was a light, refreshing end to my first specialty dinner.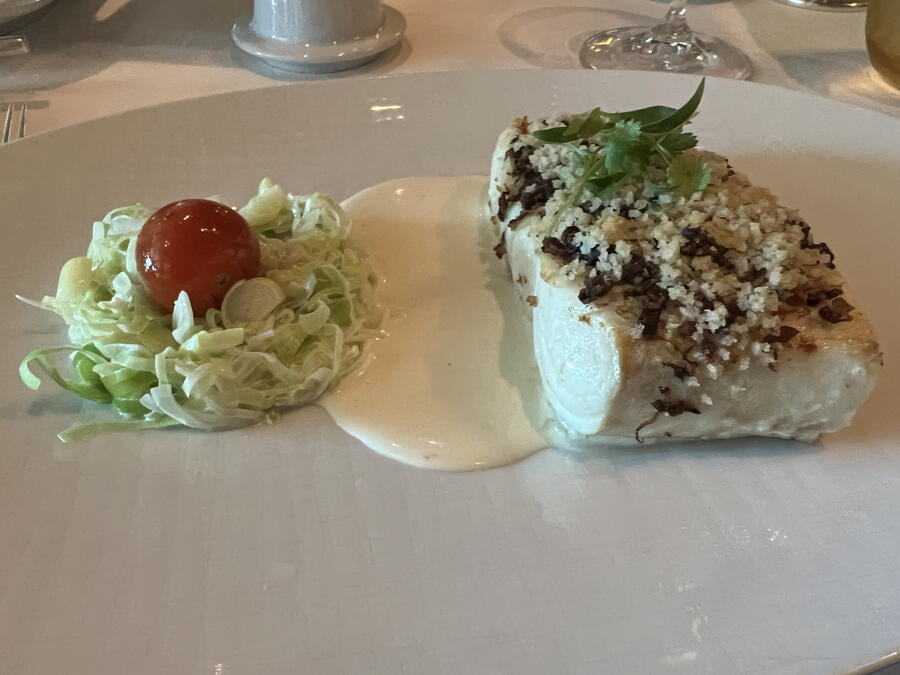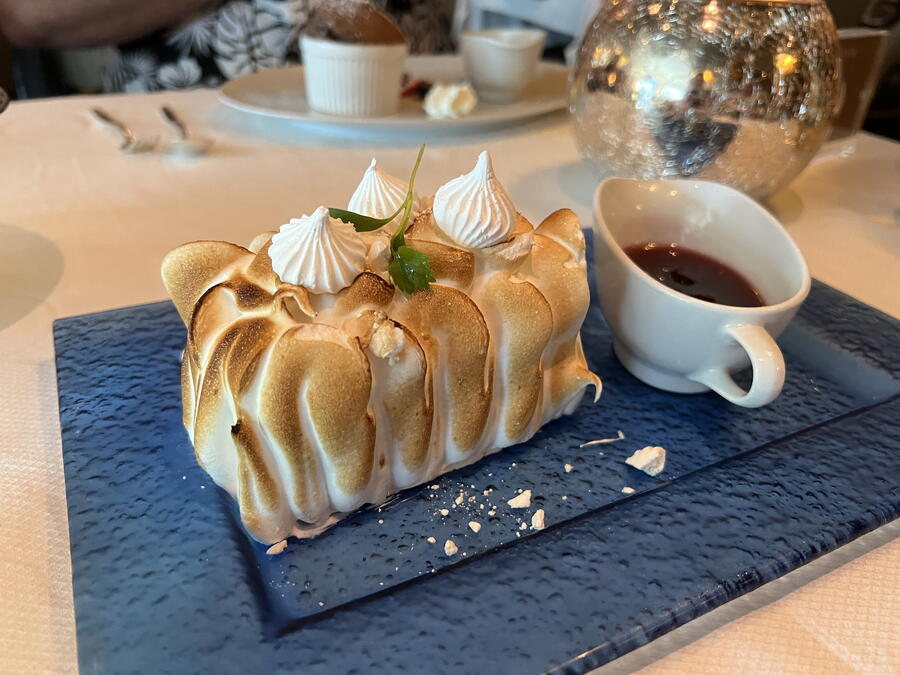 Pinnacle Grill
One of Holland America's signature specialty venues is this steakhouse, which features the classic wood and neutral-tone elegant atmosphere characteristic of this kind of restaurant.  This was our included dinner courtesy of the FAM team, so I joined up with three other travel advisors and enjoyed the company.
Since I am not a devout steak fan. I opted not to get one here.  The good news is there was plenty of other non-steak options to choose from.  With this meal, I ordered Caesar salad, halibut with a baked potato side, and a chocolate souffle.  Just for good measure, I included a picture of the baked Alaska that one of my companions had but not the salad - it looked pretty ordinary.
Just about everything with this dinner was superb. I especially loved the halibut, which was topped with panko crumbs and was wonderfully complimented by the champagne vinaigrette sauce.  I probably should have split the baked potato with one of my companions, as it was almost the size of a football. And what could I say about the souffle, other than it was chocolate heaven on earth.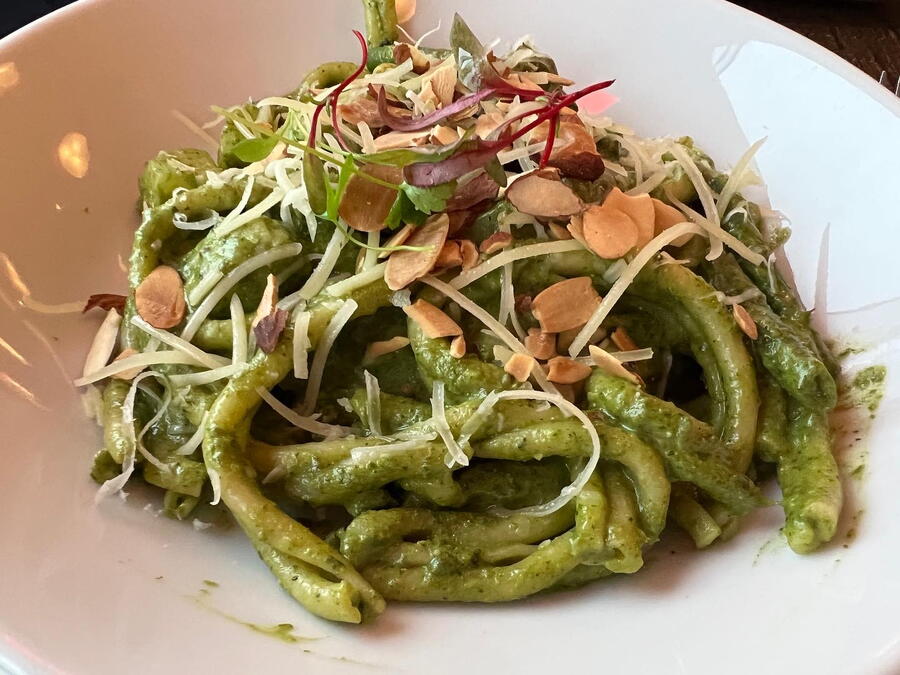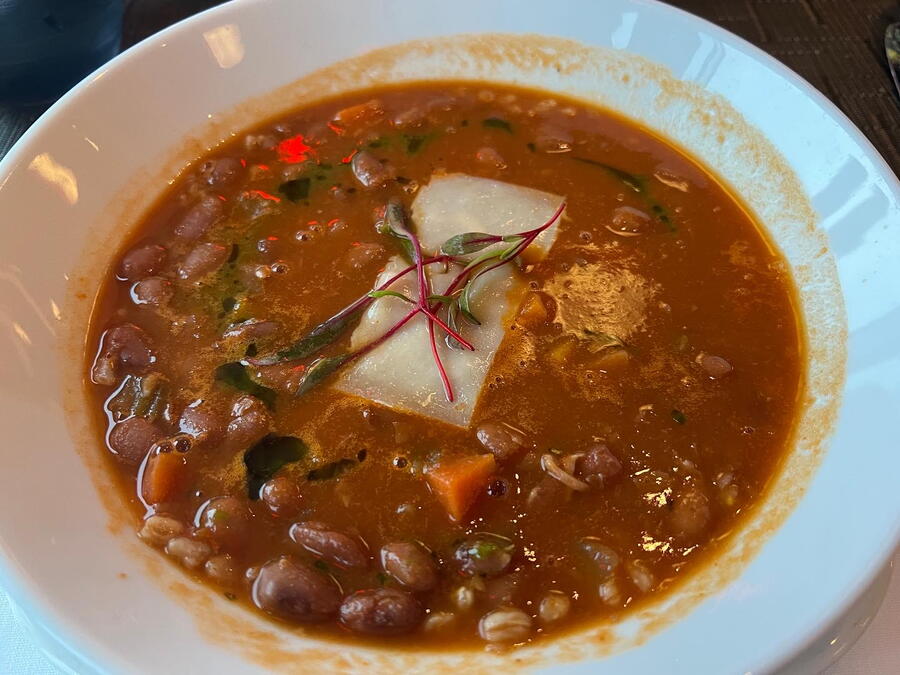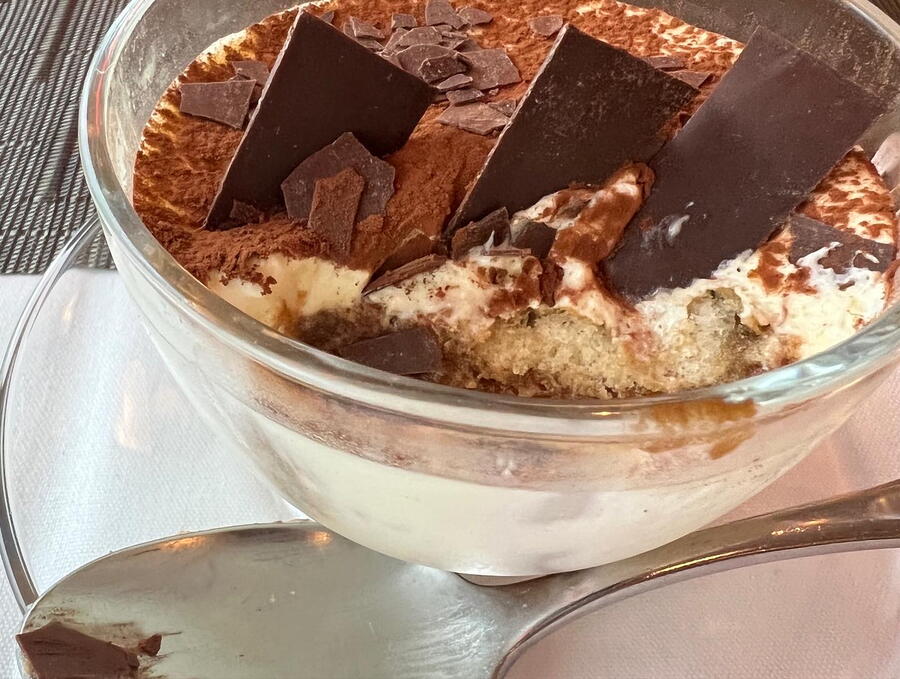 Canaletto
In all the specialty dining restaurants I've visited, none are within the buffet premises. In this case with Holland's Italian venue, you sit in a separate section of the Lido Market. I found this a little informal, even with the upgraded, red-themed décor - and therefore it subtracted from the exclusive quality of dining at a specialty restaurant.  But the food compensated for this hiccup.
To start, I chose minestrone soup, then moved on to pasta Genovese and tiramisu.  I tend to stick to what I love about Italian food, not venturing into the unusual or unfamiliar.  Even with these popular favorites, I found them to be solid and fresh tasting.  Even the slices of bread I enjoyed were soft, warm and pillowy, with three equally delicious dipping sauces and briny green olives.
One example of Holland America's exceptional service occurred here. I sat in this area a few times when it was part of the Lido Market. When I came here in its Canaletto version, the same servers during the morning at breakfast remembered my name, even though I hadn't been there in several days.  Even with visuals like a photo, I wouldn't be able to do that.