Since I first wrote about Golden's first food hall, Tributary, two new ones have popped up in town. One is Golden Mill, which is about twice the size of Tributary and with a more appealing creek-side setting. Now there's Morris and Mae, located on the incline to Interstate 70.  
At first, it doesn't seem to be in a great location. It's a retail center that's right next to a rock quarry and took years to get going.  We locals weren't sure what businesses were going to be there. More than a few of us wanted to have a grocery store. Instead, some that opened were a gas station/convenience store, a brewery, a restaurant, a coffee house, a liquor store, a giant Harley Davidson retail shop, and Origin Red Rocks hotel.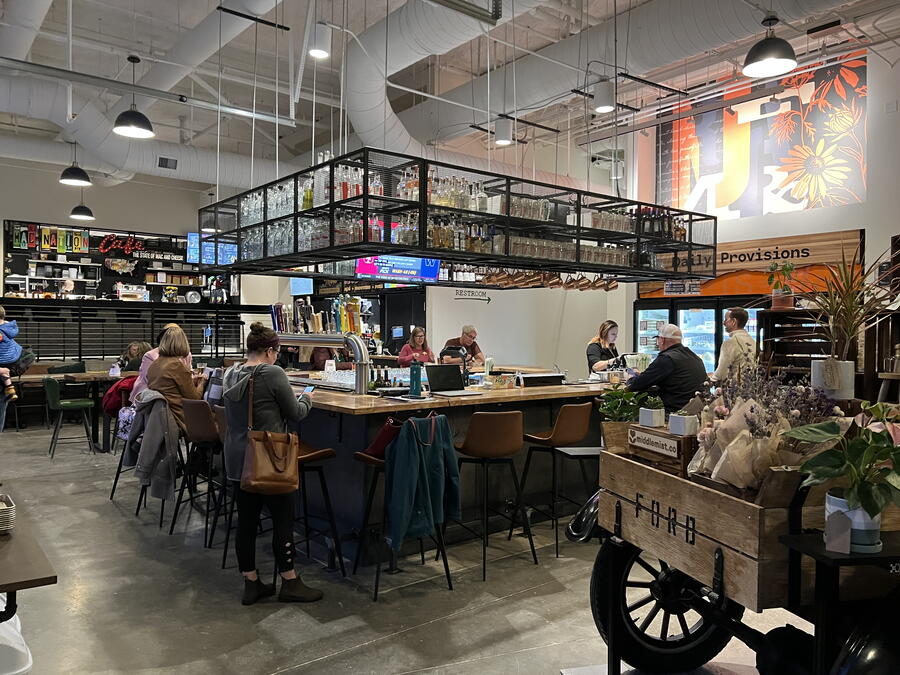 Nearby, there are three commuter lots that seem to be gathering places for people heading up to the mountains. Combined with the hotel and the new apartment building directly above the food hall, it just might be a good place for such a venue.
There are six food counters and one bar, much like Tributary, but it's more like Golden Mill (other than its regular bar and not self-service taps).  The hall is spacious with split levels, where one eatery is and another for fun bleacher-style seating.  Tables of different sizes and a few couches and chairs lend a homey atmosphere. Large screen TVs show mostly sports events. Glass garage doors open to allow indoor/outdoor seating.
But how does the food rate?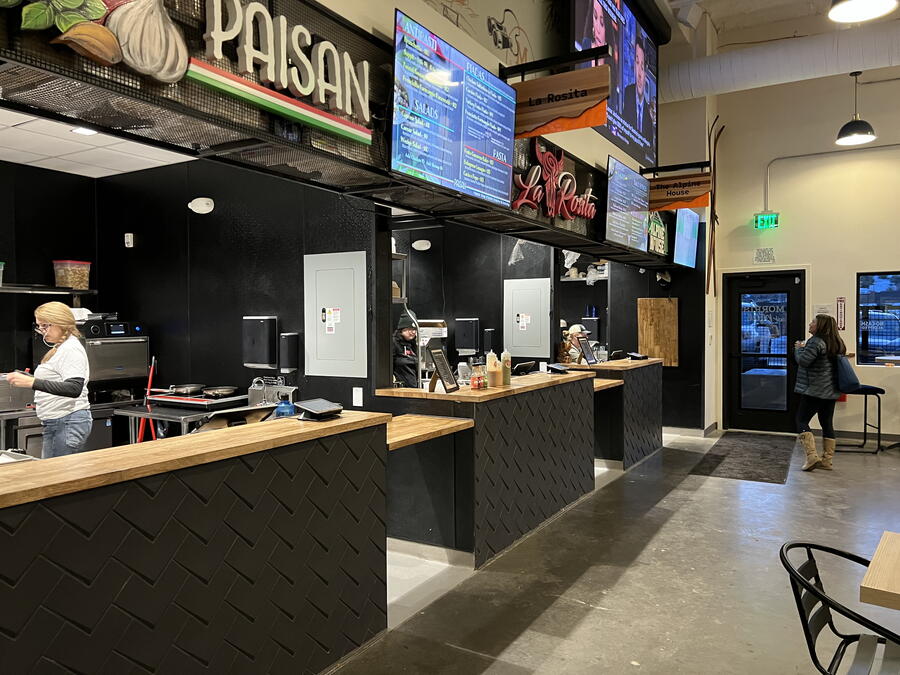 The Alpine House
Serving up "adventure inspired food" – that probably means what Coloradans like to eat – this place offers breakfast in the morning, closes in the afternoon and re-opens in the mid-afternoon to closing time. Their lunch/dinner menu is limited to just seven items, with the unusually named scree chicken and scree steak, both of which have a basil teriyaki marinade. I'm hoping that they will offer more food in the future.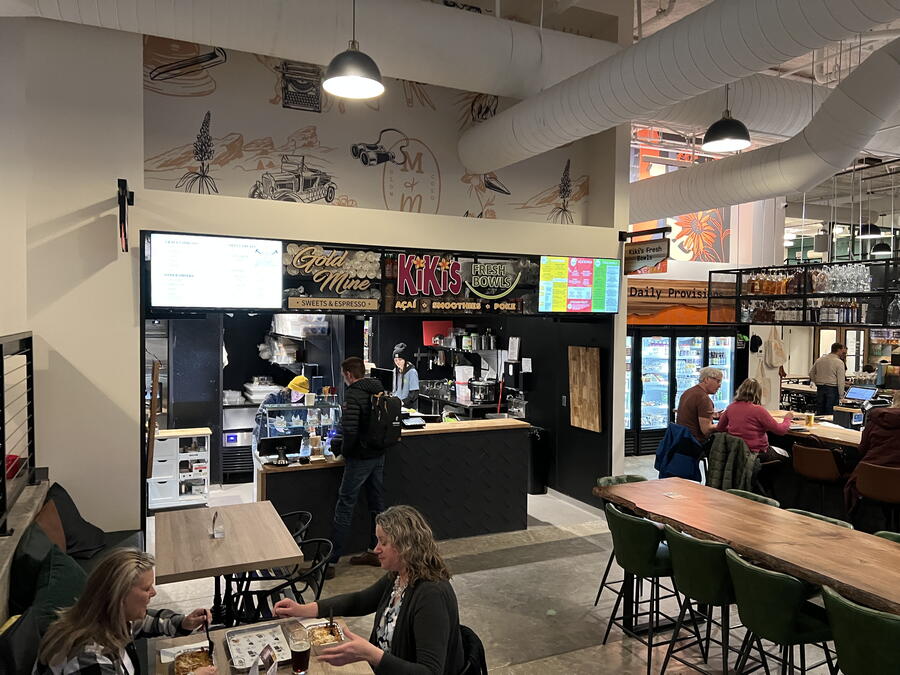 Gold Mine Sweets & Espresso
The second outpost of a popular cupcake bakery in downtown Golden, Gold Mine has probably every local's favorite treats. You can get mini versions of their regular cupcakes and not feel too guilty about it. My favorites are the turtle (chocolate cake with white frosting, pecans, caramel and chocolate drizzle) and the chocolate peanut butter.  If you need a caffeine boost, they also brew good coffee drinks. Gelato is also on the menu.
Kiki's Fresh Bowls
Following another popular trend, Kiki's has both acai and poke bowls, which gives you a sweet and savory option depending on your preference, and smoothies.  Several of the poke bowls include raw fish, but there is one with grilled chicken. The acai bowls mix up fresh fruits with nut butters, cereal or chia seeds. You can also create your own customized bowls and enjoy a cool non-alcoholic fruit drink or flavored iced tea.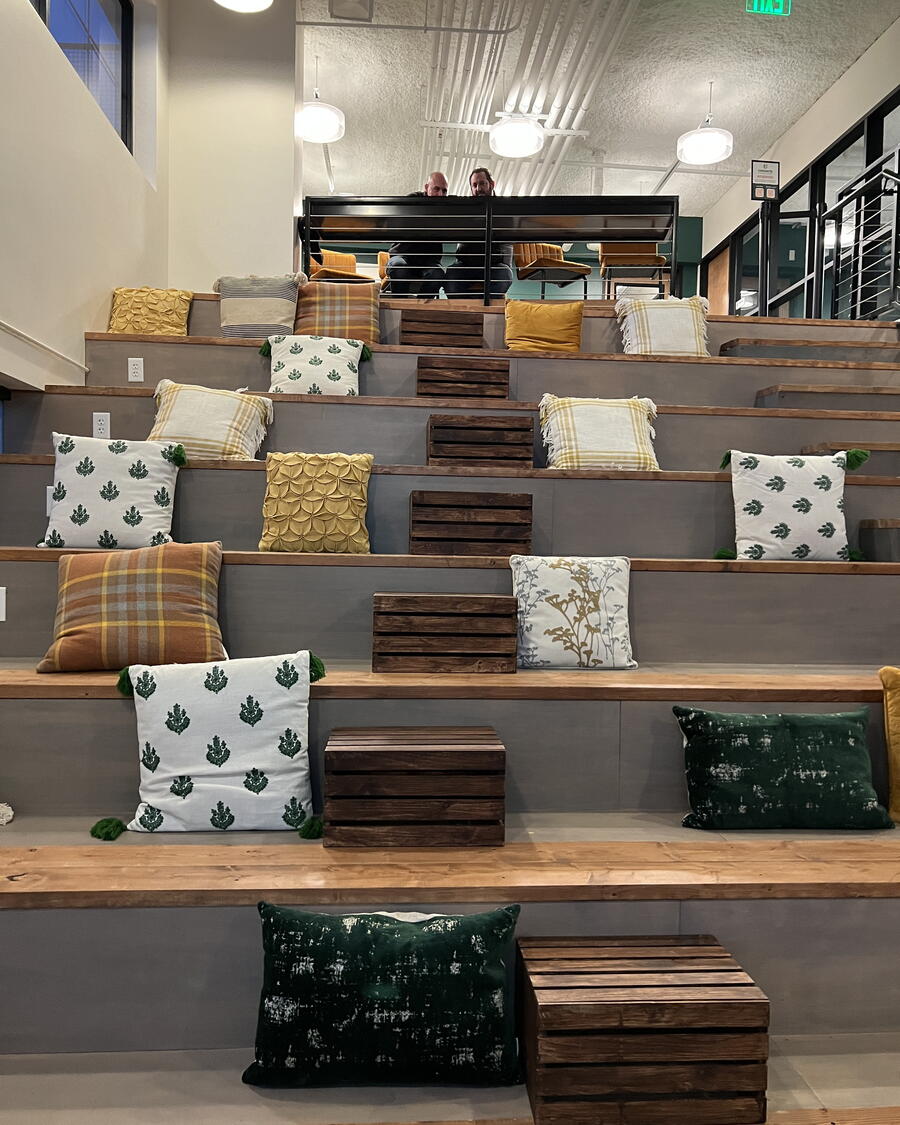 La Rosita
A "coastal Colorado" venue. La Rosita showcases six Baja-style street tacos – chicken tinga, tri-tip steak, carnitas, blackened shrimp, birria (shredded beef), and mushroom.  These also come in bowl form, along with a shrimp-steak combo.  Along with the usual chips and salsa/guacamole, you can also add green chile soup or the Mexican-style corn called elote, which I will try the next time we visit.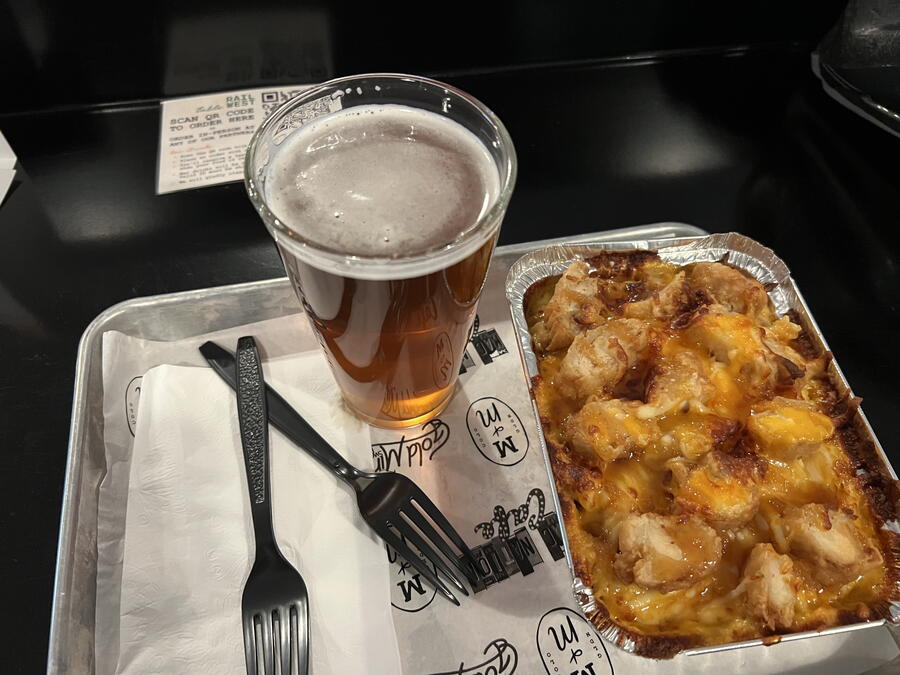 Mac Nation Café
I must admit – this counter was the place I was most intrigued by.  I love mac and cheese and twenty-three different kinds, categorized by chicken, pork, beef, crab or vegetarian, are available. Since RAS and I weren't particularly hungry on this visit, we shared a sizeable portion of the limited-edition Tennessee, which has the choice of either hot honey chicken or buffalo chicken. I think just about any of these choices would have been excellent.
Paisan
What makes this place different from the standard Italian counter is something called piadas. It's essentially a wrap with either chicken saltimbocca, turkey pesto, prosciutto formaggio or vegetables. You can also order antipasti, which also have a bit of a twist on the usual. Panzerotti are fried pizza pockets with either sausage or prosciutto, and suppli consist of fried risotto stuffed with cheese and served with marinara. There's also several pasta dishes to choose from.