I've finally gotten to the good part with our Norwegian Joy cruise, after talking about the ship and our destinations.
Part of my travel professional mission, as both an advisor and as a blogger/writer, is reporting on the quality of the food.  It's not always easy to do. Just like anyone on vacation, I easily eat WAY more than I do at home, and that's especially true with cruises. Unlike the one-or two-dish meal and one glass of wine, beer or cocktail at dinner that I normally consume, I'll have multiple dishes at the buffet, at least three courses at dinner and more drinks than I care to count, plus those omnipresent snacks.
All I can say to that is, thank goodness for Peloton workouts…and coming home and eating normally again.
On Joy, our weeklong feast started with the usual initial cruise meal at the buffet (the Garden Café) and ended with the specialty venue, Cagney's steakhouse.  Admittedly, only a small portion of it was super-creative – not like the wow factor we experienced on the Virgin Voyages cruise from last year.  But I still enjoyed it all.
Here is our culinary journey on our Mexican Riviera cruise:
The Garden Café
Norwegian Joy's buffet was fully open to accommodate the near-capacity sailing. I'm often lukewarm or downright critical of a cruise ship's food trough. But the dishes here were solid. The only complaint that I had about coming here was the lack of bananas. There were sliced ones in syrup, but for some reason there weren't available fresh, and no one seemed to know why.
We ate our breakfast here every morning and a few lunches. I loved the made-to-order omelet with veggies and cheese. On most of the days I appreciated the lighter options like oatmeal, muesli, fruit, yogurt and pastries.  A good assortment of salads, soups, Indian and Asian dishes kept lunches interesting. Naturally, RAS loaded up on his meals with multiple helpings.
The most amusing part of the Garden Café were the crew members, with small drums or tambourines in hand, who would sing improvised ditties about washing your hands at the sinks before you entered the dining area.
The Observation Lounge
Hands down, this was my favorite place on the ship. I would come her nearly every morning to do my journal writing, blogging and travel advising work, even if the wi-fi wasn't the greatest. With its floor to ceiling picture windows at the bow of the ship, overlooking whatever was on the horizon, it made for an inspirational workplace. If the divan seats were taken, there were plenty of comfortable couches, chairs and tables to settle into.
It was also a quiet alternative to the busy Garden Café one deck above.  There were also two small self-service food areas on both sides of the lounge, with a continental breakfast in the morning and afternoon tea items later. A full-service bar and one of several Starbucks counters provided beverages to thirsty guests.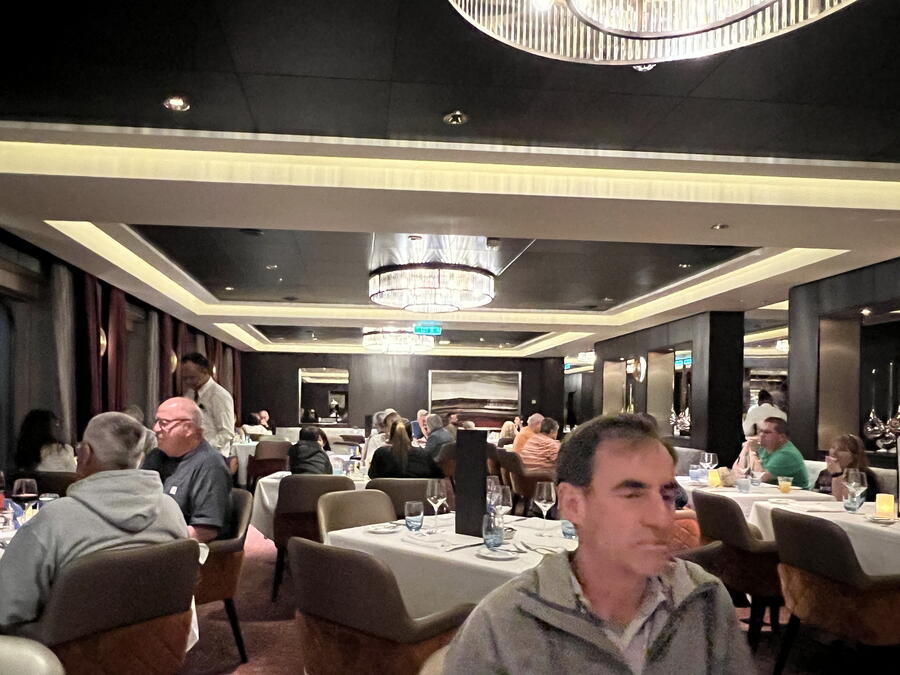 Taste (the main dining room)
Joy has three main dining rooms – The Manhattan Room, Savor and Taste. Because of our four specialty meals and the two shore excursions with meals, we only had one dinner at the main dining room – in this case, Taste. It's an intimate setting that's far from the cavernous multi-level halls that many contemporary lines have. And as expected, the service was perfectly executed.
RAS and I had decent entrees for this experience. He enjoyed a New York strip steak with vegetables and mashed potatoes, while I dined on a barbecue chicken, corn and sweet potatoes. The portions were quite generous – so much that we couldn't even think about ordering dessert.  We learned to pace ourselves with our meals after this.(I also did not take pictures of the food, because it was ordinary in its presentation)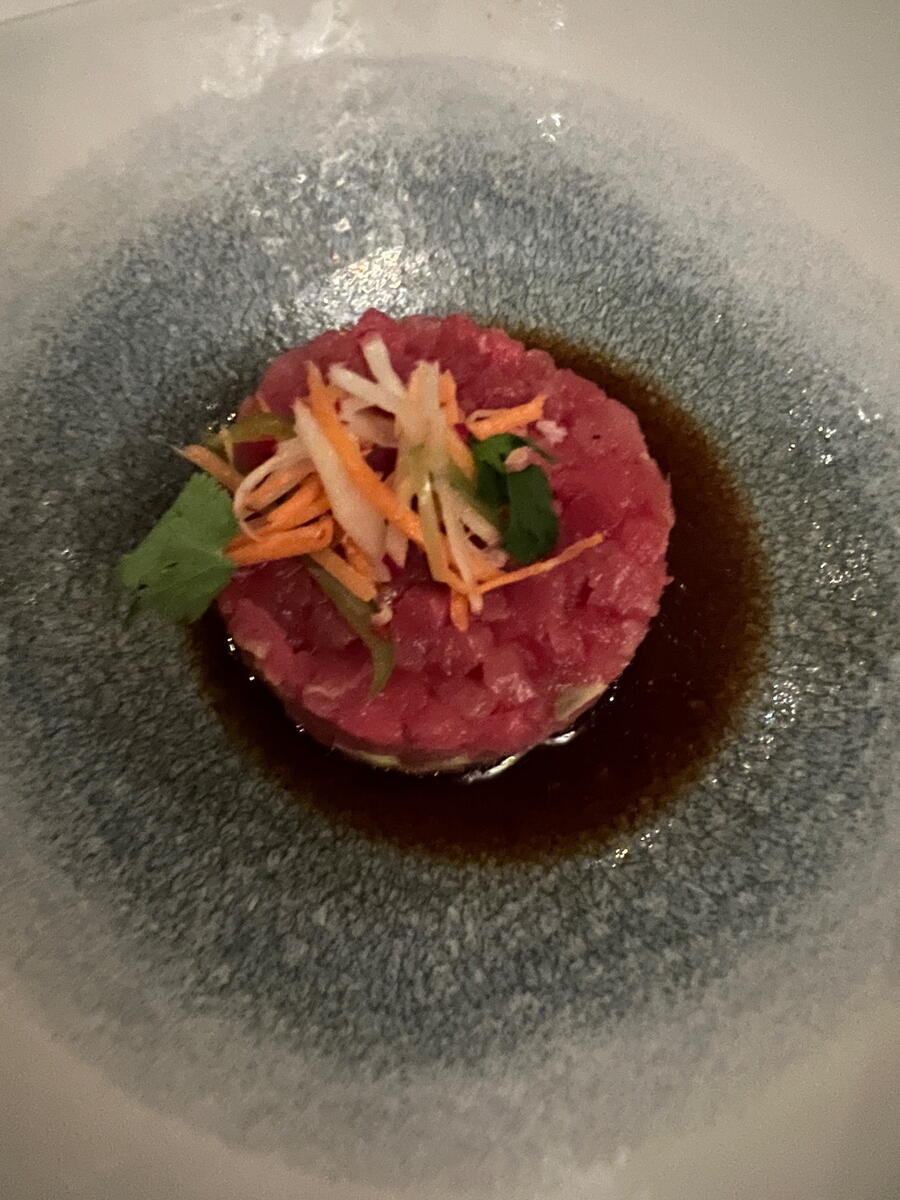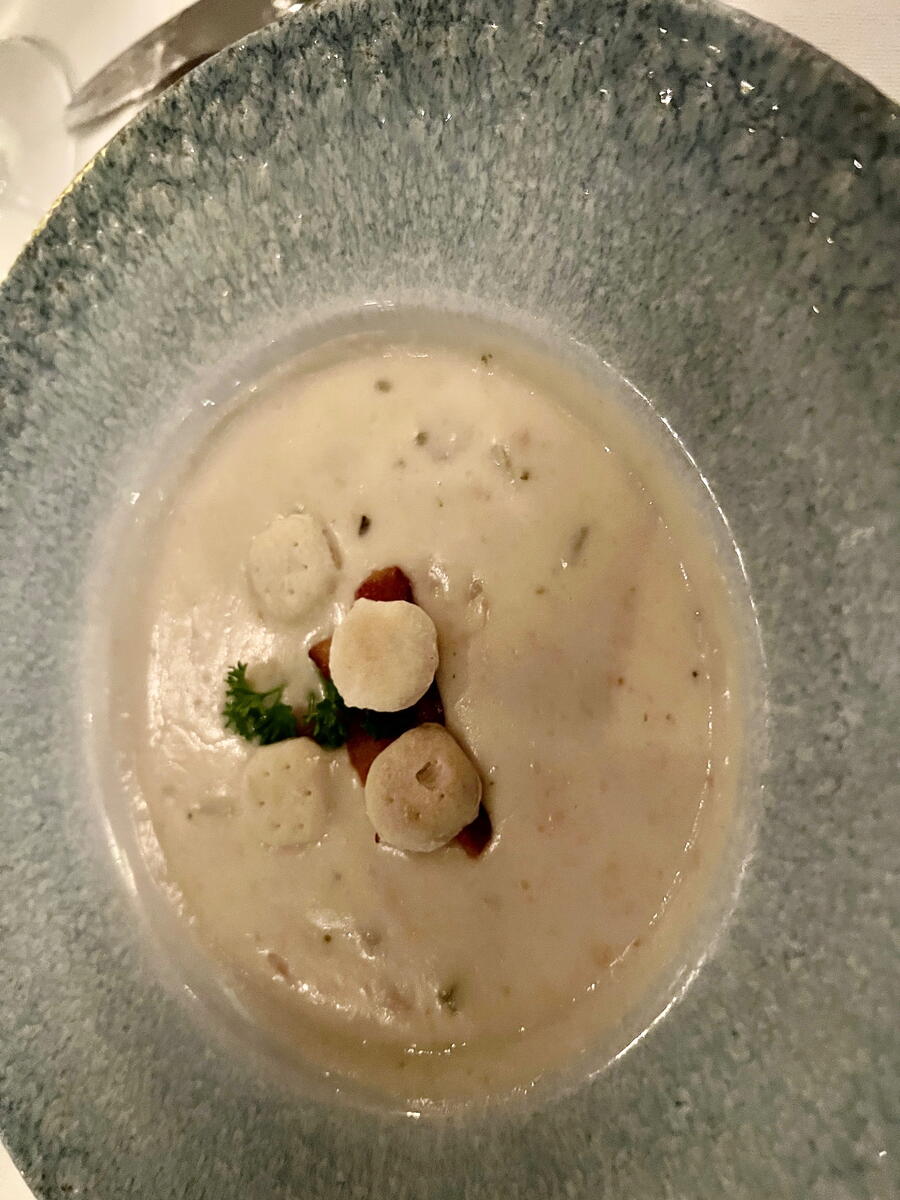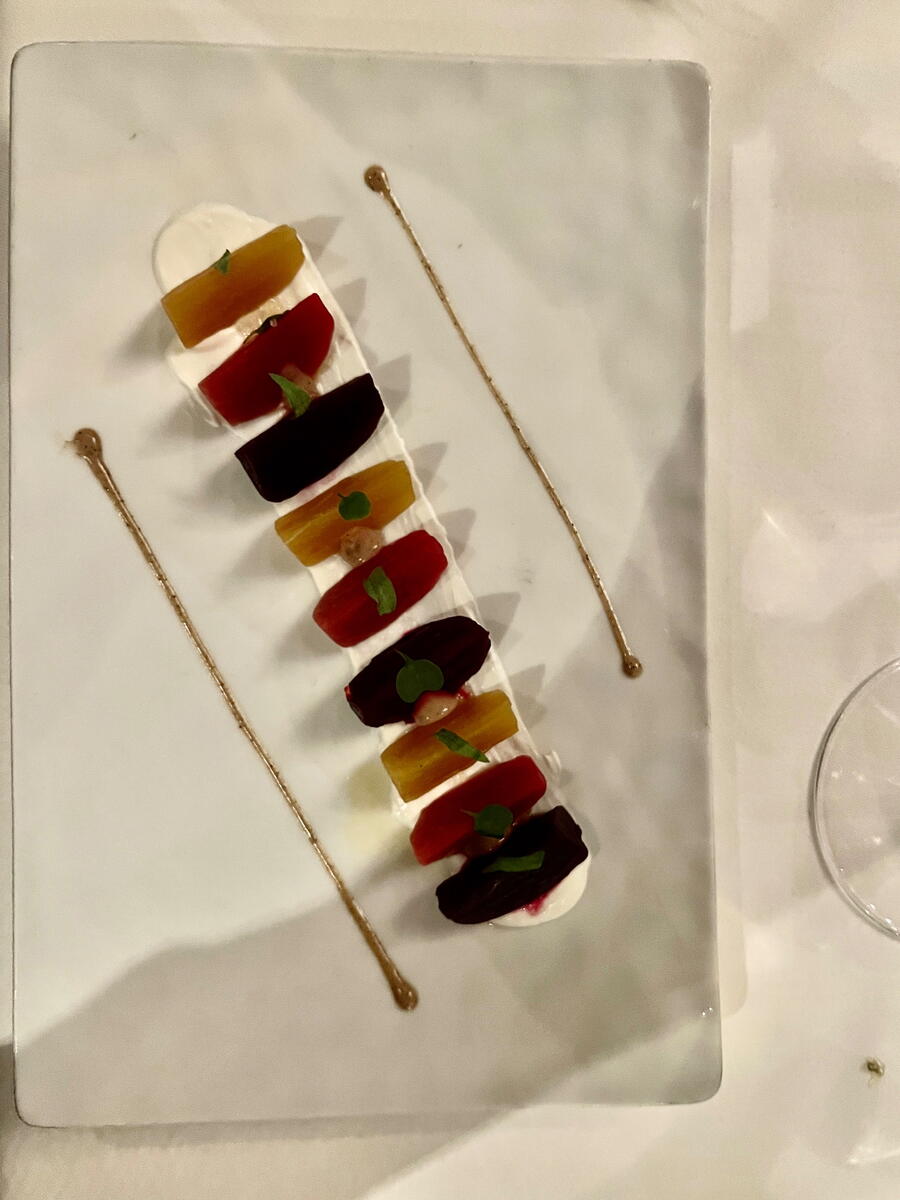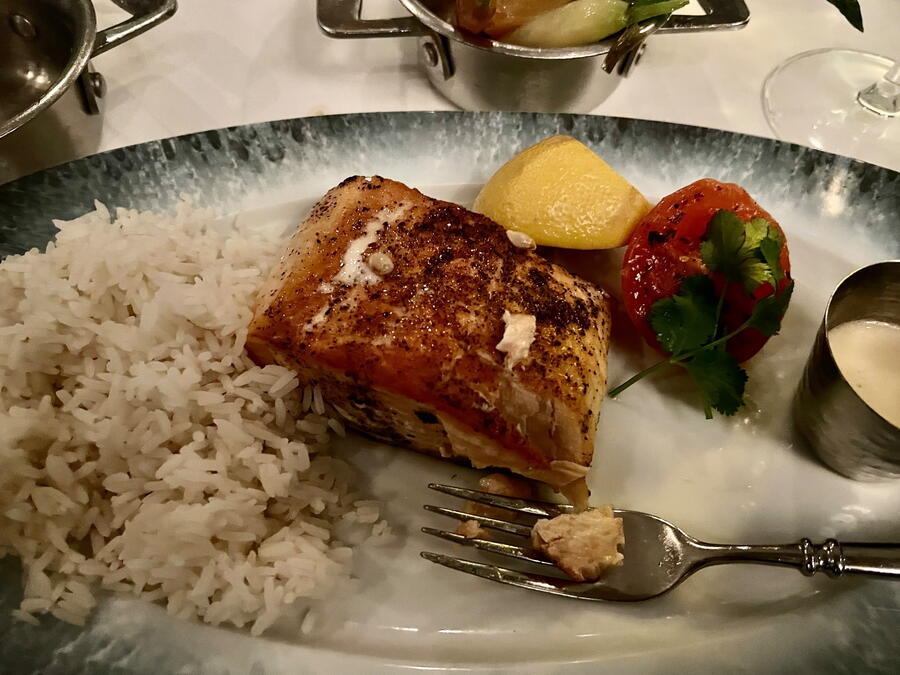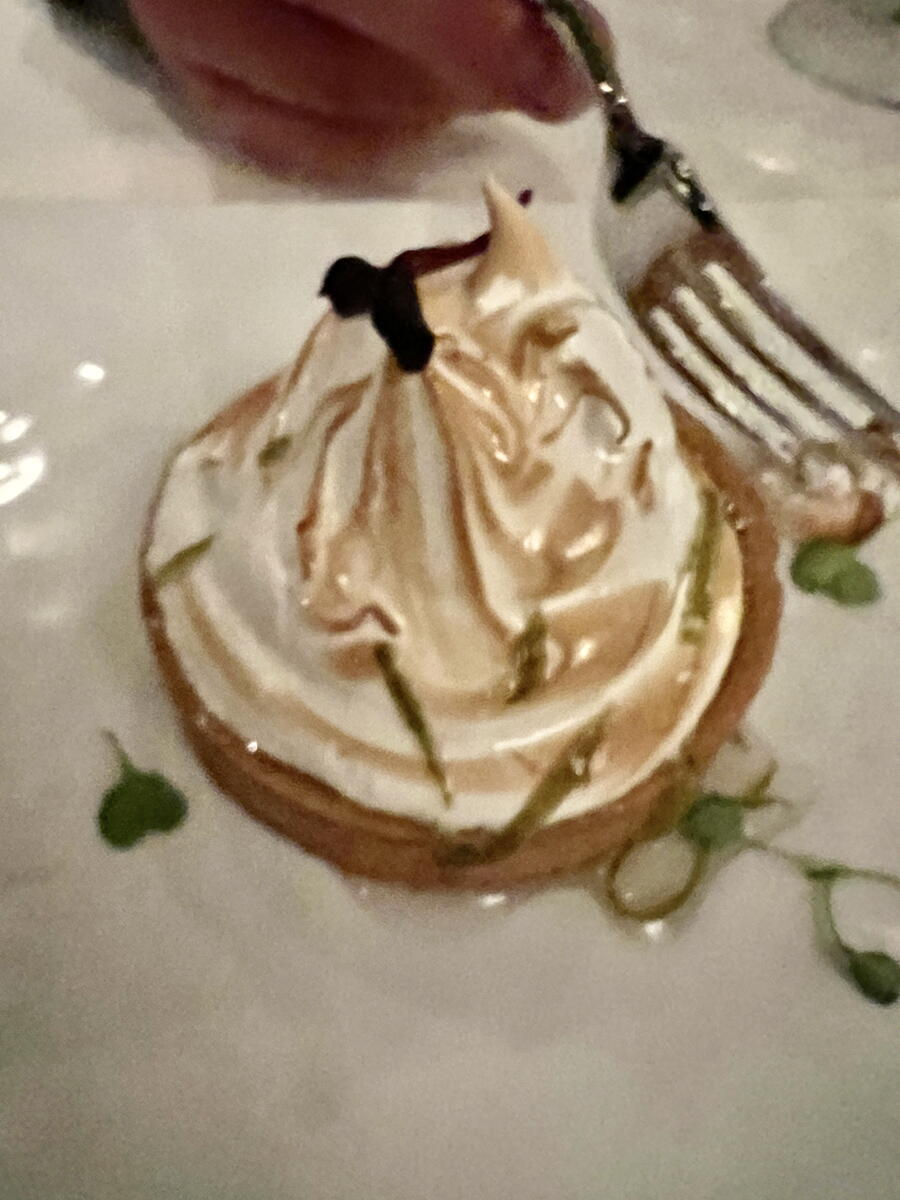 Ocean Blue
The first specialty restaurant we tried was this seafood eatery, and just about everything here was superb.  RAS and I started with appetizers – an ahi and avocado stack, roasted beet salad and an extraordinary New England clam chowder.
I would have been satisfied with that, but I naturally ordered my favorite grilled salmon, with a hint of citrus, seasonal vegetables and jasmine rice.  He enjoyed a fisherman's platter with assorted grilled seafood. We then shared a key lime pie with meringue and two glasses of a perfectly paired Sauvignon Blanc.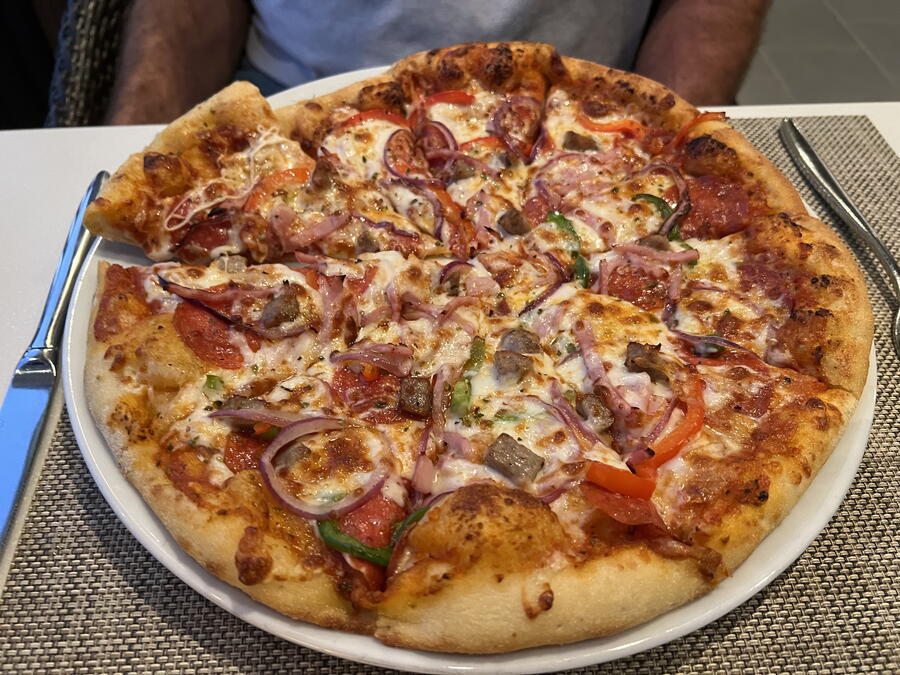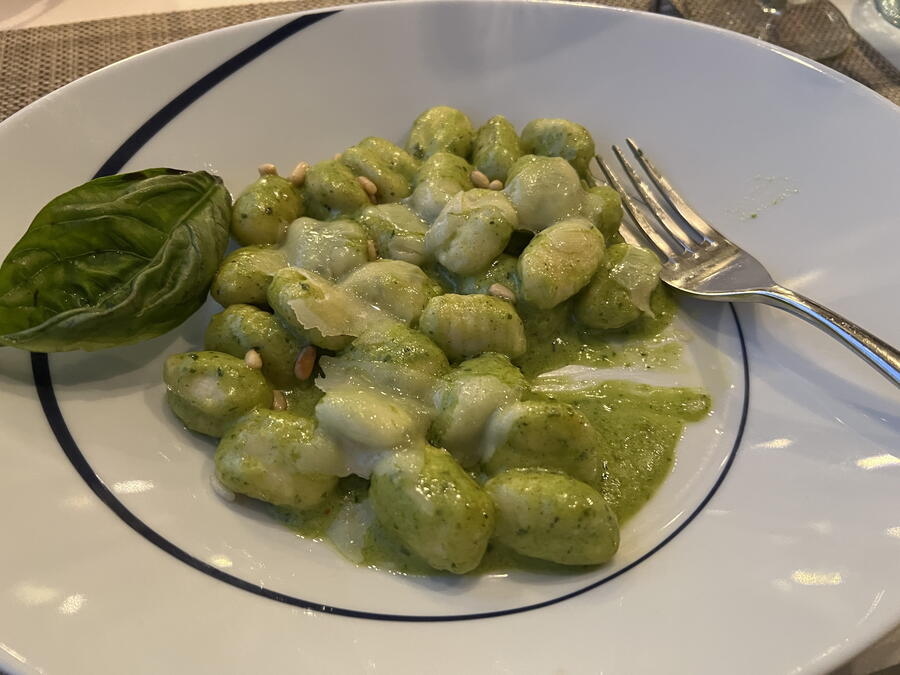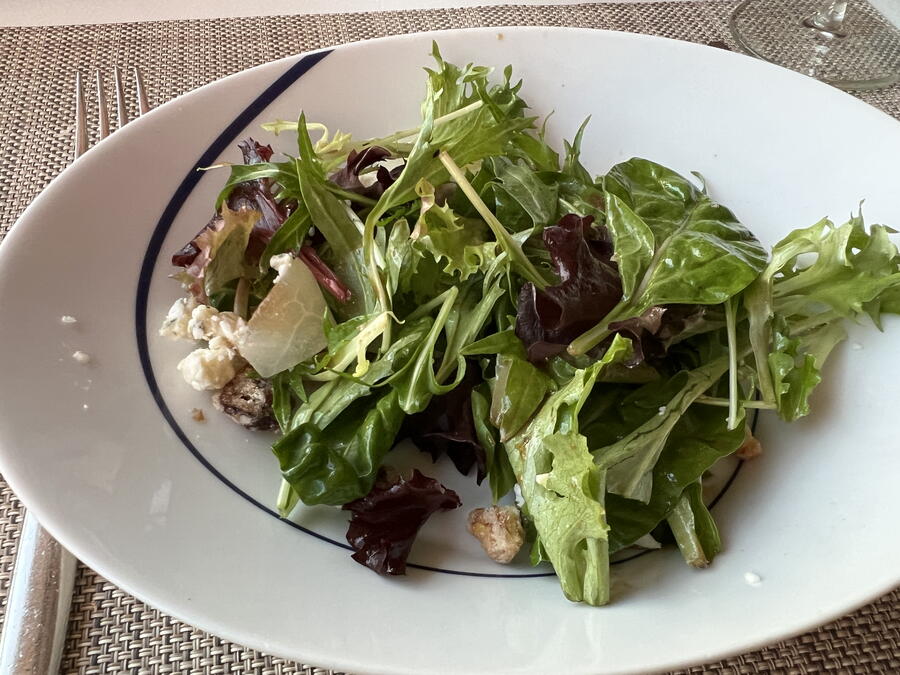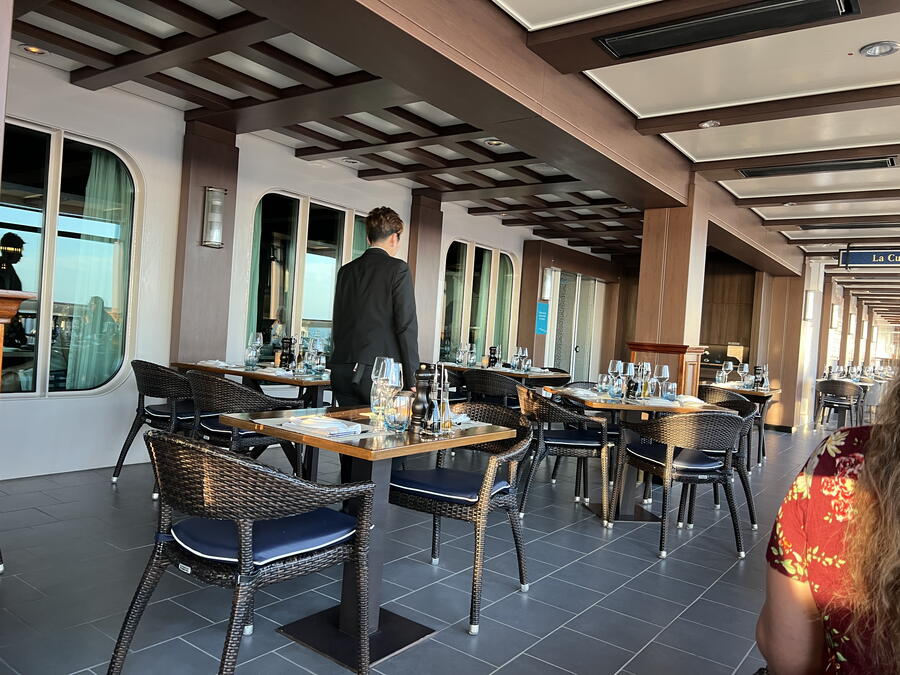 La Cucina
Our second specialty dinner was at Joy's Italian restaurant. While we dined al fresco on the deck outside, even though it was little chilly, this was probably the least impressive place of all the venues.  The food wasn't terrible – it was quite good, and I always enjoy this kind of cuisine.  But it was simply ordinary and not that creative.
Maybe part of the problem was what we ordered. RAS chose a three-meat pizza, while I opted for potato gnocchi with pesto. These are dishes we always order or even make back home. Also, our server was new to the restaurant and was tentative in what he did. Thinking back on this experience, I would have gone for Le Bistro, the French restaurant.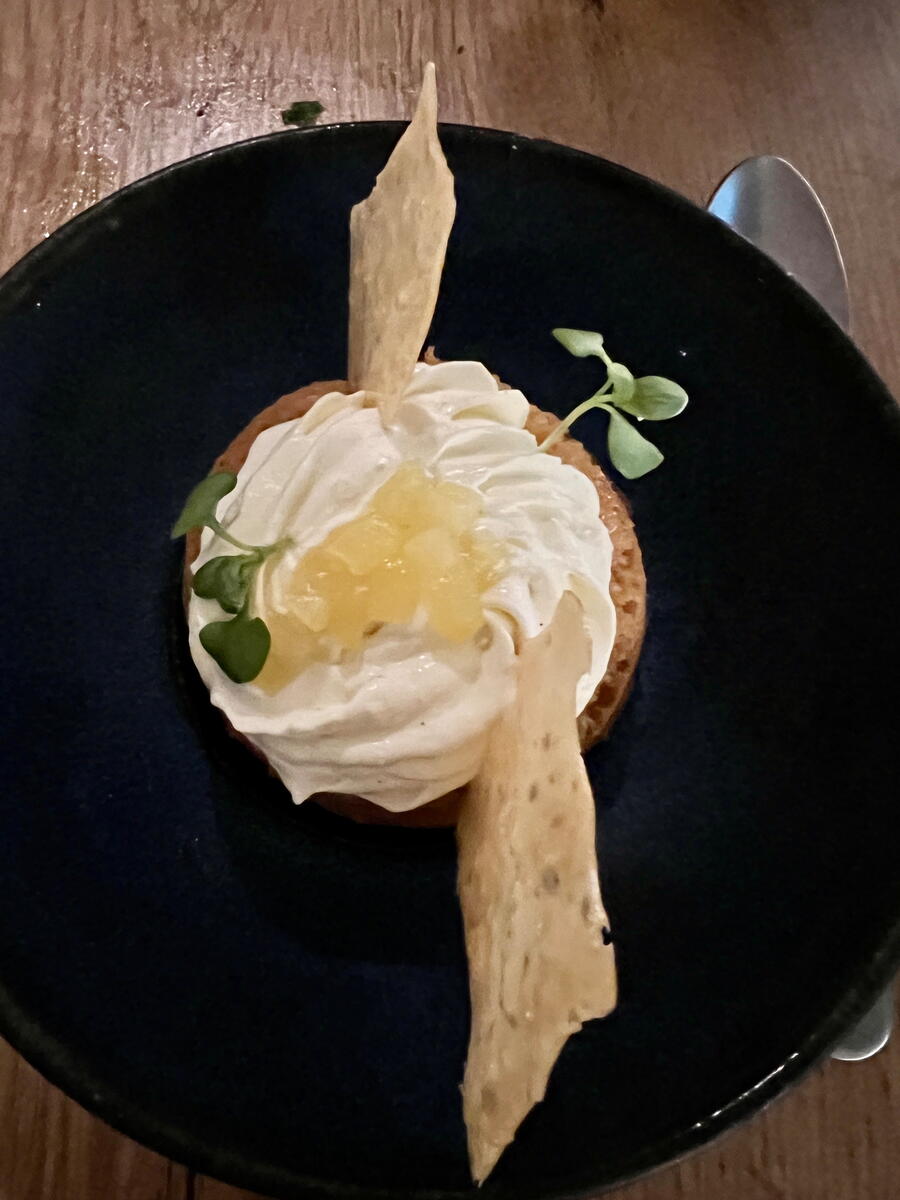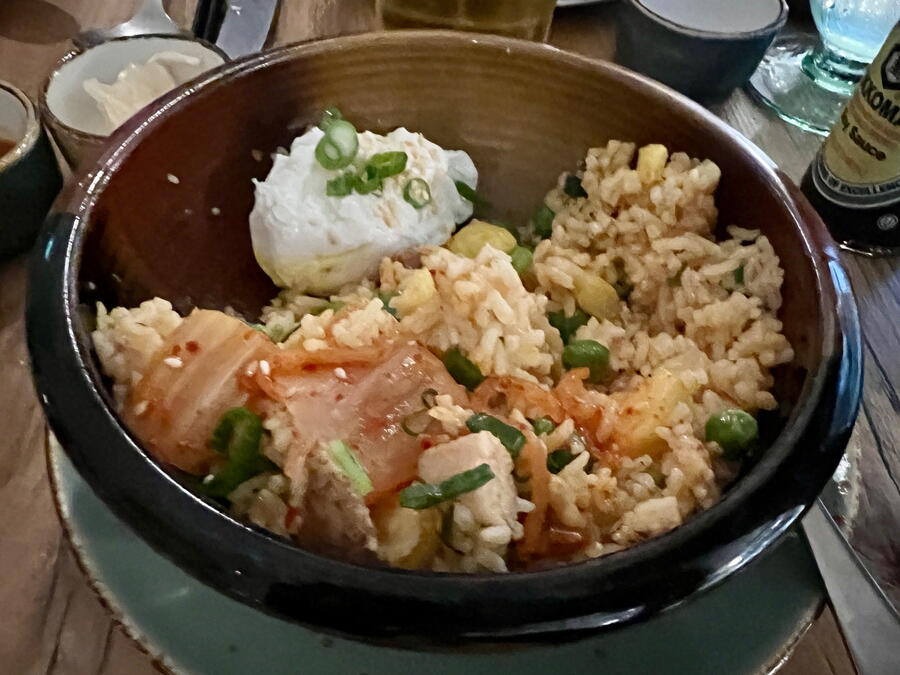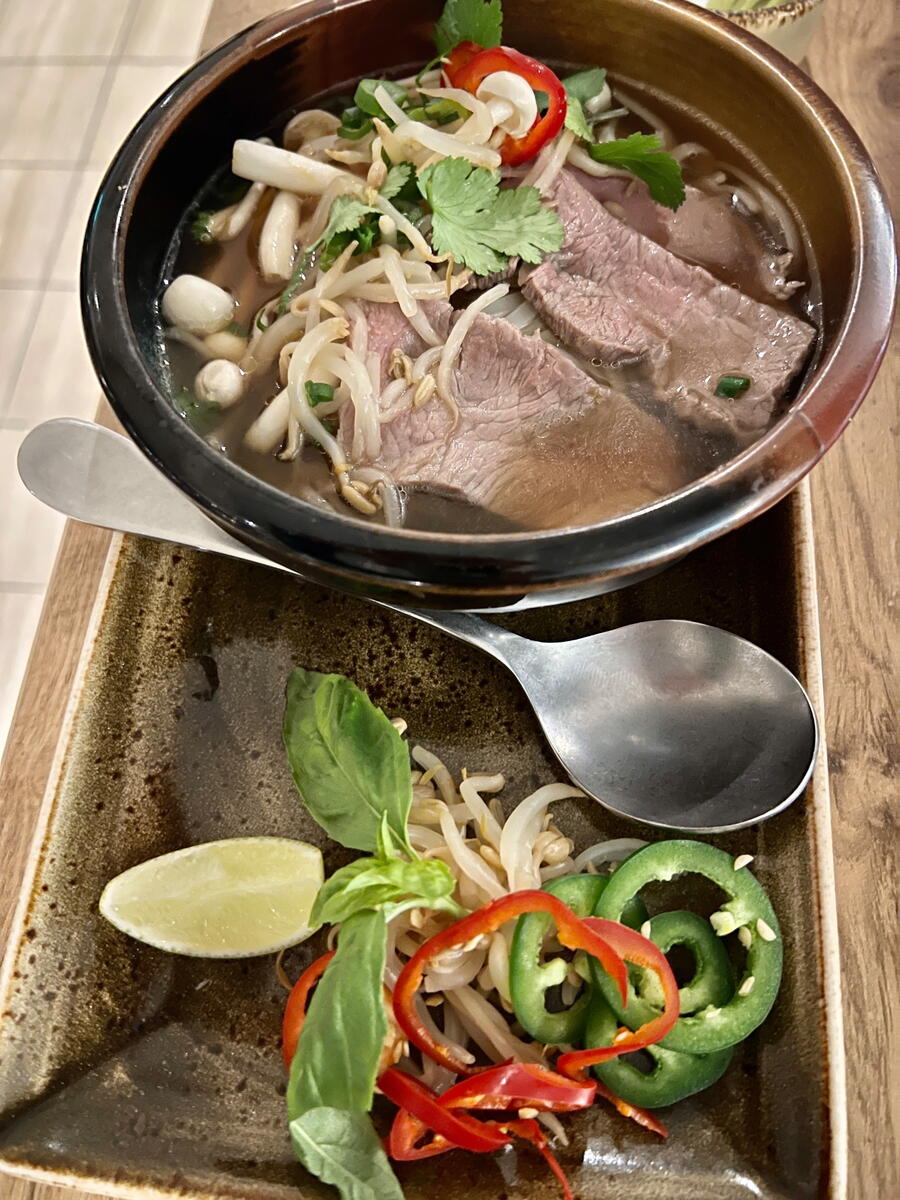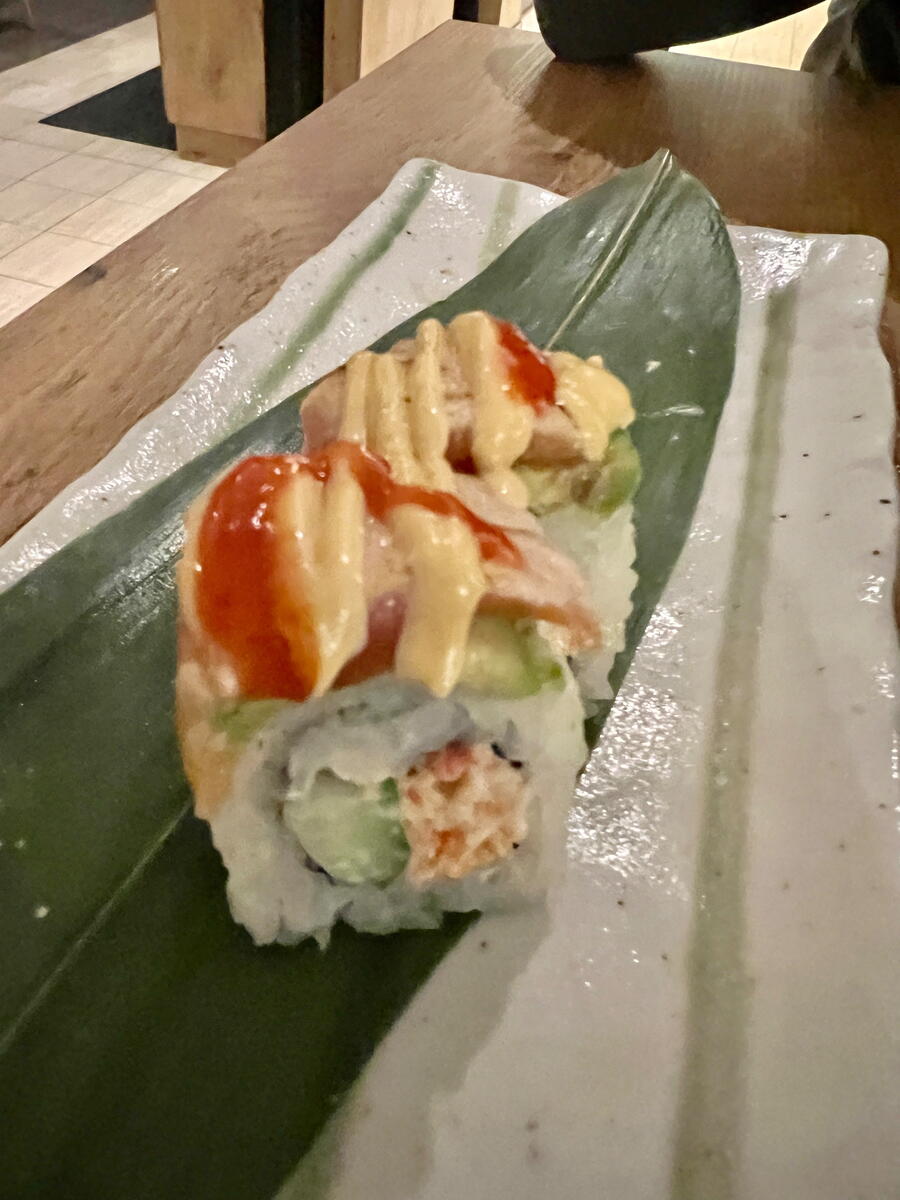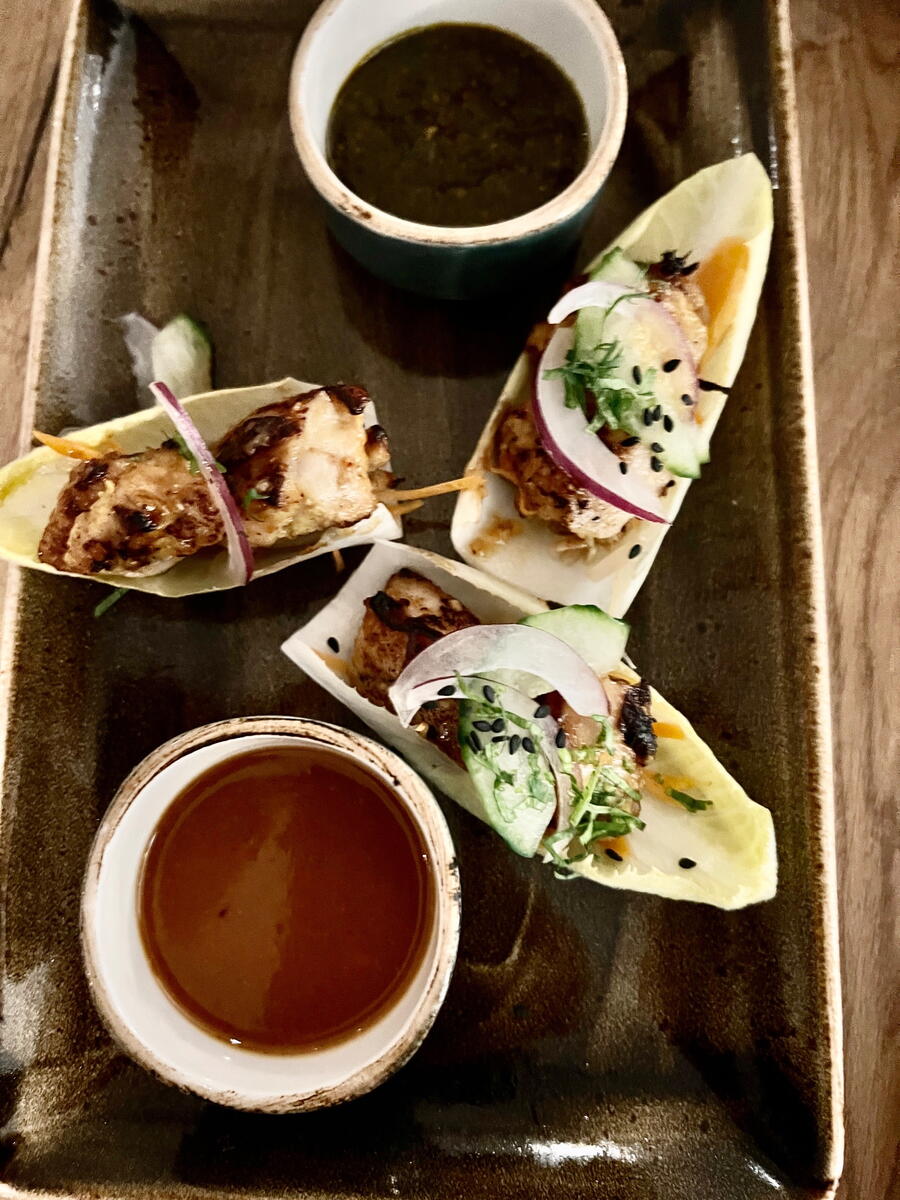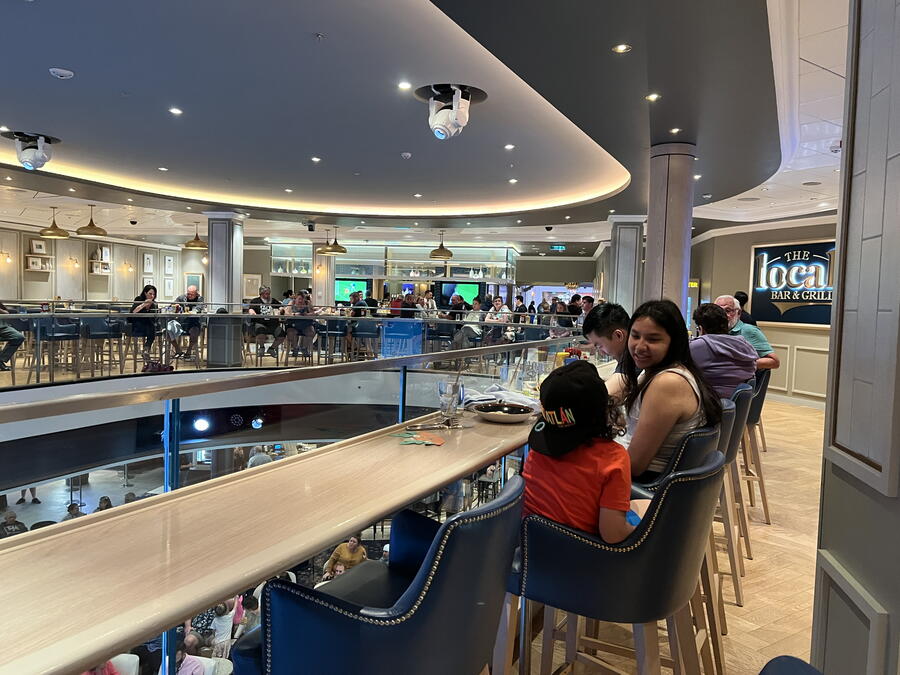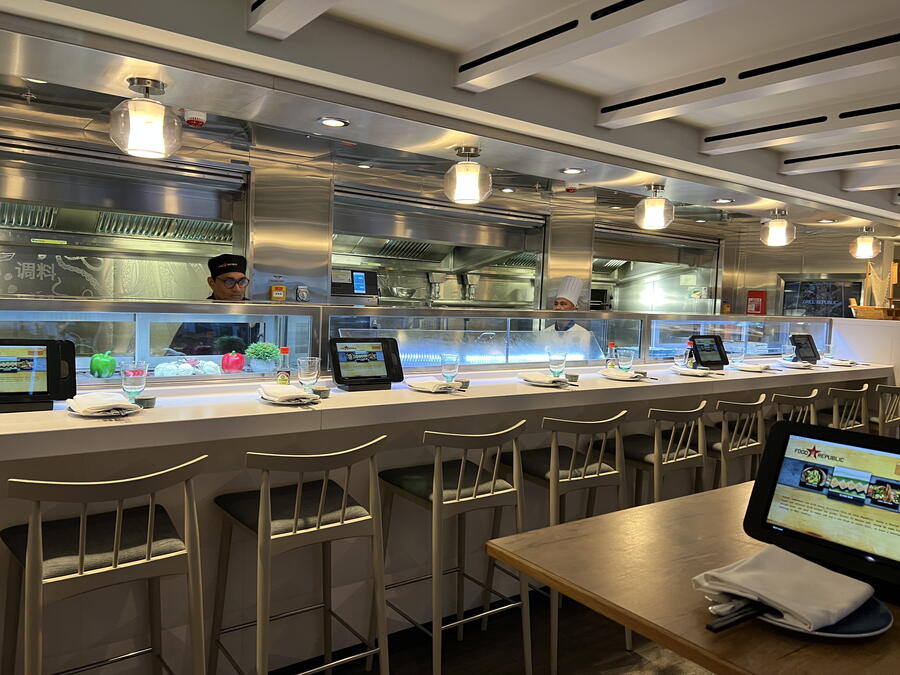 Food Republic
If La Cucina was standard and expected, this small plates/tapas restaurant was nearly the complete opposite. We ordered mostly Asian favorites – nigiri sushi, pad thai, beef pho, kim chi fried rice, lettuce wraps – and Peruvian beer skewers.  The most creative dish we enjoyed was tuna poke nachos. I could've easily made a meal of this dish alone.
Our order was processed on a tablet, with each item organized under amusing categories like Sugar Pump (for desserts) and Sharing is Caring (small plates to…share).  Servers then bring the dishes. Ours arrived all at once, so one thing to do and not be overwhelmed with food is order one or two dishes at a time.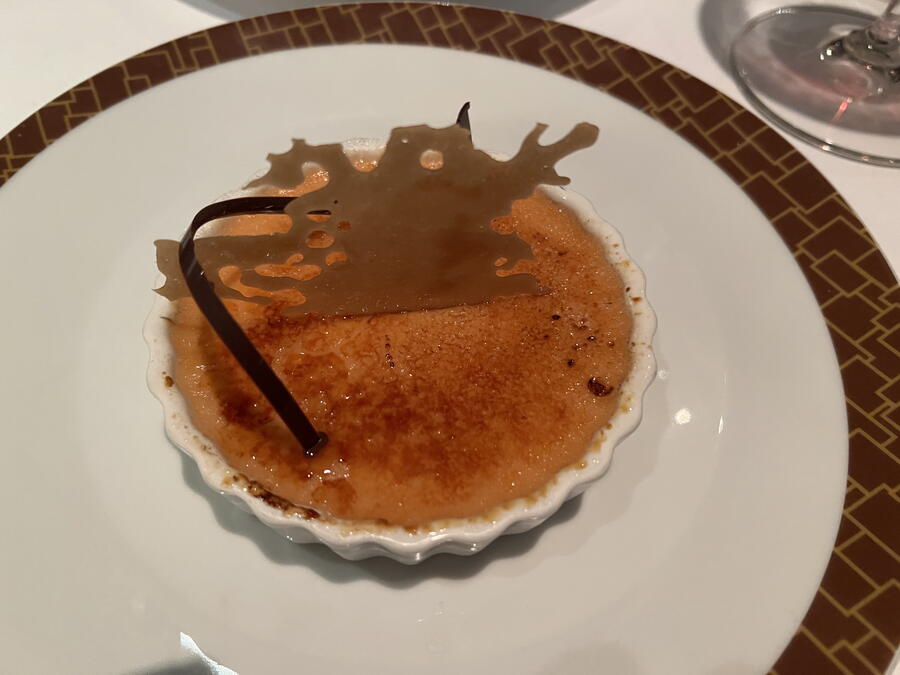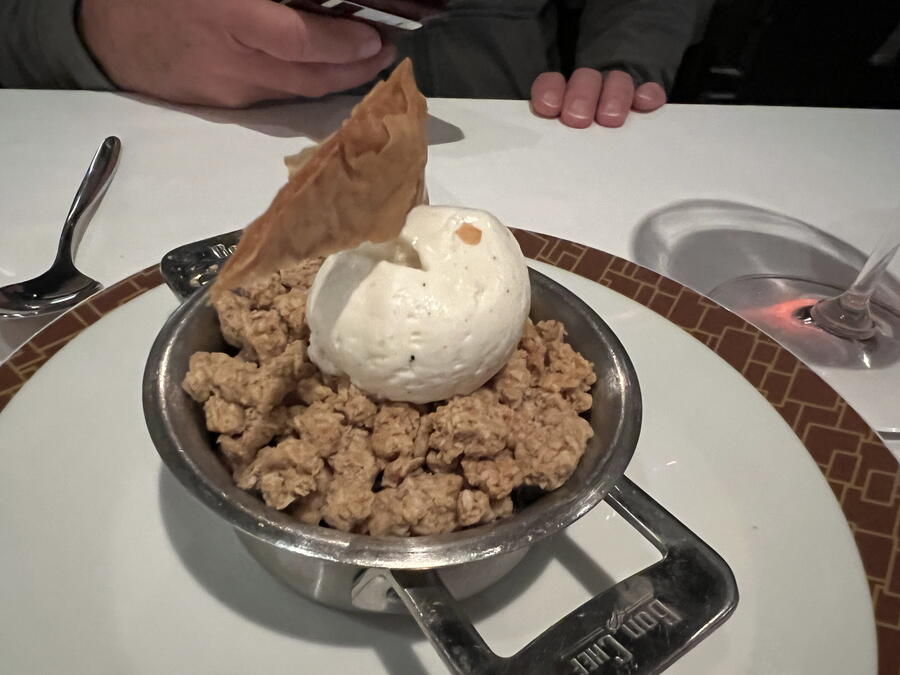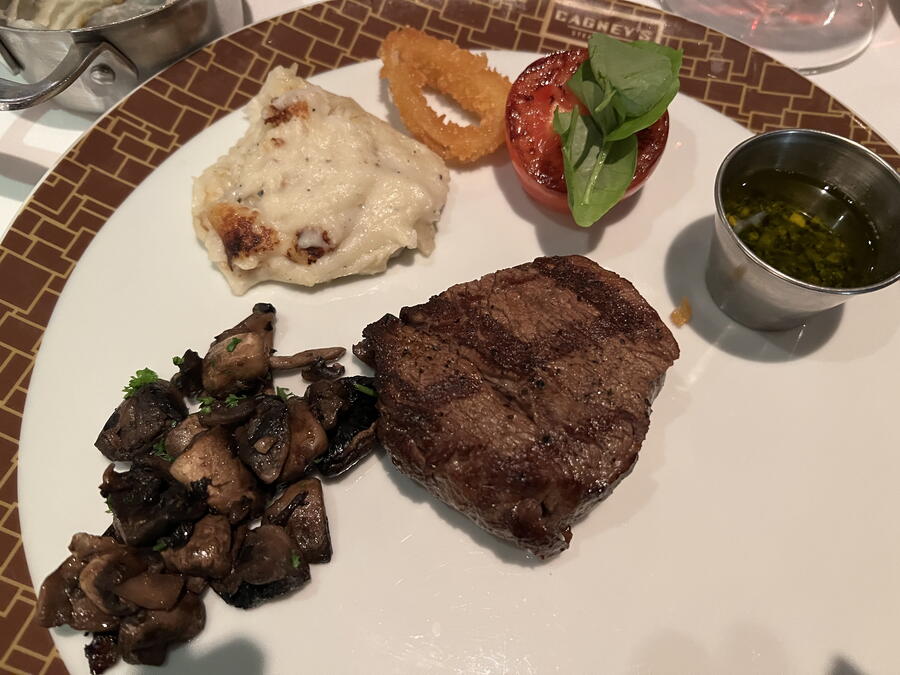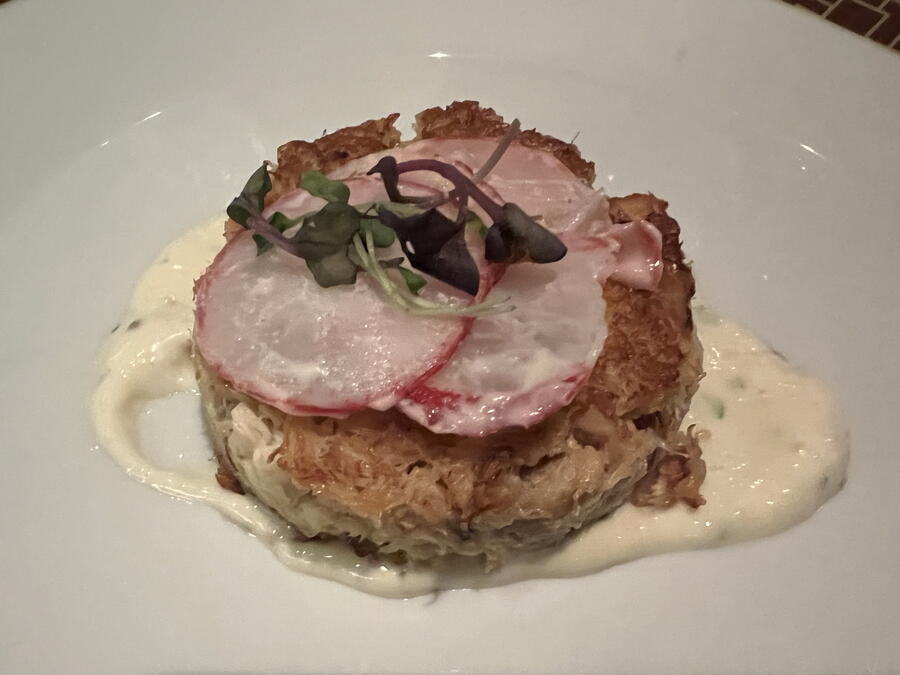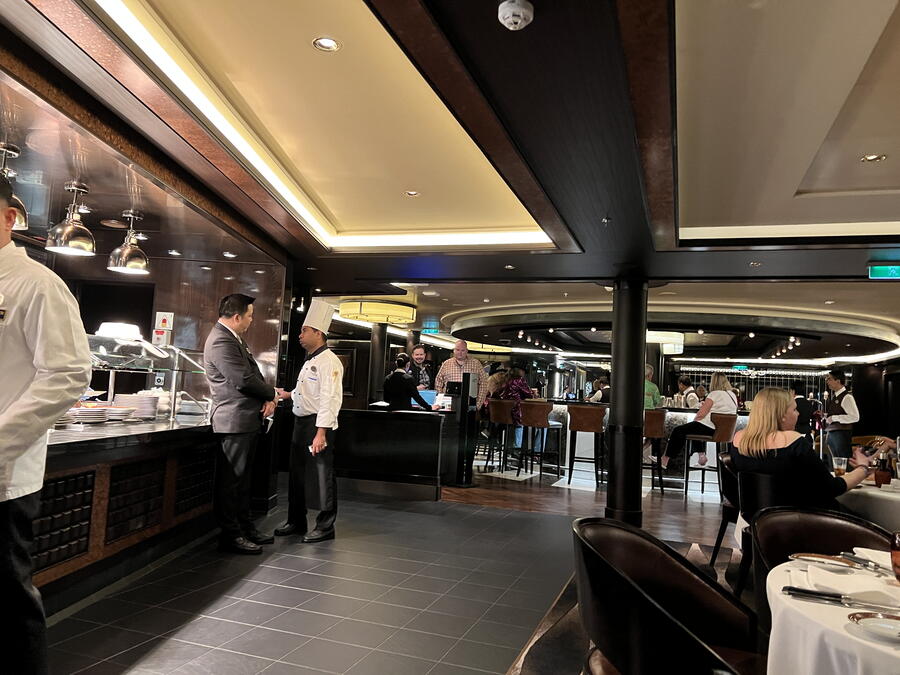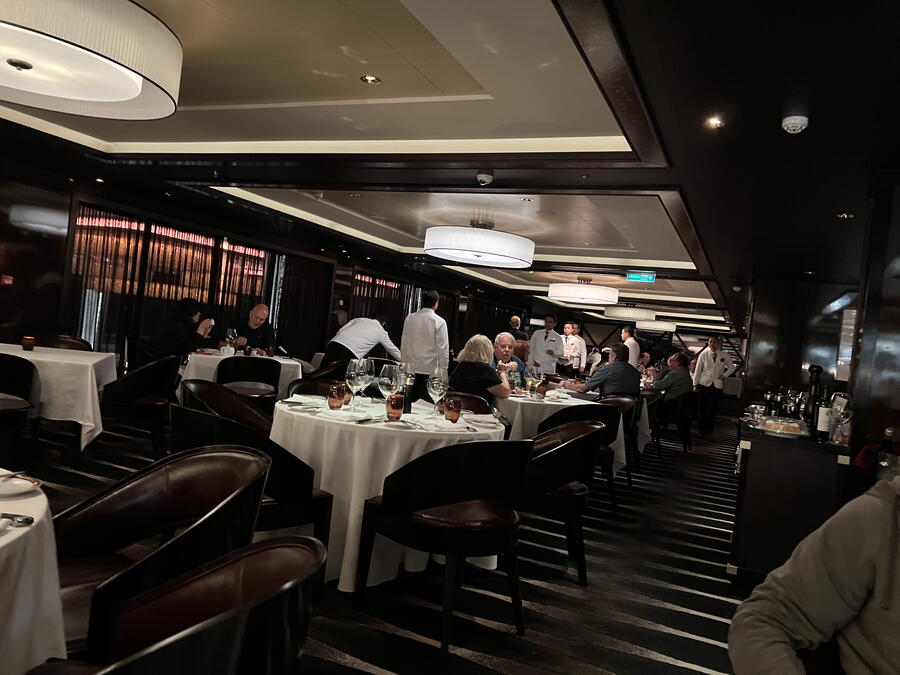 Cagney's
This popular venue was a little difficult to secure a reservation at first, but we persisted and secured on at 7:45 PM on the last day – way past our usual dinner time, but the wait was worth it.  You'll encounter very few culinary surprises here - it's a straightforward steakhouse menu. But if someone like me, who dines on steak once or twice a year, enjoyed this restaurant, that's saying something.
My plate of petite filet mignon, mashed potatoes, sautéed mushrooms – with starters of Caesar salad and crab cakes – was just the kind of hearty meal I could appreciate. RAS's had another New York strip with onion rings, creamed spinach and the same starters. And maybe it was because it was our last cruise dinner, but we both ordered dessert – crème brûlée for me, blueberry cobbler for him.
Next week: all about Resorts World, Las Vegas.