This week I'll let you know about my how I'm keeping healthy with Peloton, the New York-based company that's taking over the fitness world.  This is also a preview into more fitness and lifestyle posts.
I mentioned them last week in my review of meditation apps and a while ago with yoga apps, but as you might know, Peloton is much more than that.
My fitness journey
Ask my poor suffering hubby, RAS, and he'll tell you I have way more than my share of fitness videos.
Sure, there are many more programs out there that I've never tried, and probably never will. The problem with these videos is that after you've done them for any good length of time, you start to memorize the exercises, the routine and even what the instructor is going to say. Then the dreaded boredom sets in, and you don't want to do them much or at all.
So now, after fighting the hype of their ubiquitous marketing and their silly holiday ad that generated a ton of backlash, I've given in to Peloton.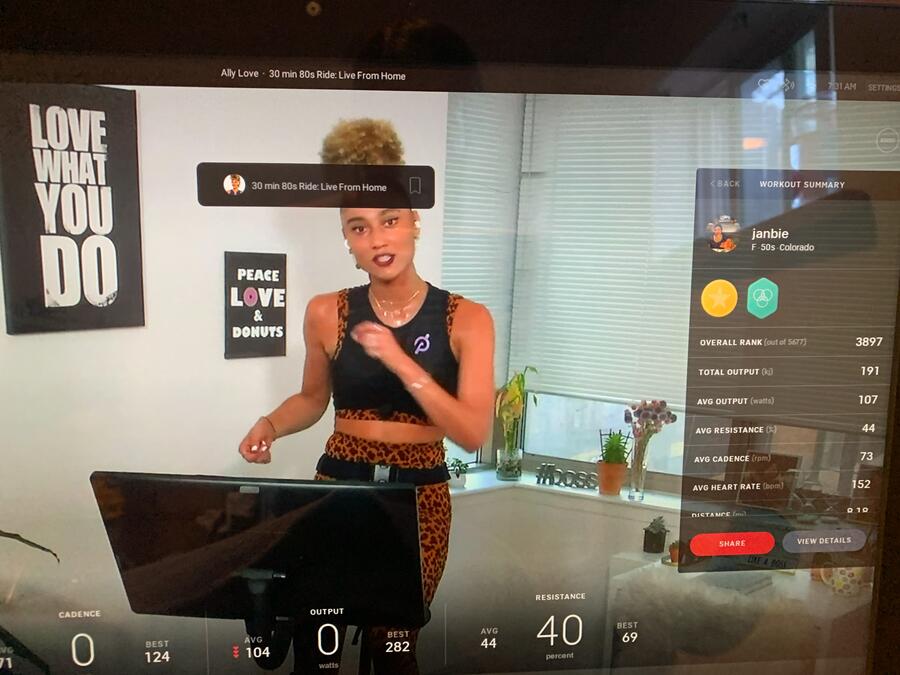 How I got hooked
I first got their app in December, which allowed me to take their running/walking/bootcamp, yoga, meditation, strength training and cardio classes. They allow you to try it free for 30 days. I could stream them onto our TV downstairs, where the treadmill is.  But I fought against the impulse to get the bike. I even told RAS, "Don't get me a Peloton," like the husband in the holiday commercial did.  In April, with my creaky knees crying out for mercy, I finally relented.
What convinces me that I'll stick with them? Here are few reasons why:
A short ride with one of my favorite instructors, Emma Lovewell
More classes than I could ever take
The biggest problem with any kind of virtual fitness program is boredom.  That's especially true if you've gotten videos/DVDs and play the same routines over and over again.  And there are certainly other fitness sites that have a changing menu of content, especially if you shell out money for a subscription.
But Peloton has taken this to an incredible level with classes from the last 3 or 4 years, all of which can be taken on demand.  Each is classified into difficulty level, class type, length and music.  Most members try to take one live, with an instructor-led workout and thousands of others all over the world.  With constantly new content, no one could ever take all of them.  Maybe some have, but they probably aren't human.
I personally like all the classes, from cycling to meditation, but I really like going live.  It just seems the next best thing to being in New York or London.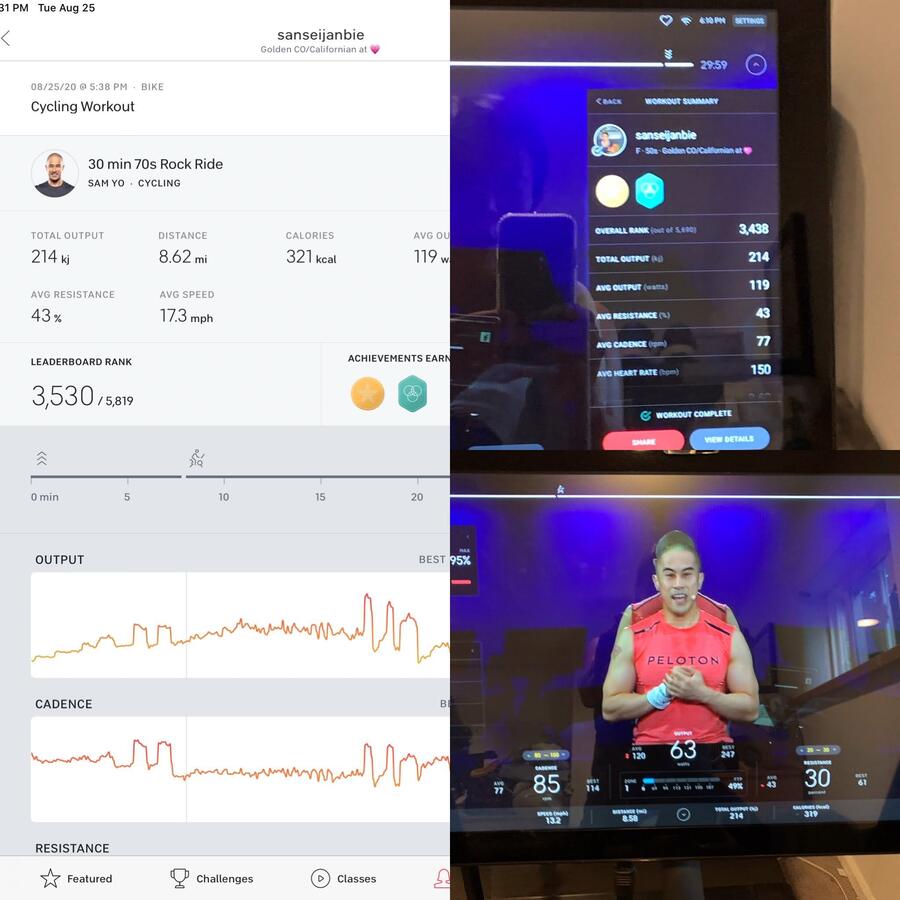 Instructors are awesome
I've never been a big fan of rah-rah fitness instructors who seemed to be hopped up on some kind of stimulant.  And if I want to have some kind of self-help lesson thrown my way, I'll look it up in a book, thank you very much.
For some reason, I don't mind this kind of positive direction from the Peloton instructors.  Most of the ones who are like this are on the bike and few are on the tread/strength training.  That's probably because of the times we're in now, confined to our homes and feeling very uncertain about the future.  They provide the encouragement I need to get through a challenging day when nothing seems to work, with a workout that I initially have no chance to finish.
Just about all of them are tough to varying degrees, but some are just entertaining and funny.  Others are just quietly encouraging, and others do have the cheerleader/guru vibe.  I like to go with whatever energy level and mood I have for the day. Probably my overall favorite is Robin Arzon, who teaches both cycling and running classes.  She's a lot of fun, encouraging and her parlance, I feel like a queen who's proud to wear her crown. (kind of silly, I know, but I don't care).  Others are cycling instructors Emma Lovewell and Matt Wilpers, and running instructors Selena Samuela and Matty Maggicomo.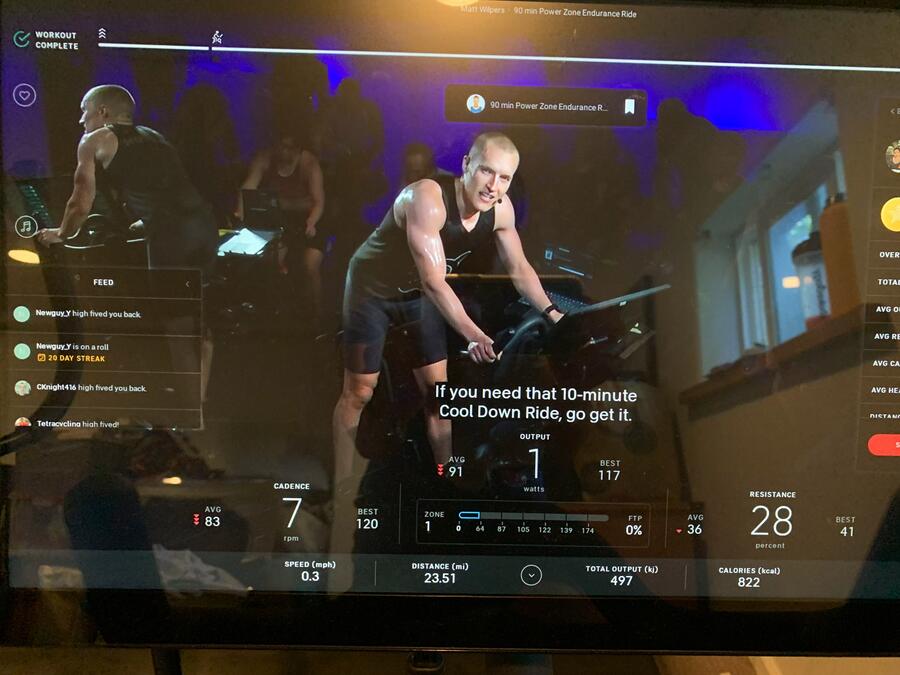 Getting stronger and fitter every day
Thanks to my compulsive need to reach certain daily milestones of fitness (i.e. at least 10,000 steps a day), I've worked out much more than I have in the past three years.  The problem is that even if I get a vigorous bike workout in, it doesn't count toward my daily steps.  So I then get on the treadmill or run or walk outside.  On top of that, I try to do strength training or yoga.  Peloton has made this all easy.
The result of all of the is I lost weight and I didn't change one bit of my diet.  Well, I always try to eat better anyway, but I wasn't making any concerted effort to reduce calories.  I actually don't mind this extra effort, because if it means I can eat guilt-free most of the time, I'm good with that.  The fringe benefit, of course, is that my fitness is improving.  I just might be the healthiest I've ever been right now.
An unexpected community
I've actually connected with other Peloton members and even with some of the instructors on social media.  That's especially been the case since I've started a Power Zone challenge and have stayed with the same team for three of them.  Now, I've never been a big fan of interacting with others this way.  In fact, I'll be the first to tell you that social is a necessity that I don't love. Yet it's essential for marketing and even connection.
I've gotten encouragement, inspiration and amusement through the various Facebook and Instagram group.  Right now, I'm in a challenge where I'm riding at least 30-45 minutes three times a week, and often 60 minutes.  I never thought that I could do something like that before.  But with these communities, I'm reaching for personal and fitness goals that I'm achieving well beyond my personal beliefs.