I've written about Breckenridge in this blog before for staying in Summit County and as a safe trip during the COVID-19 pandemic.  But I've focused mostly on the town. This time, my focus is on the centerpiece of town, the ski resort.
"Breck" is one of the largest ski resorts in the state, encompassing five peaks which are aptly named Peak 6 to 10.  Like many Colorado resorts, there's a great variety of trail difficulty levels, from bunny slopes to extreme double black-plus diamonds.  Like Aspen and Steamboat Springs, it's also conveniently located next to a history-rich place.  If it's not obvious from my other posts about Breck, it happens to be my favorite ski town.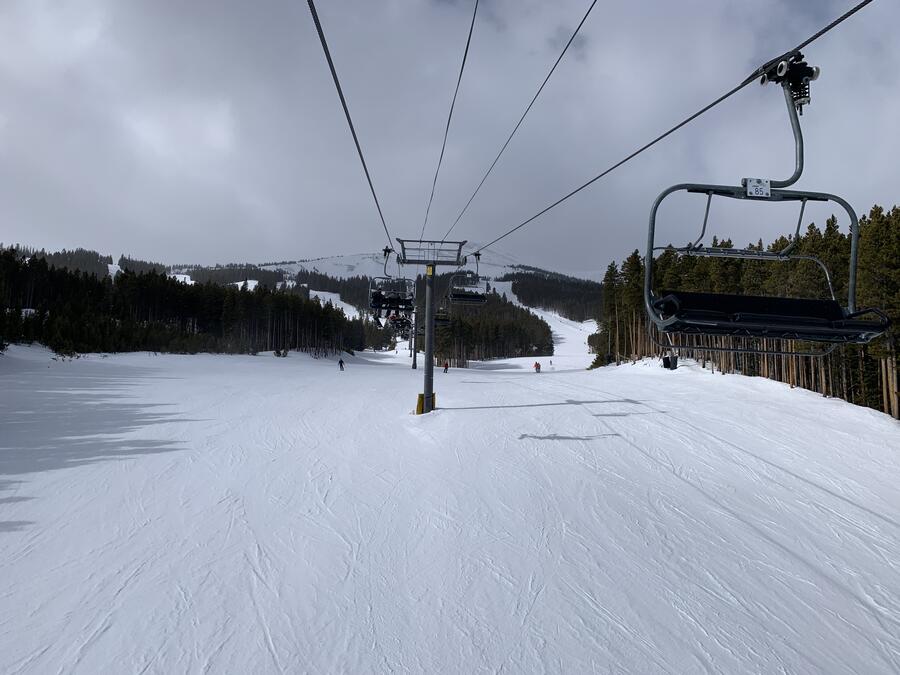 What changed my mind about Breckenridge
For a long time, I didn't really like skiing here for two reasons: 1.) its sheer size, which is often hard to navigate when you want to go from one peak area to another; and 2.) the crusty nature of the snow because of the high winds often encountered any time of the day.
But JRS, who has become the avid skier of the family, loves Breckenridge skiing, and she'll often go here before any other ski resort in the state.  Just by coming here more often in the last five years than I have before, I've seen the positives of this resort I was completely indifferent to.
Last weekend, we made another COVID-era trip after going to Keystone last month.  But this time, we stayed a couple of nights in nearby Frisco at a two-bedroom condo.  I tried to find something closer to the slopes, but from December to March, Breck lodging becomes a property owners' market, and a once reasonably priced rental becomes ridiculously expensive.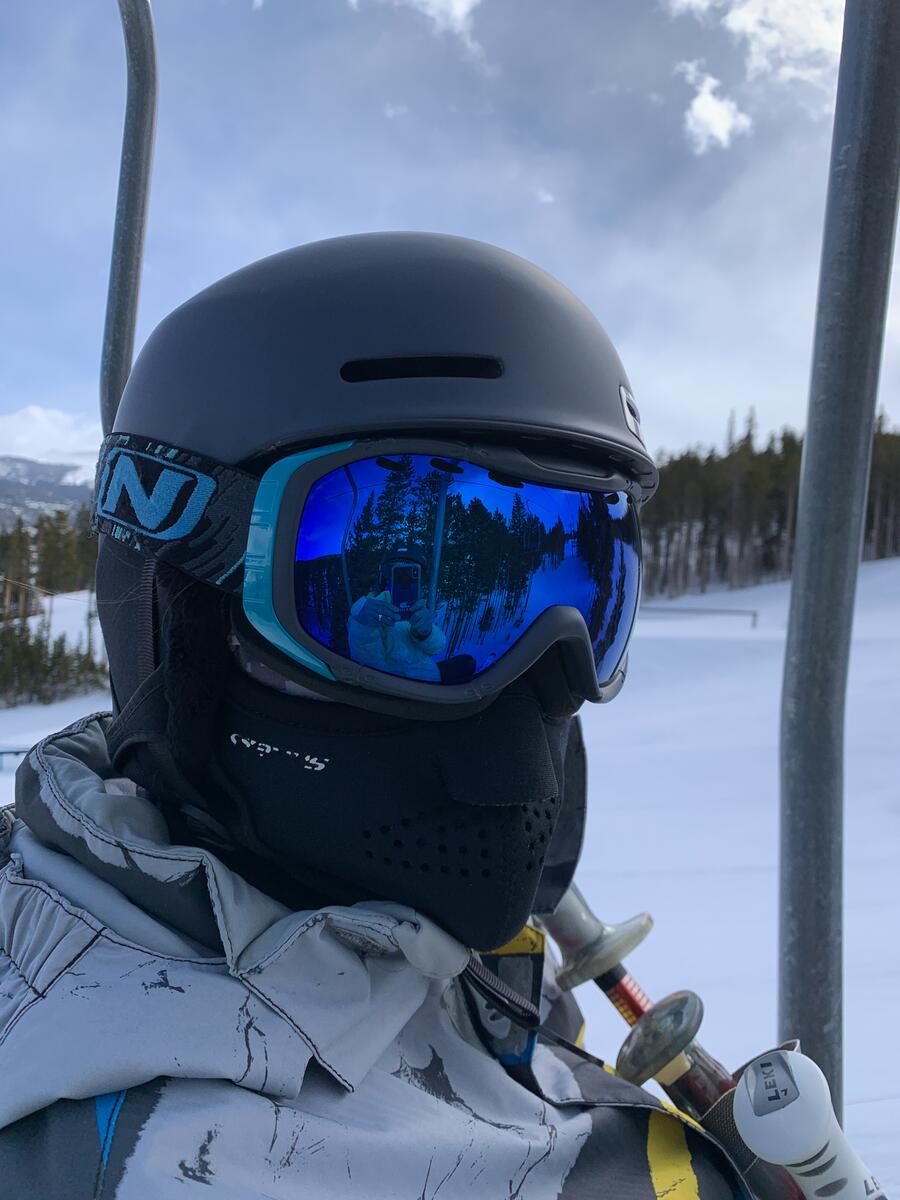 The weekend dilemma
Going for only one day on Friday, we thought that with restricted reservation-only access and still being a weekday, we wouldn't encounter as many crowds.
Problem was, Friday is both a weekday and weekend day, so there were plenty of people when we arrived at the gondola.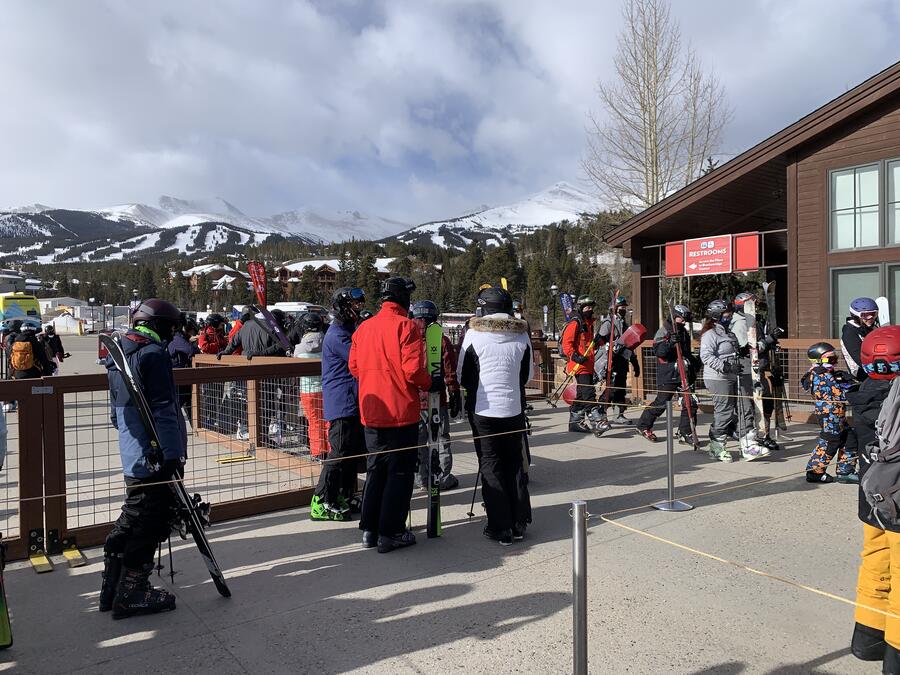 It was a little unnerving, but once we got to the base of Peak 8, where most people start their Breck ski day, it wasn't too bad.  Also, with social distancing requirements, the staff spaced people out, so that accounted for some of it.
JRS and I decided to try a less crowded area, so we headed over to Peaks 9 and 10.  It took a little maneuvering up some lifts and crossing over a few trails on a near traverse, but it was worth the effort.
Usually, Breckenridge has a reputation for having sub-par snow.  It's not the fluffy dry kind that other resorts in Colorado or Utah get.  It's more like the stuff I slipped and skittered across when I first skied in California, particularly around Lake Tahoe.  It's slick and hard to maneuver in, or you just end up flying right over it and hope you don't take an acrobatic tumble and land on the ski patrol sleds.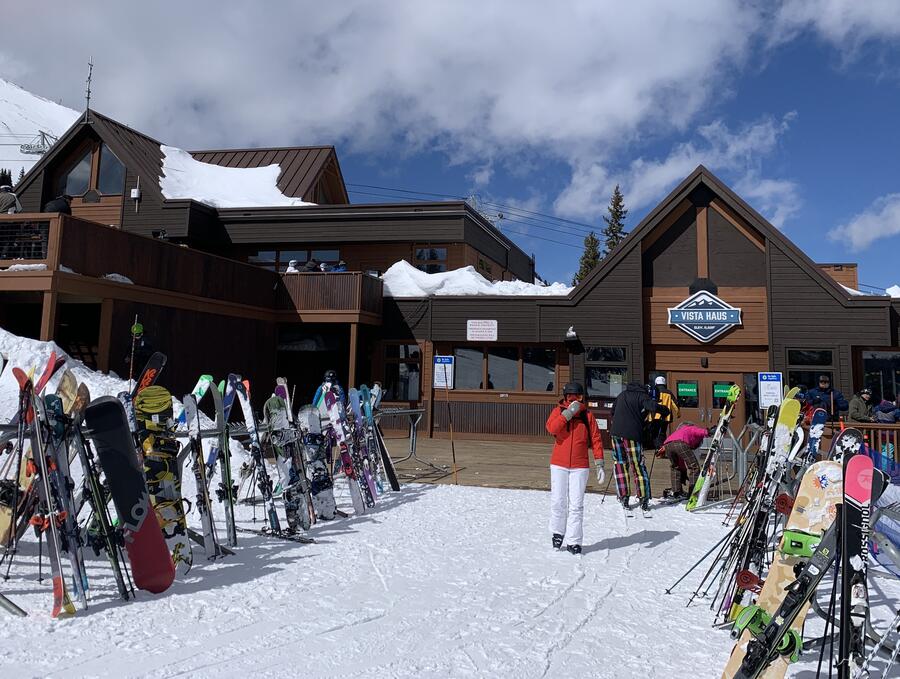 Going where others don't at Breckenridge
Luckily, it wasn't much like that on our day there.  When JRS and I headed over to Peak 10, which has only advanced and expert runs, we found snow that wasn't slippery, crusty or icy.  That was probably because fewer skiers were here at all.  As long as we stayed away from the runs with moguls, I would be just fine.
We had a short break at the Vista Haus, where we just got some snacks and drinks.  A full fledged meal, like a burger or even a bowl of mac and cheese, would've set us back about $15.  Thank goodness we weren't THAT hungry.
During the afternoon, JRS took a break, and RAS went with me for the rest of the day.  The crowds somehow grew, which is contrary to what normally happens at a resort.  I suppose everyone wanted to get their skiing and boarding in for the day, milking it to the very last.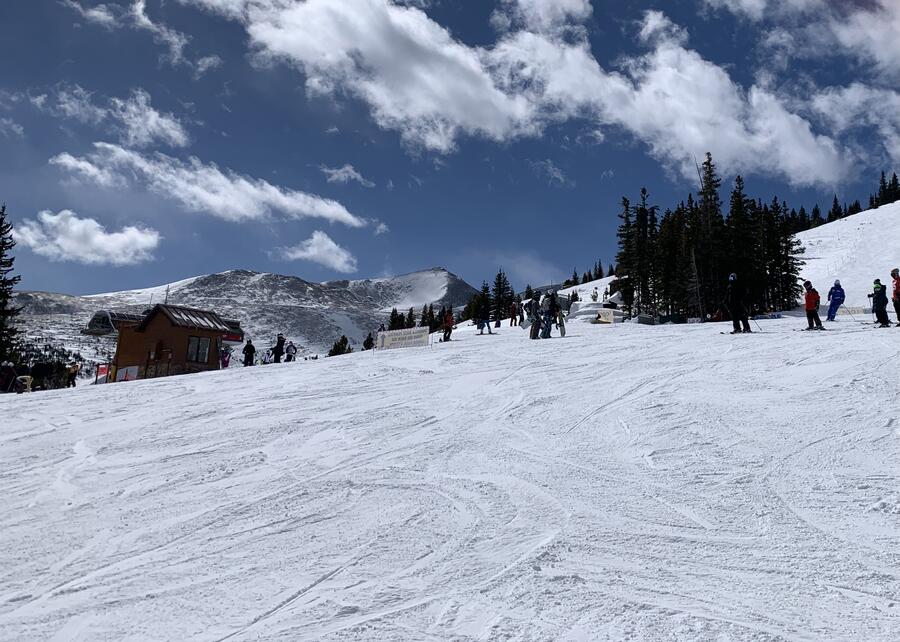 Tips for Breck
If you plan to come up to Breck to ski, allow me to give you some helpful tips to make your experience a bit better.
1.)   Really try to go during the week, and avoid Fridays and Saturdays - as you can see, it was bit disconcerting being in the line, and even as the day went on, more people crowded at the lift lines.
2.)   Stay there or somewhere nearby - as a corollary to the tip above, you won't have to deal with herd going back to Denver, and your can have a much more relaxing evening.
3.)   Go to the outer Peaks (6 and 10, if they're open) - when Breck is at full capacity, the middle peaks get extremely jammed, so go where we go and have plenty of social space.
4.)   Eat out early - we learned last time we were here that people made reservations and got in.  But just in general, if you can go out before 6, you should be good.
5.)   Have fun!