How many of you can appreciate something that tries to shake up the status quo?
People, especially those who don't cruise, generally believe that all cruise lines are the same.  While that's an oversimplification, it often seems that a lot of cruises do things the same way.
Take dining, one of the aspects of travel on which I focus.  Every cruise has a dining room or two, specialty food venues, buffets, and snack bars, as well as more bars than you'll ever visit.  At the dining and specialty restaurants, you'll have a few variations on the menu each night and some standard offerings. You can eat as much as you want at the buffets, and you can drink from morning to night.  And it's like that for any cruise you go on.
If they are all the same, then how do you pick? Plan your next cruise with me.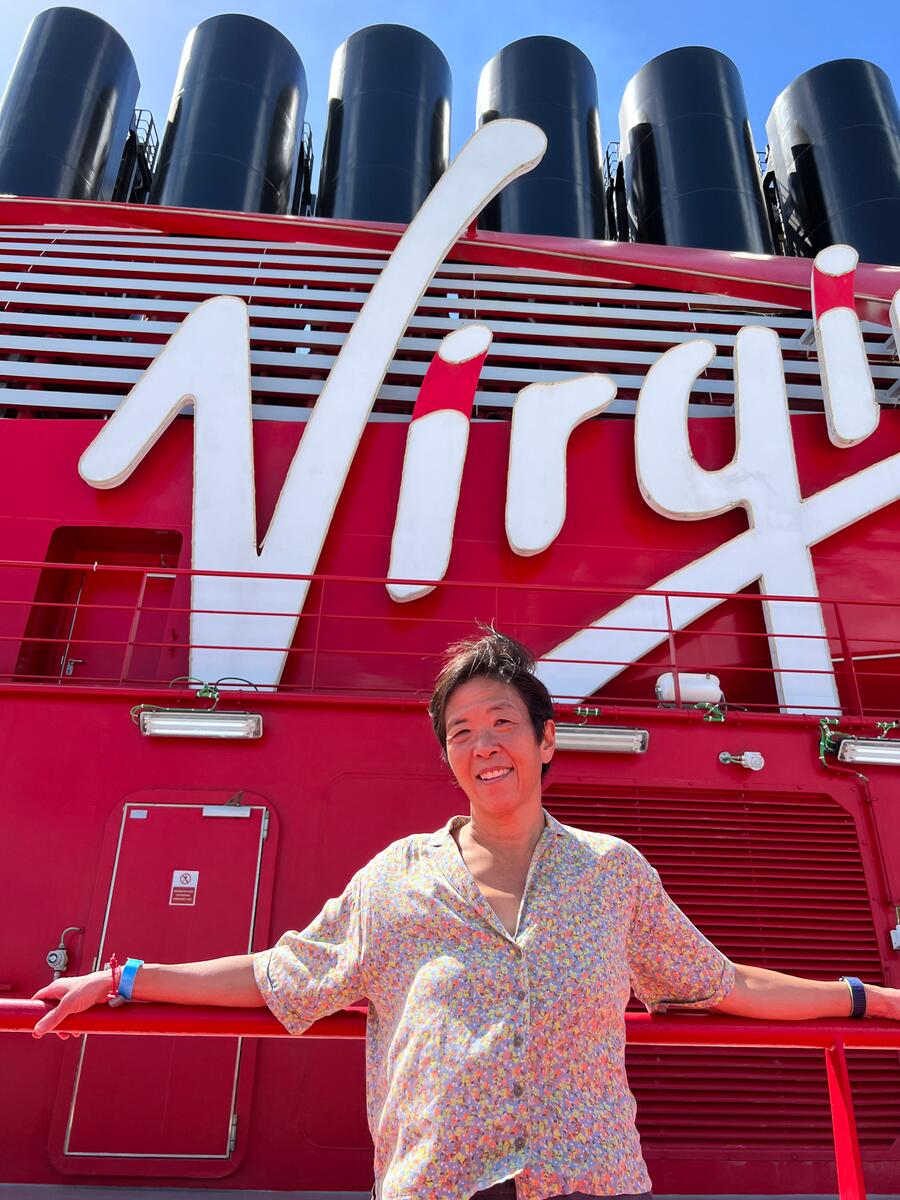 Virgin Voyages: something different in cruising
It's no accident that Richard Branson, founder of Virgin Records, the airline Virgin Atlantic and other successful ventures, started a new cruise line that zigs when everyone else zags.  The first ship, Scarlet Lady, was supposed to debut two years ago…but we all know what happened to all travel then.
The maiden voyage finally happened last summer, where the ship took travelers out of PortMiami. The cruise line will now release Valiant Lady and Resilient Lady for more cruise itineraries in the Mediterranean.
Many of my travel advisor friends and colleagues have already traveled on a Virgin Voyages cruise. I was supposed to go back in December, but it would have meant going alone, which something I've done twice already this year. It worked out better anyway because RAS was able to go with me now, which is far more enjoyable.
I won't talk too much about the food, as I'll be doing a separate post about that next week.  
My plan here is to detail each day of the five-night cruise, without getting too much into the second sea day. So, here my first day observations aboard Scarlet Lady.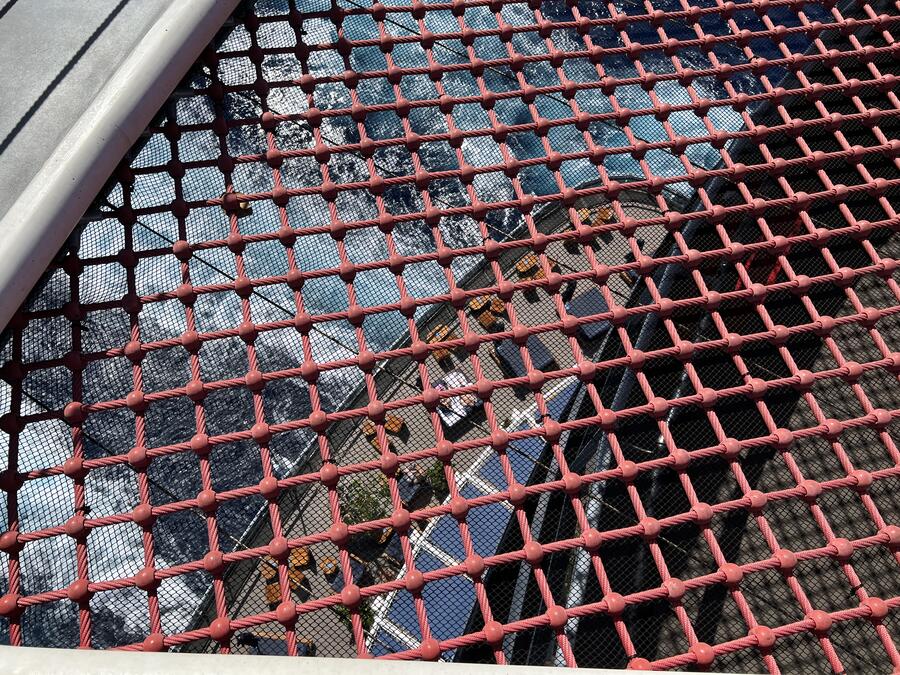 The lay of the ship
Coming on Scarlet Lady was like being welcomed to a party. The crew gave us high fives and music blasted from the high-end speakers. The ship itself, adorned in Virgin's signature red, is modern and sleek, without the elaborate ornamentation. It took a little time to find things. Like the Celebrity Apex, some passageways led to dead ends, which then necessitated retracing our steps and going another way.
Something that's also fun with Scarlet Lady is that you find thing you don't expect. There must be about three dozen bars tucked away in hidden corners and things like swings, playground equipment and video games from the 1980s and 1990s.  That is something I don't find on other cruise ships.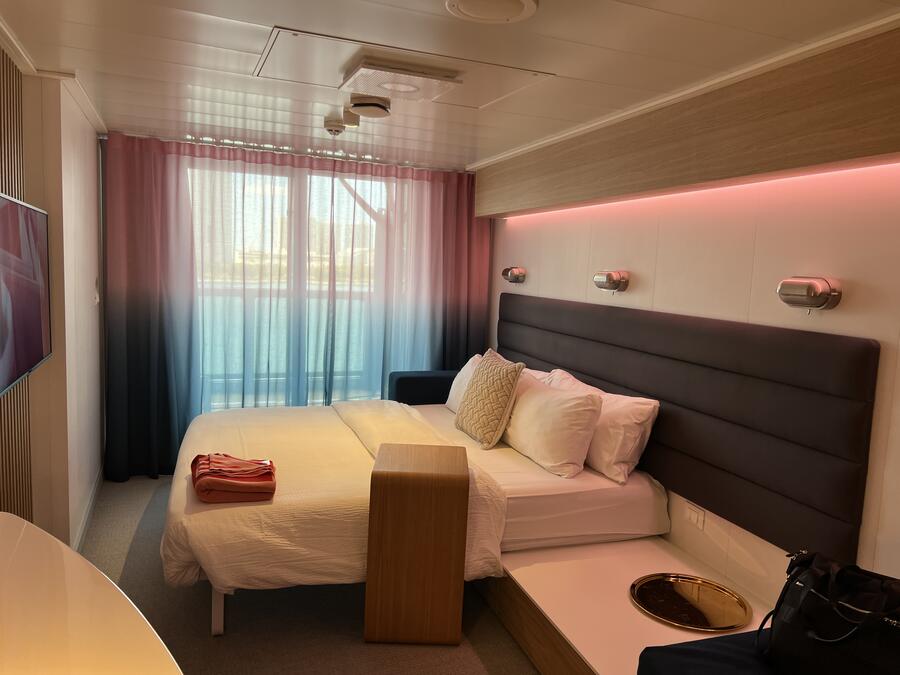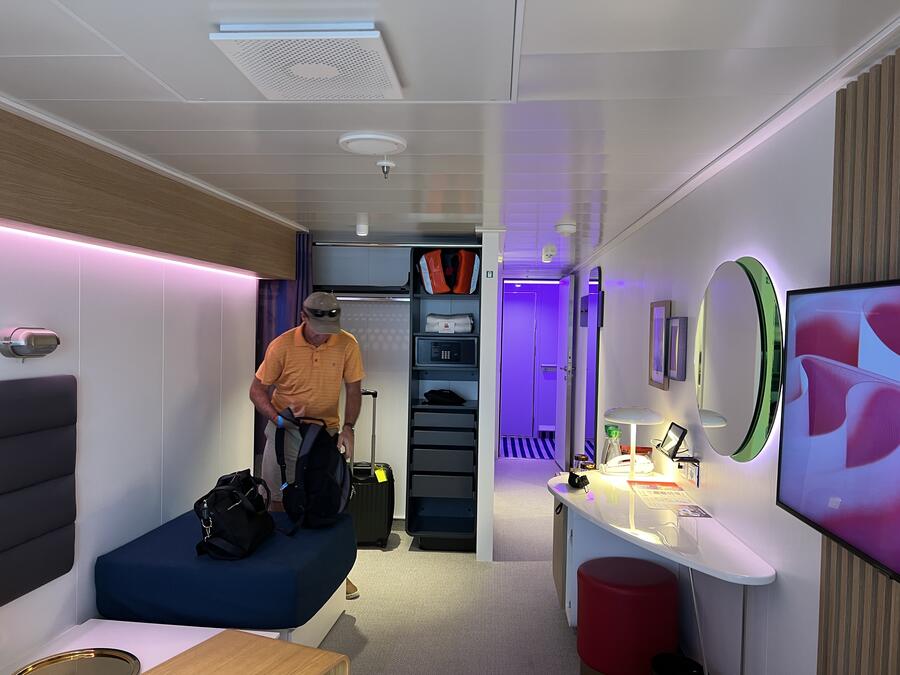 Home away from home
After hearing how cramped some of the balcony staterooms were, I chose to upgrade to the Sea Terrace XL, and I'm glad I did.  The room has just a little bit more square footage than a regular Sea Terrace, but the just the layout alone gives the appearance of more room.  We do have a good-sized bathroom, which isn't the case with the basic room. It also has a great rain shower with excellent water flow. The bed can be converted to a couch during the daytime, but we told our stewards to leave it as is.
Just about everything in the ship is controlled by a iPad-Mini sized tablet. That's everything from contacting housekeeping, the lighting (of which you can choose special presets, like Zen and Getting It On - yep), powering the TV and opening and closing the blackout curtains.  Some have complained that it's glitchy, but it's worked well for us so far.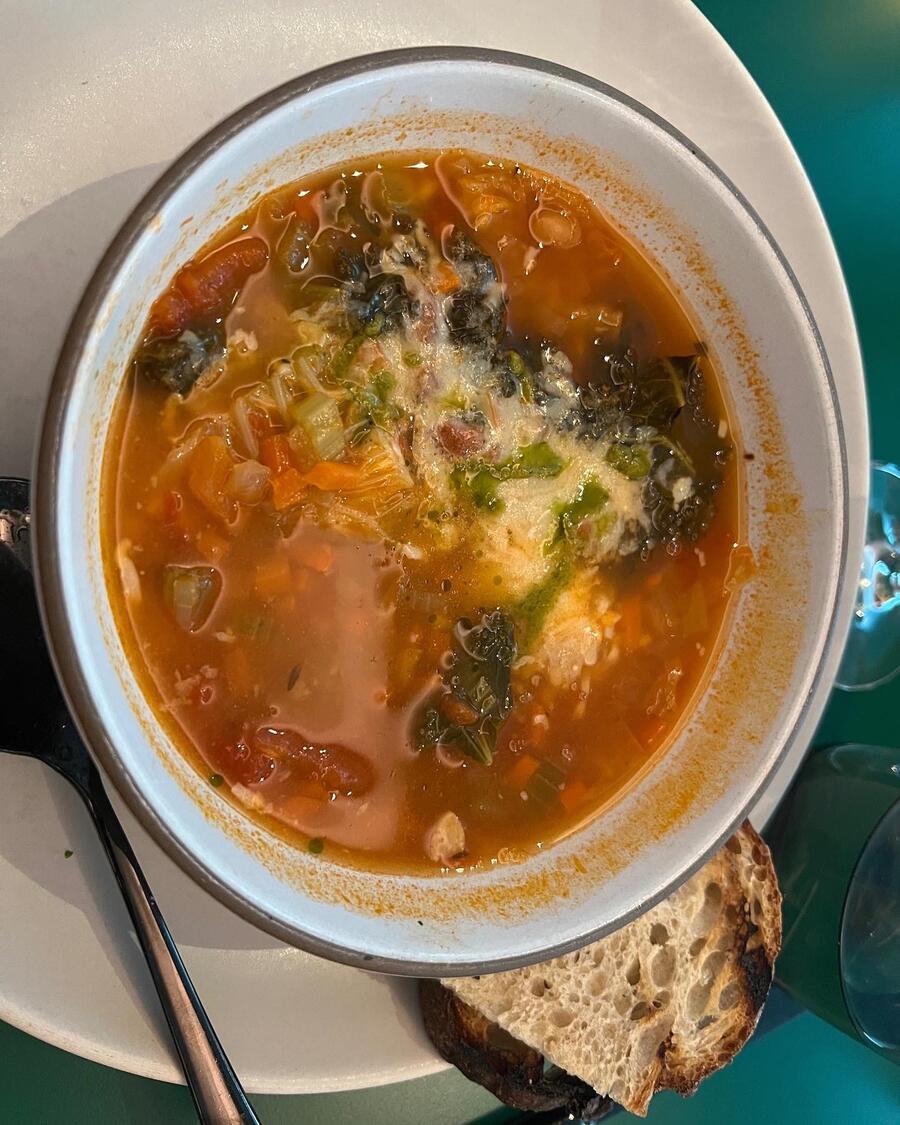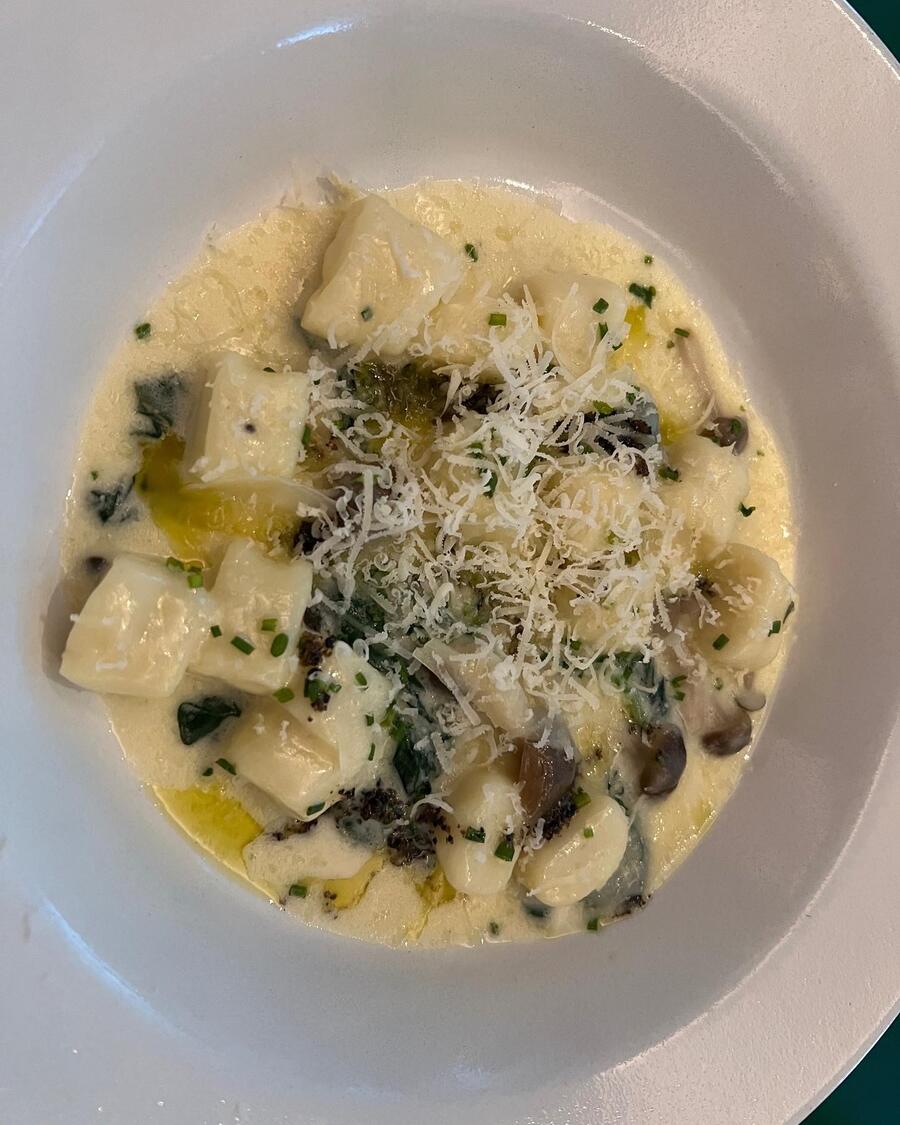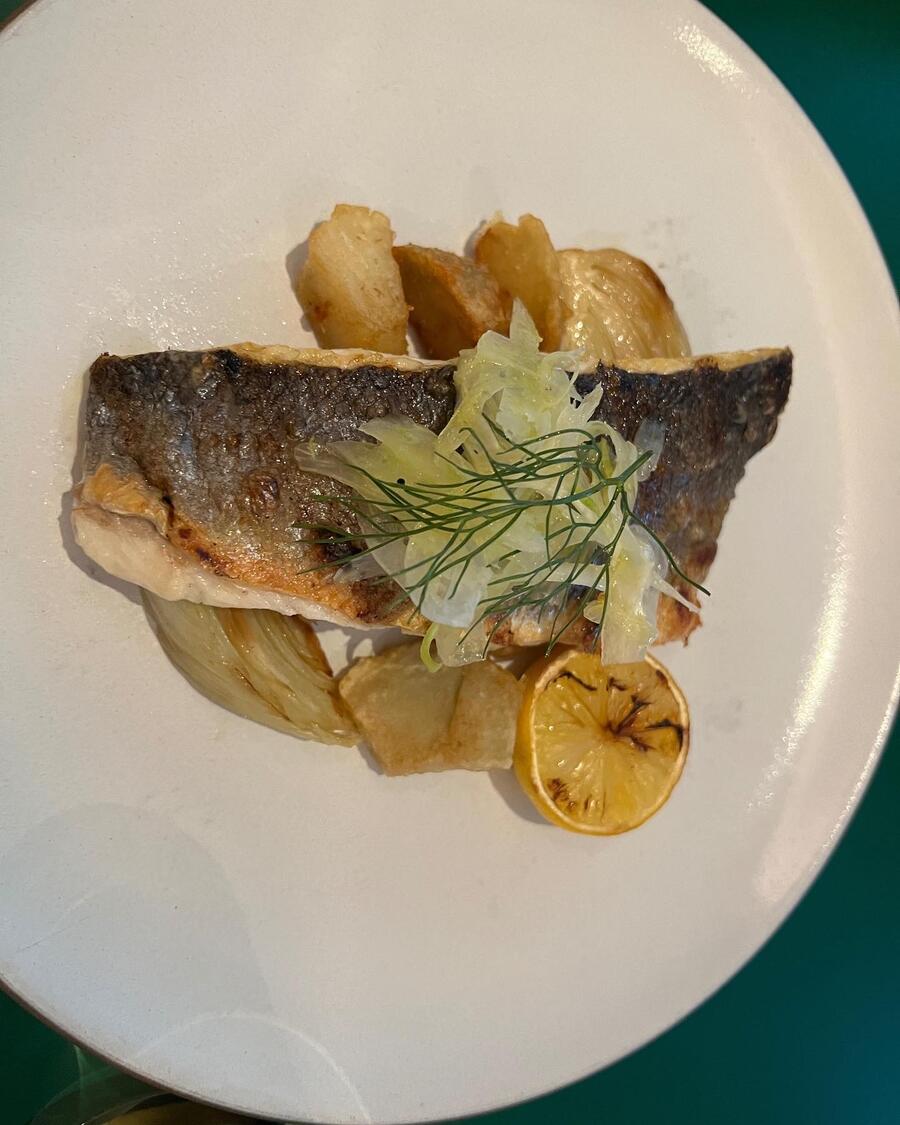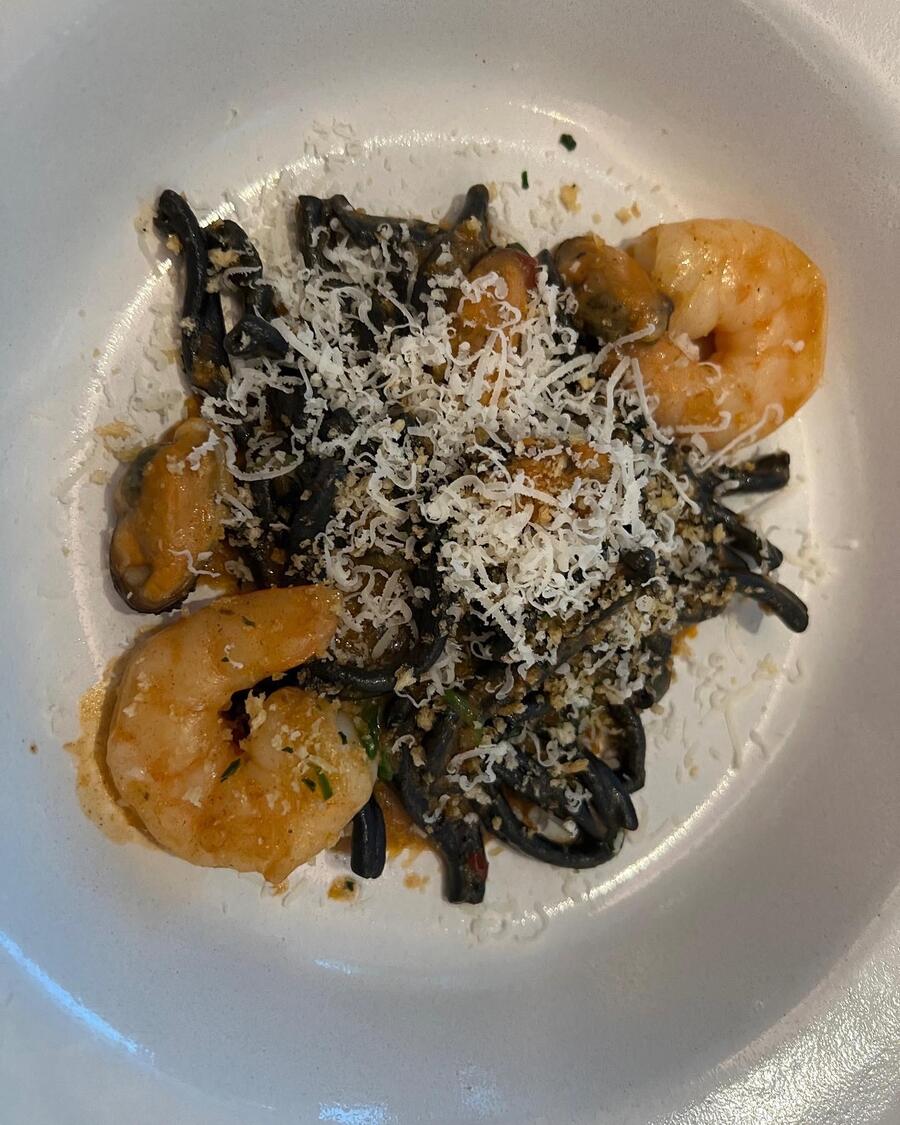 Nourishment and entertainment
Once we settled into the room, RAS and I shared a pepperoni pie from The Pizza Place., which was slightly greasy but good because we were hungry.  It was a little different to know that we could eat and drink just about anything we wanted and not think about how much extra it would cost.  Before the cruise, I bought a $300 Bar Tab, of which an additional $100 was added. Given that we don't drink a lot, we pretty much could order drinks – alcoholic beverages and coffee drinks – without worry.
Later on, we enjoyed dinner at Extra Virgin, the ship's Italian eatery. My homemade gnocchi were awesome, while RAS ordered a grilled sea bass and a small side of seafood black ink gemelli. After resting a bit, we saw a show that keeps to the whole Virgin Voyages shakeup philosophy called "Untitleddanceshowpartything." I'll just say that it's highly entertaining, interactive and not your typical cruise ship program, and it kept the audience literally on its feet, as there were no seats.