(Apologies for not posting this on Friday. We disembarked that day and went to Miami airport, where I probably had the worst air travel experience in all my years of travel.  I'll write about it next week as a cautionary tale. But that's the reason why there was no post then – and I got sick with a cold for the first time in years)
I've combined the last two days of our Virgin Voyages cruise into one entry, mostly because the second sea day was low-key, with one major exception: Scarlet Night.  But I'll get to that in a moment.
After spending time in the warm and humid Mexican Caribbean sun, RAS and I took the next day easy. We ate breakfast a little later, lounged around the triangle-shaped pool couches, then took part in a fun trivia contest, where we got free boozy drinks before we got lunch.  I didn't exercise until the mid-afternoon, and even then, I ran on the treadmill at about two minutes per mile slower than I normally do.  Yes, it was that kind of day.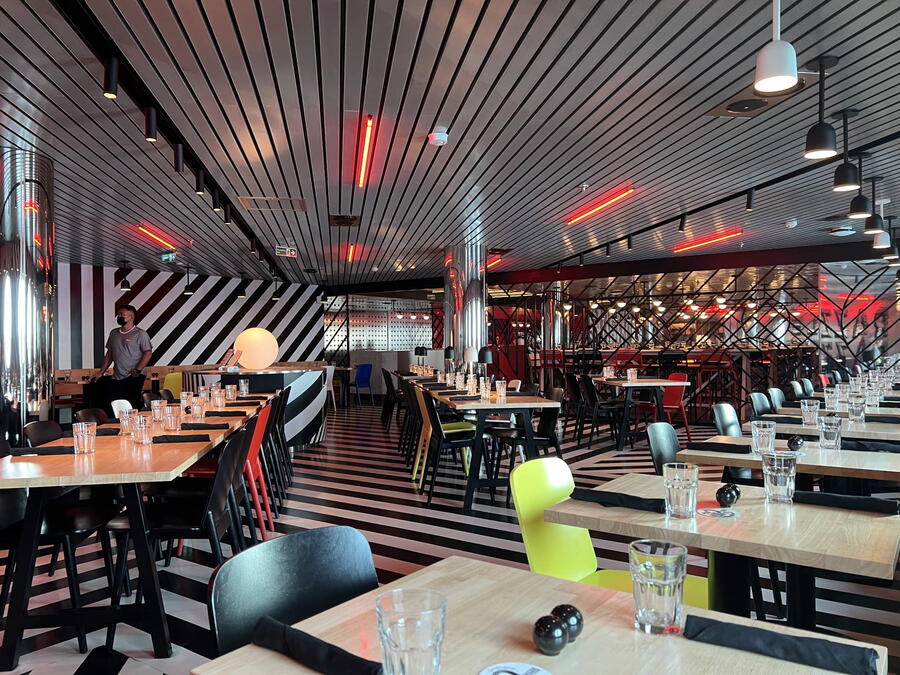 Virgin Voyages' big night
RAS and I debated on whether we should go to the major event on any Virgin Voyages cruise, Scarlet Night. It's basically one big progressive party where guests dress in red and the celebration is inspired by a love story between a sea goddess/octopus and pirate.  That's why there were inflatable octopus all around the ship and red light abounded everywhere.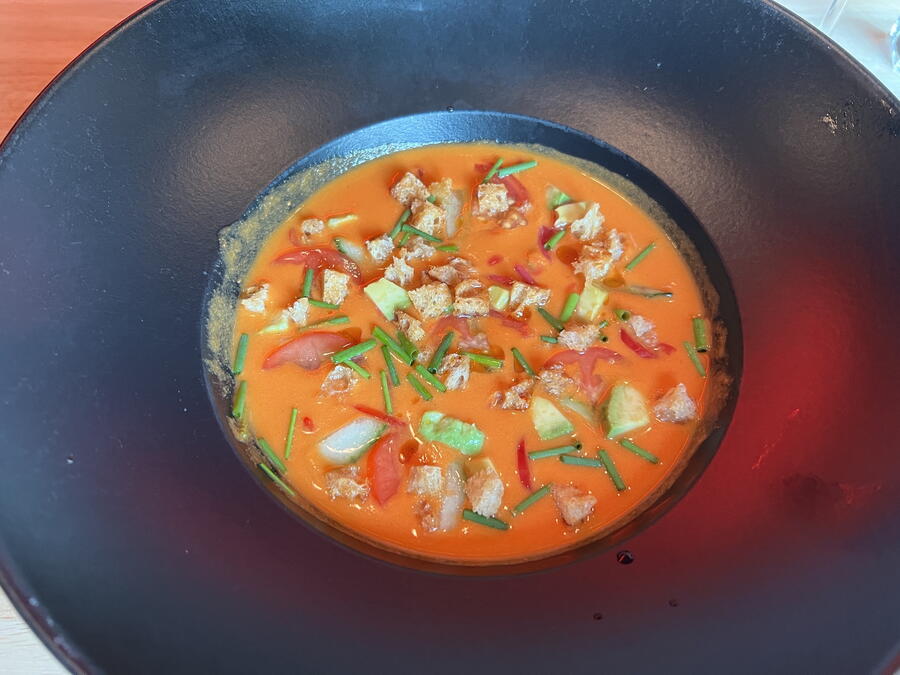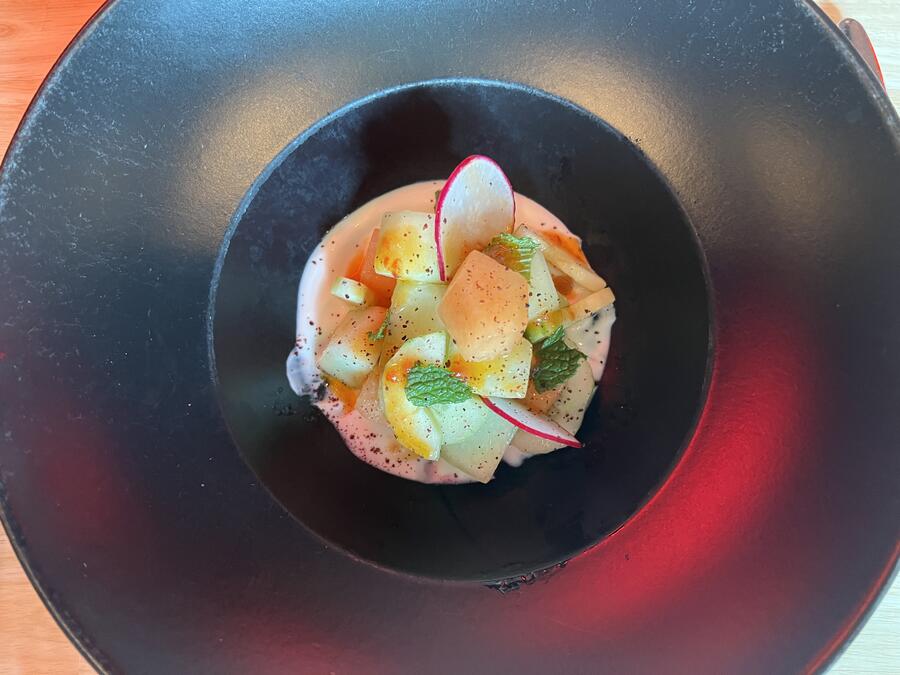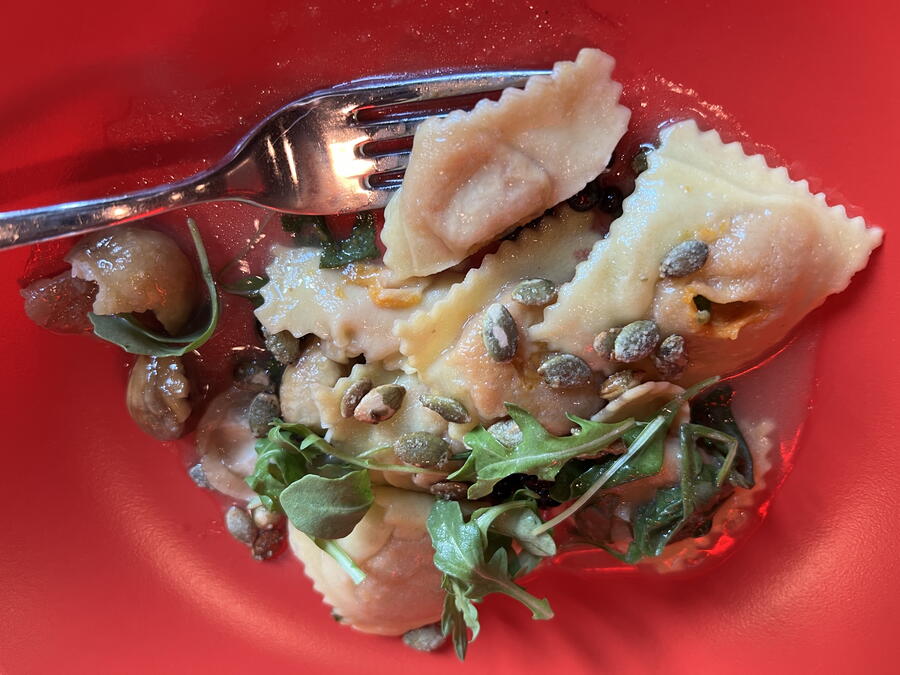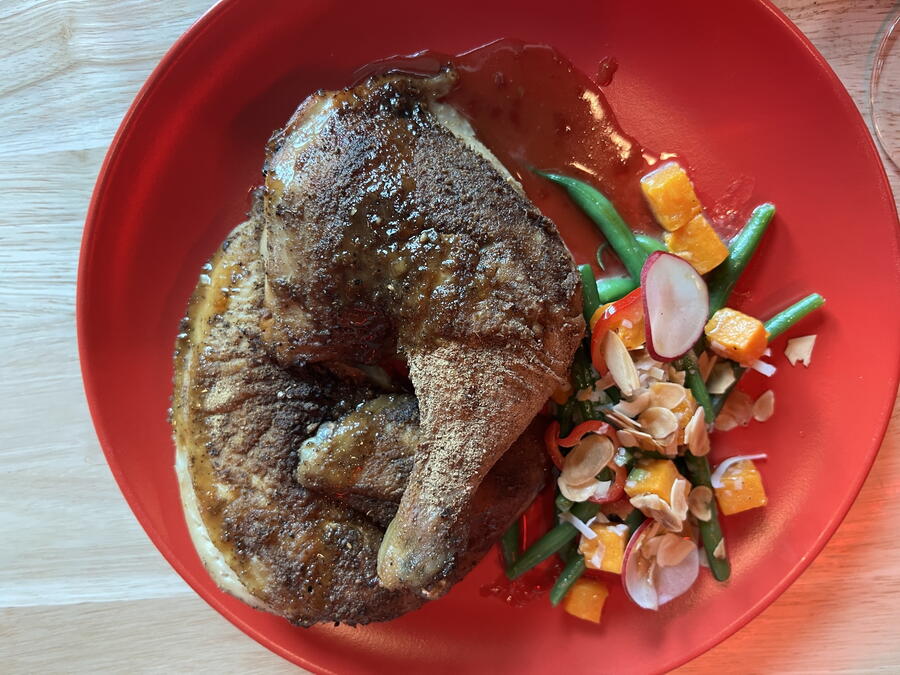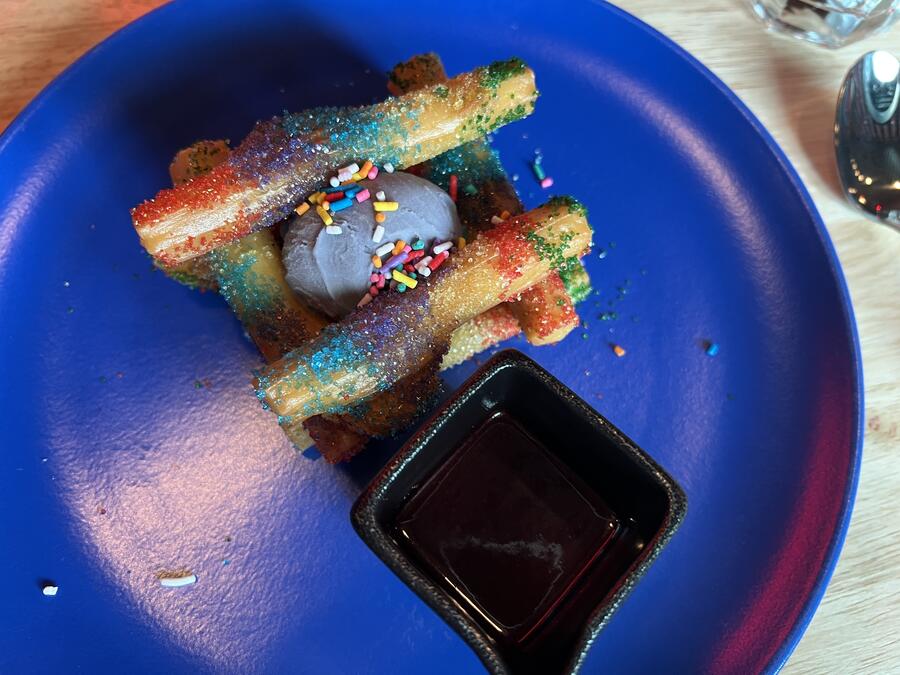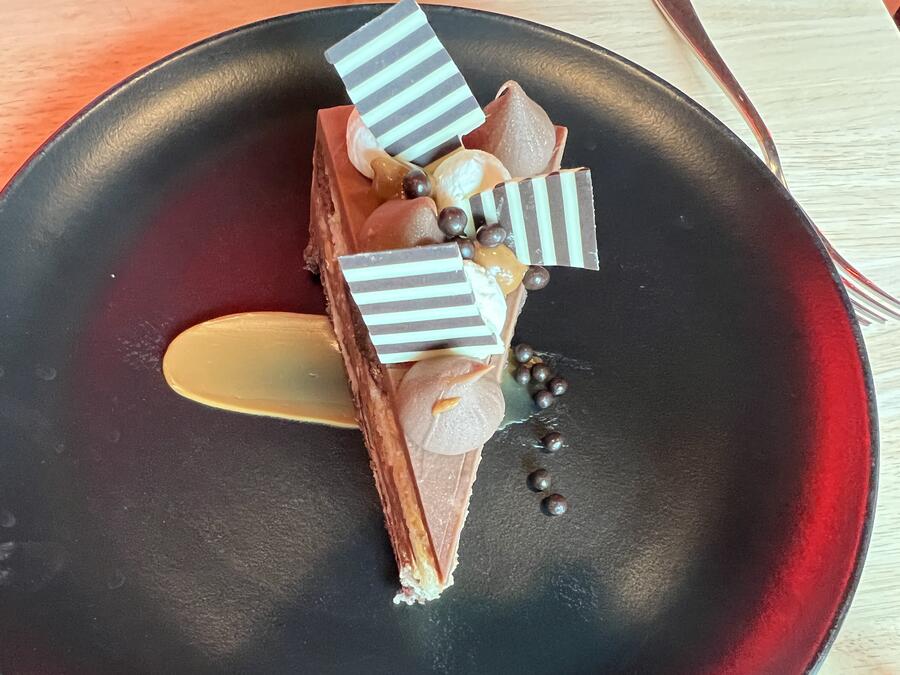 Before then, we dined at our fourth eatery on Scarlet Lady, Razzle Dazzle. It's a "veggie-forward" restaurant that also has "naughty" items of fish and meat.  I enjoyed a garden-fresh gazpacho while RAS started with a melon salad. We then moved on to butternut squash for me and roasted chicken for him (he just couldn't go veggie, which is what I expected).  Our desserts were rainbow churros and mocha layer cake.  Overall, this was a moderately good meal, a solid 6 out of 10 (see the pictures above)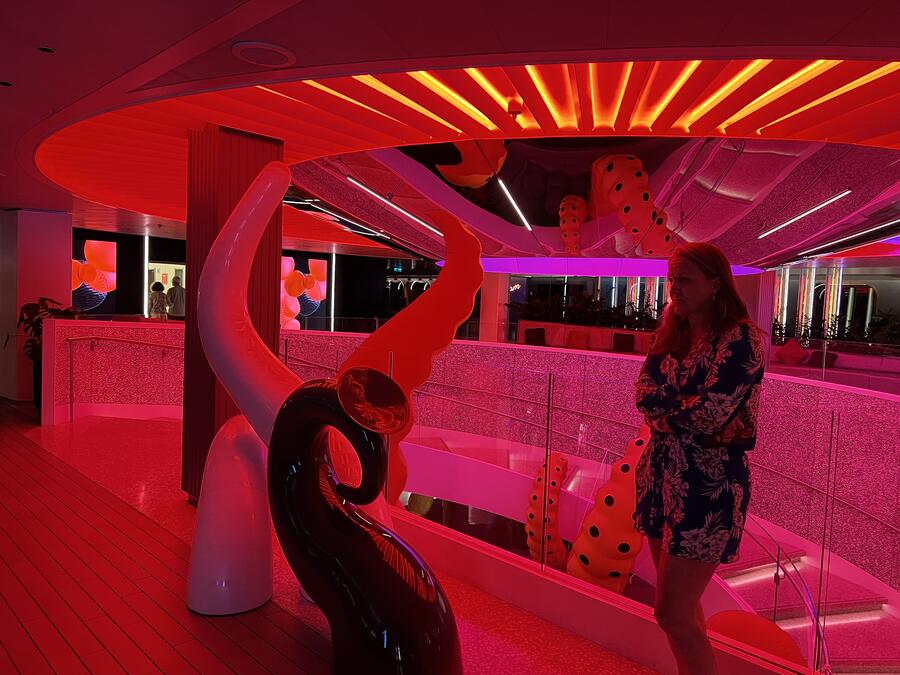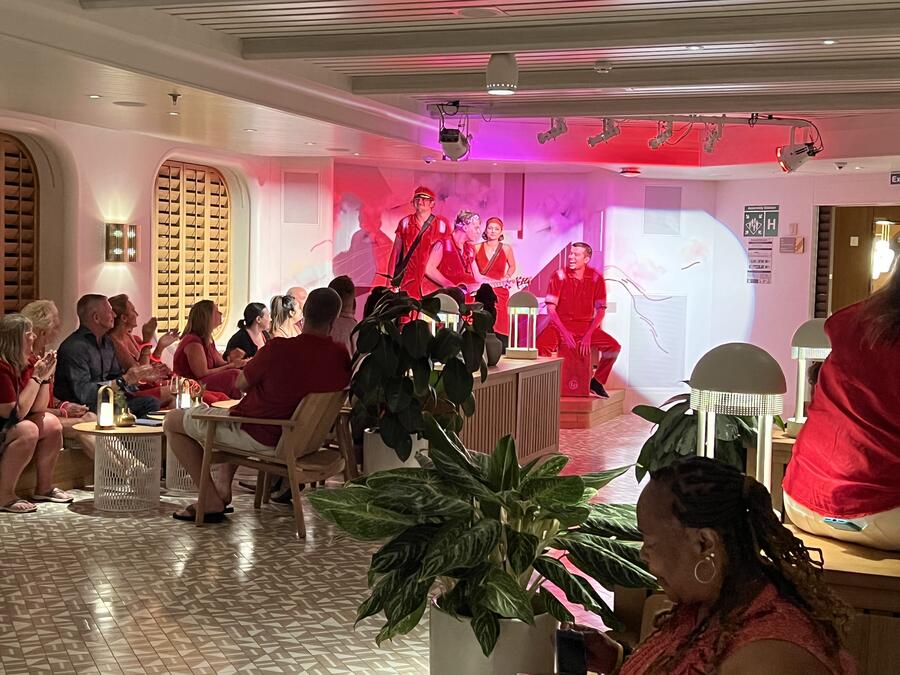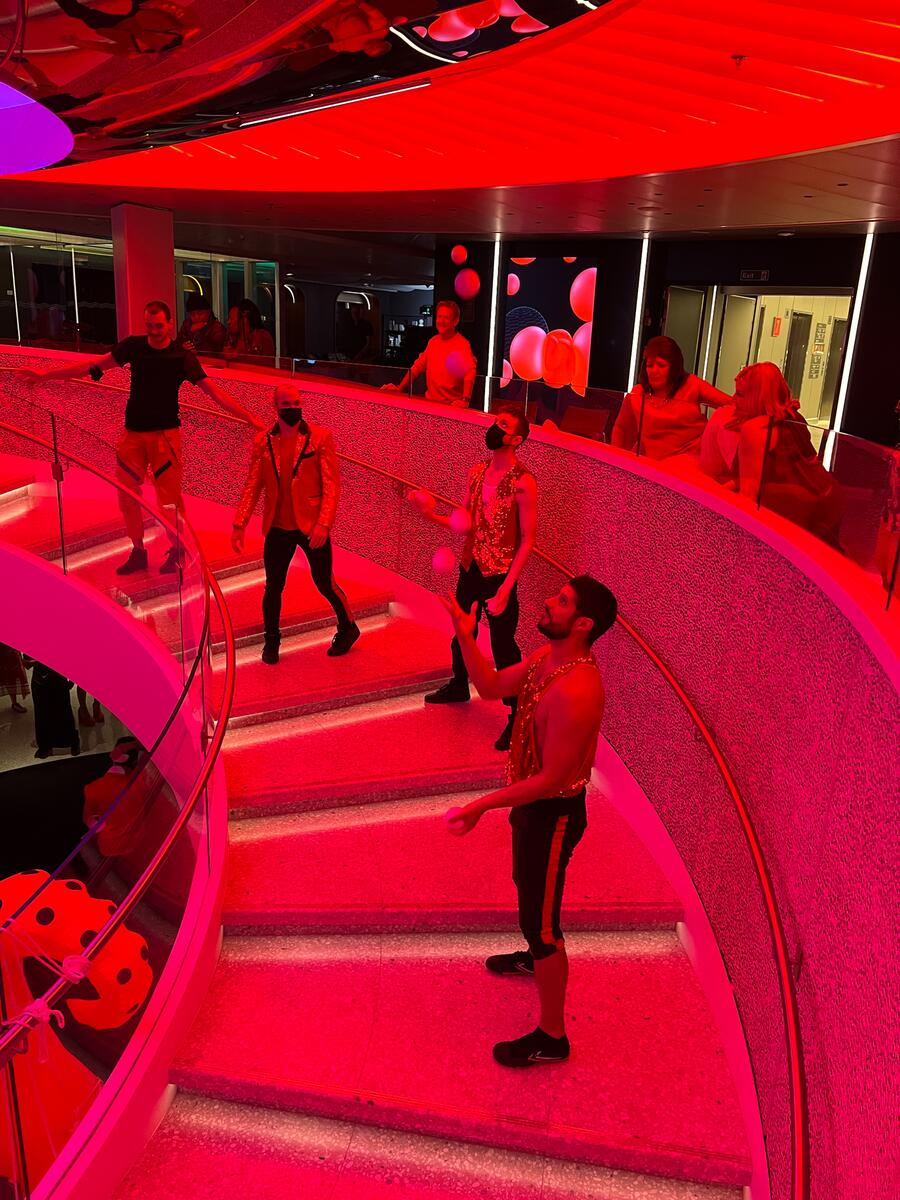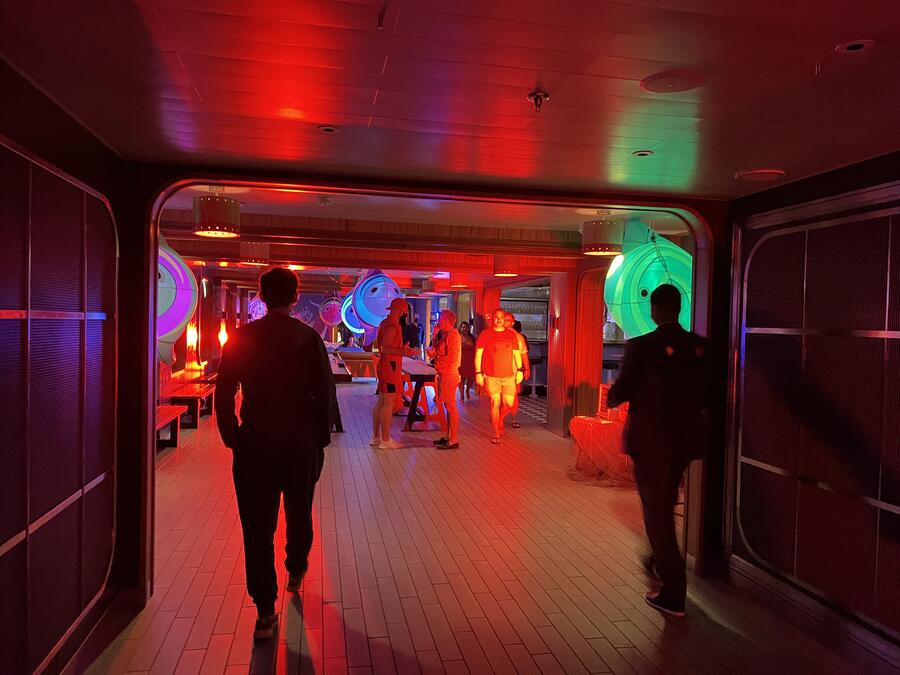 Finally, we decided to "check out" Scarlet Night, even though RAS didn't have anything red to wear. As it turned out, quite a few people didn't. But that didn't stop anyone from having fun, which we did.  
We listened to live music, witnessed a sea wedding ceremony (completely invalid, of course) and went on a pirate adventure that we completely messed up but got another free boozy drink from our efforts.  The only thing we didn't do is the poolside party, which went from 11 PM to God knows when.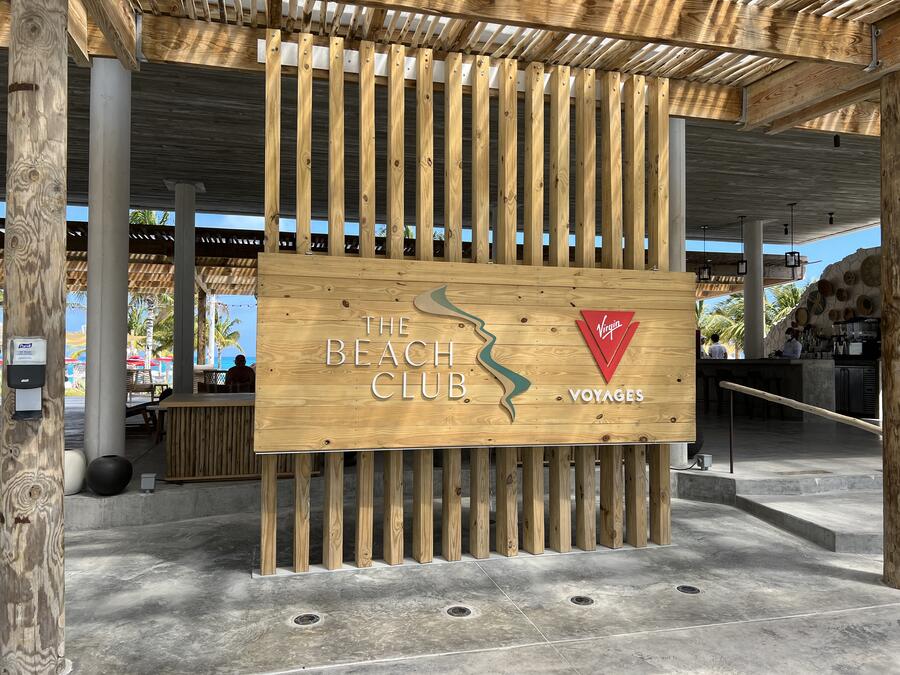 Lounging at the beach club
Having Bimini as the next day's stop was probably a welcome thing because more than a few people onboard needed that recovery from the night before.  
Unlike other major cruise lines that have their own private islands, Virgin Voyages has an exclusive beach club on the island.  Once you've disembarked, you get on a tram or golf cart for a two-minute ride to the entrance.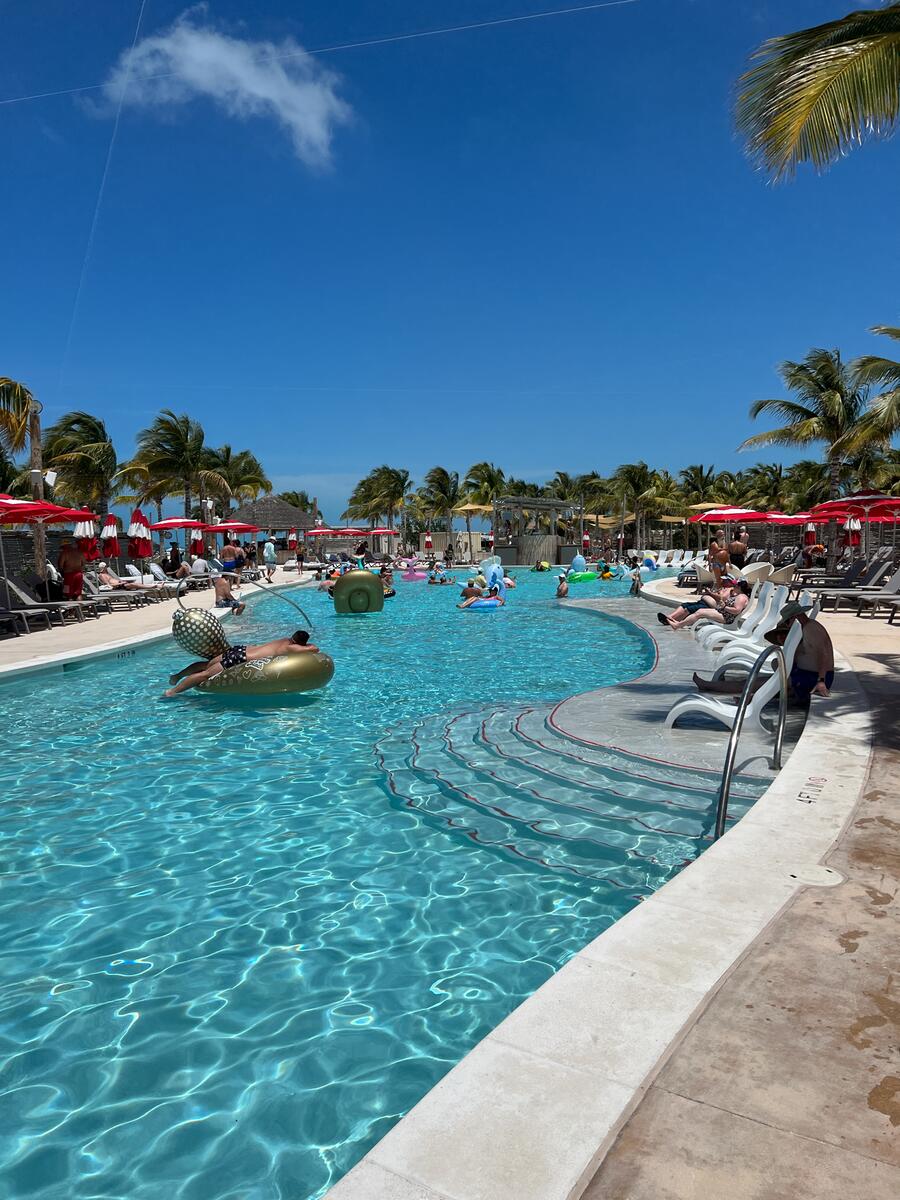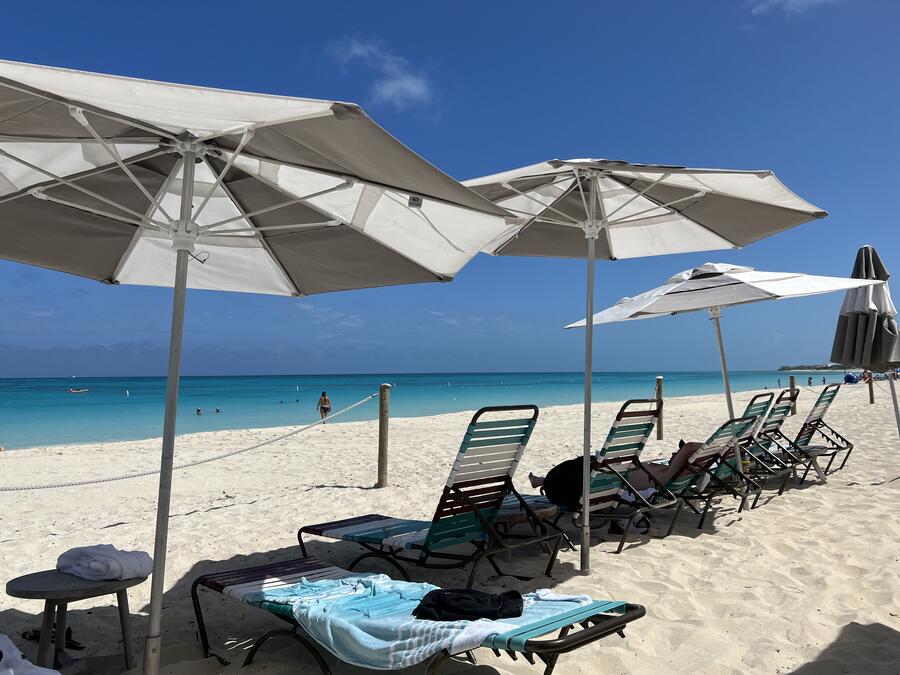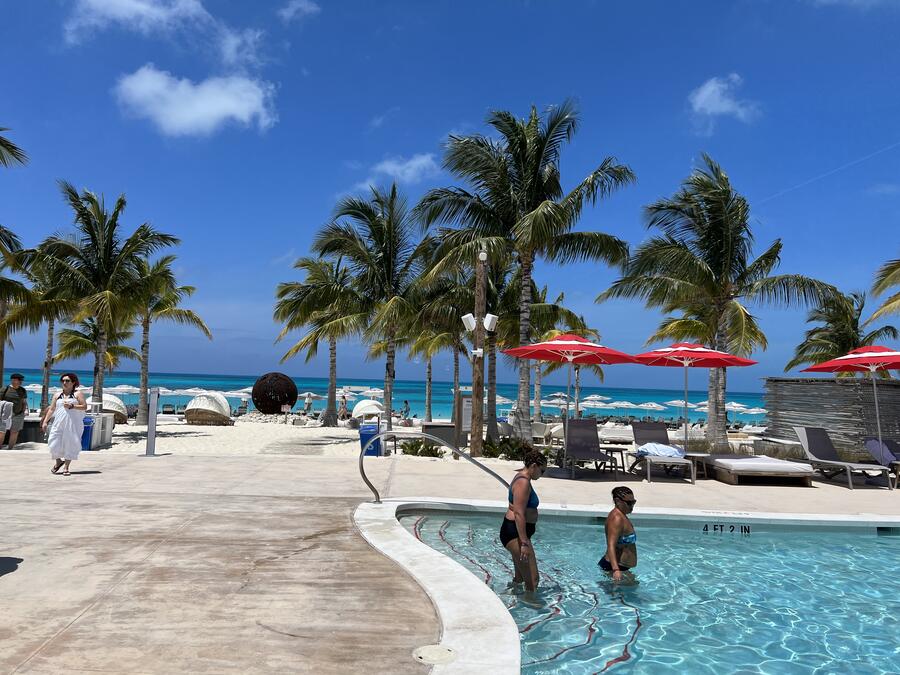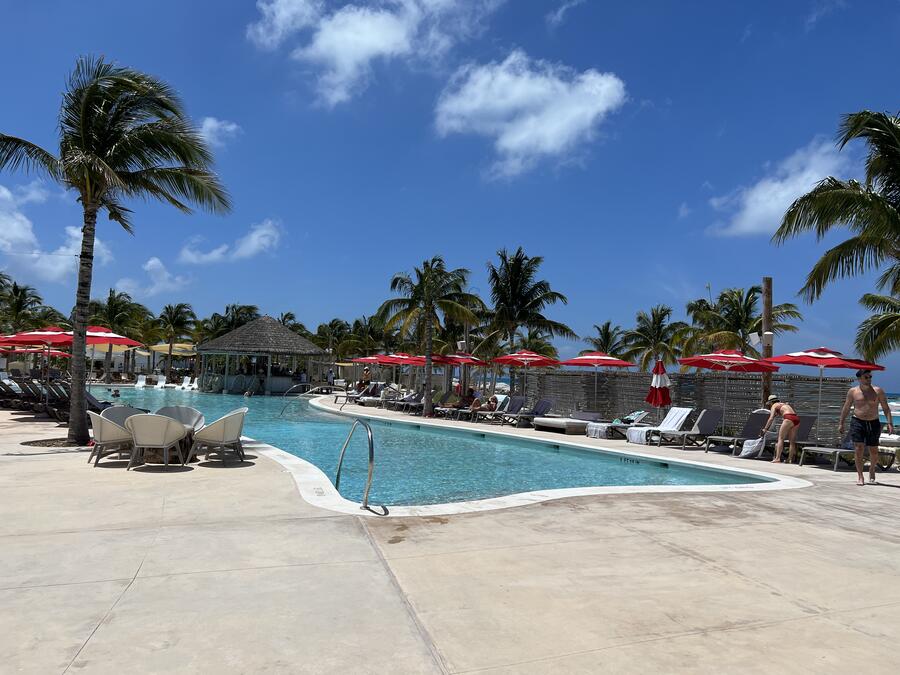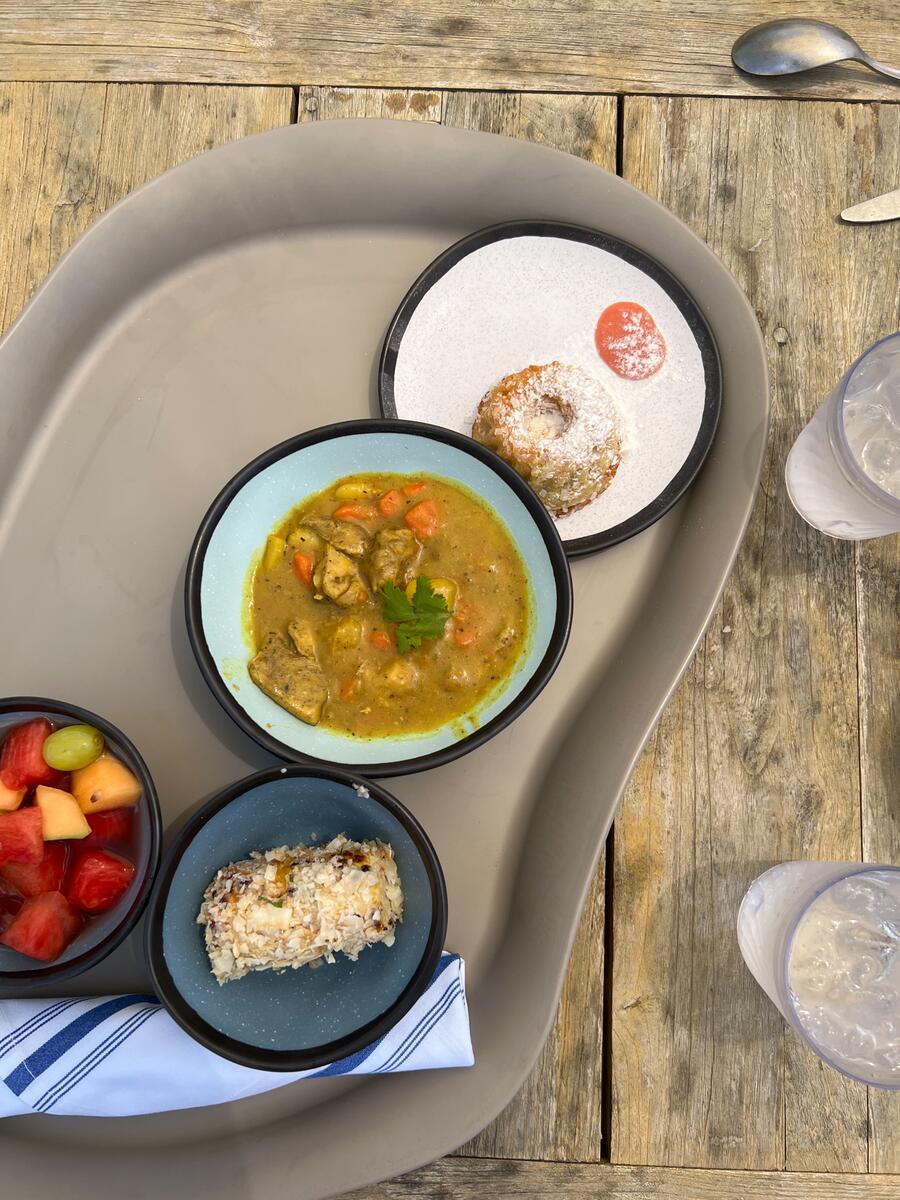 Keeping with the adult-oriented ethos of Virgin Voyages, the beach club is built for relaxation and low-key partying.  Rows of lounge chairs shaded by umbrellas line the shore and front the clear turquoise water. Two large swimming pools are just behind the beach with more lounge chairs and plastic ones rimming the edges. There were probably at least four bars to get a cool drink or two (or more).
Once the food service was open for lunch, we got what would be considered "local" food – curry chicken and vegetables, rice and beans, fruit and rum cake. Unlike the ship's cuisine, it was just adequate, enough for satisfying lunch hunger.
RAS and I didn't stay for the bonfire party, which was to take place at 6 PM when it was still light out. We figured if we were going to see that, it should at least be dark.  Besides, we wanted to go to the last eatery onboard, Pink Agave, and our reservations were at the same time.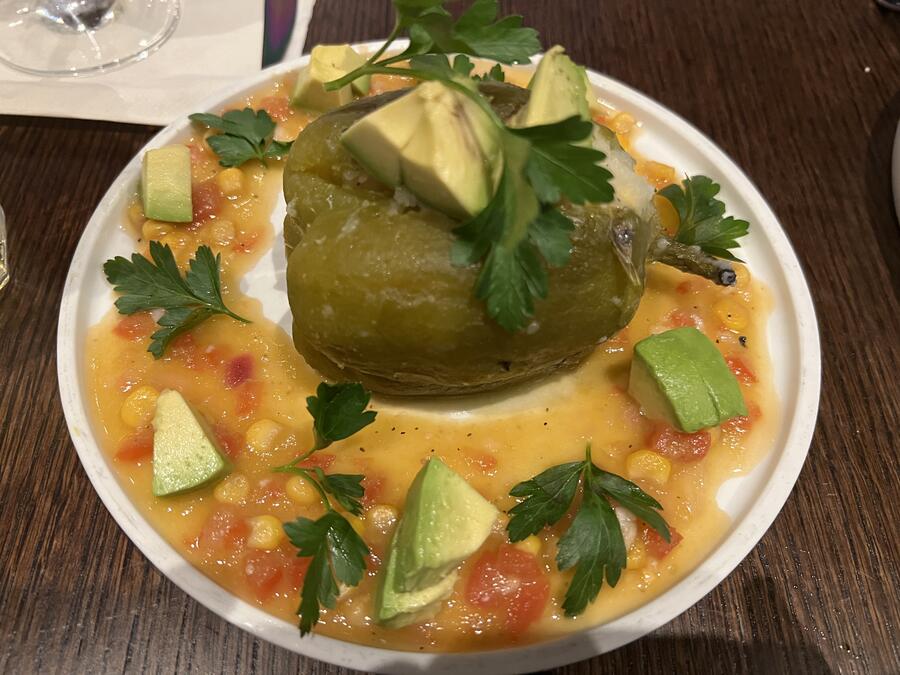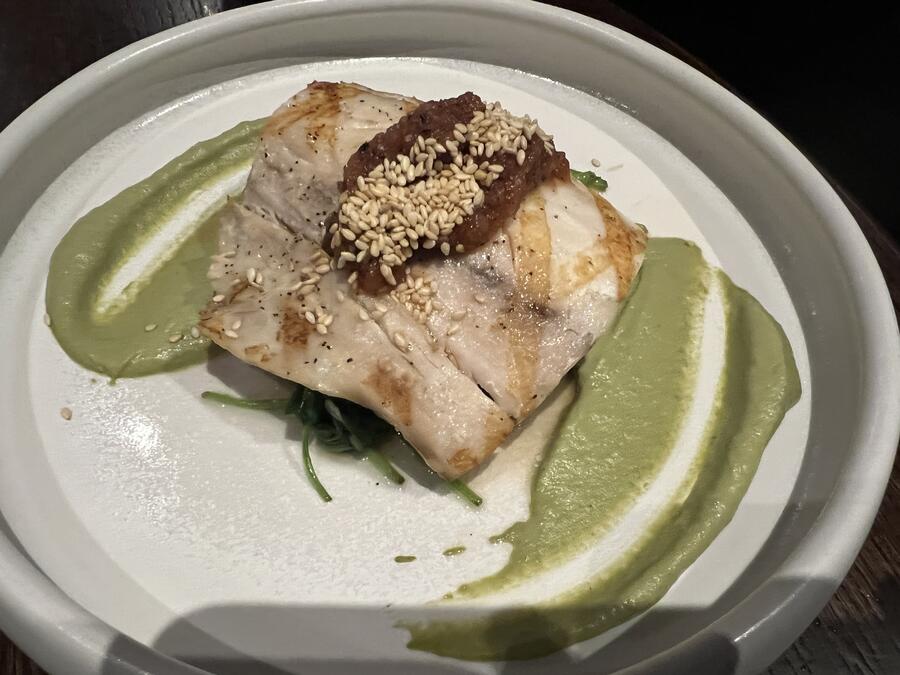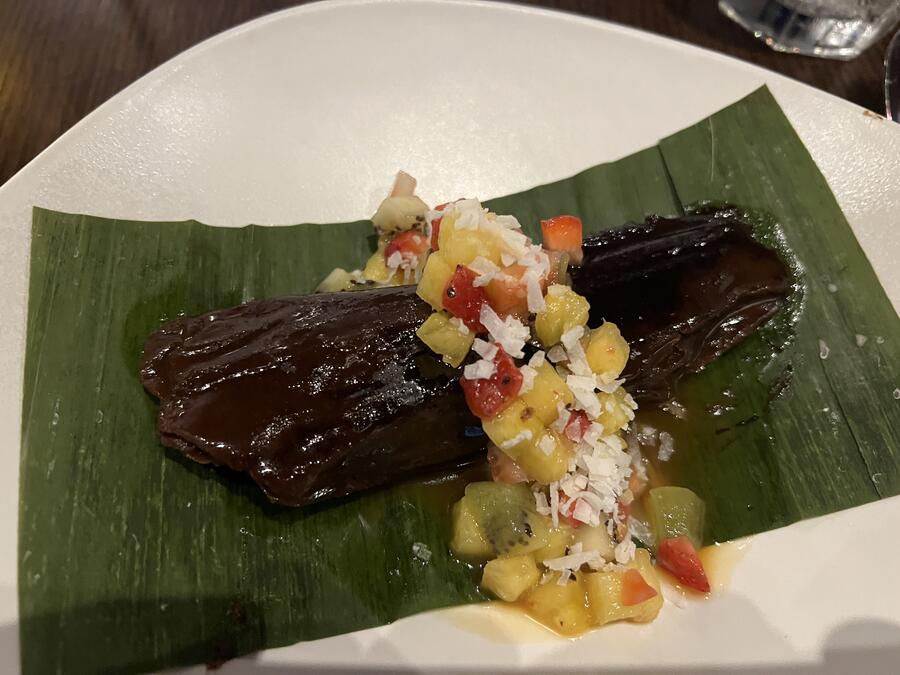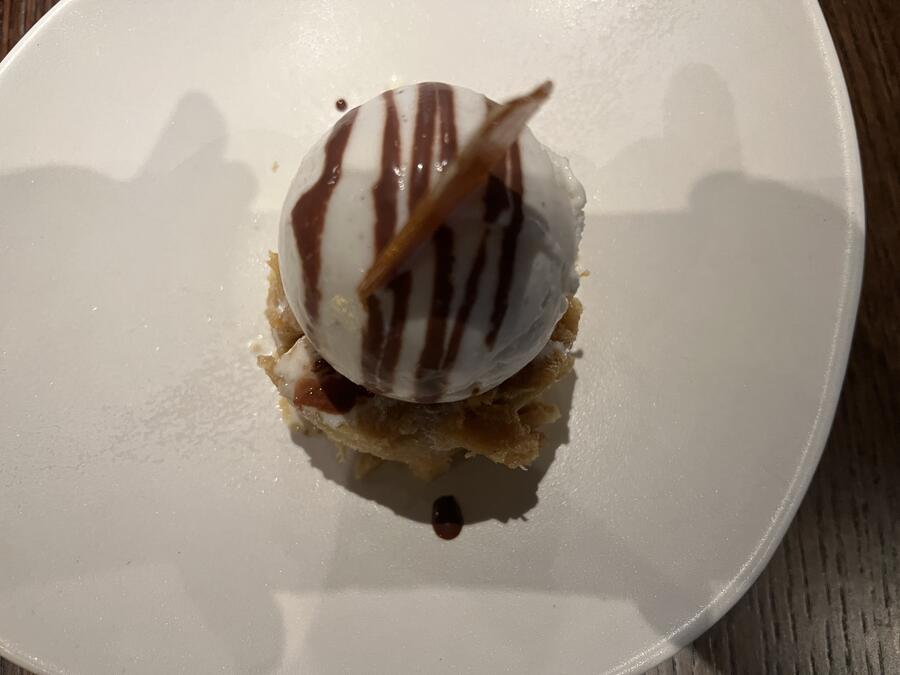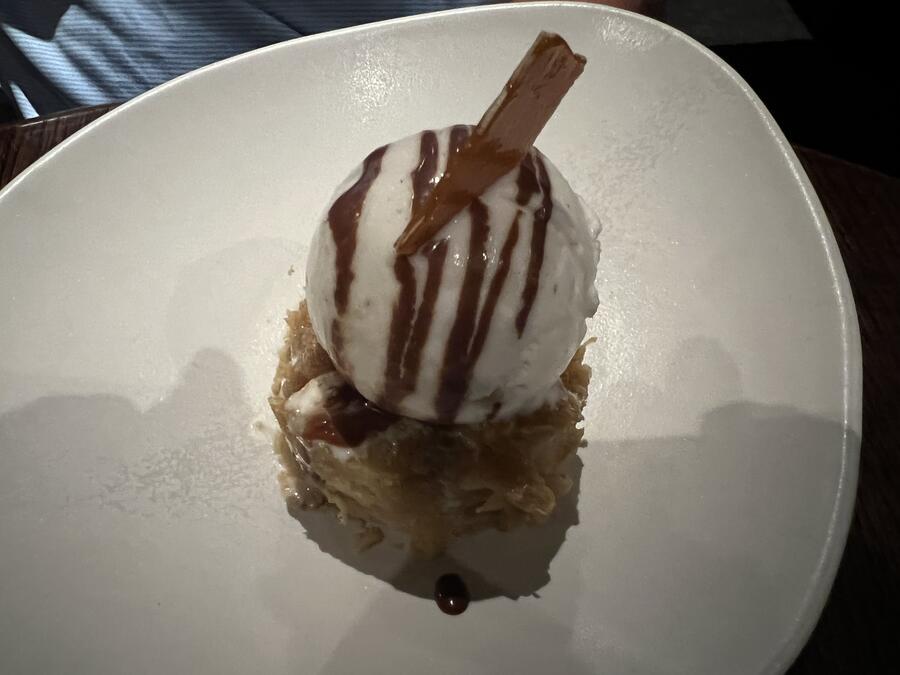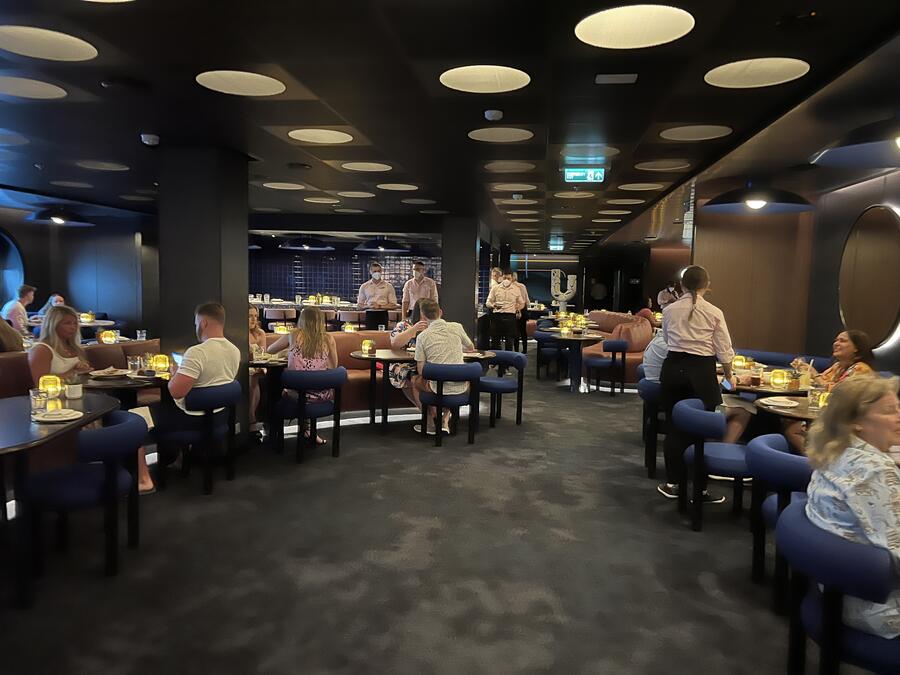 Although just about every dinner on Scarlet Lady was excellent, this was probably the best meal we had during our five-night cruise.  Starting with a trio of small appetizers (street corn, chayote squash and potatoes with chorizo), we then moved on to my entrée of relleno vegano (a stuffed poblano with mashed potatoes and corn) surrounded by a guajillo salsa and avocado and RAS's of grilled halibut with mole and avocado crema.  Even though we were both stuffed, we couldn't resist the tamal de chocolate and dulce de leche ice cream and cookie for dessert.
Overall, we both enjoyed Virgin Voyages and would rank them in the top three of cruise lines we've traveled with. Just be prepared to cut loose a little once you step onboard.