As I write this, we're now in our Santa Monica rental - RAS, NLS and I.  Tomorrow, we will help her move into Loyola Marymount.  RAS and I are still resting up from the two-day road trip where we drove 12-plus hours on the first day, from Golden to Las Vegas.  Our trip from Vegas to Los Angeles was just under five hours but choked with traffic (typical).
My original plan to "live blog" didn't happen because I did get carsick while I tried to write on this computer.  I also was tired each day and wasn't mentally ready to recount my day.  The other plan to record a podcast episode from the road didn't happen either, pretty much for the same reasons.
But that doesn't mean I can't do that now.  I'll break up the trip by the states we traveled through, starting with our own home state: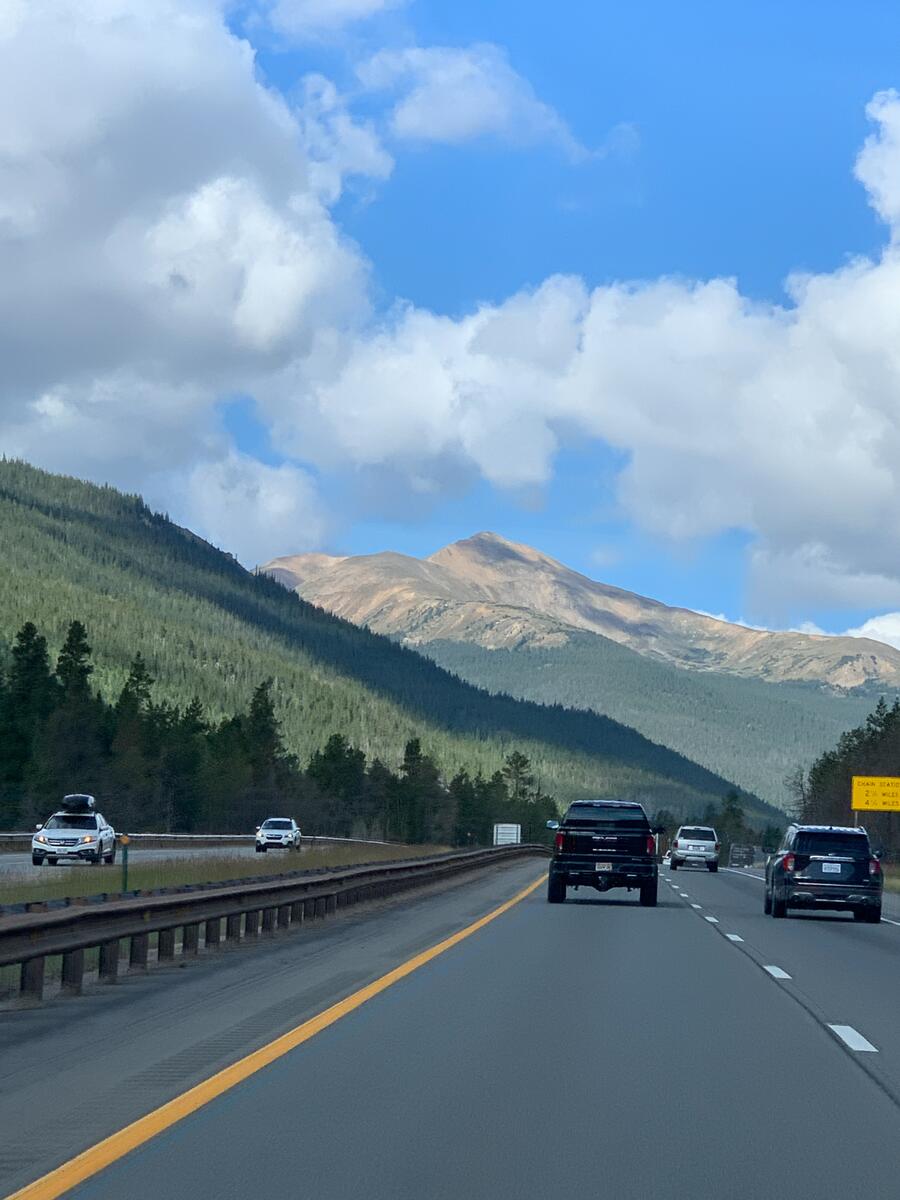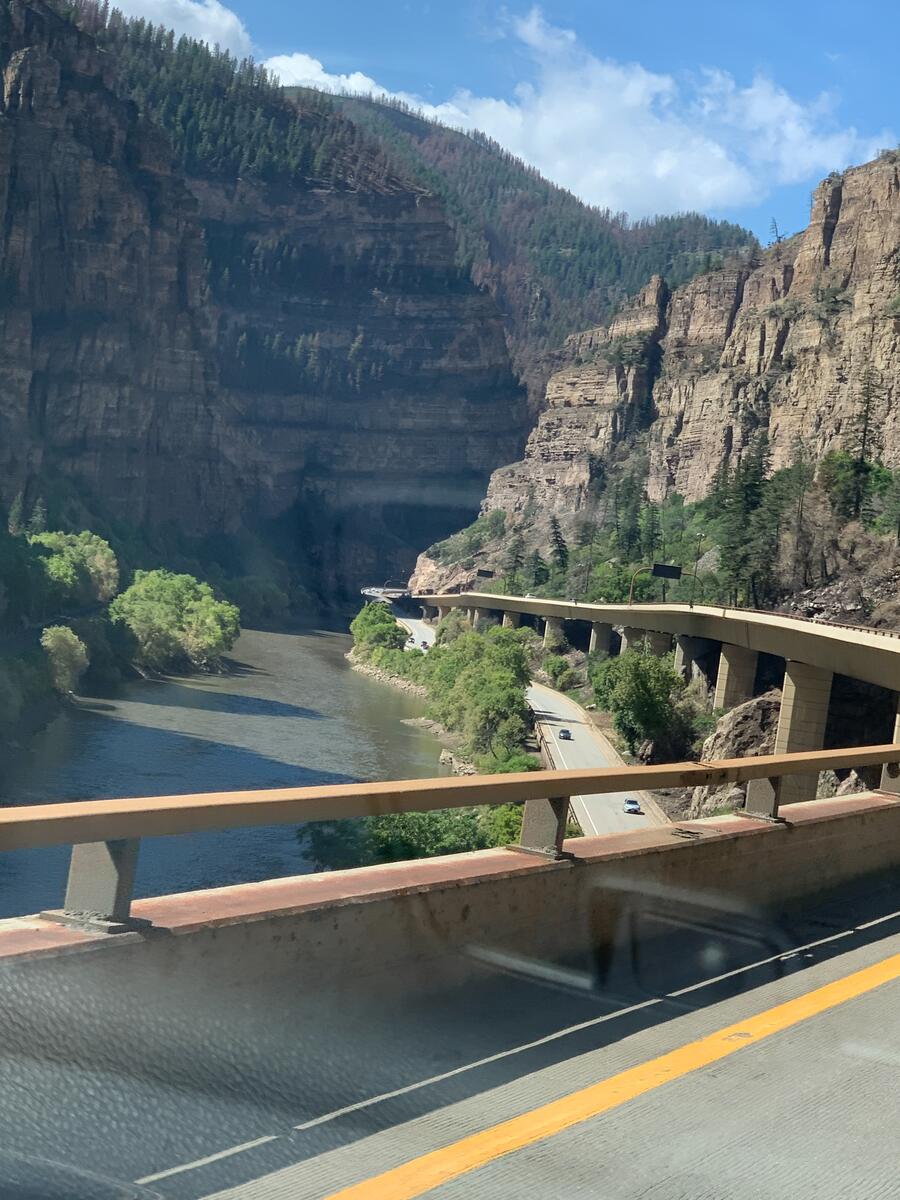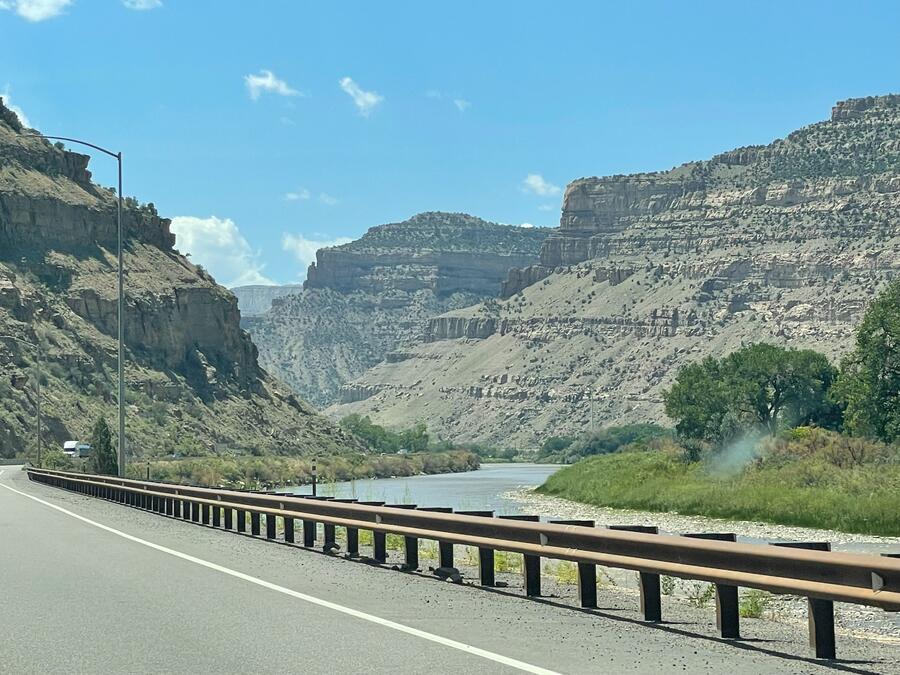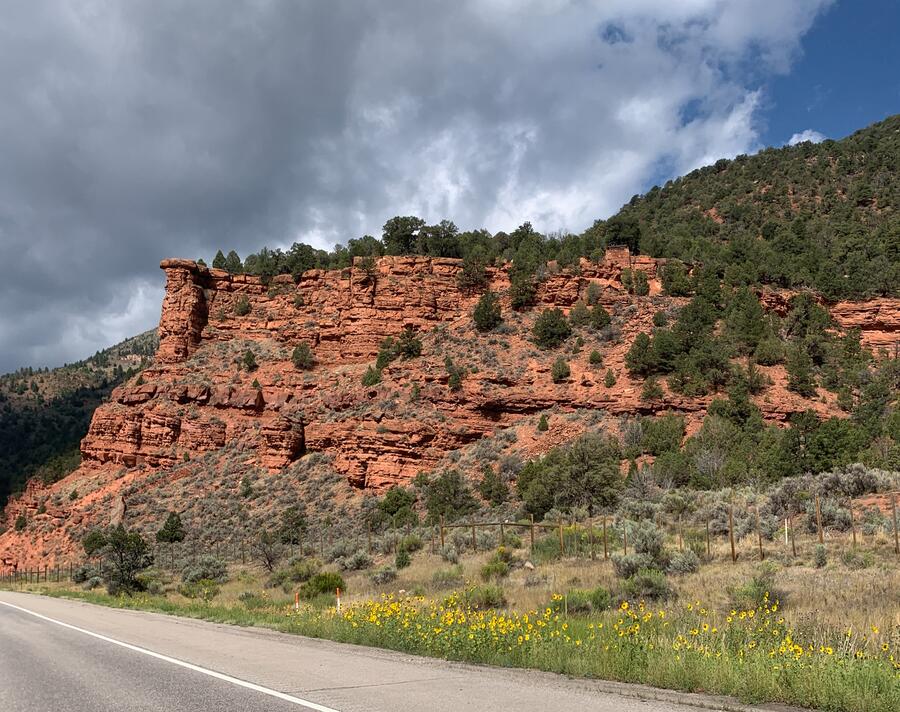 Colorado
Although I've now lived here for nearly twenty years, anything after Glenwood Springs is a bit of a mystery to me.  But what made this car trip a little more intriguing was the ever-changing status of Interstate 70 going through Glenwood Canyon, the imposing geological feature that showcases breathtaking rock formations and high jagged walls carved out from the Colorado River.
For the last several years, wildfires around the state have created burn scars that subsequently resulted in mudslides and flash flooding when rain arrives.  That's exactly what happened in Glenwood Canyon. Tons of rocks and mud covered the road for days, which then necessitated a two-hour detour to the north. 
We anticipated enduring that unwelcome option but thankfully we were spared.  There was only a 20-minute delay for some roadwork, but we were otherwise free to drive.
Stopping for lunch in Rifle, we tried to find gas to fill up the tank. But one station's pumps weren't working, and the other was closed. We finally found a Conoco that was functional and kept motoring on.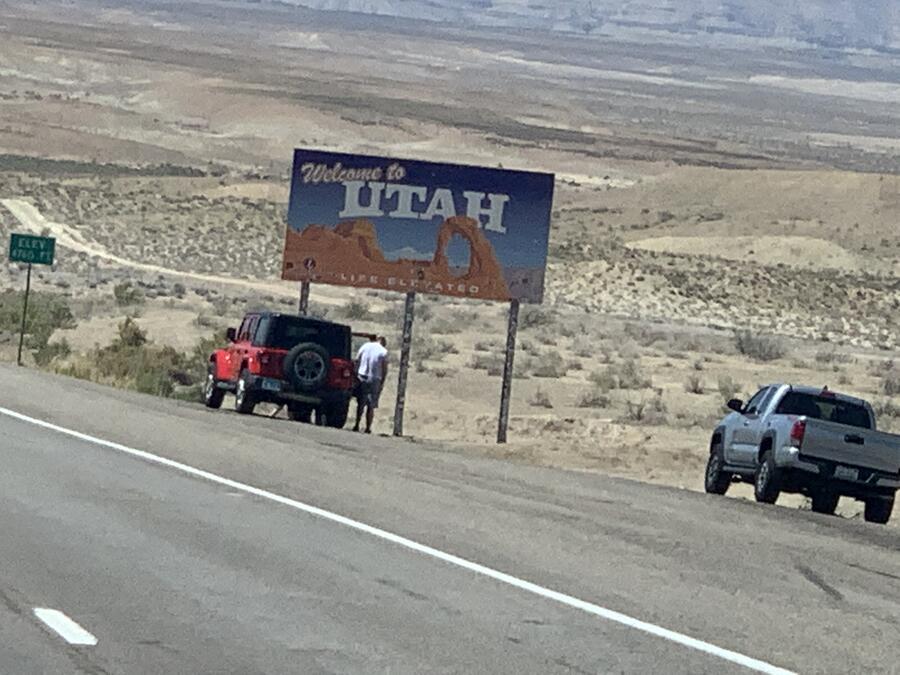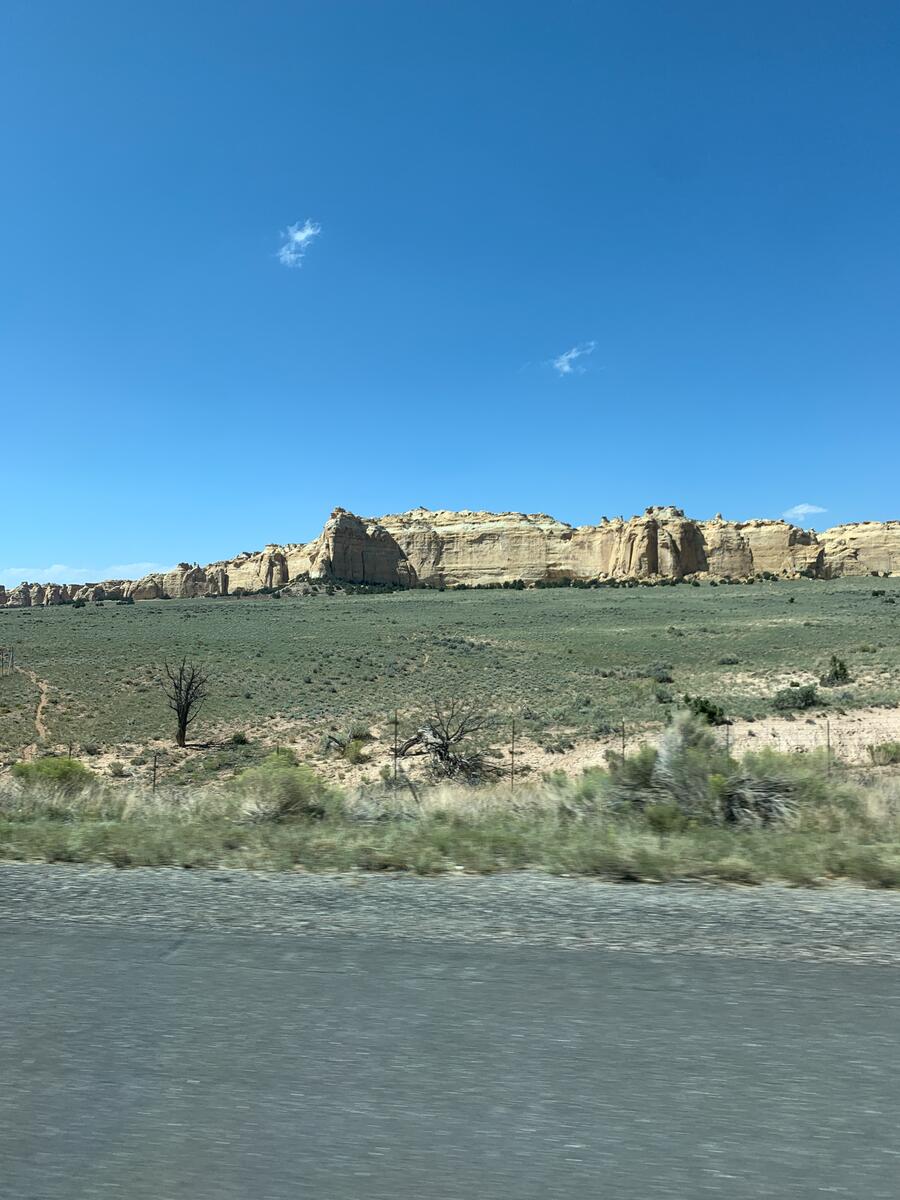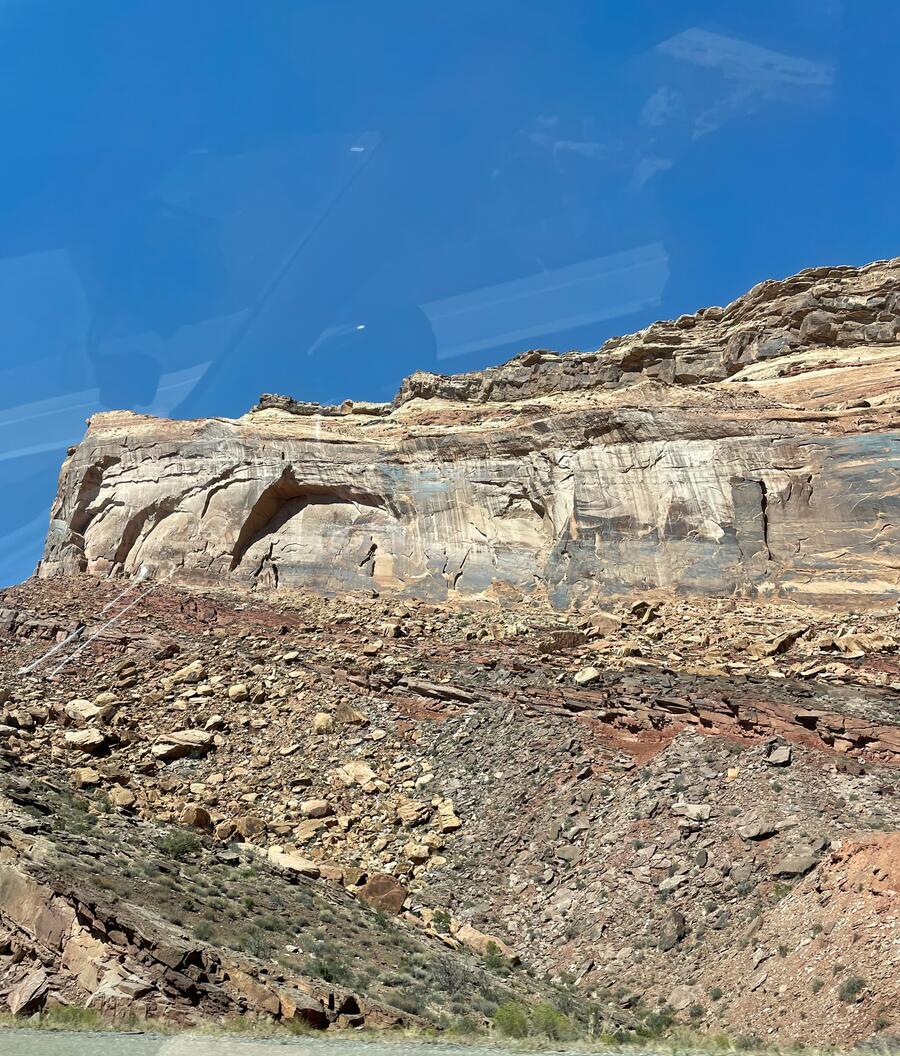 Utah
Much of the southern part of this wide-open state along I-70 offers dramatic multi-colored rock formations, mesas and cliffs, which you can also find in one of the five National Parks in the area.  Some of the landscape changes to lush green forest, especially at the higher elevations, but I estimate that most of the southern Utah is that scenic backdrop we've seen in westerns.
Our original plan was to head back this same way and stay in St. George and Moab, as I wrote in the last blog entry.  But RAS and I realized that we would like to visit this area for a longer time.  One day wouldn't be enough, so we decided to change our itinerary and go through Arizona and New Mexico instead.  You'll find out about that part in next week's entry.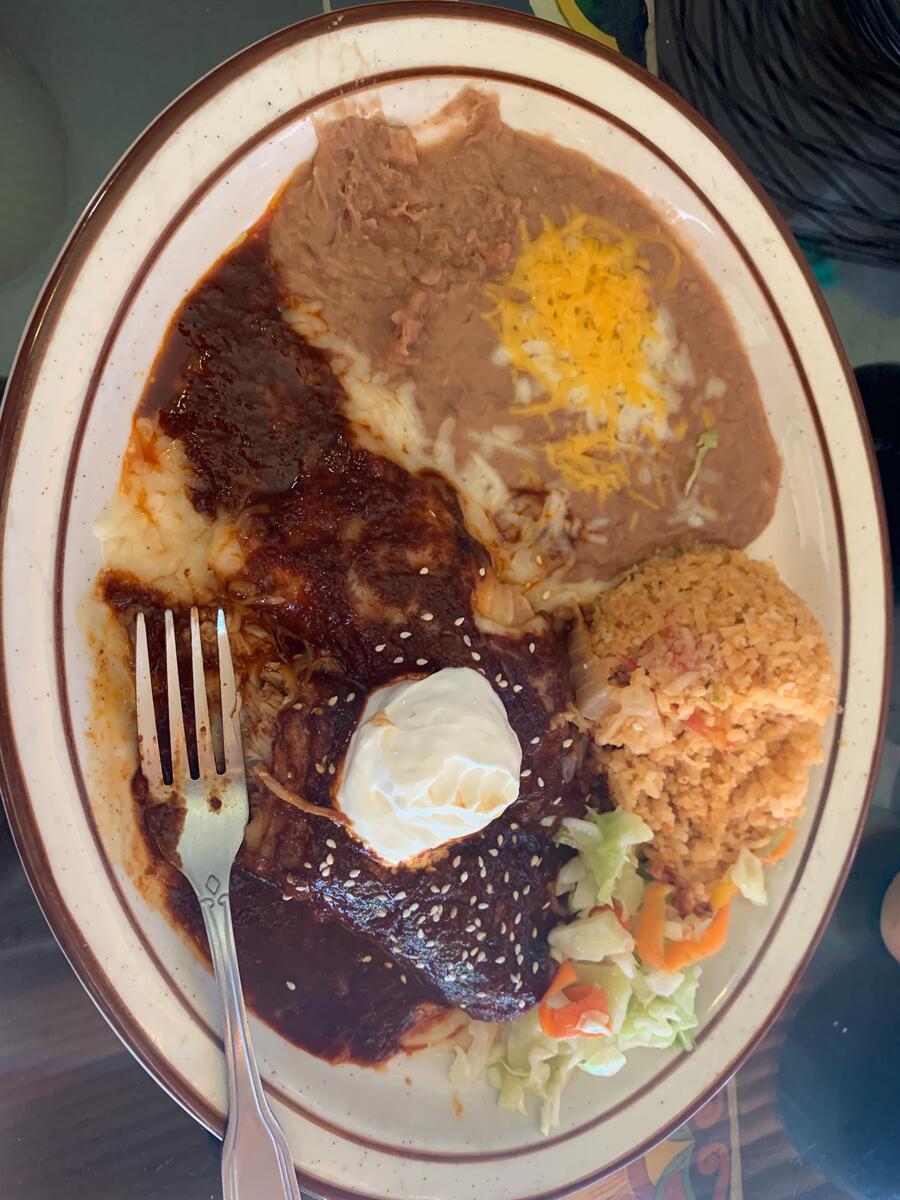 Dinnertime coincided with coming into Cedar City, so we stopped at Don Miguel Mexican restaurant. The chicken mole enchiladas and chips and salsa we had were top-notch, but the place itself had a fly problem. We spent about half the time eating and half the time swatting them away from our food.  RAS said that I should still recommend it here, but I can't do that wholeheartedly.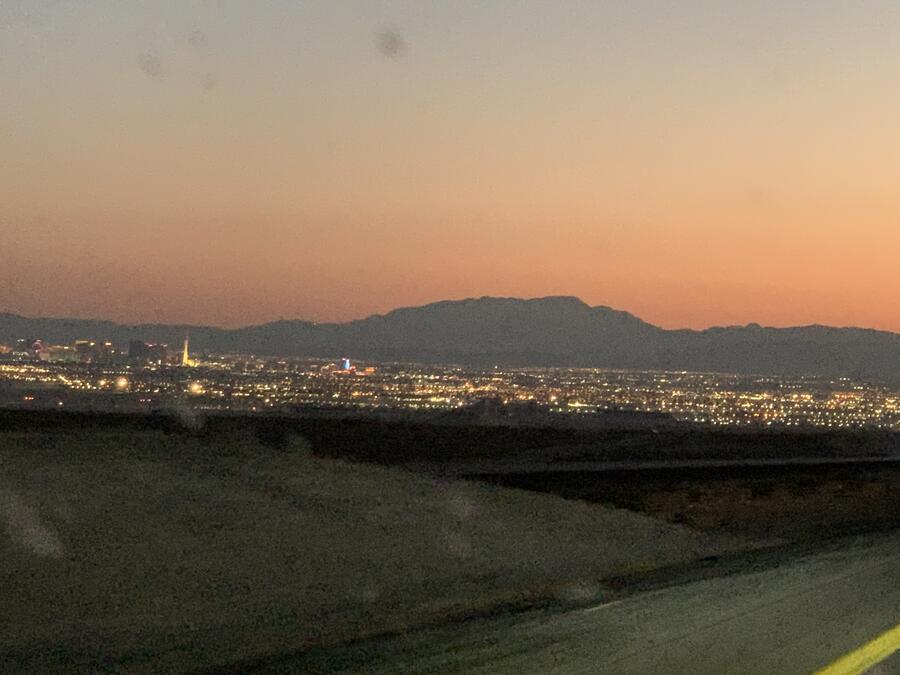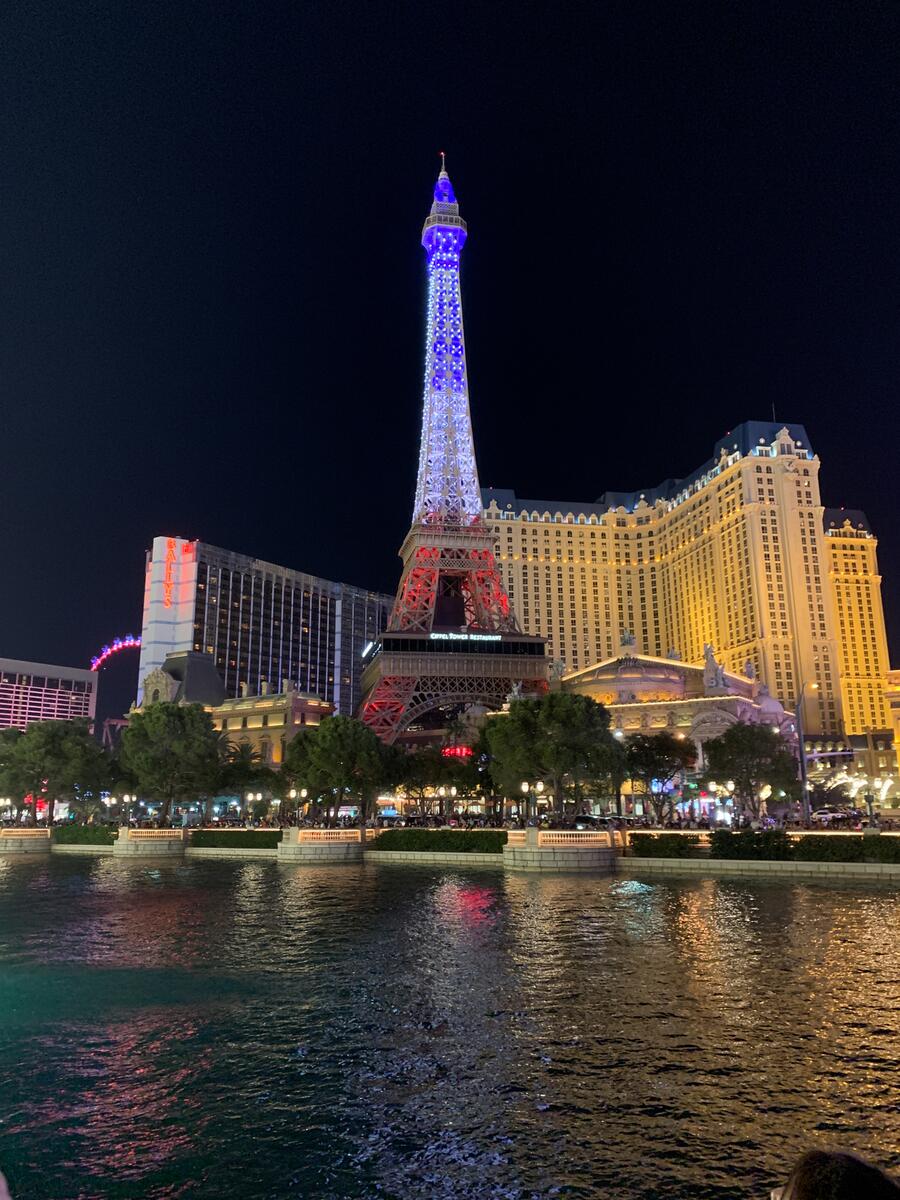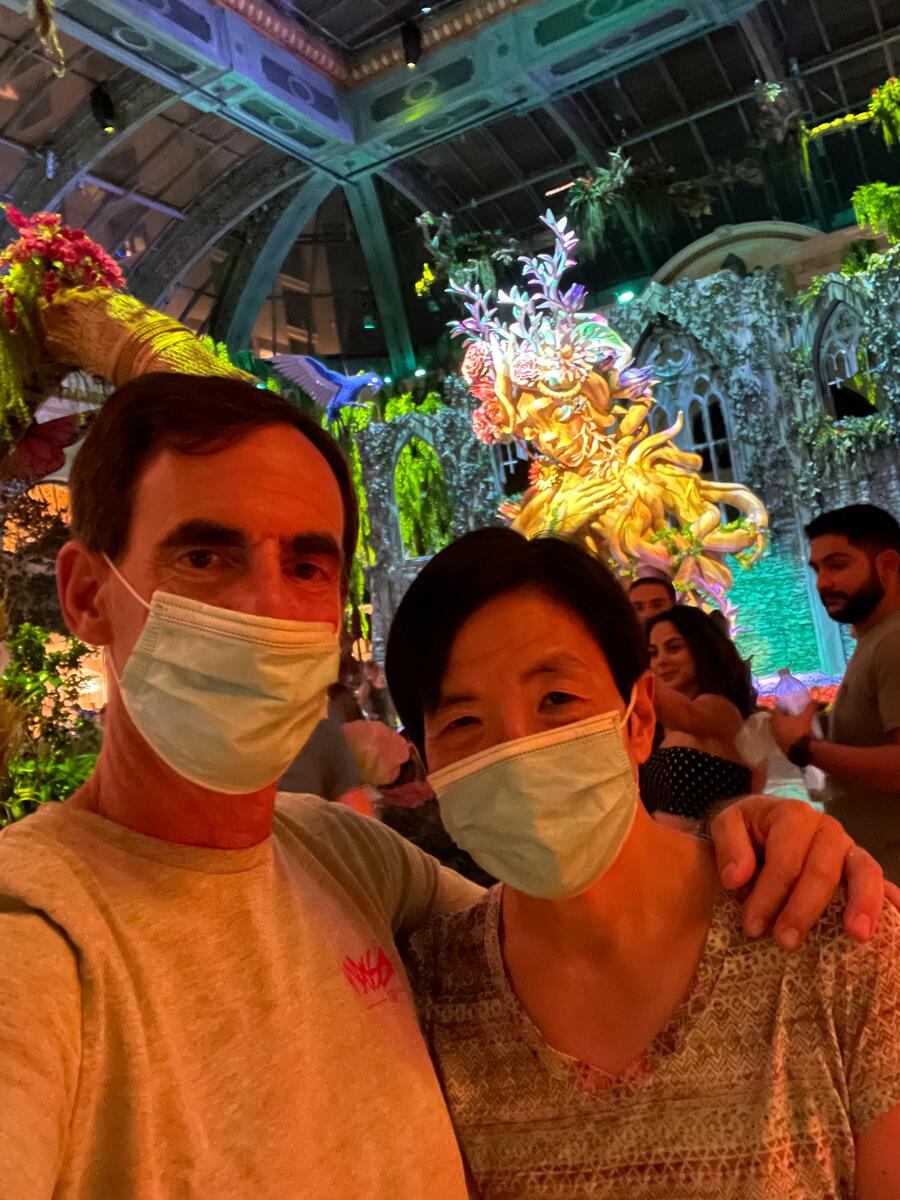 Nevada
Right around 8 PM, we arrived in Las Vegas and checked into the Renaissance, which is about half a mile from the Strip.  Because of the time change from the Mountain to Pacific zone, we gained an extra hour.  It's not easy to walk there, because it's fully on the other side of the Wynn Country Club, a private golf course.  But it's a great less expensive alternative to those overpriced Strip resorts, like I wrote about a few weeks ago.
After resting a bit, we took an Uber over to Bellagio and watched the fountains show, which run either every 15 or 30 minutes, depending on the time of day.  We also walked down to MGM Grand taking in all the people watching along the way.  Having RAS with me in Vegas made it more fun than being on my own as I was last month.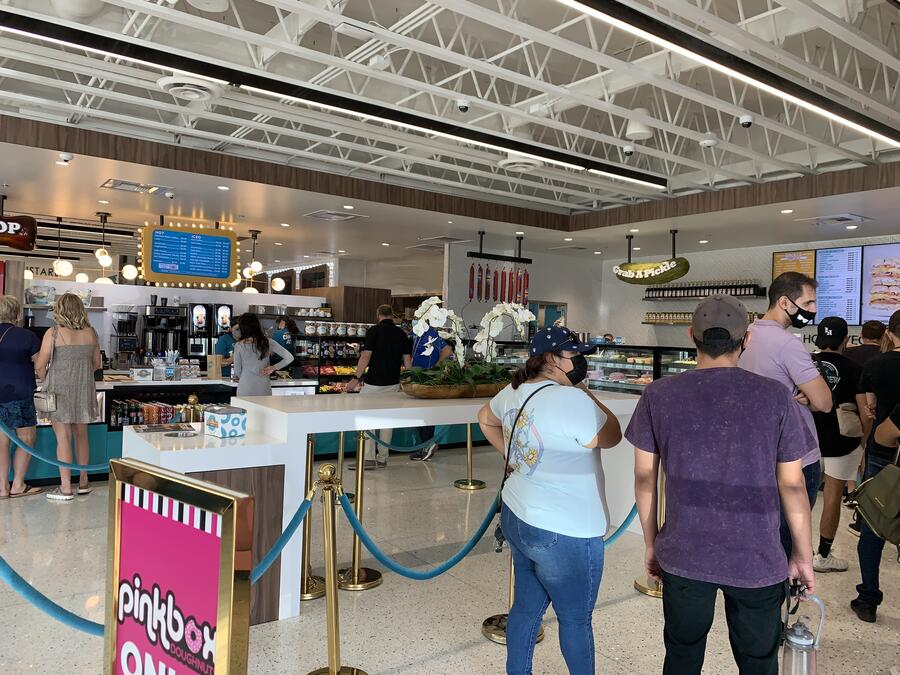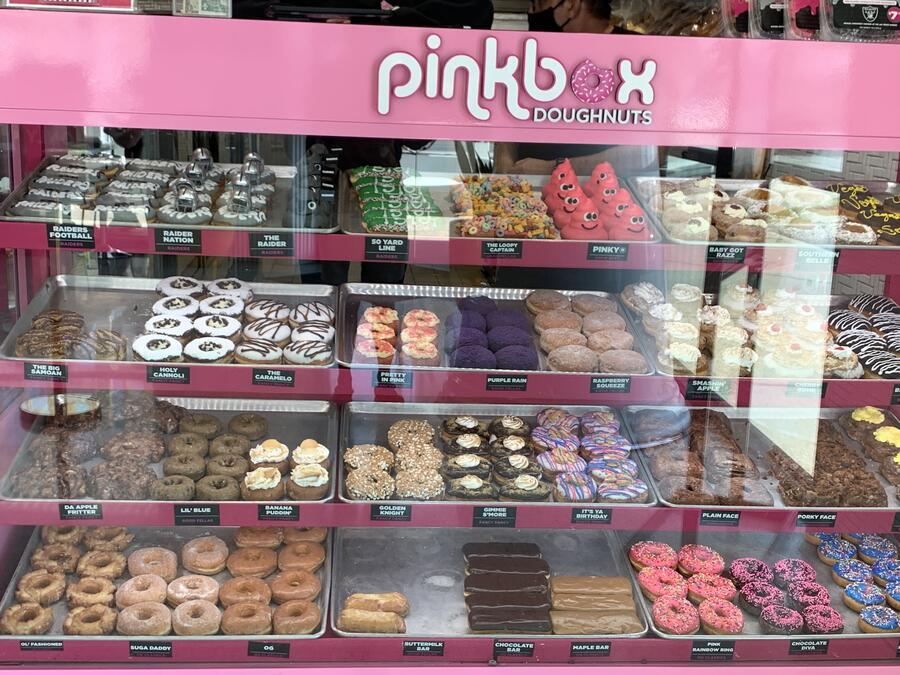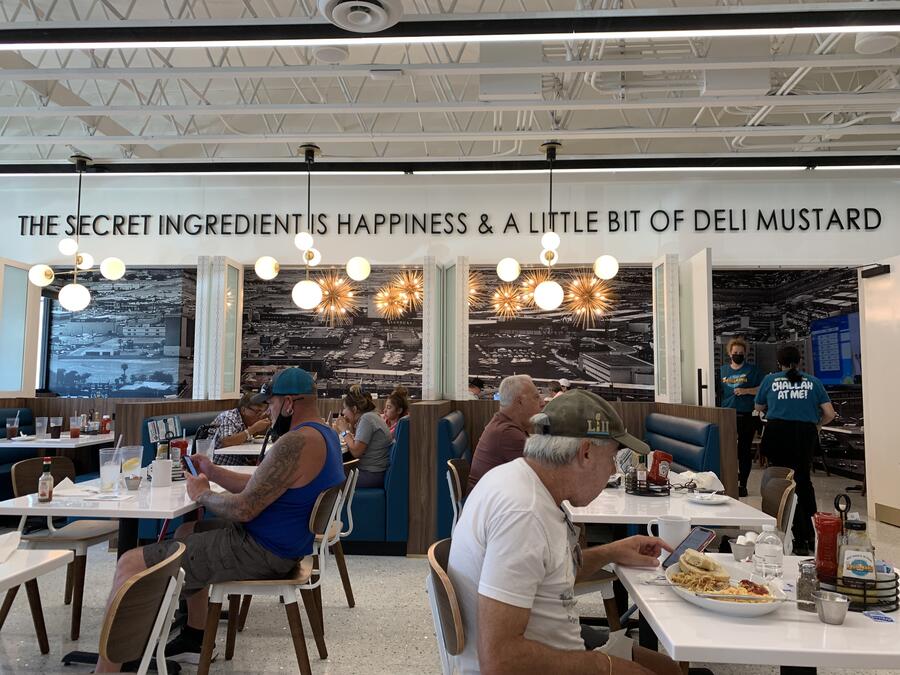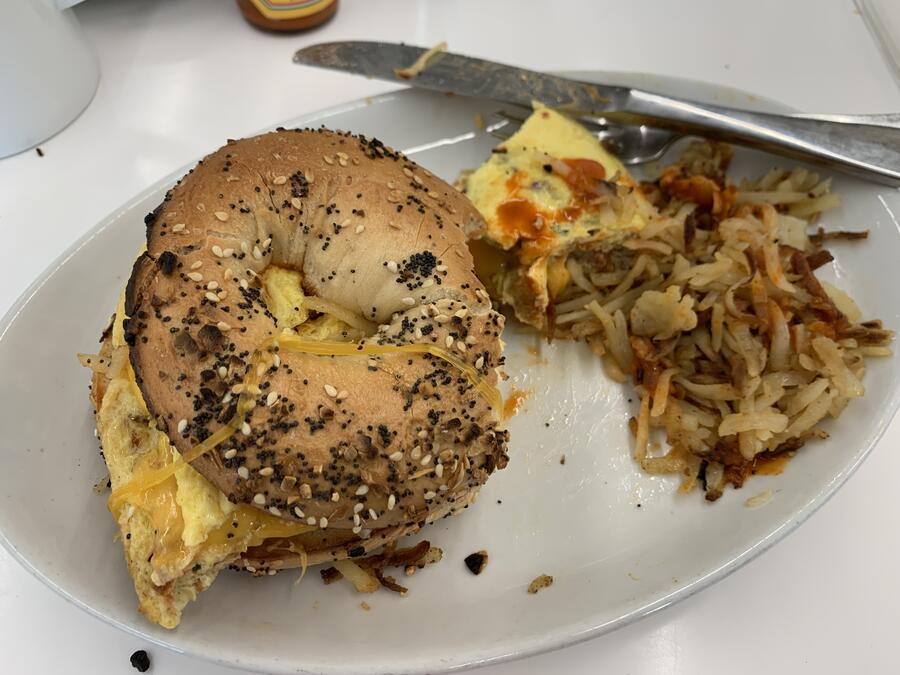 The next morning, we decided to have a rare big breakfast at Siegel's Bagelmania, a deli next to the Convention Center.  A bright splashy place that offers east coast favorites, they also have a bakery with Pinkbox donuts, a local favorite.  I wanted to get one of the pink monster ones, but RAS discouraged it.  
Our breakfast consisted of scrambled eggs with cheese, bacon, sausage, and side of hash browns. We also ordered two bagels to make sandwiches, and it was more than enough to carry us through the day going to Los Angeles.