It's been a while since I wrote about any open space parks in the Denver area.  That's mostly because I haven't been on the trails too much lately. I'll attribute that to being busier both professionally and personally and doing more Peloton workouts over the past year.
But now that my kids are back at college, my workload is lightening up and I just miss being outdoors, I'm hitting the trails and writing about those places that I haven't mentioned here, starting with Elk Meadow Open Space in Evergreen.  It's one of the larger open space parks in the area, and even with my frequent visits, I haven't seen all of it.
When you drive into Evergreen from Interstate 70, you'll take the CO State Road 74 and head about three miles further into the foothills.  About two miles in, you'll notice a wide-open rolling grassy area on the right, with a rising peak behind it. This is Elk Meadow, and it's simultaneously popular and uncrowded, because of its generous total acreage (1,658).  I never feel like I'm constantly dodging people, even on a sunny weekend day.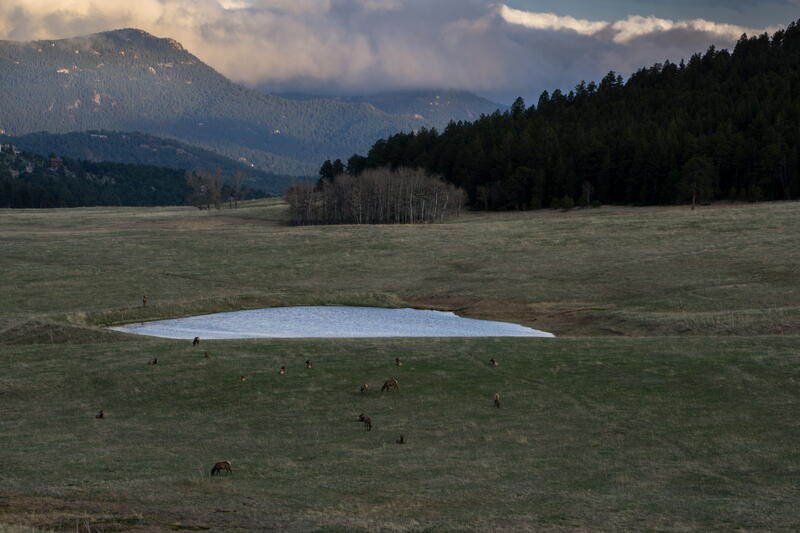 There are three entrances for Elk Meadow, and the one that most visitors start at is Lewis Ridge.  It's the easiest to access, just off CO 74, with plenty of parking. The Stagecoach entrance is about three miles up a winding road from the highway.  There is an unofficial trailhead near the Ellingwood Trail road and the recreation center.  Personally, that is where I like to park.
With Elk Meadow, I've only gone on about two-thirds of the trails. I've yet to scale the Bergen Peak Trail, which is the highest point in the park at 9,701 feet.  It'll have to be half-day quest, but I'll get there eventually.  However, I can give you a rundown on the ones I have trekked.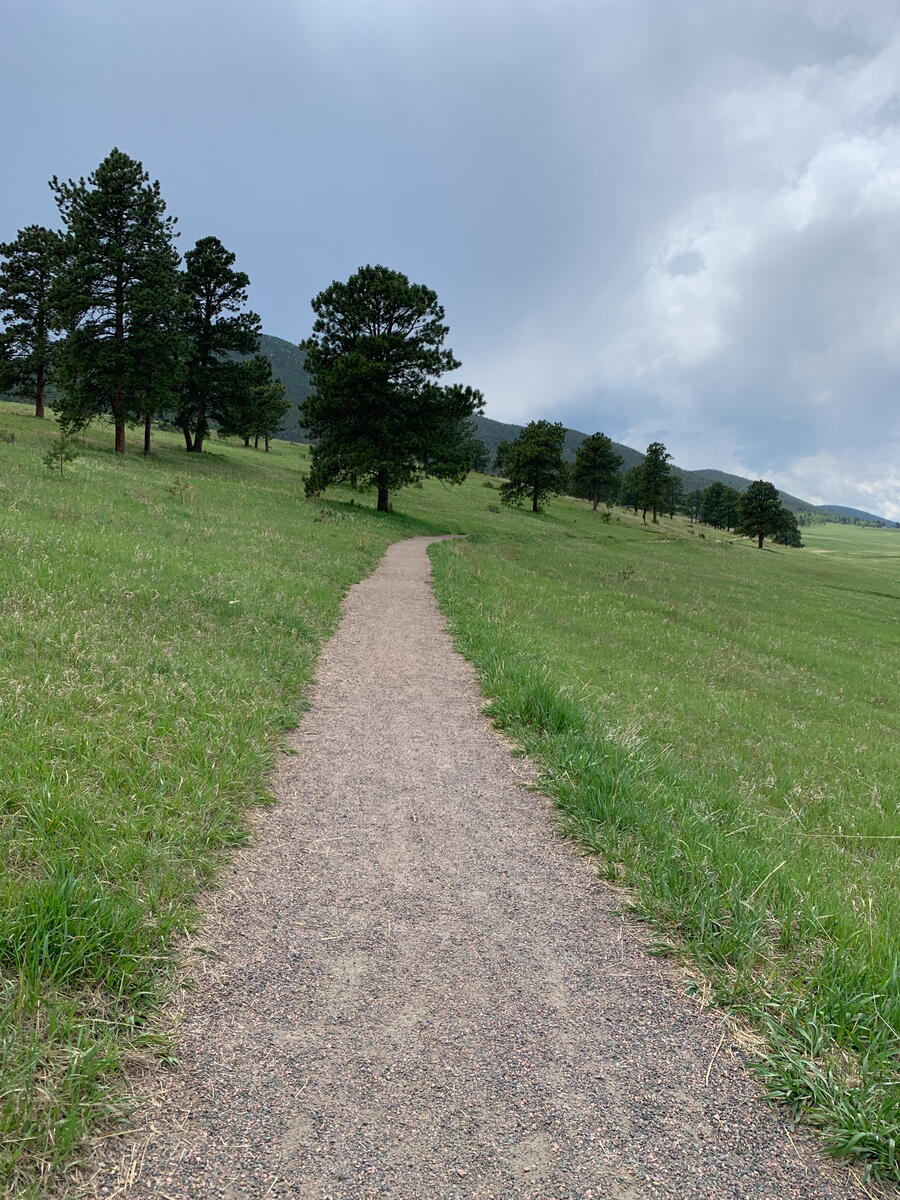 Noble Meadow
This is the newest trail at Elk Meadow, circling a hill that eventually meets up with one of the more established trails, Painters Pause.  Noble Meadow was likely also created to stop the erosion of the land from makeshift trails that were once part of this area.  It's easily accessed from the recreation center trailhead, after you've gone under the state highway bridge and curve up the spur trail. Since this is only about a mile loop, it makes a great short walk.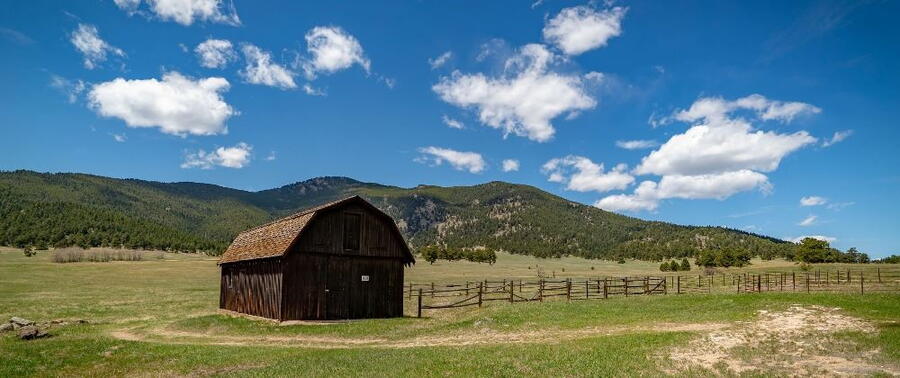 Painter's Pause
When you see Elk Meadow from CO 74, this is the trail that skirts along the length of the grassy area. It starts out as a gradual descent and then an equally gentle ascent. You'll pass a weathered barn and come to fork. A roughly half-mile spur called Founder's Trail is on the left, and Painter's continues uphill on the right.  It's a little bit more of climb but nothing too strenuous.  The trail eventually levels out then dips again before it meets up with Noble Meadow. A word of warning – there are no trees or shady areas here, so take care on a warm sunny day. The total length of Painter's is 1.6. miles.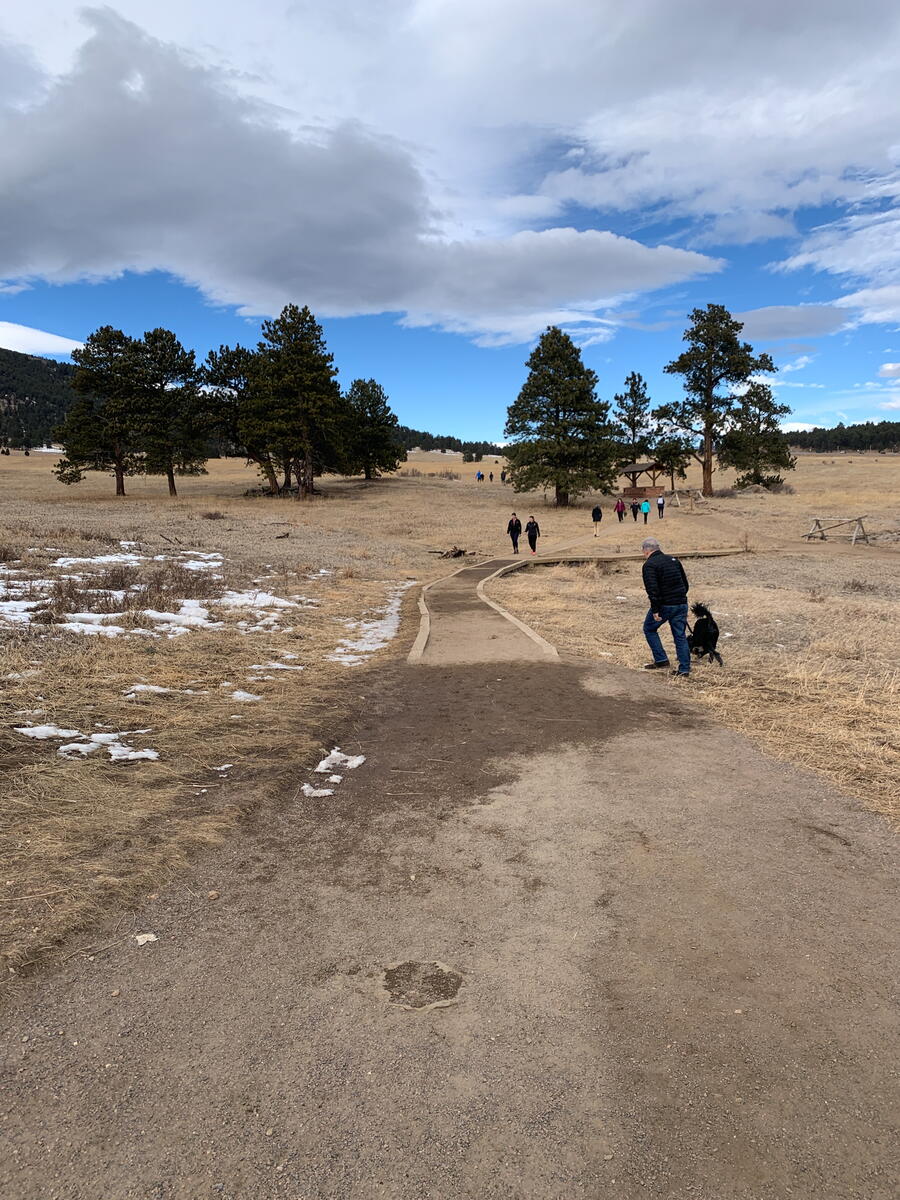 Sleepy S
If you choose to head up into the hills and mountains surrounding Elk Meadow, you'll start on this curvy trail (hence the name). When I was more of a trail runner, I loved coming here because the route was smooth, with just enough rolling areas and ponderosa pine groves to keep things interesting.  Just about half a mile in, you'll come to another spur called Elk Ridge, which provides a shortcut to the Meadow View Trail.  As you begin your ascent, you'll find the terrain offers more shade with the presence of more trees.  Make sure that you go right on the fork to Meadow View – otherwise you'll head to the Stagecoach trailhead parking lot.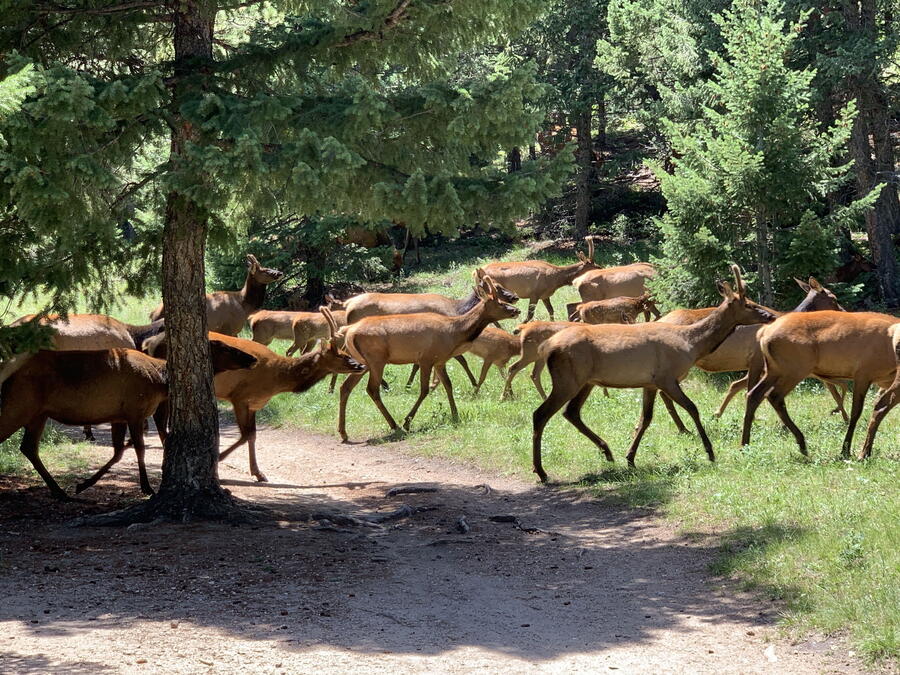 Meadow View
Elk Meadow's signature trail will take you along the high ridge of the park and give you the beautiful vistas for which the trail is named.  Once you have reached the trail from either the north (from Painter's Pause) or south (from Sleepy S), it'll be mostly shady and flat, so it's great for trail running or hiking with kids or trekking on a hot summer day.  You'll encounter the start of the Bergen Peak Trail here, as well as its loop companion trail, Too Long, both of which are quite steep and winding.  
If the hiking at Elk Meadow has made you hungry, check out these restaurants in town, all of which provide a great culinary experience.