In one of my recent Instagram posts, I wrote that exploring Denver's food halls would be my focus this summer. This would be an excellent opportunity to explore this local culinary phenomenon since I am not going anywhere major over the next few months.
As it turns out, there are more food halls around here than I could visit one summer. So, I will have to be judicious in where I go, but that will be what happens in the next few weeks. I've started with my hyperlocal locations here in Golden. It's been a revelation to find these others. And with all due respect, these others look more interesting in their variety.
Like last week's visit to Freedom Street Social, I always try to look for something different at a food hall. That's why RAS and I chose Gaucho Parrilla. We don't find Argentinian food often around here, and even though we got the very common empanada, it was still an excellent choice.
I've tried to do with Edgewater Public Market, which has over 20 eateries and bars, at least three times as many as Golden offers.
Edgewater is a small, incorporated community surrounded by Wheat Ridge, Lakewood and Denver. Its most prominent point of interest is Sloan Lake – hence Edgewater.  The area was a little rundown and sketchy when I first moved here. But as with most of Denver, it's been redeveloped and is one of the most desirable neighborhoods for professionals and families. Thus, the entire area has new shopping areas and restaurants.
The Public Market is one of the crowning achievements of this revitalization. I didn't even know it existed until we went to a Shake Shack in the complex and saw the long dark-brick structure nearby.  But I'm glad that I finally visited.
Since there are so many food stands here, I will cover them with short descriptions. I won't write about Shake Shack since they are a national chain. The market also has 15 retail shops and four health and fitness spaces. But as always, I'm here for the food.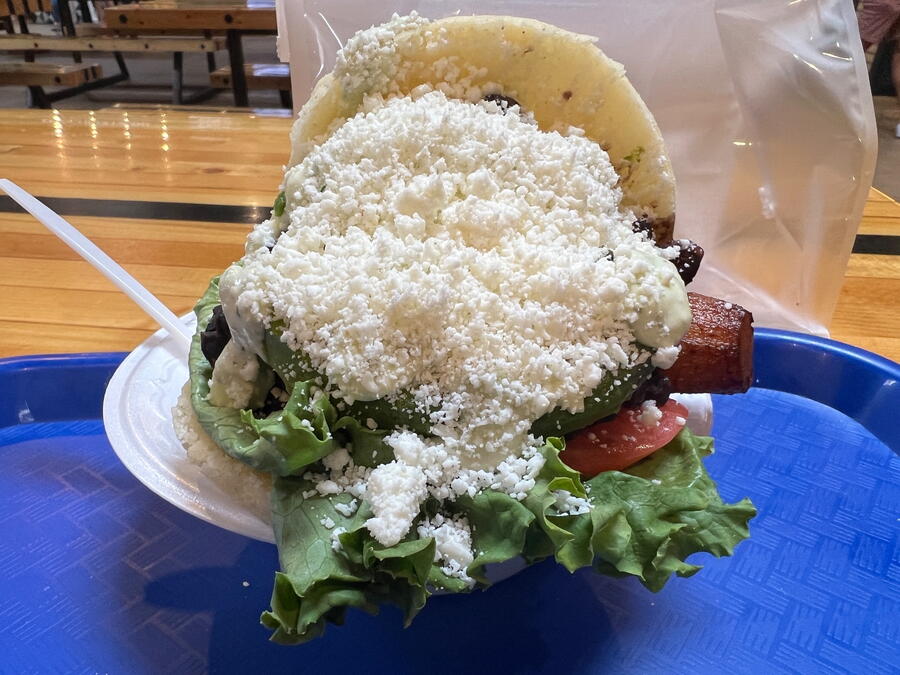 Arepas House
Since RAS worked in downtown Denver and there was a food truck with this Venezuelan treat, I've loved having one whenever they're available. I tried the vegetarian option at this stand, with queso fresco, black beans, fried plantains, lettuce, tomato, sauce and LOVE, which is part of every arepa. This one was fresh, tasty and truly irresistible.
Barbed Wire Reef
I'm still trying to figure out the food here. If you go to their website, you'll find a listing of Mexican food. But come to their stand, and it's barbecue. Yes, it's pretty confusing. But if you're in the mood for meat, try their traditional Angus beef or buffalo burgers. If you're looking for something more exotic, there's elk or alligator sausages and elk burgers.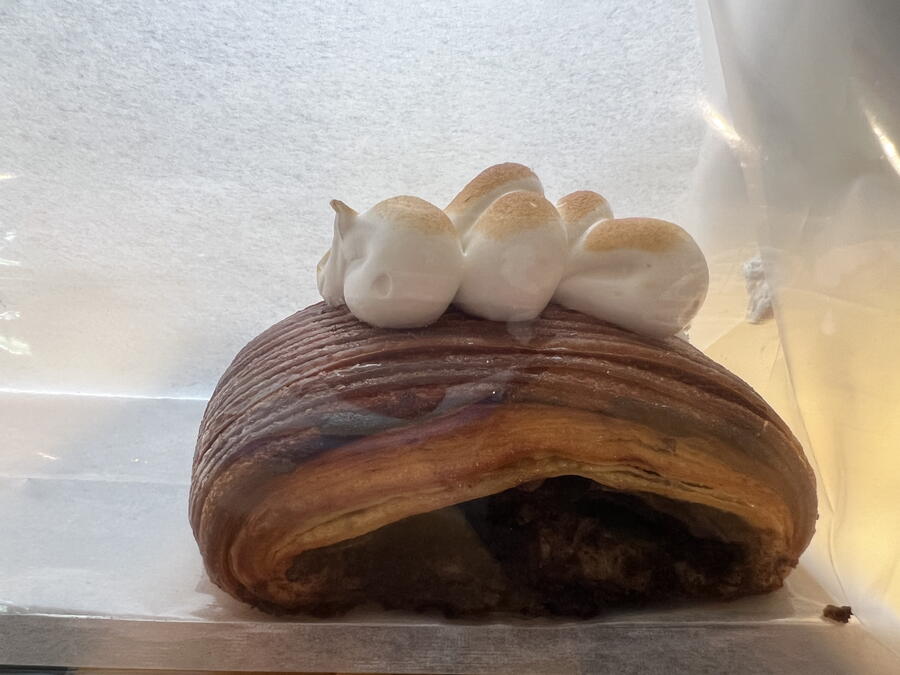 Black Box Bakery
This was the place that I wanted to visit the most since I am a carbo-holic, and I've heard laudatory things about what comes out of their ovens. So, I chose the double-choco, which essentially was a s'more variety. But along with the dark chocolate and merengue topping, it was flaky yet light, with just the right amount of buttery goodness. 
Carnivore
I couldn't write anything about this stand since they do not have a website, and their Instagram page wasn't posted. But a place proclaiming itself "tacos for the people" sounds like a potential good showing. Like Barbed Wire Reef, you have wild game options like elk, yak and wild boar but in taco form.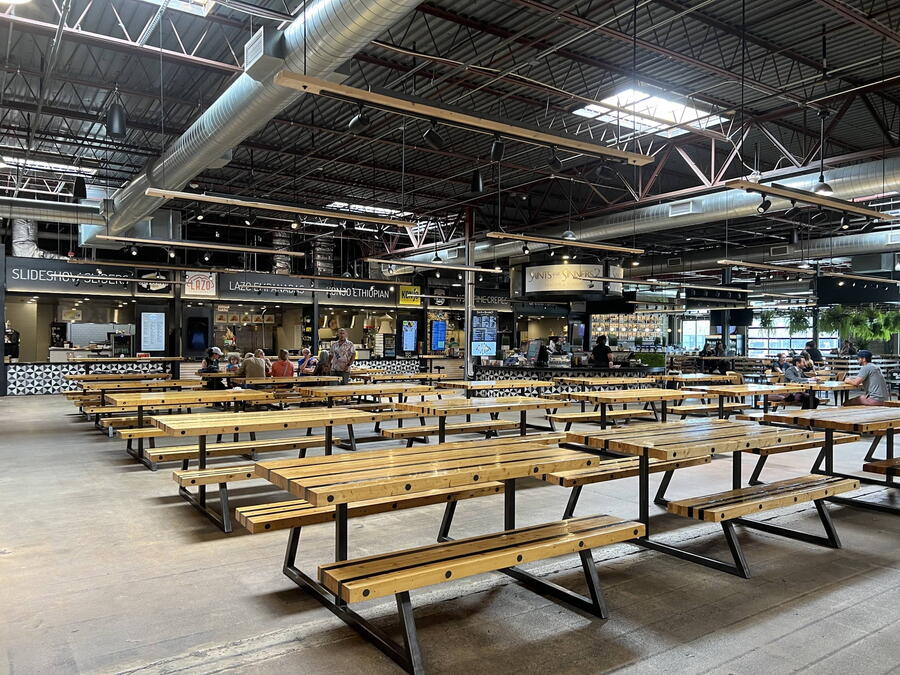 Cochino Taco
I love a restaurant with a sense of humor, and it shows with this menu with items like Mother Cluckers (wings with chips and ranch) and Get into My Belly (tacos with slow-roasted pork belly).  The emphasis is obviously on pork ("cochino" is pig in Spanish), but you'll be well-served here if you prefer other proteins.
Gladys
Plant-based foods are more popular than ever, and this stand takes the veggie focus to heart. They support local farms and produce sellers, as shown in their seasonal menu. While the menu is small, Gladys will create something unique and farm-fresh.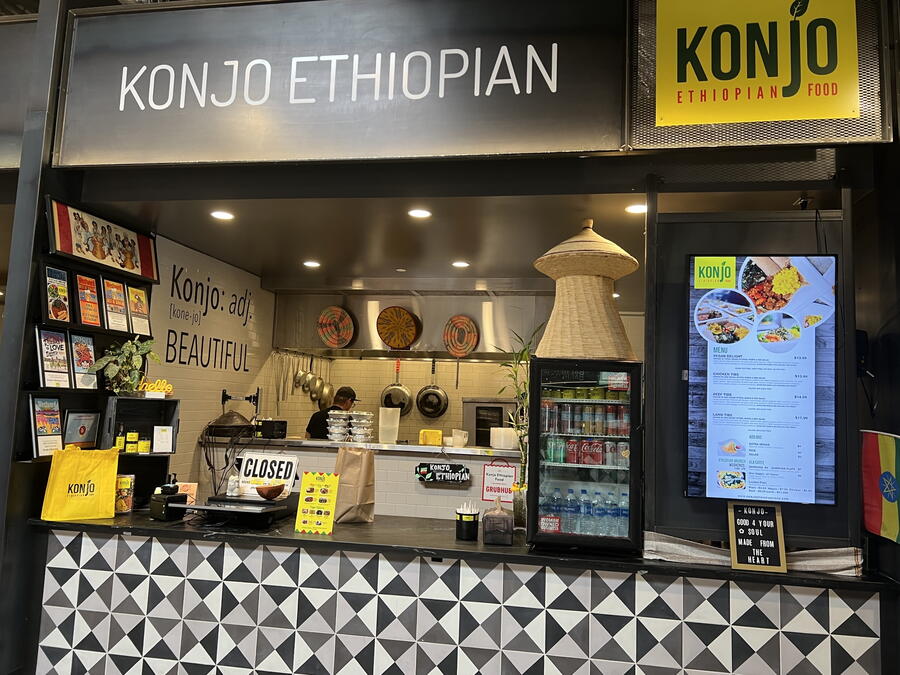 Gyros King
I'm not a big fan of gyros, the roasted meat (usually lamb) popular with Greek restaurants and stands.  But I might be convinced to sample the pork variety here since it is noted as a family recipe.
Happy Cones
There's one of these stands in Golden Mill, where I have tried their ice cream, which is flavorful and bright. It's "New Zealand style," which means sweet cream with fresh fruits. There are also four "classics" with two rotating flavors. Having just a few options keeps everything fresh.
Konjo
One kind of cuisine I rarely have is Ethiopian. When I do, it's often in a storefront restaurant, so I'm happy I can get this unique cuisine in a fast-casual setting. I can't wait to try their veggie delight plate with spongy injera that makes the perfect bread for soaking sauce.
Next week, I'll finish my review of Edgewater Public Market.