My series about local food halls around Denver ends this week with one of the first. When I mentioned Super Mega Bien a few weeks ago and its location, the RiNo Arts District, I observed that much of it has been transformed from dilapidated warehouses to hip galleries and eateries. Denver Central Market (DCM) has been one of the centerpieces of that change.
Located in a historic building from the 1920s, which at different times has housed industrial processing, cabinet construction, antiques and exotic used cars, the Market arguably started the food hall trend back in 2008. That was still when many people didn't go to RiNo, even with the Rockies and Coors Field drawing baseball fans nearby.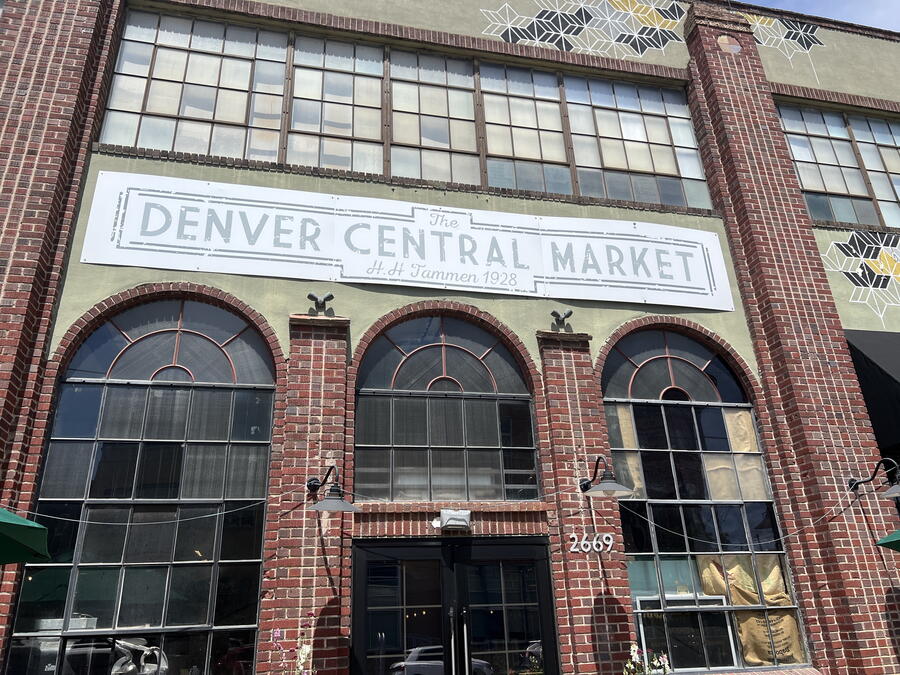 Today, it's one of the most popular venues for dining in an area chock-full of them. The difference, of course, is that you'll have eleven eateries to choose from.
Like with Freedom Street Social and Edgewater Public Market, I could only visit a handful of these places because my appetite can only handle so much. I will note the places we tried.  One thing that made it easier is that DCM has fewer vendors selling ready-made food, so I could make a clear-cut decision.
Vero Italian
This is more proof that wood-fired baking is the culinary standard for any pizza worth its weight.  There are twelve varieties of pie, along with three kinds of pasta. You can also buy food items commonly found in Italian markets.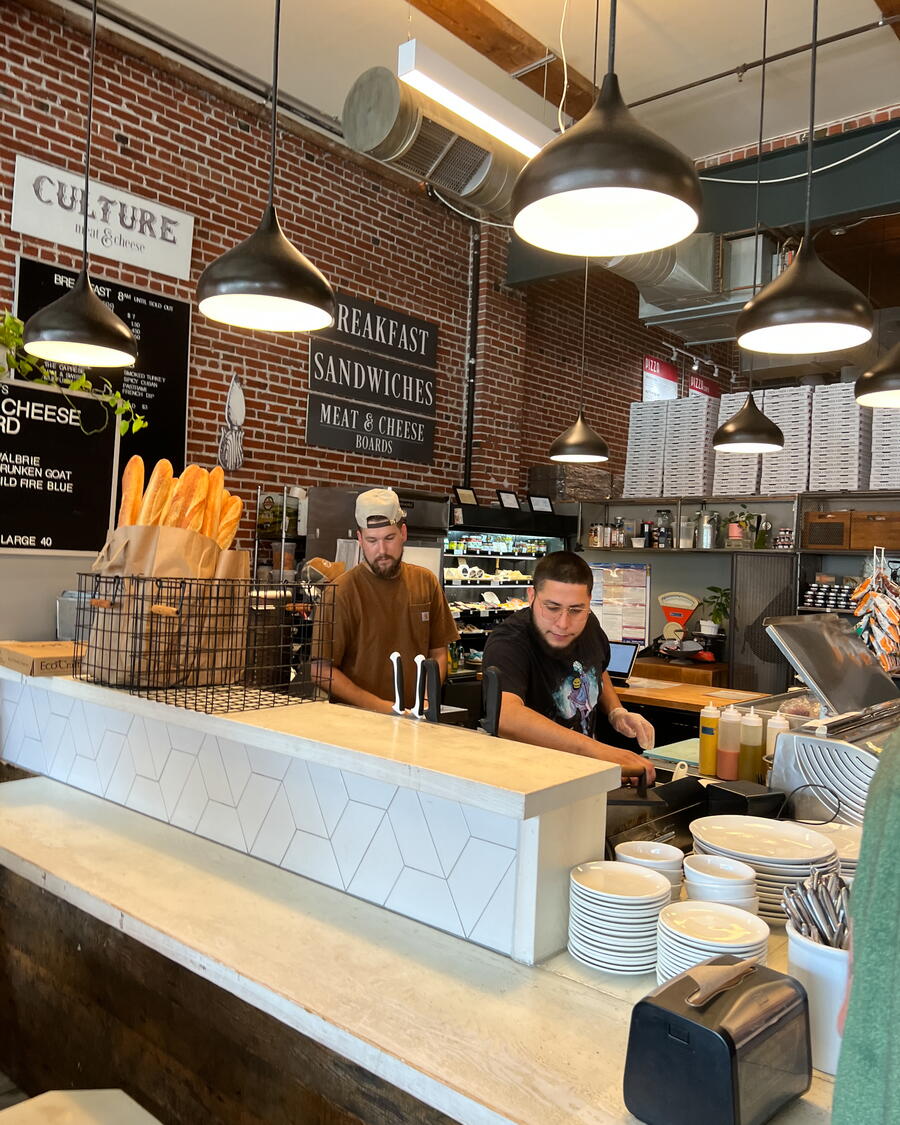 Culture Meat & Cheese
Do you love charcuterie as much as I do?  Then you've come to the right place with this elevated deli that aims to educate its customers on its selection of meats and cheeses. There are also eight different sandwiches, two kid-friendly options (hot dog and grilled cheese), and tomato soup and bagel breakfast sandwiches.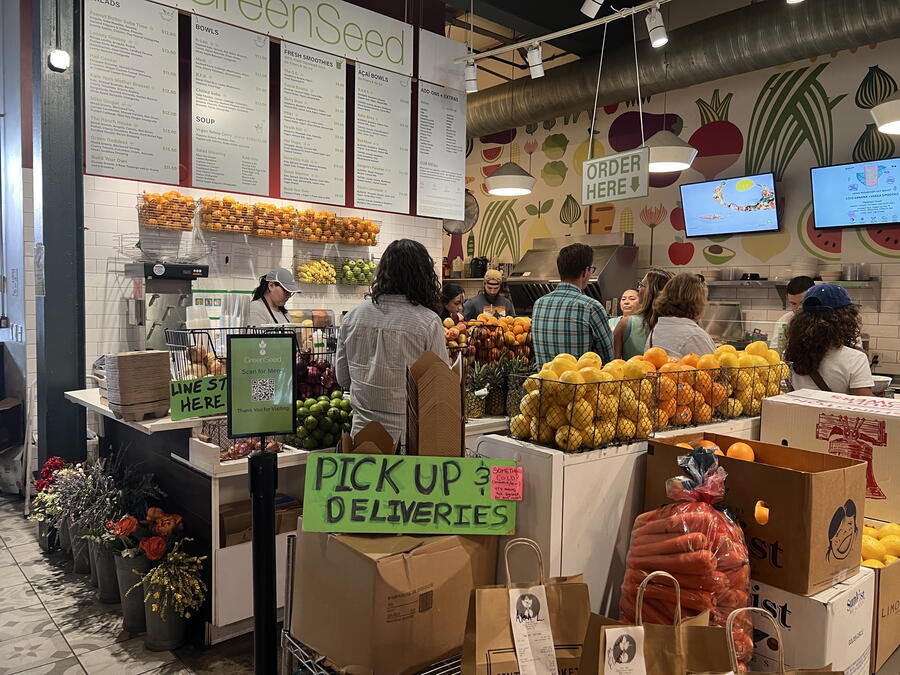 Green Seed
This stand provides a good start if you want to increase your produce intake. I personally tried their Kale Yeah Mother Brussel salad, packed with superfood goodness (kale, Brussel sprouts, cherry tomatoes, apples, almonds and golden raisins) and goodies (Gorgonzola, bacon, vinaigrette). There are also plenty of other salads, smoothies, juices, soups and warm and acai bowls.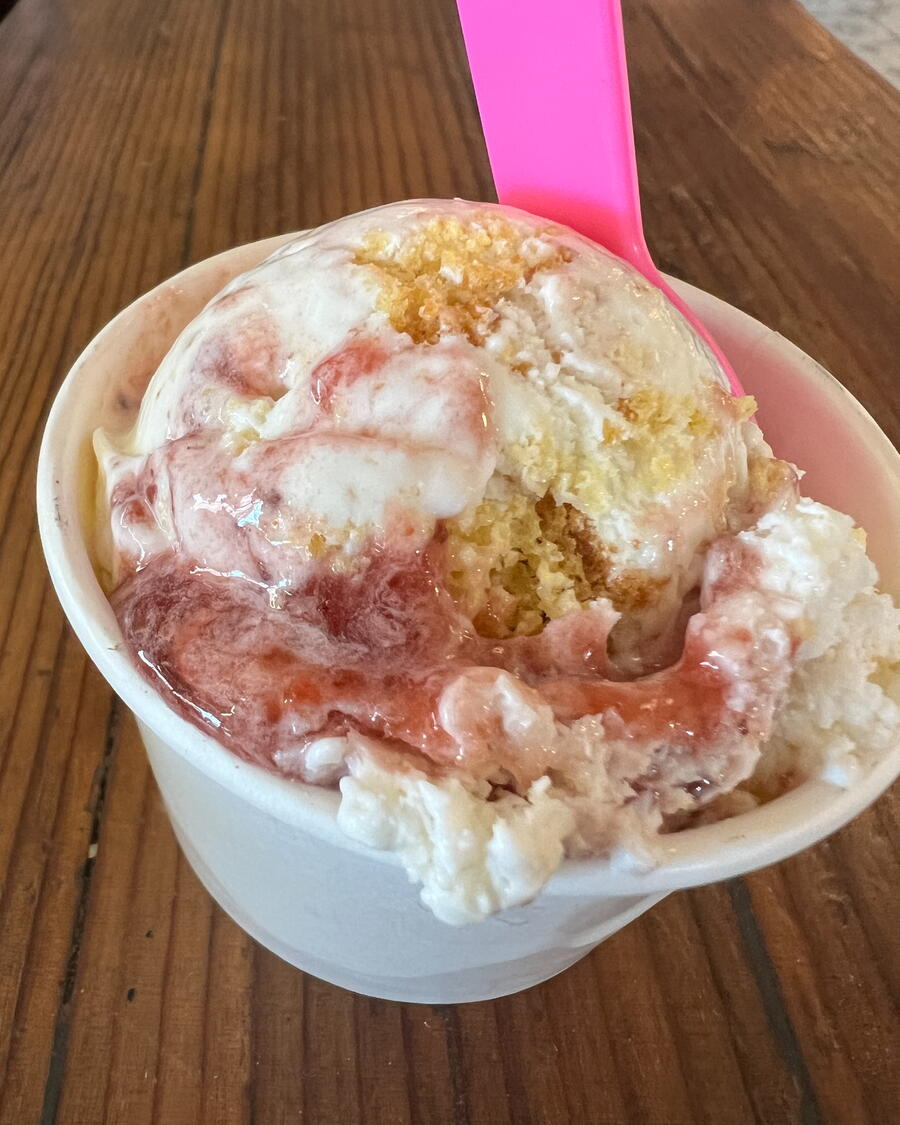 High Point Creamery
You must love a place whose mission is using "happy ingredients, to make happy ice cream…to make you a happy customer." Some of their more creative offerings include basil with blackberry swirl, Earl Grey and shortbread, Tin Cup whiskey & pistachio brittle and cornbread with Strawberry Jam, which I sampled and loved. It mixed just the right amount of buttery bread and summer-ready sweetness.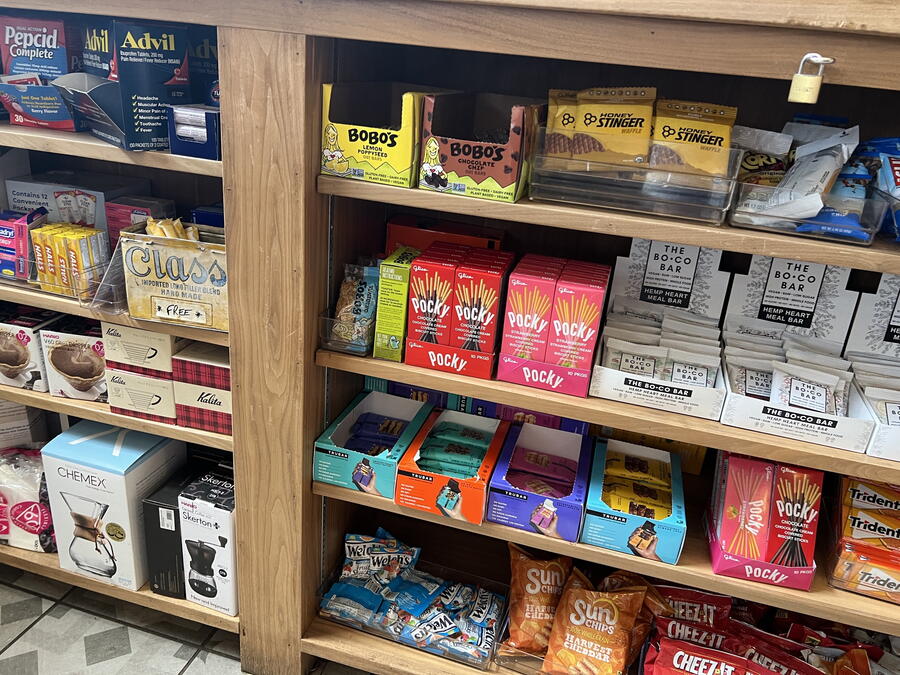 Crema Bodega
More than just a coffee house, this stand also sells different items that you would find in a small corner store. But since this is in a food hall in a hip area of town, you'll also find beans from nearly two dozen roasters and a variety of coffee drinks, breakfast food and artisan sandwiches.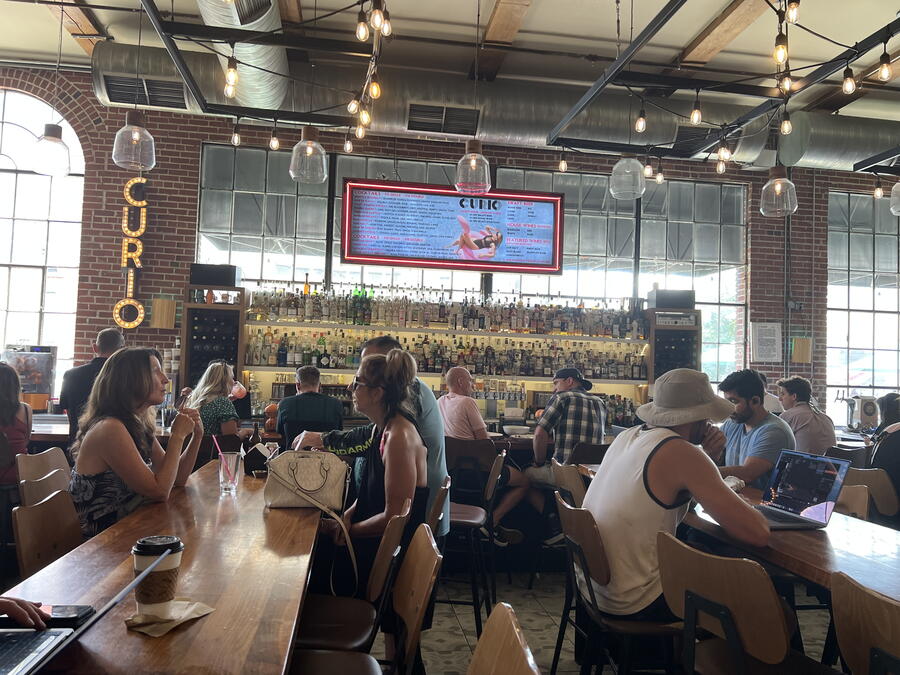 Curio
DCM's bar mixes classic and signature cocktails with a menu that may overwhelm you with its sheer volume. If you can't decide on one of those creations, opt for beer, wine or a single shot of your favorite spirits. And it's perfectly fine to order your food and bring it to the seating area or vice versa.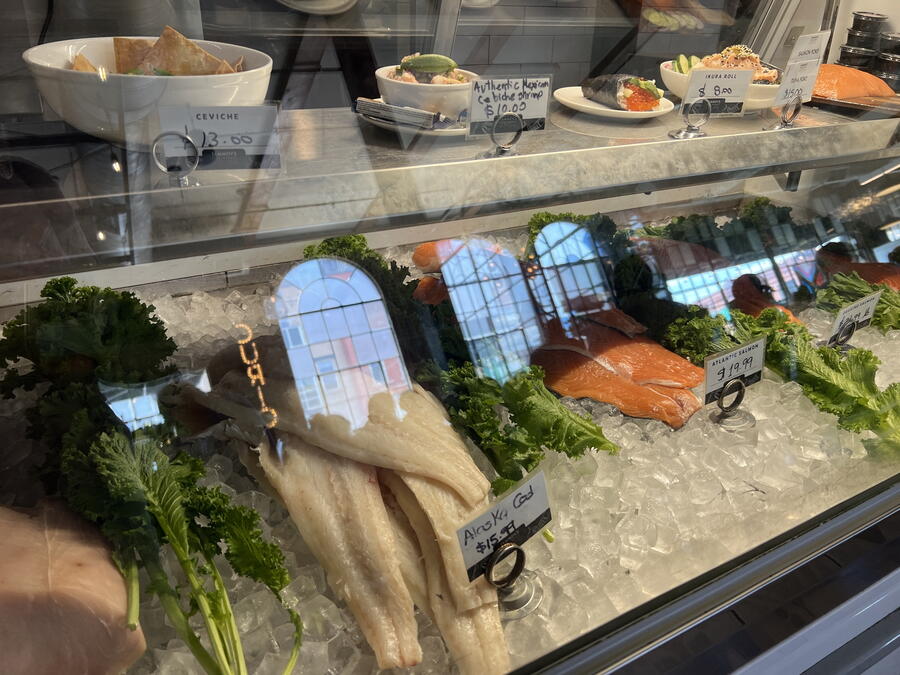 Tammen's Fish Market
Who knew a fresh fish market was available in one of the most landlocked states? While you can buy different kinds of seafood, you can also order from an extensive selection of prepared hot and cold entrees. These include favorites like fish and chips, salmon burgers, sushi and poke bowls.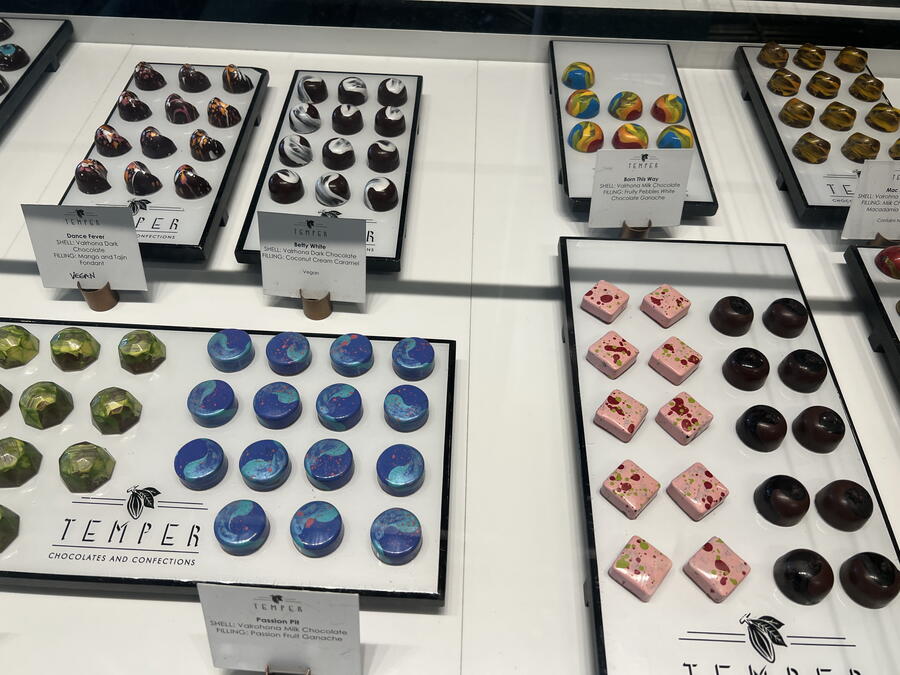 Temper Chocolates and Confections
Any chocolate lover will appreciate this stand, which offers innovative filled confections with fun pop culture and music names like Baywatch and Strawberry Fields. They also sell a wide variety of American and European artisan bars.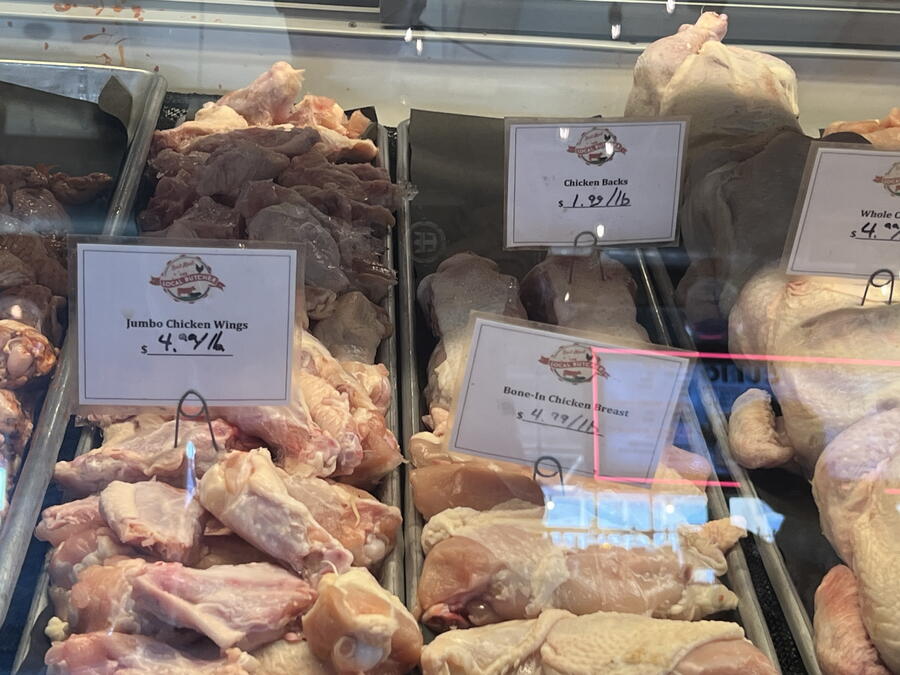 The Local Butcher
All kinds of proteins are available for sale here, especially choice and prime beef aged for at least 21 days. But you can also get ready-made smoked and barbecued items like pulled pork, brisket and ribs.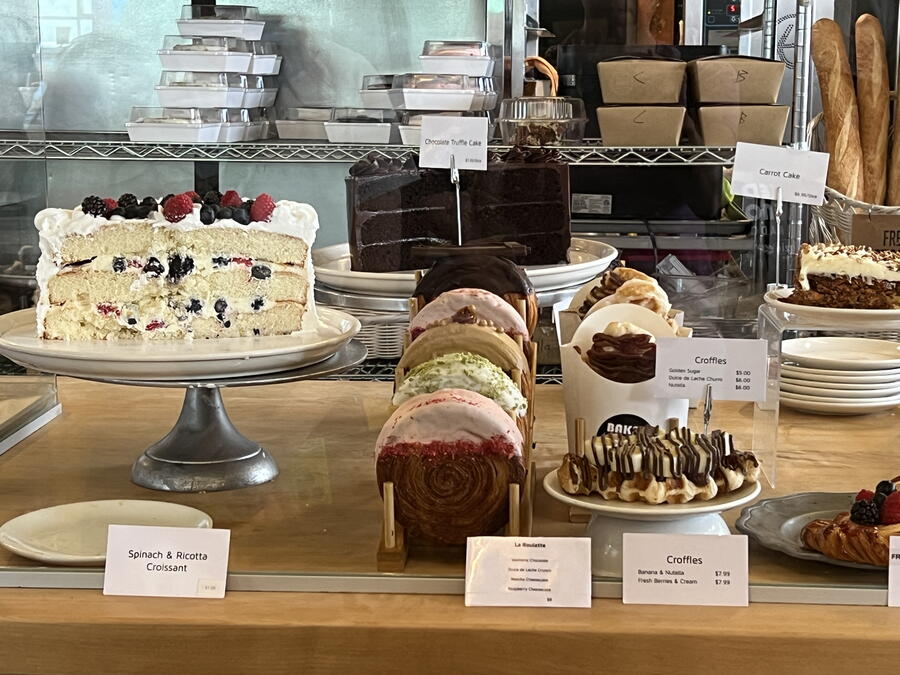 Izzio Artisan Bakery
A bakery specializing in the layered French pastry, kouign-amann, and other breads, cakes and pastries, Izzio also serves creative takes on breakfast and lunch items. These include croffles (a cross between a croissant and a waffle) and a veggie-forward quinoa bowl.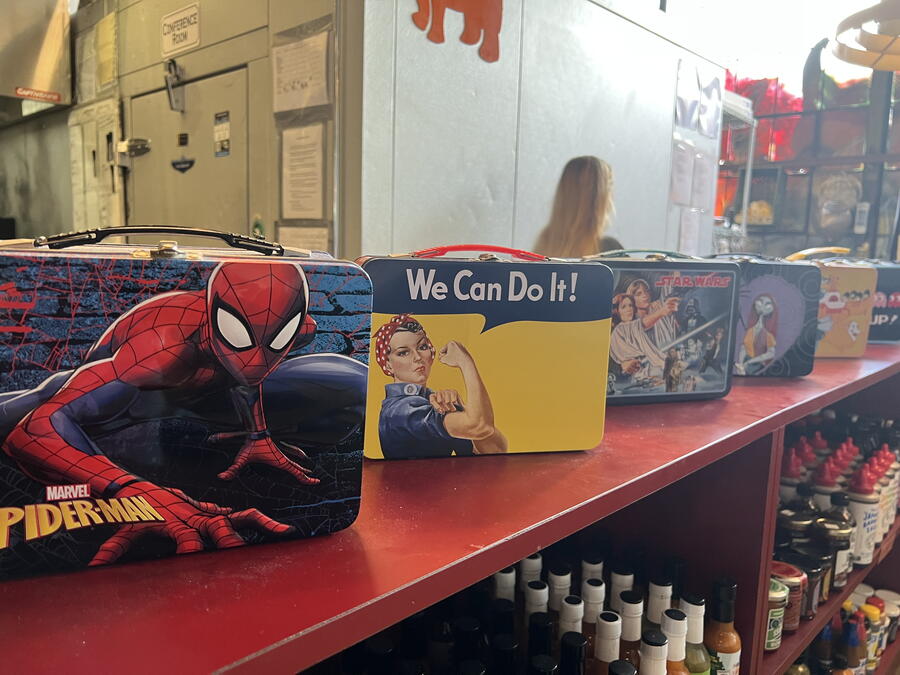 Lunch Boxx
This stand is ideal if you tend to share plates like RAS and I do. With a wide selection of international plates, deli sandwiches and snacks like the Sticky Icky Popcorn Chicken, you're sure to find something good here. Check out their collection of vintage lunch boxes, too.