Just yards away from our hotel, The B in the Ikebukuro section of Tokyo, RAS and I stood outside the noodle house with one of our tour companions.  We surveyed the menu, which was mostly in the kanji, the written Japanese language.  Just enough was in English for us to order from various options. We then had to insert our yen bills which, depending on the amount, illuminated all the push-buttons available.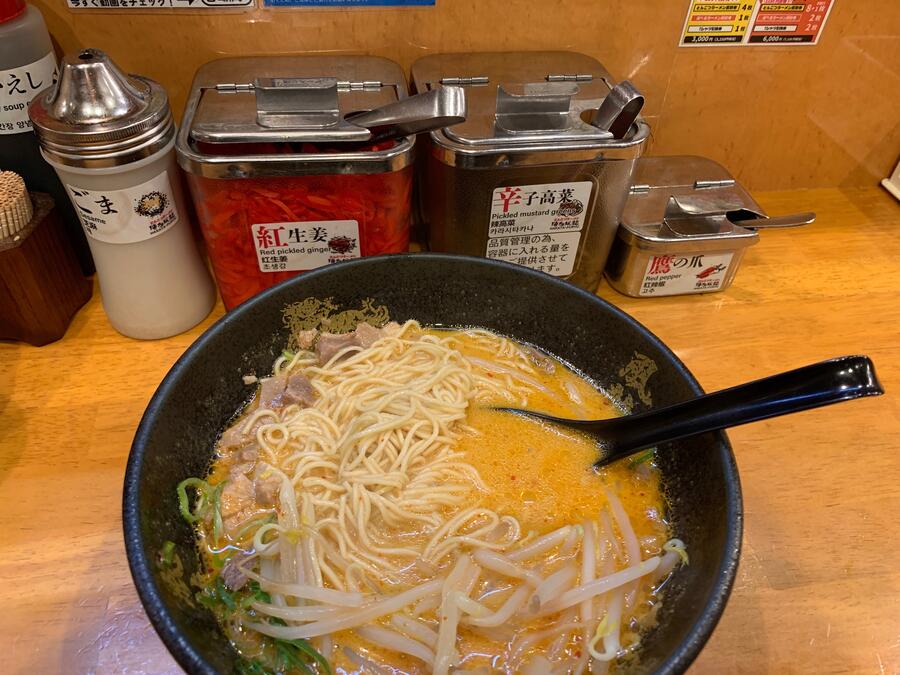 But the options weren't different flavors like chicken, beef and pork.  It was all pork ramen - spicy broth, black garlic oil, roast pork, tonkatsu (fried pork cutlet) and all other iterations.  This was their house specialty.  If you wanted sushi, tough luck - you had to go somewhere else.
The night before, our family and entire tour group - eighteen of us total - went to a yakitori restaurant, which only served grilled chicken skewers and variations of bite-sized chicken dishes.  Other than some sides like rice and pickled vegetables, it was all yakitori.
Specialization to the max
In Tokyo, any traveler would expect to find all types of the local food.  What might be surprising is how you would find it.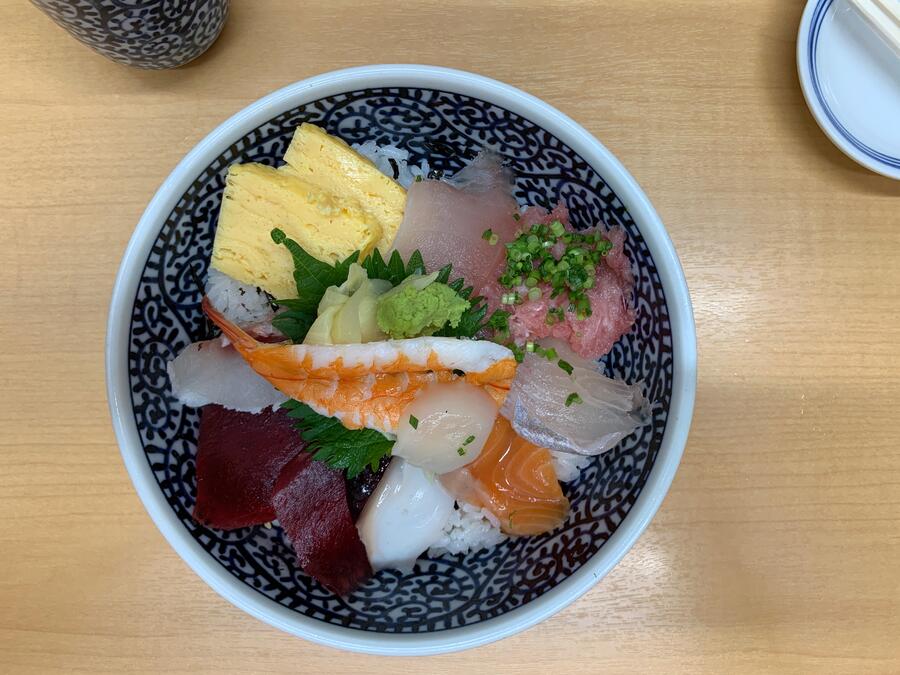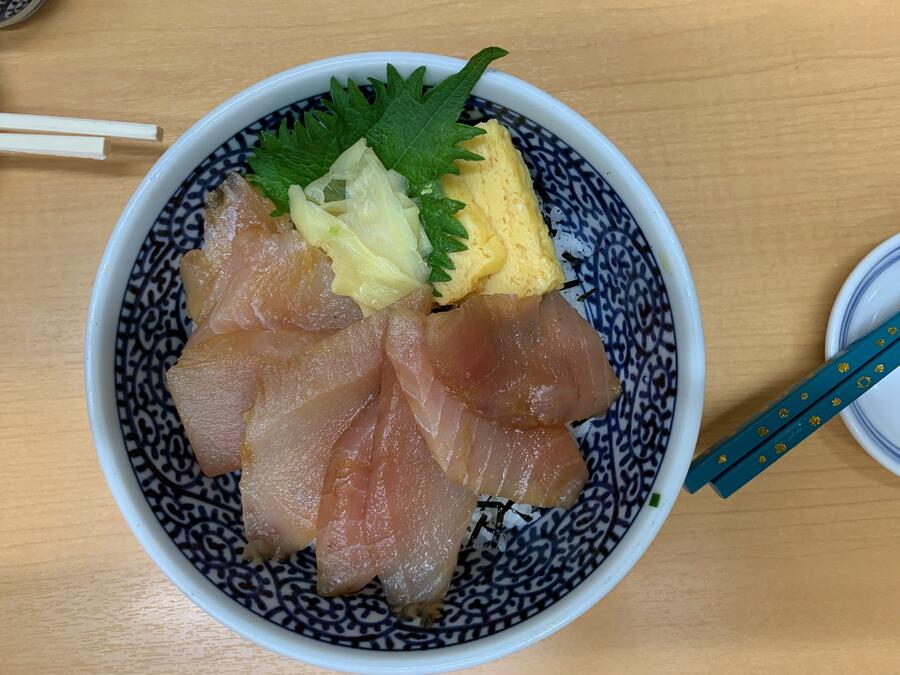 Unlike Japanese restaurants here in the U.S., establishments in Japan often specialize in one kind of dish.  Other places we visited during our 11-day tour of the country served mostly sushi, udon, tempura or Kobe beef.  This allows chefs and restaurant owners to perfect their chosen dishes, rather than please everyone at once.
At the Tsukiji Fish Market, where the city's freshest catches are, we naturally had to order sashimi bowls, shown above.  This hole-in-the-wall only served sashimi dishes, nothing else.
A little background first
Just a quick world about our tour and everyone on it, before I begin my travel tales of Japan:
In addition to our dinner companion and her granddaughter, our group included three childhood friends, now in middle age, with their combined five kids and two husbands.  All of the kids were about the same ages as JRS and NLS.  They allowed the girls to have travel companions to connect with. During our Tokyo travel, there were also three InsideJapan employees who were on a familiarization trip and would stay on in Hakone a few days later.  Our tour leader, Mandy, took us everywhere throughout the entire trip. I don't think I ever saw her get tired or stressed out, but that's probably why she's doing this job. It was all part of the J-Pop and Go tour from Inside Japan Tours.
Mandy has lived in Japan for almost six years, after teaching English to Japanese students.  That's the most common way that Americans can live in Japan for a time.  I think this experience and her knowledge and enthusiasm for her adopted home inspired my kids perhaps to do the same in a few years.
Now back to our adventure in Tokyo:
This rather overwhelming selection of dining options is never more apparent than going to a local shopping mall, or in the major train stations where we stopped.  In the first case, that was the Sunshine City in the Ikebukuro district of Tokyo.  The mall is one part of an entertainment and business complex, and it was our first destination after we arrived in the city.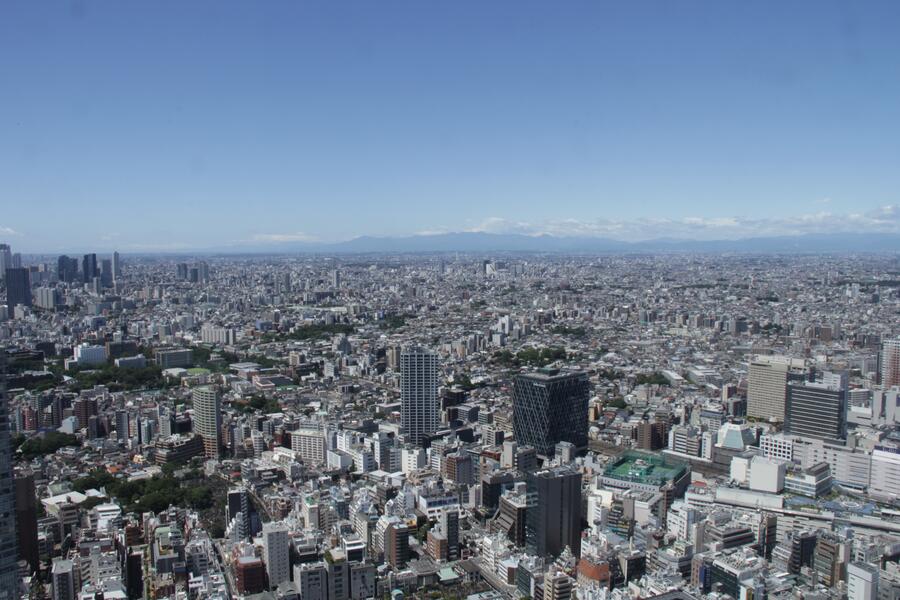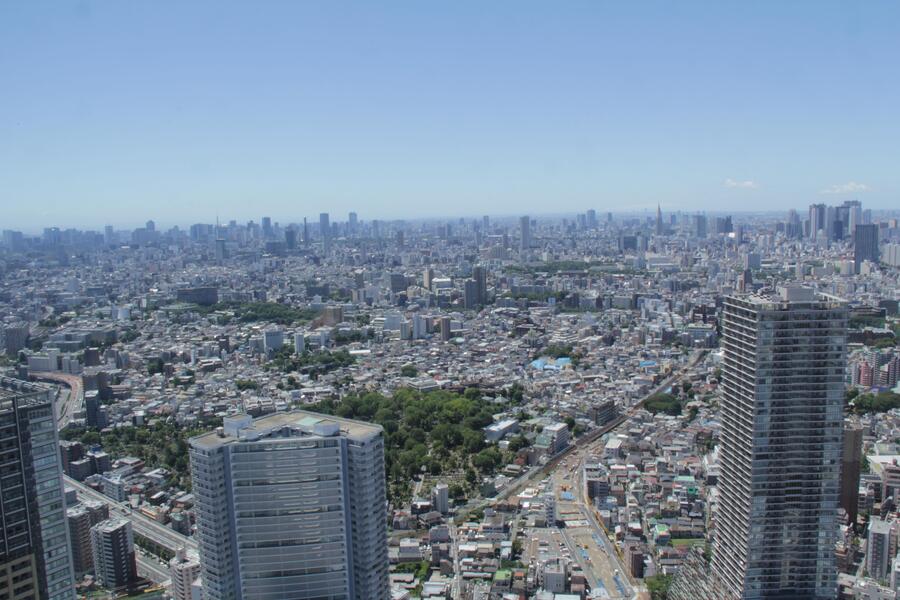 Sixty stories above this sprawling metropolis, we viewed one of the largest metropolises in the world.  Here are some of the photos from the Sunshine Tower's windows.
Another thing that visitors can do here is participate in virtual reality activities, for an extra cost.  I chose to get soft-serve matcha ice cream instead, which was something we did often to beat the heat all over the country.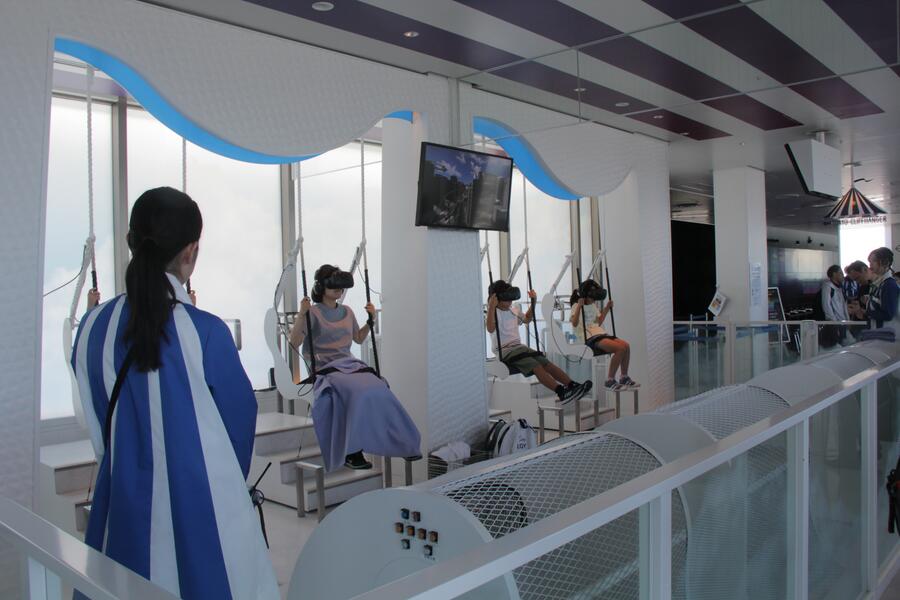 Sunshine shopping and dining
Later on, our group visited the Pokemon store. Fans of the animated program jammed the store to purchase all kinds of merchandise related to Pikachu and friends.  My kids loved being here. RAS and me, not so much.  But just above on the top level, we discovered about two dozen small restaurants, all serving some kind of specialty food.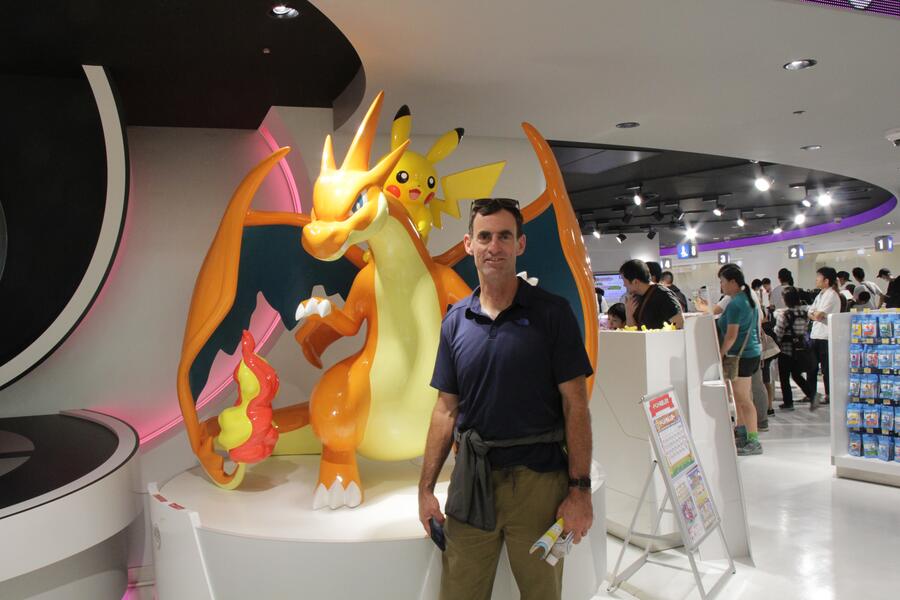 Besides the expected Japanese foods, Tokyo offers other ethnic varieties such as Chinese, Korean, Thai, Italian and others.  The last type appears to be especially popular.  I think I spotted about five different Italian restaurants around town, even one in our Ikebukuro hotel.
Even though we tried to stick to Japanese food while in-country, we eventually settled on Italian food, which surprisingly wasn't bad.  Well, I should say that the girls' linguine carbonara wasn't bad.  Our pizza margherita could have been better.
Then there was this extremely colorful pasta dish at the Kawaii Monster Cafe (more about this in the next post):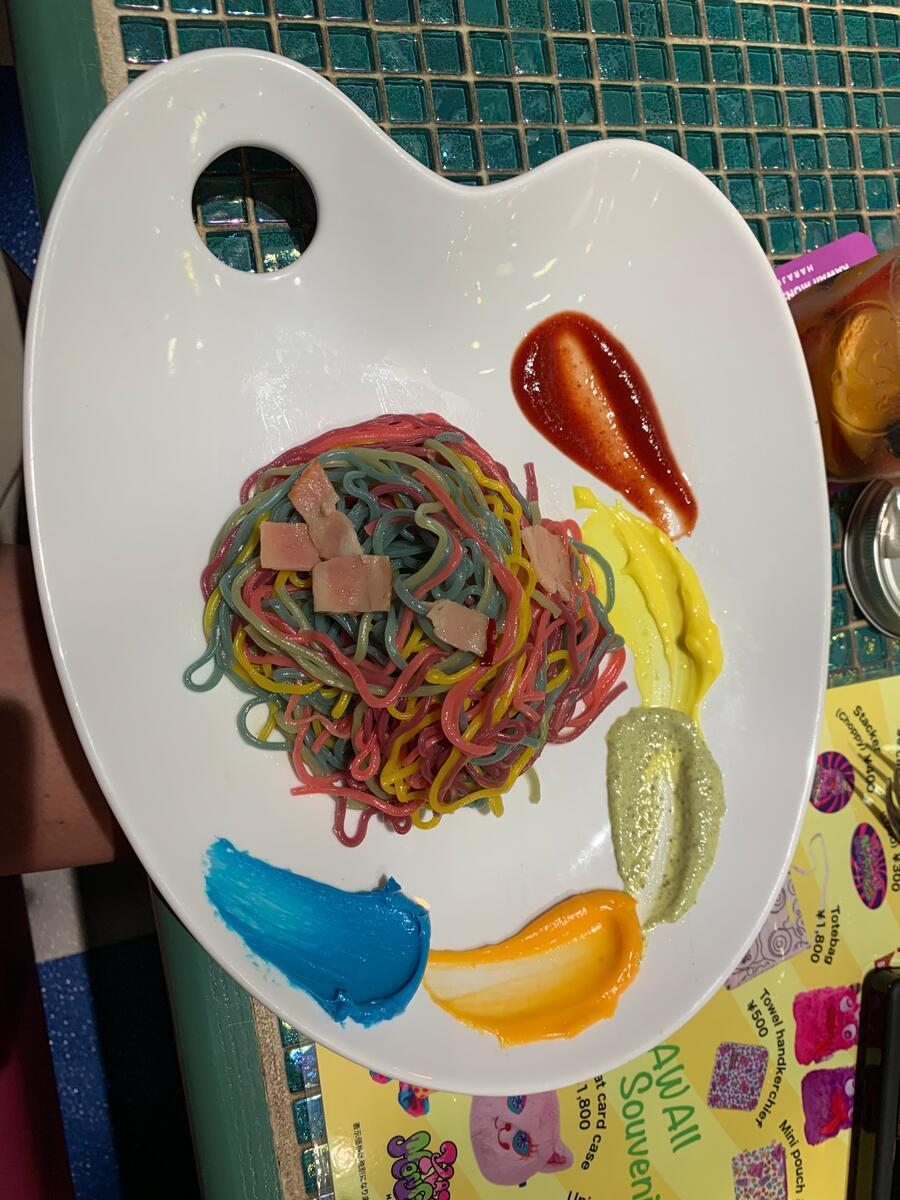 The point is, you can pretty much find anything you'd like to eat in Tokyo.  Just please avoid any American fast food.  That's not because it's terrible - you just have so many other choices to go for.