Picture standing in a rolling grassy pasture as the sun slides past the distant hills in the west. The sky turns from milky blue to cotton candy pink to golden orange then settles into darkness. As the night descends, multi-colored lights appear on the hills. It's almost as if the 100,000+ illuminated bulbs bloomed from the ground like wildflowers after a rainy season.
Sensorio is the final activity our travel writers group experienced in Paso Robles, before having a quick morning educational session and heading home before noon the next day.  
I hadn't heard about this now-permanent exhibit, which is four miles east of US 101 off the State Highway 46 exit.  But the New York Times has, naming it one of the 50 Places to Visit in the world for 2023. 
Created by British artist Bruce Munro in 2019, who worked with the experiential artist Christo, Sensorio is comprised of two different installations.  One is the massive field of fiber optic lights that change color, as if moved by the hills and elements. The other is the Light Towers, opened in 2021, which are nearly 70 structures made from more than 17,000 wine bottles illuminated with fiber optics and synchronized to music.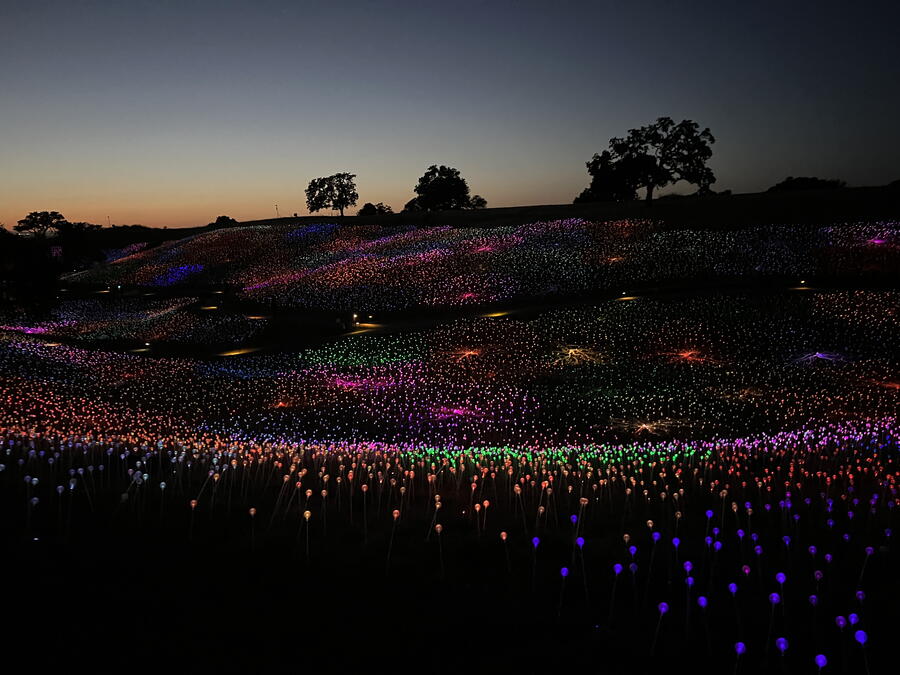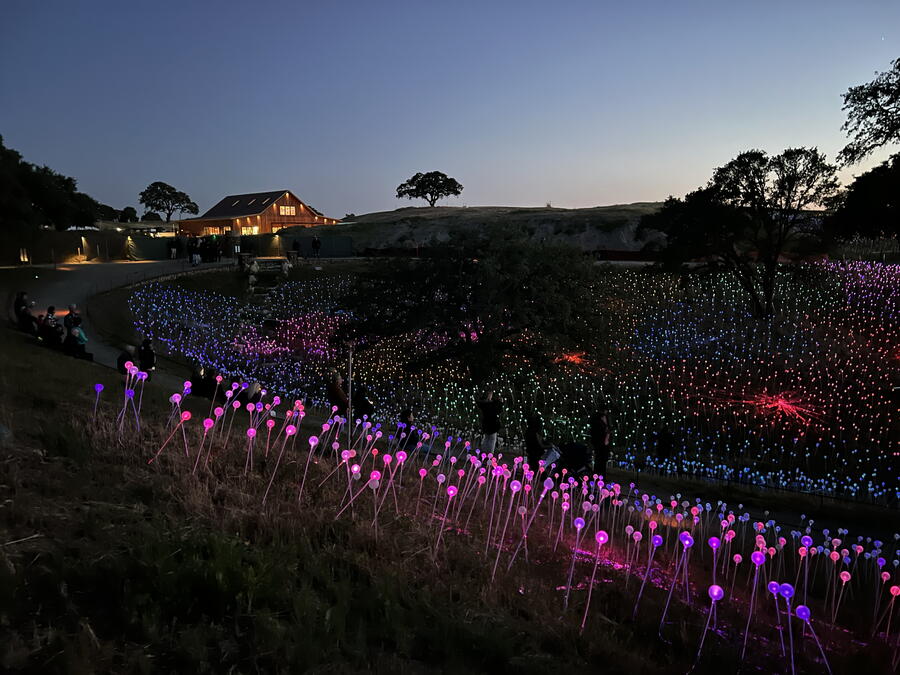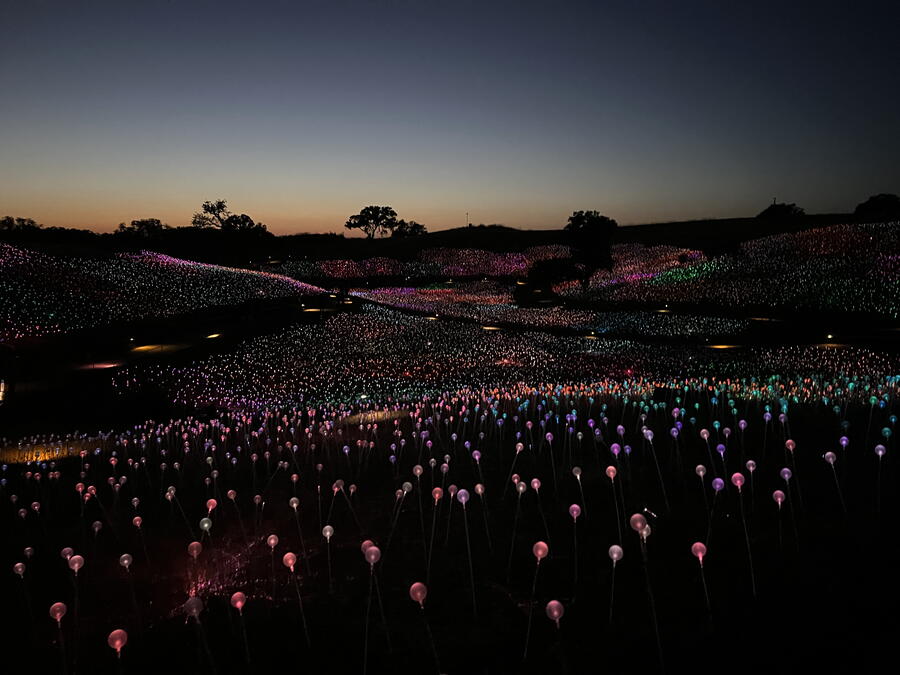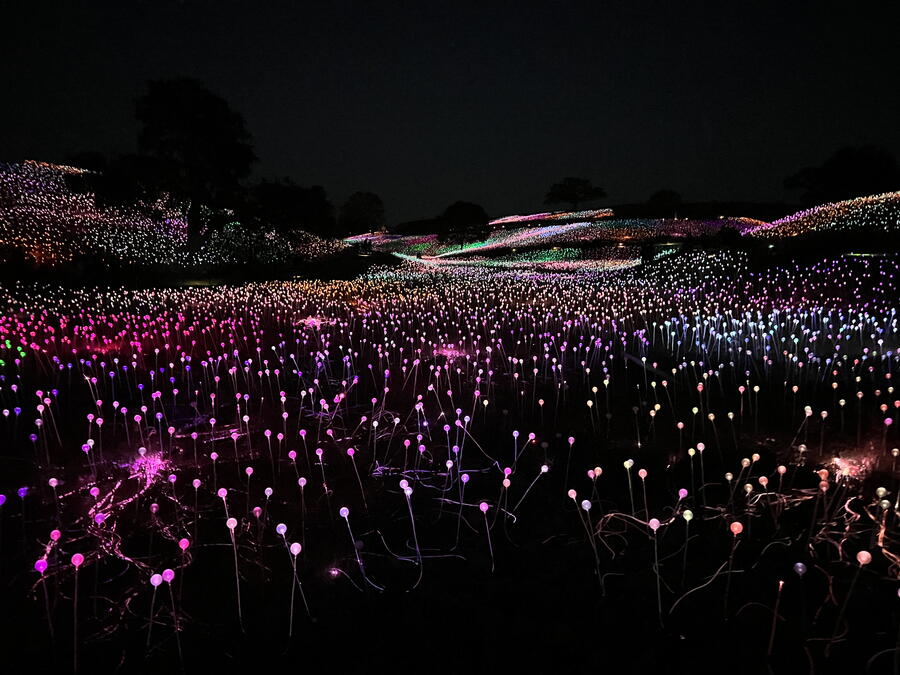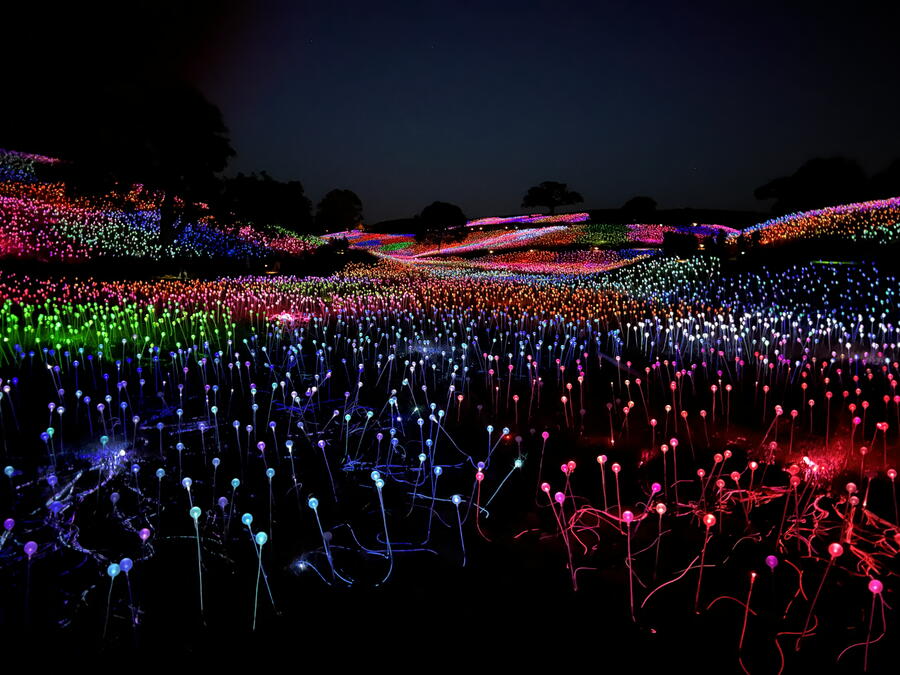 The experience at Sensorio
We arrived at the sparse entrance area, which was a long and wide dirt pathway that led to a large white tent, the admission gate. We walked past the Mercado area (which I'll describe later) to the terrace area.  Here you can have guaranteed seating with the best views of the light field, priority entrance, private restrooms and bar, tables with firepits and heat lamps.
Our host Mike, from VisitPaso, encouraged us to walk around the vast display. Wide unpaved trails ringed the fields, which looked like a glowing fairytale land. At first, we walked together as a group, but I found that I got ahead of everyone else in the moderately large crowd. I waited a few times for others to catch up, but I was simply mesmerized by the display of chameleon-like lights and how they seemed to flow over the knolls.
A fork in the pathway led to the Light Towers, which were each about six to seven feet tall and built with wine bottles. I thought that was an appropriate and sustainable gesture to California's newest popular wine country.
New exhibits
Unfortunately, we missed the opening of Sensorio's newest exhibitions, Gone Fishing and Fireflies, by about a week. When I walked near the Light Towers, I did see that there was something under construction, but I didn't explore it further.
Fireflies is a display of 10,000 flickering bulbs that resemble the movement of the glowing insects that appear during the summer months. I thought about how uncommon fireflies were in California as I was growing up, so I would have truly liked to have seen this spectacle with decorative lights.

Gone Fishing is a more elaborate exhibition, with lights depicting a moving stream. Again, having lived in Colorado for a while and viewing my fair share of mountain creeks and rivers, I think I would have enjoyed a representation like this. Maybe I can do this on my next visit to Paso Robles.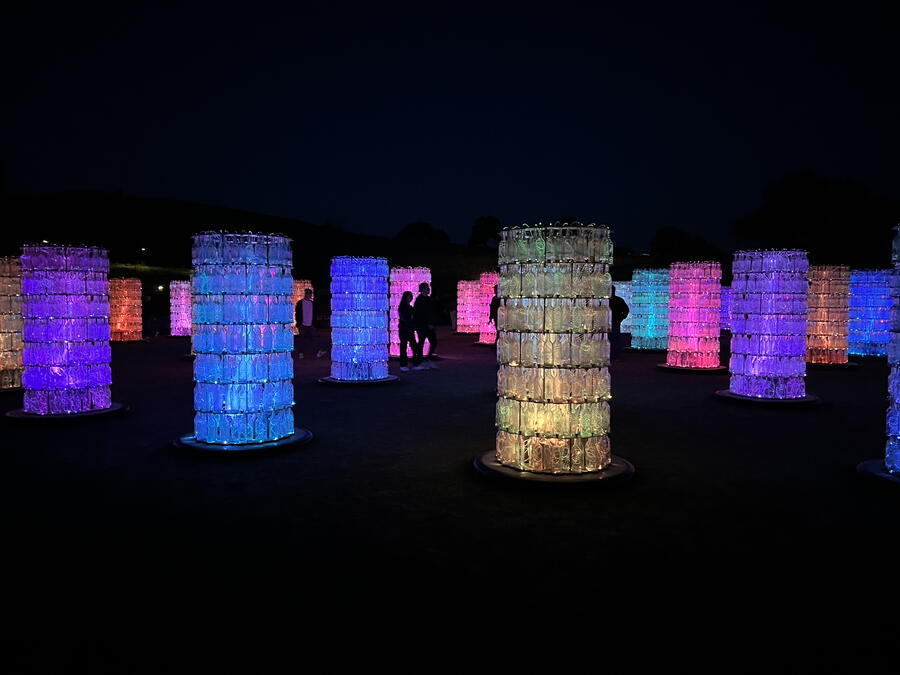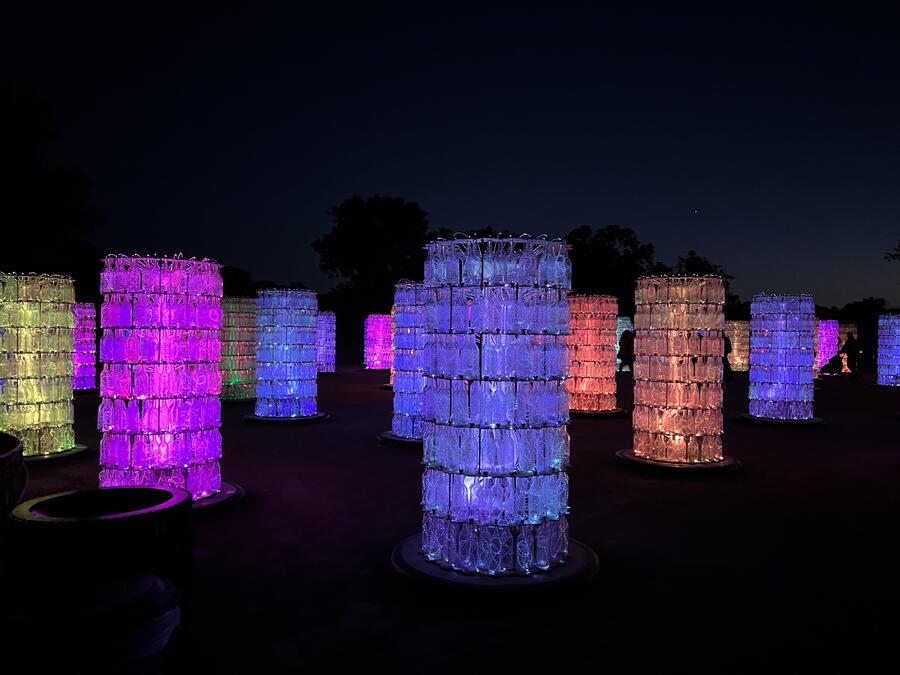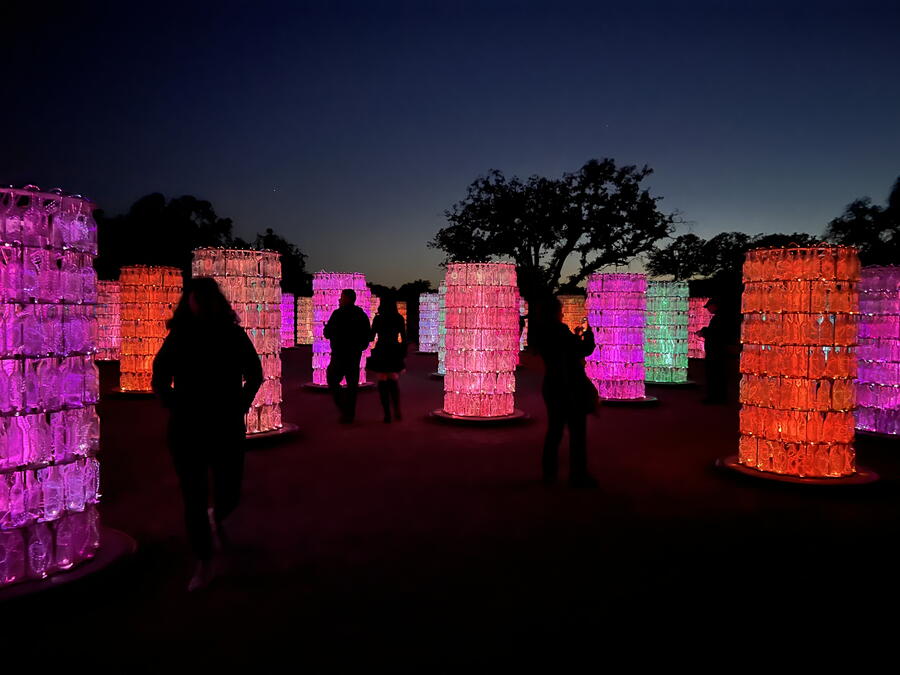 Visitor details
While we did not eat here, because we had a filling but incredible meal at Etto, there are plenty of food and drink options, especially in Mercado Sensorio. On the left side of the entrance was the Kitchen at Sensorio, a large wooden building with picture windows, where visitors can enjoy starters, sandwiches and desserts. In nearby trailers, you can also get Mexican food at Ricky's and both alcoholic and non-alcoholic drinks.
During the summer and fall months, Sensorio will have limited walk-up entrance, so it's best to order tickets in advance. The general admission is $43 for adults (13 years and older) $22 for children ages 3-12.  Ticket prices for the Terrace Experience range from $87 (ages 3-12) to $112 per person and must be reserved 24 hours before entry. But if there is availability, you can request the terrace tickets at the box office.
Live music is scheduled for most nights during the summer. Please check the website for more details.