Ask anyone who has gone on vacation with me – I've never traveled light.  Always anticipating whatever could happen on a trip, I would bring way more articles of clothing than I could possibly wear.  I've also packed books, camera equipment, coats and anything that never sees daylight during my time away from home.
Stressed with packing? Let me help you plan the rest of the trip.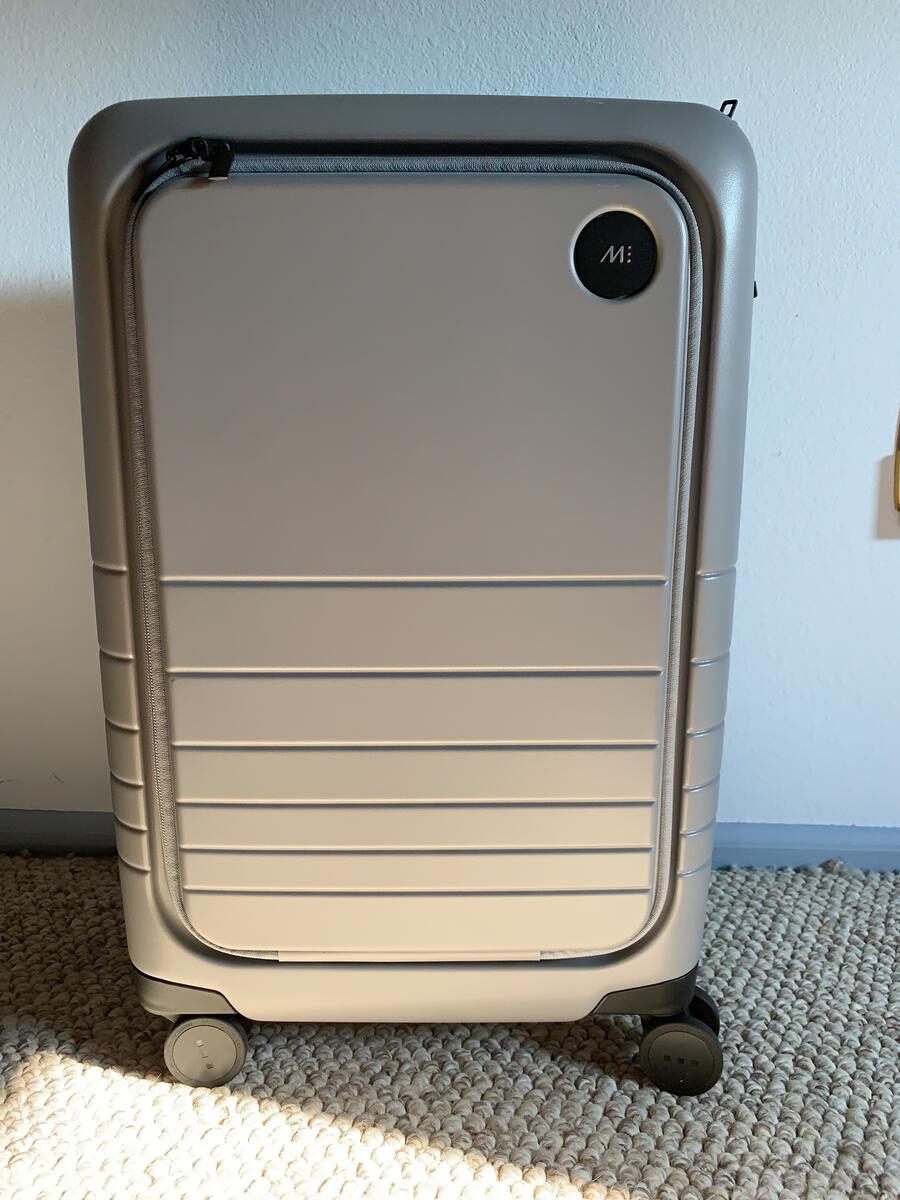 Confessions of a heavy packer
But now with my more frequent travels, I'm learning how to pack more efficiently and take less. One thing that has made the traveling light issue easier is packing cubes (and a good toiletry bag, like the Tego Adventure Kit, which I reviewed a few weeks ago). I once believed these were unnecessary.  Thinking I could just cram clothing together into a confined space, I always realized it didn't work without using compression, which is what packing cubes do. I've also just simply learned to take less clothing and hope that I can wash things as I go.
Of course, another item that's made packing less more tolerable is better luggage.  As with everything, lighter materials and improved construction have created suitcases that are much easier to pack and take along.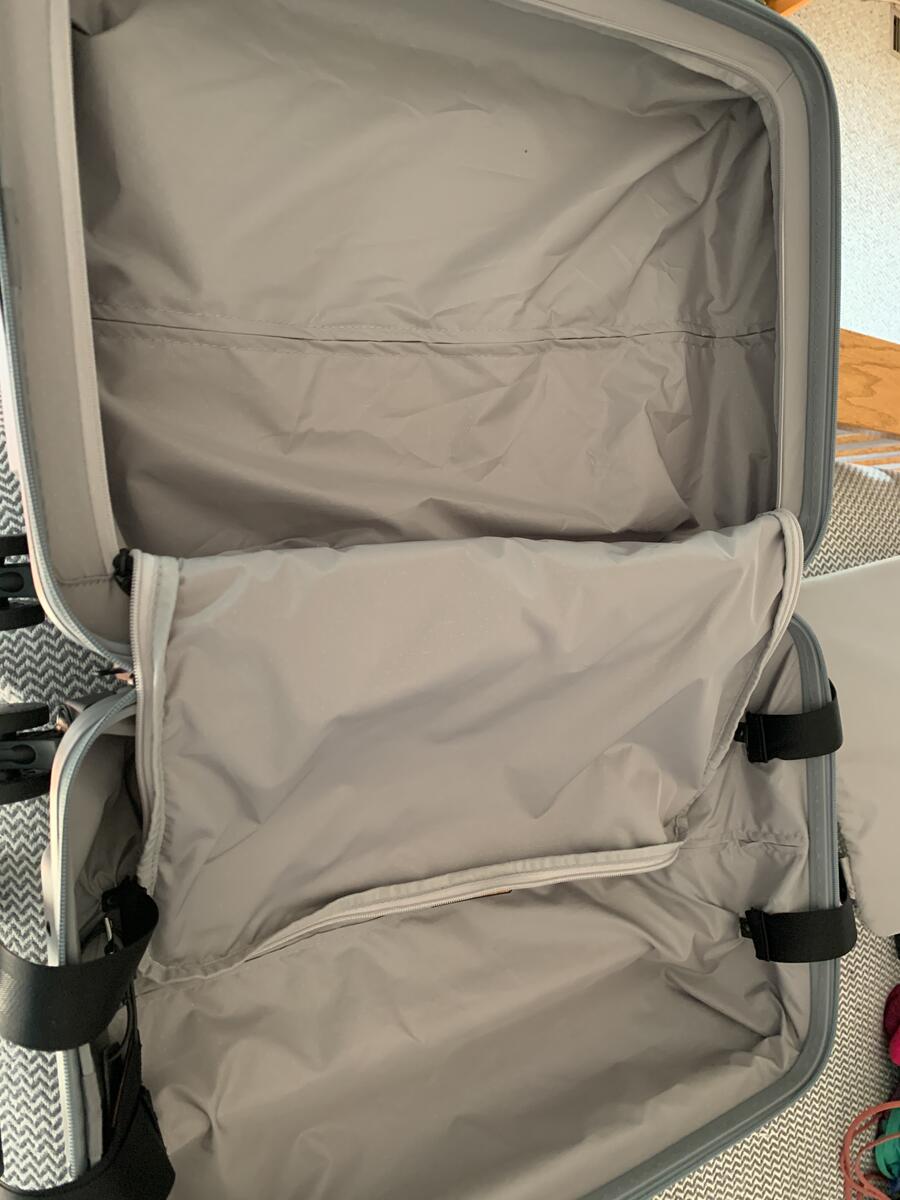 New luggage helps me reform
That's why I looked for a new bag after using a very cheap American Tourister going to Hawaii two months ago.  I'm not sure how much we spent on it, which was part of a set of two and something JRS needed, but the wheels kept getting stuck.  Also, it didn't have a side handle to aid in lifting the bag into an overhead bin or car trunk. It's a small detail, but it makes a difference.
I originally bought an Away carry-on, which seemed to fit my needs.  But one thing I noticed was that the telescopic handle was somewhat flimsy.  Again, it's a seemingly tiny issue, but what would happen if it became jammed while I was traveling?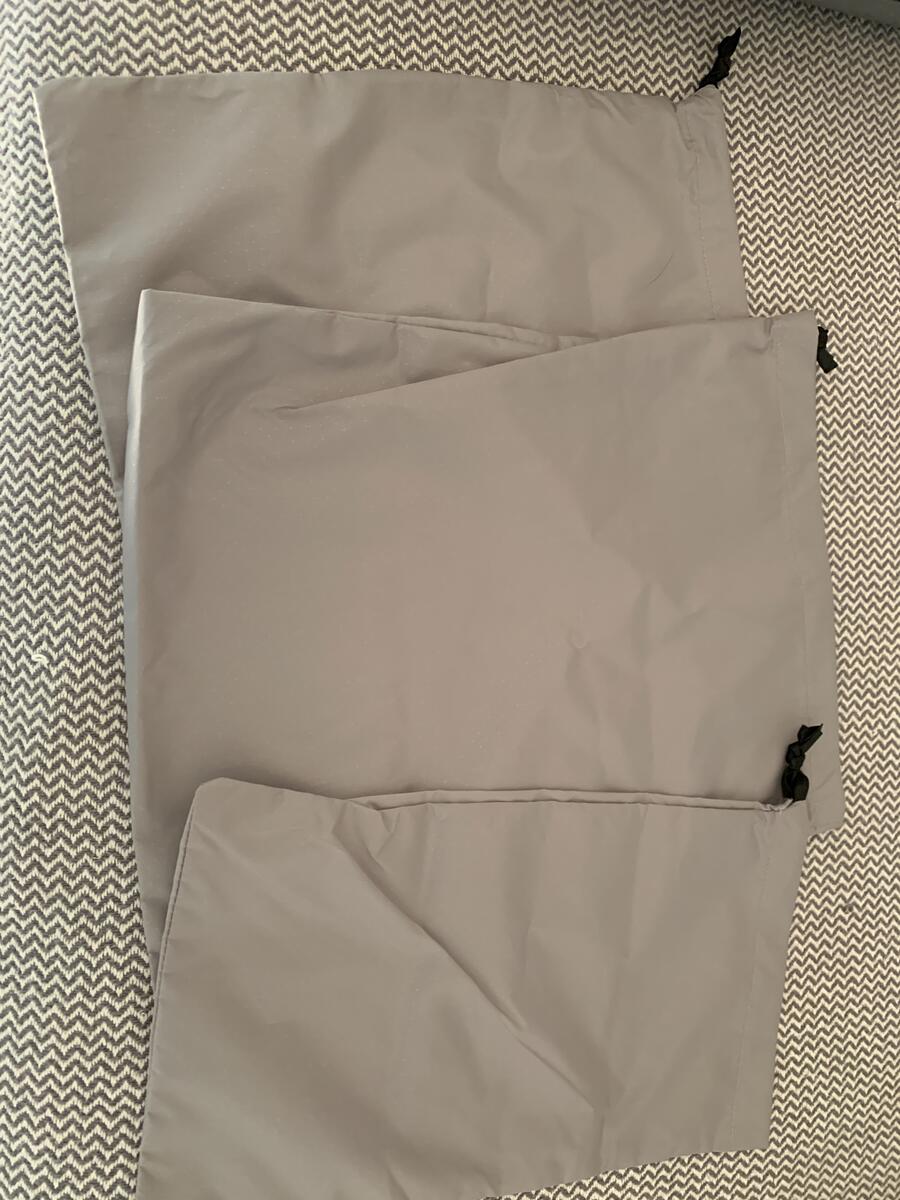 A new discovery
Not completely happy with this development, I returned that suitcase and instead bought my alternative – a Monos Carry-On Pro Plus.  Initially, I had never heard of the Canadian luggage company, but probably because of all the research I did on Away, it showed up on a lot of my Facebook and Instagram.  I noticed that people who were also dismayed with Away's handle issue were pleased with Monos, so I decided to go with it.
A confession – I haven't used the Monos bag for an actual trip yet, so I did a test run with packing it up and wheeling it around.  Thinking about what I'd use on a week-long trip (which is something I'll do in a few weeks here, going to Los Angeles and Tucson), I then filled up the bag and pretended that I was traveling.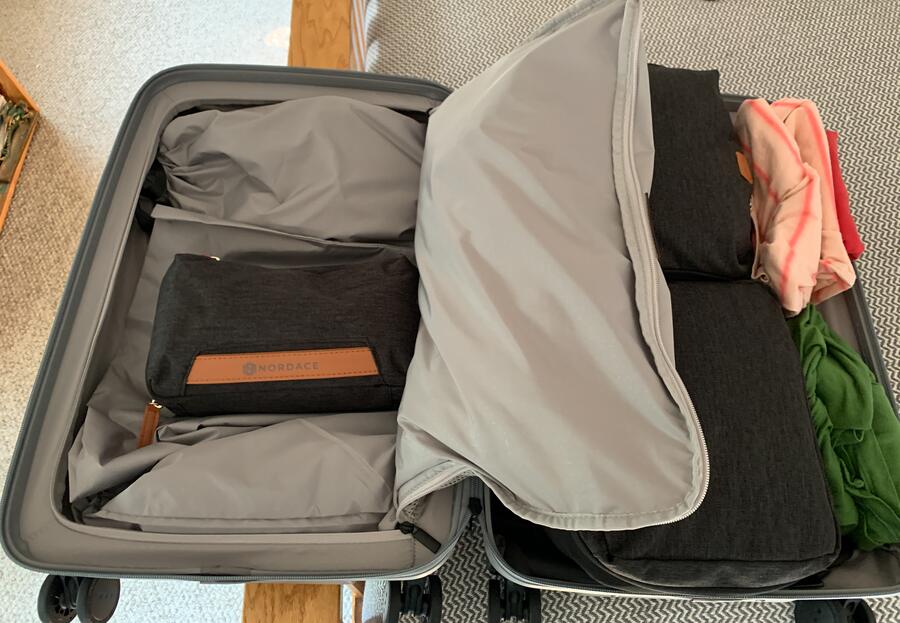 Here's how things went:
1.)   I can pack in more than I thought
Even with the added benefit of packing cubes, I can fit about a week's worth of clothing in both compartments. The suitcase also comes with two shoe bags, a laundry bag, and a flat compartment whose purpose I'm uncertain.  Seeing that I didn't really need it, I unfastened it from the holding belts to make room for my clothes.
As you can see above, I packed a lot of clothing in my bag, and this typically is what I would take on a week-long trip.
There was a moment when I first thought I wouldn't be able to zip the bag shut, but with some pushing down and hoping, I eventually did.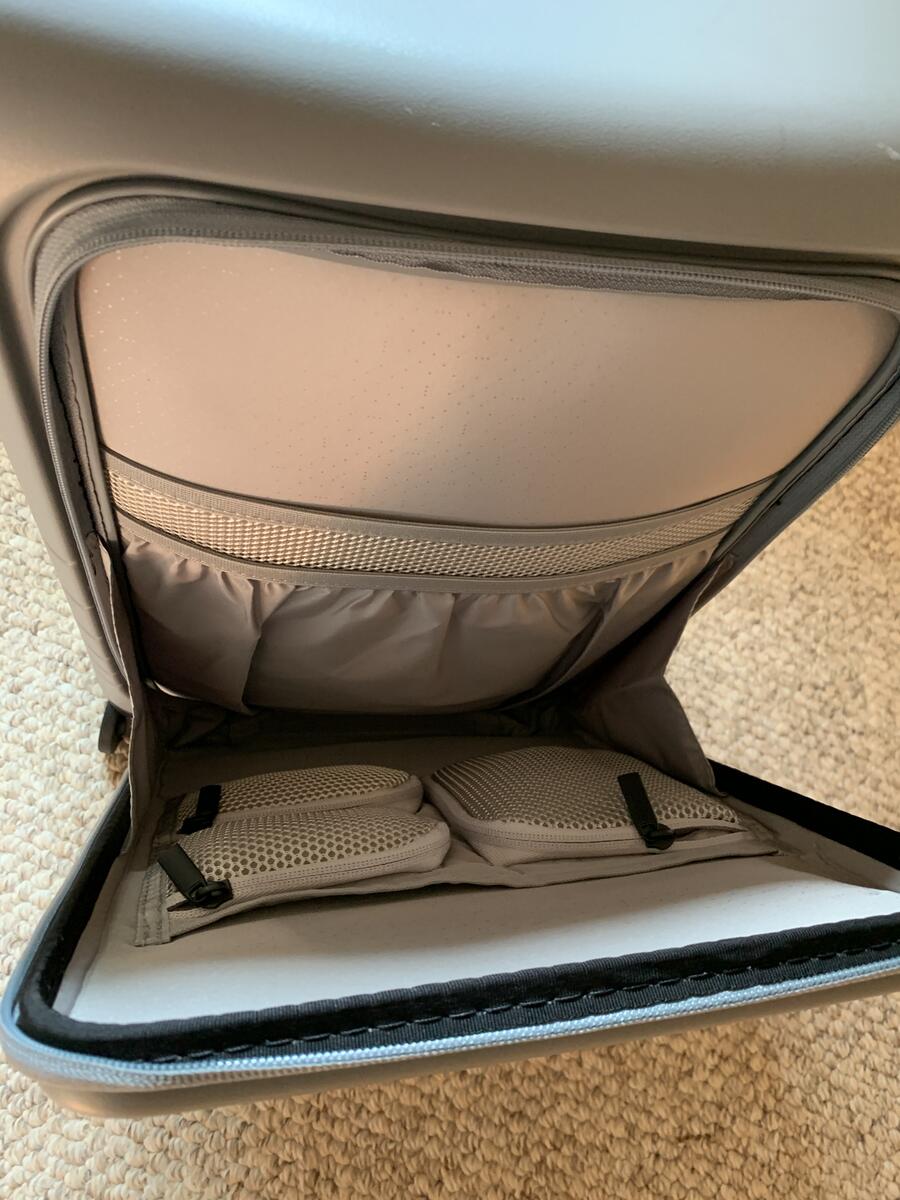 2.)   I love the light yet sturdy construction
Like I previously mentioned, I was dismayed at the Away suitcase's wiggle on its telescopic handle.  Monos' Carry-On Pro Plus didn't have this slightly annoying issue.  Unlike other brands, which use zinc tubes, they use aluminum and an innovative construction to minimize excessive movement.
While both suitcases are easy to carry, with polycarbonate materials for the main body, Monos has slightly less weight because they don't include a built-in battery pack, which Away does.  I appreciate this feature, but I can just as easily plug my phone or iPad into a portable charger.  If my suitcase can have less bulk – especially if I'm going the carry-on route – so much the better.
There is a front compartment that can hold a laptop and other things that could help me stay productive on the road (see above).  I can also feel that my belongings are secure with this TSA-approved luggage lock (see below).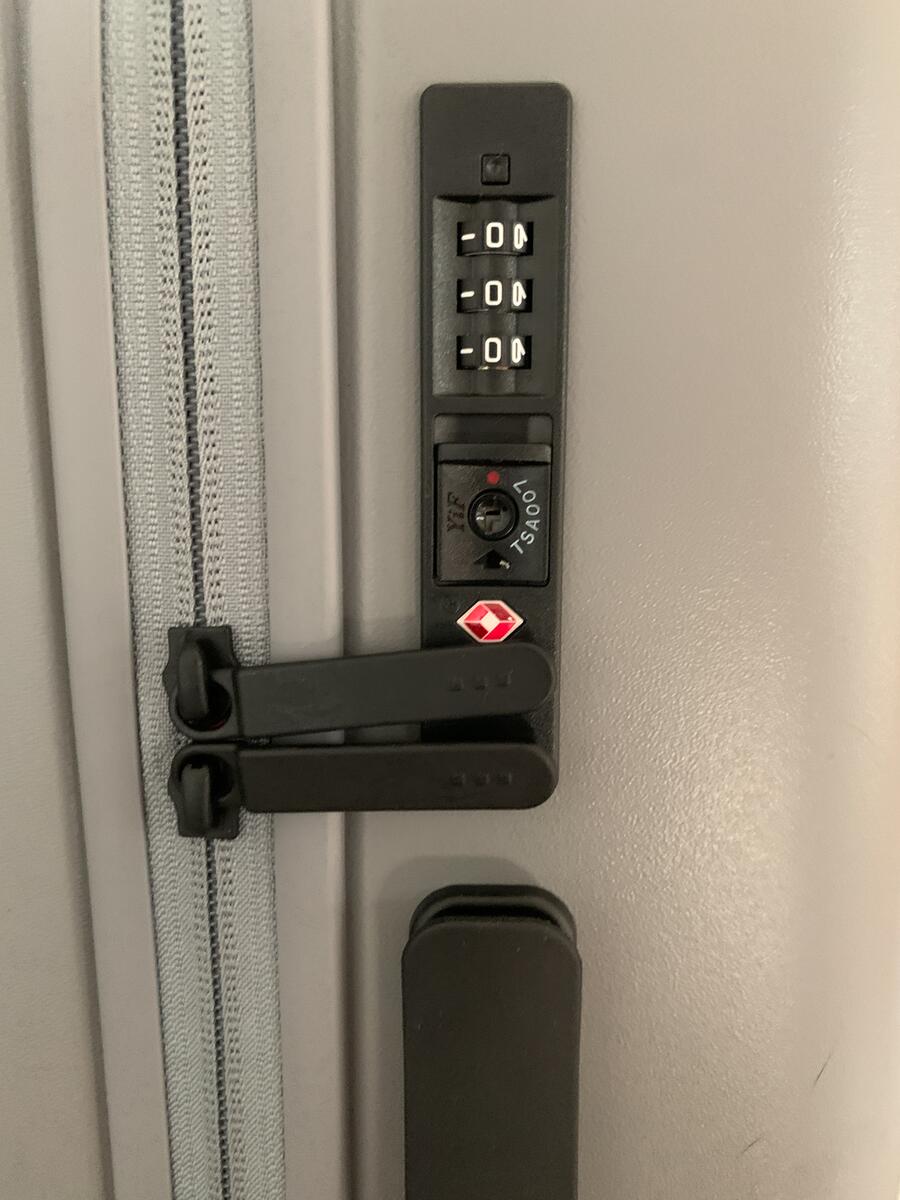 3.)   I will rarely have to take a huge suitcase again
I don't have to say much here, but I've finally learned how to pack…lighter.  I don't know if I'll ever get to a backpack-only level of packing.  Having suitcases like Monos and packing cubes have definitely helped me move in that direction.
(This luggage was my own purchase, and I was not paid by Monos to write about it).