Nearly every day for the past 15 years, I've practiced meditation.  Initially, it was a way to deal with being a single mom with two very young kids.  But over time it's helped me to manage my stress and handle my less-desirable emotions like anger and sadness.  Not surprisingly, it's lately been one of the essential strategies in getting through the COVID-19 pandemic and all the issues that's created.
At first, I tried to mediation with just some ambient music and a scented candle.  I struggled with this, because I wasn't sure what to do.  I tried to be mindful of my breathing, of passing thoughts, of outside sounds, but what was I supposed to focus on?
Confused and uncertain, I read mediation and mindfulness books that provided structure, even step-by-step guidelines.  But I couldn't read text and meditate at the same time. Even when I figured out that I could record a passage to do the meditation, I felt weird about hearing my own voice as guidance.  
Then I found a solution – a meditation app for my iPhone.  I discovered Calm, which I've now used for a good ten years.  But being the variety craving person I am, I tried to find others over time.  
I now use five, which represents just a small fraction of those available on your favorite app store.  I'll review them here and give you my honest opinion of each (note: all five of these apps have free trials or versions, but the best ways to experience them is to get a subscription).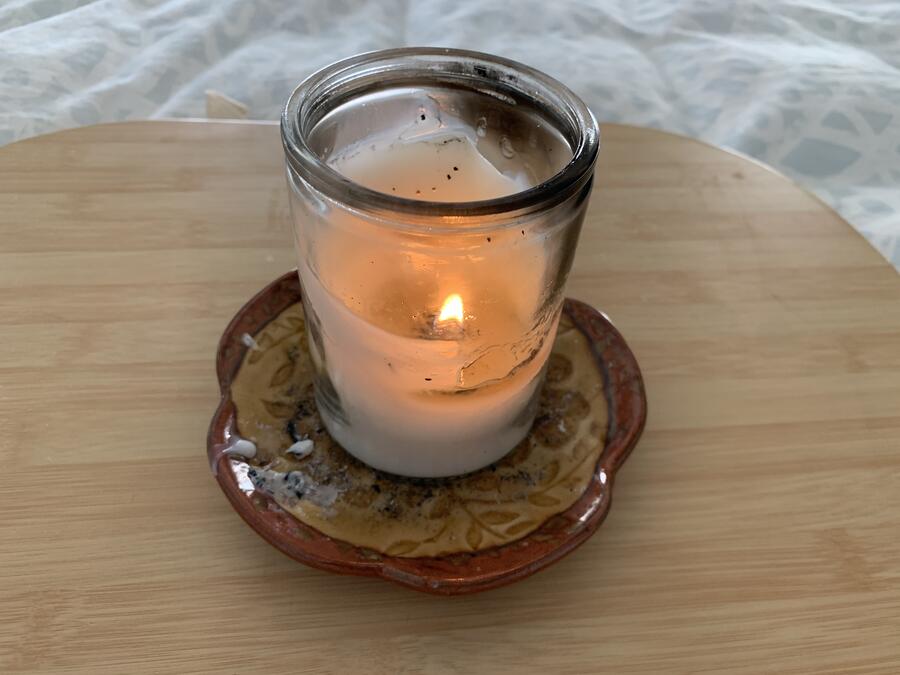 Calm
If there's any meditation app you've heard of, it's probably this one. Their tranquil 15 to 60 second TV ads popped up often about a year ago, and now they're one of the best-selling apps around.  Their best feature is Sleep Stories, where various celebrities read soothing tales that truly lull you to slumber.  You can also meditate to one of many sessions from Tamara Levitt or listen to music.  Calm also has specific courses for kids, work and exercise, as well as masterclasses and short lectures called The Spark.
Breethe
I came across this app as suggested on my Apple Health program.  It's very similar to Calm in that one person leads most of its meditations (Lynne Goldberg), and the rest of the selection consists of sleep stories, masterclasses and inspirational talks from different narrators, and ambient music for relaxation and sleep.  What's great about Breethe is its customization.  You can set goals for your practice, choosing among 40 categories, and you'll get meditations and programs based on those objectives.
Ten Percent Happier
Developed by TV journalist Dan Harris, this app originated when he went through his own on-air panic attack and wanted to be more mindful and emotionally healthy.  He took the approach of being a "meditation skeptic," which – I believe – helps people coming to this program be less intimidated by it all.  Various mindfulness experts lead you through daily meditations, programs and classes.  A caveat – these meditations don't have accompanying music, which may be a positive or negative, depending on your preferences. 
Peloton
To be truthful, you're not likely to get the Peloton app just for its meditation sessions. But if you're looking for break from their often-high intensity workouts, these are actually a hidden gem.  Six different instructors, mostly from their yoga classes, lead you through different purposes or themes of meditations ranging from 5 to 30 minutes.  Being able to choose the length and type of session you can do rather quickly is one of its positives.  They're especially useful when you want to calm down from one of those crazy biking or running classes.
Aura   
This is the latest mediation app I've tried, as recommended by Apple's app store and other popular media like Time, Forbes and CNet.  This one just might be the most comprehensive of all the ones I've mentioned here.  Naturally, there are meditation and music sessions from a wide array of teachers and musicians, which can be customized to whatever you might need from a mindfulness session.  But Aura also has short digestible segments of life coaching and cognitive behavioral therapy, just enough to get you back on track when you're stuck.