Colorado has abundance in many natural wonders: mountains, plains, canyons and rivers.  One thing that often goes under the radar is hot springs.  But given that the state has half of its geography within the Rocky Mountains, it's not surprising that there's nearly 100 of them. I wrote about my five favorites in the state about a year and a half ago.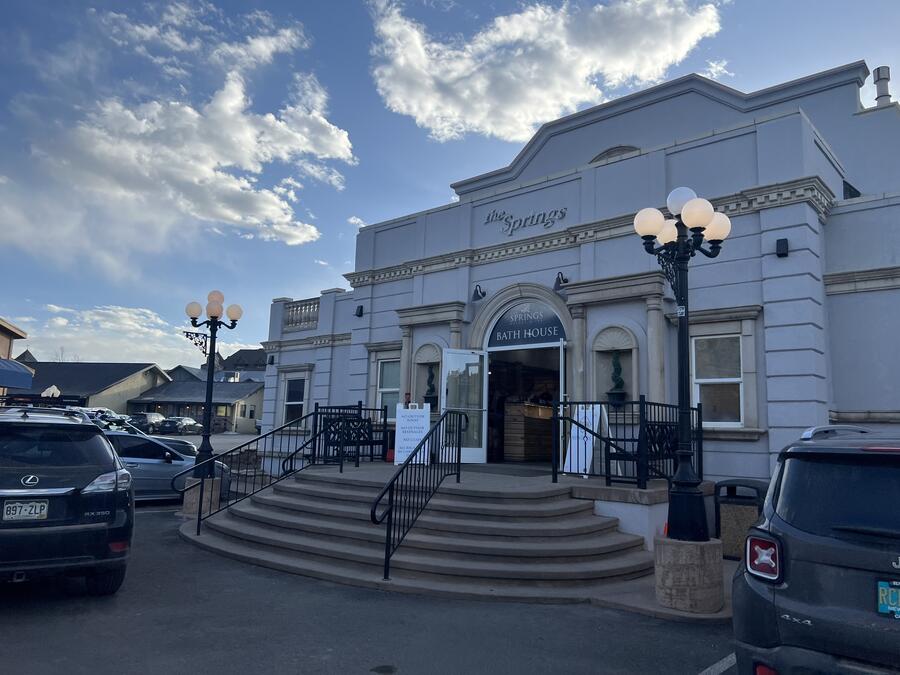 Hot springs land
The long-ago shifting of land mass plate tectonics created the vast mountain range.  Before that, Colorado was also once part of the Western Interior Seaway, which covered some of the Midwest and the interior west. Combining those two geological phenomena resulted in fissures and fractures that then became the geothermal hot springs we can enjoy today.
Now, some of these pools are undeveloped and can only be accessed through insider knowledge of their locations, a good GPS tracker and an adventurous spirit. Yet others have become full-fledged resorts that attract both in-state locals and visitors from everywhere.  
Places like Glenwood Springs, Mt. Princeton, Ouray and Pagosa Springs fit into that latter category, and that's where we spent this past weekend.
RAS's friend invited us to his rental there, and it was a short trip – just two nights, with a four-hour car trip each way. With such an abbreviated time in Pagosa itself, I've chosen to focus on the just hot springs resort.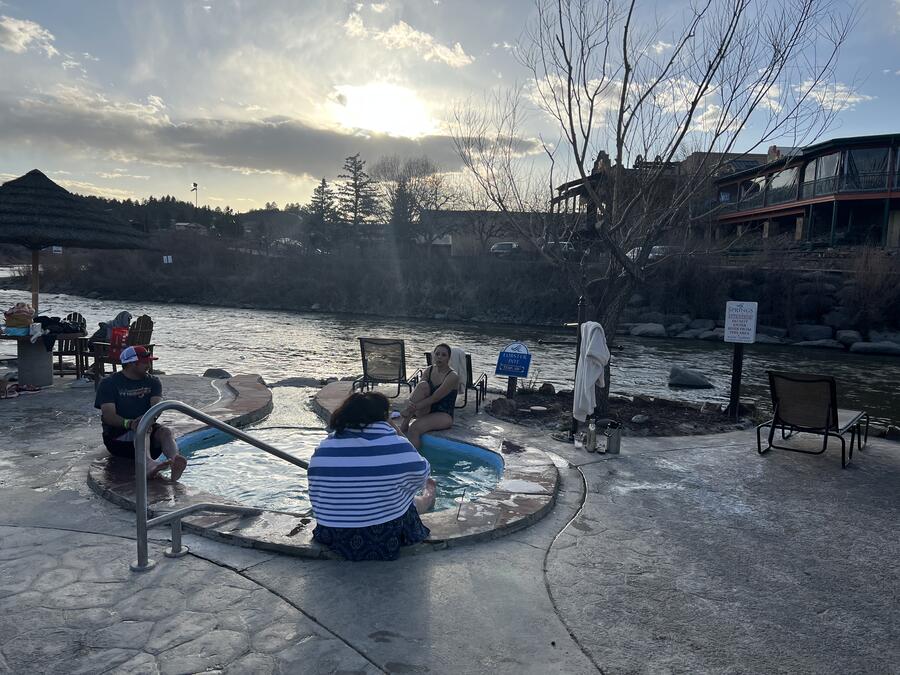 What's special about Pagosa
Pagosa Springs is aptly named – its meaning is "healing waters" in the Ute language and has 13 minerals that contribute to that concept.  Visitors have come here for centuries to soak in the hot springs and cure ailments or simply relax.  The waters emanate from the Mother Spring, which is the deepest geothermal spring aquifer at over 1,000 feet.
We had only been here once before, when RAS ran a marathon in Durango about 2005 and needed to soak his beaten-up body.  It hasn't change much in that 15 years' time.
Once a small complex alongside the San Juan River, the hot springs resort has grown to 25 pools of varying temperatures and sizes situated on a terraced landscape.  Some are ice-cold riverbank plunge pools to cool off while others are "lobster pots" with temperatures of 110 degrees-plus.  Most fall somewhere in between, ranging from 85 to 105 degrees.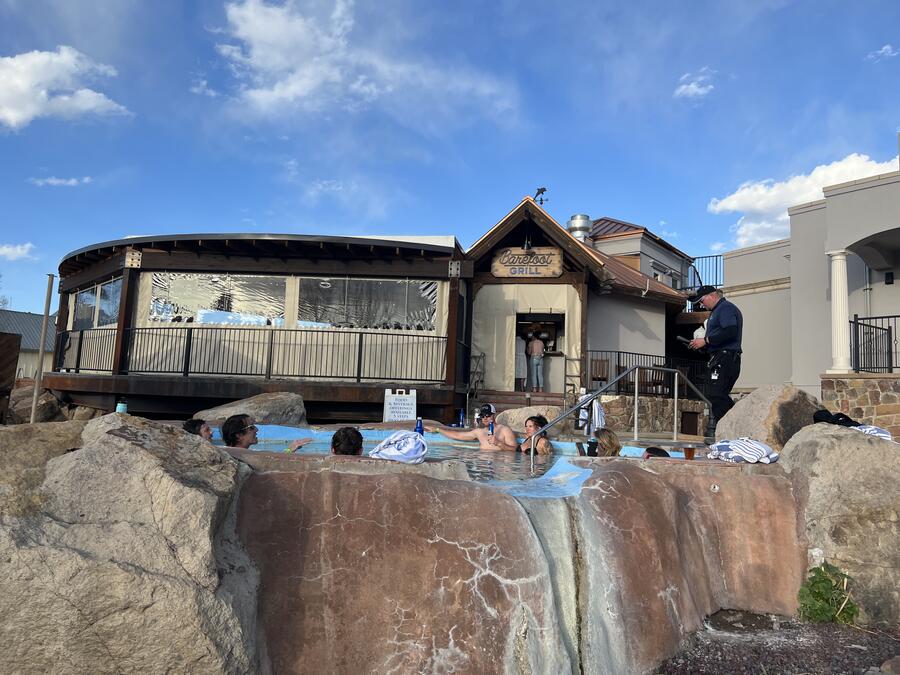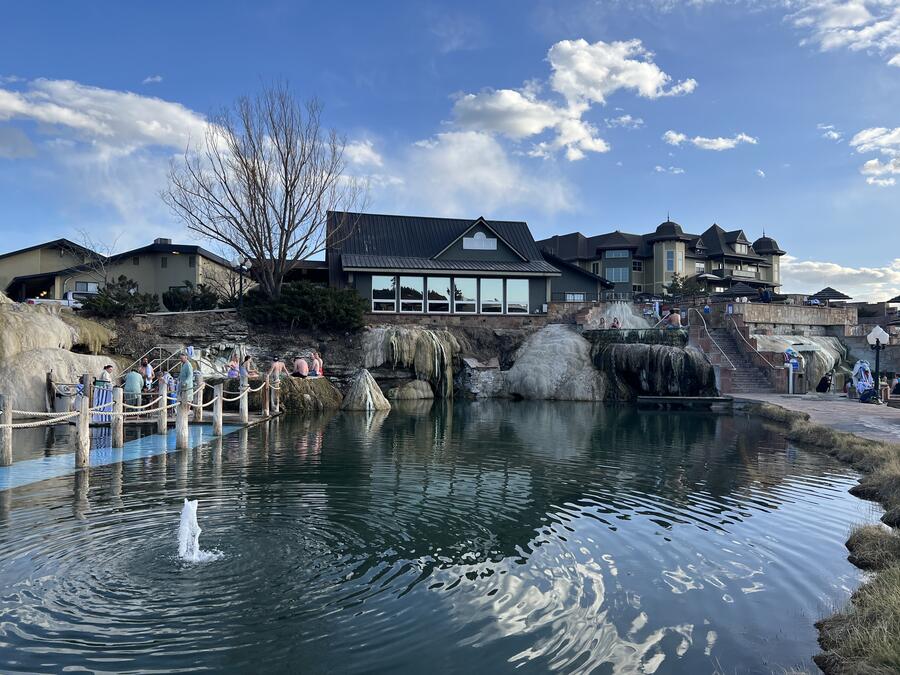 Pagosa visit details
If you visit, be aware that once you enter the facilities, you must stay. There aren't any multi-visiting privileges in one day. That is probably why the bar and food stand were popular during the day, and we even took advantage of the opportunity with bottled beers and cocktails.  Our friends decided to get a grilled chicken sandwich and vegan buffalo tacos.
The pricing varies, depending on whether you get a day pass or a buy a membership, and on your age and if you are active or retired military or a first responder.  Locals (anyone who lives within 60 miles of Pagosa) get an additional discount.  Most will pay $46 to $49 for the day.
I do have to say that my workout-ravaged aching muscles greatly benefitted from a few hours soaking in the pools.  This is after I've tried stretching, yoga, ointments and other treatments. Healing waters, indeed.