When I lived in Southern California, I didn't go out much to the beach. That was because my apartment was still 15 minutes away. With traffic it was about 30 and not most convenient free time option.
If I wanted to get my sand and sea fix, I'd often just go to Redondo. That's where my sister lived at the time. Even then, her house was still an often traffic-congested 10 minutes from the water. It was a small price to pay. Renewal came with the salt air and cool softness of the ocean-soaked sand.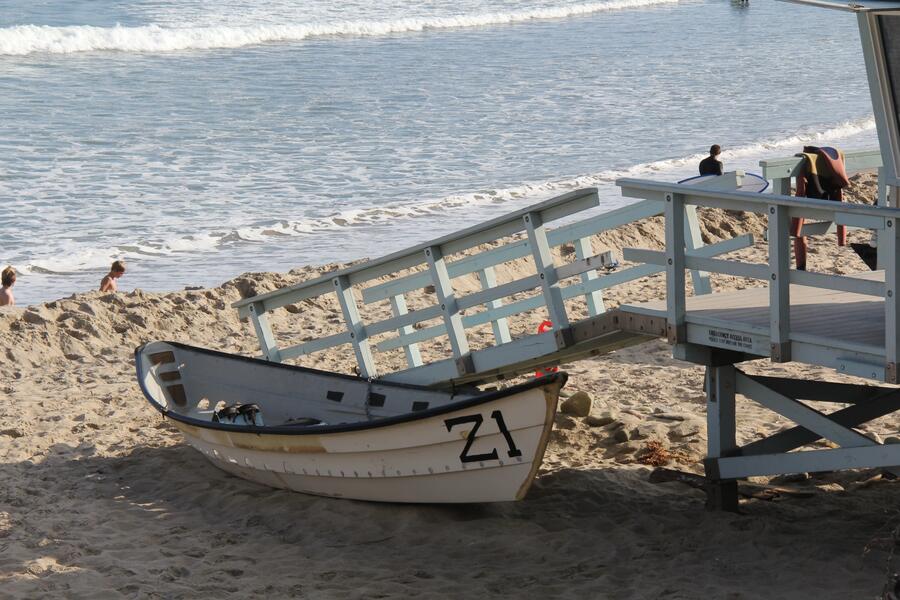 My dream scenario of Southern California was like nearly everyone else's. I wanted to live on or within throwing distance from the beach. The epitome of that fantasy was Malibu. The uber-wealthy live here in outwardly shabby bungalows, but their property value equaled the GDP of most developing nations. I actually never had the burning desire to live there. I'd probably never fit in, even if my bank account by some miracle did.
Malibu Pier - a slice of SoCal
That's not to say that I can't enjoy the more proletariat things that Malibu can offer. That includes the fantastic pier. It's an experience best enjoyed in the later afternoon. Whatever the economic status, anyone can revel in the multi-hued glow of a Pacific sunset.
I've come here now about three times in the last five years, each time with RAS, just because I enjoy its typical SoCal vibe. It offers more to see than the basic Venice or Manhattan Beach piers. Also, it's definitely less frenetic and jam-packed than the Redondo or Santa Monica piers.
On my last visit, I witnessed scores of surfers, which have also been synonymous with Malibu. Most of the surfers go to nearby Zuma Beach and back over to the other piers.  But on this day, they were near the pier.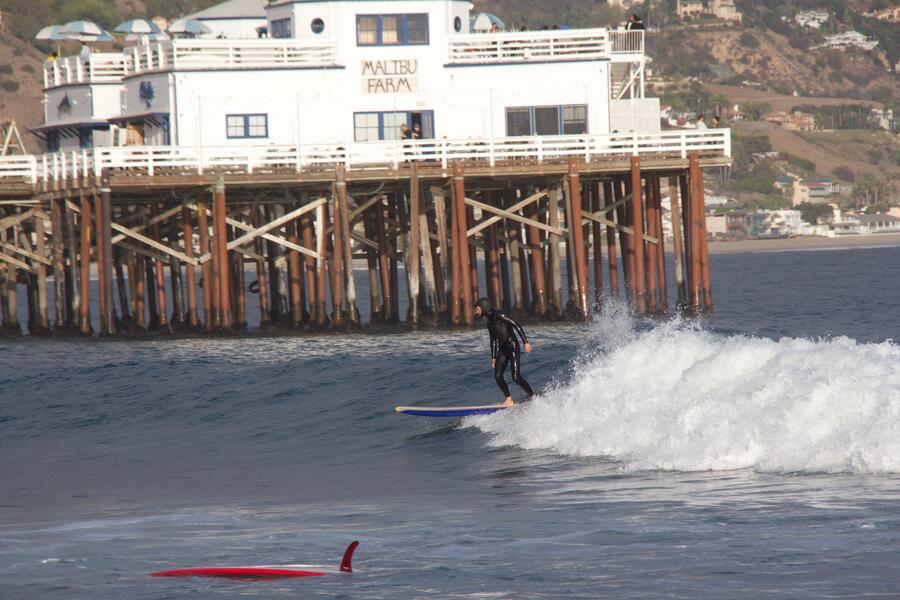 My family and I first visited Malibu pier during Christmas break a few years ago, with a scattering of fake snow that my youngest thought was a little ridiculous: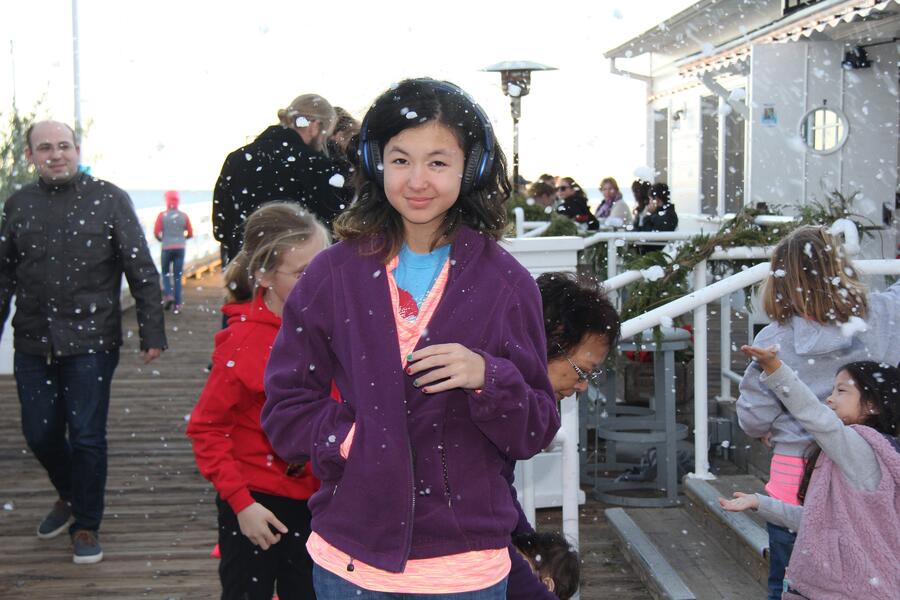 Pretending to be rich and famous
This was outside the Malibu Farm restaurant, which because of a certain family member's frugality, we have never eaten there. I just don't think RAS can bring himself to pay $24 for a hamburger, with a $14 pint of lager. There is a smaller cafe at the end of the pier as well, with more bistro fare like salads and sandwiches. At some point on one of our many trips to LA, we will have a mean (OK, just a drink?) in one of these places.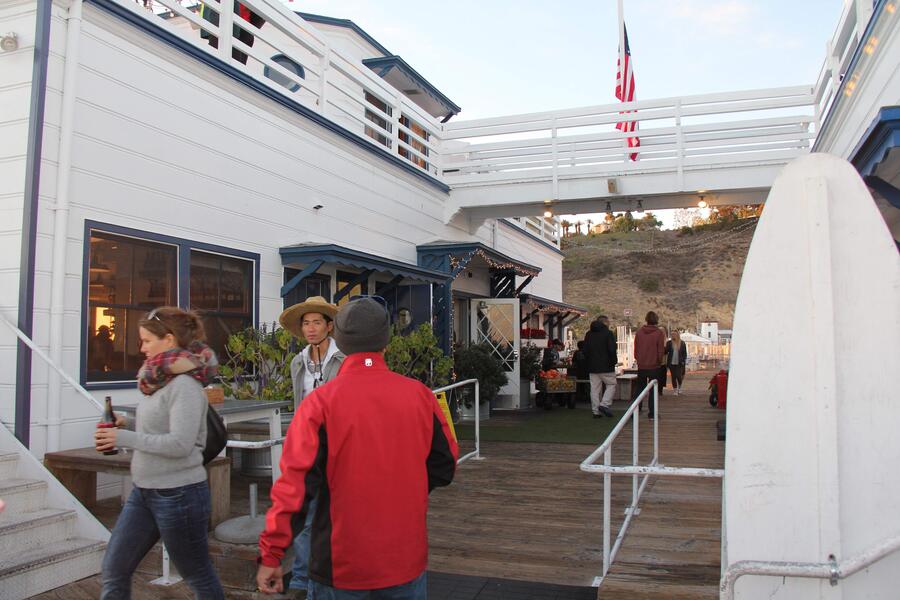 But one place that we always visit is the One Gun Ranch Store. Never mind that nearly everything is outside our normal budget (and about 90% of most Americans), but it has all kinds of home decor that I would use, if money were no object or I wasn't married to RAS.  Handwoven mats and blankets, heavy ceramic dinnerware and knickknacks that have no discernible purpose other than to make your home look like something in Dwell. You can purchase it all and having bragging rights that it came from Malibu.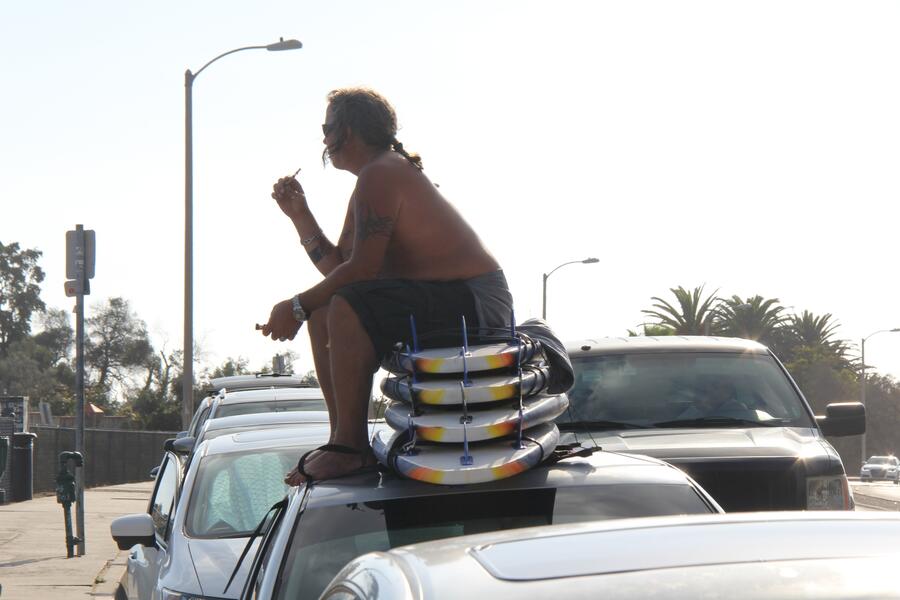 No matter how you feel about stereotype California (surfers and sunshine) or conspicuous consumption (everywhere here), it's simply OK to enjoy it all for a few minutes. Malibu Pier is the perfect place for that.