If Tokyo is all modernity and noise, Kyoto is its diametric opposite.  This former imperial capital certainly is one of Japan's largest cities.  But I noticed a certain pervasive calm when we entered the city via the train station.
The energy here felt a little more laid back, and the locals didn't seem to be in a perpetual hurry.  I think that attitude also made our group feel more relaxed as well, especially to enjoy whatever culinary options would be available to us.
Italy by way of Kyoto
Just like every major city's station in Japan, Kyoto offered various culinary and shopping options to rival any mall. During one of our evenings here, the four of us couldn't decide on what to have.  We simply defaulted to Italian at a place called Pasta More.  At least the name is pretty straightforward.  Now, we really had intended to only have Japanese food on this trip, but our hunger won out over our intended purism. The girls both ordered spaghetti carbonara, while RAS and I shared a margherita pizza.
Admittedly, the pasta tasted like anything encountered in a standard Italian restaurant back home.  It may have been a little more egg-based than I would've liked, but it was generally delicious.  We probably couldn't find much better Italian in Kyoto.
I cannot say the same for the pizza.  Being as charitable as I can muster, I'll just rate it as passable.  The crust was undercooked, and the sauce was just a step above ketchup.  Luckily the girls' carbonara portions were plentiful, so we just both polished off what was left of their plates.
But a pint of Asahi makes anything better, even with so-so Italian food.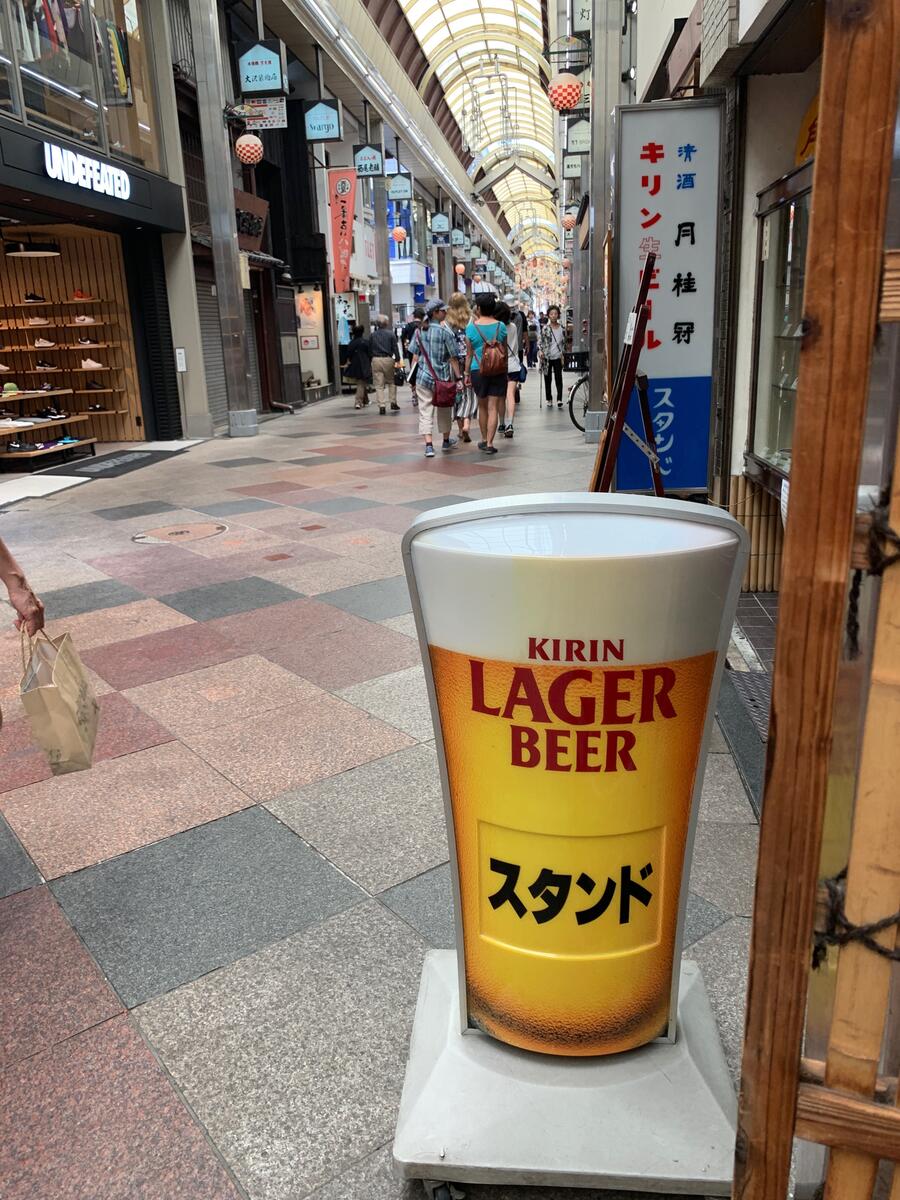 Street food cornucopia
The other food highlight of Kyoto is the Nishiki Market, which is massive 10-block shopping center with nearly mile-long corridors of retail stores (both Japanese and western brands), restaurants and cafes.  I noticed that there was this one with Shiba Inu puppies, which have now become one of the most beloved breeds.
In this market is a narrow sub-market, which originally sold fish but now offers just about anything.  Locals come here for street food, which would probably quite exotic for us non-Japanese.  RAS, JRS and I planned to have lunch here, but we couldn't find anything that really grabbed us.  He did buy a few rice crackers and other snacks, and took some cool photos of these foods.  I'm sure that if he had been super-hungry, he would've been more like a Kyoto native.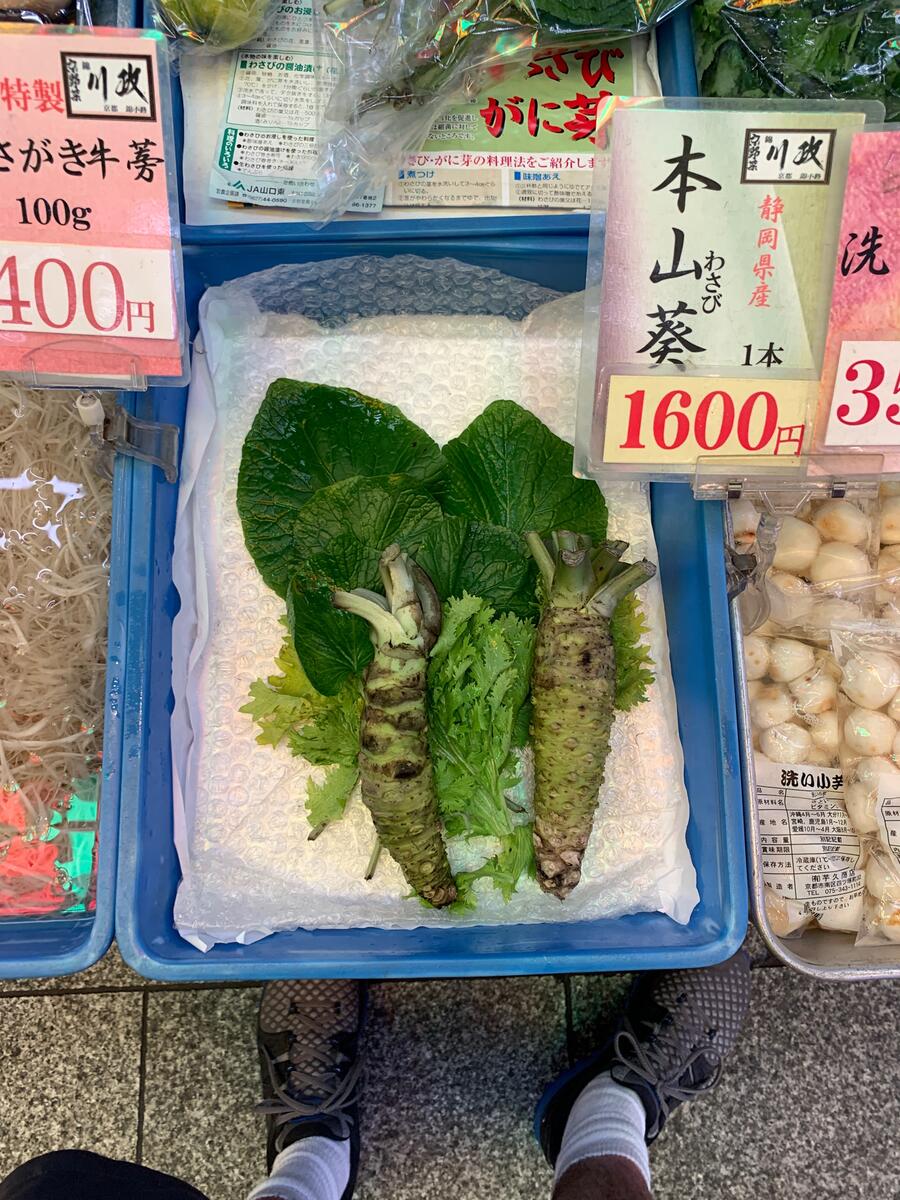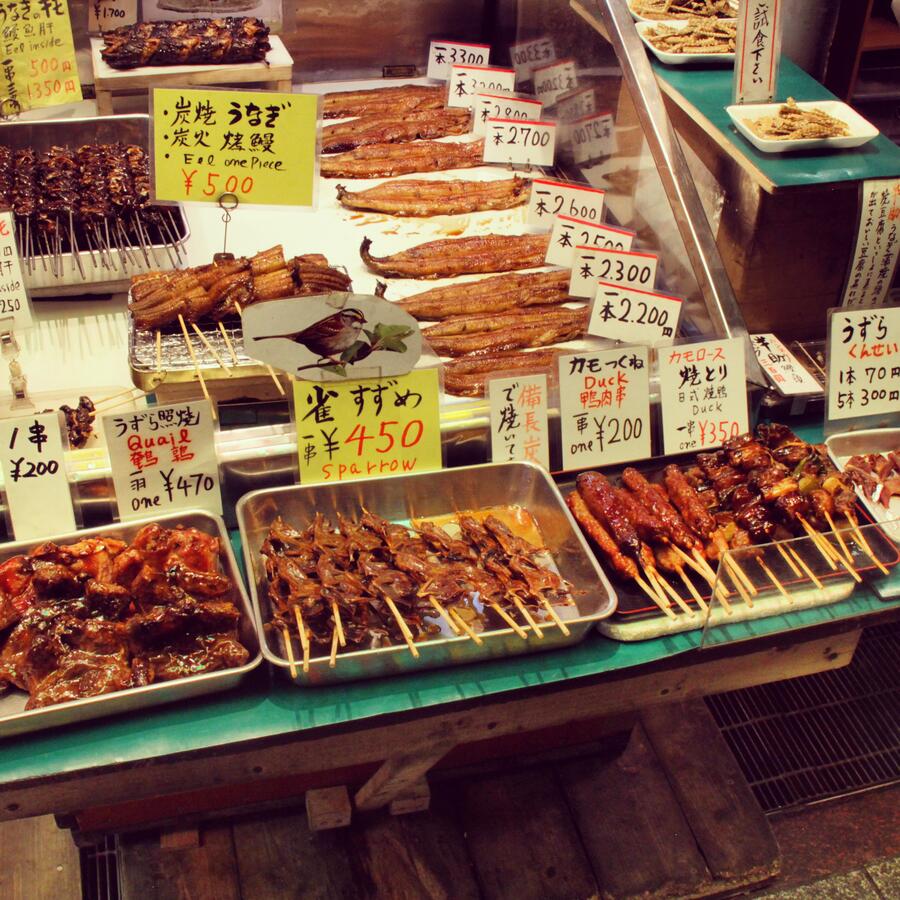 Because he decided to wander the market some more, JRS and I decided to shop and find an alternative to the street food.  We settled on a stand-up noodle shop, which wasn't great for my tired feet, but the zaru soba totally hit the spot.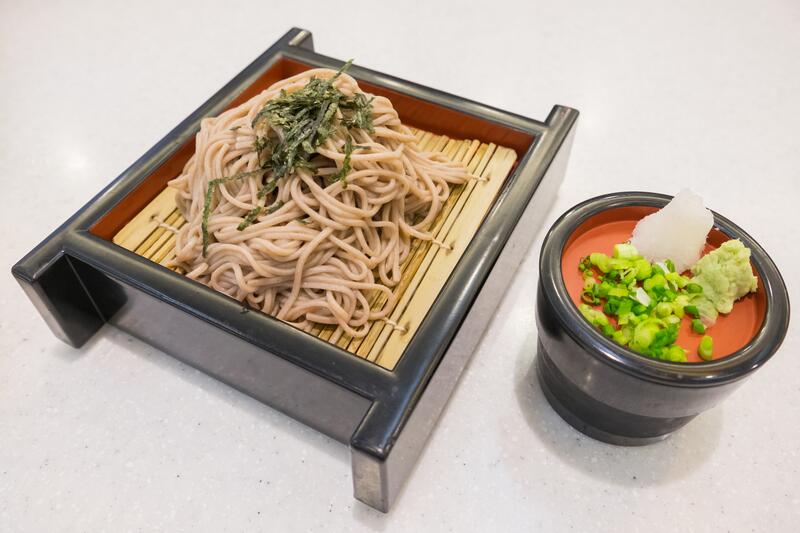 A simple childhood favorite - and a new one
This cold noodle dish was something I grew up eating on warm summer evenings, when having something cooked for dinner didn't sound appetizing.  Since it was just as humid and hot in Kyoto as it was everywhere else in Japan, I went straight for this simple but satisfying dish, with its straightforward cooling dashi and shoyu broth, sliced green onions and nori flakes.  JRS chose pork udon, which was just as tasty.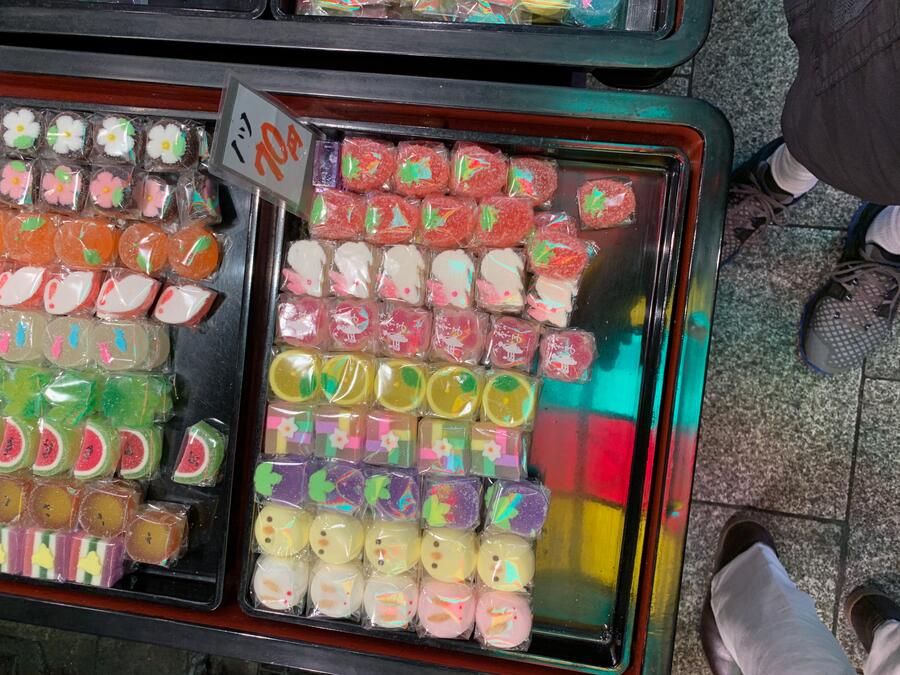 Our group then sampled a local treat, nama yatsuhashi, which looks like ravioli before you cook it.  It makes for a nice ending to a meal and reminder of the delicious simplicity of food in Kyoto.