My last visit to Los Cabos was half-good and half-not-so-good. Let's get the latter out of the way first. 
When RAS and I cruised into the Cabo San Lucas port, we took a bobbing offshore tender to a dock on the marina. What I saw was a touristy mishmash that almost made me want to return to the Norwegian Joy right away. There were just so many loud and gaudy restaurants, bars and souvenir shops, that I didn't get a positive impression of the place. It was only when we left the cacophony behind and headed to the quiet, isolated coast near Todos Santos, that I felt better.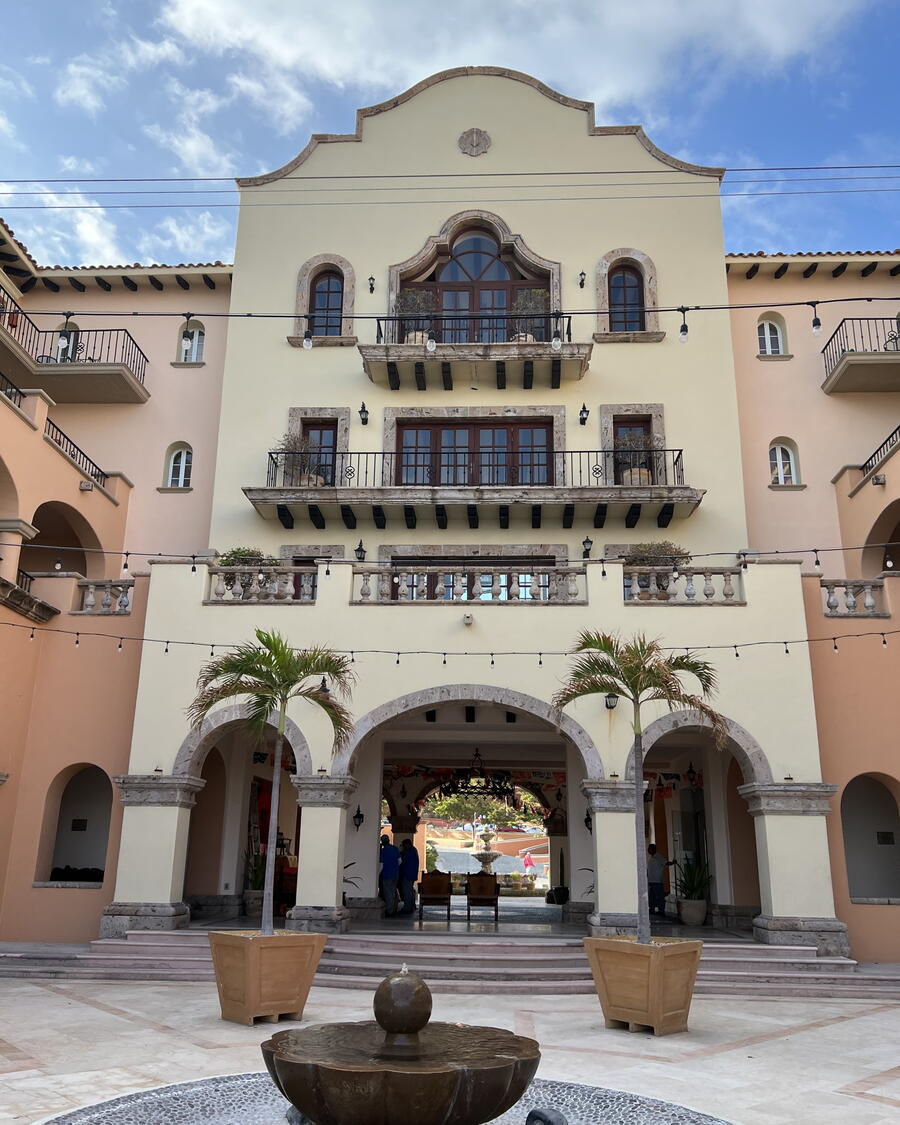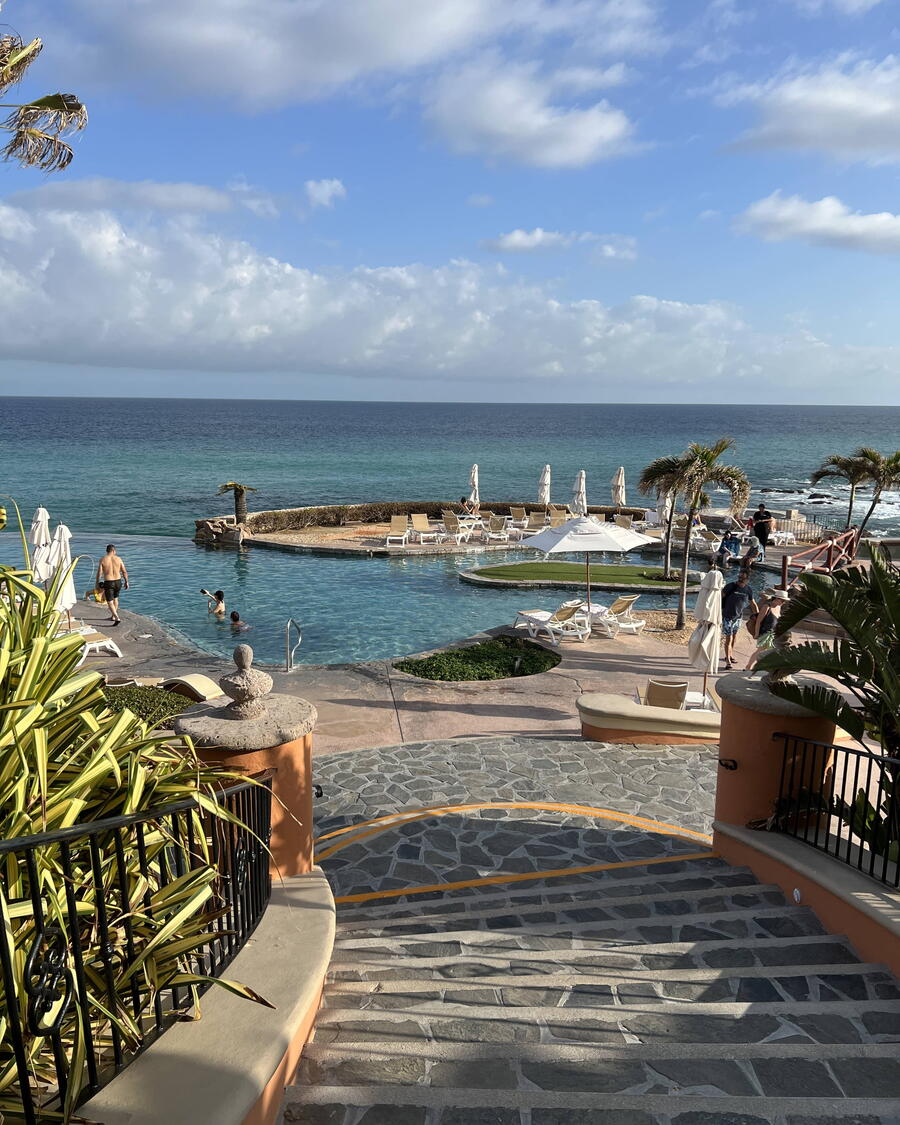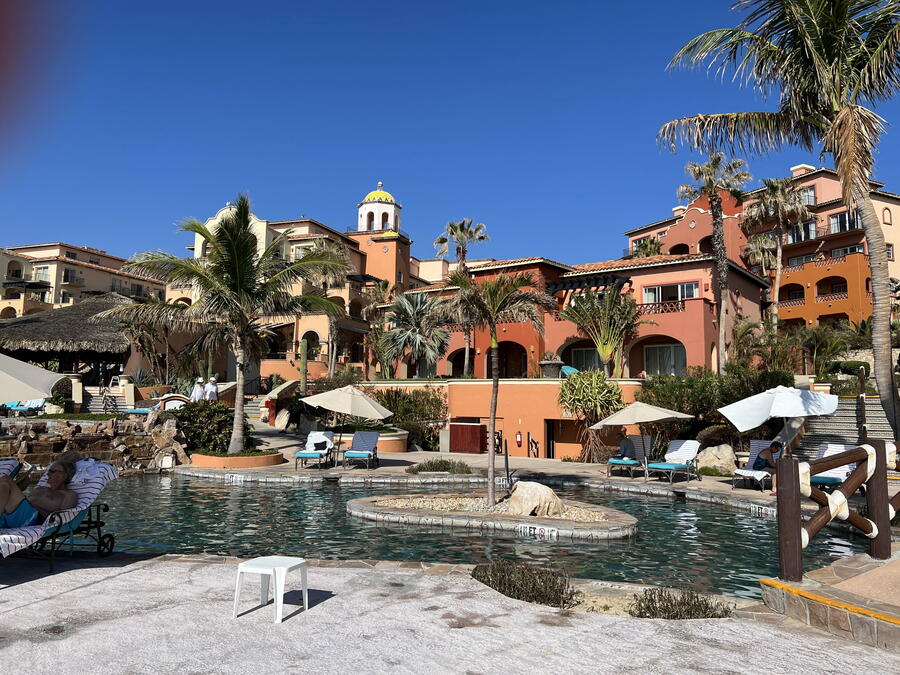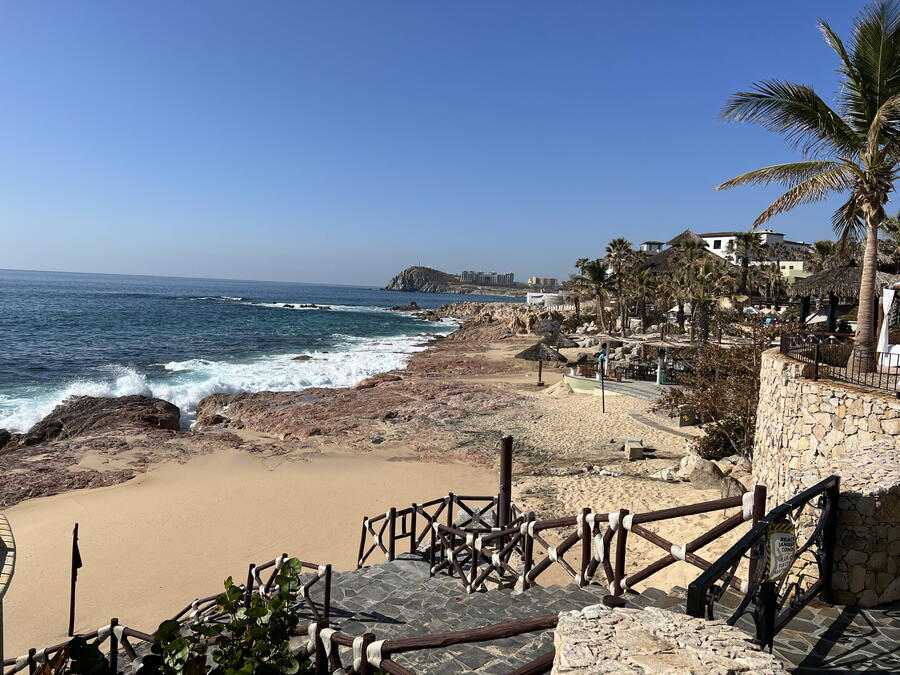 Seeing how developed the Los Cabos was, similar to any Southern California suburb, I was skeptical that my current media trip to the Hacienda del Mar resort would follow the same line.  But luckily, it was almost the complete opposite.
Perched above a turquoise shoreline in the Pacific, Hacienda del Mar is an extensive resort with conference facilities and a golf course. Its sienna, tan and ochre buildings are spread over a sloping hill that gradually ends at the water.  However, the complex will soon have a new look with white exteriors and modernized interiors.
This was my second media trip with the International Food Wine Travel Writers Association (IFWTWA) after the Discovery Princess cruise. Over three days, our group mostly enjoyed the resort, but we also took a day trip to Todos Santos, about 45 minutes north of Cabo San Lucas. Here is a rundown of my experience at this incredible resort, emphasizing the food and Todos Santos.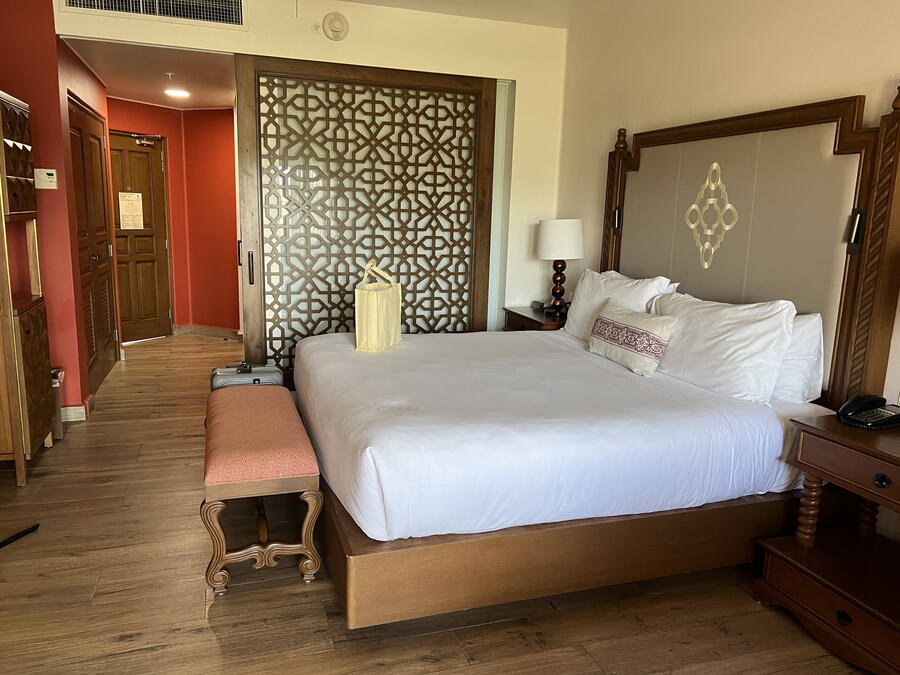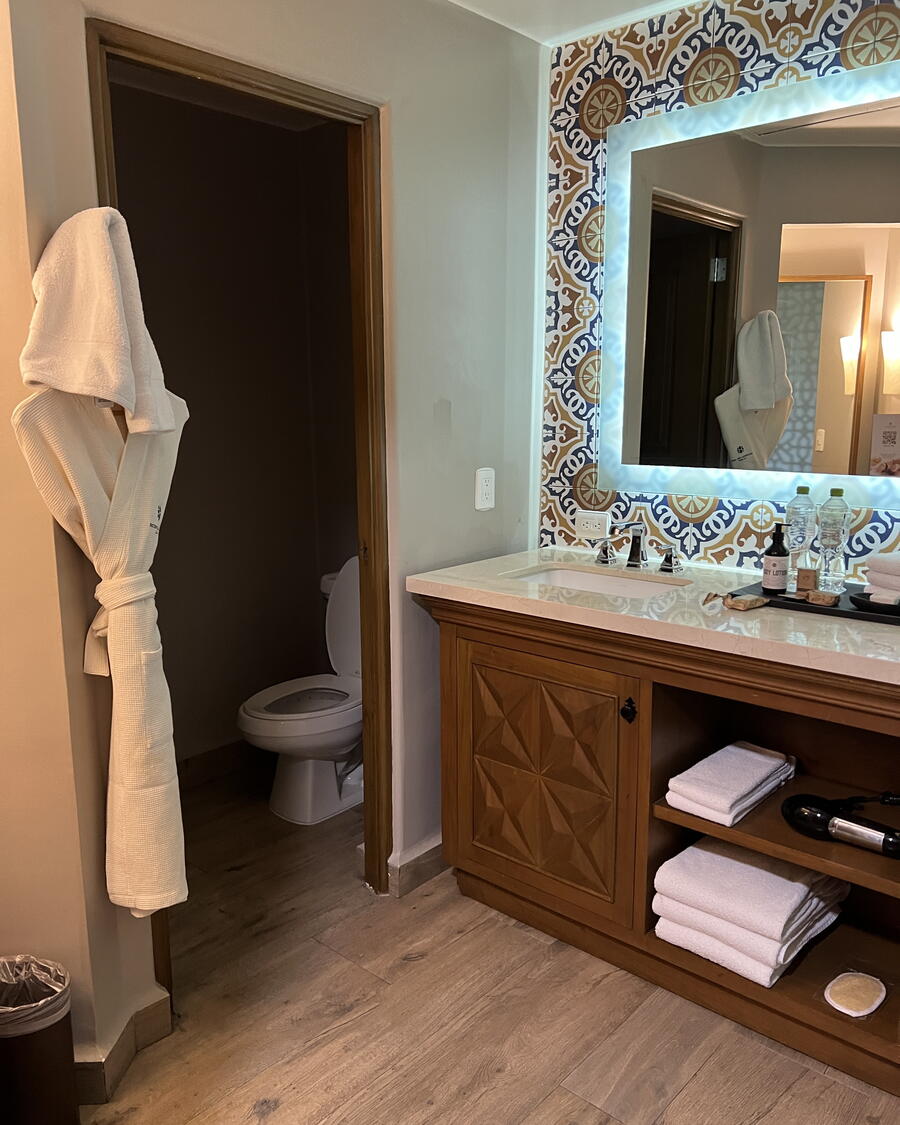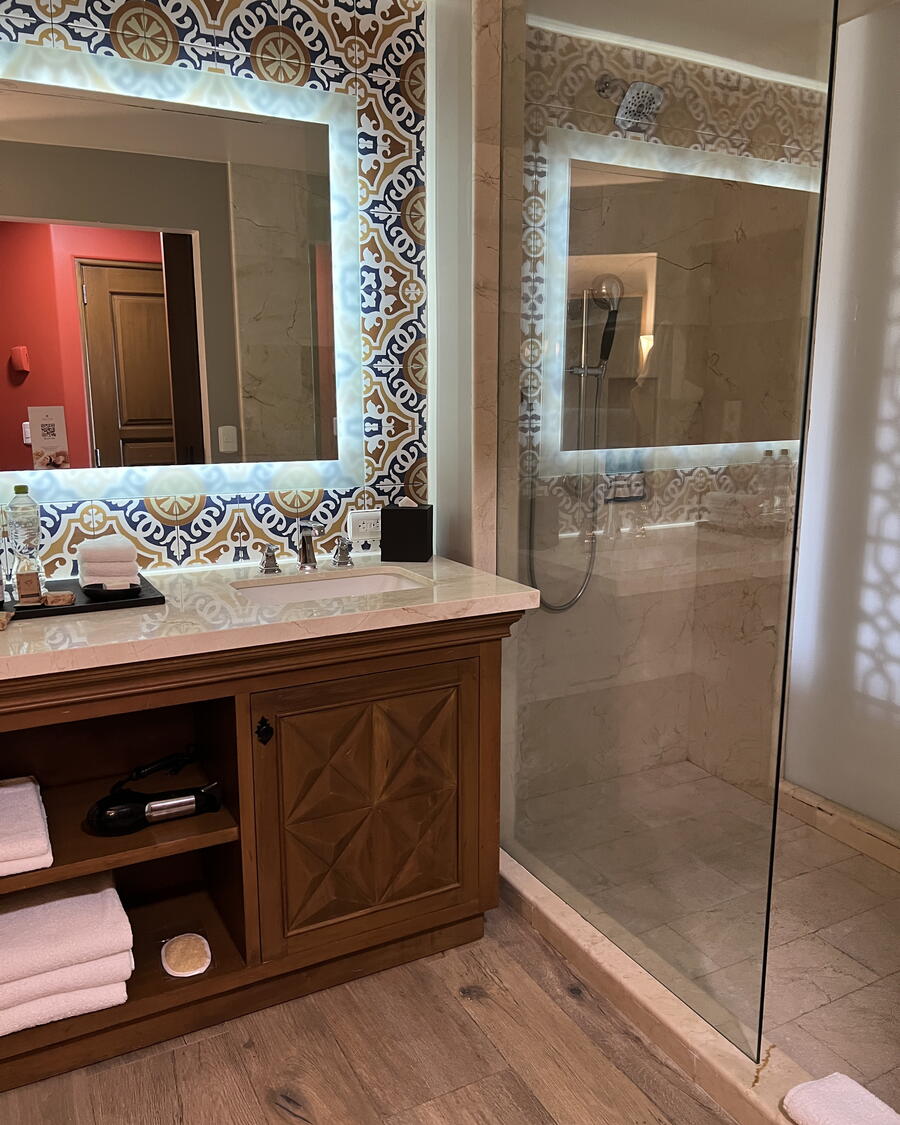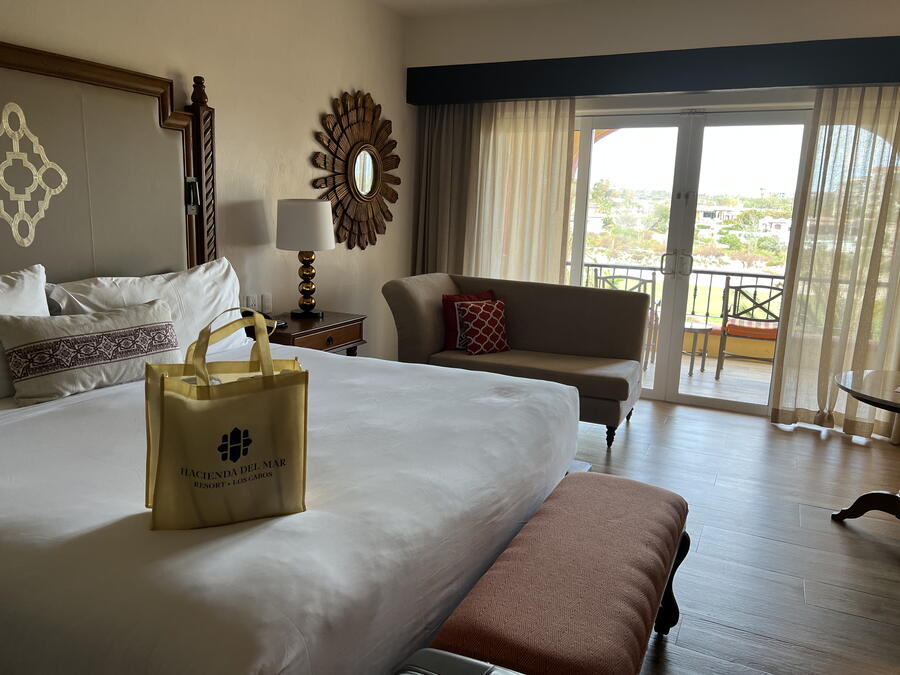 The accommodations
Each of us had our own king-size suite with a spacious bathroom with a double sink vanity and ample closet and drawer space. The air conditioning and ceiling fan functioned well, necessary for the hot and humid conditions outside. Although the dark interior colors made the room more somber, wide picture windows led to a long balcony that allowed plenty of natural light and showcased a fantastic view of a pool area, golf course and ocean.
The only drawback was the elevator, which worked for two of the five days of our stay. Staff told us they had difficulties with it since a hurricane brushed the area a few weeks ago. They also had purified water machines that were supposed to function with our card keys but didn't. If they want to have satisfied guests, they must address these issues.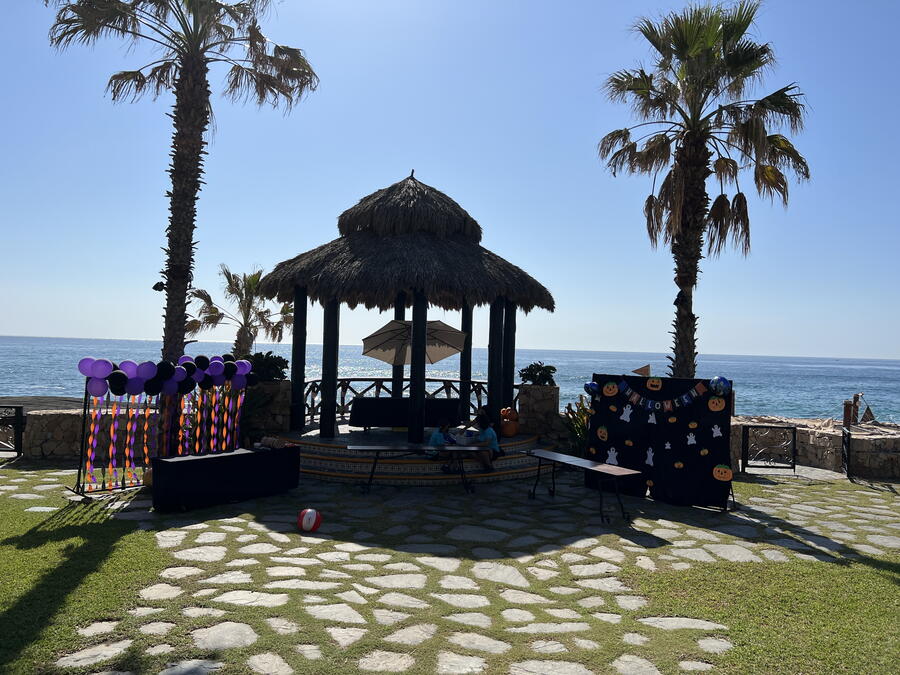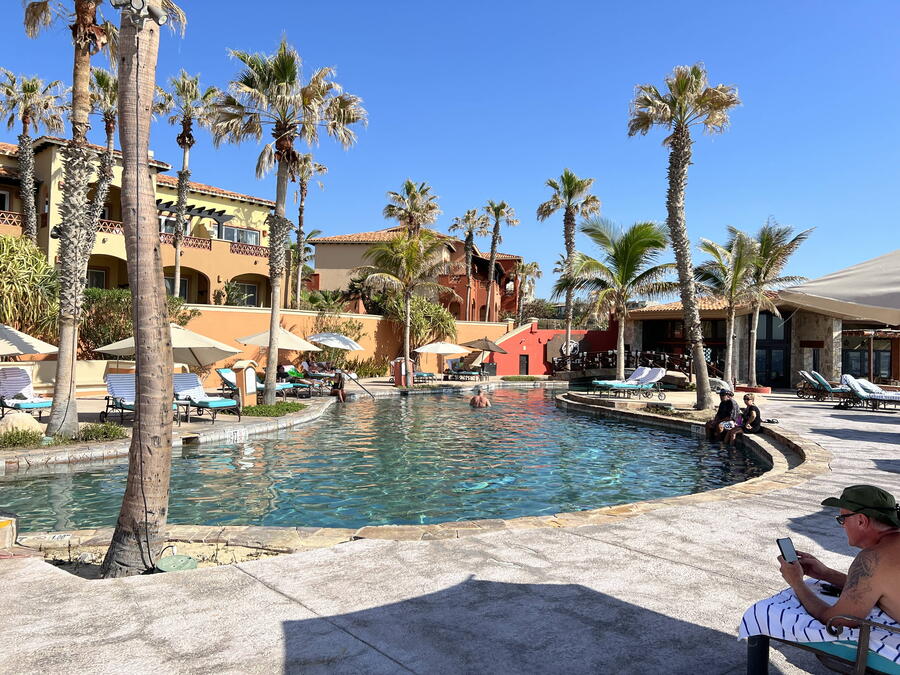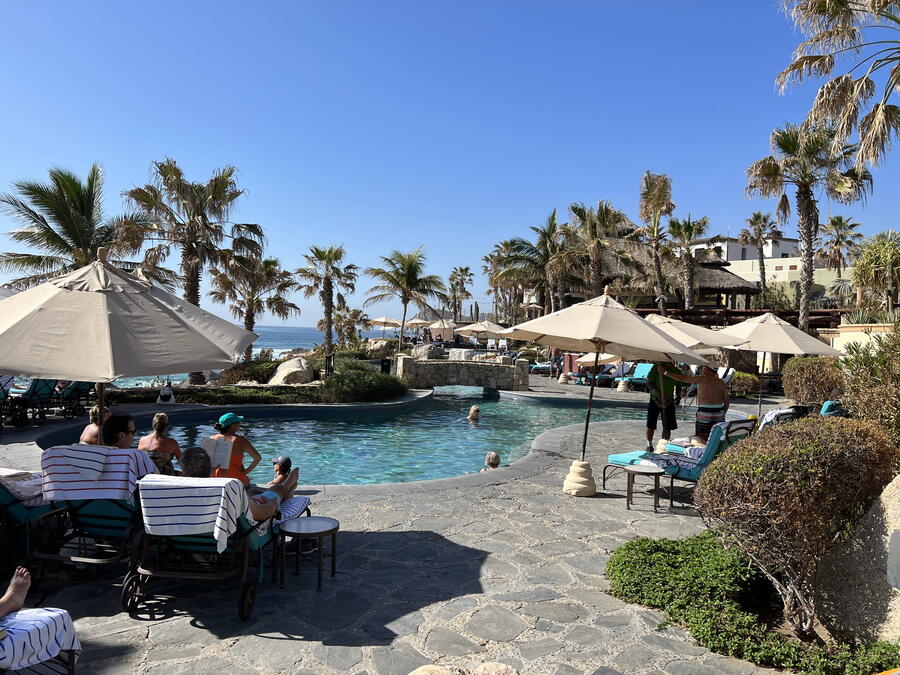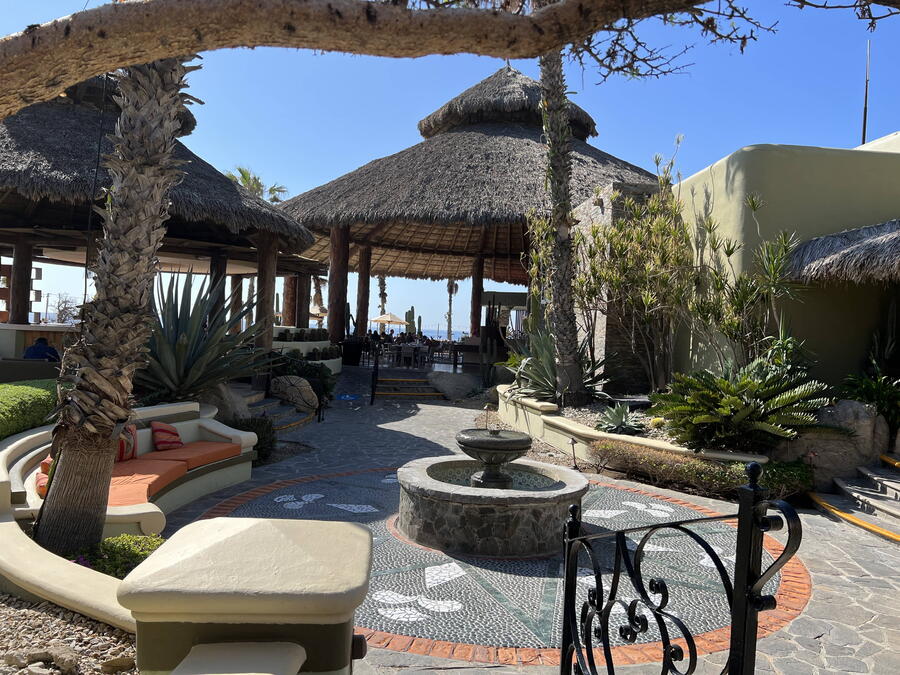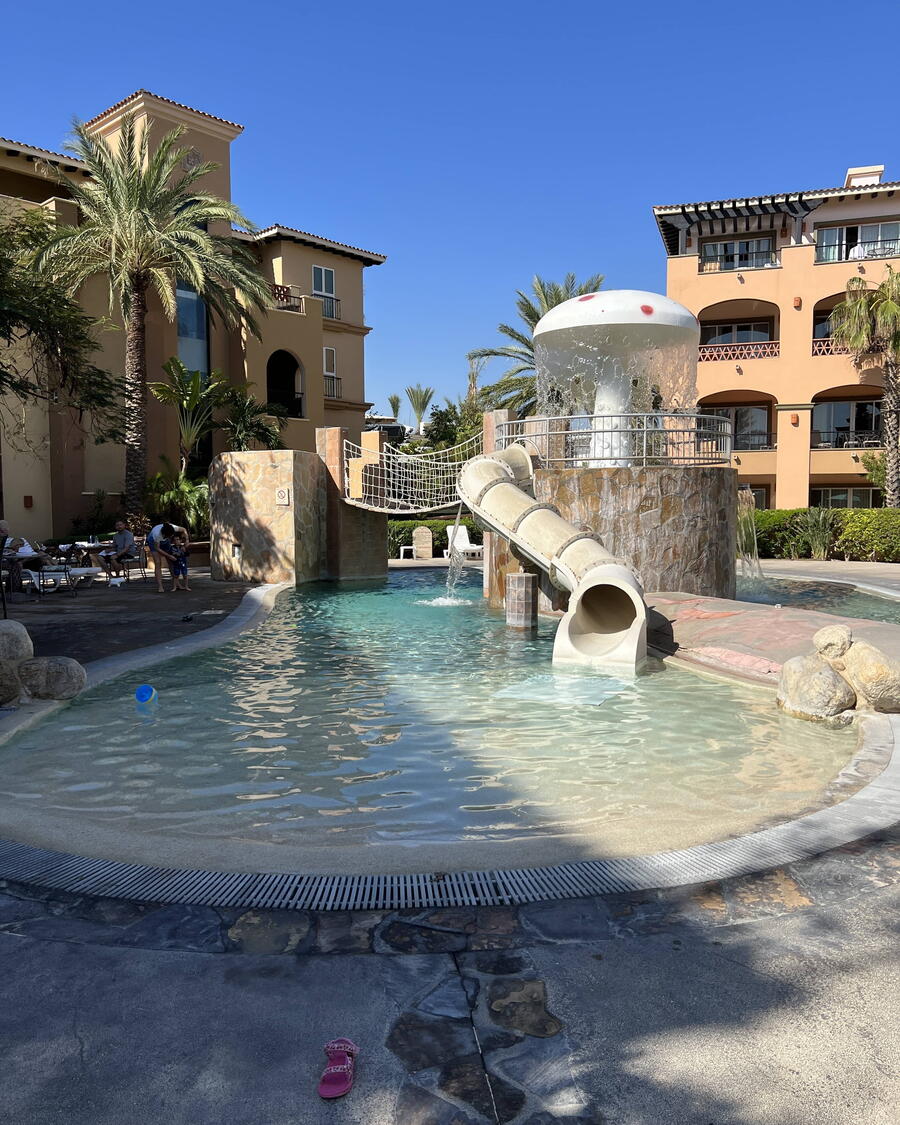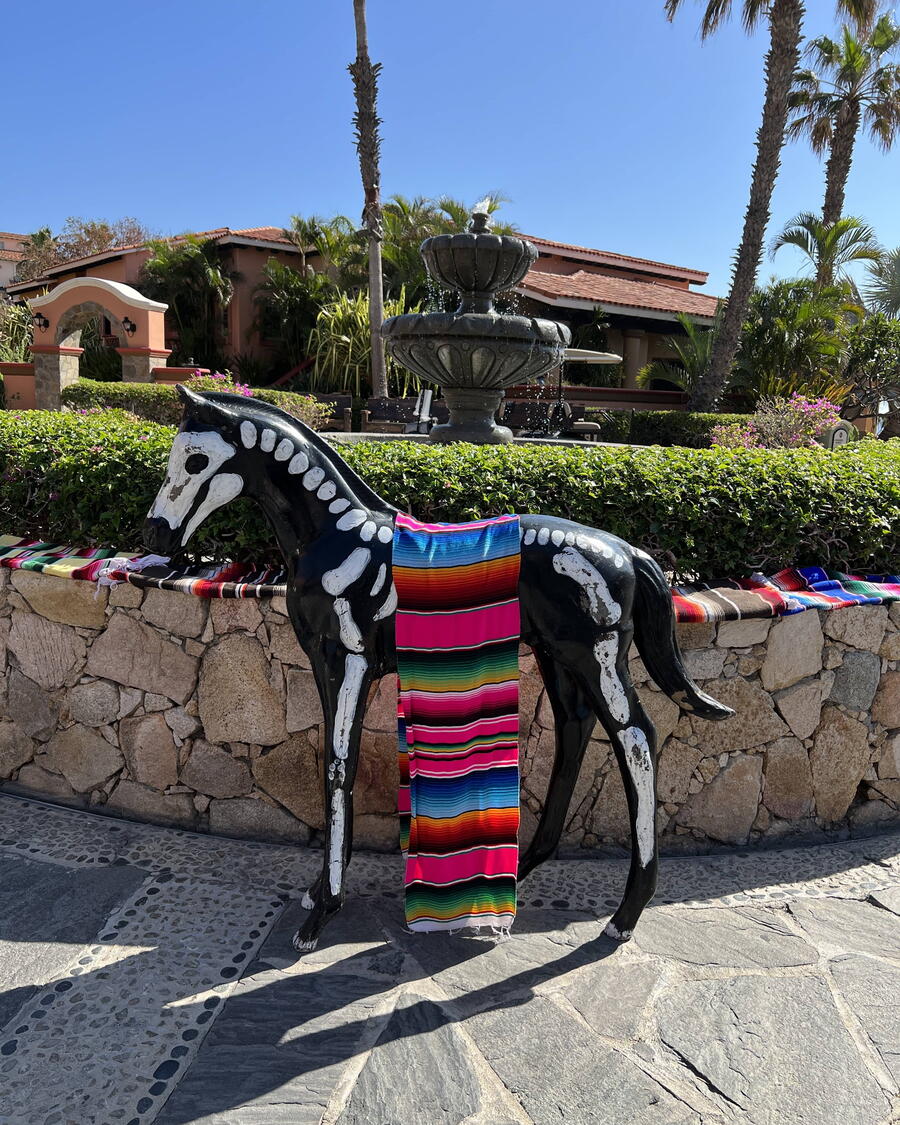 The facilities and amenities
With five different pools, a spa and fitness center, shops, a kids' club, and a beautiful oceanside palapas with a lush green lawn, Hacienda del Mar has plenty to keep guests busy…or just relaxing. The main oceanfront infinity pool seems to hang out over a cliff above the ocean, giving a dramatic presentation. Each of them has tropical foliage surrounding them and bridges to swim under.
I entered the fitness center, which initially appeared well-equipped, but many of the cardio machines were not operational. Part of the weight training area was also cordoned off for construction; one day, the floor was covered in puddles. I still managed to get a decent workout in on most days. Next door, I enjoyed an hour-long massage in the spa, which also had jacuzzi pools, sauna and steam rooms.
The friendly staff can arrange for guests to go into nearby Cabo San Lucas by shuttle bus, rent a car, or book one of the many adventure-oriented activities in the area. If I had been alone, I probably would have relied on their services more. There are also plenty of things to do around the resort. Our group enjoyed a wine-tasting and painting class near the palapas.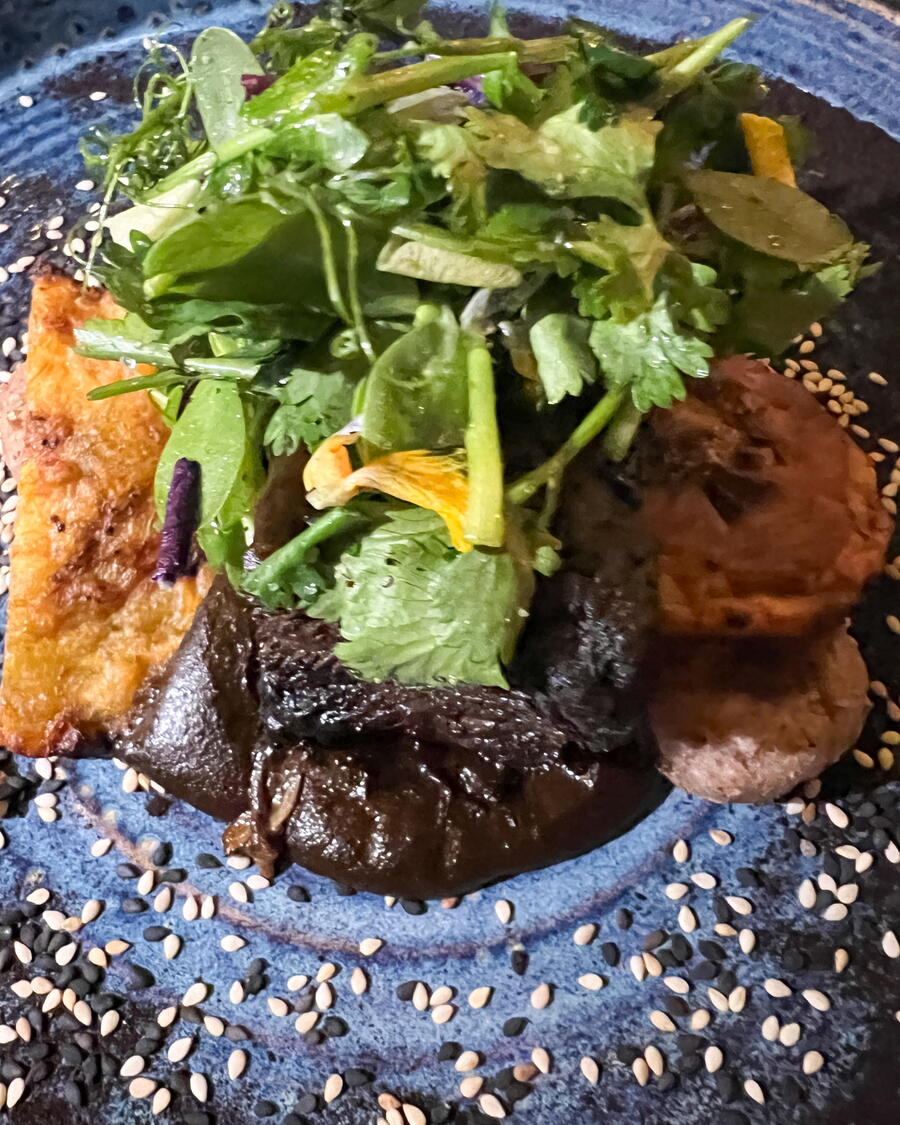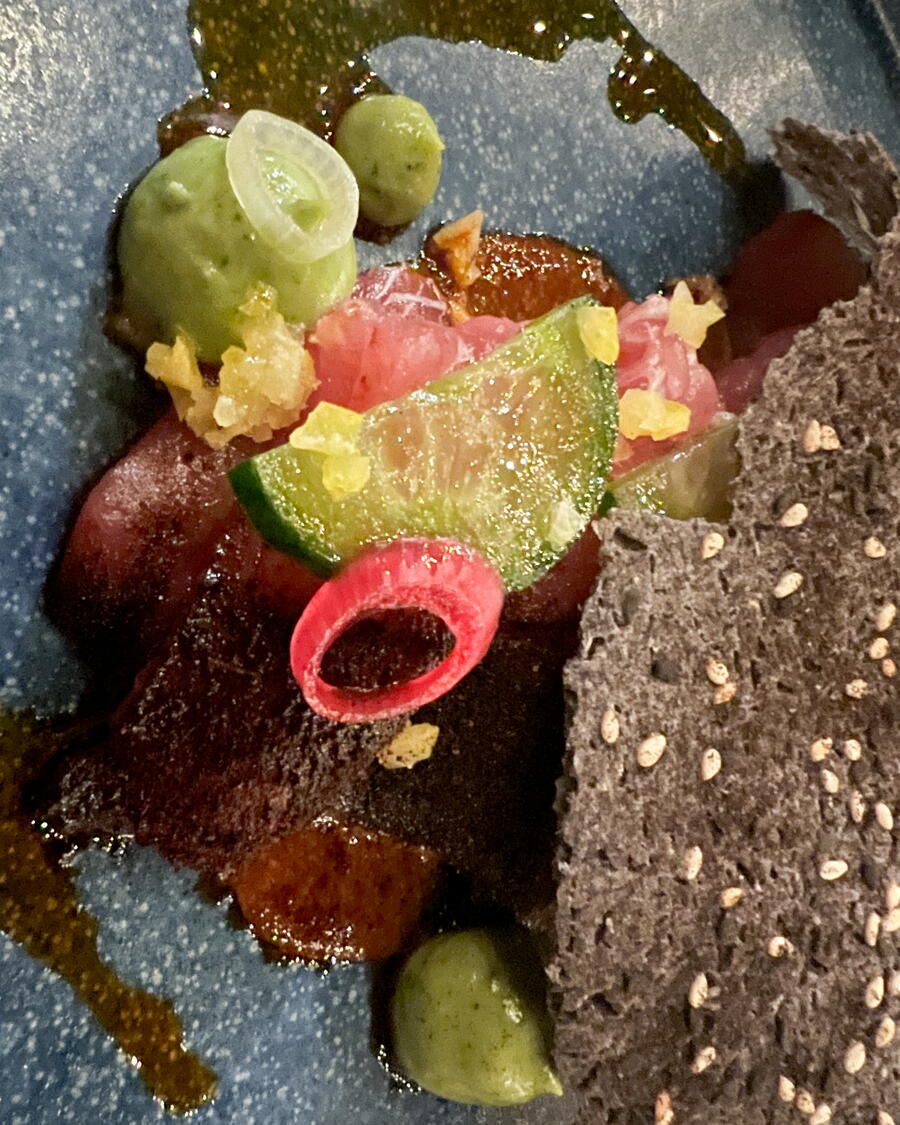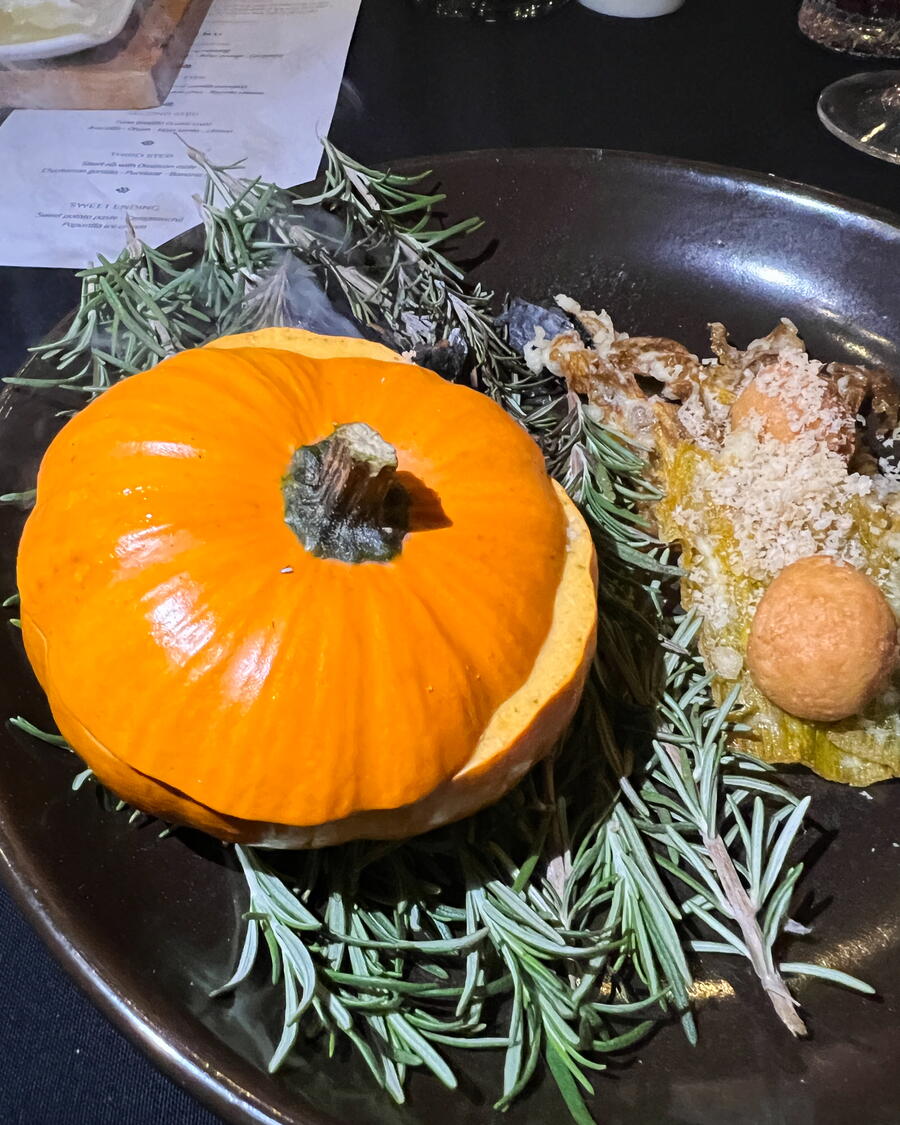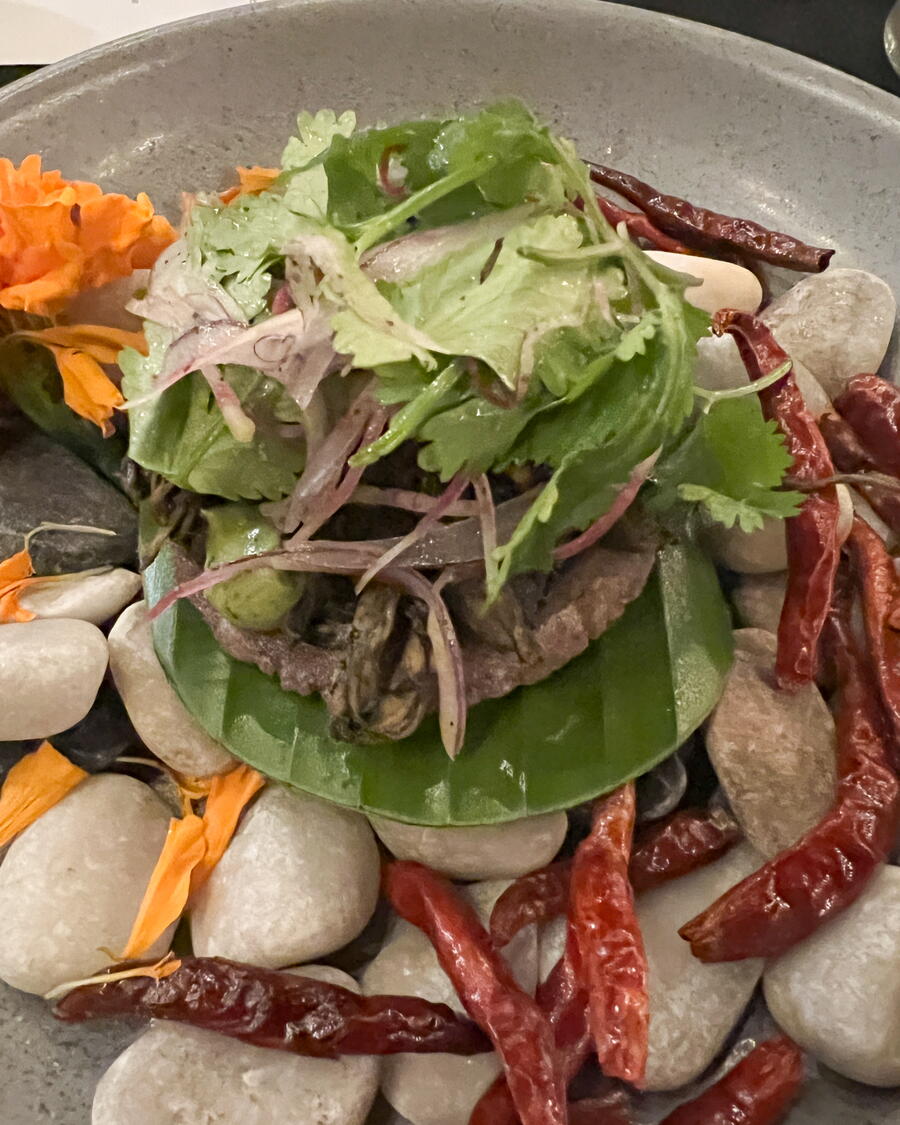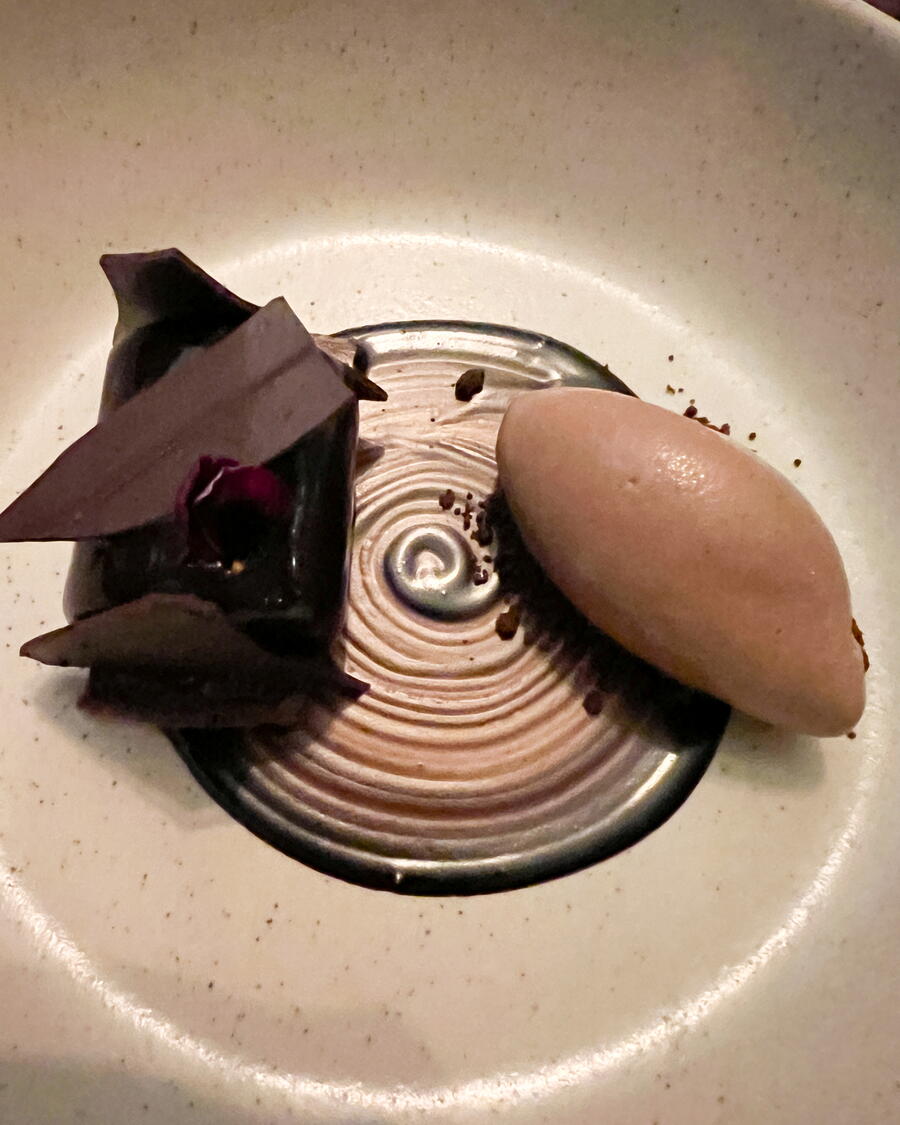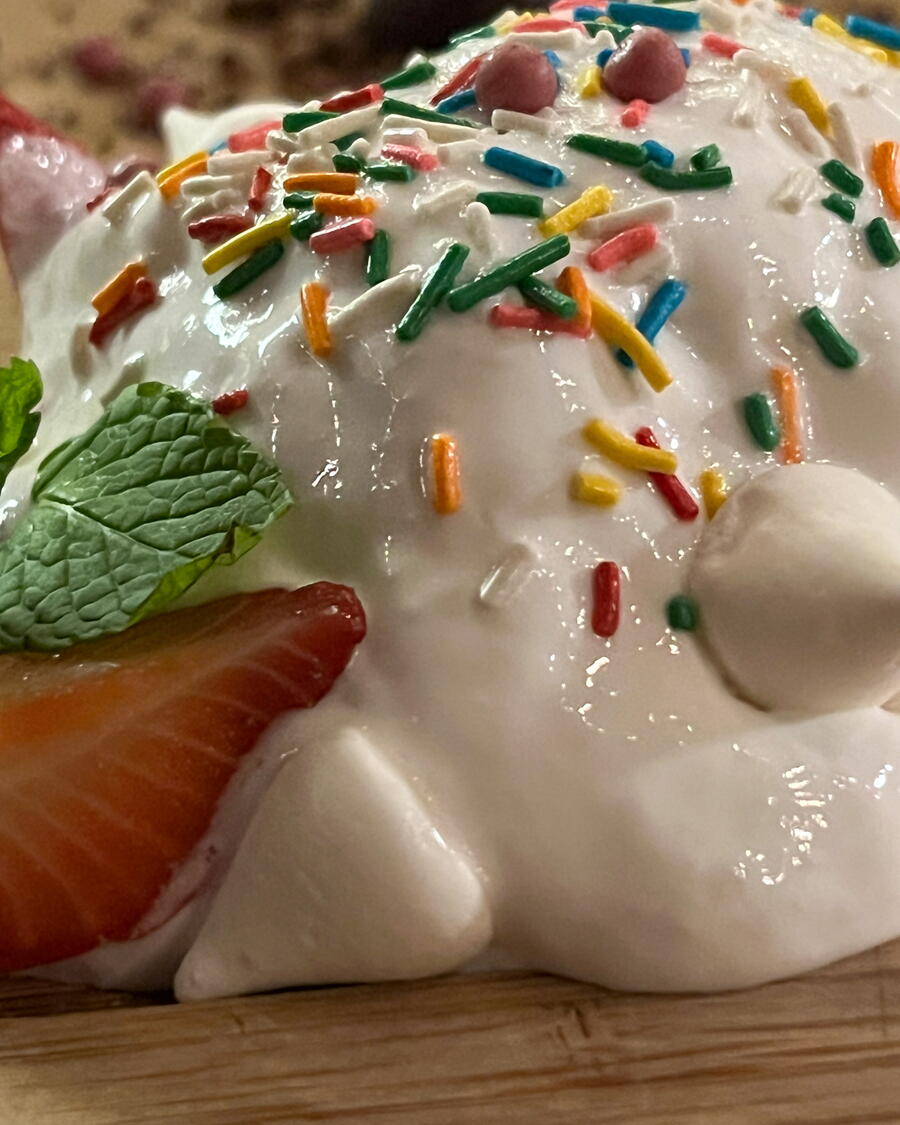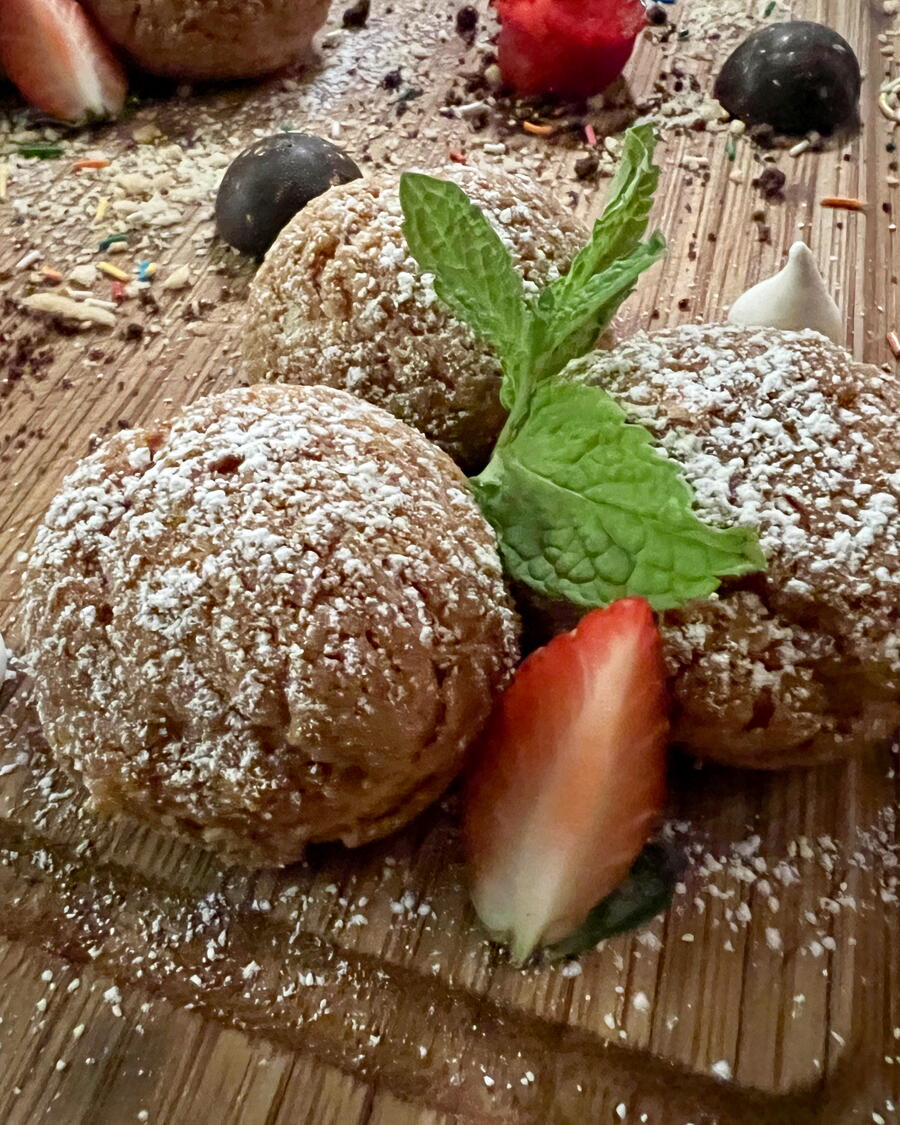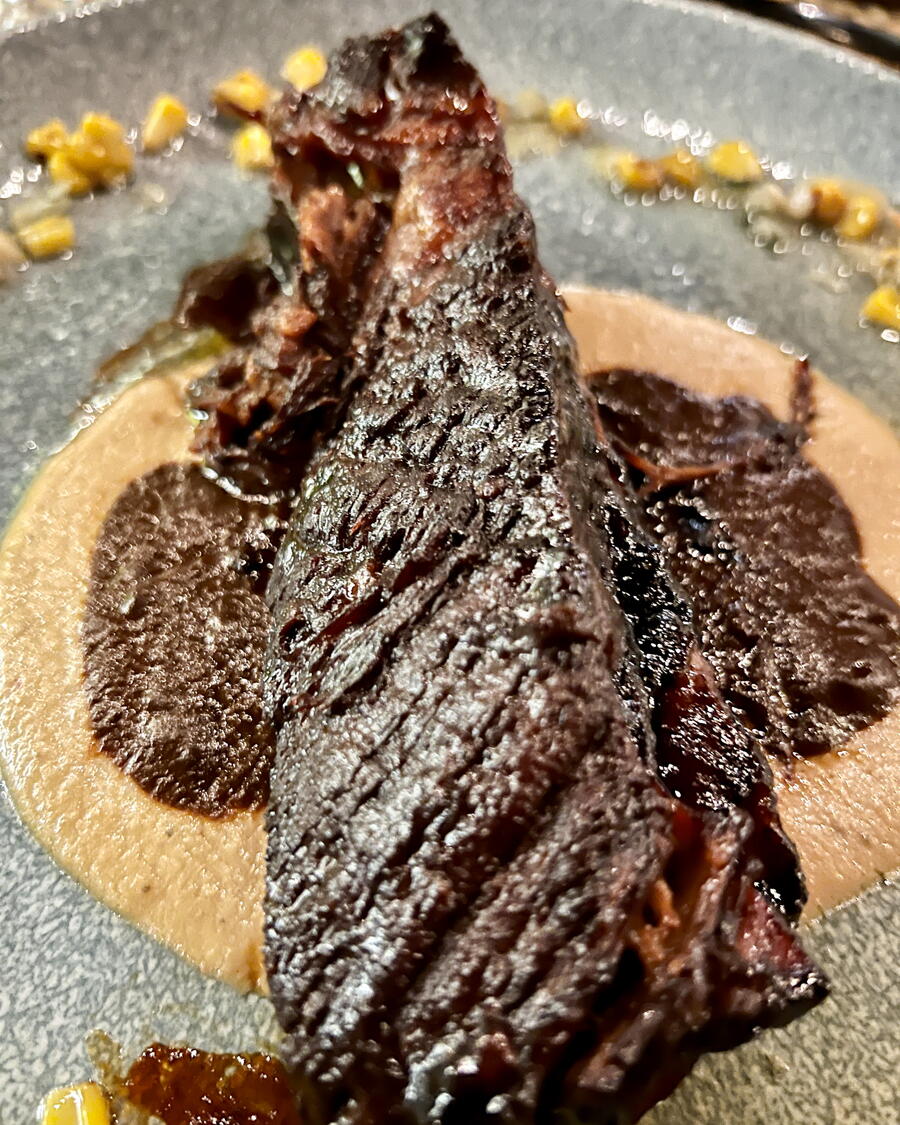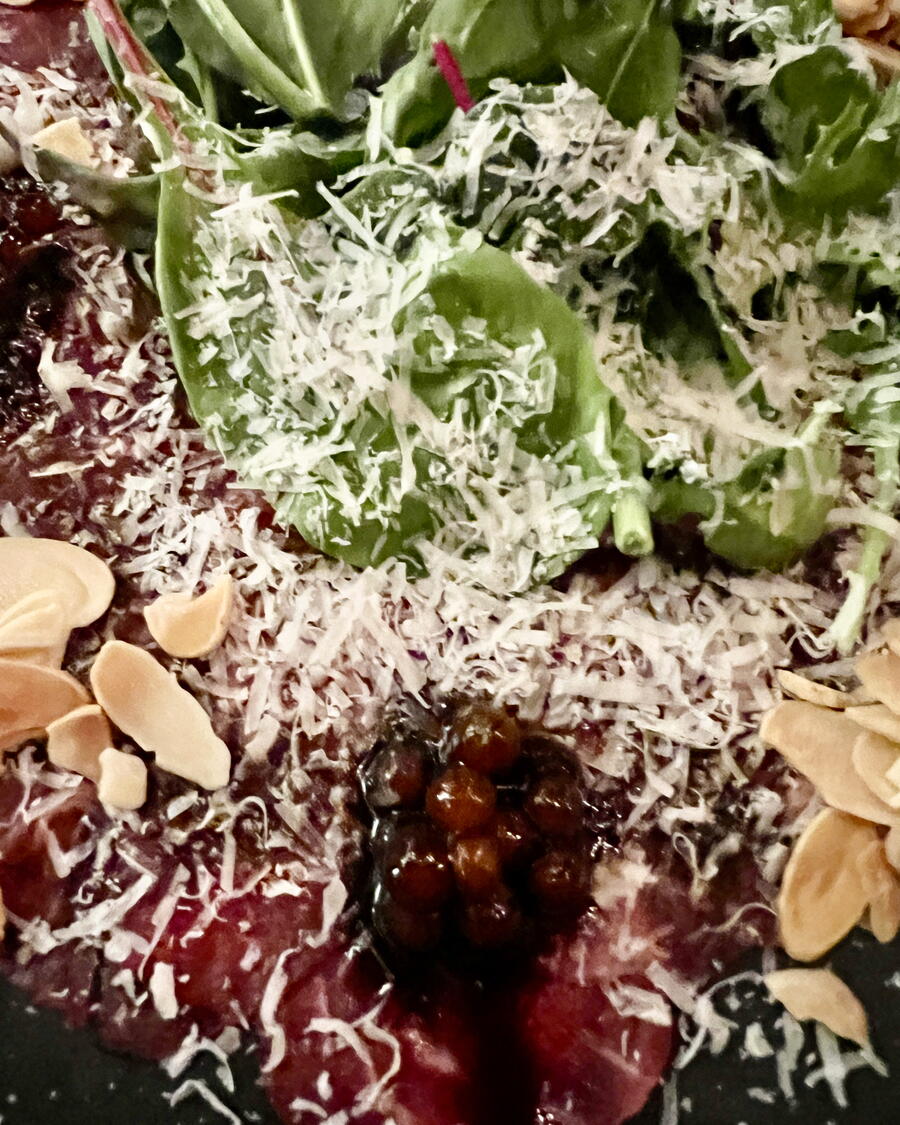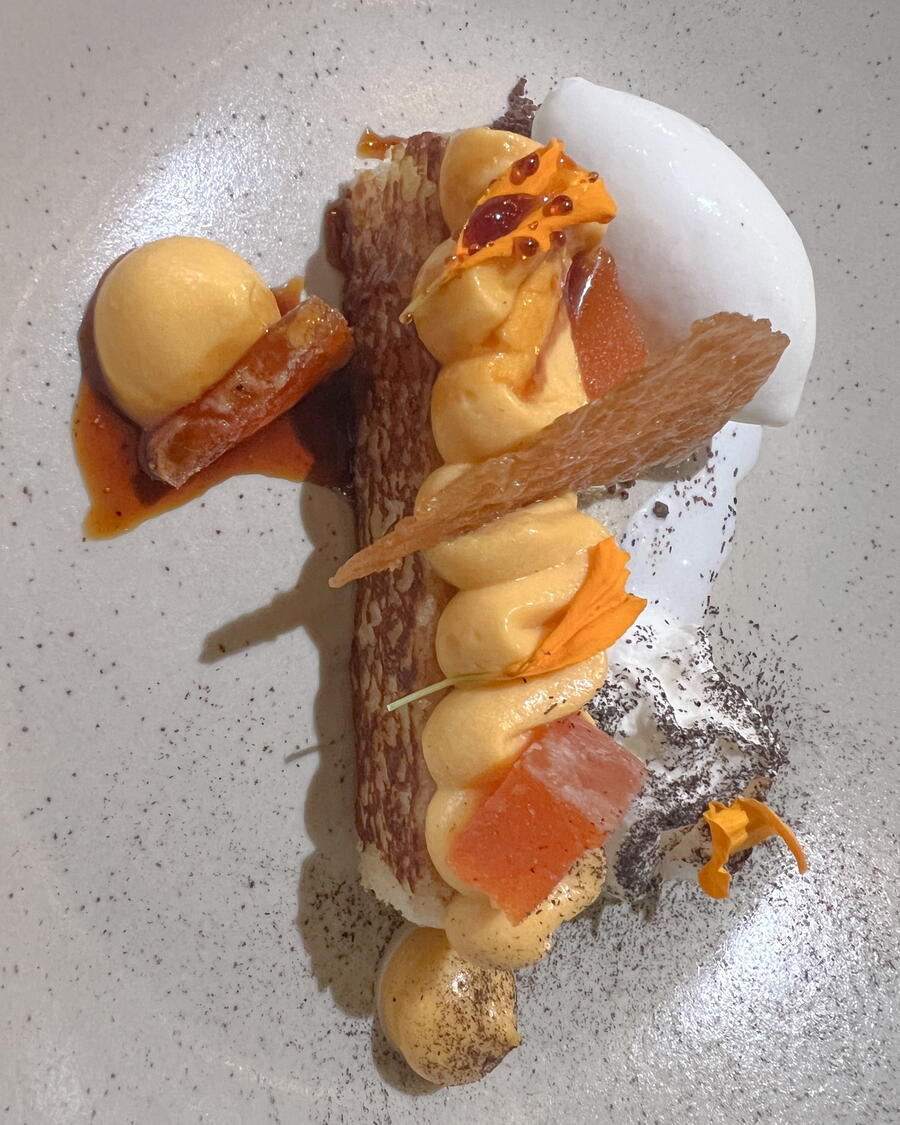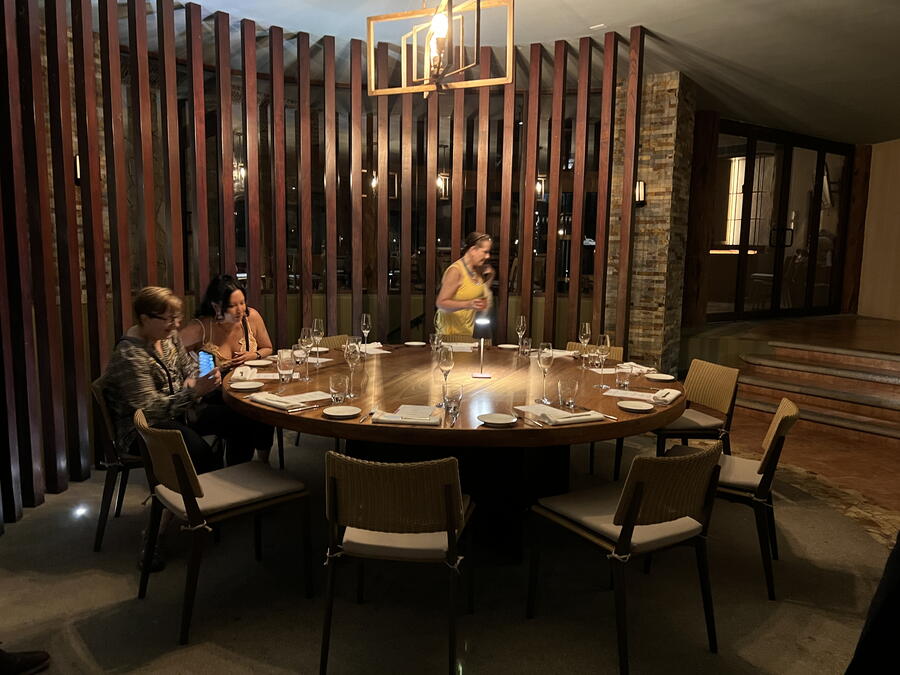 Pitahayas/De Cortez
The fine dining eateries at Hacienda del Mar, De Cortez and Pitahayas are on either side of the resort next to the seashore, making for an inviting culinary experience. 
De Cortez features grilled meats and fish with different vegetable sides and sauces. We chose our entrees during our meal, while the starters and desserts were pre-selected. These included grilled Roman lettuce (essentially a Caesar salad). beef carpaccio, oysters, mesquite grilled octopus, caprese flatbread, baba au rhum, wild grilled berries with a sabayon and ice cream. I chose a mushroom risotto, which unfortunately did not have much flavor. But just about everything else was fantastic, with smoky flavors combined with briny seafood.
Pitahayas is slightly more elegant with creative offerings. But with both of our wine-paired meals, we dined on a specially developed menu. My favorites were seabass with chile crust and ginger, eggplant puree, spinach and dashi broth on the first night and just about everything on the second. But if I had to choose, it would be the cream of Castille pumpkin soup and short rib with Oaxacan mole.
The resort's sommelier, Cristopher, held the wine dining pairings and the painting/wine-tasting activity. He also gave us a tour of the underground stone wine cellar, which can host a special intimate dinner for parties up to eight.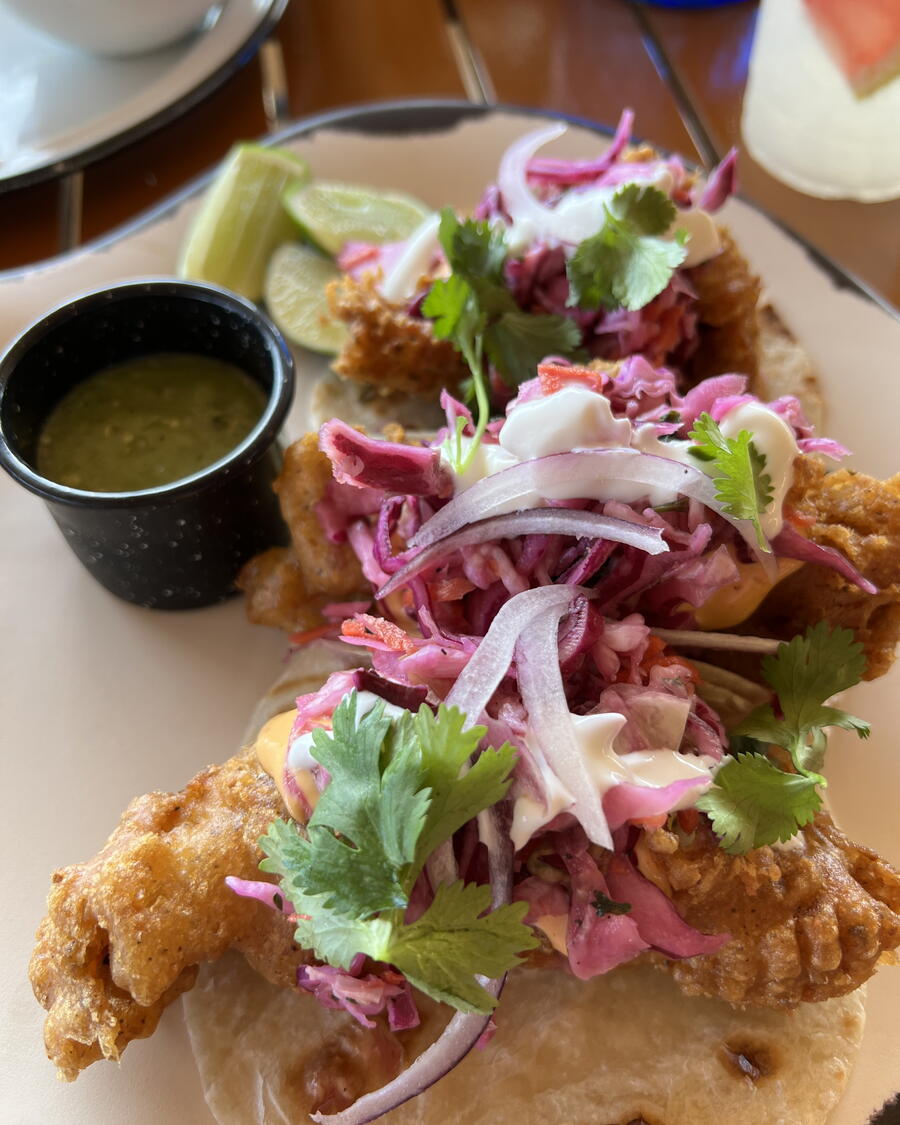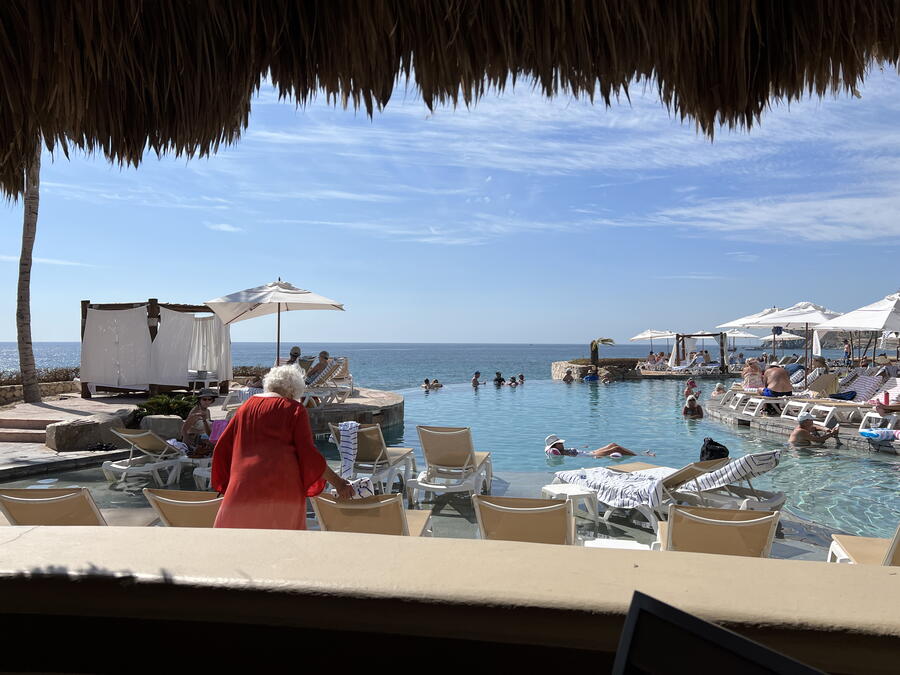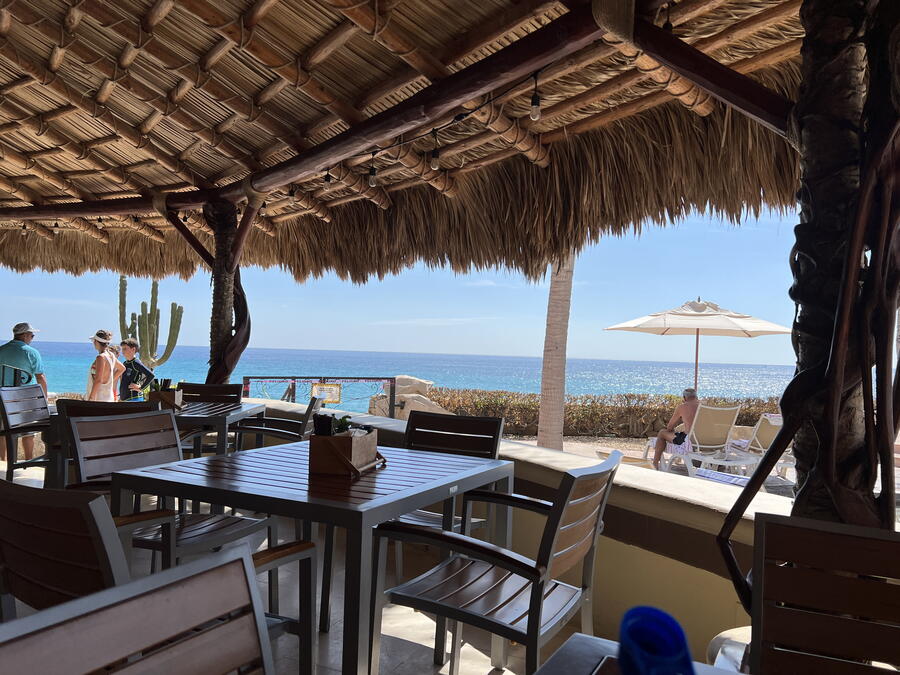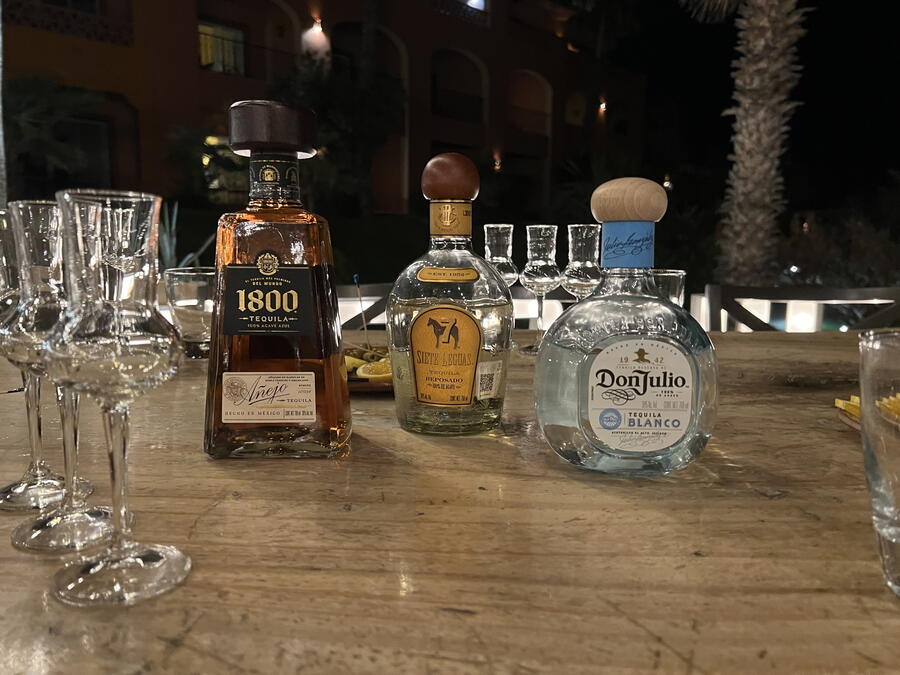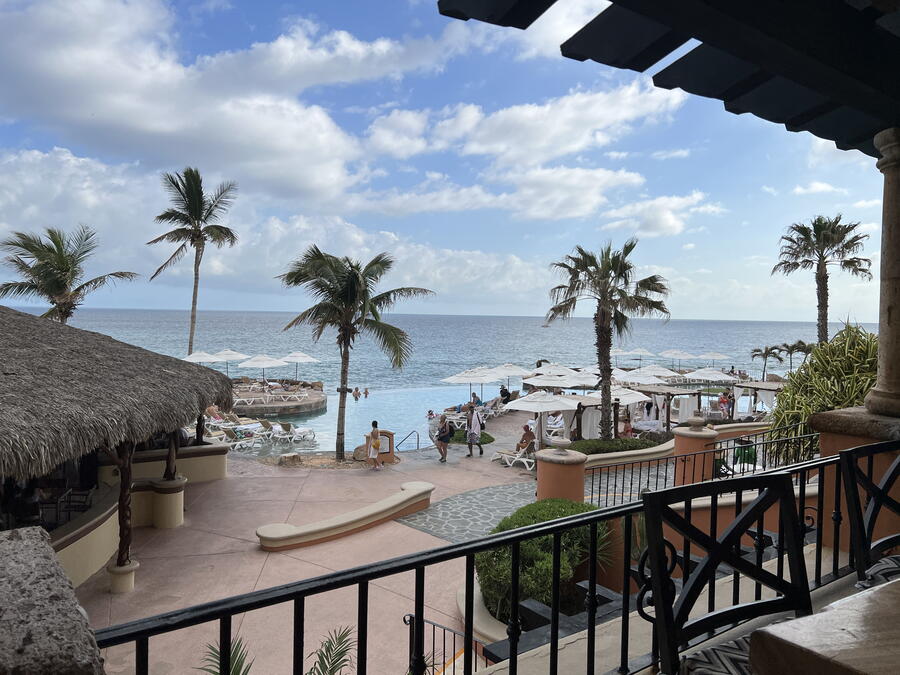 Tomates/El Burro Cansado/Sirenas
The other three eateries at Hacienda del Mar are designed for more casual dining. Tomates has a daily breakfast buffet, where most guests sit out on the terrace overlooking the Pacific. They also serve lunch and dinner, but we did not go there then. The best things here are the made-to-order omelet bar and the outside grill serving quesadillas and sopes.
Across the courtyard from Tomates is El Burro Cansado. It offers mostly tacos with freshly grilled meats stand near the dining area. This is the place to come if you want tequila or mezcal straight up in a shot or glass.  I enjoyed the rib eye and chicken tinga tacos and guacamole, pico de gallo and chips.  While there aren't many cocktails offered, my favorite was the Mezcalito, with mezcal, lemon, menta and mineral water.
Sirenas is an open palapa dining area that has a wide selection of American and Mexican foods. I ordered some Baja fish tacos with a light crispy beer batter and slaw. The fillets were so large, they almost didn't fit the tortilla. But I would definitely order these again if I return to the resort.