The phrase "Taco Tuesday" has become so common that even places where Mexican food isn't prevalent serve up this dish on the third day of the week.
I once saw an Irish pub in the Los Angeles that advertised corned beef and cabbage tacos for its Tuesday special. Yes, they were and Irish Taco Tuesday special. Hmmm...
Well, maybe that place was trying a bit too hard. But nearly everyone can appreciate a good taco, especially when all the ingredients freshly created and prepared, with flavorfully spiced grilled proteins, vibrant veggies, piquant sauces and from-scratch tortillas.  Add a refreshing margarita or other preferred cocktail, and you've got one of life's perfect meals.
RAS and I just happened to go to one of the newest local taco eateries near our home last Taco Tuesday, Guapo Taco. It took the place of another modern Mex restaurant, Los Chingones, which likely became another COVID business casualty. We enjoyed that place and were skeptical of this new eatery. That is, until I heard people in my networking groups talk about how amazing the food was, so I convinced him to give it a try.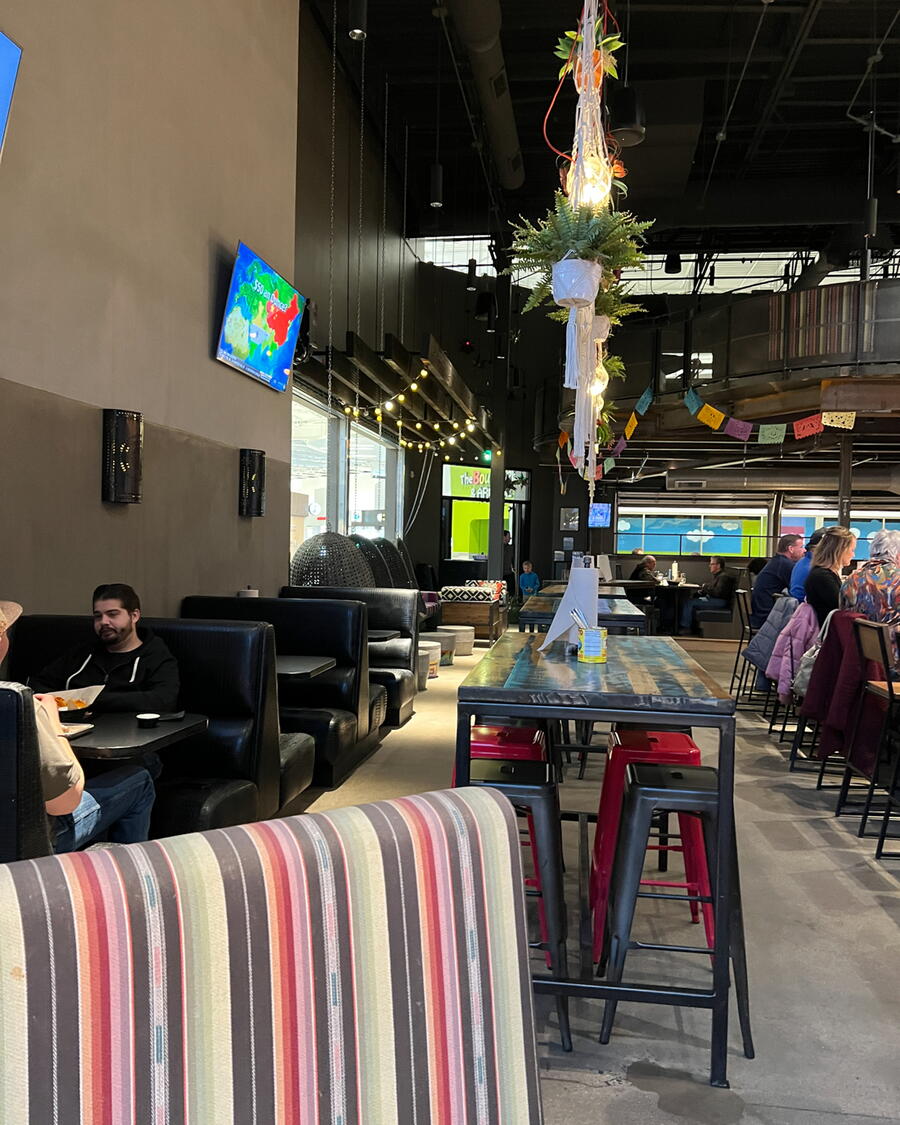 Elevated mall eatery
Guapo Taco is in the Colorado Mills mall in Lakewood CO, which seems to be a site of doom for restaurants. Los Chingones only lasted two years in that location, and before that was a California Pizza Kitchen for about ten years. You could technically call Guapo mall food, but it's so much better than that, so I hope they can break the curse.
The décor borrows from its predecessor, right down to the basket swing chairs behind the hosting podium. It's a bit darker in appearance, but perhaps that was just an aesthetic decision from the owners. Overall, it's an Ensenada cantina meets an industrial factory, with flashy bits of color in between, especially with the large mural over the orange-shelved bar.
RAS and I sat near the bar in a booth that's adjacent to an indoor/outdoor seating area. Since we visited on a cold March evening, the accordion doors to the outside patio were not open, but we could imagine how inviting it will be when summertime's warm air and longer days roll around.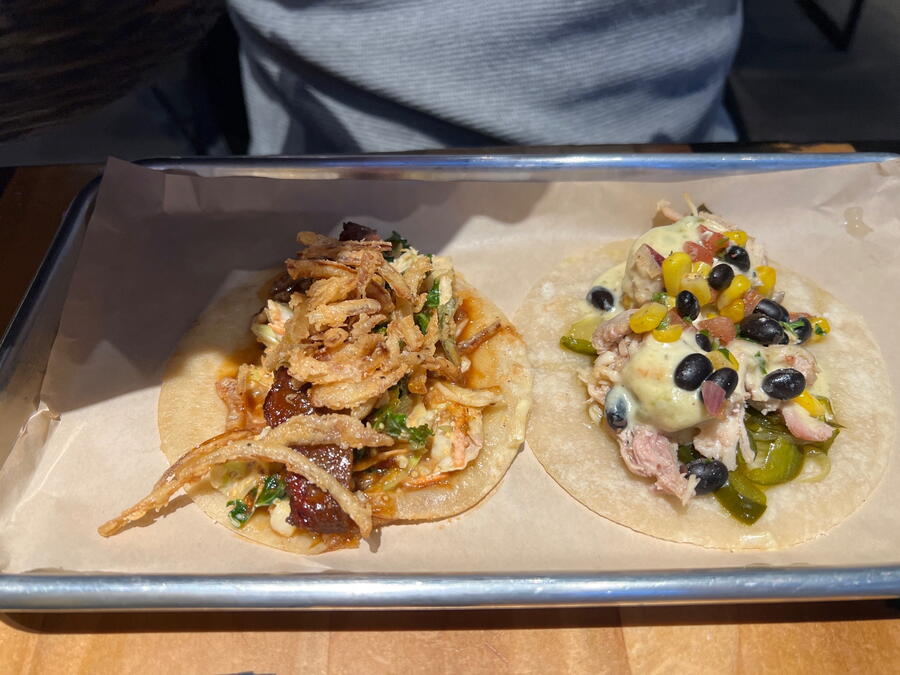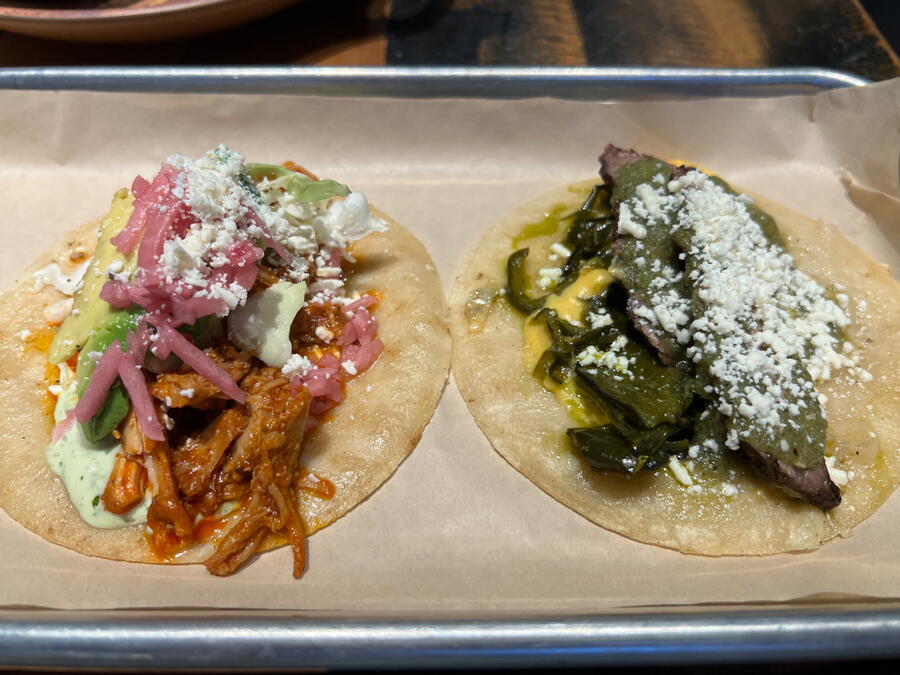 Choose your own taco adventure
With so many places to go for good to great Mexican food in our area, I wondered what made Guapo Taco different. You can order tacos a la carte, in whatever quantity and type you like. There are nine meat (carne), four chicken (pollo), four seafood and two vegetarian kinds, along with plenty of starters and the traditional sides of rice and beans.
Four of the starters would be common to any Mexican restaurant – guacamole, nachos, queso and tortilla soup. Three others were unique. These included corn ribs with elote seasoning, flash fried brussel sprouts with roasted piquillo and jalapeno jam, pickled red onions and cotija cheese, and a house-made version of nacho cheese tortilla chips. Unfortunately, I didn't get to try these, but I'm certain that I will eventually.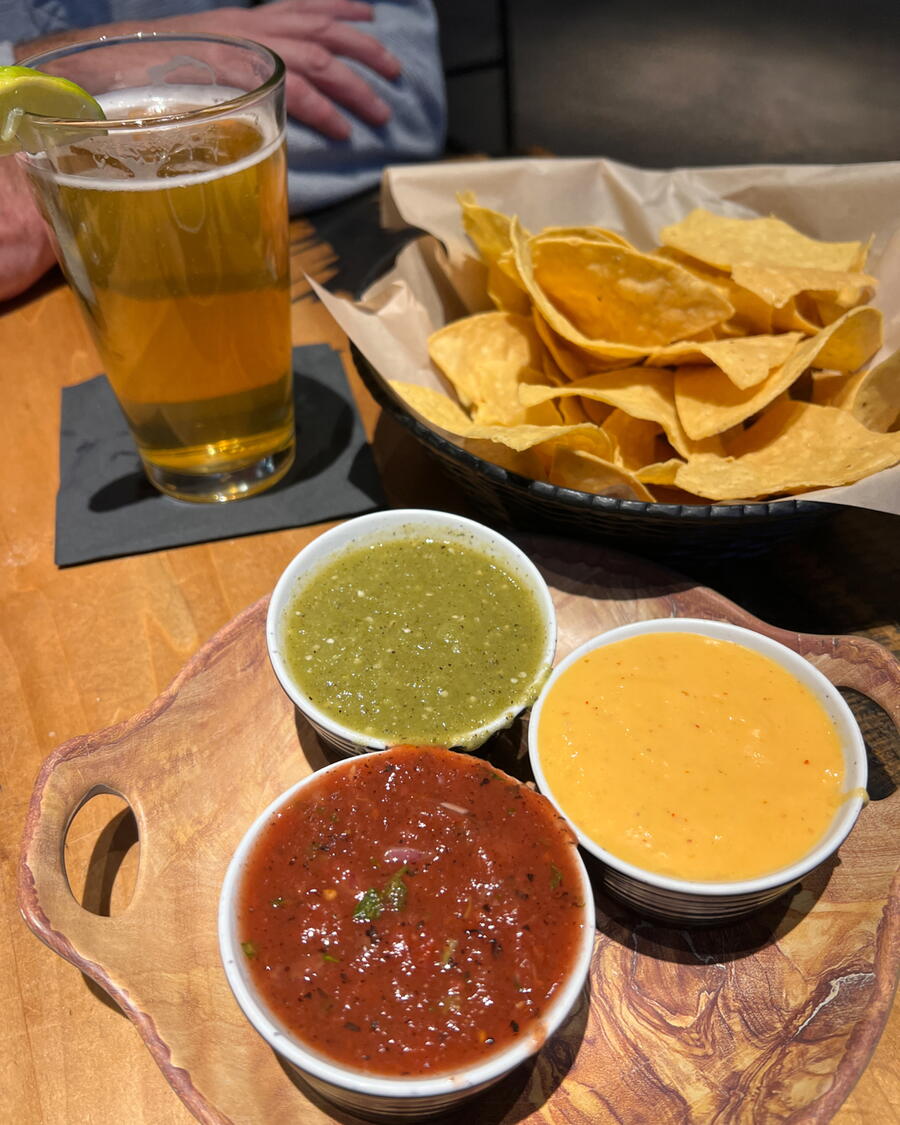 For the Taco Tuesday special, Guapo offers their own take on the usual chips and salsa basket. You can choose one or three flavors from their six. We chose the traditional (tomato based with onions, cilantro and chiles), tomatillo and mango chipotle, and each was delicious.
All our tacos were superb. The meats were marinated in citrus and spices and perfectly grilled. Each included the right garnish, like corn and black bean salsa, pickled red onion, poblano pepper, flavored crema and cotija cheese.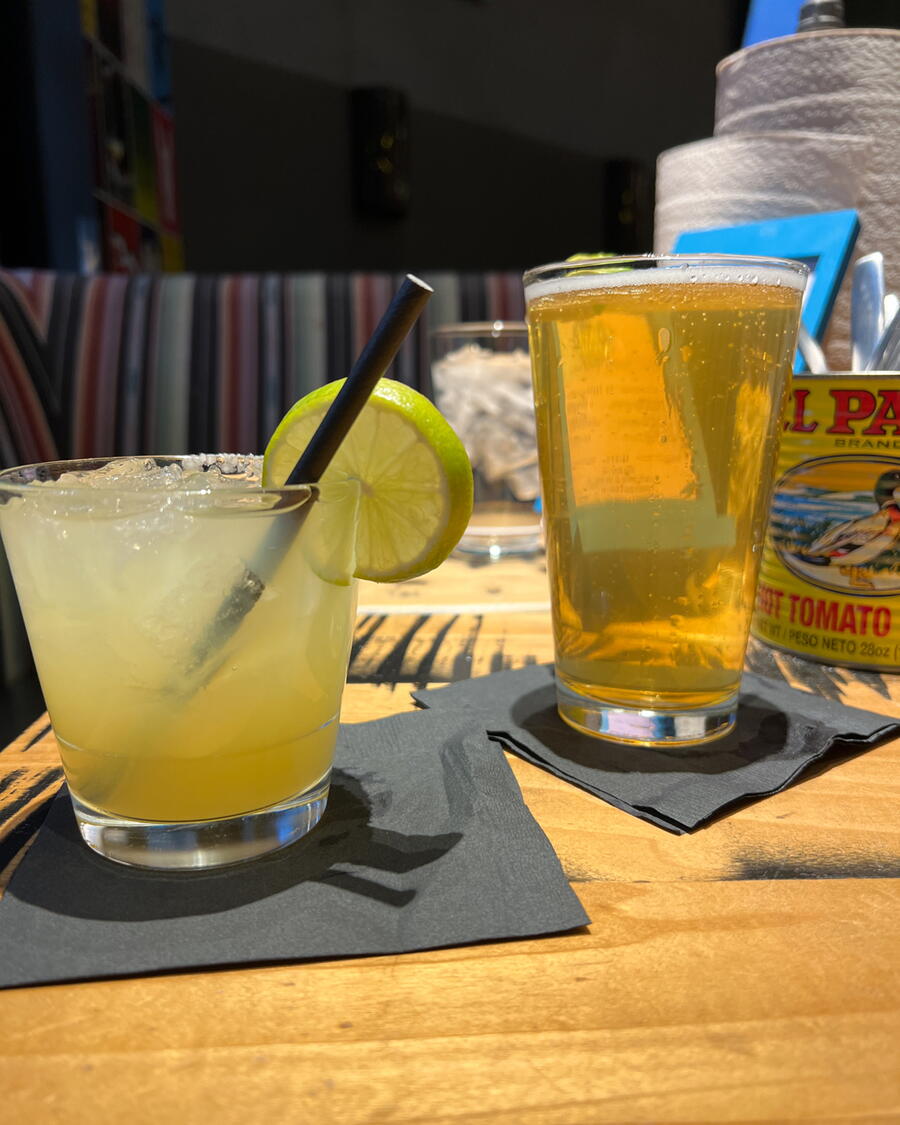 More than margaritas
When I go to a Mexican restaurant, I nearly always order a margarita. Even when a top shelf or Cadillac or coin is on the menu, I'll simply have a house variety, and it will be just as good as the more special kinds. That was the case here. The Casa de Guapo cocktail mixed blanco tequila, Cointreau, fresh orange and lime juice and agave nectar. When drink is made with these ingredients and not a pre-made mix, you can truly taste the difference.
Guapo also serves plenty of wines and liquors by the glass, non-alcoholic drinks and signature cocktails apart from their margaritas (just a note – none of the are called margaritas, but there are plenty tequila and citrus juice variations). Two that sounded particularly good that I didn't get to try were Besa Horchata (rumchata, vanilla vodka, amaretto and cinnamon sugar) and Fresa Albahaca (bourbon, strawberry, basil and lemon juice). There were at least a half dozen more that I would love to order.
This eatery just may make a second part of the best Mexican restaurants in Denver post. So far, Guapo Taco is near the top.