Last week, I wrote about my ship inspection tour of Royal Caribbean's Symphony of the Seas.  Now it's time for the other one I did on Carnival Horizon.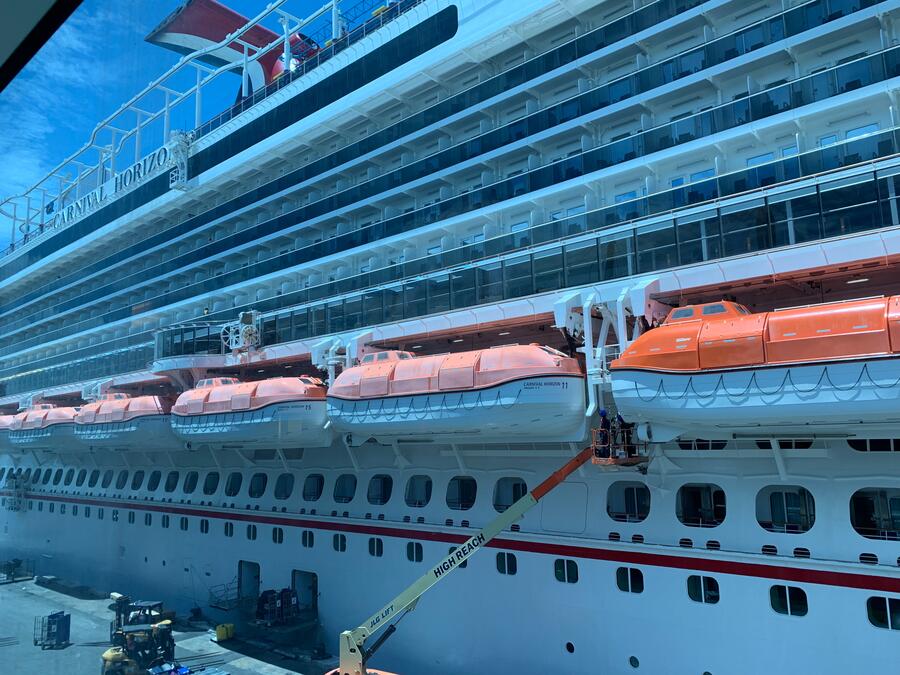 Carnival's unfortunate rep
Out of all the major cruise lines, Carnival seems to have the worst luck with public relations. Whenever ship has mechanical problems, a norovirus outbreak or people going overboard, it seems that 75% of the time, it happens on a Carnival cruise.
The other negative about Carnival is its persistent reputation as the party cruise line. While the upper management has made concerted efforts to create itineraries for everyone, mostly families, the perception remains. They still offer the most number of short "booze cruises" (3 to 4 nights) of any line, so that probably doesn't dispel any myths.
But with my second ship inspection with Cruise Planners in Miami, my views of Carnival have changed some. That's especially true with one of their newest vessels, Carnival Horizon.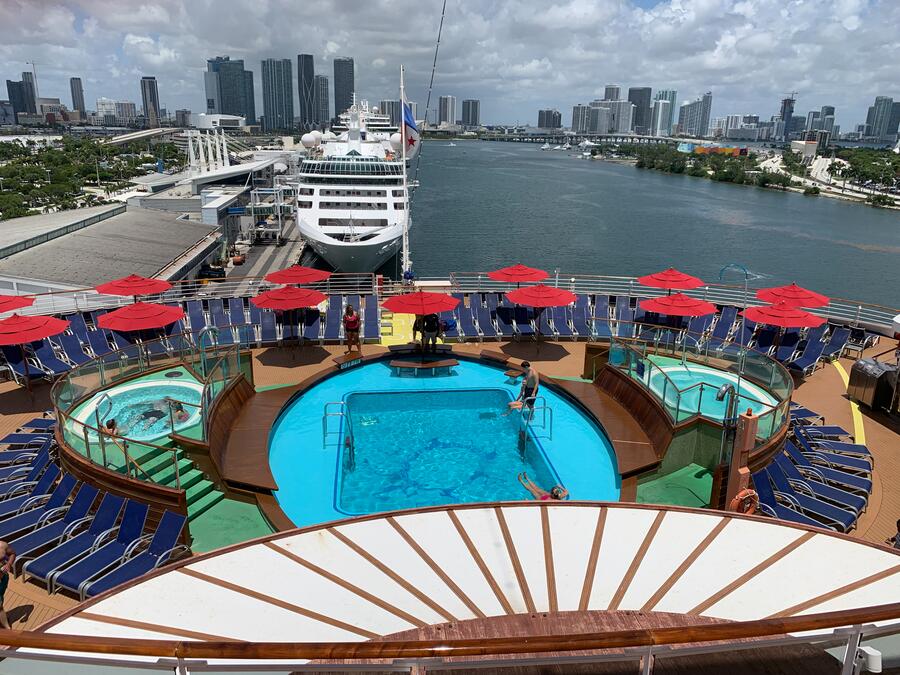 But things can change...
It's the second of three ships in the Vista class (there is also the Carnival Vista and the Carnival Panorama, debuting early next year). Their aim is to compete with Royal Caribbean's and Norwegian's feature-rich ships that will keep travelers busy both onboard and onshore. Simply from the tour, I observed a cruise ship that I personally wouldn't mind sailing.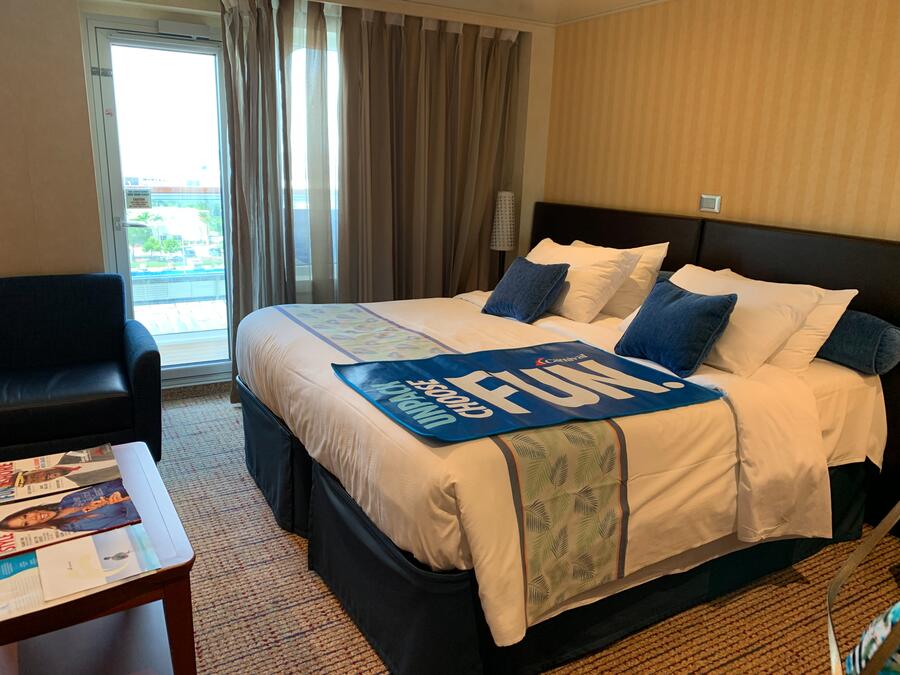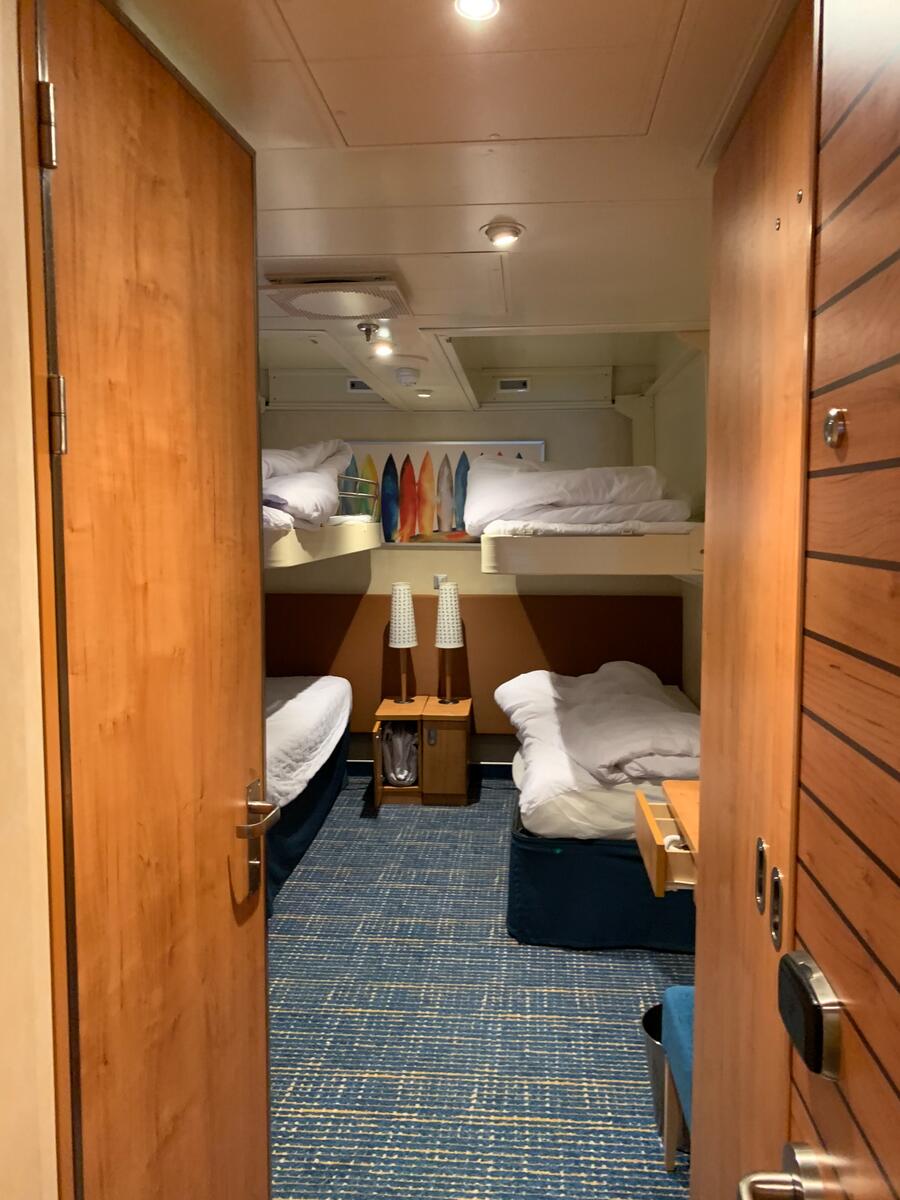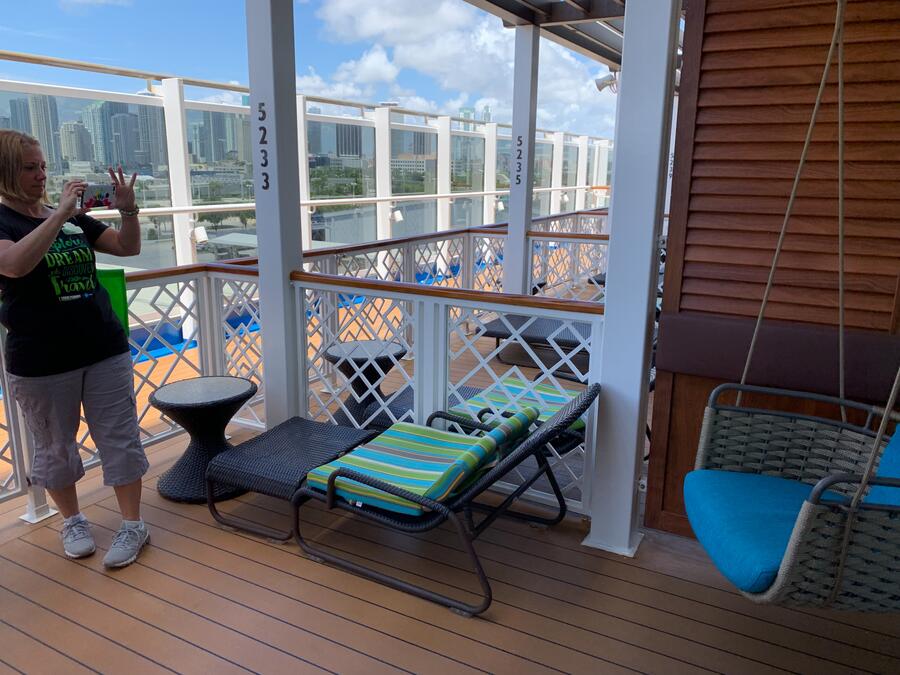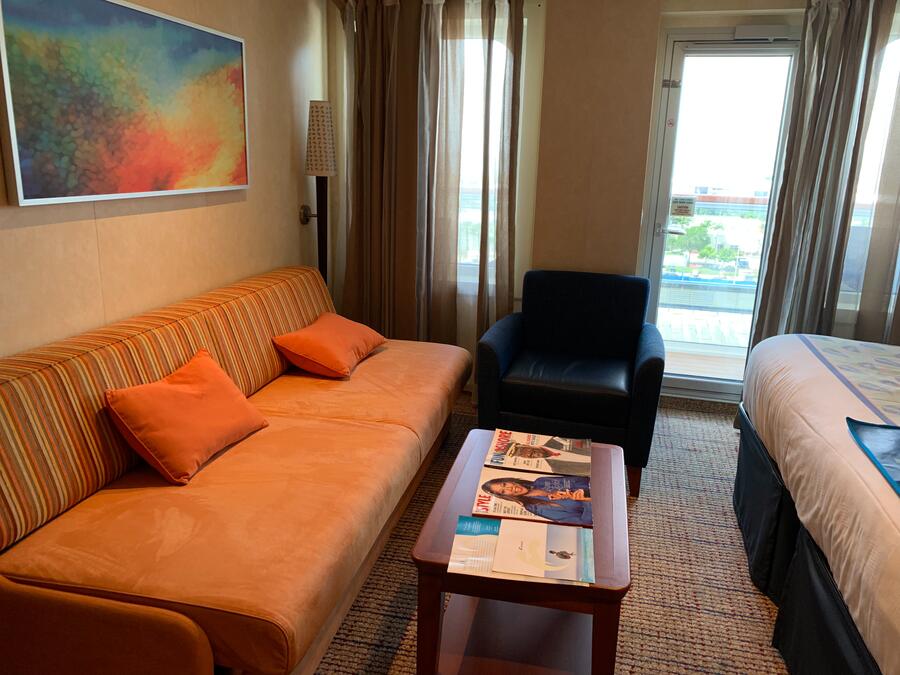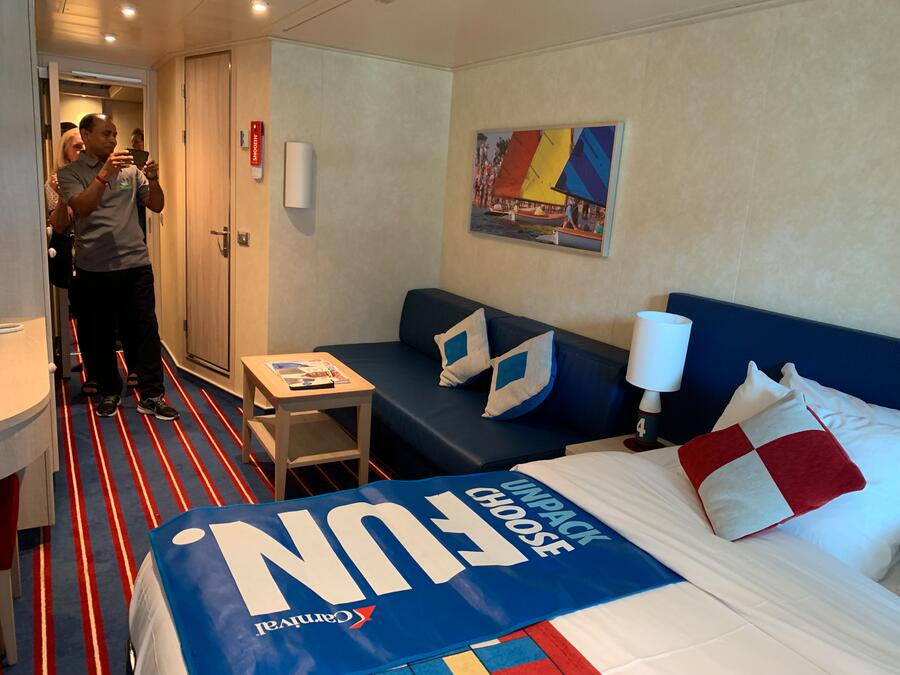 Unlike the previous day on RC's Symphony of the Seas, we started with looking in on about a dozen staterooms, from interiors to suites. In my opinion, the best of these was the Havana Cabana, which is part of the Havana section of the ship. These rooms sport a decidedly Caribbean feel, with bright tropical colors and wood accents. Each suite also their own open patio. Only those staying in this area have access to a pool and hot tub area, as well as bar.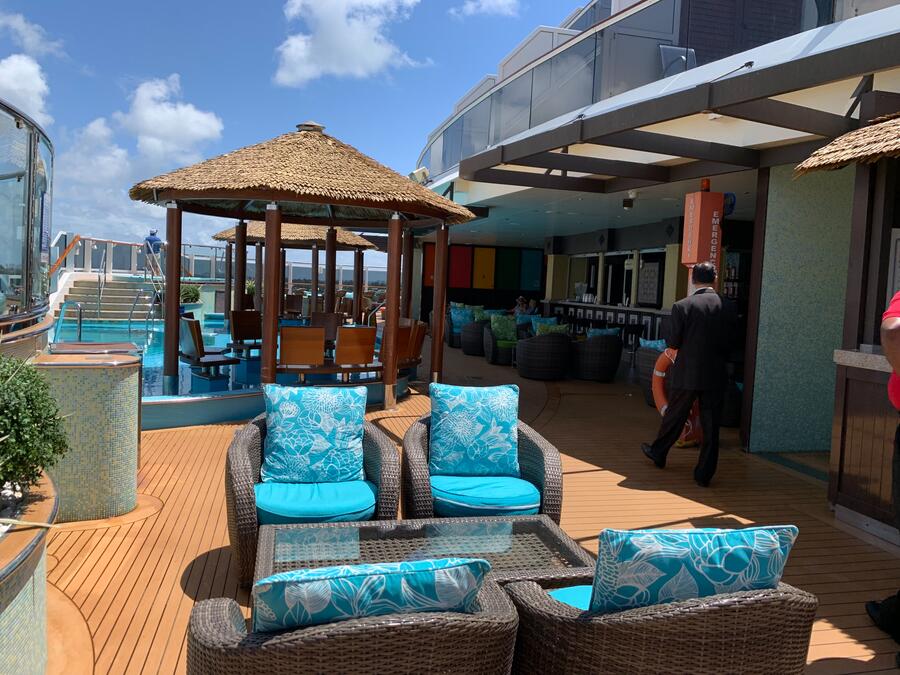 The Carnival Vista has a gross tonnage of 133,500 and a maximum passenger capacity of 3,916. This means that even with this many people on board, it's relatively spacious. I think the only time when I felt crowds around us was when everyone wanted to have lunch in the buffet and on the main pool deck, where Guy Fieri's burgers and a taqueria were.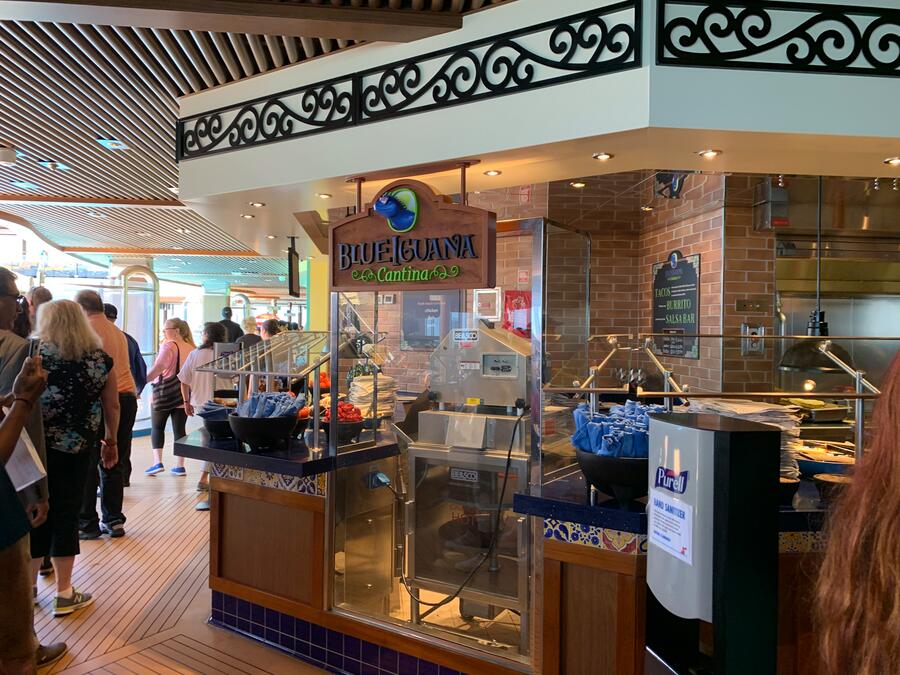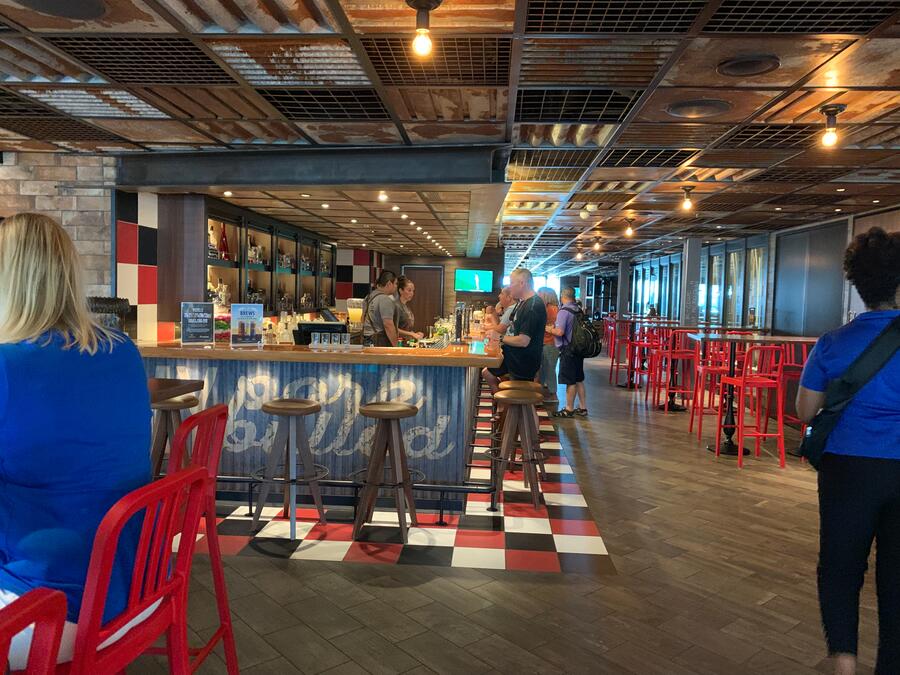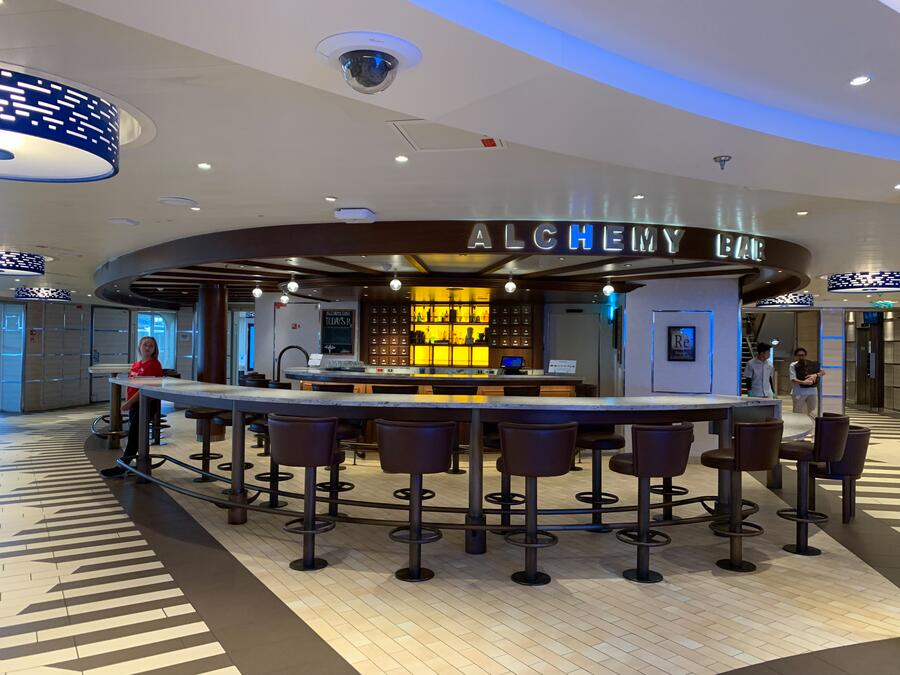 Something for everyone
Just above this deck was the kiddie pool and waterslide area, decked out in a crazy Dr. Seuss motif. Inside was the Cloud 9 Spa and the spa staterooms which allow special privileges for those staying in those cabins.
The spa itself wasn't too shabby, and neither was the adjacent gym and health club.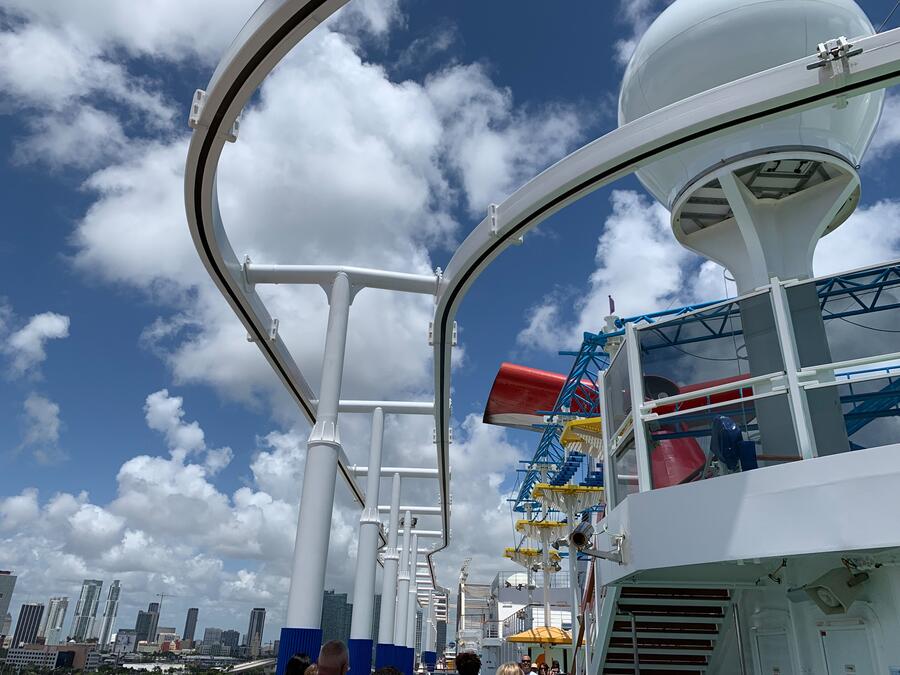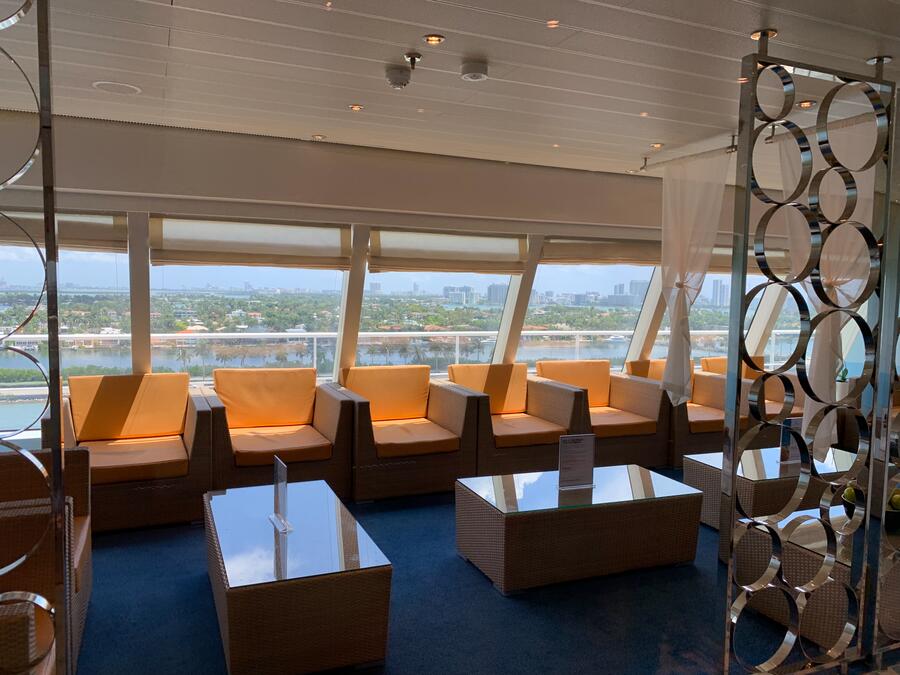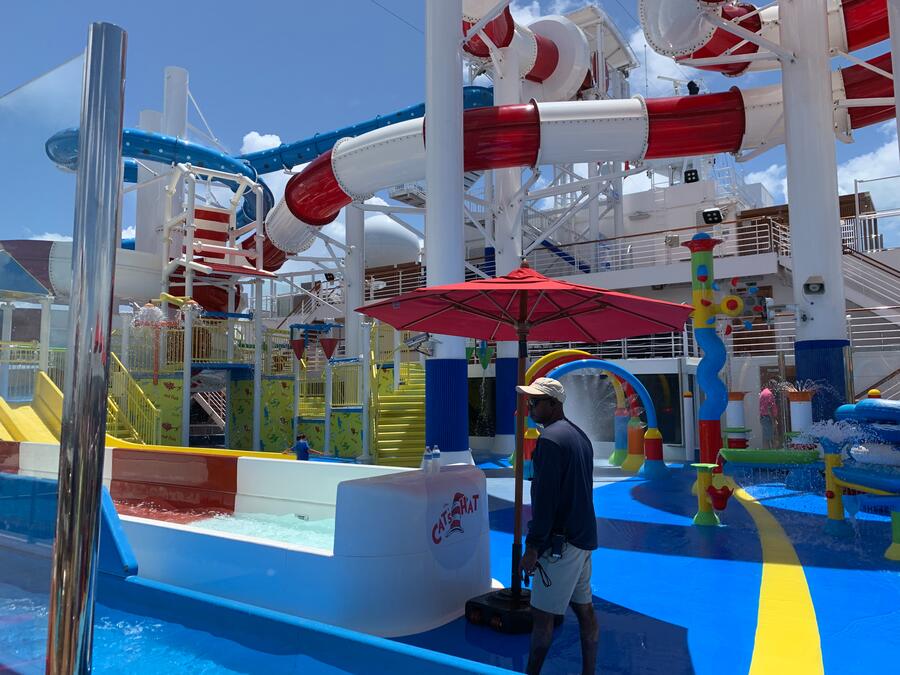 Carnival Vista's sports and recreation deck offers the standard sports court and running track. But it also boasts two very unique attractions: a ropes course and a sky ride, which has two pedal-powered cars on separate tracks. One of them is directly over the water, and definitely not for the wimpy.
The culinary options on Carnival are better than most people would think. They are often rated near or at the top of cruise travel lists. On the Horizon, the specialty dining is all in one area. The two-level main dining room was where we ended up for lunch, which was surprisingly tasty and visually appealing.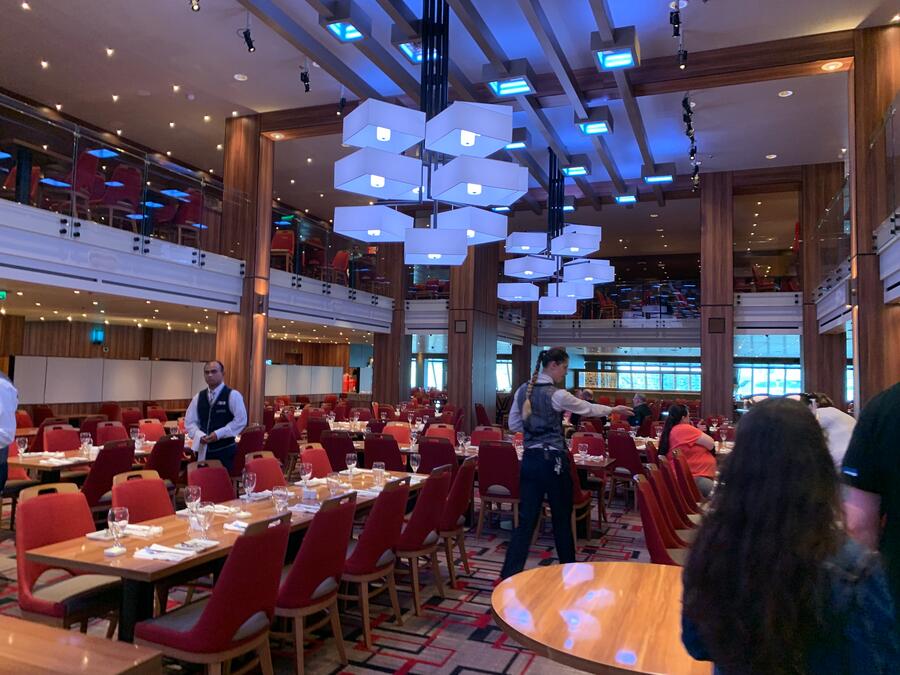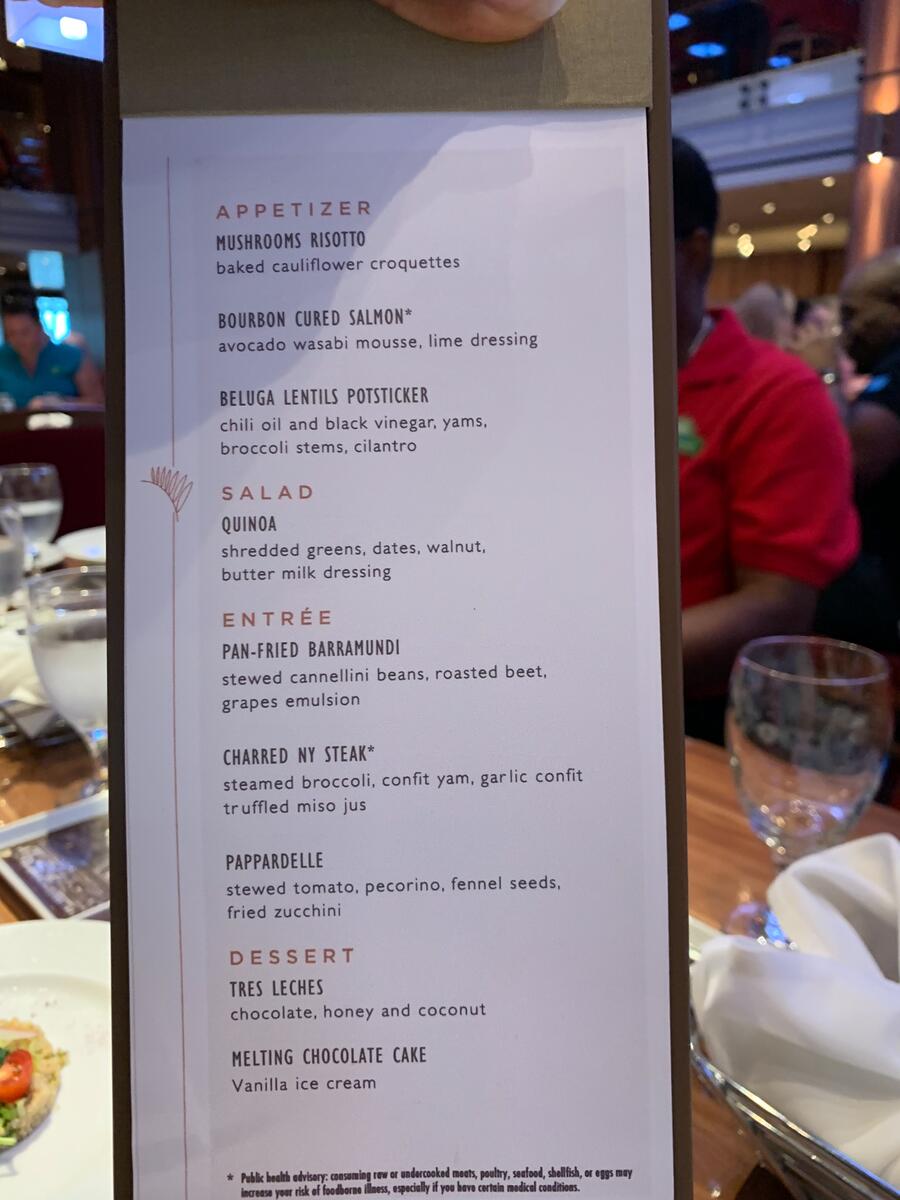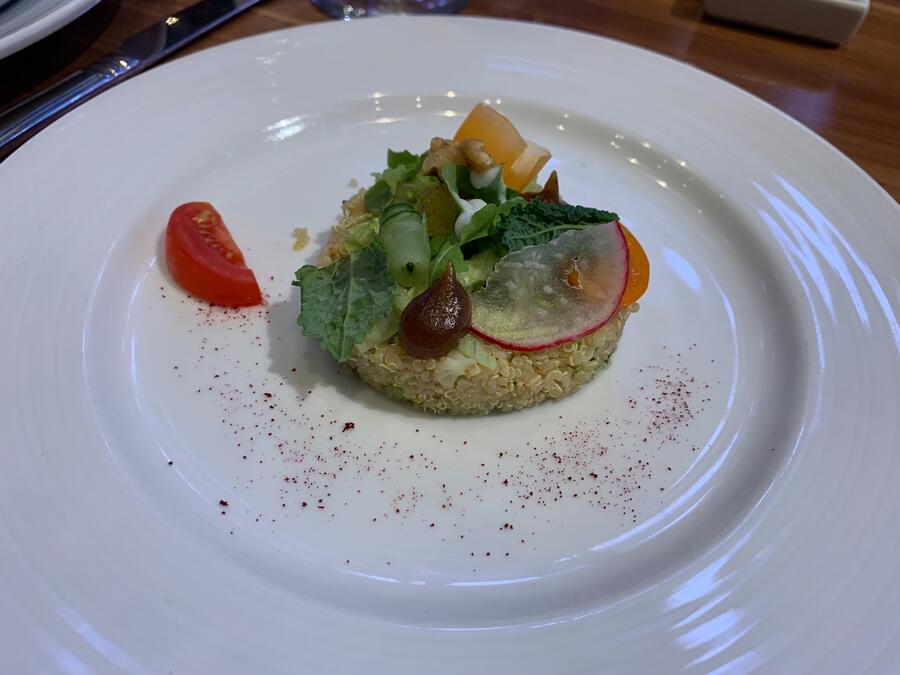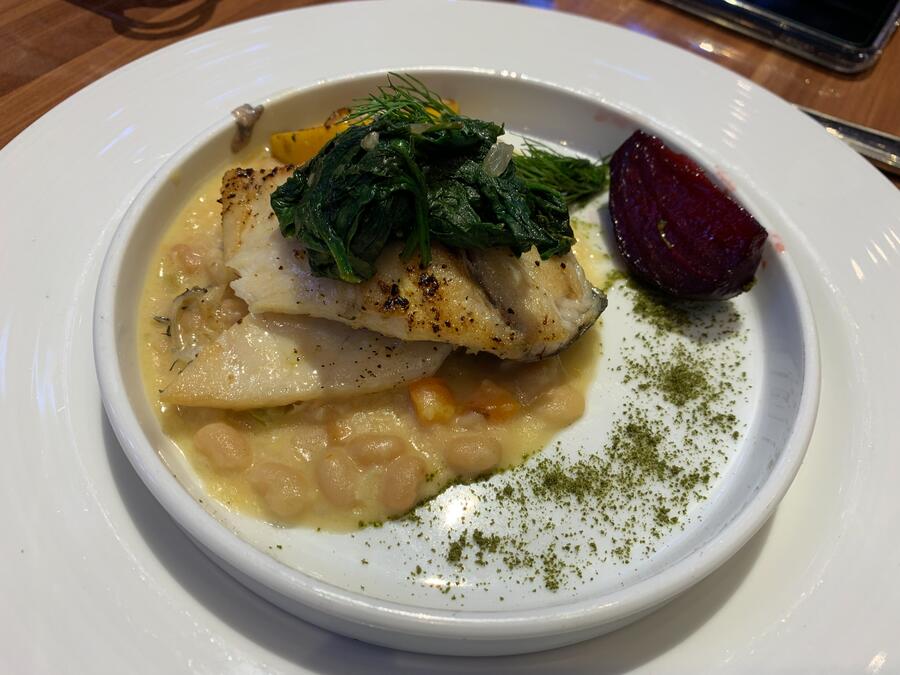 Carnival may have a perception that's difficult to dispute, but if you're looking for an experience close to RC or Norwegian, this is right up there.