My ship tour of Royal Caribbean's Symphony of the Seas is the subject of this week's post.
As a travel advisor and a traveler, I have a love-hate relationship with cruises. That is kind of funny, as I am now with a travel business group called Cruise Planners (but that's for another day).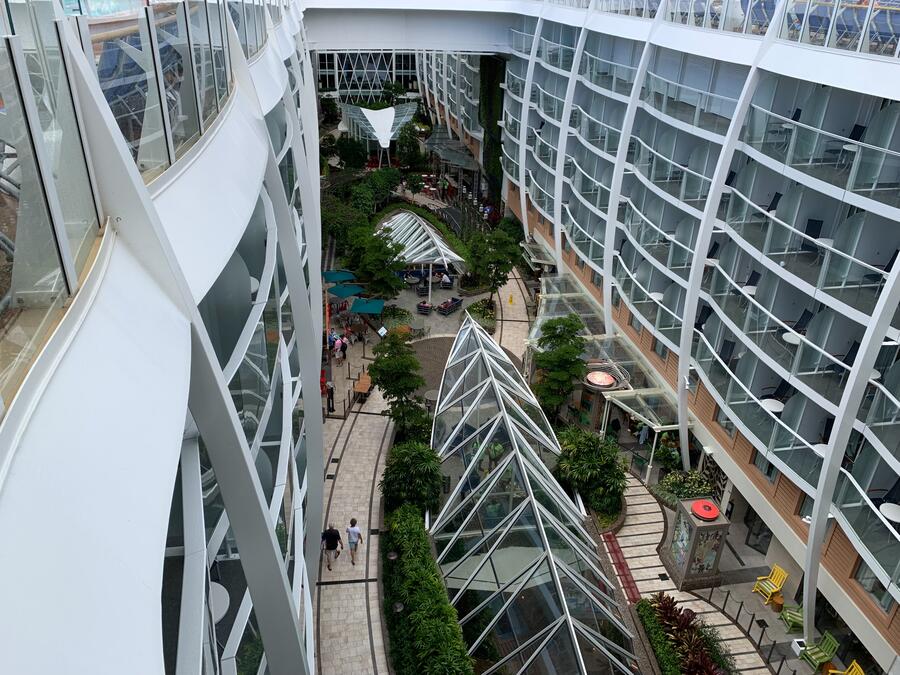 I've booked quite a few for clients over the past two years, and they keep growing in popularity. That's probably because they are a convenient and enjoyable way to travel. You unpack once, and you go to each of your destinations rather than schlepping your stuff everywhere you go. Each cruise has so much to do, you really can't get bored even on sea days. Plus, most of the food is anywhere from decent to delectable.
Mini-cities on the sea
On the other, then cruise industry's trend toward "bigger is better" is concerning.  Royal Caribbean is especially known for this. Not all ships can include full amusement parks, 28 restaurants and bars, 34 shops, 10 theaters and thousands of staterooms.  And even with innovations in space design, there really do seem to be a lot of people on board.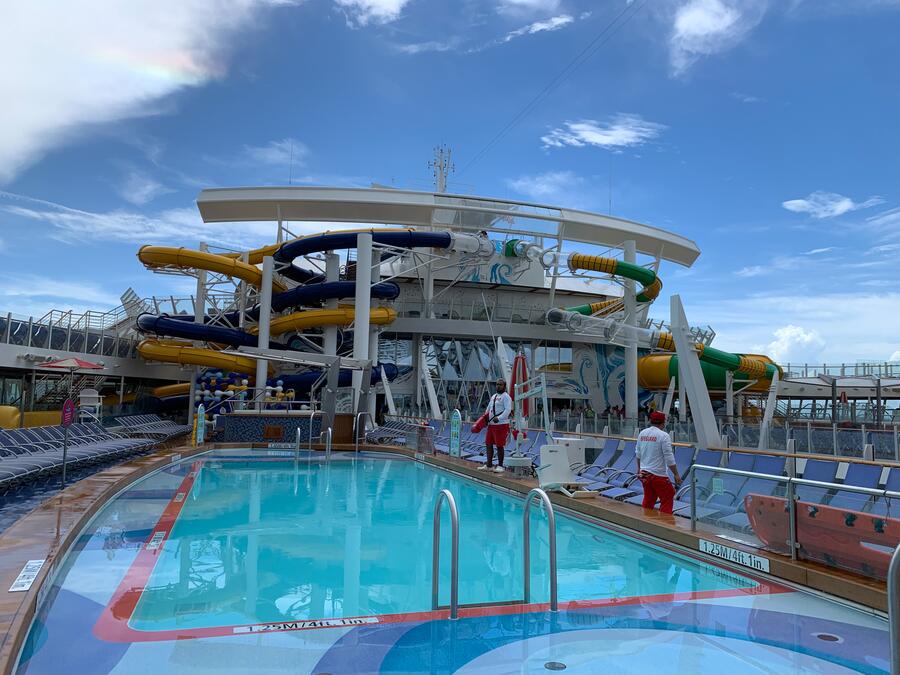 I did a ship inspection tour of their Symphony of the Seas in Miami recently. It's part of their Oasis class and can accommodate about 6700 passengers, making them the largest class for cruise ships at sea. It was part of the week-long training I did with CP.
It's easy to see why many people love Royal Caribbean ships. I personally like them, as we've gone on two RC cruises to the eastern Caribbean and Alaska. My family enjoyed both for the reasons I listed above, as well as the awesome kids' programs that each of mine participated.
Our ships, the Freedom of the Seas and the Jewel of the Seas, had roughly half and one-third the passenger capacity of Symphony. Even with that smaller size, I sometimes felt there were a little too jammed, especially when we disembarked to visit the ports.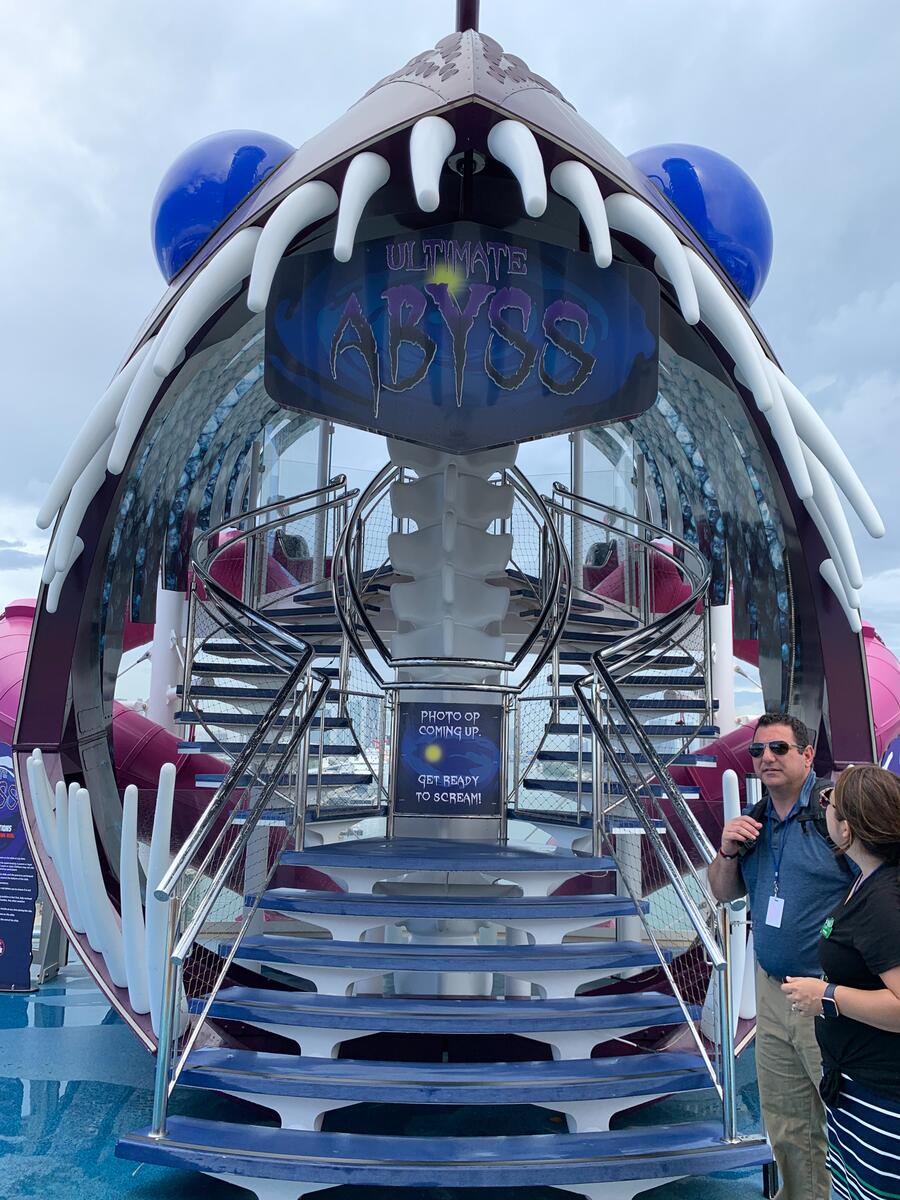 Here comes Royal Caribbean's mega-ships
But when you first get on board Symphony, you essentially come into a mall, which has restaurants and stores galore (most of them duty free). Here is where many hang out, as their staterooms aren't yet available. That's also probably why I felt like I was among the throng of shoppers at Christmastime.
We then headed up to the sports deck, featuring two standard size swimming pools, a kiddie pool and waterslides.  Toward aft, there were three signature Royal Caribbean attractions - two FlowRiders, or surfing pools, a zipline and the Ultimate Abyss, an illuminated enclosed slide that shoots riders down ten decks below.
Symphony of the Seas has different neighborhoods, two of which are simply astounding with the size and scope. The first is Central Park, the site of most of its specialty dining restaurants and displaying beautifully lush foliage and flowers. We had a yummy lunch buffet lunch here, at Chops. Royal Caribbean also has several other specialty dining places, like Jamie's Italian and Wonderland.

The other is the Boardwalk. As its name implies, it's a mini-carnival with a carousel, arcade and candy store. The largest feature here is the AquaTheater, a venue that rivals anything you'll see at SeaWorld or any other water-themed park.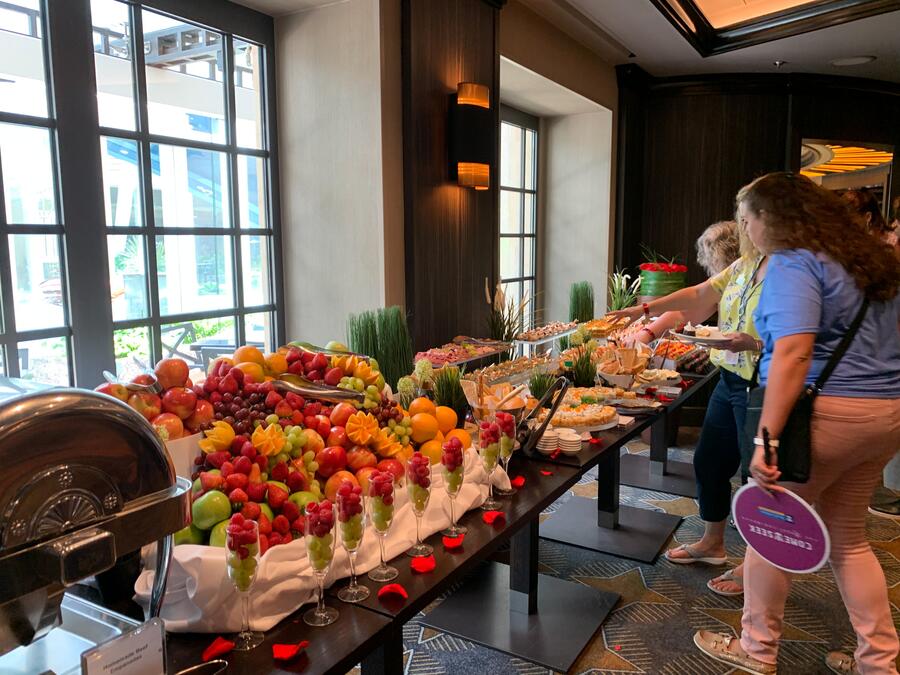 Because we arrived late to the port, we didn't get to view any staterooms. But having stayed in two of their ships, I had a pretty good idea of what they might look like.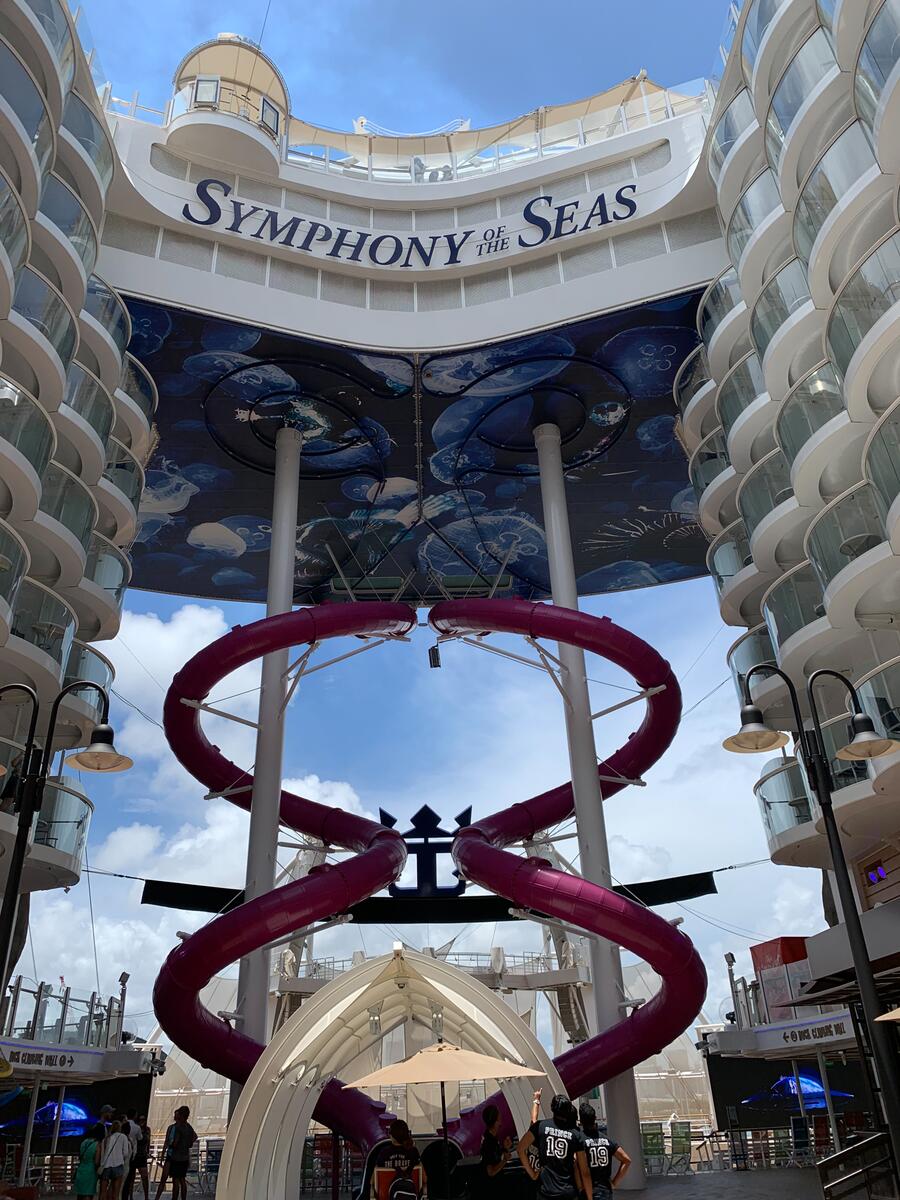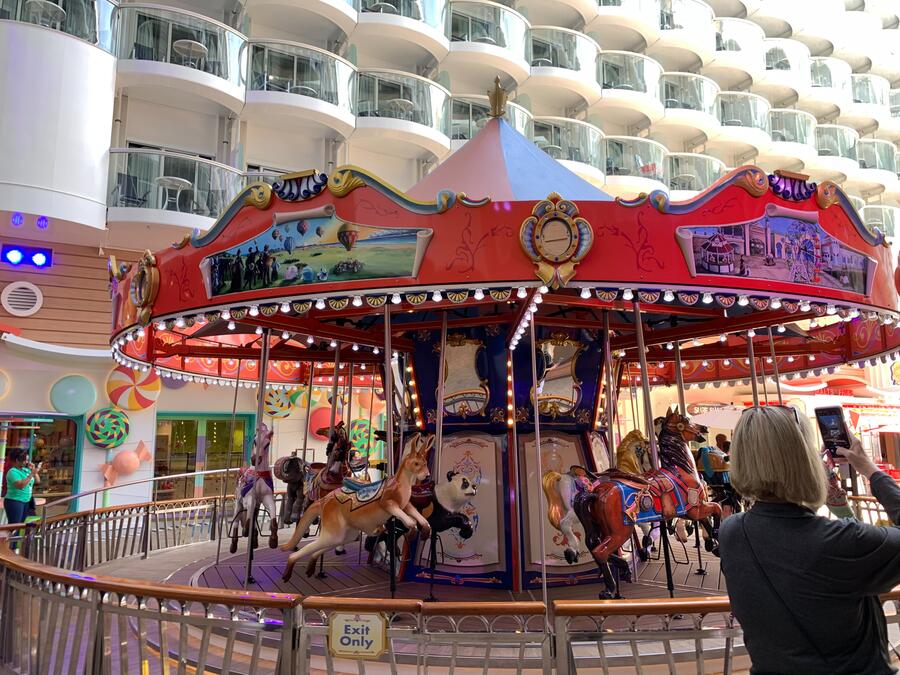 We also ended with this technological curiosity called the Robotic Bar.  I have to say this was the coolest thing on the ship, and I'm not a big drinker.
I will recommend Royal Caribbean to families, and even this behemoth Symphony of the Seas. But it's time for me to move on to other cruise lines if I will go on one again.