In Colorado's Summit County, you have a choice of going to four major ski resorts: Breckenridge, Keystone, Copper Mountain, and Arapahoe Basin.  I've written and posted on social often about Breck but so much about the other three. I'm changing that with today's entry on Keystone, as we're here to ski for JRS's spring break.
At 3,148 skiable acres and with 130 trails at varying levels, Keystone is the state's second largest resort.  I've come here at least a dozen times since moving to Colorado 20 years ago, and I don't think I've been to every part of the mountain…and I'm not even talking about the double black diamond expert areas that I can't do anyway.  For that reason, much of the mountain doesn't seem too crowded even on popular weekend and holiday times.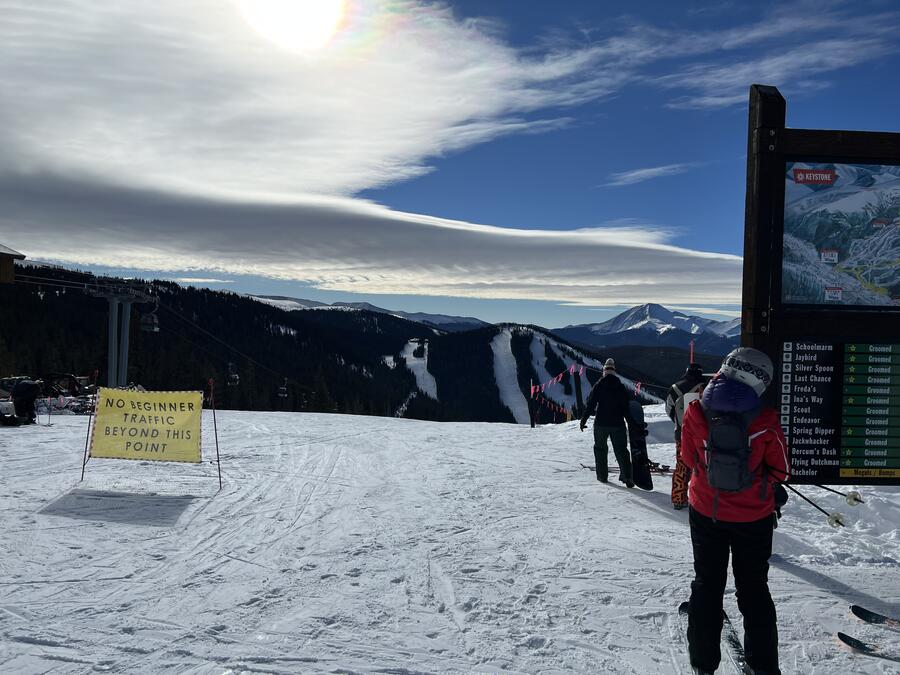 The other Summit County resort
Unlike Breck, Keystone isn't located next to any town, so a large village complex has grown around the resort, complete with a large ice-skating rink.  You'll find restaurants, shops, bars and of course, condos conveniently located near the slopes.
When I have stayed at Keystone, I loved it and disliked it, all at once.  Naturally, it was great to be within walking distance from the gondola and runs, even it wasn't quite a ski-in, ski-out situation.  But once the day was done, there wasn't much to do around the village, except ice skate. Not much else was open.
That's why whenever we now stay up in Summit County, we'll choose Frisco because it's centrally located to all the ski resorts, and it's generally not as expensive as either Breck or Keystone. 
But even with those slight issues, Keystone should be on your Colorado ski list and here are five reasons why: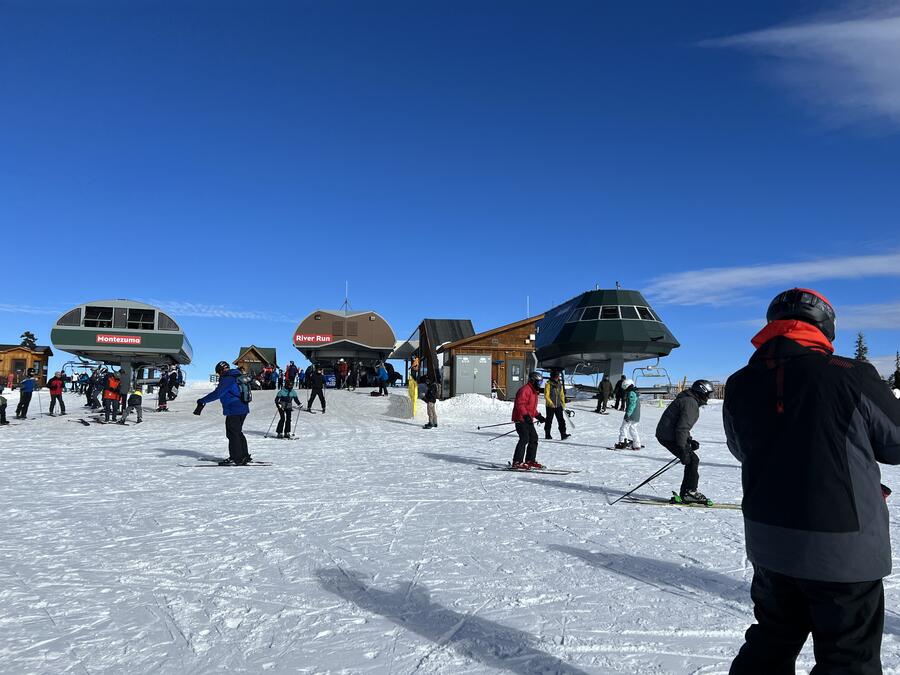 1.)   Varied terrain
With a nearly 50-50 between beginner/intermediate and advanced/expert runs, just about everyone can find something to enjoy for hitting the slopes.  Even some of the intermediates are not too difficult for newbies.  The best place to go for uncrowded skiing is the Outback, Keystone's back bowl peak.  It takes some effort to access, but once you're there, you'll want to stay.
2.)   Peace and quiet
One of the reasons why I didn't like staying at Keystone might be a reason that you do.  Along with Arapahoe Basin, which is seven miles up the road, Keystone doesn't have the busy-ness of a Breckenridge or Aspen. The specially created village essentially shuts down at night, except for a few bars and restaurants. But many of the skiers that populated the resort during the day leave - and tranquility remains.
3.)   Vail resorts access
Along with the other dozens of resorts that you can ski at around the world with a Vail Resorts pass, you can hit the slopes at Keystone.  Just note that the more expensive passes allow unlimited and unrestricted skiing on high volume holiday times, while less expensive ones don't.  Check your pass or contact customer service to make sure you can ski on the days you want.
4.)   Two entry points
Keystone has two places where you can access the slopes: the River Run Village and the Mountain House.  These have large parking lots that are mostly free of charge, although you can pay $20-55 to get closer to the base. We prefer going to Mountain House because it's less crowded than River Run. The only disadvantage is that you don't get the dining and shopping amenities that the larger area has.
5.)   Solid dining options
Speaking of dining, Keystone has some impressive culinary options that go beyond the usual ski resort burgers and pizza. The best on-mountain venue is LaBonte's BBQ, which has a great pulled pork sandwich.  If you're looking for something a little fancier, Bighorn Bistro & Lounge, Keystone Ranch and Ski Tip Lodge all have cozy settings and gourmet offerings.