After my Palm Springs posts, I come back to Colorado with this week's post, the Trading Post Trail at Red Rocks Park.
I live two miles from Red Rocks Amphitheater. But given that I've lived here for nearly two decades, I haven't been here often. That's because it's often crowded with concert-goers.  Or, if there is no program going on, fitness enthusiasts bound up and down the weathered bleachers.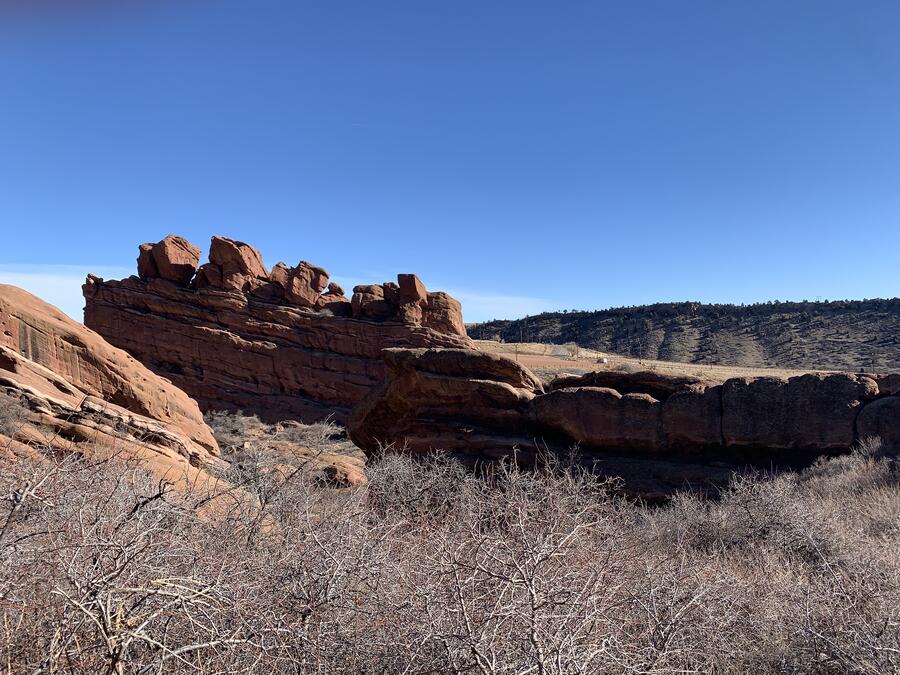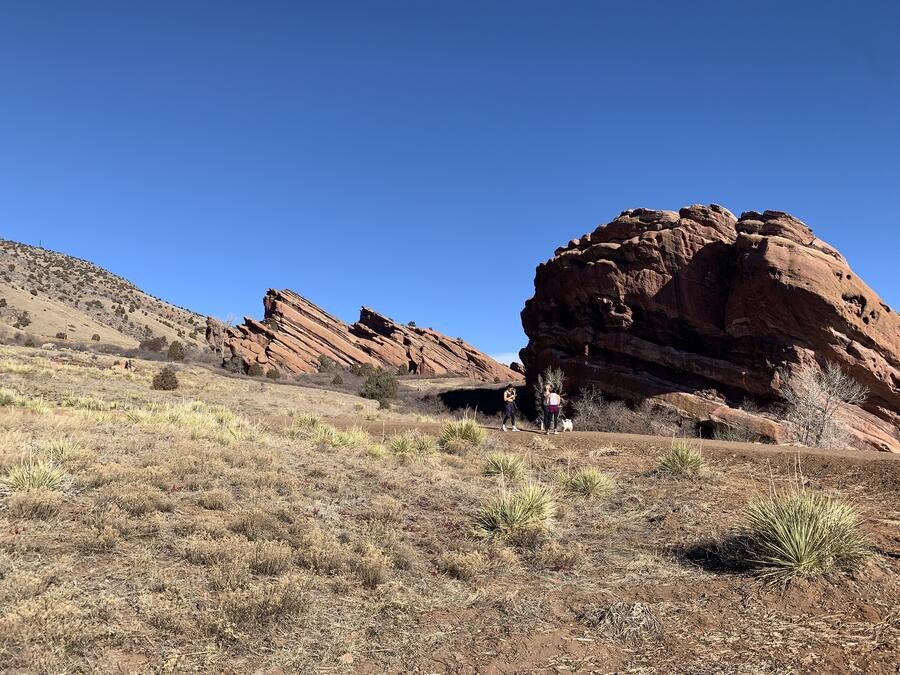 Red Rocks insider trails
It's Denver's best outdoor venue for entertainment.  Yet even locals forget that Red Rocks has a decent network of trails. In fact, hiking is often the preferred pastime of those who come early for a concert and must wait for the show to begin. The trails connect to other parks in the area and provide a great activity with killer views.
On an unseasonably warm January day, with temperatures hovering in the low 70's and a perfect cornflower blue sky above, RAS and I discovered a Red Rocks route we'd never been on before. And we thought we'd been on all of the trails here.
The Trading Post Trail (not surprisingly) starts at the park's trading post, which is less of a store and more of a museum with the Colorado Music Hall of Fame. We happened to begin halfway between, which made the southwestern-style building our midpoint before heading back to the car. The total distance of the trail is roughly 1.5 miles and takes visitors through some of the sculpted russet sandstone formations the park is world-famous for.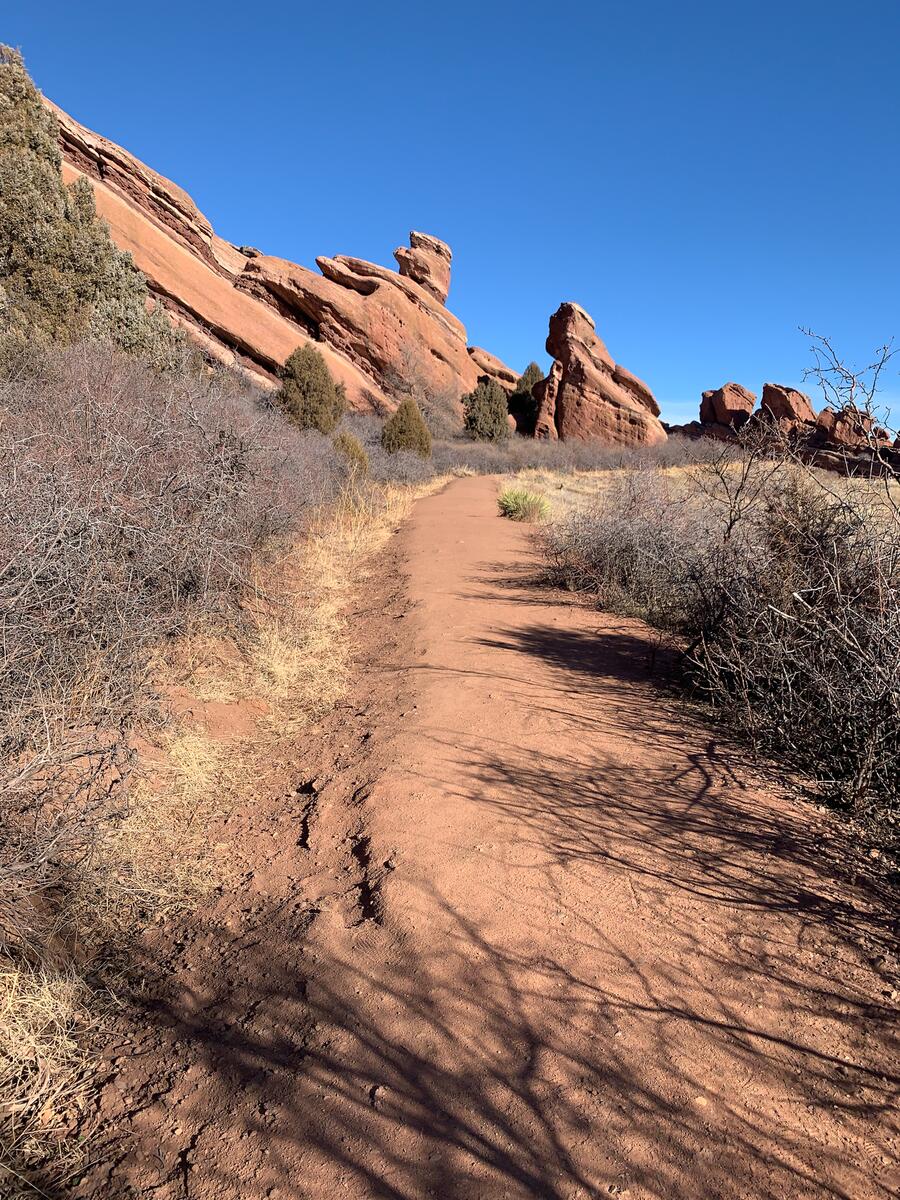 The hike (almost) nobody knows about
What's great about this hike is we practically had it all to ourselves, even on beautiful sunny Sunday morning. As time passed, we encountered more people, especially at the trading post, but for the most part it was about as uncrowded as Red Rocks gets.
For the section that we went on, it's a steady ascent past the massive rocks that were once as tall as the Rockies themselves.
Another fun fact: the existing rocks here were once the shore of an ancient inland sea that occupied what is now the Great Plains. It's the reason why we also have a plethora of dinosaur and prehistoric flora fossils on these hillsides and ridges.
Eventually, you end up at the base of the amphitheater's south entrance. A winding concrete ramp painted in earthy red climbs to the bleachers. Try doing this, and it can be a bit humbling when you begin to lose your breath.  That's true for even with someone like me, who's worked on personal fitness and lived here for 18 years.  I can't come here without taking a rest partway.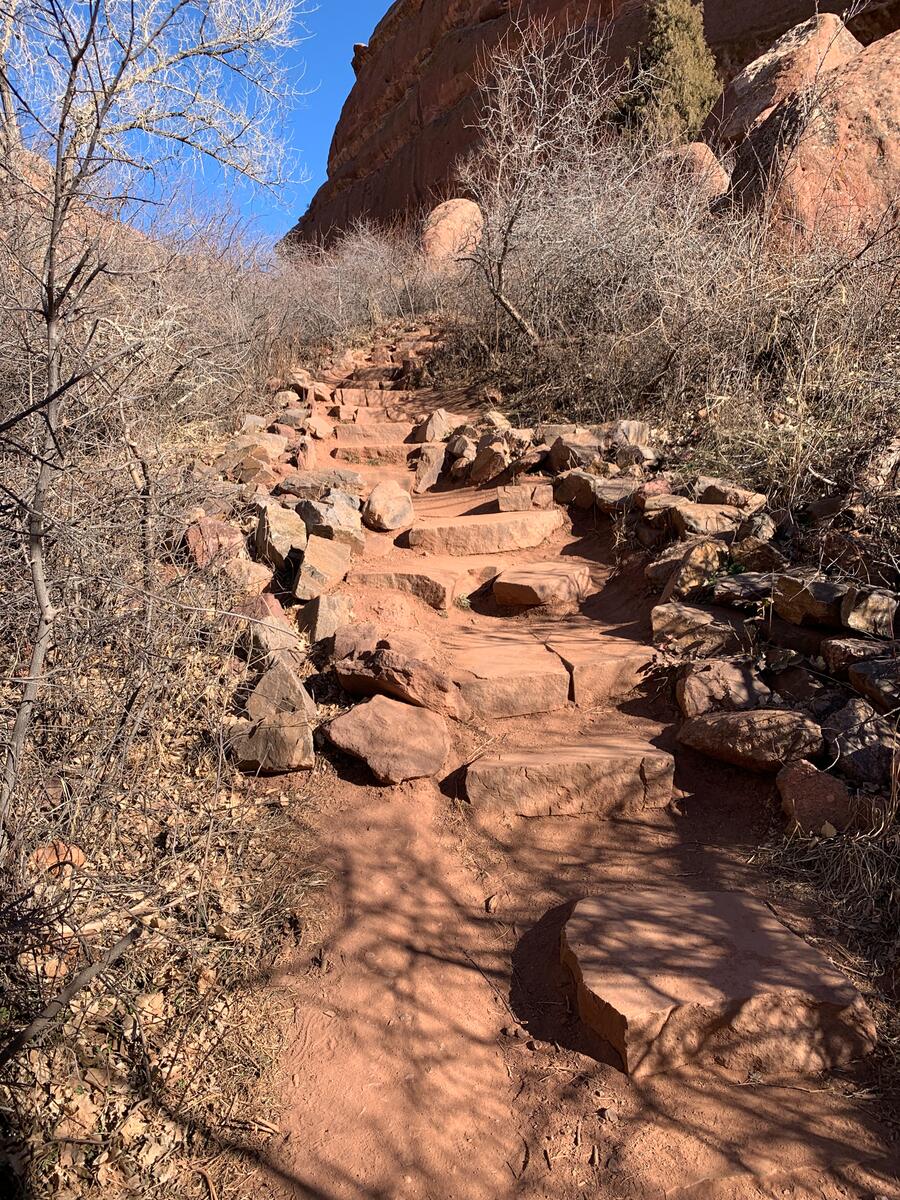 At the Trading Post
Passing the walkway, you can then head to the trading post itself. As I mentioned before, the highlight here is the Colorado Music Hall of Fame. That's fitting for a place synonymous with iconic outdoor concerts. The focus is naturally on local bands like Firefall and OneRepublic. They even feature one-hit wonders like Sugarloaf, who had this trippy hit called "Green-Eyed Lady."  The song was popular when I was about five, and its strange guitar riffs sometimes scared me.
(I know, it's a weird confession, but it's true)
Just a little ways past the trading post, you can descend to the remaining half-mile of the trail. In one 100-yard section becomes a smooth cliff with a somewhat steep drop on the north side. The height itself isn't that bad – probably just 10 or 15 feet, but it can nonetheless scare you.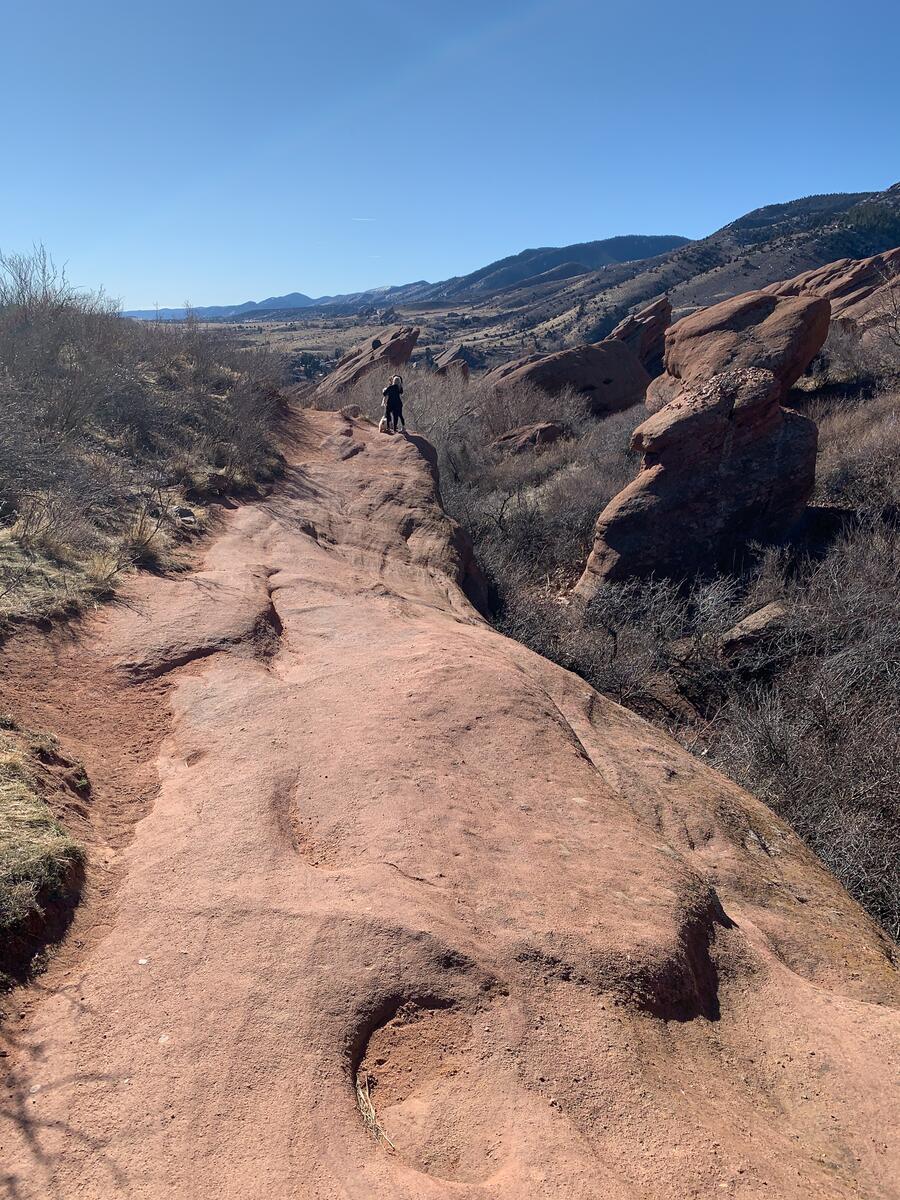 My family and I took our portraits here a few years ago.  But it never occurred to me to go on this trail and see where it would go. This would be a solid recommendation for anyone who would like to see the real Red Rocks Park.