Seattle is an almost-home
Because of JRS's desire to attend school in Washington State (which may still happen) and with my sister-in-law's family living close by, we've gone to Seattle often in the past few years.  I've now gotten to know this lush, hilly tech mecca well for that reason.
For instance, I have a good working knowledge of where to stay and hang out, and where to pass up.  I always try to have at least one seafood meal while I'm there, especially salmon.  That's probably a city ordinance that every resident must have at least one a week.  And I always buy some Beecher's mac and cheese near Pike Place Market, because I just can't get that in most places.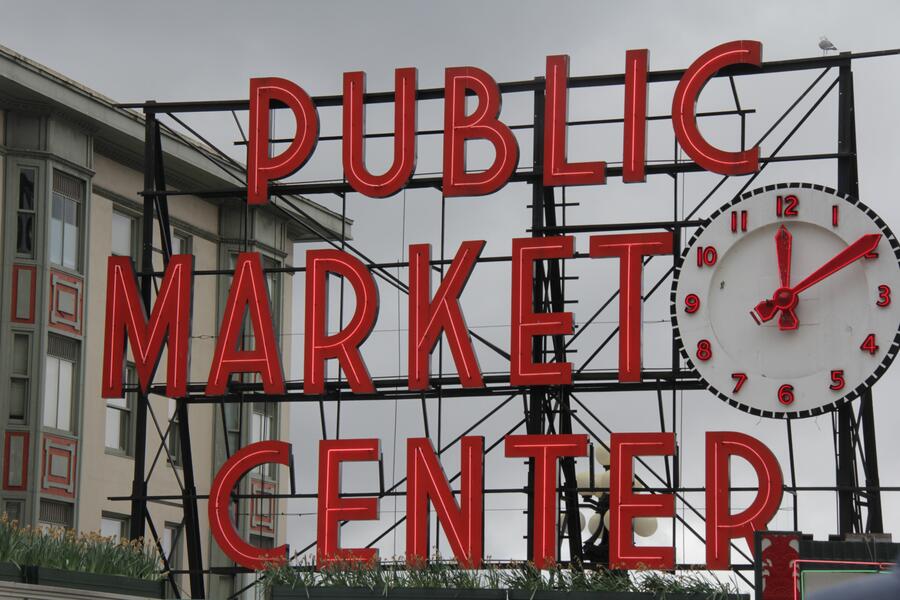 Another place that I enjoy going to is the Seattle Waterfront Pathway, which skirts the downtown area on the west and heads northwest to the Belltown, Queen Anne and Magnolia neighborhoods.  The best part of it is the middle portion, an actual dedicated paved trail from the Olympic Sculpture Park to the edge of the cruise port.  But probably the most interesting part to visitors would be the area that goes along the old piers that Seattle has transformed in to various hotels, restaurants and activities.
Follow the shoreline
Also called the Elliott Bay Trail, it starts near the Washington State Ferries terminal at Yesler Way and winds its way along Alaskan Way.  Roughly three-quarters of a mile up the trail is the Great Wheel, the large Ferris wheel that is becoming a visual symbol of the city along with that way more famous space-age tower.  Nearby is an arcade with an old-fashioned carousel and a few quick-serve food stands.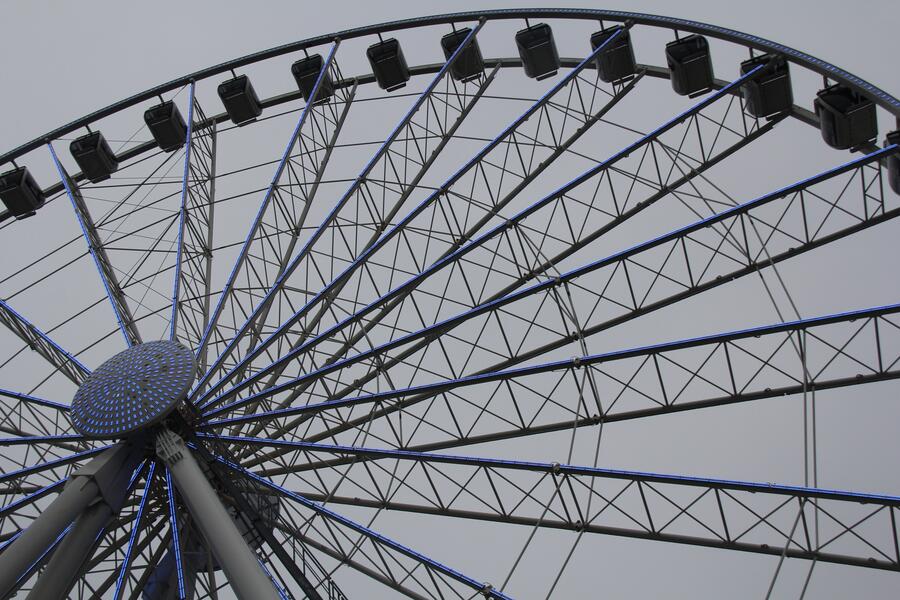 There are several sets of staircases from different streets that lead up from Alaskan Way, on Union Street, Pike Street and Lenora Street.  Each of these will bring you to the Pike Place Market.  As touristy as it is, I think it's still an essential point of interest for anyone visiting Seattle.  Just enjoy the fishmongers tossing their slippery catches around and wonder how they never let them slip by.  I'm still amazed at how beautiful produce and flower can be and how large they grow, especially when I come from a place where anything that grows is a cause for celebration.
Something's fishy
But if you continue onward along the Waterfront, you'll next come to the Seattle Aquarium, which is in a great location.  It's just a shame that there's not much to see there.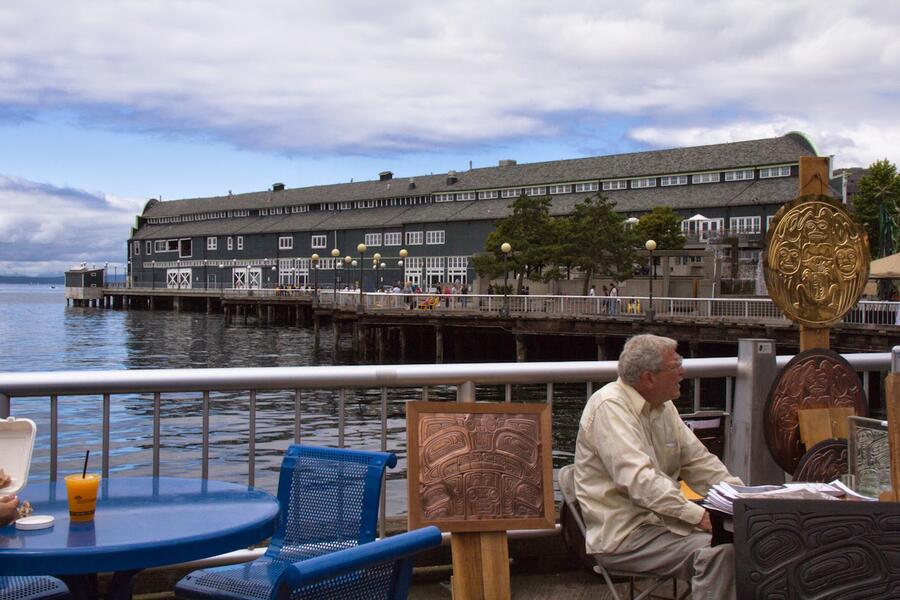 I don't know if it's because there just wasn't enough room to feature more exhibits, or it's because I unfairly judge every aquarium to one of the world's best, Monterey Bay.  Unless you are with youngsters or older ones who dig ocean life, it might be a pass.
Keep going on the trail and you'll come to the Edgewater Hotel.  Its biggest claim to fame is that the Beatles stayed here 50-some years ago, threw a line over their open window edge and tried to fish.  There are pictures in the hotel lobby as proof.  Naturally I want to stay here someday, but the travel agent rates don't quite make it worth it, yet.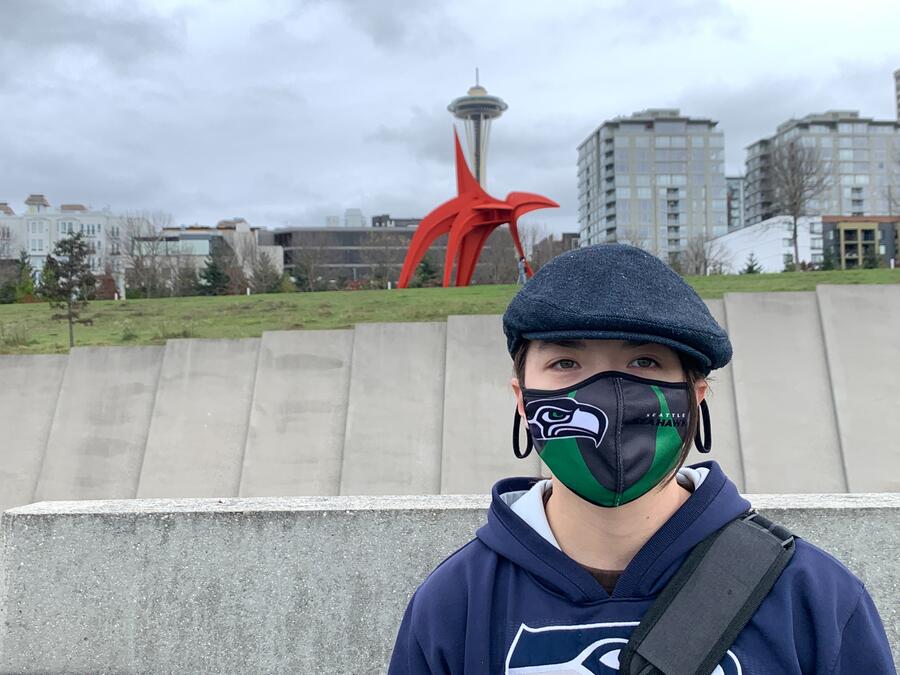 The last part of the Seattle Waterfront Pathway that's worth noting is the Olympic Sculpture Park.  This outdoor oasis not only features eye-catching three-dimensional art, but it's a representation of Washington States different ecosystems, from the forests to the sea.
If you want to see Seattle in a microcosm, walking along this trail will fit the bill.