Note: My apologies for being late on this post about Santa Cruz.  It's been a crazy week, and I'm still taking care of my mom's estate matters.  Starting with next week's post, I'll be writing about local Colorado destinations.  One more thing - I wrote this with going to these places in mind, but COVID-19 prevented me from going into some of these places.  So no shots of food, just the exteriors, and in the case of Gilda's, it has closed for good.  But I decided to leave it here as a tribute to all the comforting bowls of clam chowder I've enjoyed.
My favorite food from home
As some of you know, I grew up in Watsonville. It's a town known for apple juice and erroneously artichokes. People often confuse our town for Castroville, 15 miles away, and call it the "Artichoke Capital of the World."
With such little culinary exposure in my hometown, I looked elsewhere for favorite foods. Naturally, I loved going to San Francisco with its unmatched bounty of food from around the world. Closer to home, though, I found places to love in Santa Cruz, which was just 15-20 minutes away from our home.
When I come back to this area, I nearly always at least go to one of these places and often more. These are long-standing comfort food establishments that I would recommend to anyone who asked for some local flavor.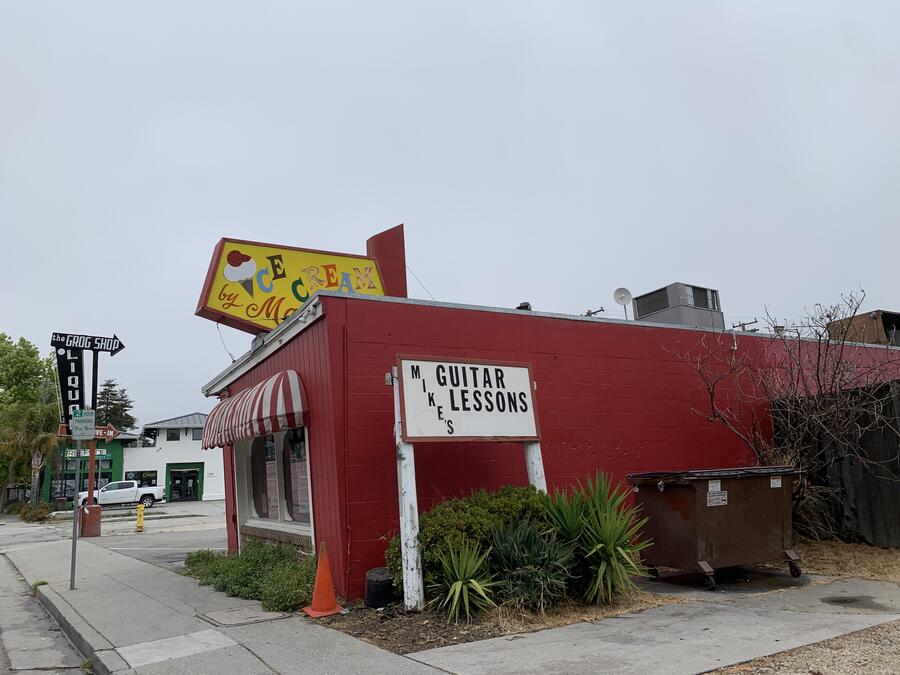 1.) Marianne's Ice Cream
This shop on Ocean Street has been around longer than I have by 20 years, so it's probably one of the oldest businesses in Santa Cruz. It's been in the same location for that entire time and has that completely retro feel the moment you walk in one of two doors.
With a fairly constant menu of 100+ flavors, all homemade on the premises, just about everyone in Santa Cruz County has been here or knows about it and loves it. Some of the best flavors (with the best names): Alice B. Toklas Fudge Brownie, Highway 17 (aka Rocky Road, and totally local inside joke), and Sam's Special Rum Raisin (named after the parlor's second owner).
2.) Stagnaro's/Gilda's clam chowder
These two restaurants, both perched atop the Santa Cruz Municipal Wharf, are owned by the same family. But I am not sure of the relationship between the two. Neither is better than the other, although Stagnaro's is more of a diner, while Gilda's resembles a fancier restaurant.
If there is only thing you order at either place, it's the New England clam chowder. They also serve the Manhattan style, which is tomato-based, but no one I know orders that version. Why would they, when you have a soul-soothing comforting mix of potatoes, heavy cream and course steamed clams (which is something I don't like on its own but absolutely love in chowder. The meal isn't complete without a side of only-in-NorCal sourdough bread and butter.
3.) Erik's Deli Natural High Sandwich
When I was a kid, my palate was pretty limited. The most adventurous I was with food was Taco Bell (sad, I know). But when I landed in middle school, I learned to eat guacamole from a few friends who loved it and insisted I would too. I did, and from that point onward, I'm weak for anything with avocados.
The Natural High is what I order when I come to this chain deli that started in Santa Cruz and has been around forever. It's a little vegetarian gem with whole wheat pita, three kinds of cheese, sliced red onions, alfalfa sprouts, and wedges of yummy avocado. You can also order Erik's "secret goo" to go with it, but I always leave it off.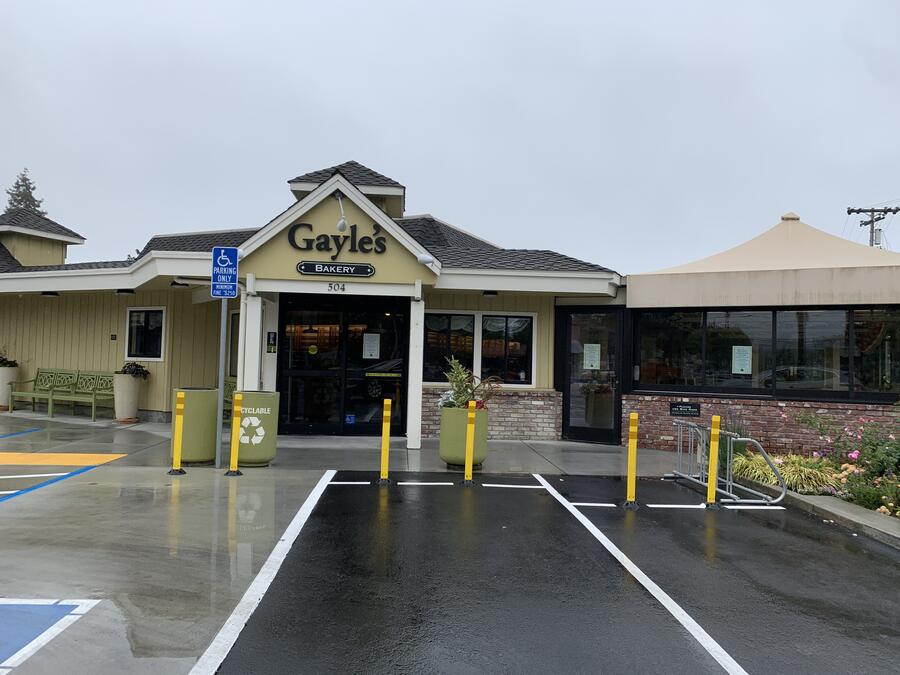 4.) Anything at Gayle's Bakery and Rosticceria
This place opened when I was in later elementary school, so that was sometime around the late 70's. But I didn't know about it until my older sister moved to Aptos, about ten years later. She brought some chocolate eclairs for a dessert, and I haven't recovered from the sugar high since.
Out of all the places I return to when I'm in the area, I come to Gayle's the most, because there's always some wonderfully sugar and gluten-laden treat I want to try. I still love those eclairs, but I would also recommend the fresh fruit custard tart. Gayle's also has ready-to-heat meals, and my personal favorites are the gorgonzola pasta and beef bourguignon pot pie. Yeah, not exactly diet food, but once you've been here, you'll happily make the sacrifice.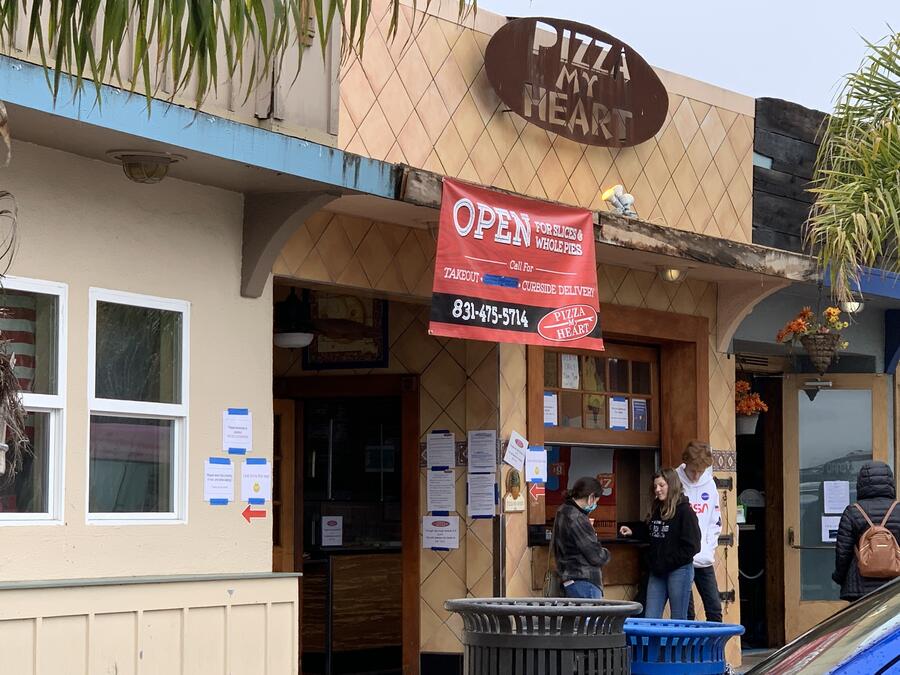 5.) Pizza My Heart - any kind
I have only been to this place a few times, because I always end up going to somewhere else for pizza. Santa Cruz County certainly doesn't lack good places to get a slice, but this one is right up at the top, or near it. It's now become a 20-plus store chain, grown mightily from the single venue place I've known in Capitola, ten minutes from central Santa Cruz.
I think my affection for this place has grown as my preference for Neopolitan (thin-crust) pizza. I always enjoy a basic mushroom and pepperoni, but you won't go wrong with the D'Lex (chicken and bacon). If you dare, you can always try a very local option, the Big Sur, with veggies, meat…and 40 cloves of roasted garlic. Don't breathe around anyone after you've consumed it.