There was a time – just about ten years ago - when the Las Vegas Strip offered dirt-cheap accommodations at most of their resorts. That even applied to the most luxe properties.
Now, most of those places no longer have those sweet deals, and that is likely due to the focus on affluent travelers. Once people were able to find them during the summertime, when fewer people visited. Why have discounts when people can afford and are willing to pay those exorbitant rates,  apart from people like me?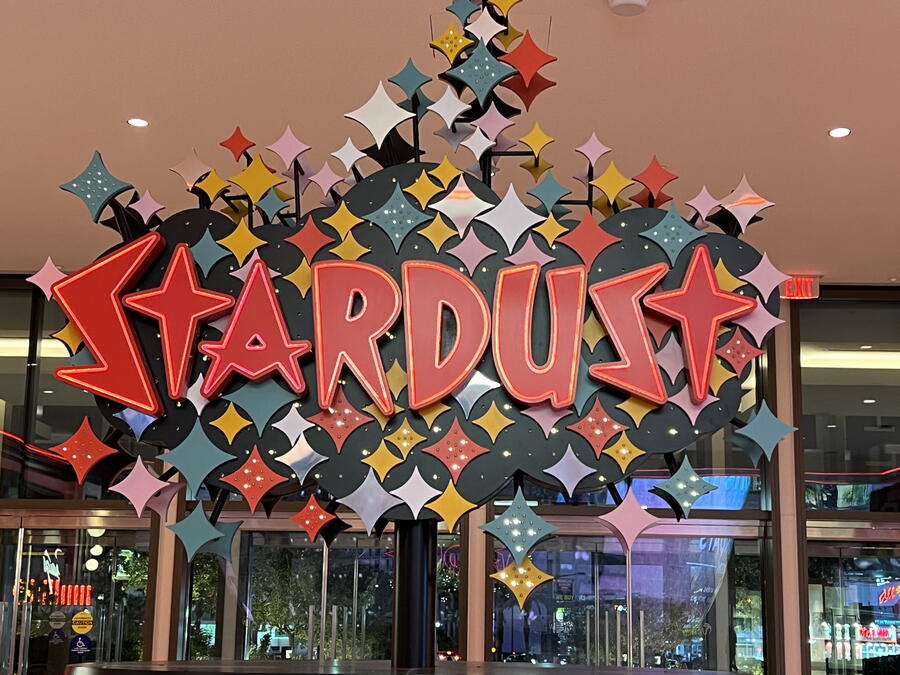 With Resorts World, one of the newest properties in town, you can at least have three different options for luxury. Three separate hotels – Hilton, Conrad and Crockford's – are housed within the shiny and massive building, which is on the northern end of the Strip between Encore and Circus Circus and features video screens on the side of the building. These advertise what's going on at the resort.
I recently stayed at Conrad for a Cruise Planners training, the third time I've been to Vegas for this event. Unlike our stays at Caesar's Palace and Planet Hollywood, which are in the heart of Strip, Resorts World is little further away. But it's truly a world unto itself. There's even a silver-gilded piano once owned by longtime performing legend, Liberace.
Here's an overview of this glittering Vegas resort:
The properties
To suit the needs of visitors, Resorts World's three hotels are classified at different levels of comfort: Hilton for the moderate accommodations, Conrad for premium and Crockford's for luxury. My friend stayed in Hilton, because she made her reservations outside of the conference block, and the rest of us were upgraded to Conrad. I didn't get to see Crockford's at all, which had a separate access-only entrance. My spacious room was on the 35th floor and had a great view of Circus Circus, the Strat tower, the convention center and the under-construction Fountainbleau. Bright hues and bold lines characterized the décor with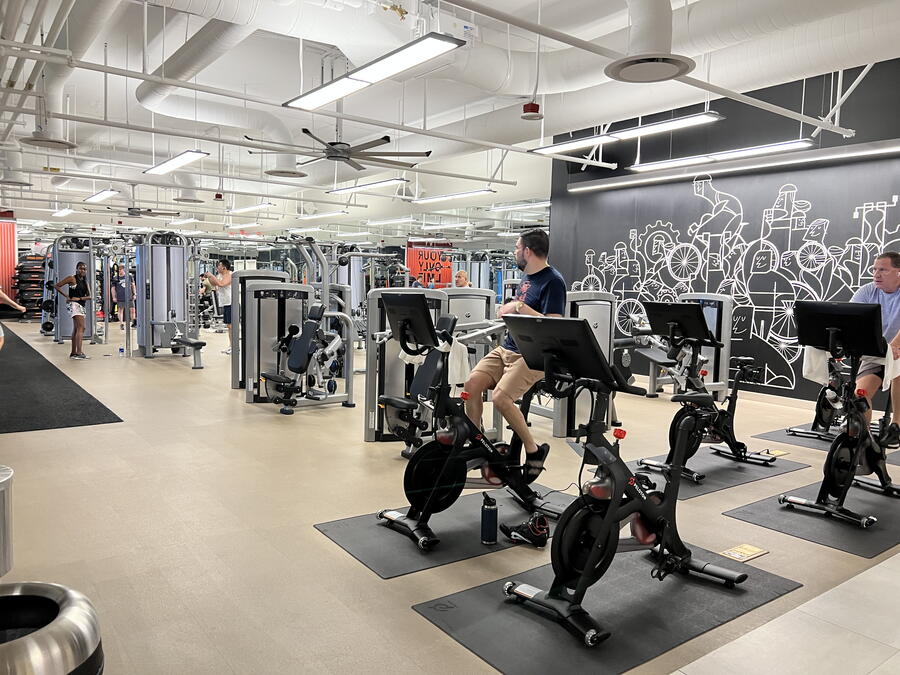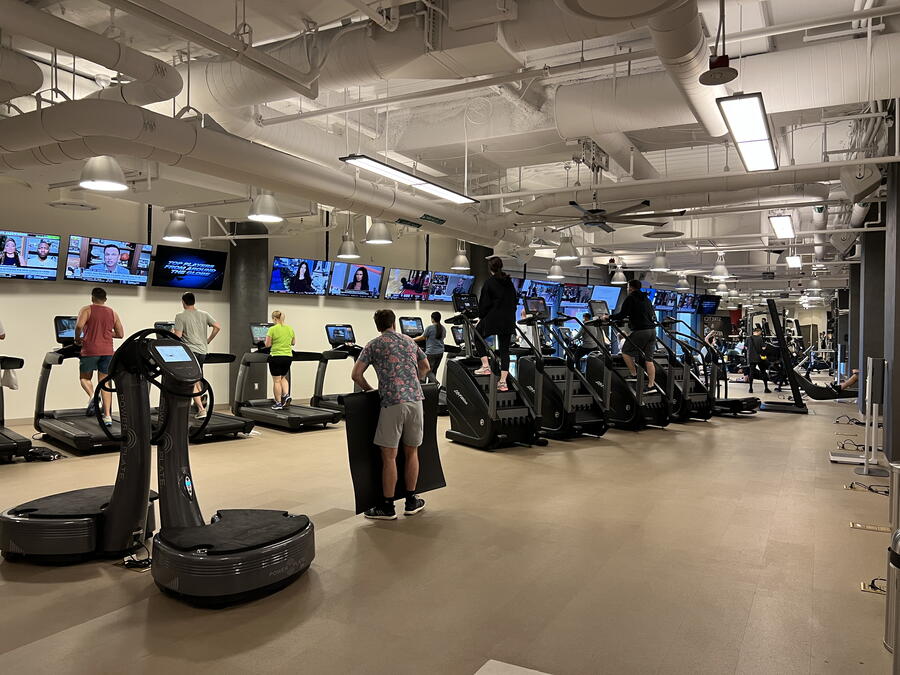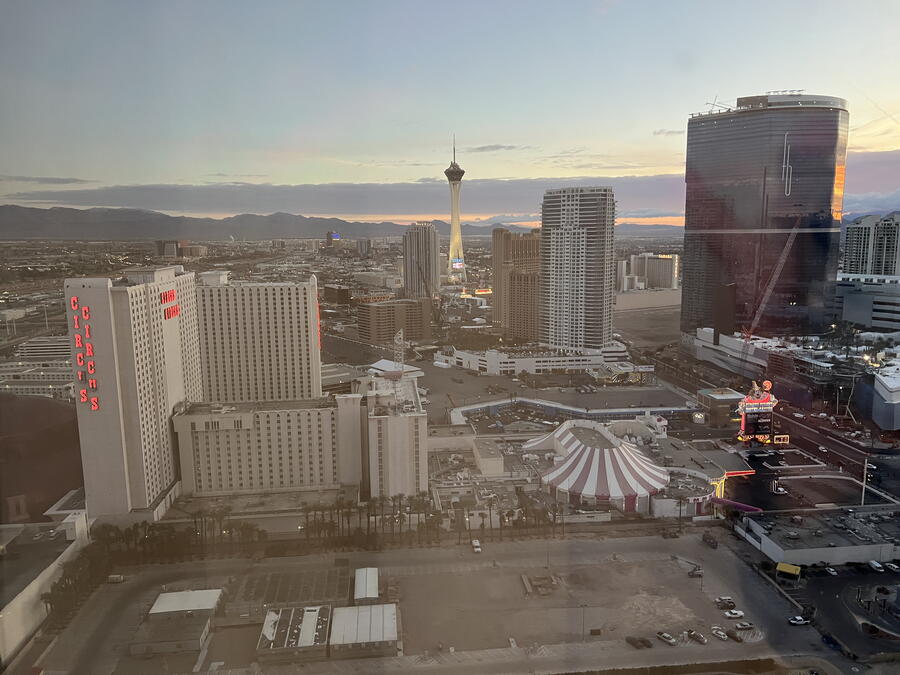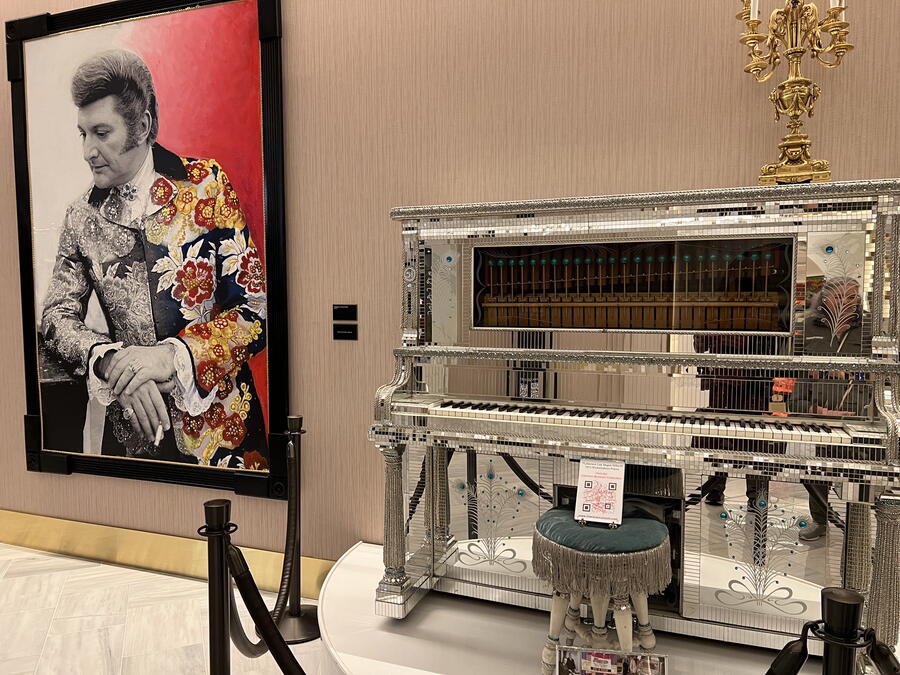 a California king bed (which was fluffy soft) and 50-inch diagonal TV on the wall. There was a mini-bar that I naturally didn't touch, but next to it was a narrow mini-fridge, a good place to keep my water bottle.
On the other side of the resort, my friend's Hilton room was smaller and more sedate in its appearance. But since her room was nearly twenty stories above mine, she had an equally impressive view from her window. Also, our roomy bathrooms, with their nearly party-size showers, were nearly identical.
There are shared facilities for the three resorts - an extensive fitness center, the pool and the convention center, where I spent most of my time.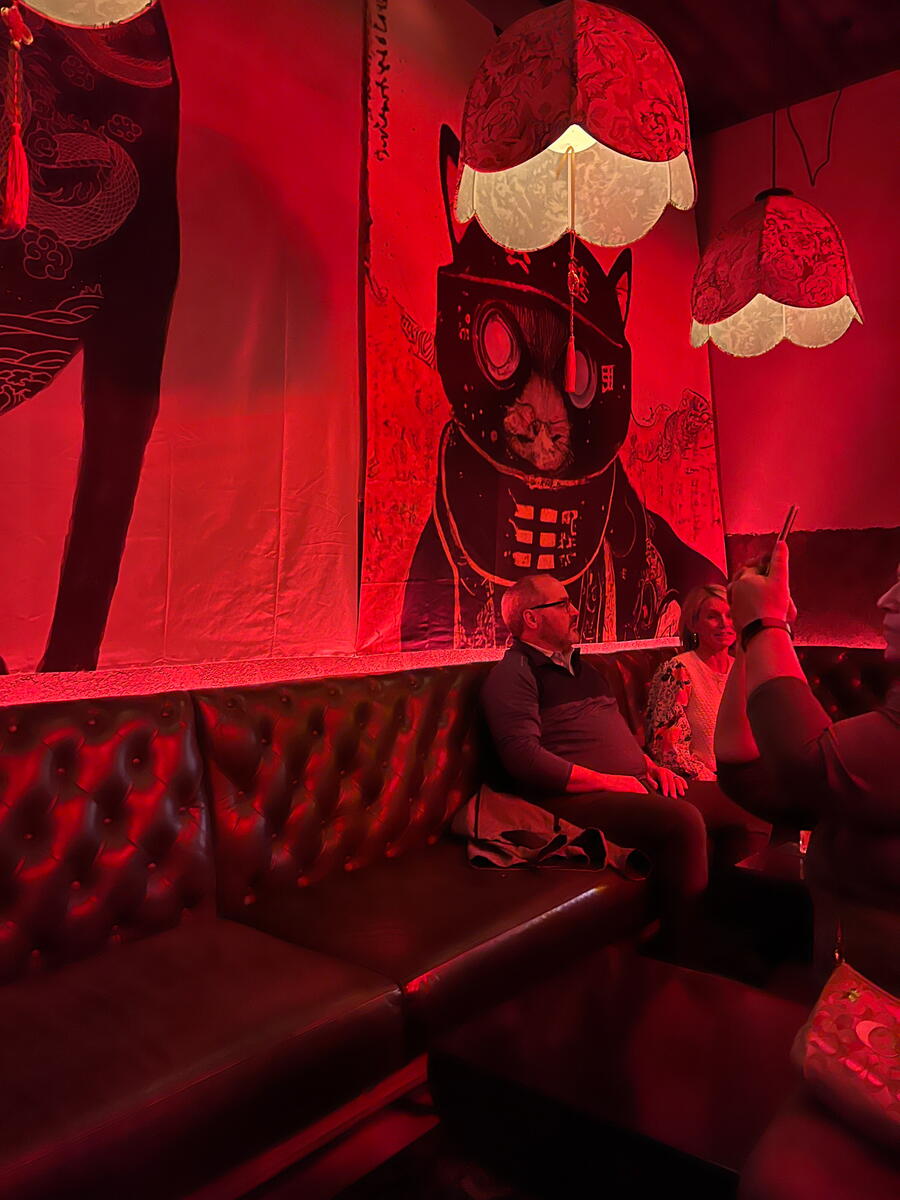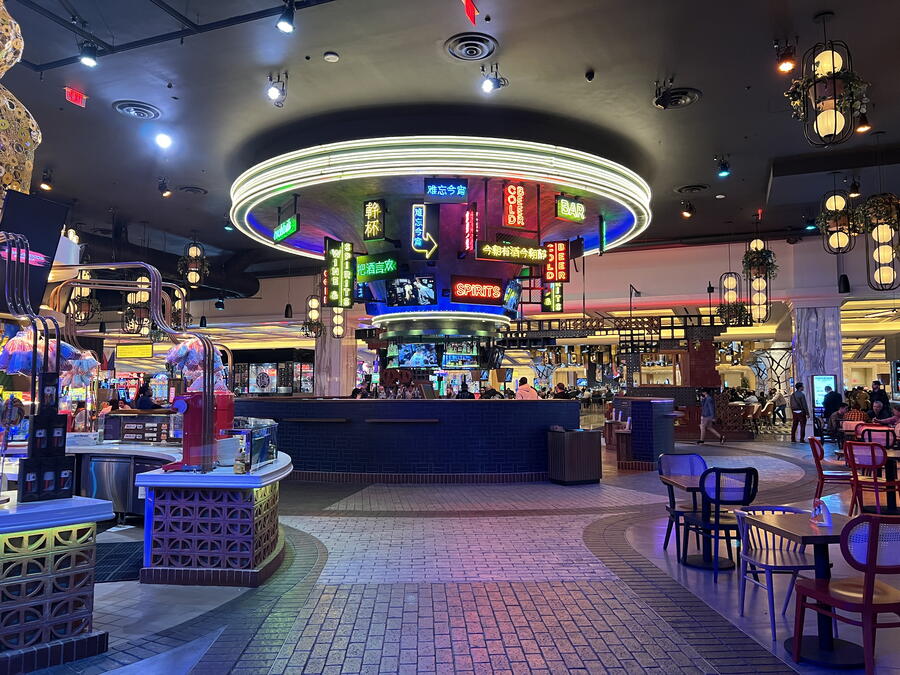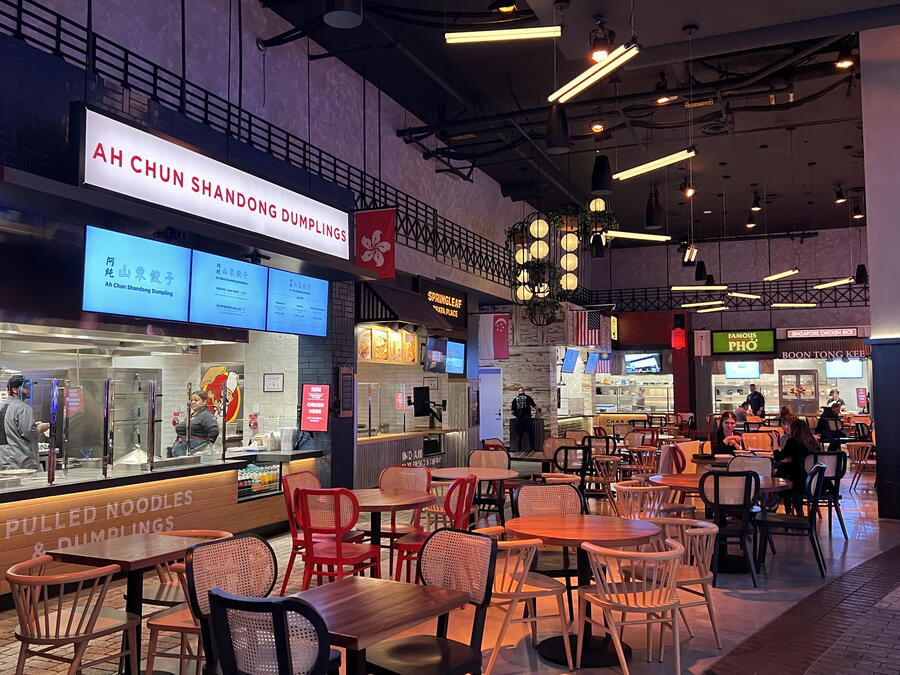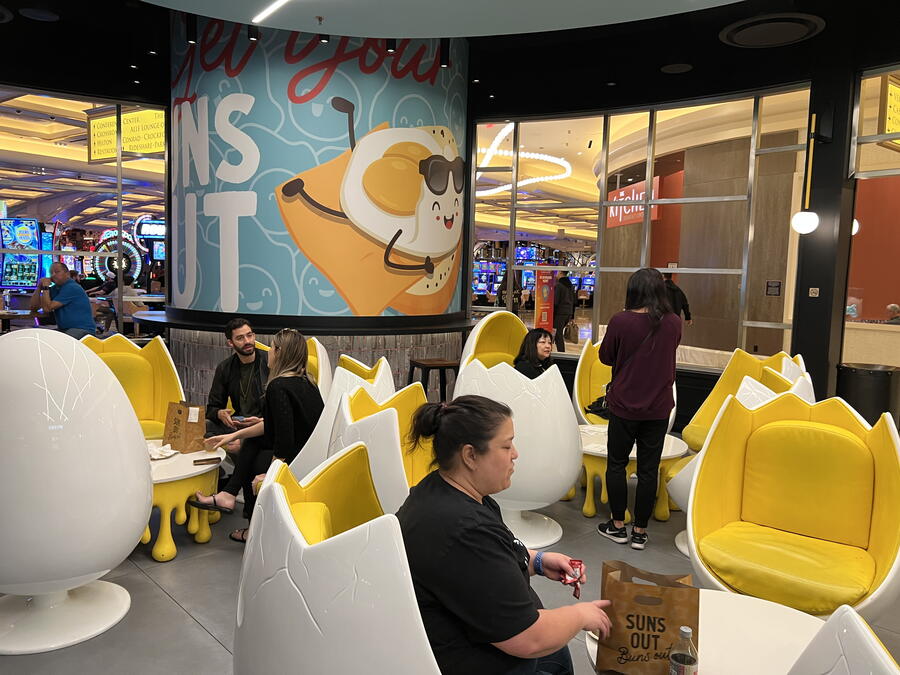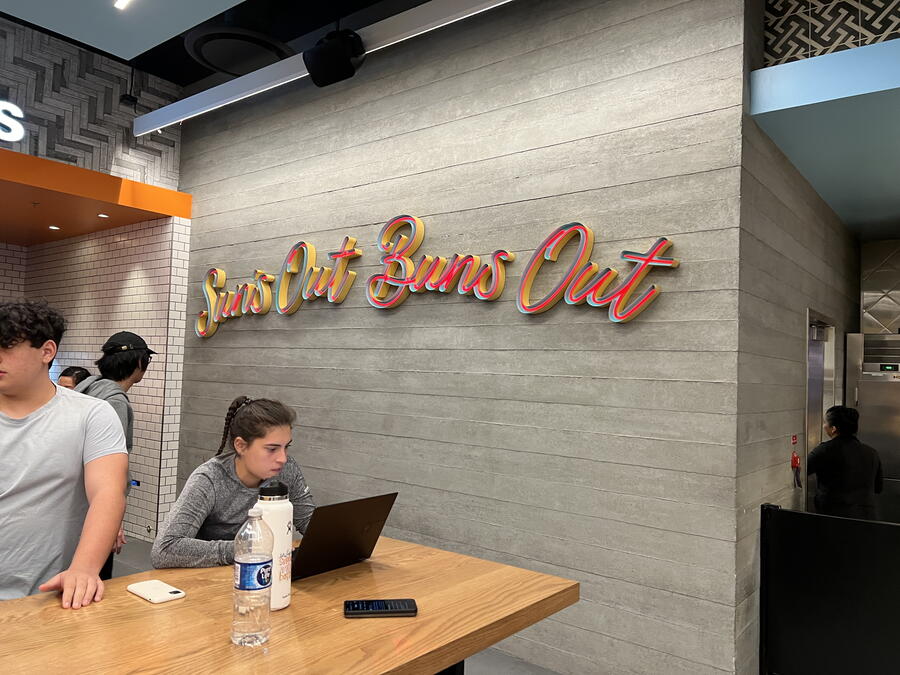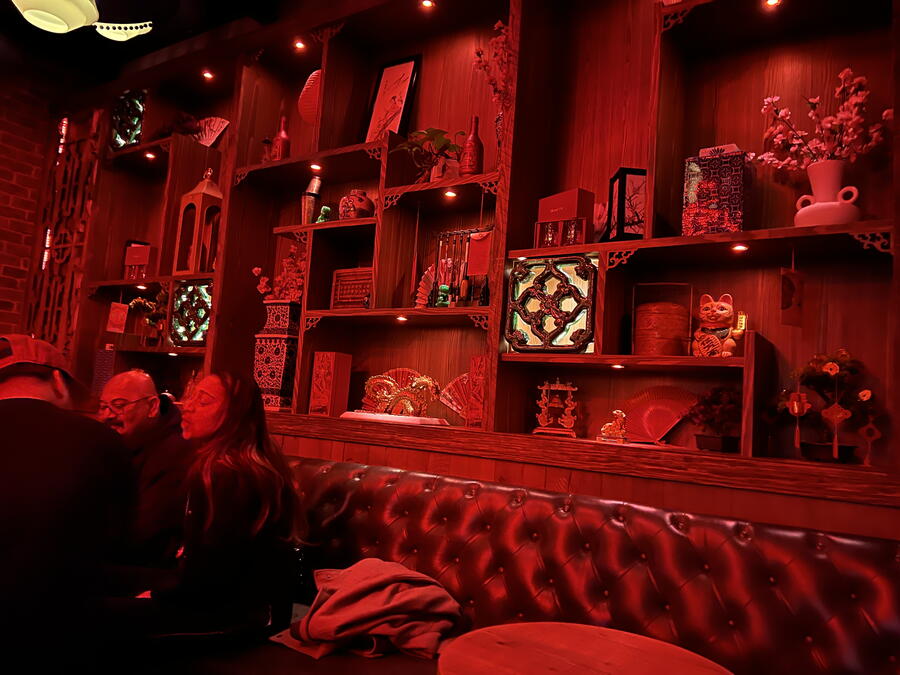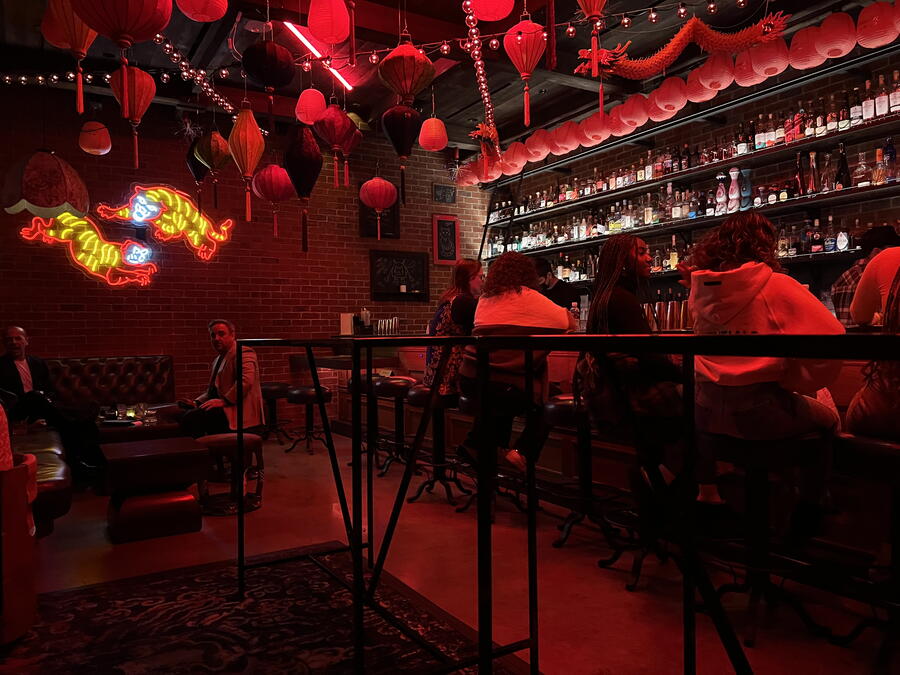 The restaurants and bars
Since Cruise Planners provided us with breakfast and lunch during our training, we only had to buy dinner. Resorts World had plenty of options for dining, most of which were in The District, a high-end shopping center outside the casino. There are ten fine dining restaurants, six casual establishments, 15 bars and a half dozen "quick eats" like Starbucks.
For two nights, my friends and I dined at Famous Foods, a 17-eatery food hall with mostly Asian cuisine. This venue seemed to be the most economically priced. I ordered steamed pork buns and gyoza one night and shared nachos and elote salad with one of my friends the next.
Both meals were just adequate, especially the dim sum, which lacked flavor. The nachos and corn were better – just more filling than either of us could finish.
Like many resorts, Resorts World has more bars than restaurants. We experienced two of them, with craft cocktails that cost as much as most entrees I've ordered. But I have to say each was worth the splurge. At Here Kitty Kitty Vice Den, a red-lit hidden speakeasy at behind shelving at Fuhu Cha Chaan Teng, one of the restaurants in Famous Foods, I enjoyed a drink called The Good Stick, with mezcal, amaro ciociaro, lime, lemon, coconut, palo santo, cinnamon and egg whites. My other cocktail was a Mexican old fashioned at Gatsby's, with tequila replacing whiskey.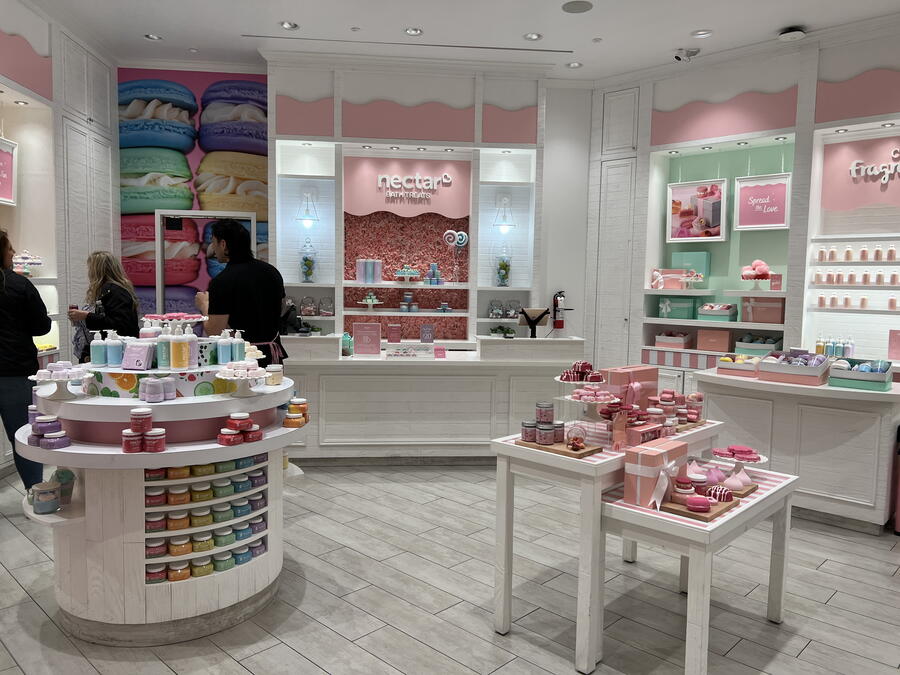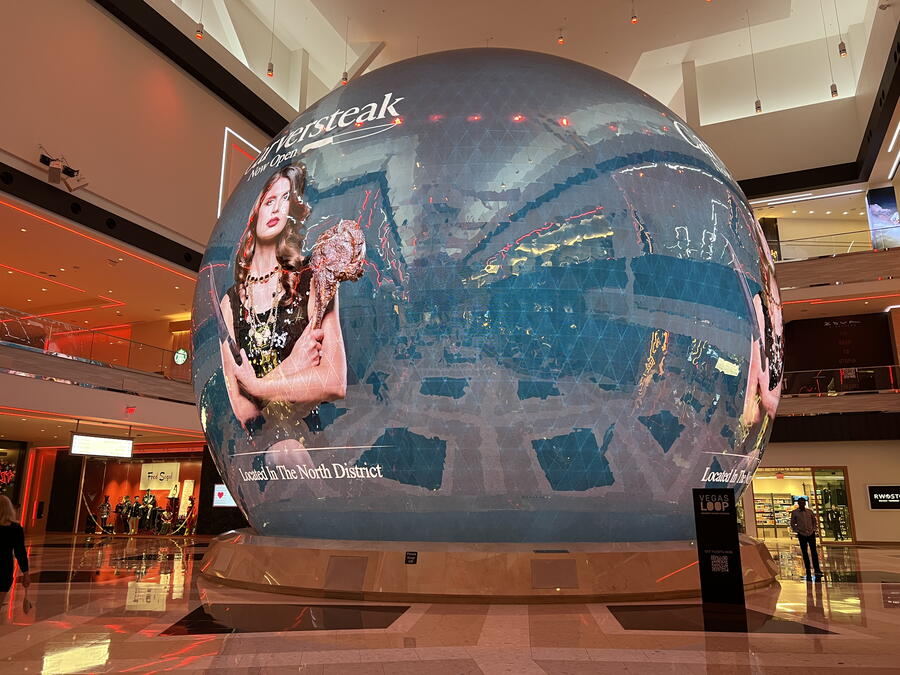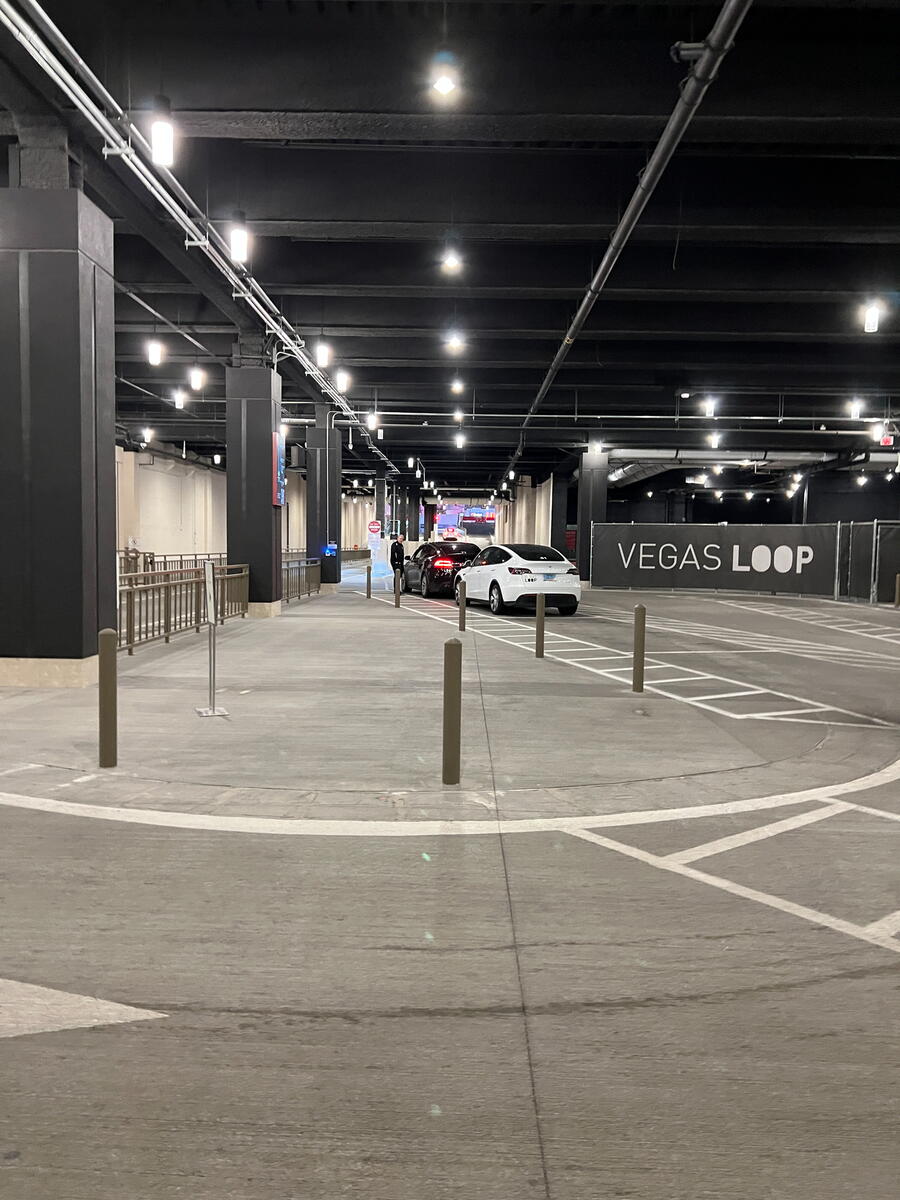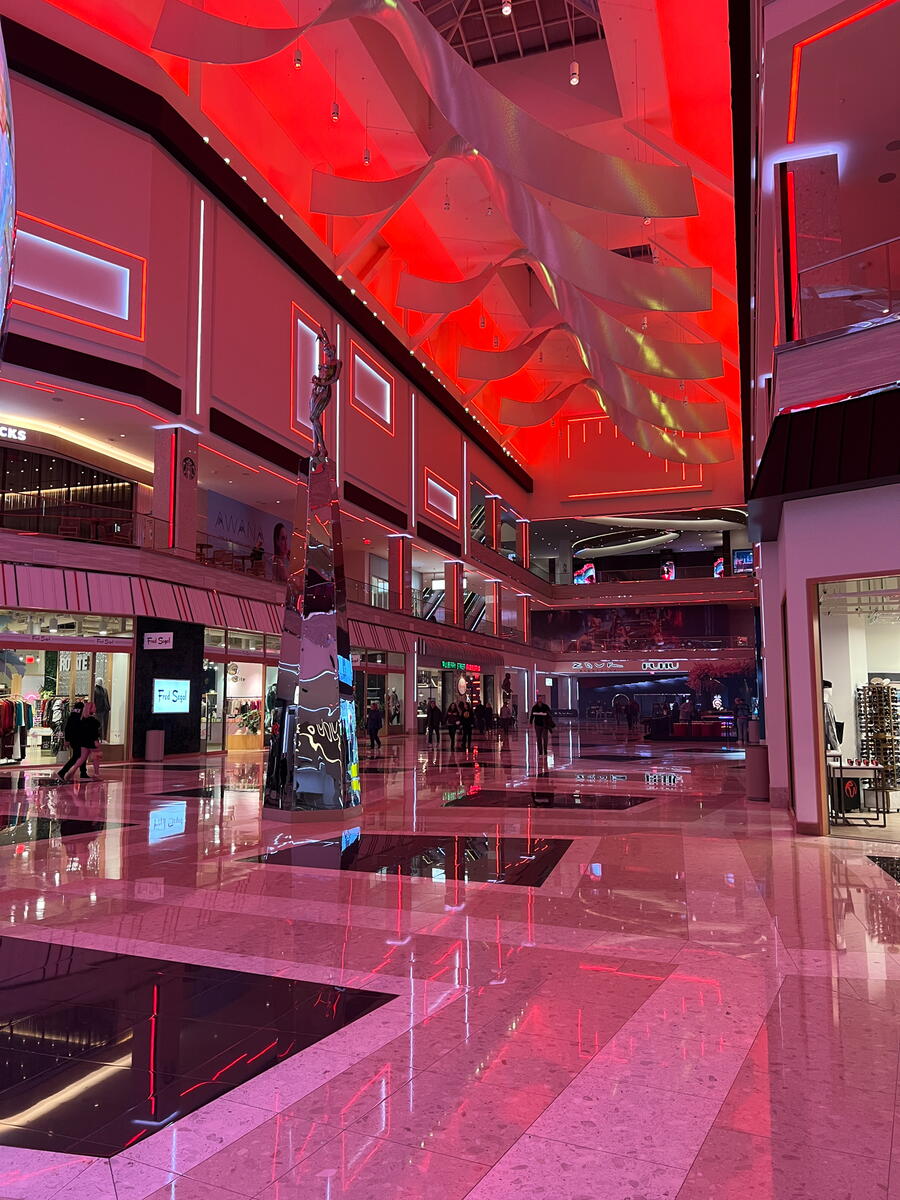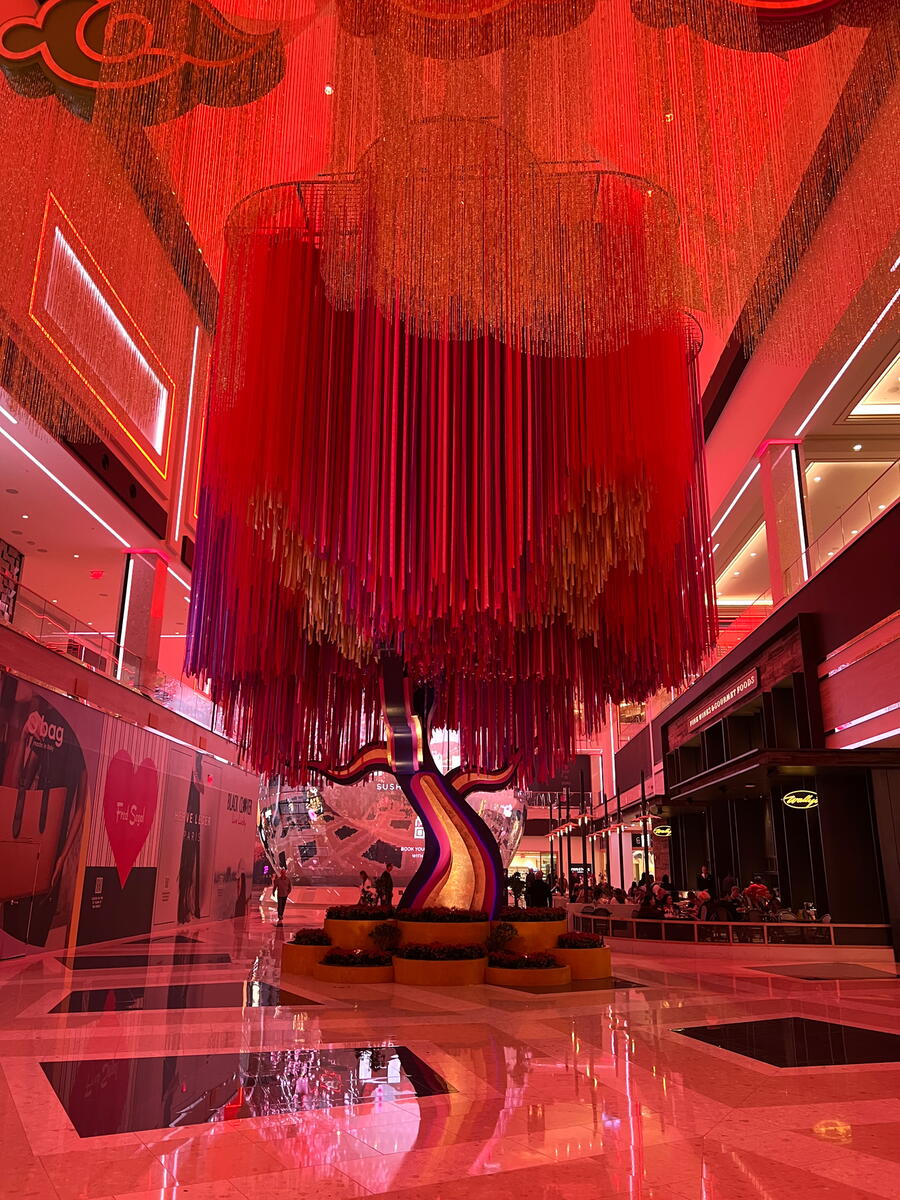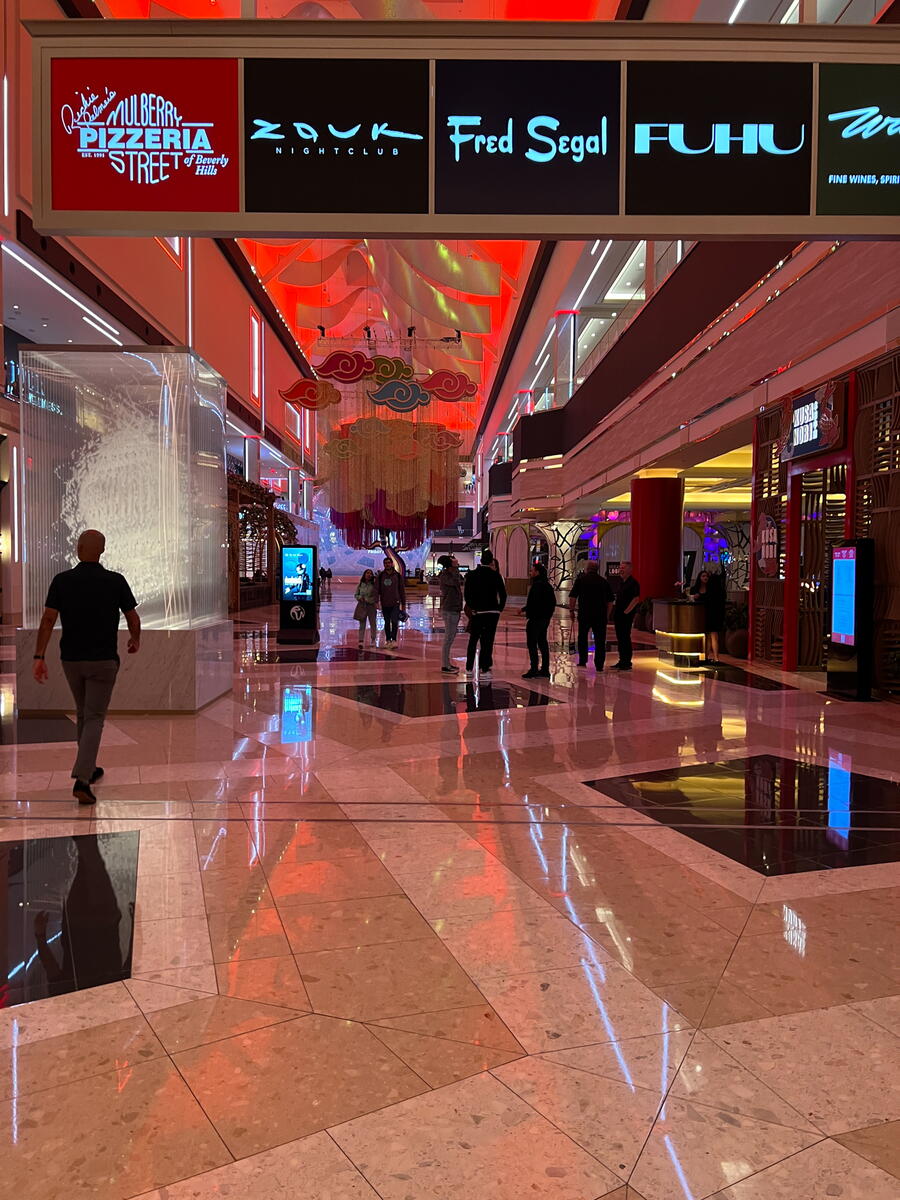 The shopping and entertainment
Of course, with such a jammed schedule for three days, we had no time for retail therapy at The District. Not that I would've done any beyond window shopping. Similar to other malls along the Strip, it sports designer boutiques Fred Segal and Herve Leger – places well beyond my personal price point.  
For essentially the same reason, I didn't get to see any shows, even the one that some people from our group went to – Katy Perry's residence show in the main theater. But there are also "experiences" that involve immersive art, electronic dance concerts, sporting events like March Madness and concierge-curated events.
Next week: I'll write about Eataly in Chicago.