I've traveled quite a bit in the last six months, and I probably have used my luggage more than I ever have during that time. Anything that's going to make the trip go smoother is something I can appreciate.
That's especially true with my work bag or backpack, the item that carries my computer, tablet and things that would go in my purse.  Much as I try, it's never light, so I will often place it on top of my rolling luggage.  What makes it workable are sewn-on straps that loop through the handle and secure it to the bag
But what if we don't have straps? I can absolutely say that my daughters' and RAS's travel bags don't, and that's definitely true of any tote bag I have.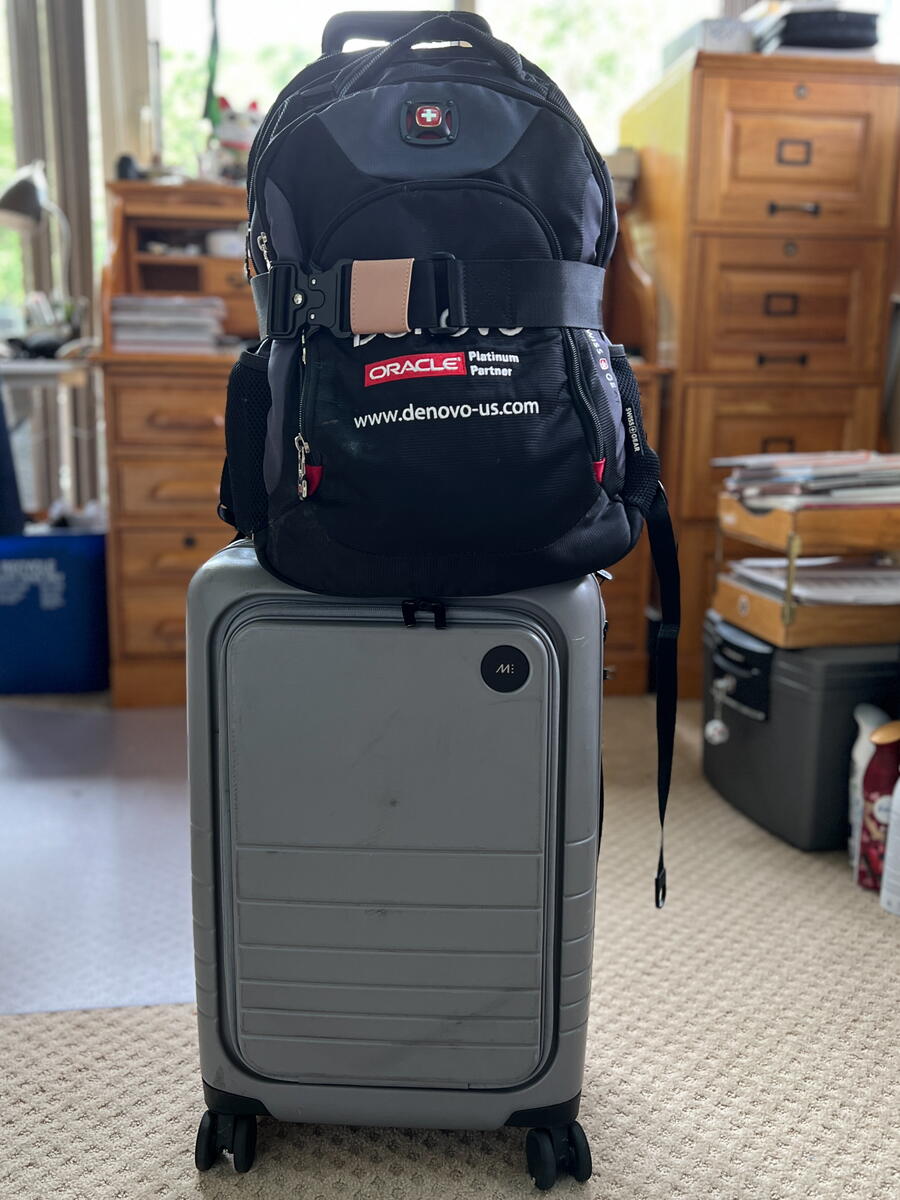 Cincha, a travel accessory company based in Oakland, has three main products, one of which was a winning venture capital recipient on the ABC program "Shark Tank." That item, the Travel Belt, is a sturdy loop made of woven canvas, vegan leather accents, a quick-release buckle and an elastic extension for a secure hold onto a luggage handle. 
The company also has a mini version of this strap for smaller bags. Their other products are the Stowaway Pocket, for small travel items, and the Travel Belt Bag, a combination belt and small pack that can also secure your carry-on.
I received two of these products – the Travel Belt and the Travel Belt Bag – to test out and review. The one detail that I noticed right away was the construction of both.  Here are the details for both.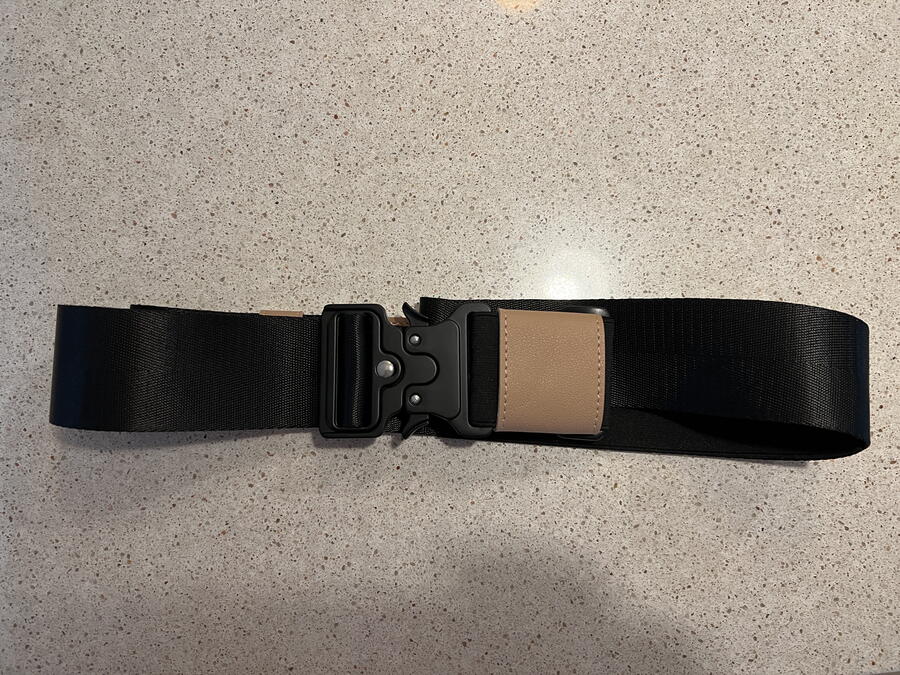 The Travel Belt
Cincha's signature product was a "Shark Tank" winner, and it's easy to see why.  As travelers, we all have experiences where we have a bag or backpack that we try to stack on our luggage, only to have it fall over because it's not secured to the handle.
With the Travel Belt, you don't have to worry about that problem. Just the weight of the heavy buckle assures that your bag will have a secure hold to your suitcase. But another more important feature is the elastic section at the buckle that gives it both flexibility and strength. You can also adjust the length of the belt according to the size of your bag.
What also makes it fun is that the belt comes in different colors and designs. Nine types are seasonal and will only be available for a few months, but there are eleven that are the "core" designs and will always be available.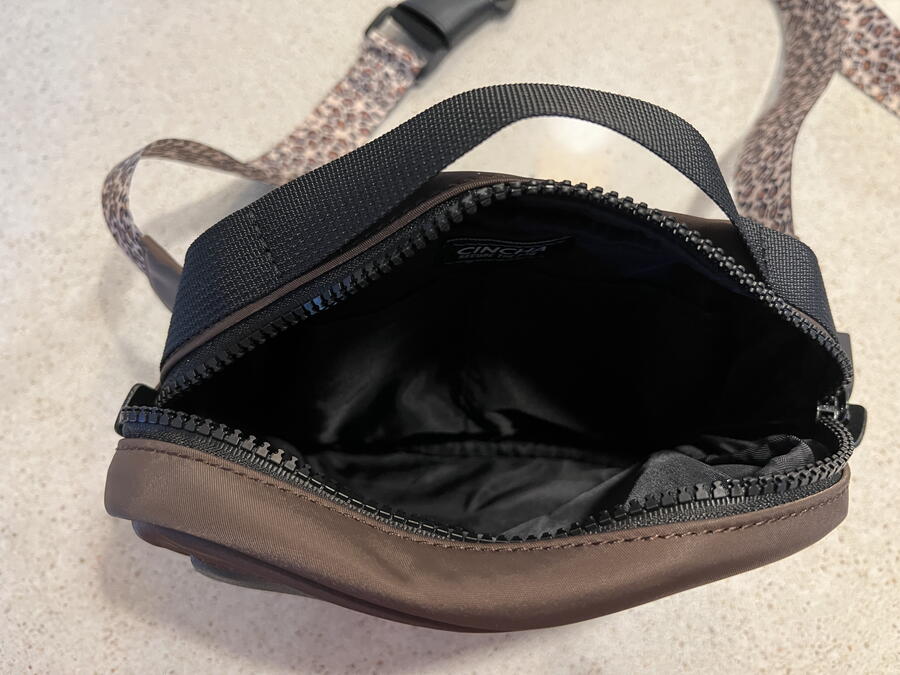 The Travel Belt Bag
Having the Travel Belt sounds like a great solution. But what if you'd like to have a little more storage, like something that can serve as your purse or small pack? That's where the Travel Belt Bag comes in handy.
This item is essentially the belt with a daypack that's made with the same sturdy canvas material and padded all around for protection. Secured with a zipper, it features a roomy main compartment with two small interior pockets. There are also two exterior pockets, one with a zipper to keep valuables safe, and back loop to fasten the bag to a handle.
You can get the Travel Belt Bag in five different color designs, including red (damas), green (tux), black (jet), leo (brown), and navy.
How well do they work?
As you can see, the Travel Belt and Travel Belt Bag do well to fasten your bag to your luggage handle, with little worry that it will fall off.  What makes it truly effective is that you can have your bag stuffed to capacity and both will have your carry-on stay put.
The Travel Belt is slightly better than the Travel Belt Bag at keeping the bag secure, simply because it has a wider and larger surface area. But both should work well in most cases.
Cincha has two fantastic products that will make your travel transportation that much easier.