When you've been on cruise ships and enjoy their food as often as I have, you truly appreciate it when the cruise lines do something different.
Nearly every time, I've always considered specialty dining to be that distinguishing feature.  The main dining rooms, buffets and food bars around a ship are mostly good to excellent, but they often aren't that different. Where a cruise ship's culinary offerings truly stand out is with the "extra" venues.  And they should be - if you pay more for a meal, you should expect an elevated culinary experience that surpasses the usual.
But Princess Cruises has taken the specialty dining concept to another level with a unique multimedia and multisensory spectacular currently on one of its ships and coming to a second. I was fortunate for Princess to invite me to 360: An Extraordinary Experience on Discovery Princess, their newest ship.  It will soon be offered on Majestic Princess.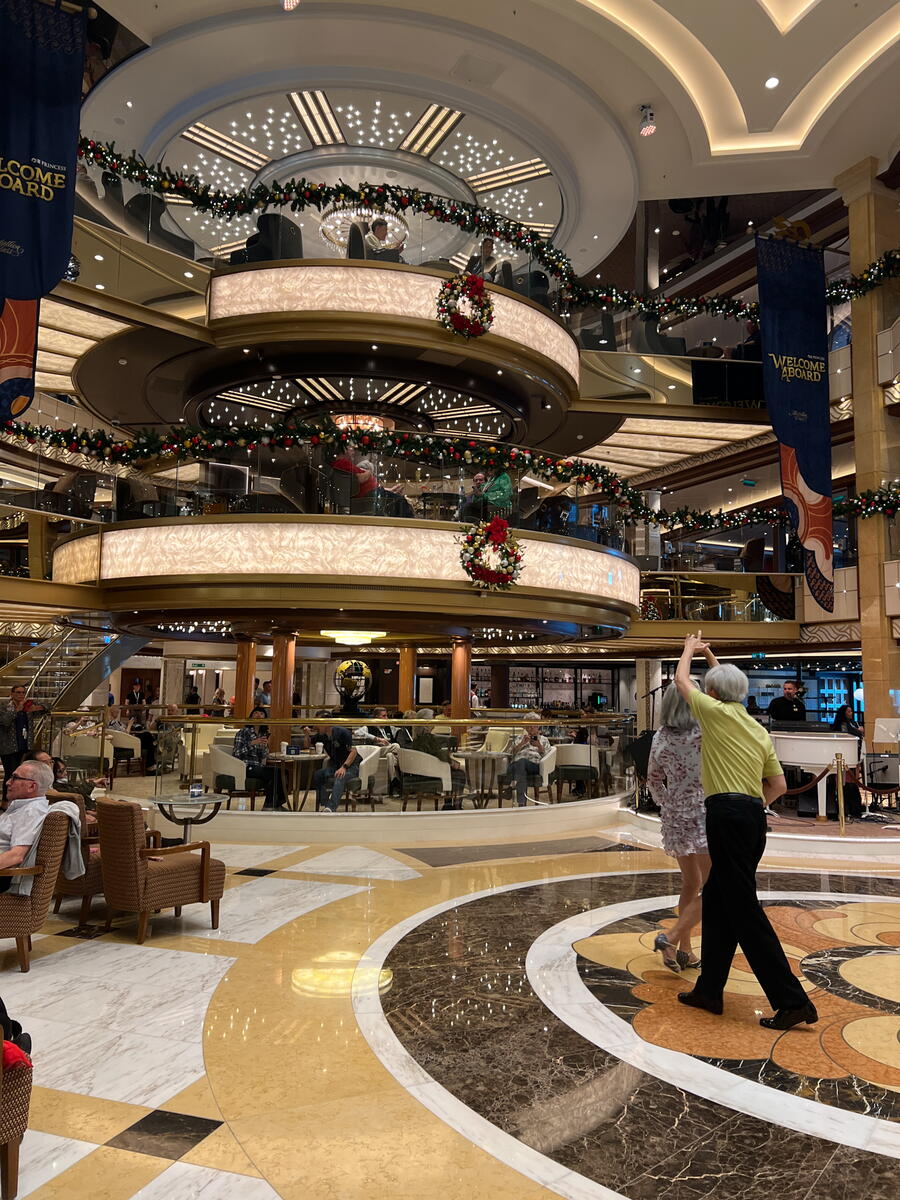 At present, 360 is only offered by invitation to suite guests and certain VIP casino and retail event sailings.  It will soon be on all Princess ships and then open to those who book the Princess Premier package.
No matter what cruise and itinerary they take, these guests immerse themselves in the sun-soaked beauty of the Mediterranean, going from the islands of Greece to the urban sophistication of Barcelona, with stops in Italy and France.  The actress Brooke Shields serves as their narrator and guide through all the destinations and their seven representative courses, with wines that accompany each one.  During the meal, locals talk about the food and drink they create.
Right before the ship set sail for a seven-night journey to the Mexican Riviera, twenty of us travel writers and bloggers stepped aboard to attend the lunch. I explored the breathtaking atrium for a few minutes beforehand. It was beautifully decorated in Christmas lights, tinsel and a towering tree.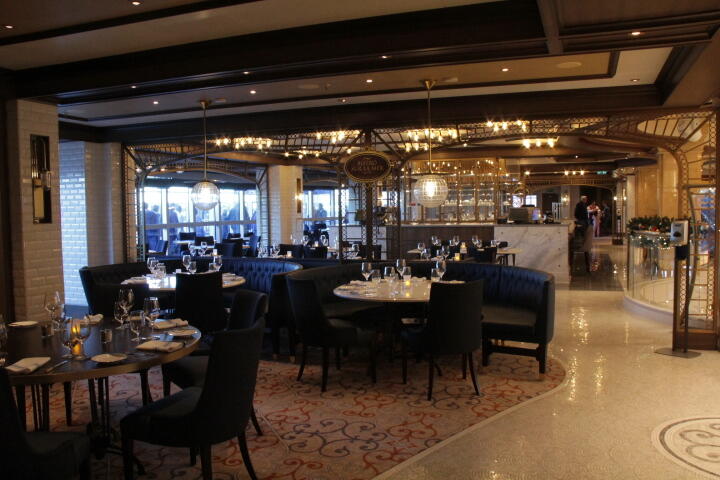 We were taken to one of the specialty restaurants, Sabatini's, where we enjoyed a special cocktail with vodka, fruit juices and blue curacao. A special "360" design topped it off. The host then led us into an aqua-hued circular room with curving screens all around and a ring-shaped table with a large opening in the center.  As we eventually discovered, the table itself featured interactive animated elements that truly personalized and delighted all of us.
Judging from the chatting with my fellow travel writers, I don't think any of us knew what to expect from the presentation or the meal.  Also, we were disappointed that we couldn't take pictures of venue nor the food we enjoyed.
So, that is why some of these pictures were given to us from the public relations company that organized this trip. I'll do my best to describe the incredible meal itself.
First course - olive love
Inspired by the Greek islands, the starter consisted of olives with a lightly spiced yogurt sauce, olive oil and mini-pita rounds. The refreshing companion cocktail consisted of rosemary-infused simple syrup, vodka, lemon juice and basil.
Second course - octopus made delicious
Now, I will never order octopus or calamari on my own, but I wasn't refusing this dish just because I have personal hang-ups.  The grilled octopus salad with feta was surprisingly mild and flavorful. It just might make me a convert to something I've always avoided.
Third course - caprese salad, elevated
Burrata with heirloom tomatoes is something I can always appreciate. In this case, this simple dish was enhanced with a fruity and smooth white wine called Lacryma Christi del Vesuvio. Yes, that's Mt. Vesuvius of Pompeii notoriety.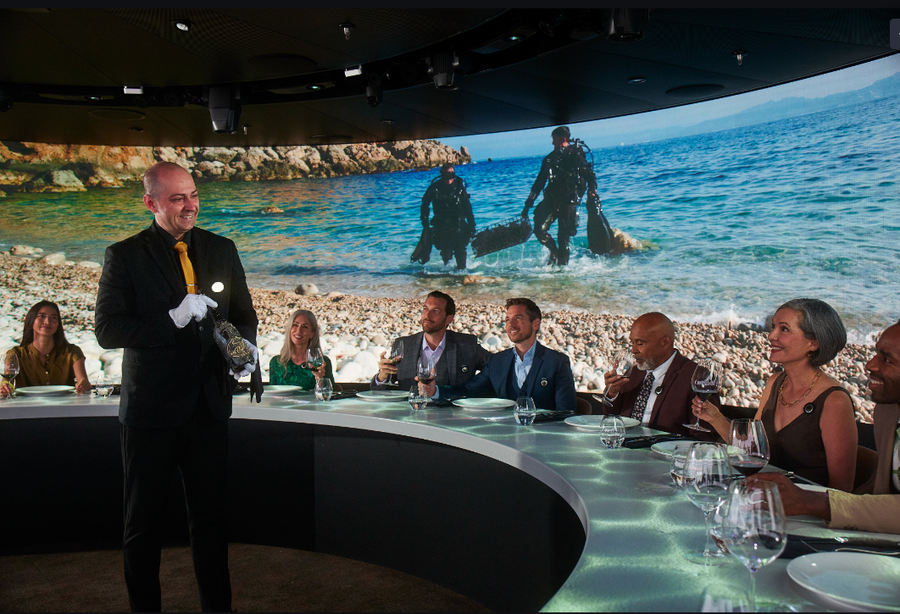 Fourth course - Lemony goodness
Being a pasta lover, I would have probably ordered the linguini al limone just on its own. Fresh pasta adorned with cream, Parmigiano-Reggiano, lemon juice and zest and herbs was heavenly…and I could have had seconds. Or thirds.
Fifth course - Tapas on Toast
Of course, we were not done.  We then enjoyed a Spanish take on bruschetta with jamon and chorizo. The full-bodied grenache served was from a cellar, Elixsea Seastar, where wines are stored underwater for at least six months. The bottle was even encrusted with dried seaweed.
Sixth course - Here's the beef (and shrimp)
You truly cannot experience Mediterranean cuisine and not try truffles.  Their earthy flavor was prominent in the filet mignon, shrimp and eggplant entrée, especially with the infused butter that brought the entire dish together.
Seventh course - A Provence finish
After thinking that I wouldn't survive the meal without discomfort, we were rewarded with a light and whimsical dessert of honey cake with honeycomb, lavender sauce and raspberry. Two gelatin honeybees kept watch over this lovely finish, along with a flute of Champagne.
Note: This was a sponsored trip from Princess Cruises, but opinions are my own.