Last week's post about the Edgewater Public Market became too long for one article, so I'm splitting it into two parts. Here's the second.
I did this because I needed to return and try other food stands besides Arepas House and Black Box Bakery. And even with the nine I already wrote about, I didn't try six of them.  I may need to recruit friends or associates to try the places I can't get to in one or two trips. If you're in the Denver area, let me know if you'd like to participate in this in the future. 
With this post, I've somewhat moved in that direction. I took JRS on a second visit to try more food from other stands. I didn't go back for arepas or croissants, much as I wanted to. I was intrigued by the two plant-based places, Gladys and Meta Burger, which I'll cover below. But I ended up with sliders from the Slideshow stand instead. JRS tried gyoza and a pork bun from Mugi Ramen.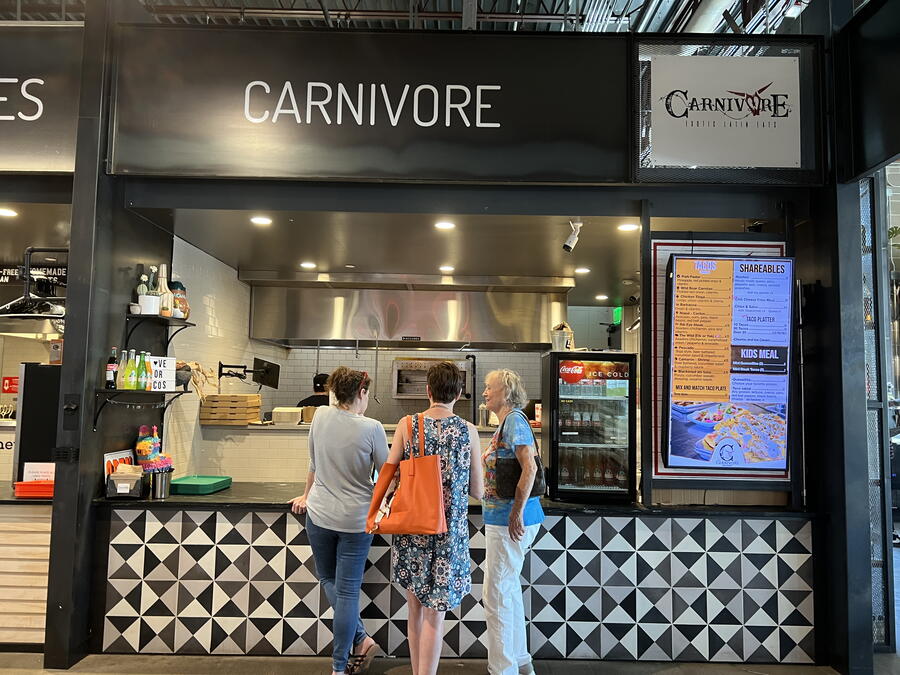 Lazo Empanadas
After my trip to Gaucho Parrilla at Freedom Street Social, I didn't want to have more, so I will try the empanadas here soon. What makes Lazo's different is that they're baked, not fried. It's reason enough for me to enjoy them and not feel guilty.
The Lucky Bird
I think of a chicken-centric restaurant, and I get skeptical. But Lucky Bird serves up nine intriguing kinds of sandwiches and wraps, three kinds of tenders (including Asian and buffalo) and two salads. Anyone who claims chicken is bland might need to make a trip here.
Mac Shack
Who doesn't love mac and cheese? Even if you're just a purist who goes for the basics, you might want to venture out of your comfort zone and try some with pork belly, short rib or sriracha chicken and bacon. Or, you can customize it with anything from green chile to lobster.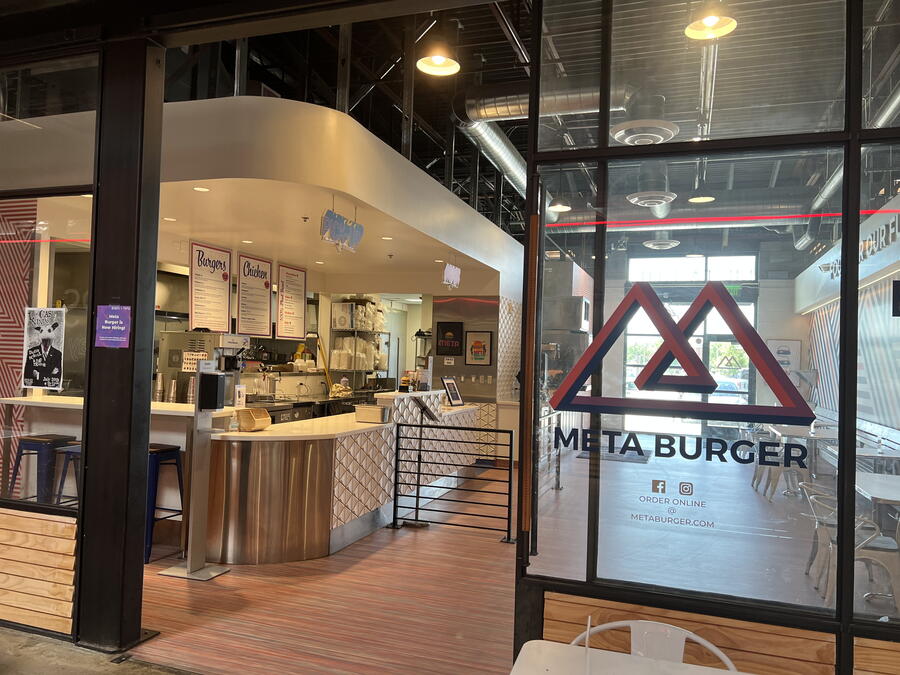 Meta Burger
Here's another plant-based operation with several locations. But the focus here is on the good ol' burger, which has won several culinary awards.  Seven traditional and five "chicken" varieties are available, along with sides, larger shareable sides and salads. 
Moontime Crepes
Nearly everyone loves crepes, whether they are sweet or savory.  It's even better when you have clever names for your menu items. Moontime does that with titles like Bust It Big (cheese, bacon, cherry tomatoes, red onions, green chile, ham, spinach and hollandaise) and other kinds.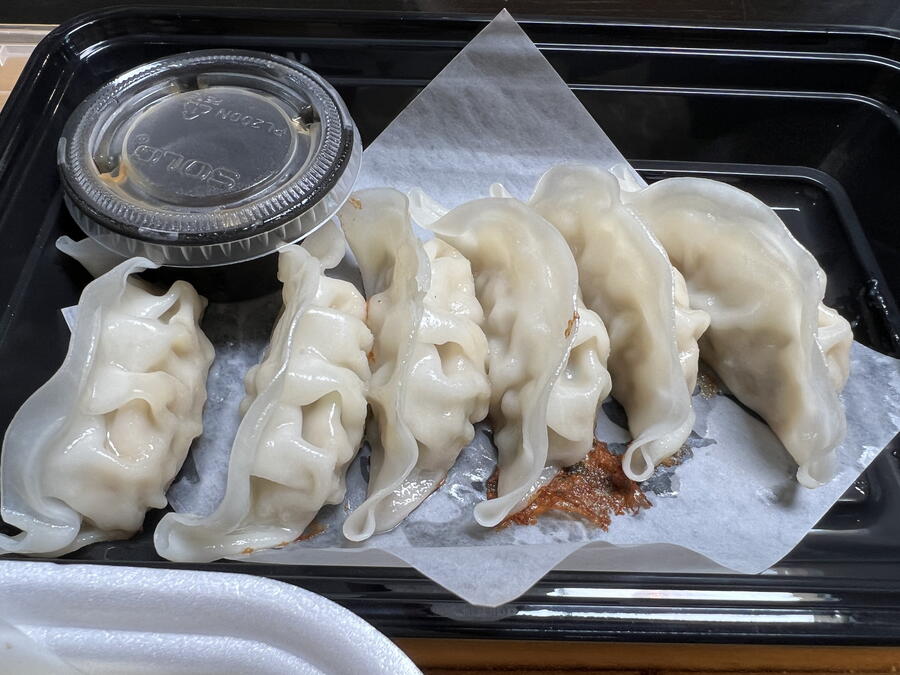 Mugi Ramen
JRS couldn't decide what food to choose, so I decided for her. While she would have loved to try a comforting bowl of ramen, she opted for something less filling, the starters I mentioned above. Both were flavorful, with the gyoza featuring hints of ginger, garlic and green onion and the pork bun having the right smokiness and tang.
Saints or Sinners
This strategically placed coffee bar has healthy items like acai bowls and smoothies and tempting ones like liege waffles and pastries – hence the name - like the ones pictured above. This would be an excellent place to visit if you're between meals and don't feel like having something too filling.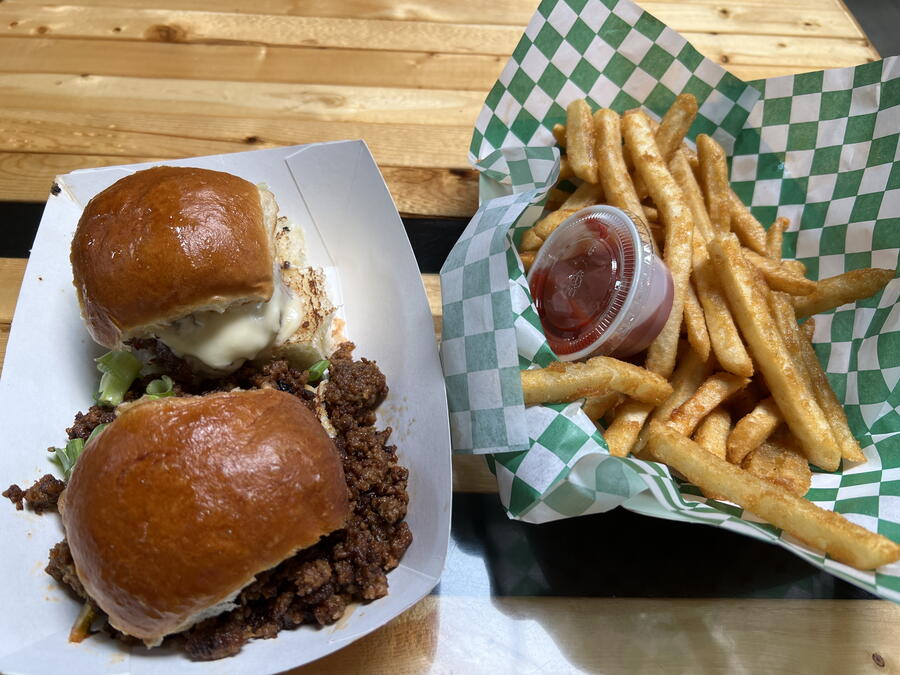 Slideshow
Lessons learned: I wrongly thought this would be a "lighter" meal versus the Ethiopian vegetarian plate from Konjo. But I'm glad I chose my second meal here: Korean sloppy joes and a mushroom Swiss slider with the best French fries I've ever enjoyed. The first was a little dry, but it hit with the right amount of heat with a kimchi topping. On the other hand, the second slider was juicy, savory and smoothly cheesy. 
Syrup
I can support an all-day breakfast place hosting a drag bingo event, especially now. Syrup serves up any of your favorite entrees and appetizers with a few twists, like the Mile High Tower - think of it as a vertical omelet. Benedict lovers will also find something to enjoy here, with seven different varieties.
Tilford's  
Wood-fired pizzas have become the gold standard for pie excellence. But when I looked at the website for this place, it wasn't online. I suppose I can only go there and try it out on one of my subsequent visits.