While I've lived in Colorado, I sometimes just explore without any agenda or destination.  That's how I found this county Open Space park.  My family and I were just heading up the windy State Highway 74 between Morrison and Evergreen, on a leisurely Sunday drive, and came across Lair O' the Bear.
What's in a name?
I was probably more intrigued by its whimsical name than how the park itself looked.  Not that the park is an eyesore – its location in narrow valley on banks Bear Creek was likely a haven for Native American tribes.  But it's always been one of my favorite places to hike and trail run.  It's also the main connecting two other Open Space parks – O'Fallon and Corwina, plus a Denver Mountain Park, Little.
As often as I've been to Lair O' the Bear, I've never been to the latter two.  I use the excuse of time and slight fear of the unknown as the reason why I haven't.  Just like with everything else in life, I'll go there when I don't have so much to think about elsewhere in my life.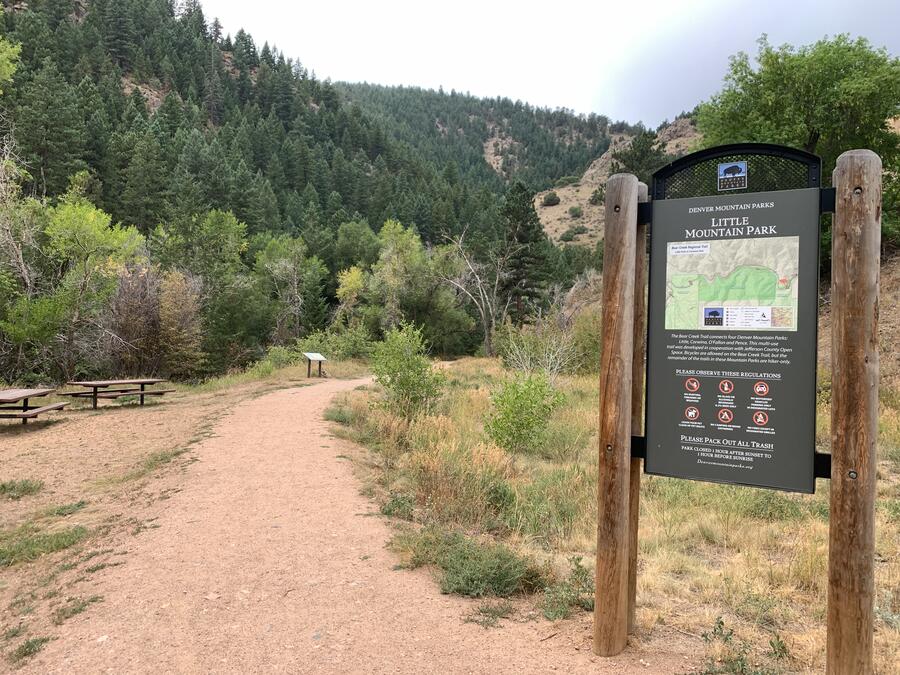 The place I like to start
When I've come here, I often park at Little Mountain Park, whose entrance is a highly miss-able dirt road downhill turnoff.  There is no sign for it, so you'll just have to mindful that it's right next to a mile marker sign on the opposite side of the road.  It's right outside the tiny town of Idledale.
Head straight down the road, where you'll then come to a small lot holding about ten car spaces.  Not surprisingly, it gets filled up on the weekends.  Don't try to park in the residential area east of the parking lot – you'll likely get towed.
Little only has one trail, Bear Creek, that connects to Lair O' the Bear, so you likely won't get lost.  Just follow the creek upstream, as the trail essentially follows it for nearly the entire distance.  You'll cross a bridge that takes you away from it, but then you'll meet right up with it again before you come to a fork.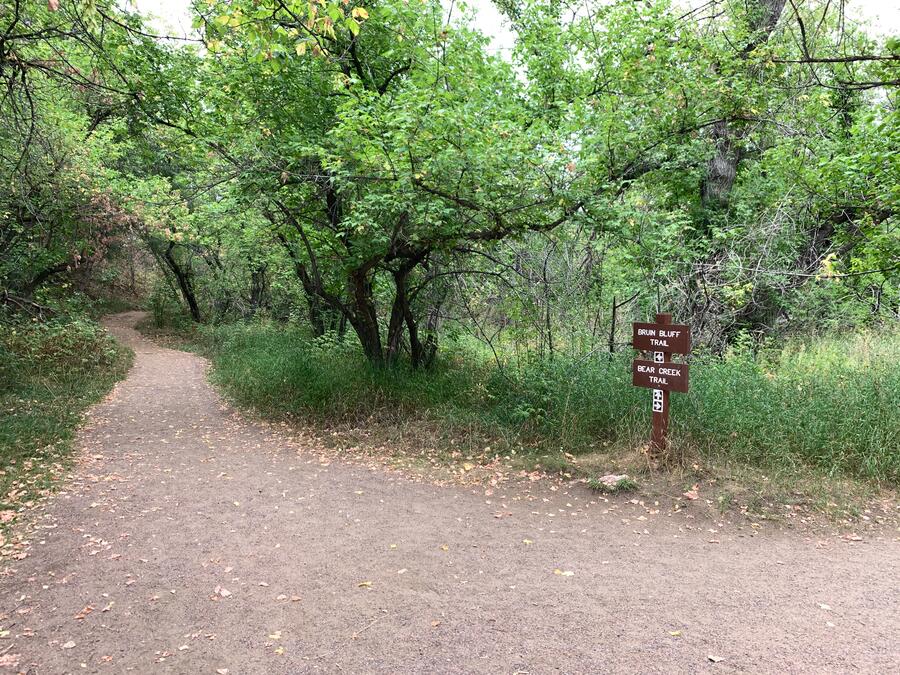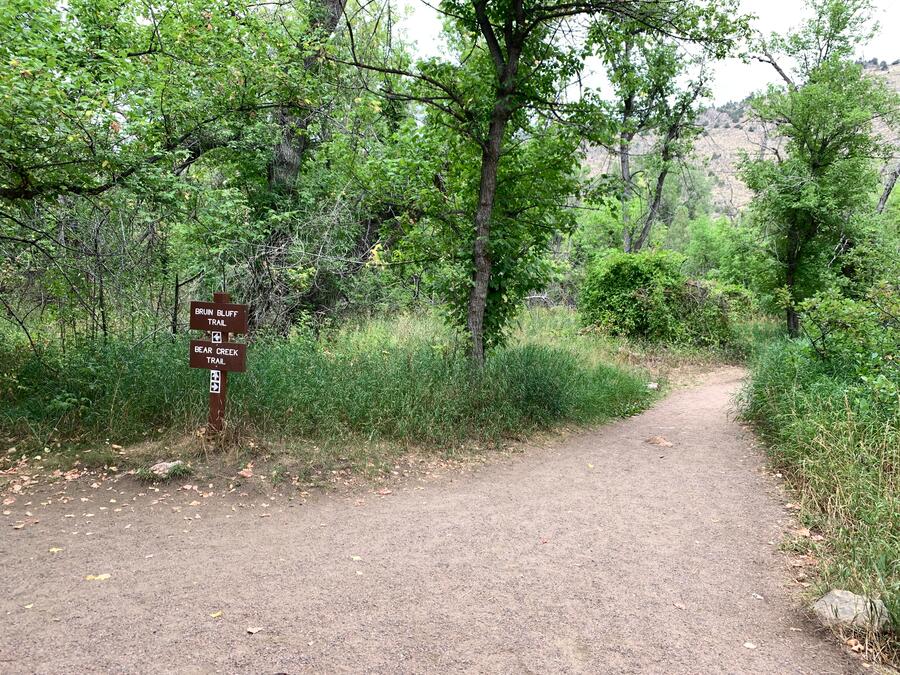 Choose your adventure
Go to the left, and you'll be on the Bruin Bluff trail.  If you want to climb a bit and enjoy some great views, choose this option.  If you want something flat, head over the footbridge and you'll come to the main area of Lair O' the Bear.  Keep following the creek, which will lead you to a pedestrian-only pathway and to the Bear Creek Trail.  This main path is about 1.5 miles one way and can get busy with both hikers and bikers.
There is at least one area where you'll have to cross over rocks in a stream to get to the other side.  Sometimes it's three, depending on if there's storm runoff.  Just keep that in mind if you have mobility issues.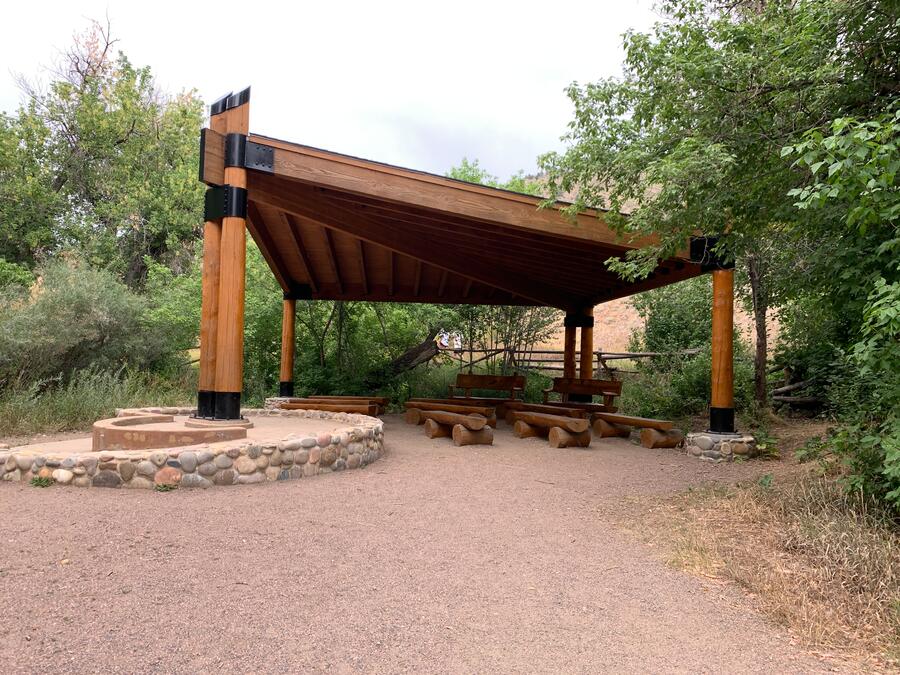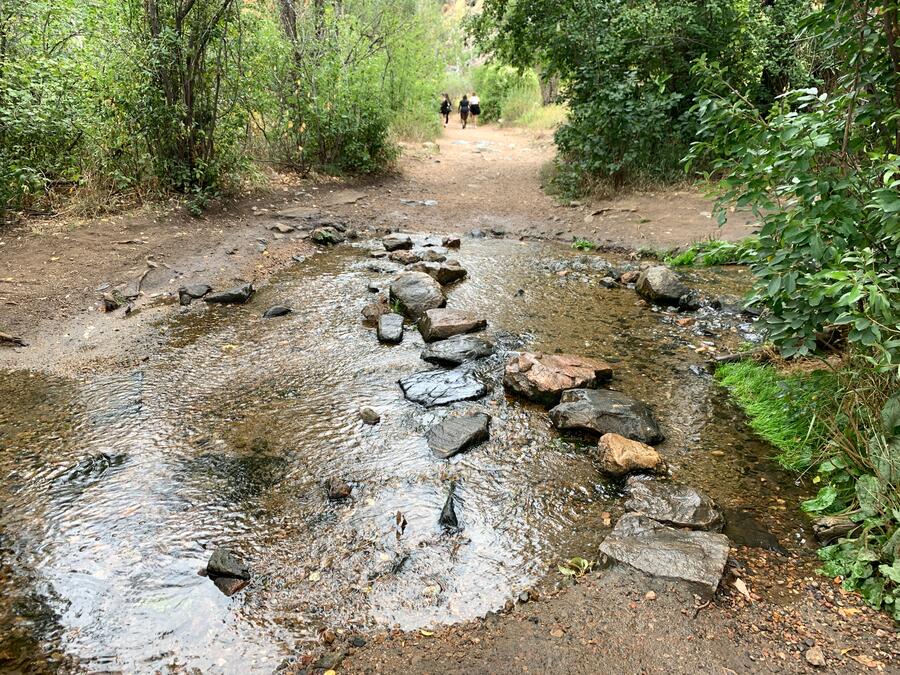 A Colorado castle
Just before mile one, you'll be opposite a massive estate with a dark gray castle on the riverbank.  No one lives at Dunafon Castle, and it's essentially used for weddings.  I've never seen a wedding take place there, but I always see the setup.  I'm sure it would be a beautiful place for such an occasion.  But I wonder where everyone would park, even if it's valet. 
In another half-mile, you'll come another fork which will take you into Corwina Open Space Park and O'Fallon beyond that.  I just simply go to the very end of the trail, which is another footbridge and incline that goes to Highway 74, and double back.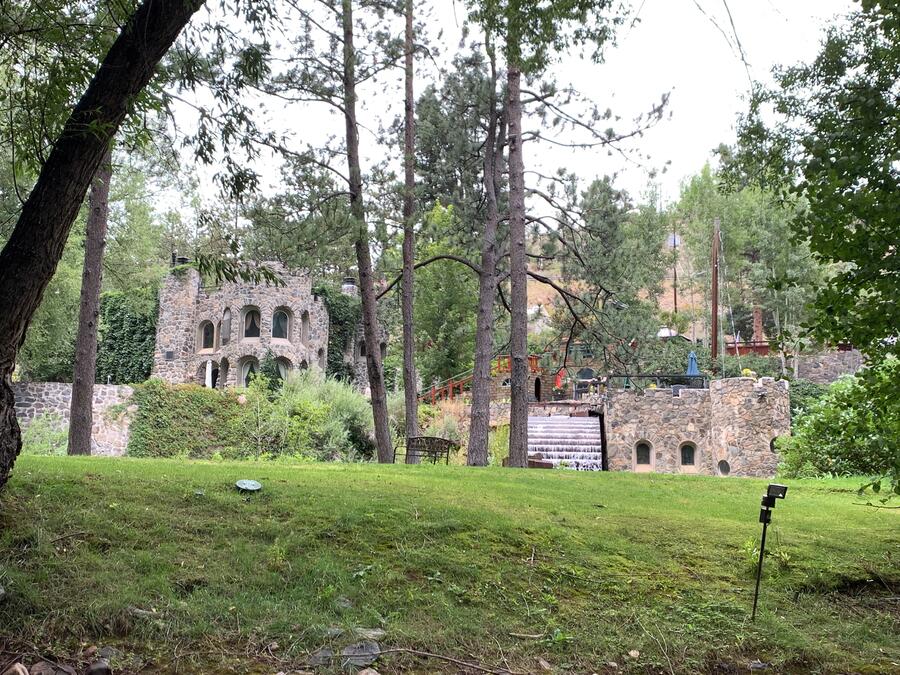 Apres hike things to do
Thirsty after your hike or run?  Then head over to Evergreen, just 10-15 up the highway, and treat yourself to a pint at Cactus Jack's or a margarita at Maya's Cantina and Grill.  If you're looking for dinner choices, we often go to BeauJo's Pizza (home of Colorado-style pie, which is essentially a thick-bread braided crust) or Wildflower Café, if you want a hearty brunch or breakfast.