Few travelers to Japan think of Hakone when they plan their travel.  I personally didn't know about it.  Perhaps the most pleasant surprise on our tour was this scenic area at the base of Mt. Fuji.  Even looking at photos and videos didn't do the place justice.
Rural haven in the mountains
Greenery from thick pine and cedar trees, dramatic steep hills and the calm glassy waters of Lake Ashi all combine to provide a haven from the urban frenzy that's everywhere else in Japan.  Hakone was a stark contrast to Tokyo and just about every other city that was to come on our trip.
Our tour group took the Yamanote railway line to Shinagawa and the famed Shinkansen (bullet train) to Odawara.  Nearly any traveler's description of their experience on these super-speedy lines matched mine.  It was one of the smoothest train rides that I've ever been, with the landscape being a virtual blur outside our windows.  We then took a 90-minute winding bus odyssey to Hakone, which is actually a collection of small communities clustered in and around a national park.
The ubiquitous vending machines around Tokyo were also here too, just not as many of them.  Some had a few unique food offerings, like this one: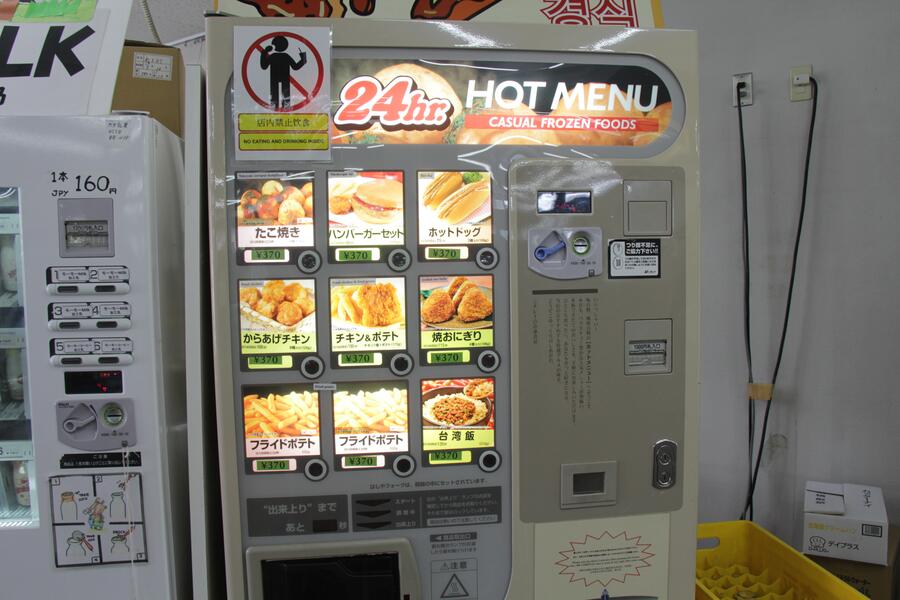 Because where we were staying wasn't quite ready for check-in, we took a day tour.  This began with a boat ride.  At the visitor center, we had plenty of time to check out the gift shop, which offered a disproportionate number of food gift boxes.
Giving gifts and local food
We learned that there was a perfectly logical explanation for this.  When Japanese workers go on vacation, they bring back gifts to share with their co-workers as a gesture of sharing the wealth.  Most of the merchandise in this store catered to exactly that, since Hakone is one of Japan's most popular holiday destinations.  Beautifully wrapped and packaged cookies, candy and savory snacks lined the shelves and display tables.
For instance, Kit Kat, which is only available in the United States with one flavor, has several hundred kinds in Japan, with some regions offering their own specialty.  Another reason why the Kit Kat craze has flourished in Japan is in its name. "Kitto katsu" also loosely translates to "good luck" in Japanese. 
Hakone is especially known for black eggs.  Owakudani eggs are delicacies that have been cooked in the volcanic hot springs in the area.  As a result, they smell like sulphur and look like a large onyx pendant.  Supposedly, they will add seven years to the life of whoever consumes one.  I didn't think it was worth the extra lifespan.
This version isn't as intensely sulphur-flavored as the original, as they are only smoked and not cooked in the volcanic heat: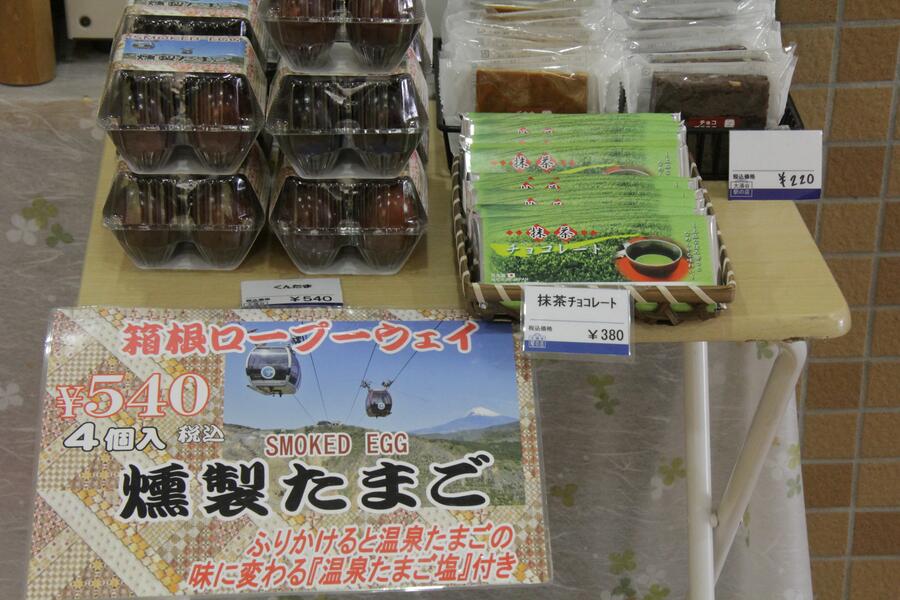 When we finally reached our guesthouse for our one night stay, we stayed long enough to get freshened up.  Some in our group took their private baths in the in-house onsen before we walked to the restaurant.
Our private Hakone dinner
I am not sure if everyone in our group knew what to expect for dinner.  The guesthouse that we were staying at wasn't big enough for multi-course meals just a simple breakfast. When we approached Hanasai, it looked more like someone's residence than a restaurant.  Upon entering, it was actually smaller than a home, because the dining area occupied the whole space. About two-thirds of the area was tatami floor seating, which I would have done if my knees weren't so creaky and achy.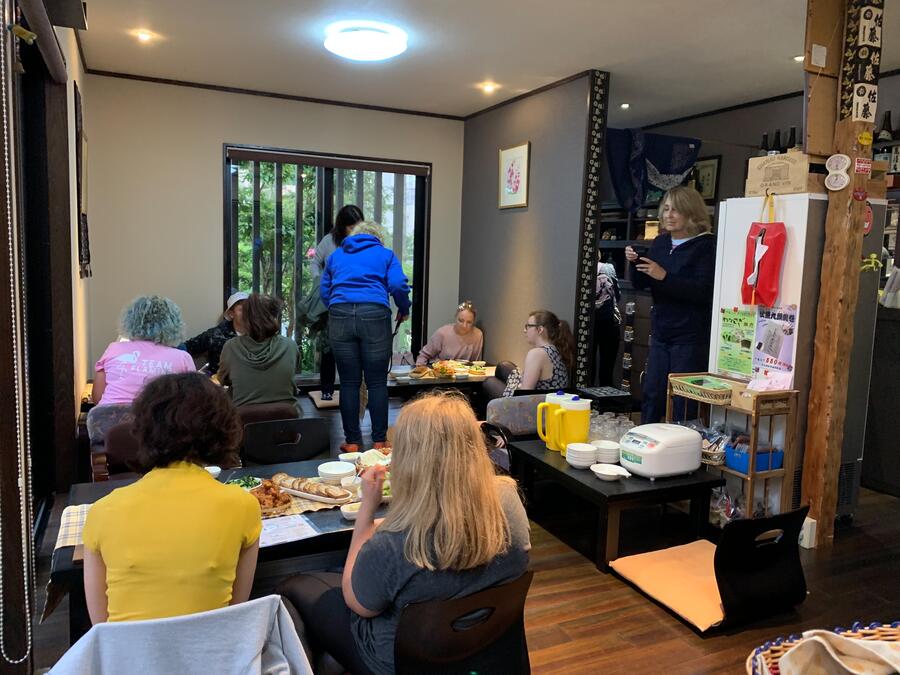 Our meal consisted of both Japanese dishes and a few western (meaning American and Italian).  All of it was delicious, prepared by an older woman and her staff of two.  Most of the restaurants in Hakone are in the fancier ryokan and larger resorts in the area, and are definitely more conventional.  Enjoying our dinner here felt like being in someone's home, and it was probably way better than anything at a regular restaurant.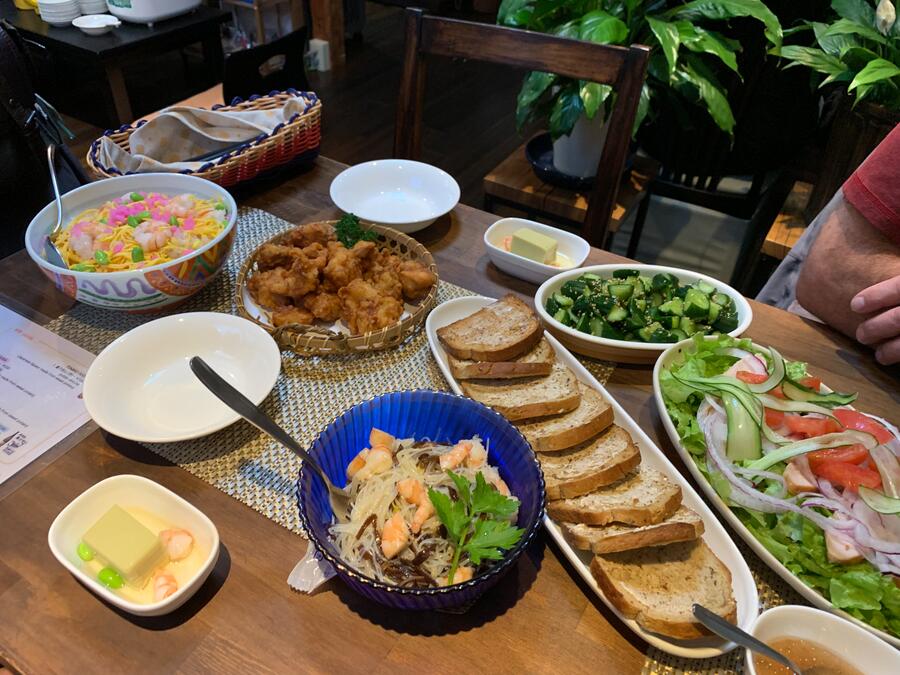 I'm just glad that we didn't have to eat those black eggs.