I've written quite a bit about the trails around my home, and Clear Creek is one of the closest.  It's one of the very first trails I trekked, back in 2002, when I first moved here.  Since I was well into my pregnancy with NLS, I actually waddled along more than walked.
It's a relatively flat and basic trail except for one area that's somewhat elevated and is mostly paved.  But it goes along Clear Creek and as such has some picture-worthy spots along the way.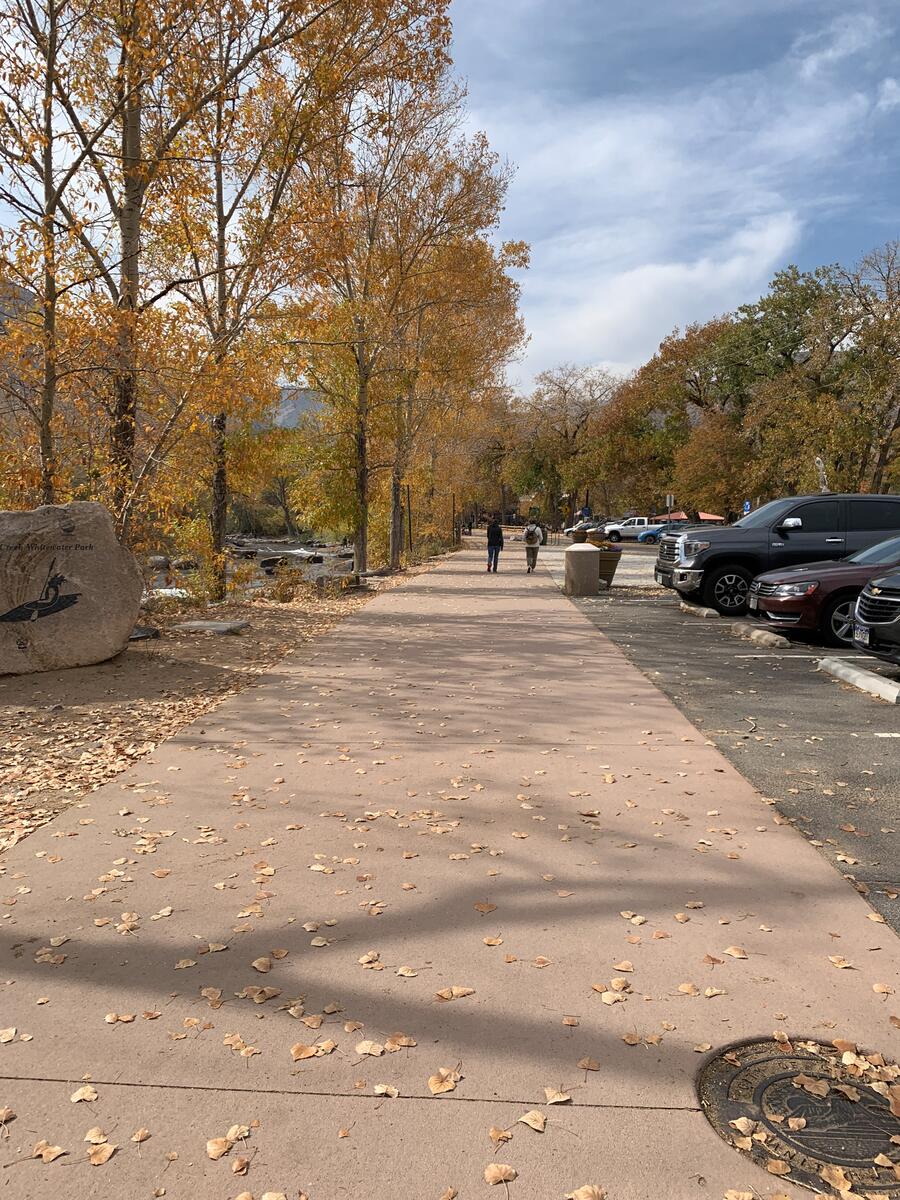 Our hometown trail
Since that time, the city of Golden has expanded Clear Creek Trail to make it a loop to skirt both sides of its namesake.  West of US Highway 6, it's a one-way that dead ends in a small dam about a half a mile.  There is an absurdly elaborate bridge about halfway between that leads to switchback trail that also dead ends.
The eventual plan is to construct a multi-use trail that spans the entire length of Clear Creek Canyon, which begins in Golden and meets up with Interstate 70, about ten miles to the west.  Given the lack of funding for such projects, I don't think I'll see it in my lifetime.  But I at least can enjoy this small segment that's not always crowded, depending on when you go.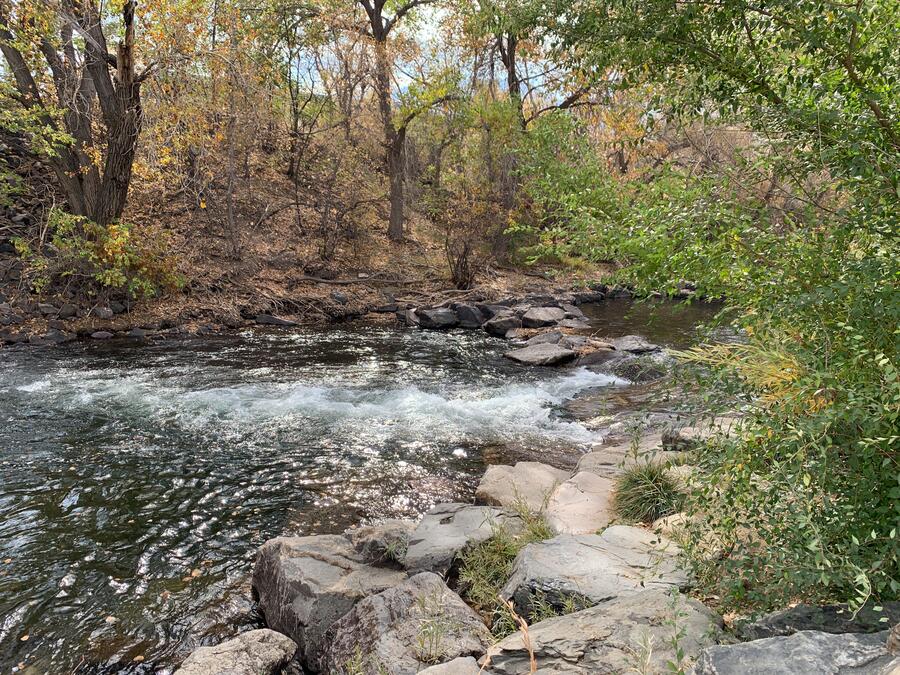 Where the trail ends
Eventually, you'll head downhill, and the trail curves toward the creek.  You'll cross a steel pedestrian bridge and come to the north part of the loop.  While you can turn right and head back toward town, go left instead and walk up the gravel incline under the highway and keep going on the dirt path.
This is the area that's great to walk along year-round, even when it's snowing and there are patches of ice on the path. The only time when it's not is after a rain, when puddles and mud take over and you come looking like a happy hog after you've slogged through it all.
The path cuts between Clear Creek and a canal that provides water for the city of Golden.  In between are groves of cottonwoods that release fluffy white wisps in the summertime.  For a moment, you almost think it's snowing in August.  It looks really cool, until one blows right into your face and causes you to sneeze.  In fall, you'll see some spectacular fall color from a few aspen groves along the way.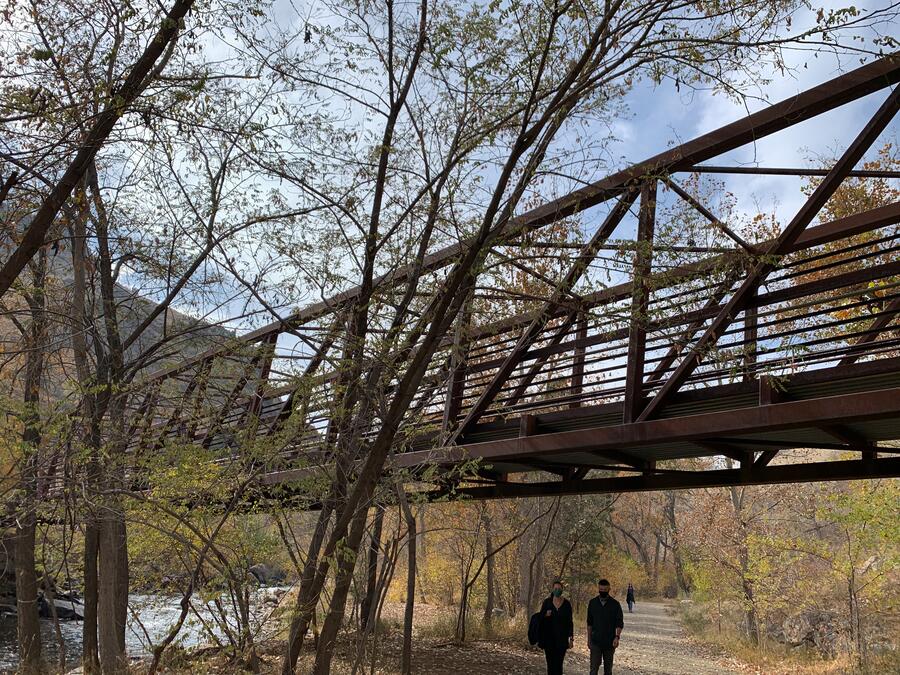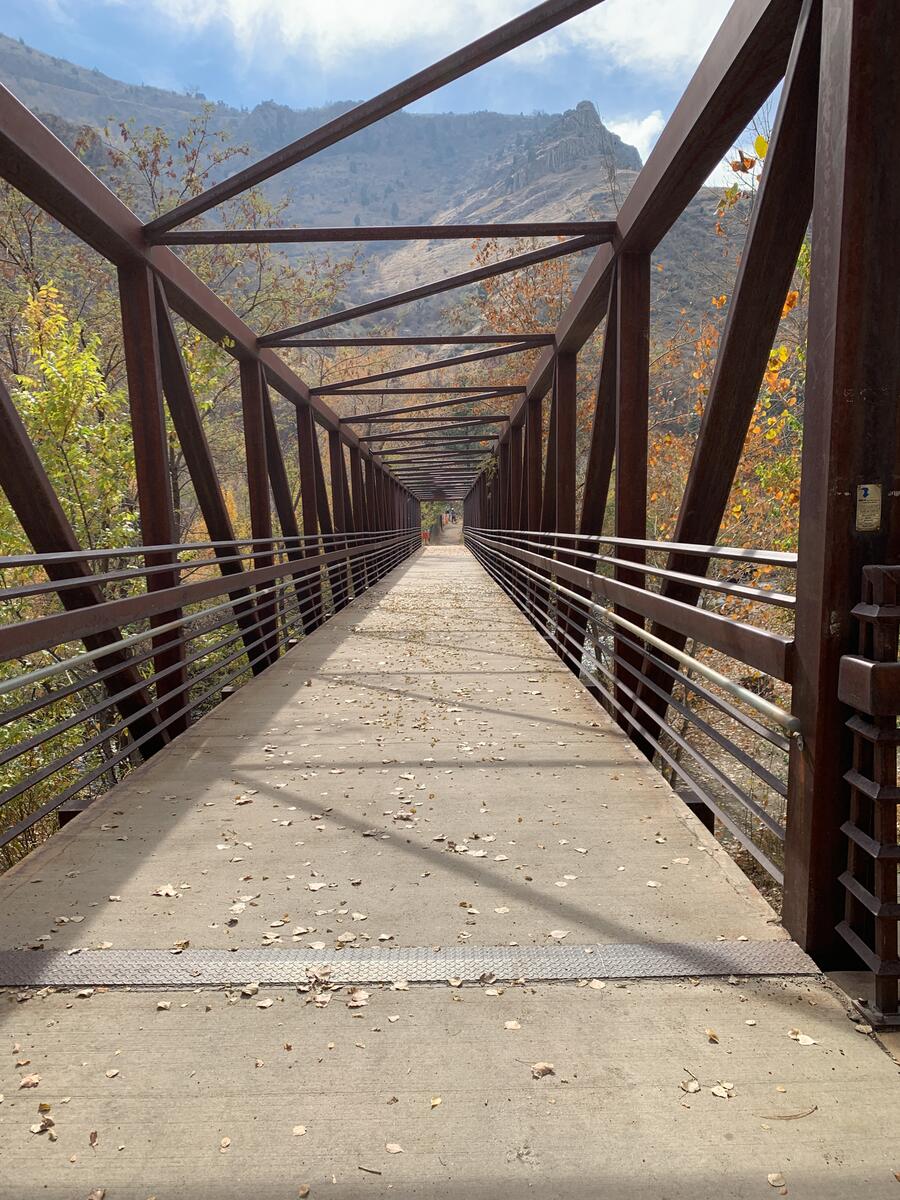 Going beyond the usual
Clear Creek Trail officially includes a portion that goes about 18 miles northeast of Golden, all the way to the Platte River north of Denver.  I won't write about that part, since I've never been on most of it.  Besides, the most scenic and appealing part of it is in Golden anyway, and after you've walked this, you've got great access to the bars and restaurants of downtown.
From the starting point at Golden History Park near the Washington Street, it's about 2.5 miles roundtrip to the end of the trail.  While there are some people who bike it, I recommend walking or running.  When I'm on the Clear Creek Trail, I often start on the south portion, which happens to be on the same side as the park.  Head west toward the mountains, where you'll pass by the Marv Kay football field of the Colorado School of Mines on your left.  The creek will be above you on the right, above a bluff.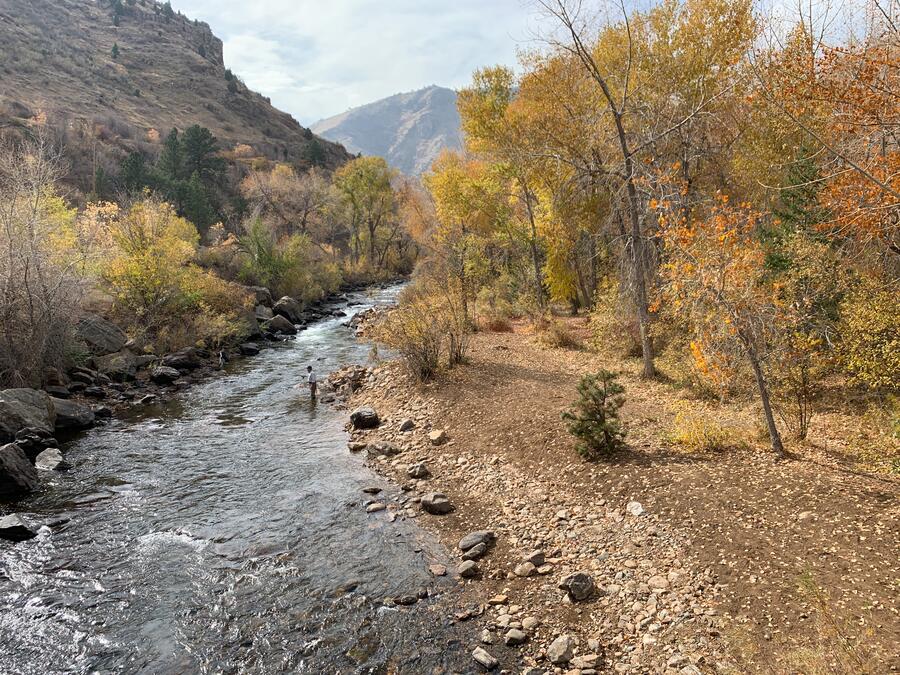 Heading back to town
Go another one-eighth of a mile, and you'll come to the end of the trail and the dam.  Here is where a lot of people start tubing in summer, which gives a long lazy cruise down Clear Creek.  A parallel path is just above the main trail, which skirts the canal.  I don't recommend going on it, as it's not as scenic.
Once you head back and the dirt trail ends, go along the paved pathway toward an RV park on the left.  You'll then come to an area of the creek where kayakers practice their deft maneuvers and somewhat scary flips.  Others mill about on the banks and wade around in the cooling waters.  You'll then come to another footbridge just past the baseball fields and tennis courts.  Stop here and take a few pictures of the mountains, creek and town.
If you need some refreshment after your hike, go to either Mountain Toad Brewery, just about a block and a half north from the Washington Street bridge, or the Golden City Brewery,  If you're looking for food, I like El Dorado for Mexican.