(above photo courtesy of The Points Guy)
I have an American Express business platinum card. Despite the high annual "membership" fee, I get some good perks with it.  Those include compensation on my Southwest early bird check-in fees, discounts on my and my family's Clear security charges and other retail discounts.
Another benefit is going to the Centurion Lounge, American Express's exclusive retreats that are open to platinum card members. There are 40 of them around the world, but I've only been to four of them – Seattle, San Francisco, Miami and Denver. I used to have two guests accompany me each time. But now I will have to pay $50 per person if I want to do that now - either that, or I will have to spend $75,000 in the current calendar year, and I probably won't be doing that anytime soon.
With the change in policy – likely implemented because the lounges were getting more crowded – I've now been on my own during my last two visits at the lounge in Denver.  I've also wondered if the Centurion Lounge is one of the benefits that's worth keeping the platinum card membership. Maybe some of the other perks make it worthwhile, but I'll review Denver's lounge here.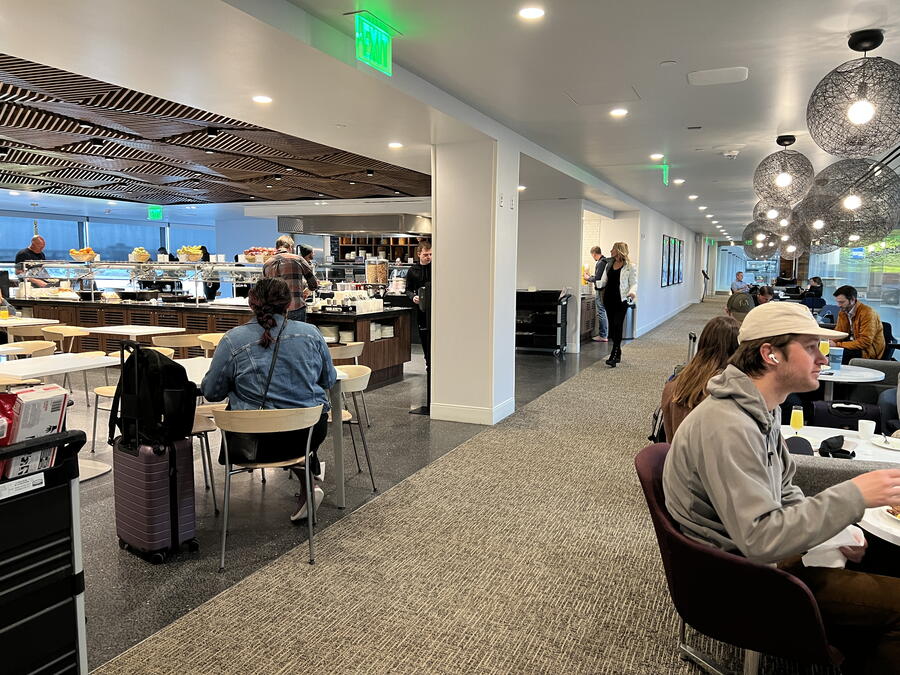 The location
Denver's Centurion Lounge is in Concourse C, which is the furthest from the main terminal. Even if you have a flight leaving from Concourse A and B, it's still easy to get to C because of the rapid underground train that connects all three buildings. 
To get to the lounge, you'll head toward the higher number gate area (C40 to C71). Halfway between them is a glass-encased upstairs area with green foliage and "American Express" plastered across it. Just below is an escalator that only goes to the lounge, and at the top is a winding line. Most of the time, it's busy with about a dozen or so members waiting to enter. You'll have to show your boarding pass, identification and Amex card for access. Once you're there, you can enjoy free wi-fi and their digital library.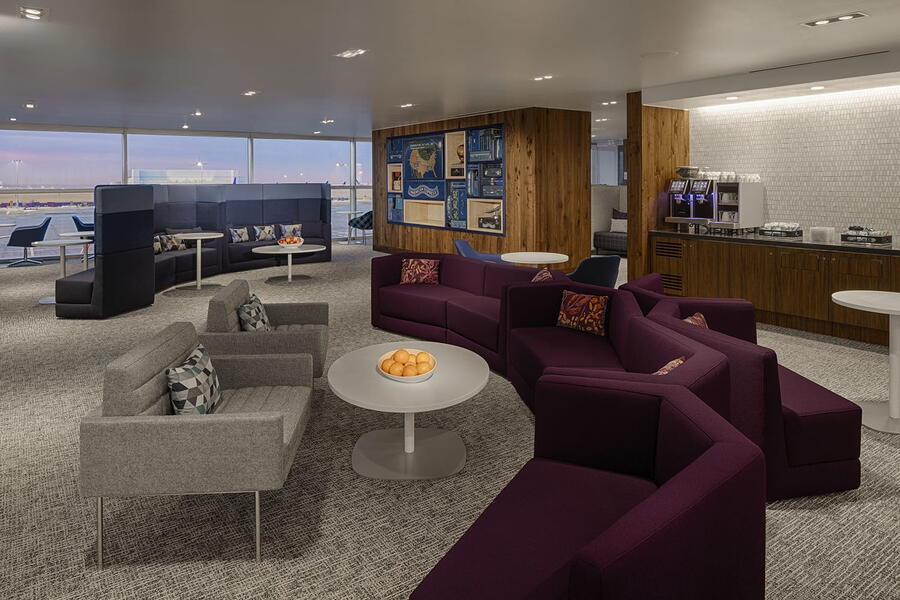 The lounge
To DIA's credit, the Centurion Lounge is lighter, brighter and more spacious than the others I've visited. Some of that is due to the courtyard frame structure with windows on nearly all sides. You can see airplanes arrive and depart or the airport concourse down below. On the side with the buffet, there are leather sofas and chairs with USB ports and outlets for charging devices. On the other are desks of varying sizes and individual pods for working spaces. Rounding out the other sides of the courtyard are a bar and the entrance area. Near the restroom areas are shower rooms (but I've never seen nor used them).

As I mentioned, the lounge tends to get crowded, especially around the usual peak travel times of weekends and holidays. I'm certain that's the reason for the stricter entrance policy, but it hasn't made that much of a difference in the occupancy.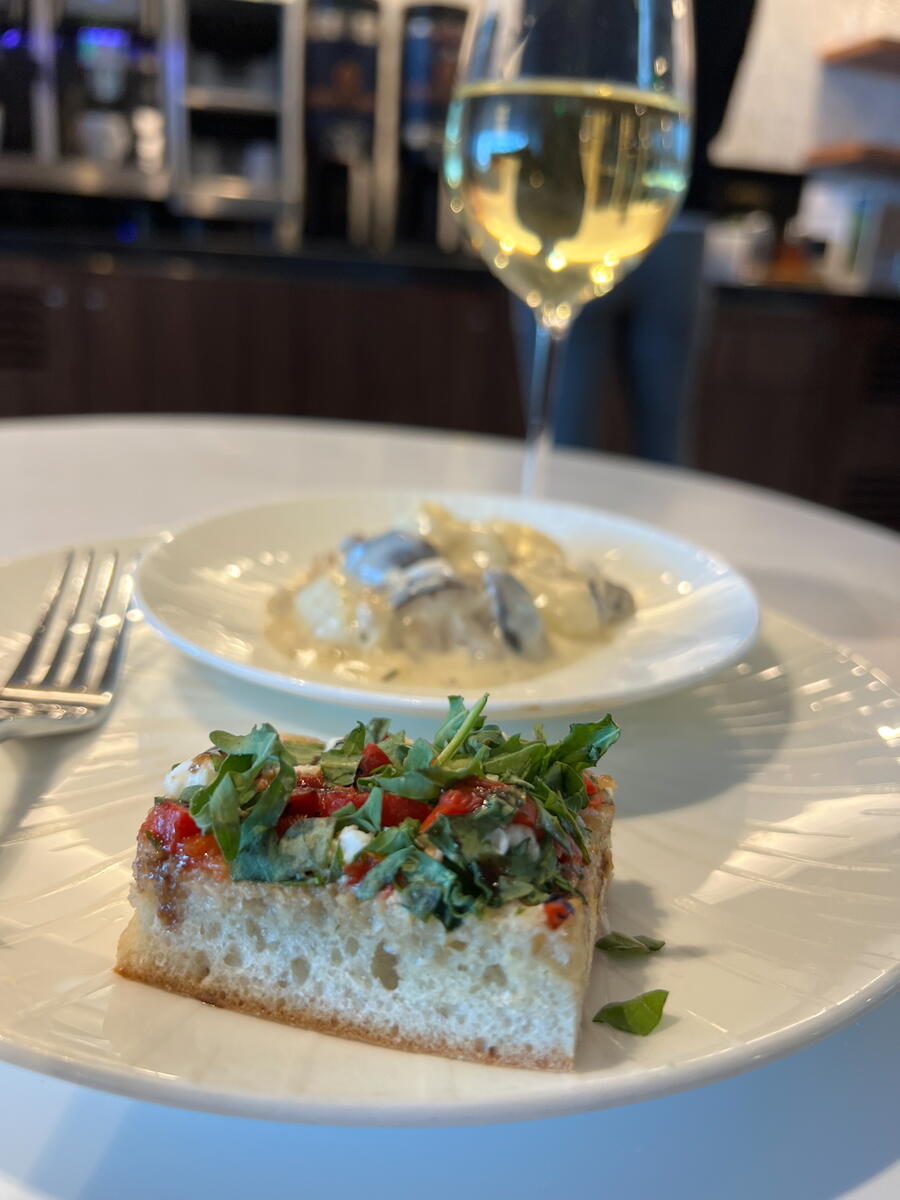 The food and drink
This is a hit-and-miss area. It's great that you can get complimentary adult beverages (but it's a good gesture if you leave the bartenders a cash tip), and if it's past noon, I nearly always have a glass of either Chardonnay or Savignon Blanc. Besides wine, you can also get beer and other cocktails or liquors.
However, the food has become disappointing, especially over the past year. The general quality of the food varies from adequate to poor because it's often cold when it should be hot, and the flavors are simply bland. Vegetables are often overcooked. Finally, the menu doesn't seem to change often. During my travels last year, I went the lounge three times over the course of three months, and the breakfast was the same each of those times.
The verdict? If you are an Amex platinum card member, Denver's Centurion Lounge is a great alternative to waiting in the regular gate areas, and it's in a mostly accessible location to the rest of the airport.  But aside from getting a complimentary drink, I would probably try to eat beforehand or grab a small plate or dessert if you'd like to snack before your flight.