At some point, if you live in Colorado long enough, you're going camping.
It doesn't matter if it's deep in the wood tent-camping or fifth-wheeler luxury trailer in the KOA – you'll find yourself in the great outdoors in some capacity here.  It's just a matter of when.
As part of any Coloradan's rite of passage, most camping experiences will either leave you wanting more or never doing it again. Or, if you're like me, you go because it's enjoyable enough to go with friends and family, but it's not something I'll initiate or do on my own.
Naturally, I'll focus on the culinary of anything, and camping is no exception. The problem is, we've often gotten into a rut when it comes to our menu options.  At breakfast, we'll have pancakes that only require water for mixing, plus some bacon on the side. Lunch is usually sandwiches, chips and fruit. Dinner is pre-made spaghetti or chili, with the inevitable s'mores dessert (as much as I love them).
This season, I was determined to find more innovative meals to enjoy when we go camping.  Here's what I discovered from various camp cooking websites. Now, I've yet to road test these, but I will as we start to head to the outdoors more this summer.
Chicken Pad Thai 
RAS and I love Thai food, and pad Thai is our go-to dish. So, I naturally had to try this camping version of it. It helps to have two burners (which we have in our trailer) – one to cook the noodles and one to cook the rest.  This recipe weirdly calls for onions, which I never put in a pad Thai.  Instead, I chose to add broccoli for a healthy veggie boost.  I would also say, make as much of this ahead of time, and you'll have a quick and delicious surprise meal. (photo above, courtesy of Fresh Off the Grid)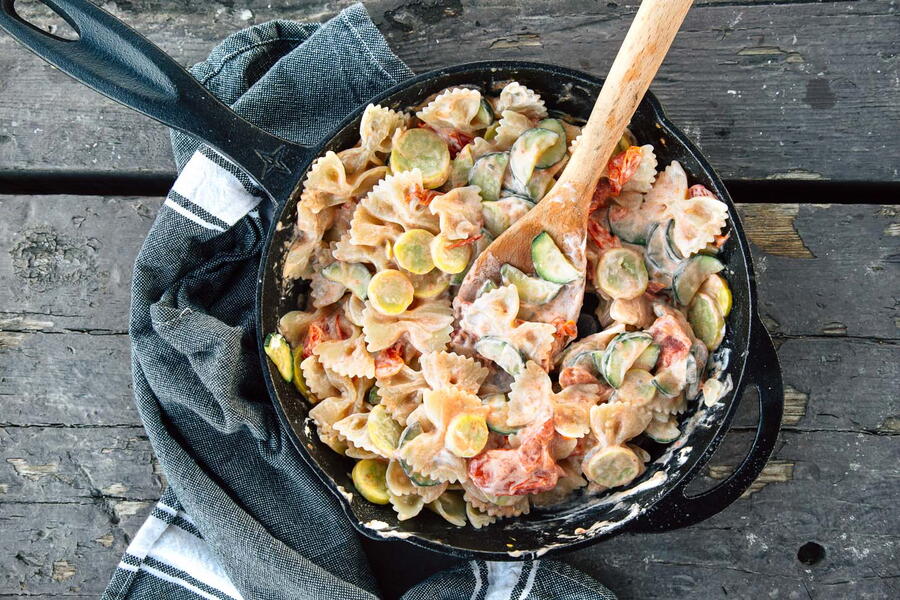 Pasta Primavera 
We often make spaghetti when we're camping, because I'll bring sauce (or if I'm lazy, the jarred stuff) and all we have to do is boil pasta. So, I loved that there could be an alternative to this that wouldn't require too much prep and cooking work. After all, camper kitchens aren't that well-equipped or large. I like the addition of goat cheese to give the pasta a tangy, creamy flavor that doesn't add too much heaviness.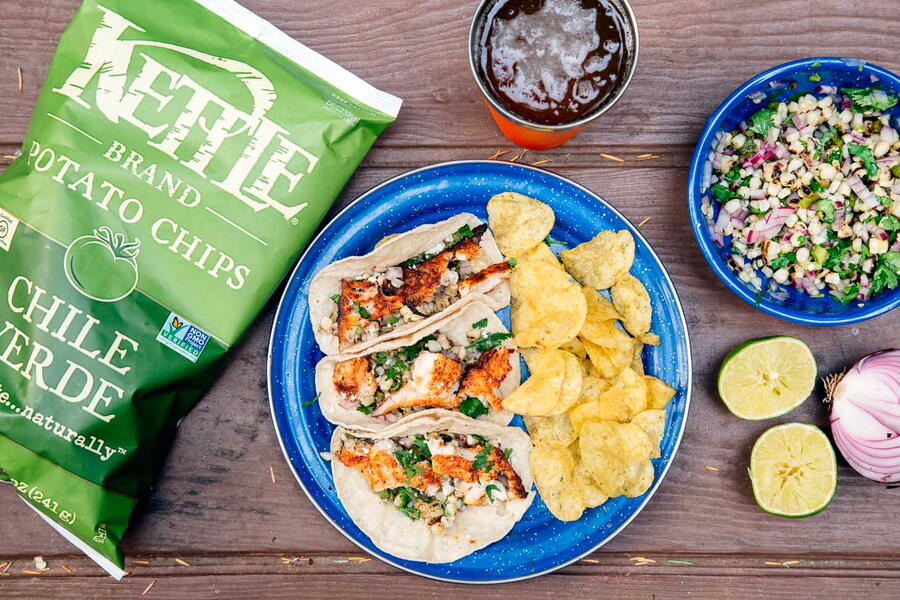 Campfire Grilled Fish Tacos 
No matter where we are – whether at home or away – we love fish tacos and in any manner of preparation. That's often beer-battered fried or grilled with citrus.  You really can't do too much frying out in the wilderness or even the campgrounds. This particular recipe comes with a great corn salsa, which is a great alternative to the usual pico de gallo that I'd normally have with this dish.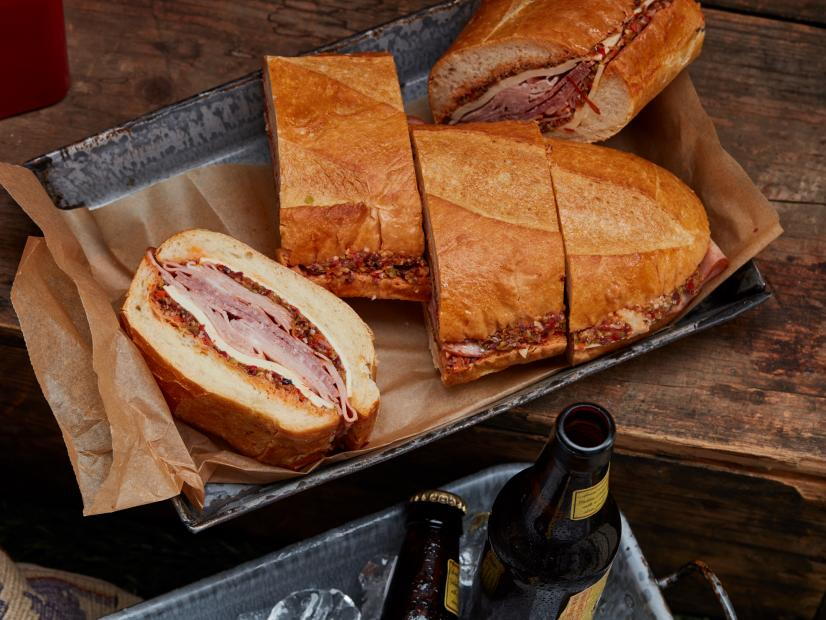 Muffuletta
I'm not a huge deli or cold-cut meat sandwich eater, but I will always make an exception for this New Orleans favorite. This version from Food Network's website isn't specifically adapted for camping, but it's all in the preparation and timing. While you're out and about, the the crusty Italian bread will absorb the flavors of the sandwich, especially the olive salad. Feel free to choose your own deli meats, but I find that provolone is necessary since it goes well with the ingredients.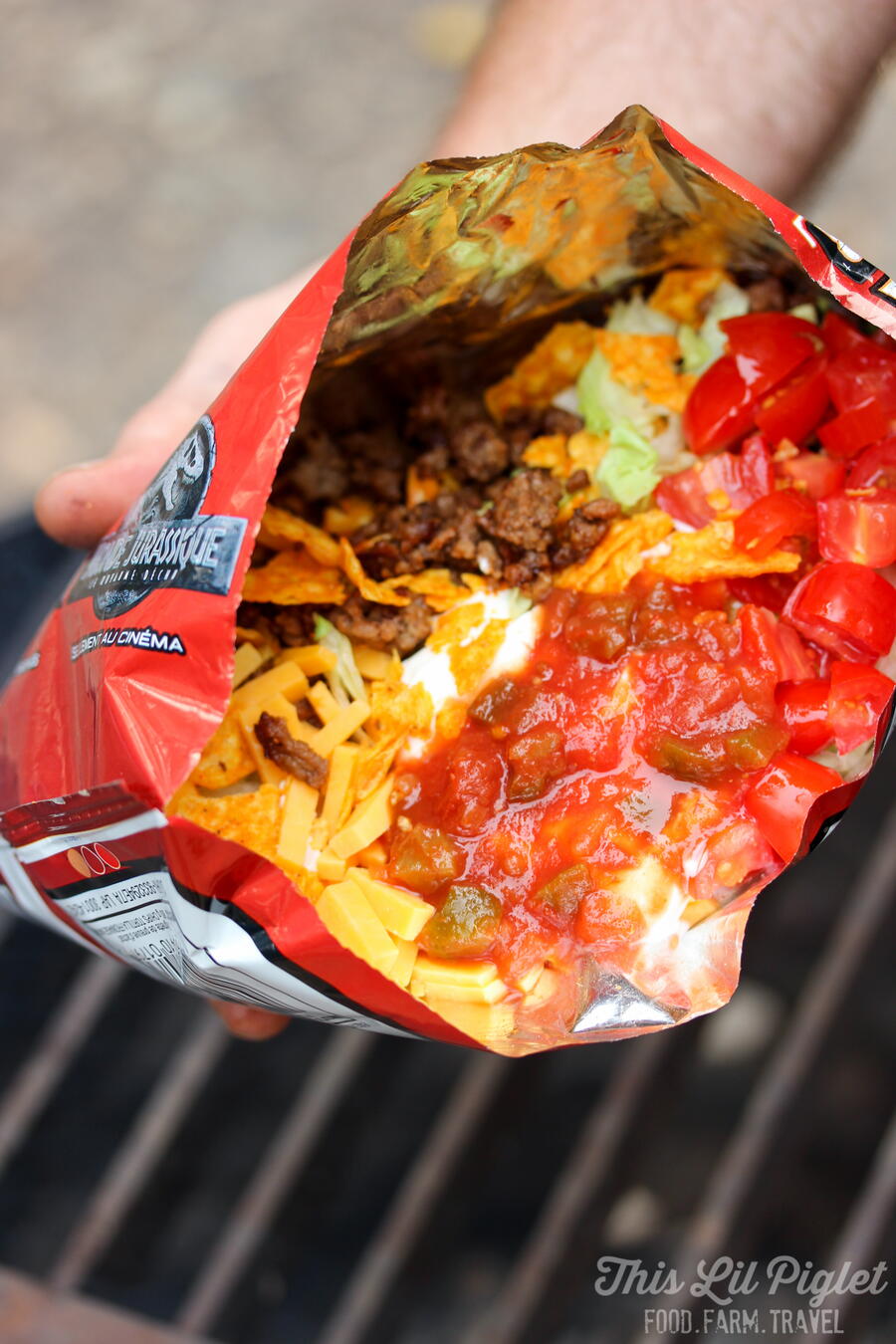 Campfire Taco in a Bag 
I must admit – I like Frito Pie. Well, I mostly like the chili that goes with it, but the salty crunch of the tiny, curled corn chips just adds that tasty textural element.  This recipe is very similar to that beloved southwestern dish, except you simply sauté ground beef and add taco seasoning, rather than make a whole pot of chili. It's an easy way to get that Frito Pie fix and not have to knock yourself out.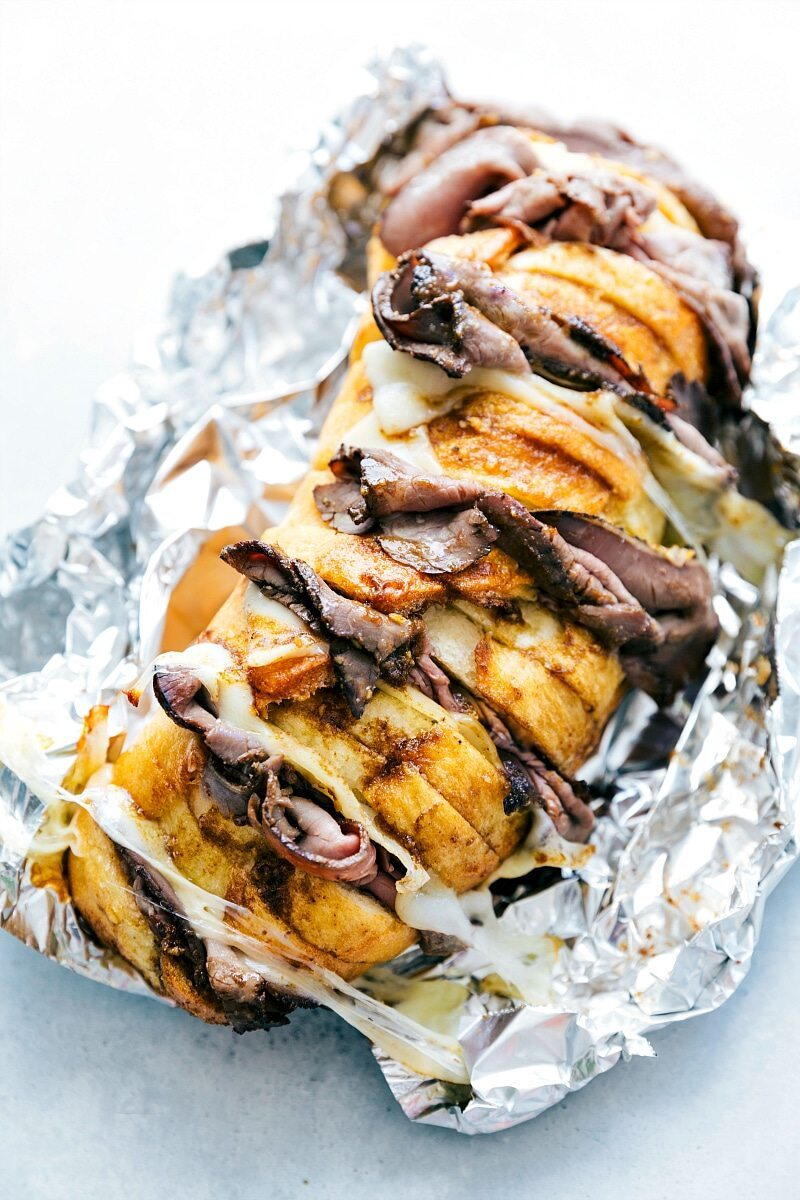 Foil Packet French Dip Sandwiches 
You can make lots of meals with the foil packet method of campfire cooking. But I've never seen a French dip sandwich made this way.  The hardest part about this is making the au jus, or the yummy dipping sauce, and even that's not too difficult.  It can be even easier if you make it ahead of time. I love this as an alternative to the usual cold sandwiches we'll often have on our ventures.  Plus, you have the cheesy, gooey goodness that only comes from provolone.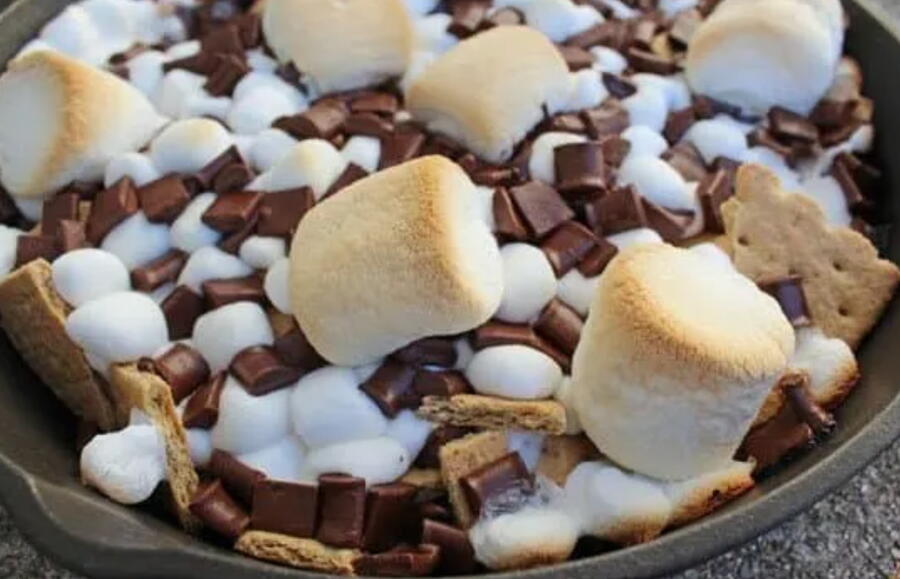 S'more Nachos 
I would be committing a grave camping sin if I didn't include a s'mores recipe here. But since everyone knows how to make the regular kind, I had to find something that put a little twist on it all.  So, this seemed to retain everything we love about this all-time camping favorite. Instead of making individual servings, you simply tale a square piece of foil, break up some graham crackers and top with marshmallows (both miniature and large) and chocolate chips. Heat it over the campfire, and you've got a fun new way to "s'more."