Hiking Camelback Mountain was when I officially became an Arizona local.  It was only for two years, but I was proud about it anyway.
For two years in the mid-90s, when the Arizona Diamondbacks new baseball stadium (Bank One Ballpark, or the BOB) was only foundation, and when Phoenix itself only looked like Topeka in the desert and not L.A., I lived in Scottsdale and Tempe.  My purpose for living in this oven-hot scrubby sandpit was grad school at ASU.
It was also to escape the chaos after the Northridge earthquake – the one that pancaked the Santa Monica Freeway, or Interstate 10 and essentially shut down LA's ubiquitous traffic for several days.
There was also novelty.  People move to Arizona for many reasons, but I didn't for the one most choose, the sunny climate.  I just wanted to live a place so alien and diametrically opposed to anything I had before, and Phoenix fit that need.  Maybe too much, as I soon realized.  I moved there in the dead of a July heatwave…or really, a normal summer.
Taking a road trip? Let me help you plan your next adventure!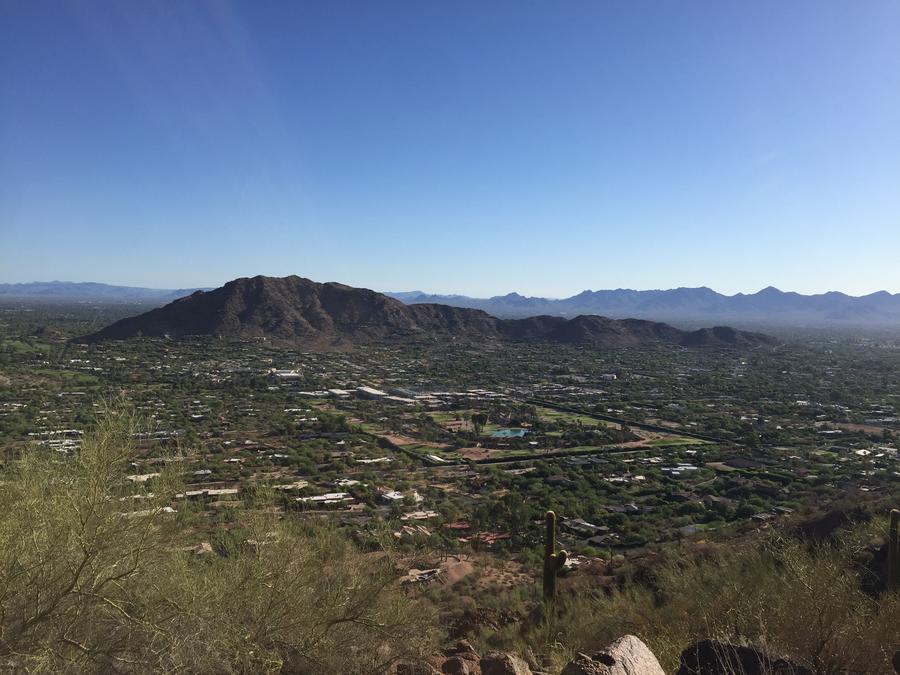 (What would be considered a heatwave in the consistently hottest metro area in the country? Over 120 degrees?  Something that would fry bacon on the sidewalk, not just the usual egg?  I'm digressing here…)
Anyway, when my body finally adapted to this onslaught of desert heat, I didn't mind being in the Valley of the Sun for a little while.
Hiking makes you a Phoenix local
One thing that I really enjoyed was hiking.  While the Phoenix metro area itself is as flat as a French crepe, high ranges and rock formations surround it.  That makes for great hiking among dramatic cliffs, multi-colored rocks and iconic saguaro cactus that look Road Runner cartoon cutouts.
The two major destinations for hiking in Phoenix are Piestewa Peak (formerly Squaw Peak) and Camelback Mountain.  I probably did the first about a dozen times during my two year at ASU.  But with Camelback, I maybe went up there three, and that's because it was that much H-A-R-D-E-R to scale.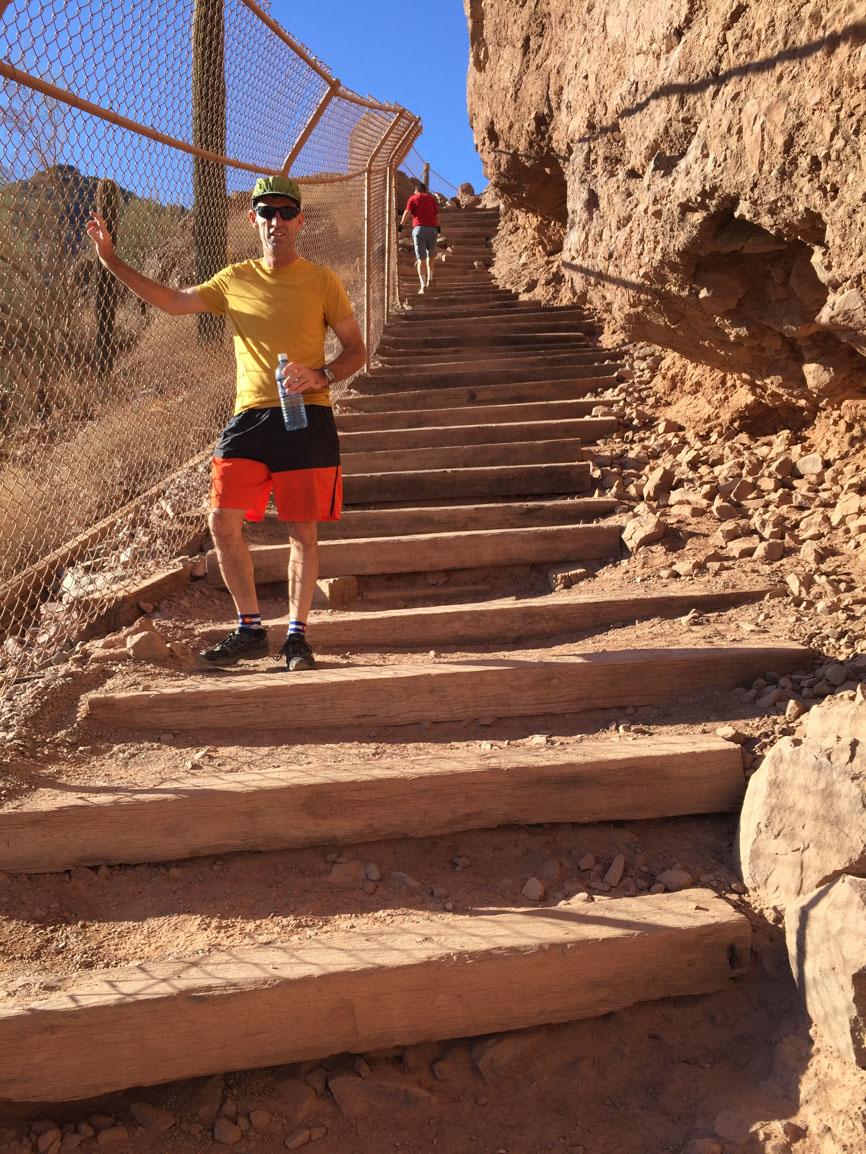 While both Piestewa and Camelback are more climbing rocks that strolling on a trail, Camelback is more challenging because the ascents come at you more quickly and hard.  Even the initial climb takes some effort, as it winds around on deceptive switchbacks until you notice sweat dripping in your eyes.
But that's just the start, a simple dirt trail that you believe won't be so tough.  But nope – the fun is just beginning.
Camelback - ready for a challenge?
When I was 20 years younger back in the nineties, I was able to scale Camelback with a bit of effort, but I never thought about giving up.
But on this particular hike, that thought crossed my mind about, oh, 37.  Obviously, I'm not as young as I used to be and the ol' body can't do those same things it did 20-some years ago.  Luckily, I was with RAS, who is slightly older than me and also can't do those same things.
That's not to say that you shouldn't do Camelback, especially if you are physically fit to do so.  Just be prepared for doing some scaling of boulders and watching where you step.  It's a great place to for a physical fitness challenge.
Like this part, where you can have the aid of a bannister to help you along…and unless you are young and your joints are purely rubber, you're going to need it.
The inspiration we needed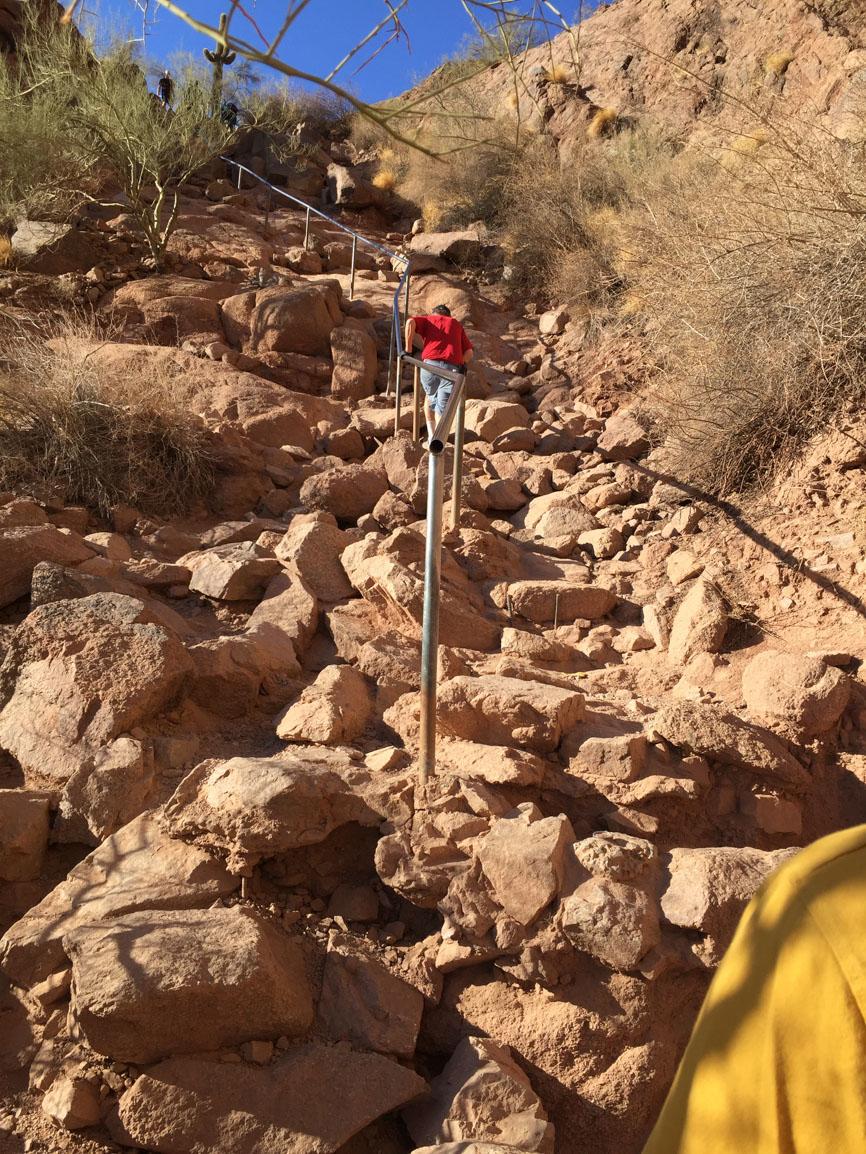 The man pictured here told us that he typically hiked Camelback three or four times a week.  He was at least 15 years older than RAS and me, and his knee and hip joints didn't look like they would be any creakier than mine.  I was extremely jealous, but I also admired this older gentleman whose fitness was the result of this daily torturous ritual.
But I have to say that it was gratifying to pass others up along the route.  I told RAS that it's because we come from altitude, more than a mile high.  It's easy to be fit around those who are just live at only a 1,000 feet or less.
Two trails for the price of one
Camelback has two trails.  The more well-known and popular is Echo Canyon, located on the north side of the mountain.  It's the only one I've hiked, so I can't attest to the second, which is Cholla. I've heard it's shorter but far steeper.
Both trails meet at the summit, which on the day we went was surprisingly crowded.  This activity is probably commonplace for active Phoenicians.  But to me, with my creaky and often-repaired knees and aching and aging joints, this wasn't so easy.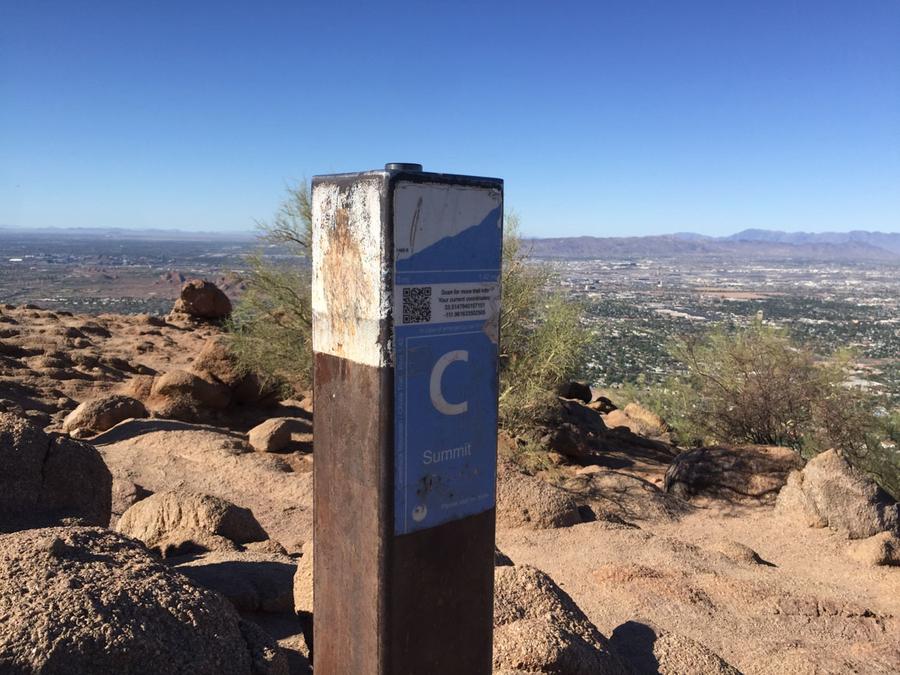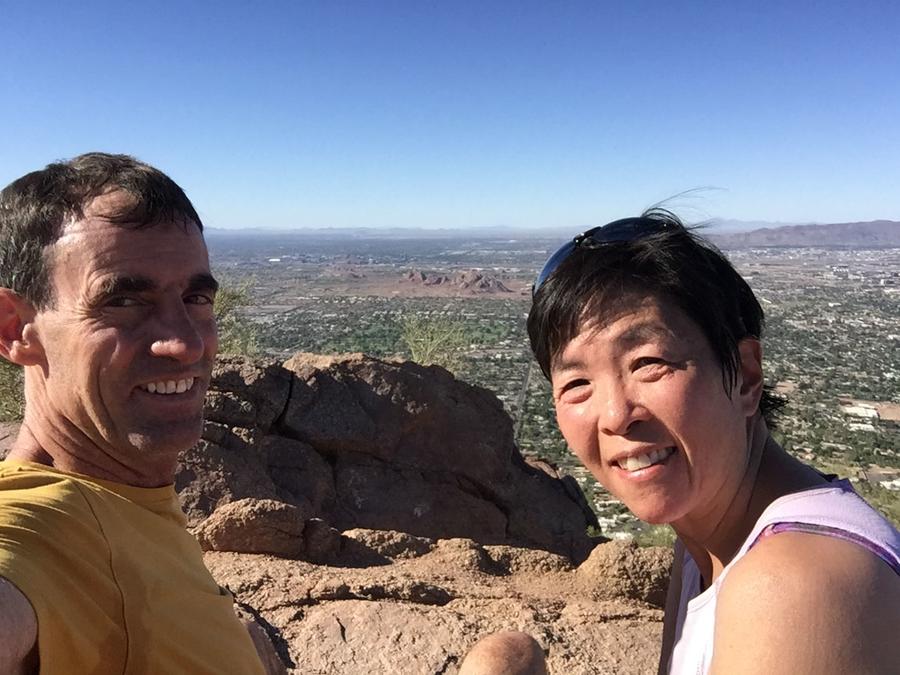 Just some suggestions if you should go:
Take water – that's just a given for anywhere in Phoenix, but even more so if you hit the hiking trails. And it's doubly so for ascending Camelback.
Be in good shape – this route really isn't for the casual stroller. You really need to have an above average level of fitness to conquer this monster.
Go early – it doesn't matter if it's in scorching July or just merely hot January – always go early in the morning (you'll beat the crowds that way, too)
Consider taking Uber or Lyft – parking can be a bear, even with more spaces available on the Echo Canyon side.
Bring your camera – especially when you want to show people that you've taken on the toughest climb in Phoenix..and have succeeded.You want that proof