My family in California owned a class C RV, which are the built-in vehicle campers, usually with a bed over the cab.  It was great for travel, because I could move around it, lay down on the couch if I got tired, eat at the wobbly dining table, or even go to the bathroom without my dad stopping.
But the one thing we didn't do with the camper? Camp.  The few times we did bunk down at a campground, complete with electric and water hookups, my mom couldn't handle it.  "It's too hot/crowded/uncomfortable/just plain awful," she would complain.  My dad and I didn't experience any of these things, but we wanted to make her happy.  After her rants, we still vacationed in the RV, but we always stayed at a hotel.
As I grew up and the thought of RV's occasionally crossed my mind, I swore that if I or my future family bought one, we would camp in them.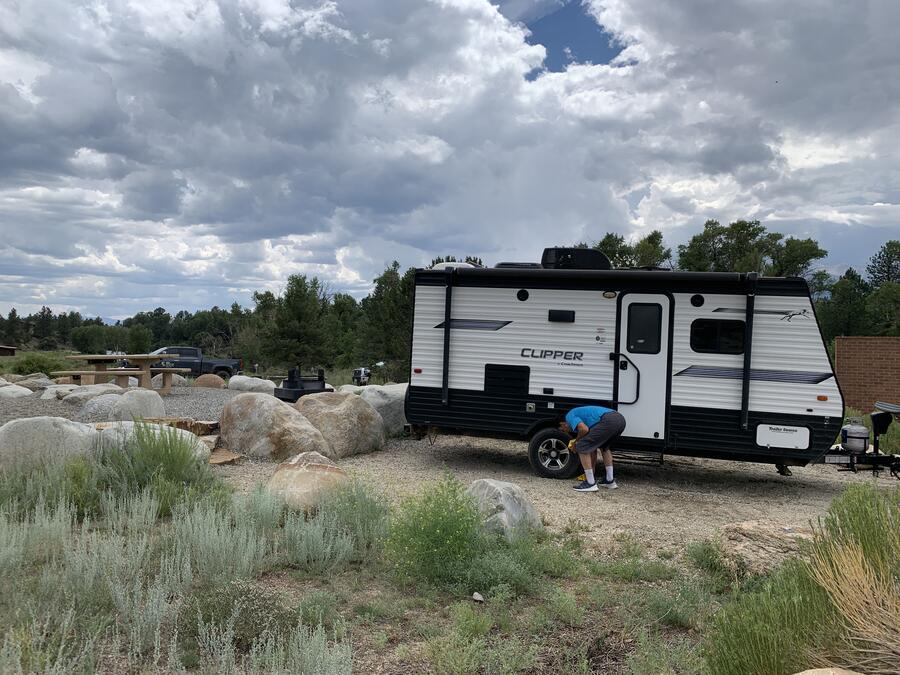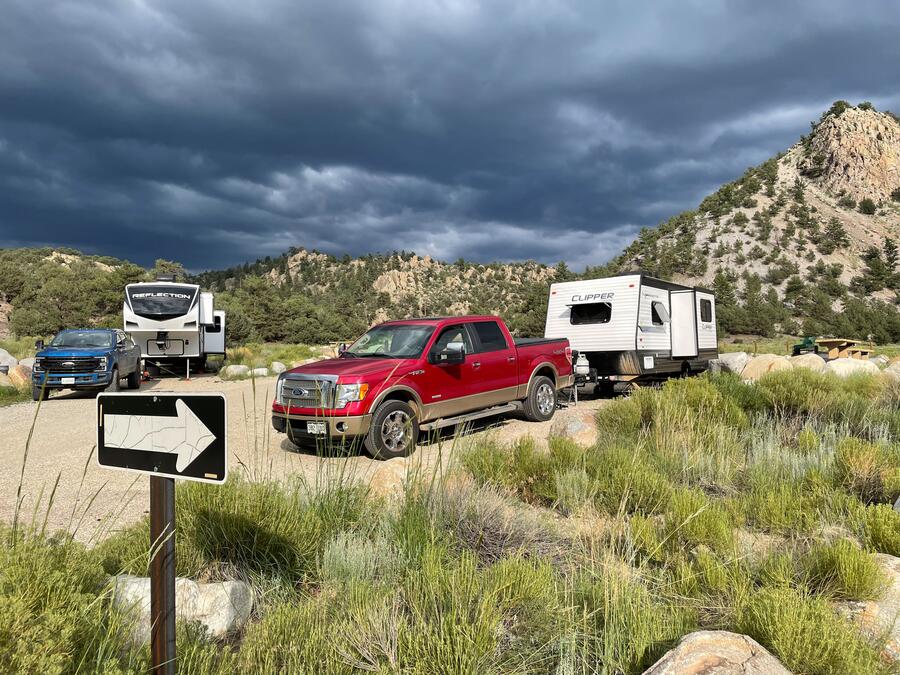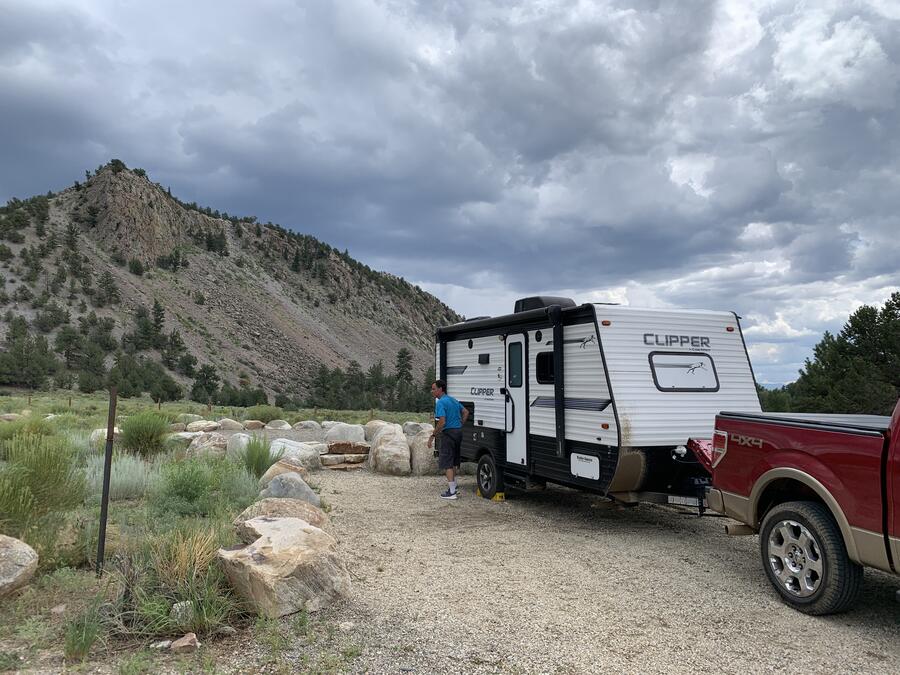 Now I love to camp
That's exactly what RAS and I did this past weekend with some friends, going to the Arkansas Headwaters Recreational Area.  It's a state-owned and managed area that covers over 150 miles of the Arkansas River, and it's one of the most popular whitewater rafting areas of the country.  We stayed at one of the six designated campgrounds, Ruby Mountain, in our newly purchased Coachmen Clipper travel trailer.
Getting to the campground on Thursday afternoon, we soon realized that our cell service with T-Mobile wasn't working.  Later, we discovered that our friends got their AT&T service, and I sheepishly asked them to look up the score updates for the Giants games.  RAS and did get some internet when we went into Buena Vista, the nearest town, but pretty much didn't most of the time.  I don't mind a digital detox, but I'd at least like to prepare for it.
Other than that hiccup, and few stormy episodes of downpours, the rest of the camping trip was excellent.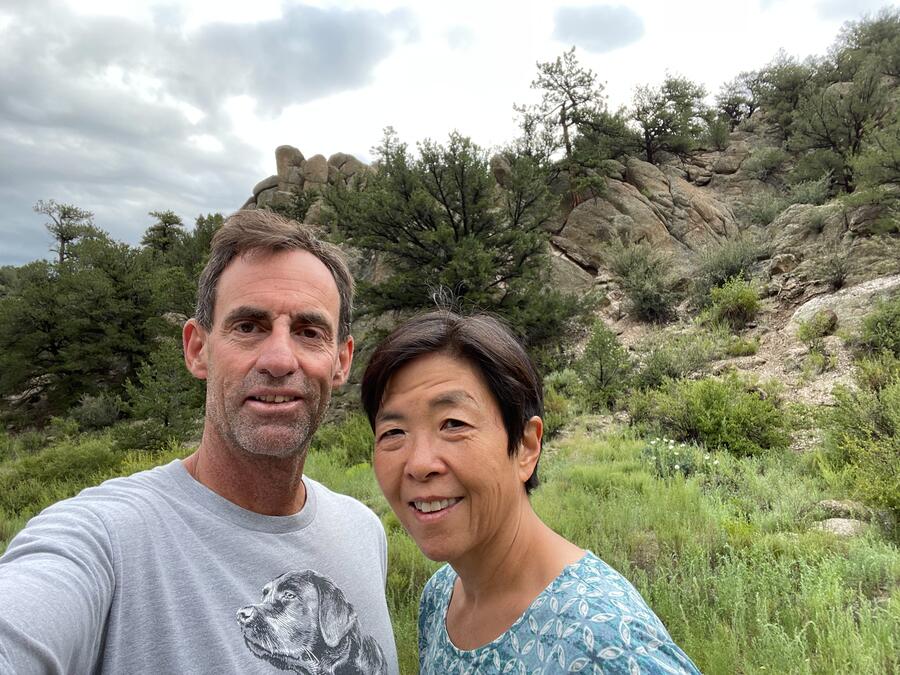 A riverside campground
The Ruby Mountain campground has 22 sites, either for tents or RV's, situated near or close to the Arkansas River.  Each has a dedicated fire pit, which could be used for safely building campfires, and concrete picnic benches.  With a large boating ramp, the site is a popular put-in spot for watercraft, whether they're kayaks or fishing pontoons.  
From where our camp was, we could see many whitewater rafting boats floating down the river. I was surprised at the sheer number of them – it almost looked like a traffic jam in Denver but on the water.  Maybe it was due to everyone wanting to get out, post-COVID.
Scaling back our hiking plans
While many came here for that purpose, we decided to do some hiking.  Our original plan was to scale a 14,000-ft-plus mountain – what we locals call fourteeners.  There are 54 of them in Colorado, but I've only been to the top of one of them (Pike's Peak).  I don't say that I climbed it because I got there going on its famous cog railway.  Thus, I've never climbed a fourteener, and I hoped to do that this time.  But we chose not to and instead went to Ptarmigan Lake.
These were some of the scenic highlights along the way: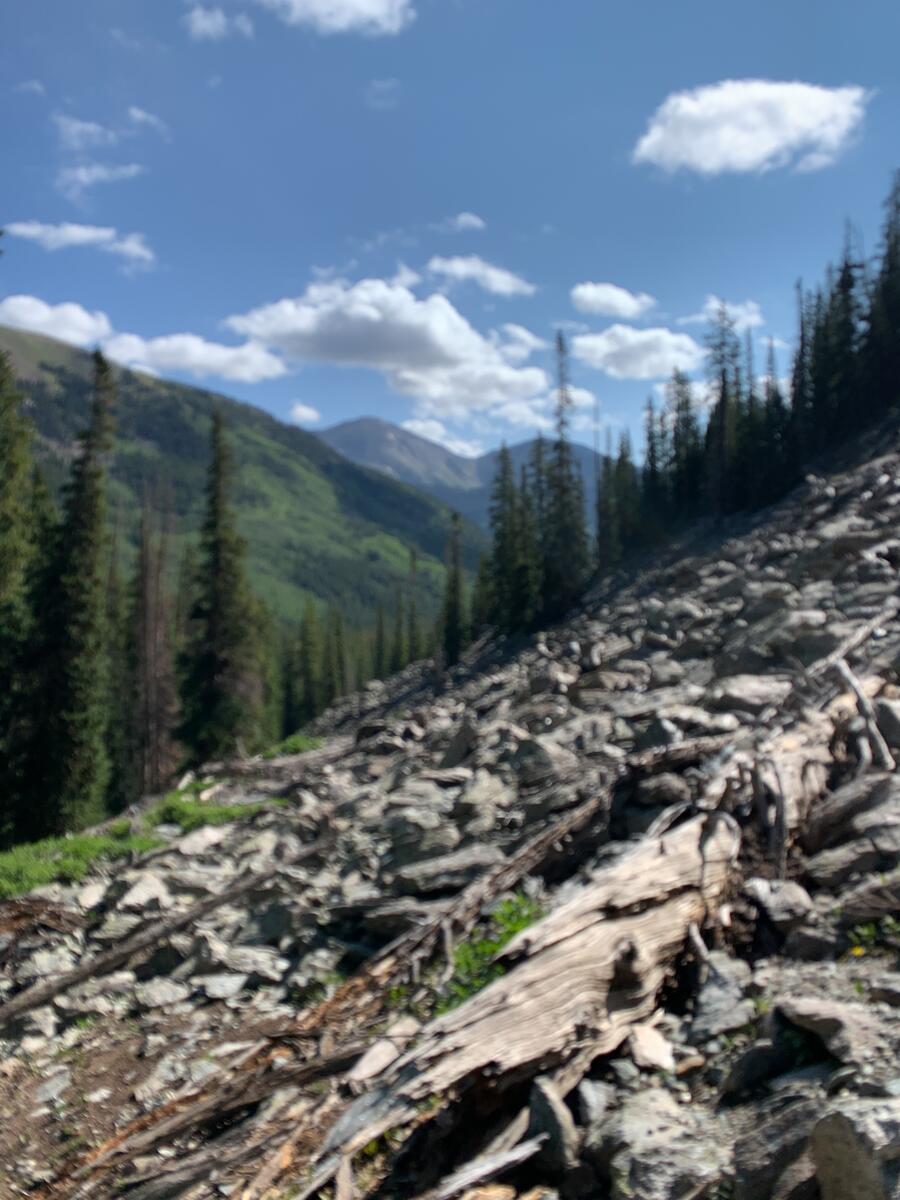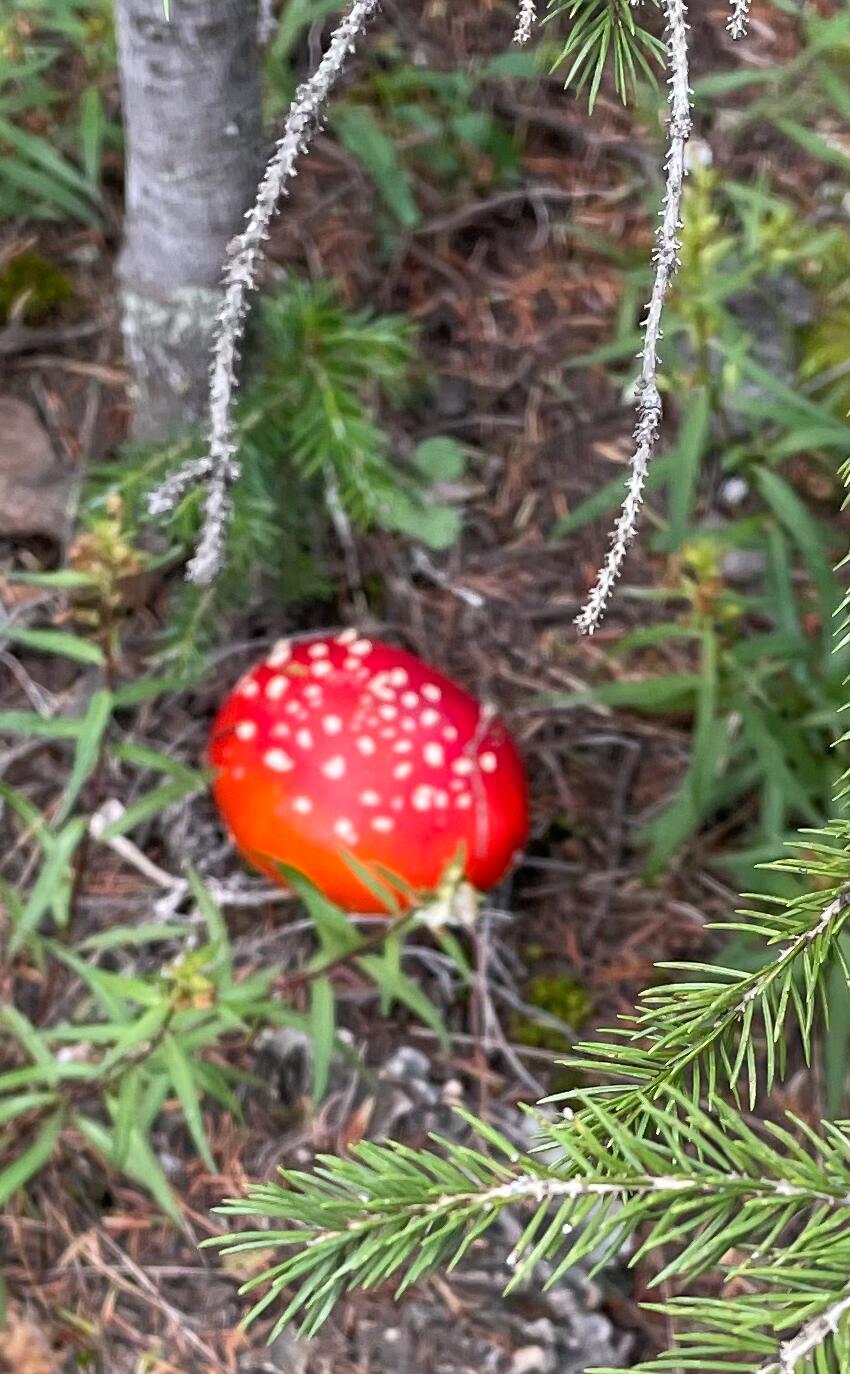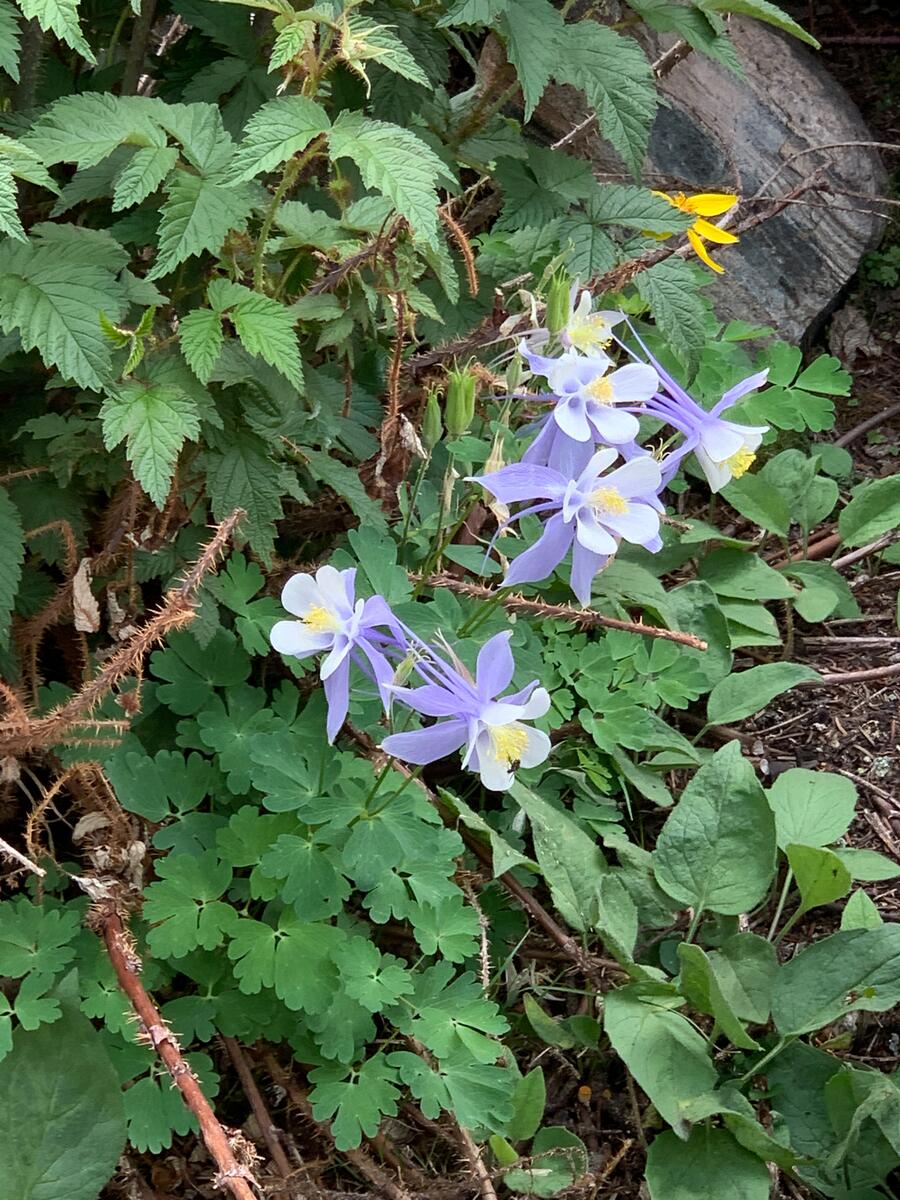 The trail up to this postcard-perfect scene is moderately difficult.  To those of us who always live at high altitude, it wasn't that strenuous.  If there had been a substantial elevation gain, the hike would've been more of a struggle.  Instead, we could focus on fantastic scenery and good conversation.
Once we arrived at the top of the trail, a breathtaking panoramic view of the lake greeted us.  It sits just below Jones Mountain, a 13,218-foot peak.  To the north is Mt. Yale, another fourteener.  Several small ponds precede the lake, as well some marshes that are adorned with colorful summer wildflowers.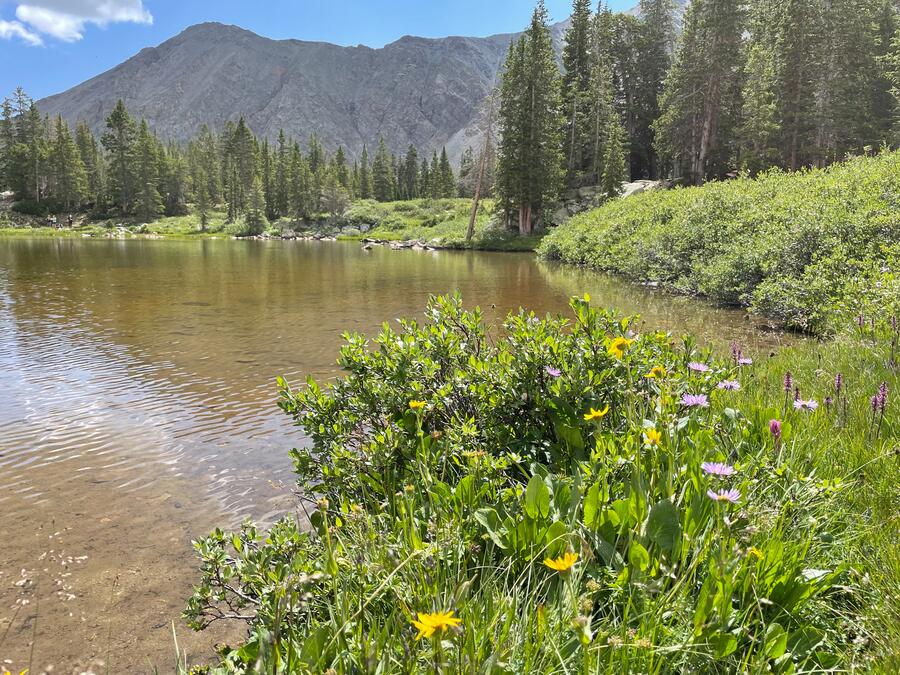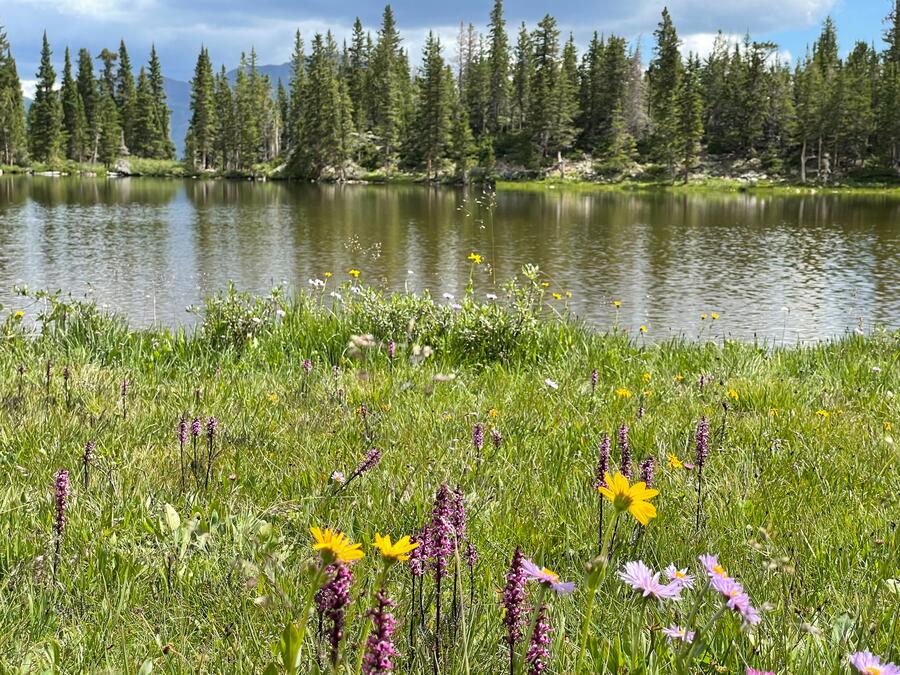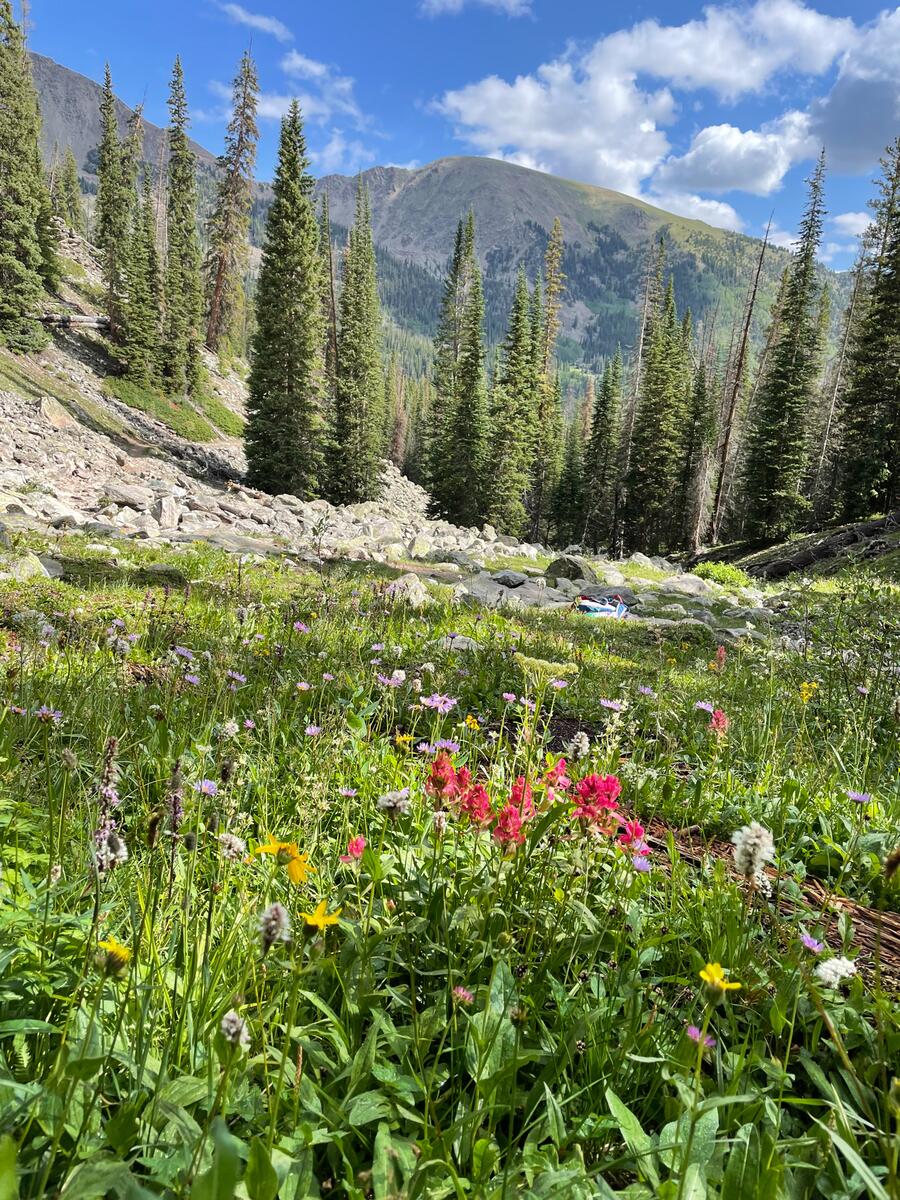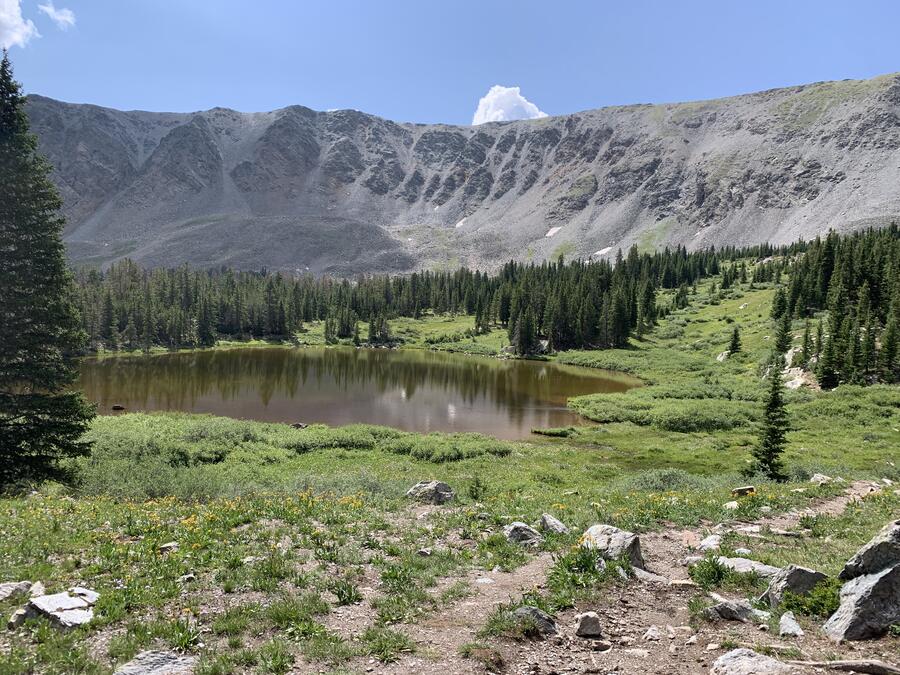 Soaking at the hot springs
Even though the area ringing the lake was predictably filled with mosquitos, we enjoyed our picnic lunch on a rocky outcropping.  Since I had my Deep Woods Off bug spray, I was good and only got one bite on my right shoulder.
The roundtrip six-mile hike took us about two and a half hours. Afterwards, we went to Cottonwood Hot Springs, which happened to be on the road to and from the trailhead.  It's a no-frills kind of place, but it was a great way to end our trek, and a definite highlight of our camping trip.