With its maritime and seaport heritage, Seattle is not exactly known for its beaches.  There is really only one place where visitors can somewhat enjoy the California-style sandy shore experience – Alki Beach. Even then, you won't get many waves because of its location in protected Puget Sound and a seawall.  If you can accept that one drawback, Alki Beach is an unexpected surprise of the Emerald City.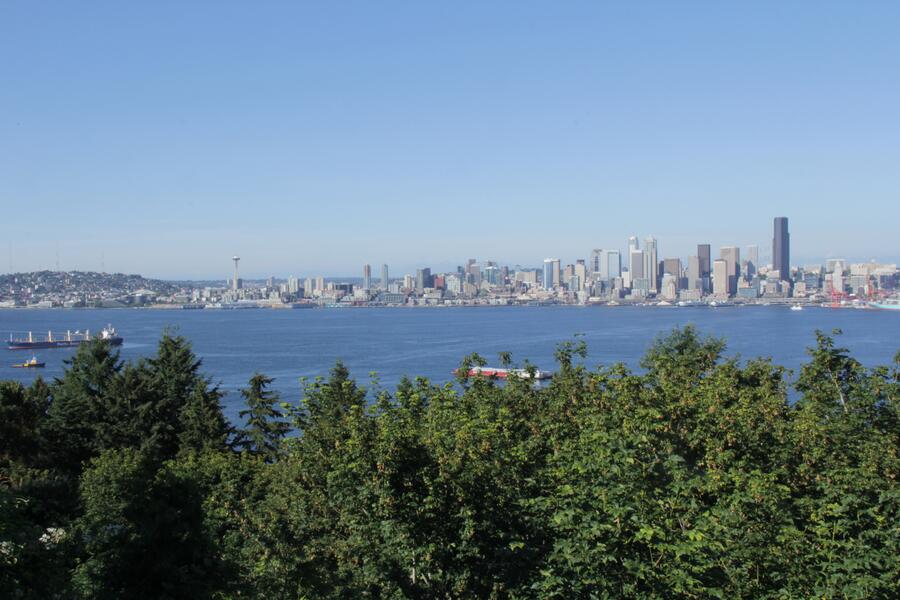 Our first Alki visit
My daughters and I stayed here five years ago in a rambling rental facing the Seattle skyline.  The house wasn't air conditioned.  Normally, that wouldn't be an issue in a place notorious for constant precipitation and overcast skies.  But a freak oppressive heat wave descended on the city while we were there, and I happened to stay in a converted attic apartment with postage stamp sized windows that barely cracked open.  I didn't sleep too well during our three-day stay, but I appreciated the property.
I also loved the community where the rental was.  Alki Beach is in West Seattle, a suburb located on a peninsula, but it almost looks like an island because Elliott Bay separates it so well from the rest of the city.  It's almost its own community and yet still part of the Seattle.  And you can't beat those killer views.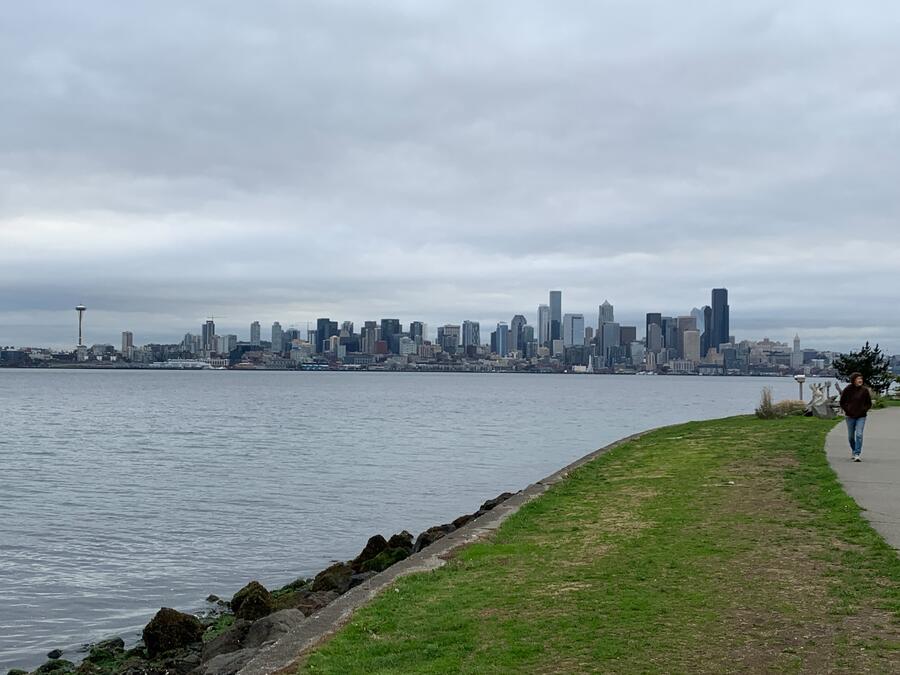 Some history and info
The first white settlers landed on the shores of Alki in the mid-nineteenth century.  It eventually became a destination for the nearby city-dwellers, with a large amusement park and bath house.  A fire essentially destroyed all of it in 1931, but you can still see the pilings near Duwamish Head at low tide.
It takes about 10-15 minutes to get here from city center by car.  A high arched bridge connects West Seattle and Alki to the rest of the city.  You can also take the water taxi between the Washington Ferries terminal in Seattle and Seacrest Ferry Dock.
Right in the middle of the beach path is a 1/18th sized replica of the Statue of Liberty, courtesy of the local Boy Scout troop in 1952.  It was part of a nationwide celebration, but with 60+ years of salt air and water, the statue began to rust.  In 2008, the community recast it in bronze, and now it looks nearly new.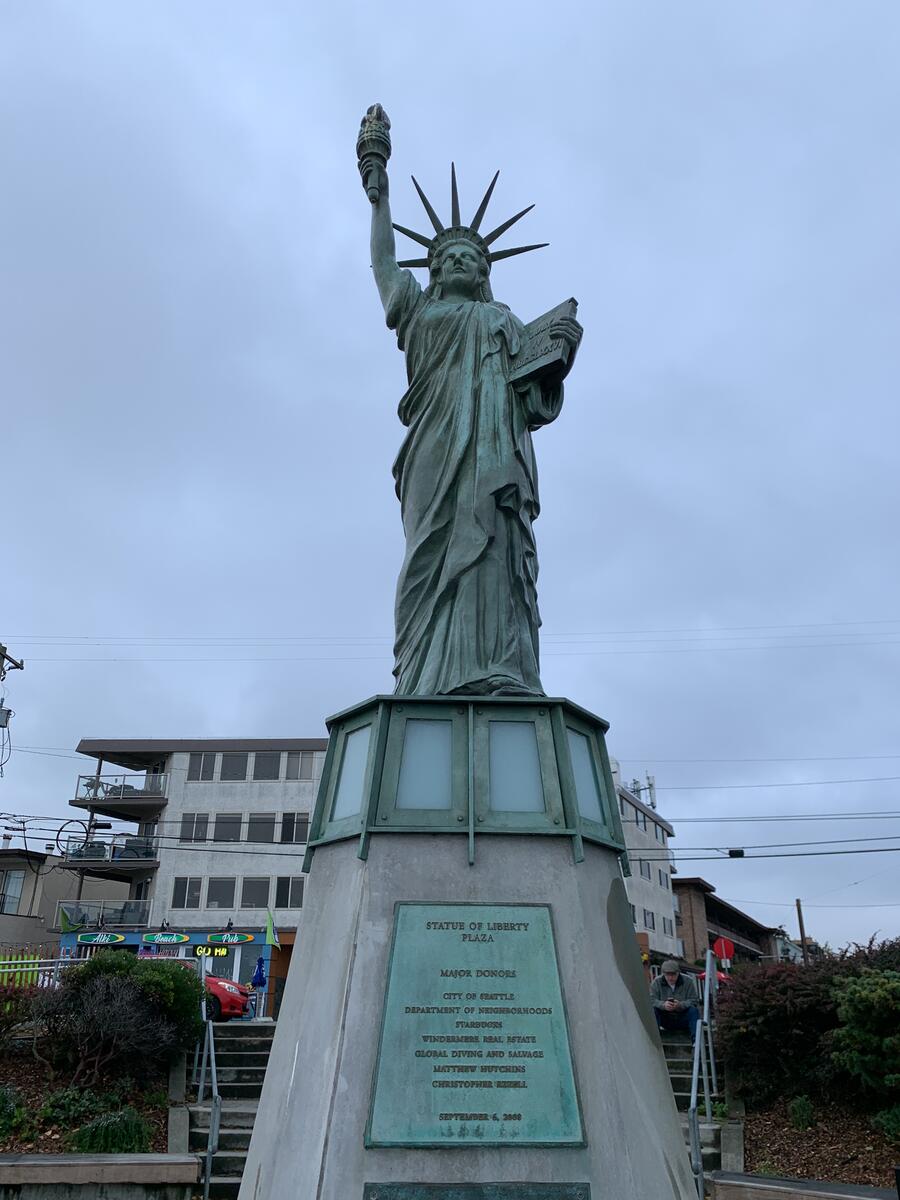 Our current stay
We returned to Alki this weekend, staying closer to the actual beach.  Our purpose for this trip was for NLS to see several colleges in person, although no formal tours were available.  Another slight inconvenience: the West Seattle Bridge was closed for structural repairs, and we had to take a roundabout route that added at least 15 minutes drive time to get to the rest of the city.
This rental, a block away from the shoreline, was a cottage-style home with four bedrooms, but we only used two.  Like the other larger home that we stayed at five years ago, this was spacious, with a more expansive backyard centered on a lush green lawn.
(Here is the link to the rental, which I highly recommend if you need a place to stay in Seattle and don't want the urban craziness)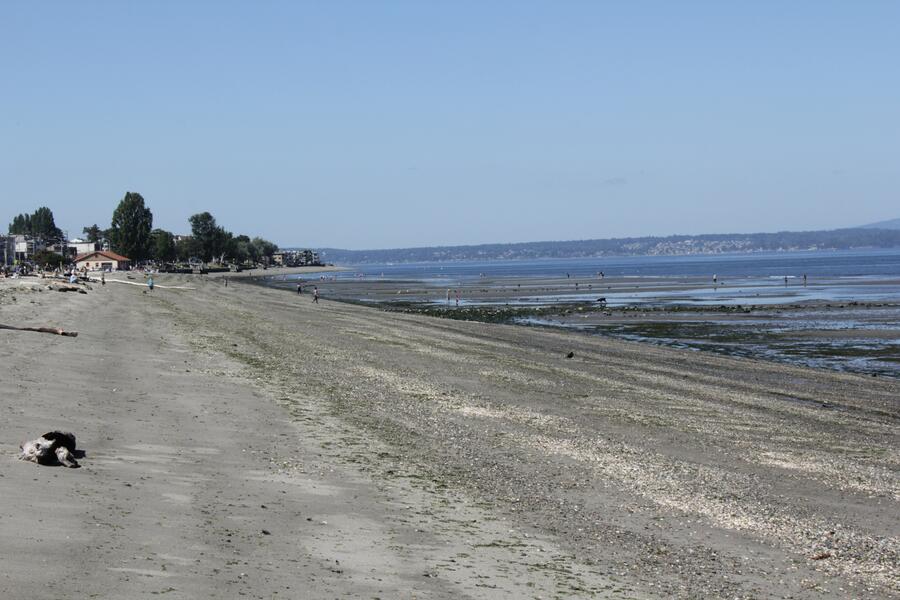 The beach was a great place for me to walk and run.  Normally RAS would always come with me, but he's suffered through an injury that has curtailed any walking or running activity he could do.
Why you should stay in Alki
Alki is quickly becoming one of my favorite places to stay in Seattle, even though it's literally set apart from the rest of the city.  We've initially stayed in Belltown, which is the area closest to the waterfront and Pike Place Market.  But we soon realized that it's plagued with car traffic and train noise.  Another neighborhood we've stayed in is Lake Union, where the houseboats like those in "Sleepless in Seattle" are, but only in hotels.  
Even with its distance from central Seattle, as long as I have a car and don't have to deal with a bridge outage, I'm fine with that issue.  The peace and quiet is worth it to me, especially after staying where we have.  The beach is a nice plus, too.
Want to know more about Seattle as a destination? Contact me at janice@sanseitraveler.com, or respond below.