I'm excited to let you know about a discovery on the Riviera Maya in Mexico.
This is my first ever all-inclusive resorts post because I'm currently near Cancun, Mexico, on a familiarization (FAM) trip to a few AMResorts properties, before heading to Cruise Planners' annual convention at another resort.
I have only been to one all-inclusive before, and that was in Jamaica for my honeymoon with RAS.  While it was positive overall, I didn't always like that it wasn't easy to go outside the resort and experience the local culture.  That's one of the main issues that I have with all-inclusives.  Yes, there is plenty to love about them – unlimited food, drink and activities and luxurious accommodations and atmosphere. But at the same time, they just seem to shut a traveler off to why you go to a destination in the first place.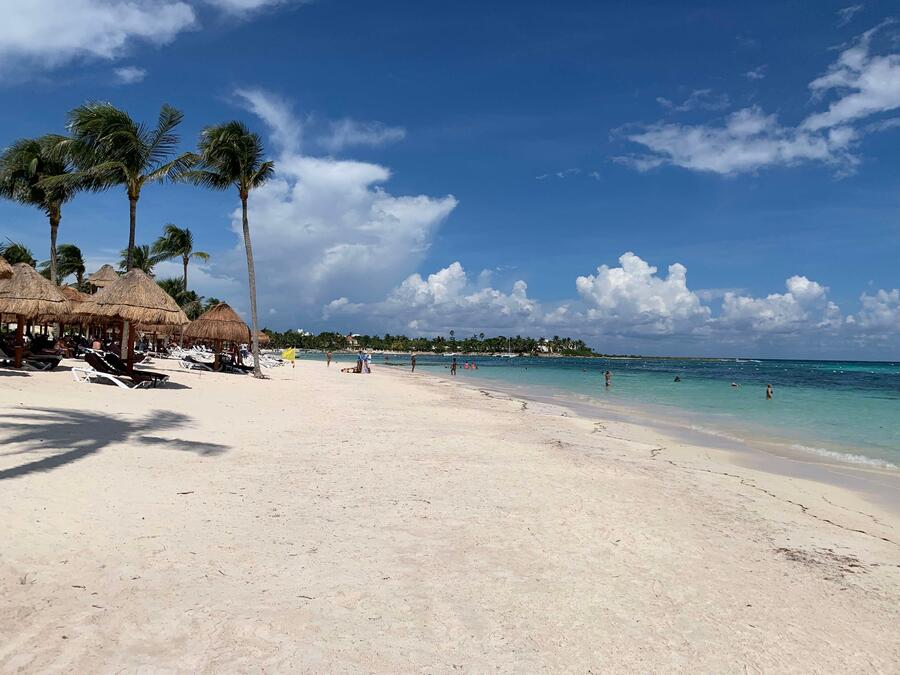 Now after spending time in these beautiful places, with swimmable turquoise Caribbean waters as an inviting backdrop, I can understand and appreciate why some love all-inclusives, and there is no reason why you might enjoy them too.
With AMResorts, a few things are standard.  Unlike other all-inclusives, you don't have to wear wristbands, and everything is truly included. Those that cater to families will have kids' clubs and family-friendly facilities.  All have a core group of restaurants: Barefoot Grill, Coco Café, El Patio, Gohan, Portofino, Seaside Grill and World Café, but each resort has its own unique offerings.  Most have a casual dress code but take note that some require formal.
Here's a survey of each of the four AMResorts properties on the Riviera Maya: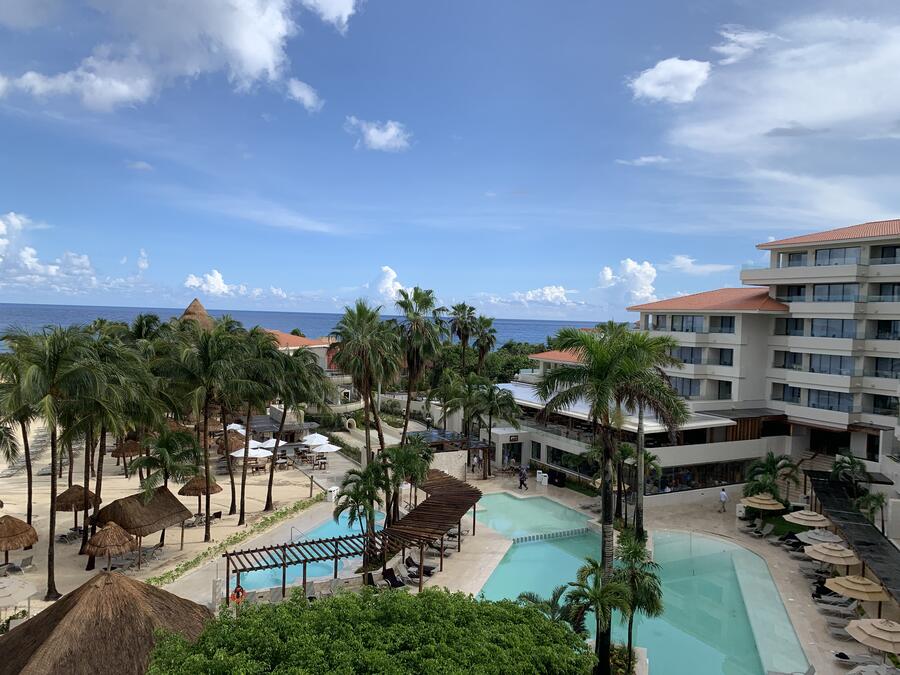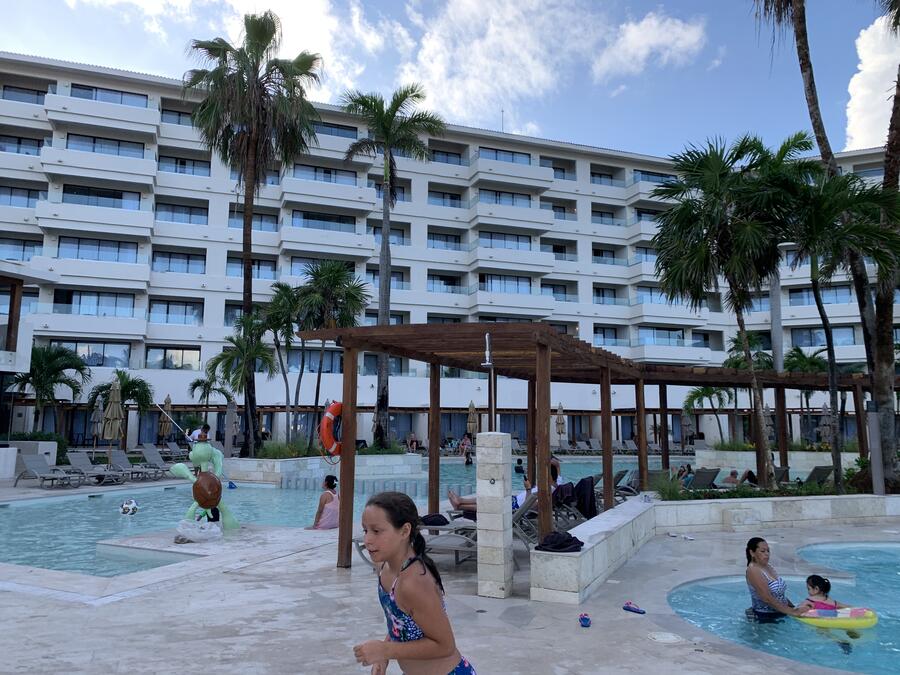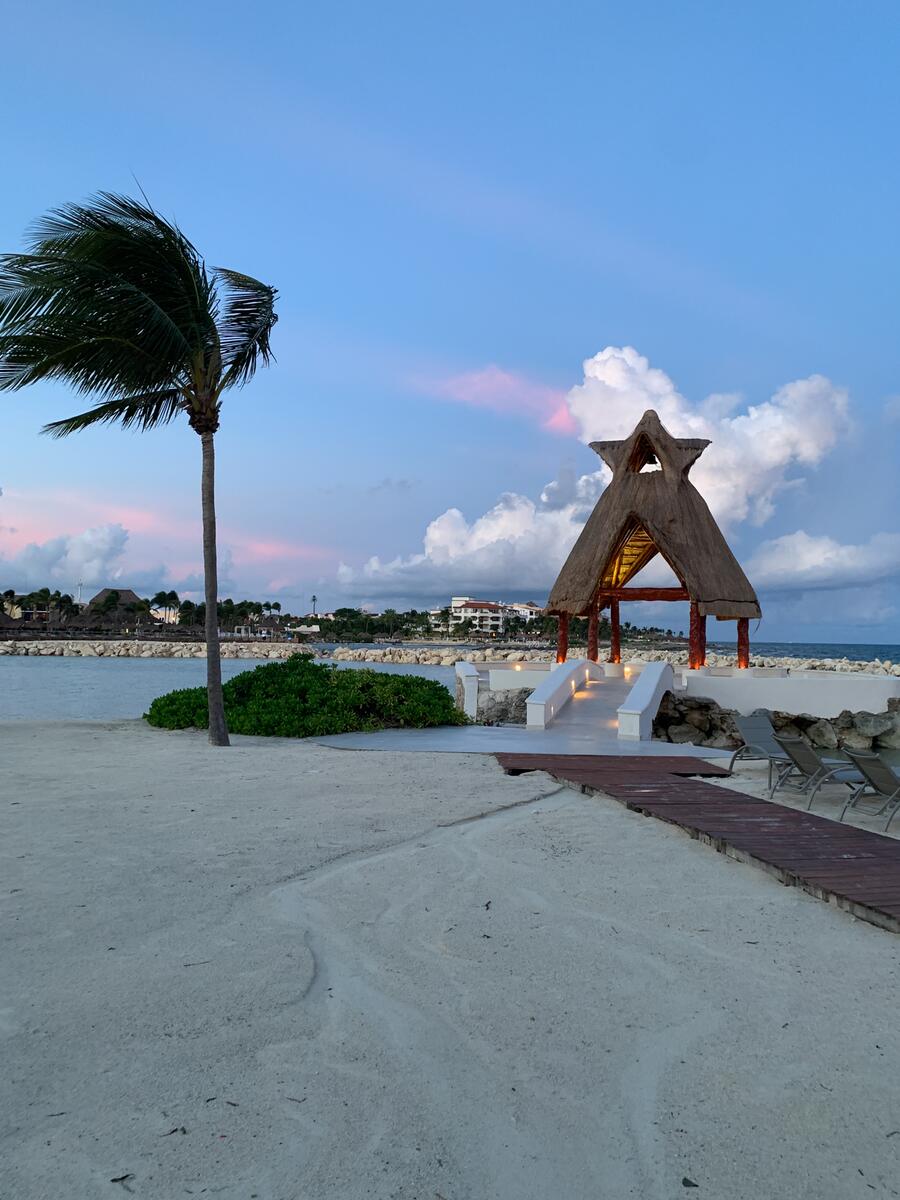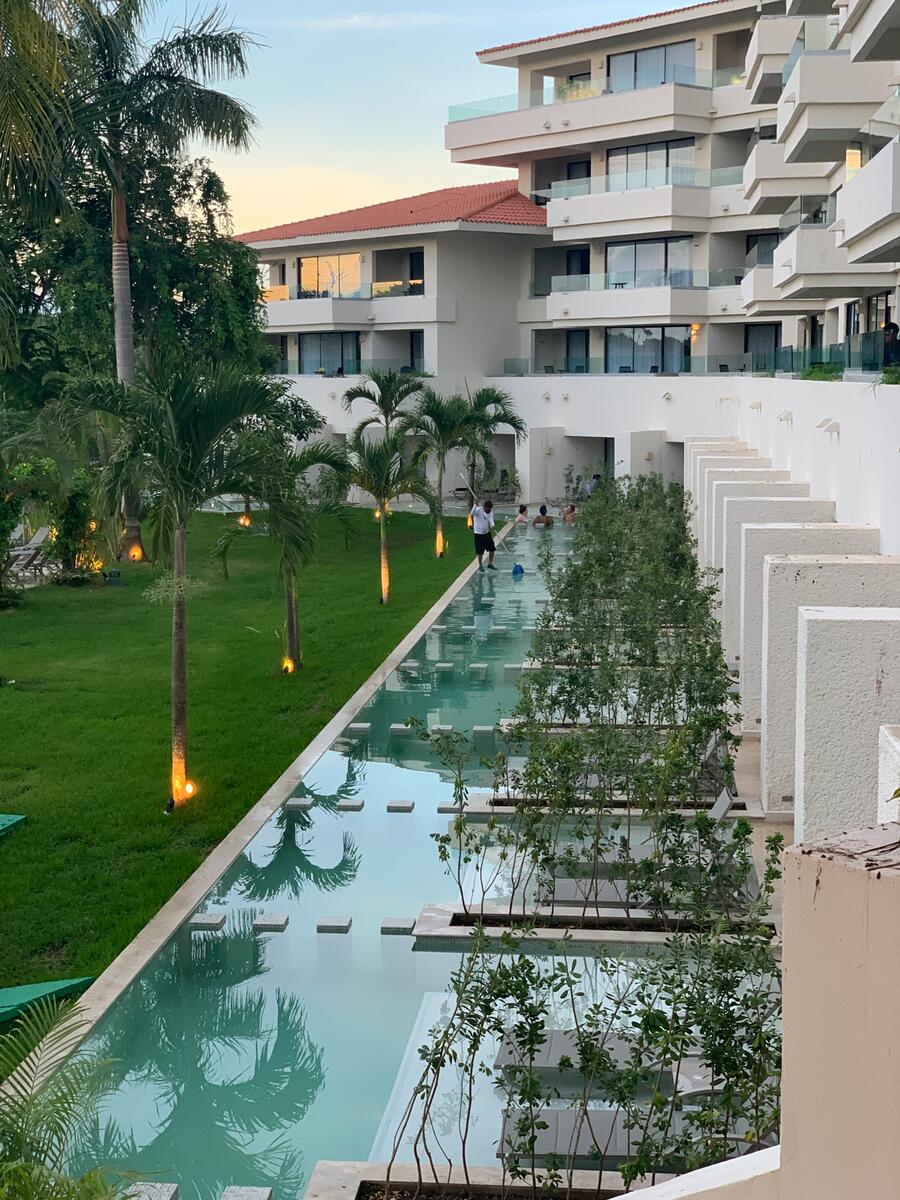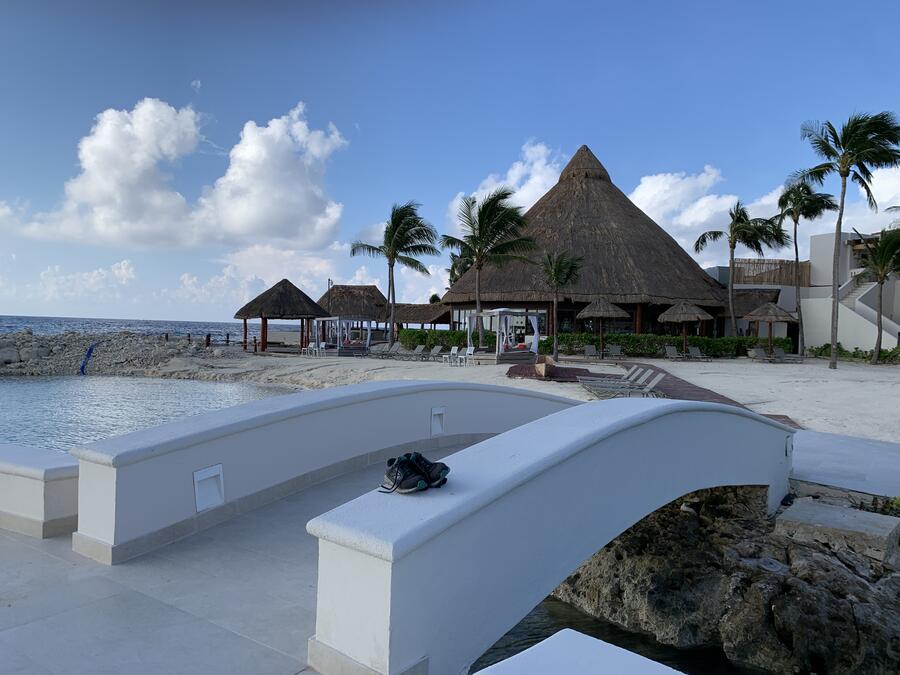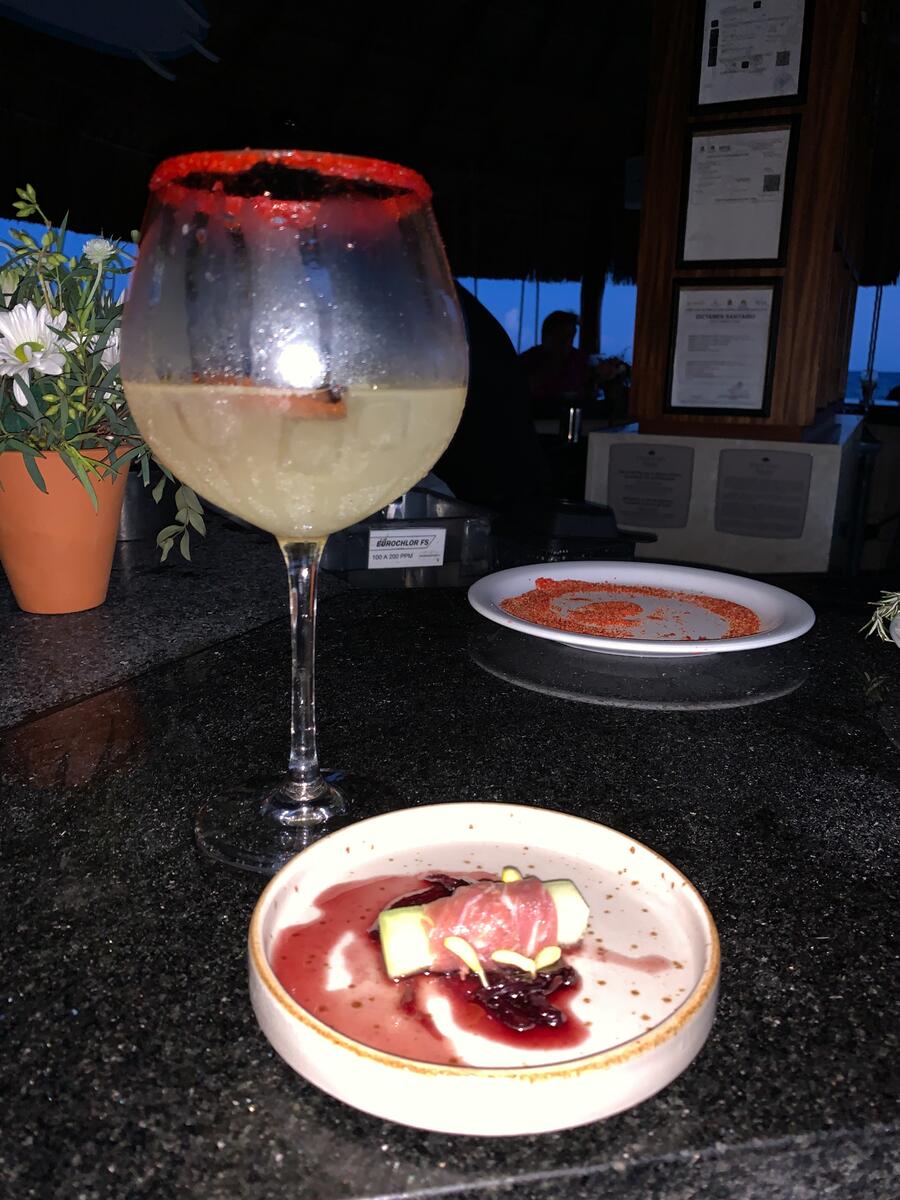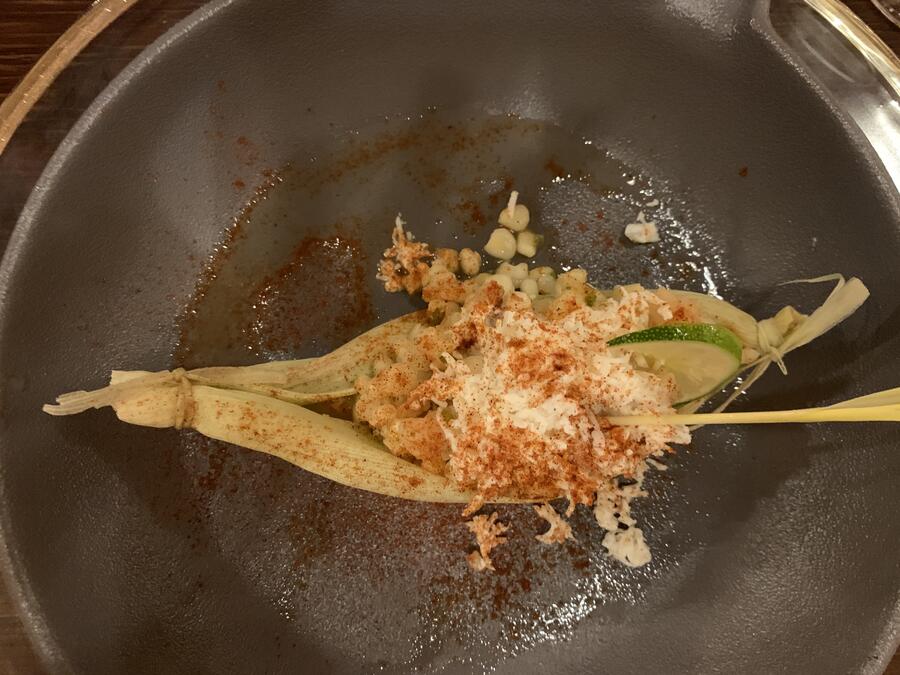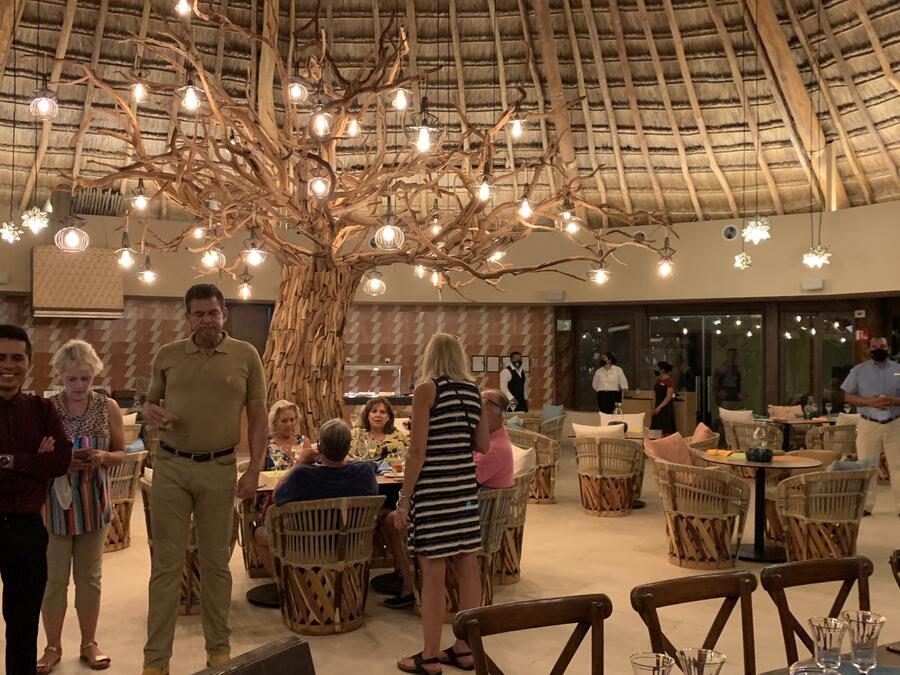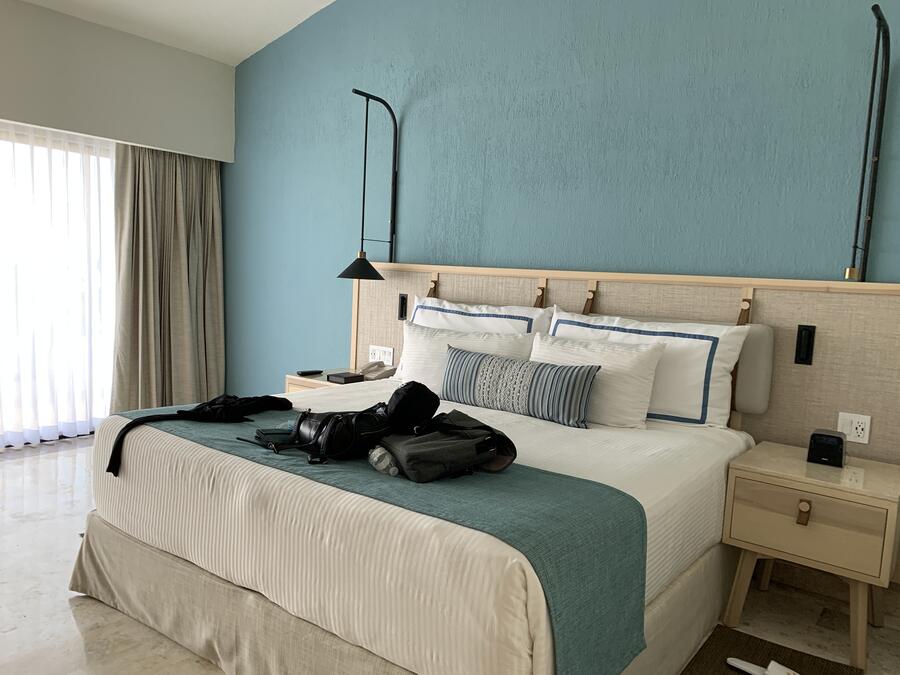 Dreams Aventuras Riviera Maya
This was our home base for the two nights before the start of the Cruise Planners convention.  Arriving the hotel from the Cancun airport, I got to relax a bit before enjoying a cocktail and dinner at El Patio.  This meal was excellent, with Mexican corn (elote), a creamy potato and squash soup, rib eye with mole, and churros with cinnamon ice cream.  But I only had breakfast for the rest of my meals here, and it was basic pastries, fruit, and coffee.
While this place has been remodeled, it's still moderate in its environment – nothing too fancy or elaborate.  This would be a good option for families looking for a safe beach to enjoy.  The rooms are clean, modern, and spacious.  Some can even be booked together to create a suite, which would give everyone plenty of space.  There are also dedicated areas for kids to swim and splash around, including a lagoon pool area and waterslide.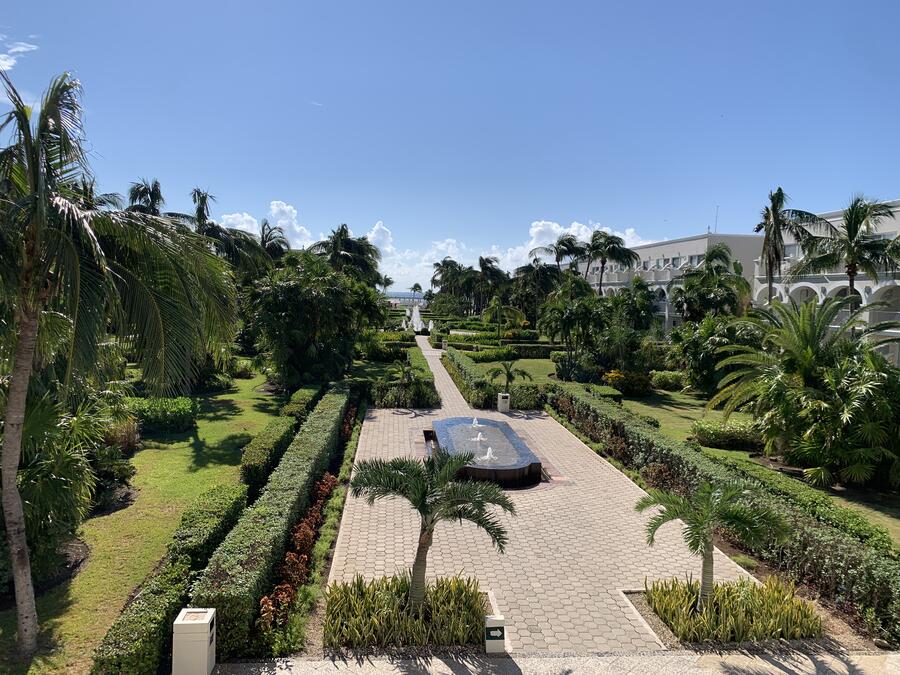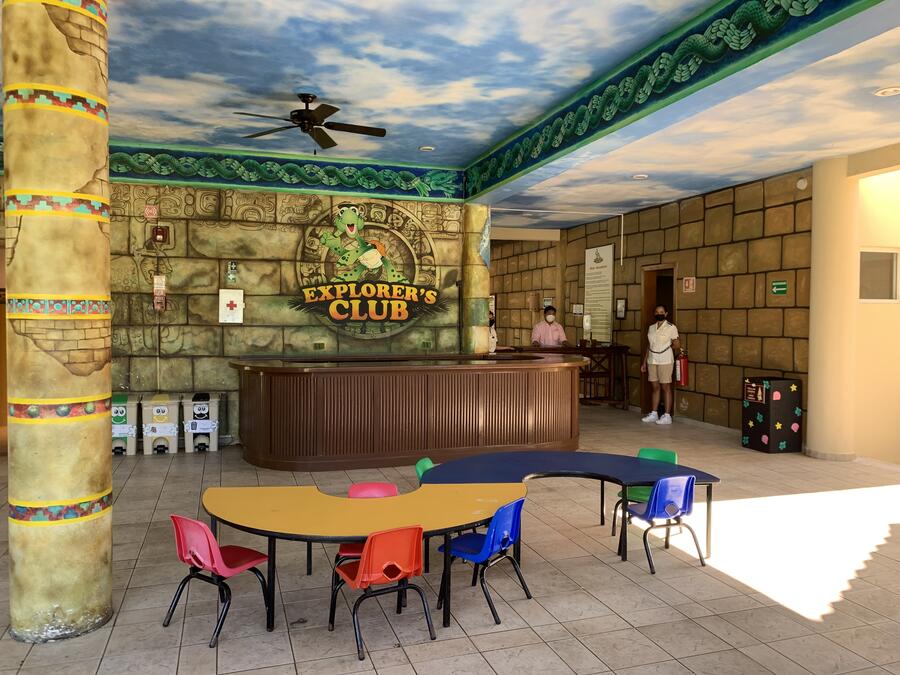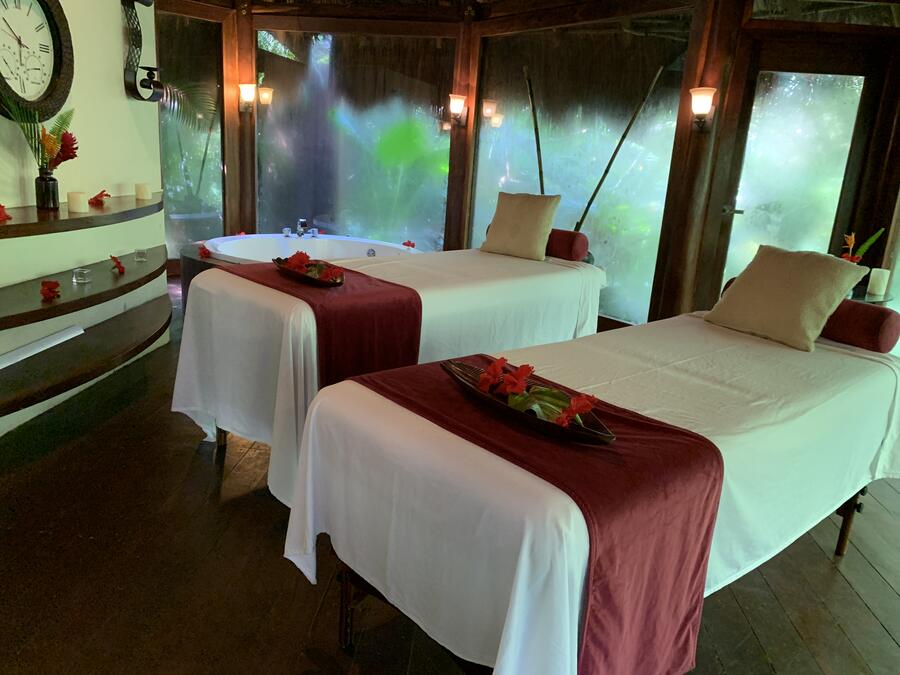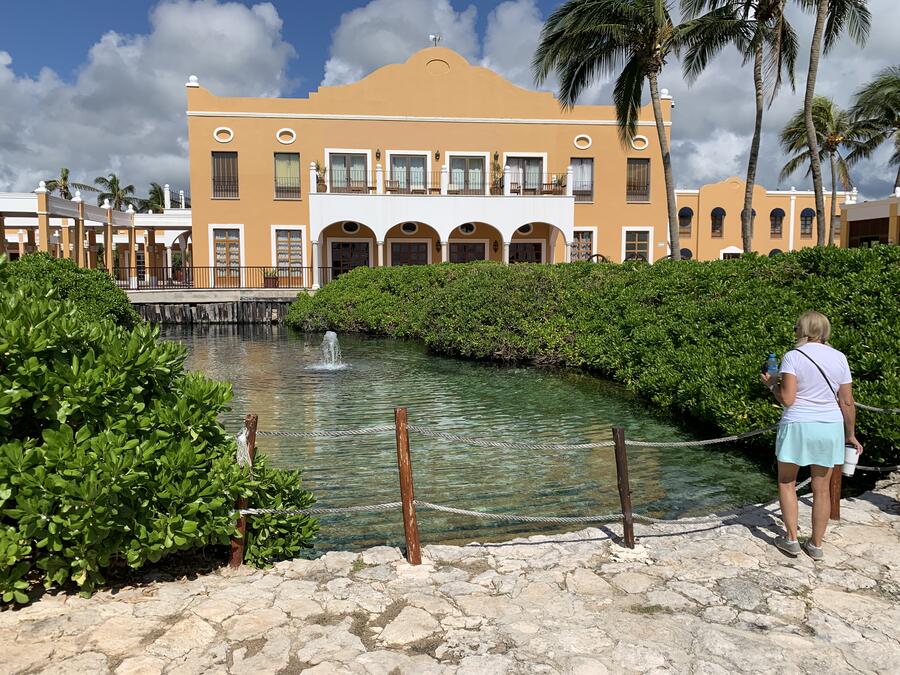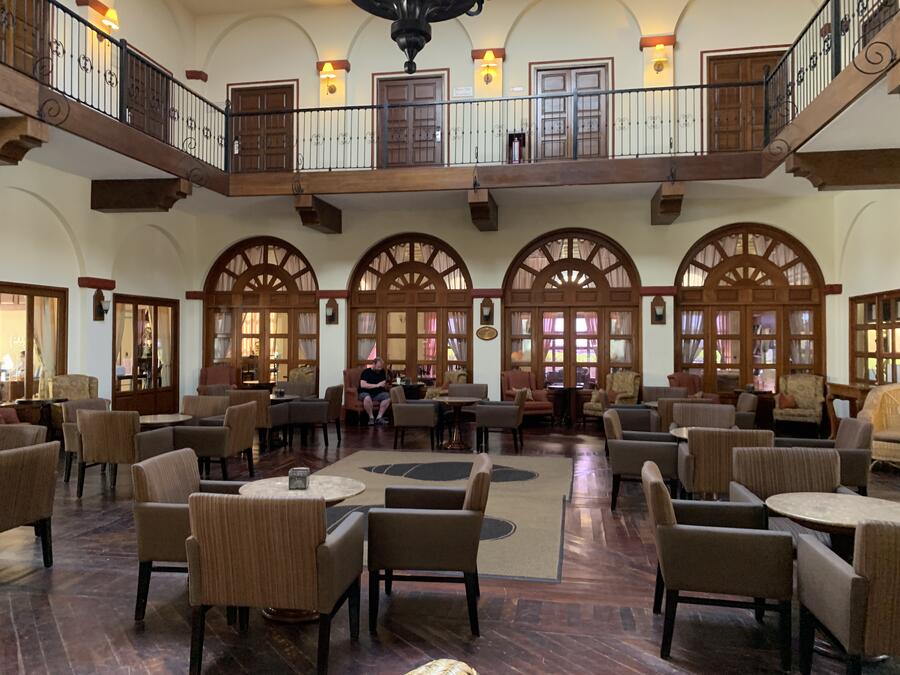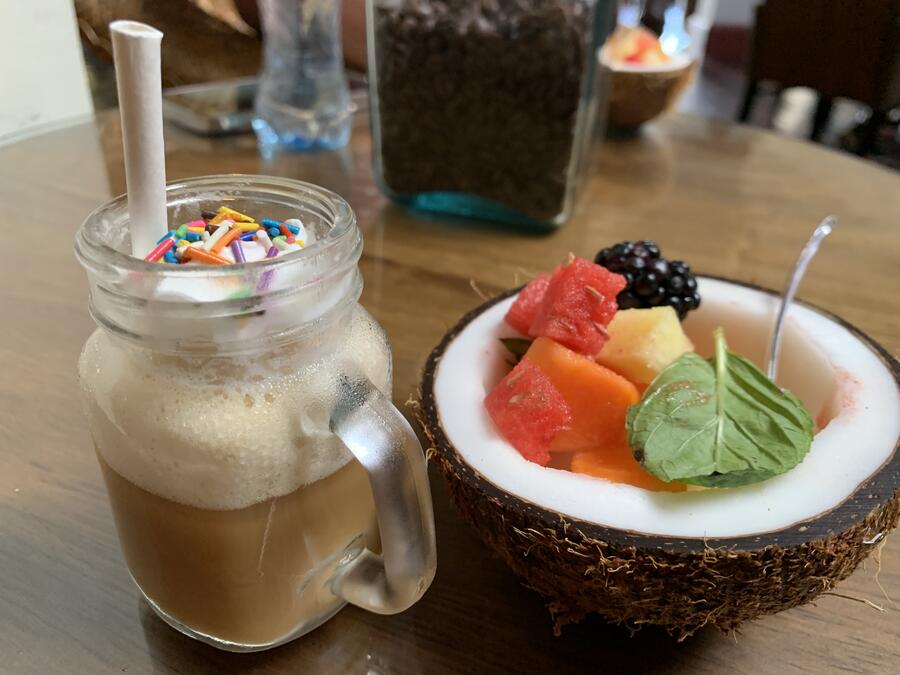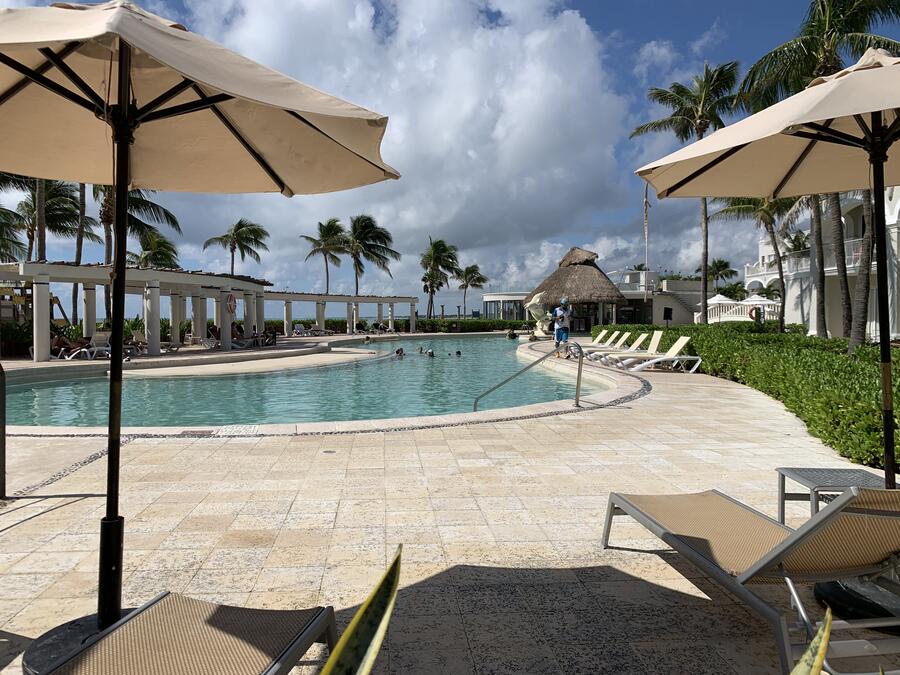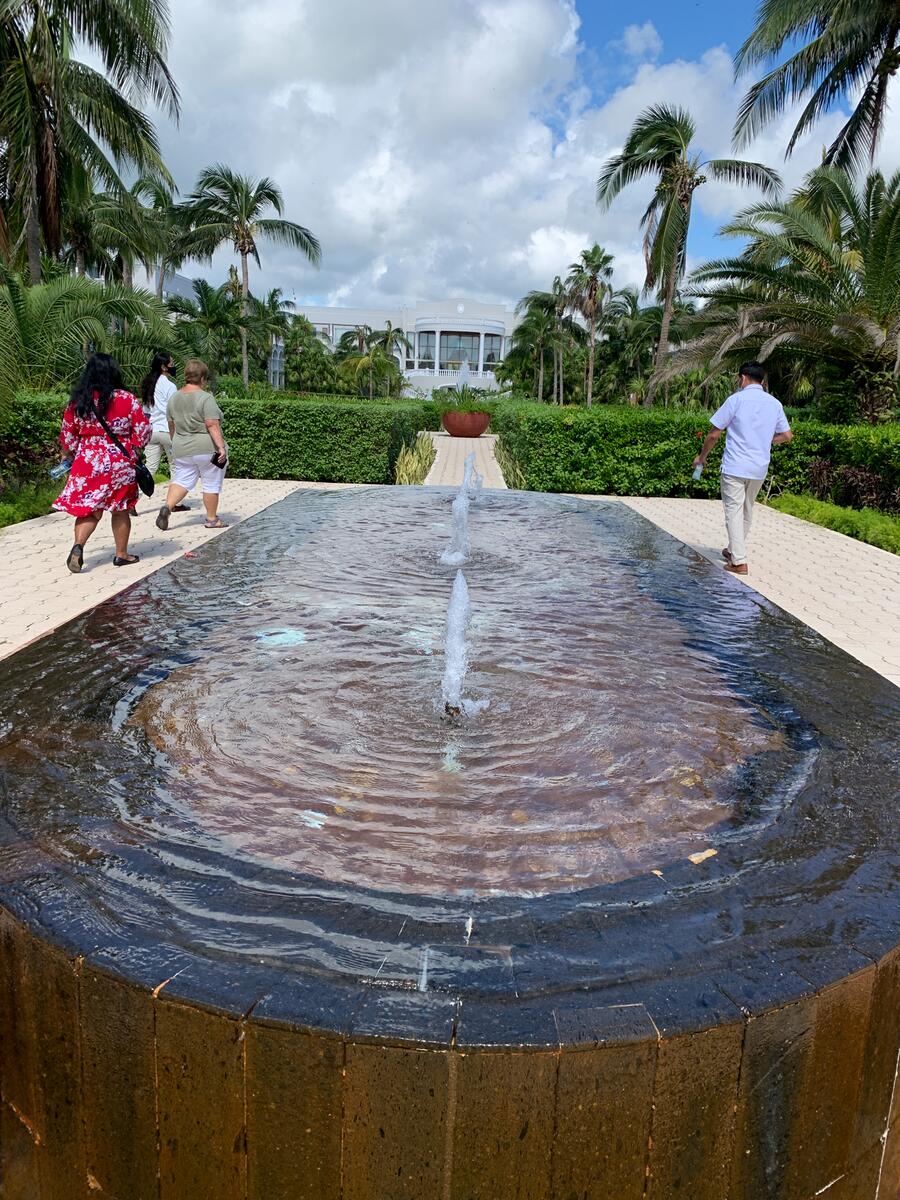 Dreams Tulum
This resort incorporates the surrounding environment as part of the guest experience.  There are boardwalks going through tropical greenery, with descriptions of the kind of animals you might see there.  It's also part of the spa treatments, especially for those who choose couples' massages or girlfriend getaway packages. You can enjoy your time in a private hut, each with its own themes.
Like Dreams Aventuras, Dreams Tulum is designed for families.  Two or more rooms can be booked together as a family suite.  There is an elaborate kids' club and waterpark area for 5-to-12-year-old children and lots of options for all-ages entertainment.  Shuttles run between the Tulum ruins and the Xel-Ha, a giant waterpark about 45 minutes away.  Most of the general use pools are toward the beach, which makes it a convenient choice to go from pool to ocean in just a few seconds.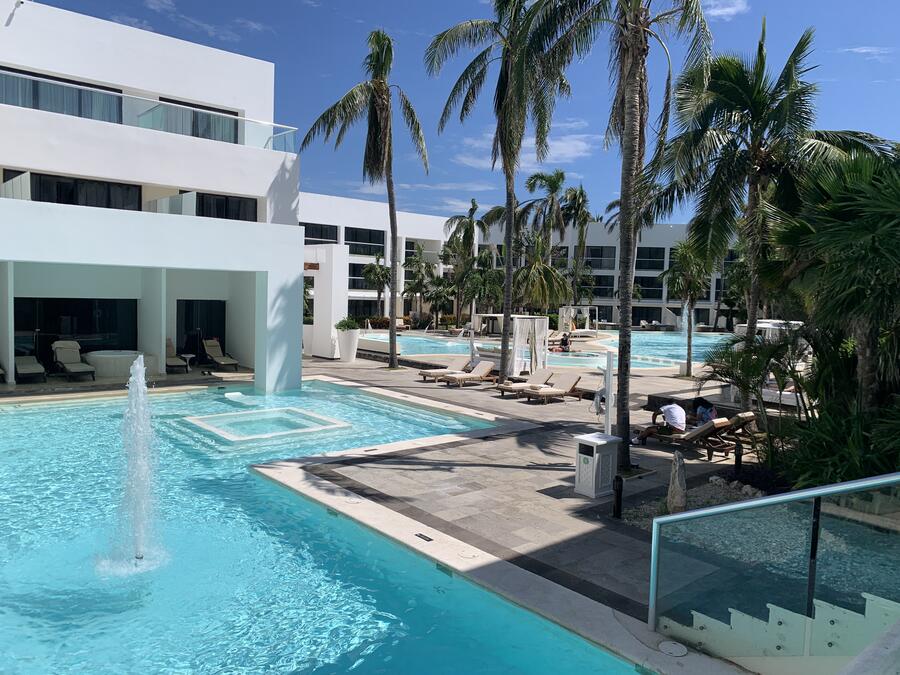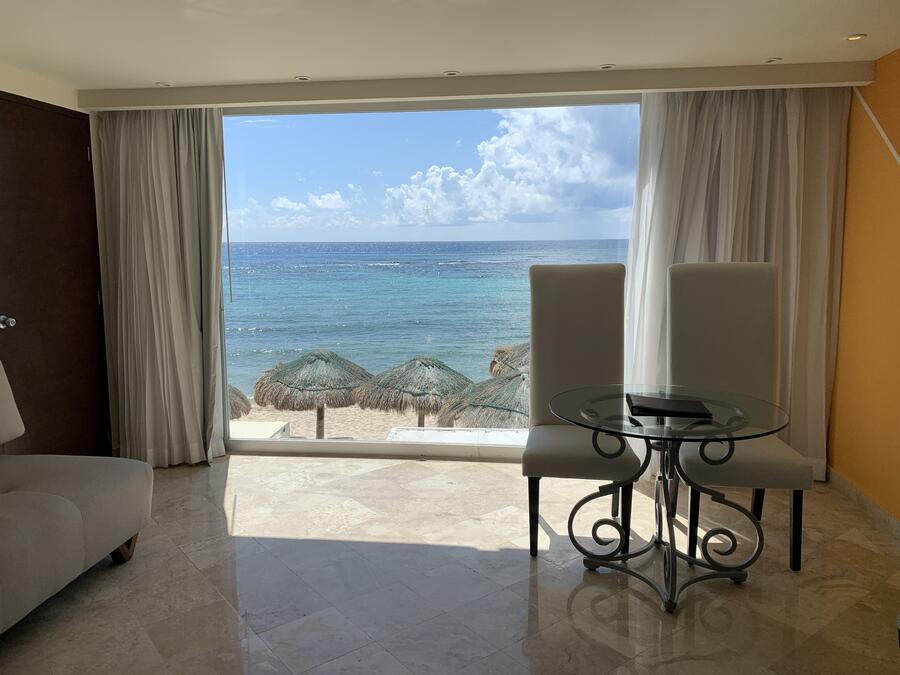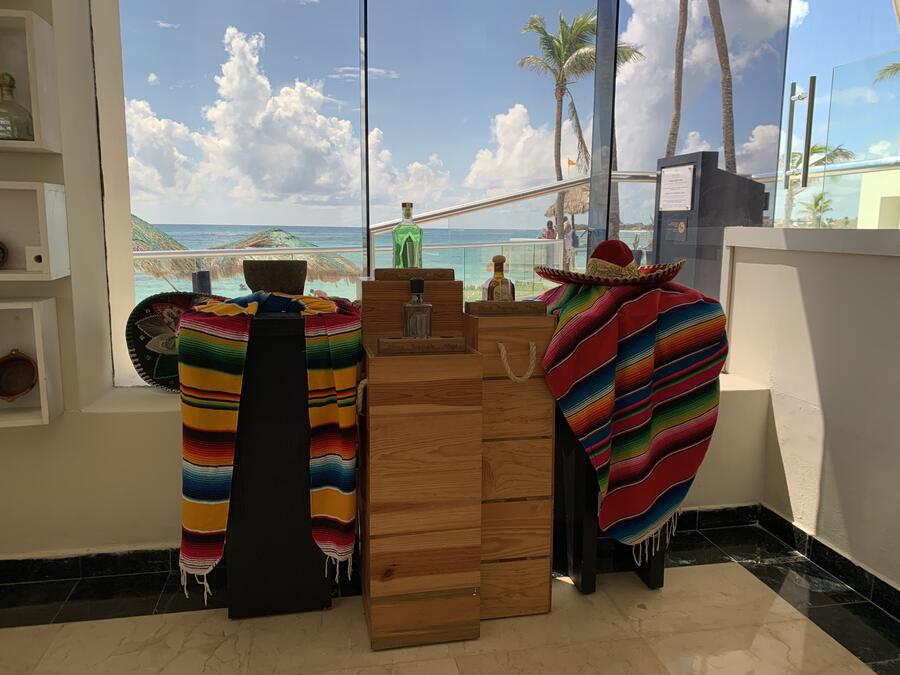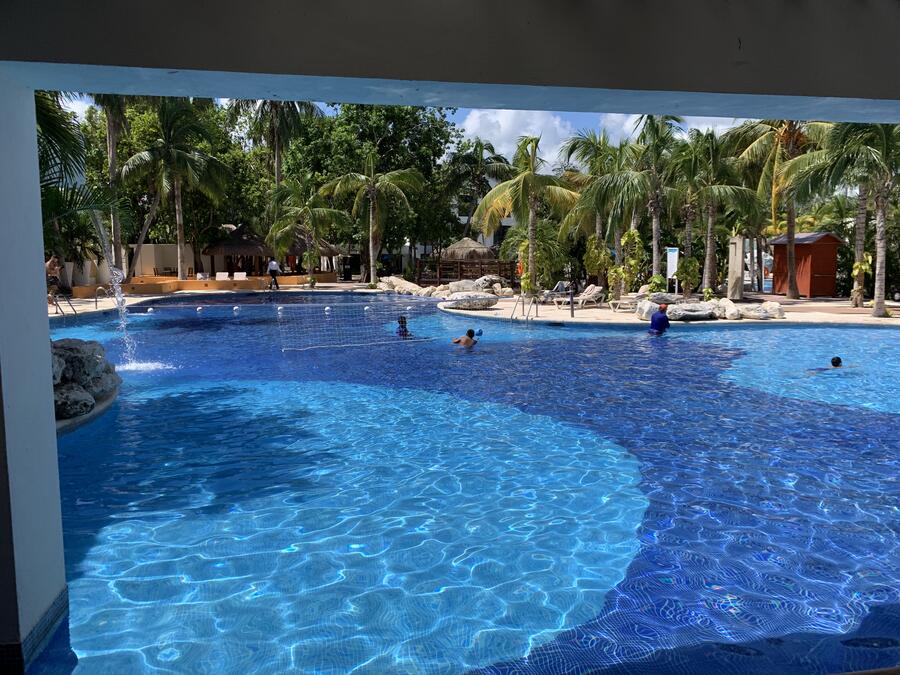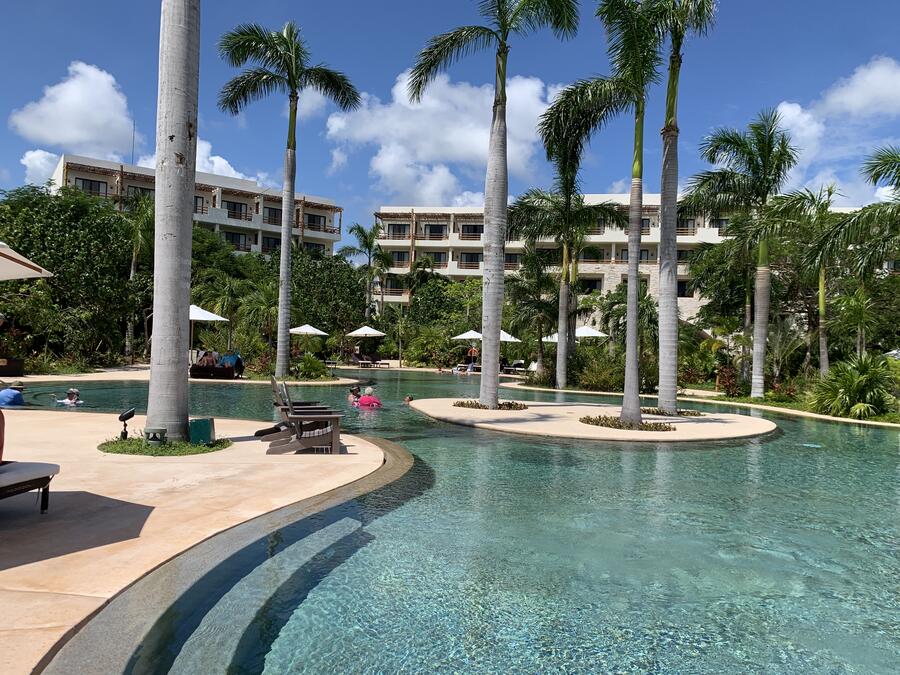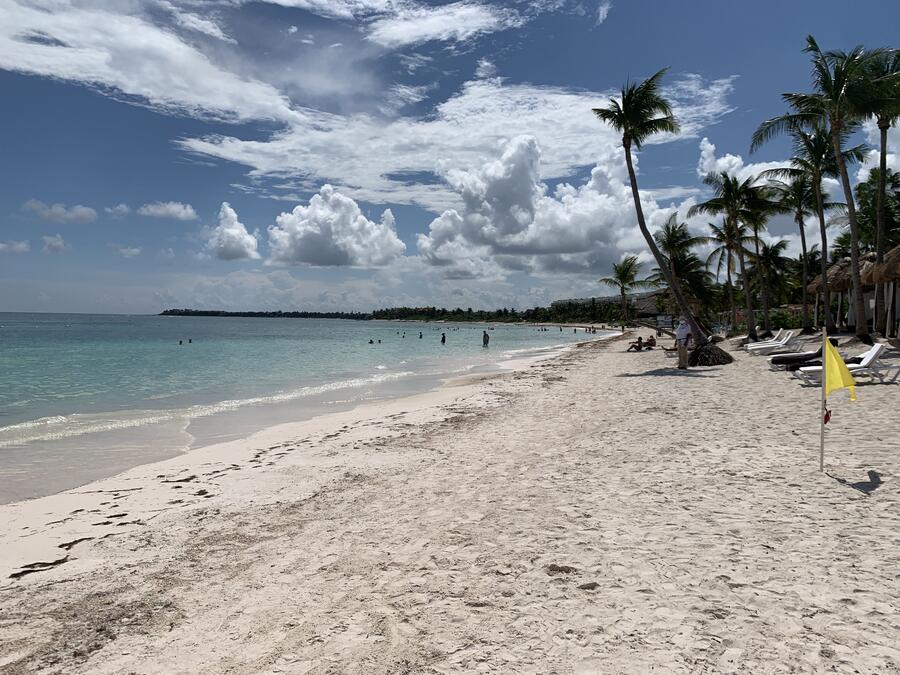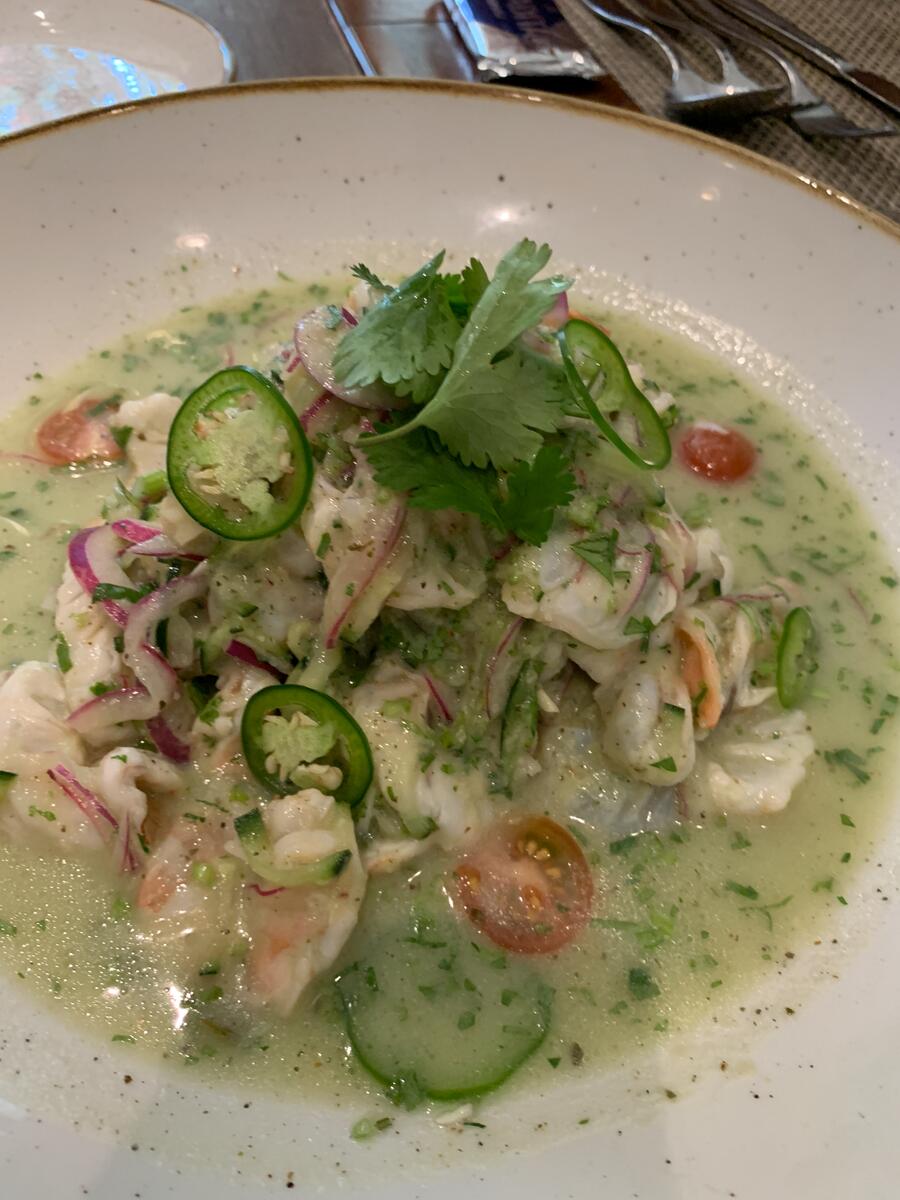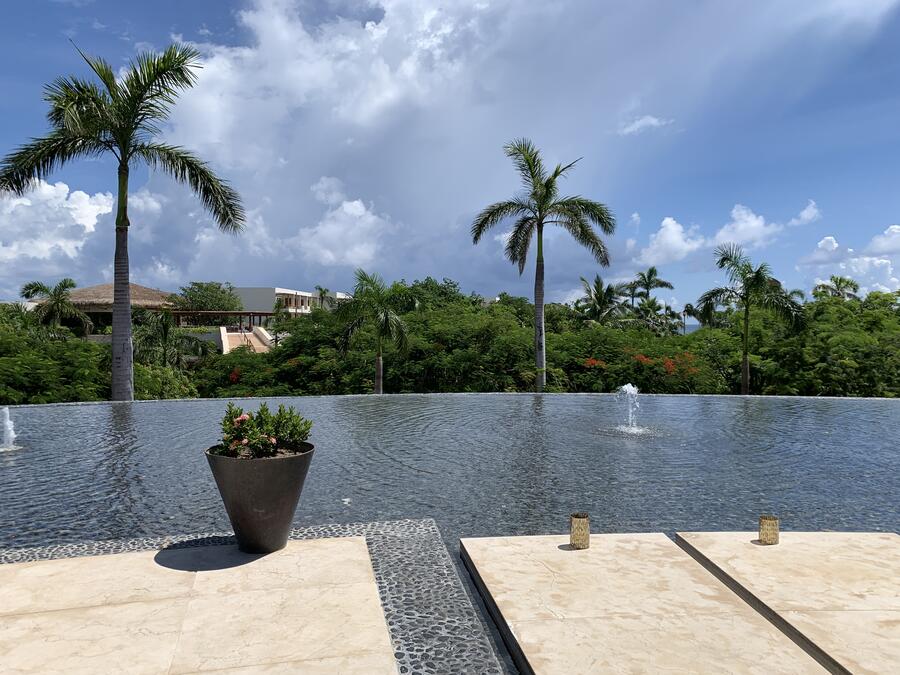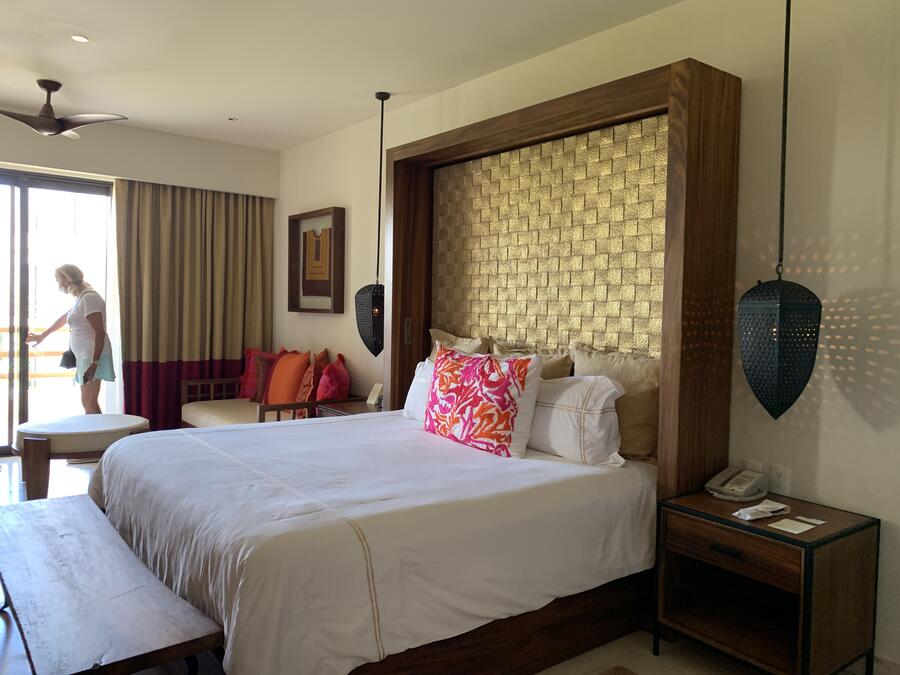 Sunscape Akumal/Secrets Akumal
AMResort's Sunscape is a great value for families and multi-generational travel.  Except for the dark wood interior of the lobby, this resort is bright and white, with one of the best beaches in the world (Akumal) as its backyard.  An extensive network of swimming pools surrounds the resort, with a pirate motif and kids' swim-up bar (serving non-alcoholic slushy drinks). 
A few miles up the road is Secrets Akumal.  The Secrets brand is adults only (21 and up), so it has a decidedly more grown-up feel to it with local woodwork in the interiors and and a more tranquil environment.  I personally enjoyed this resort and would recommend it to anyone looking for that kid-free experience.  The pools are close to the ocean and each have their own feel and vibe, depending on what your energy level and fancy are.
Our lunch here was superb.  We enjoyed cream of corn soup and a trio of seafood appetizers – ceviche with vegetables, shrimp with lime vinaigrette and tuna tartare. These could have been meals themselves, but we also ate grilled salmon and sea bass as well as a chocolate lava cake with sesame ice cream and a cold Mexican chocolate drink.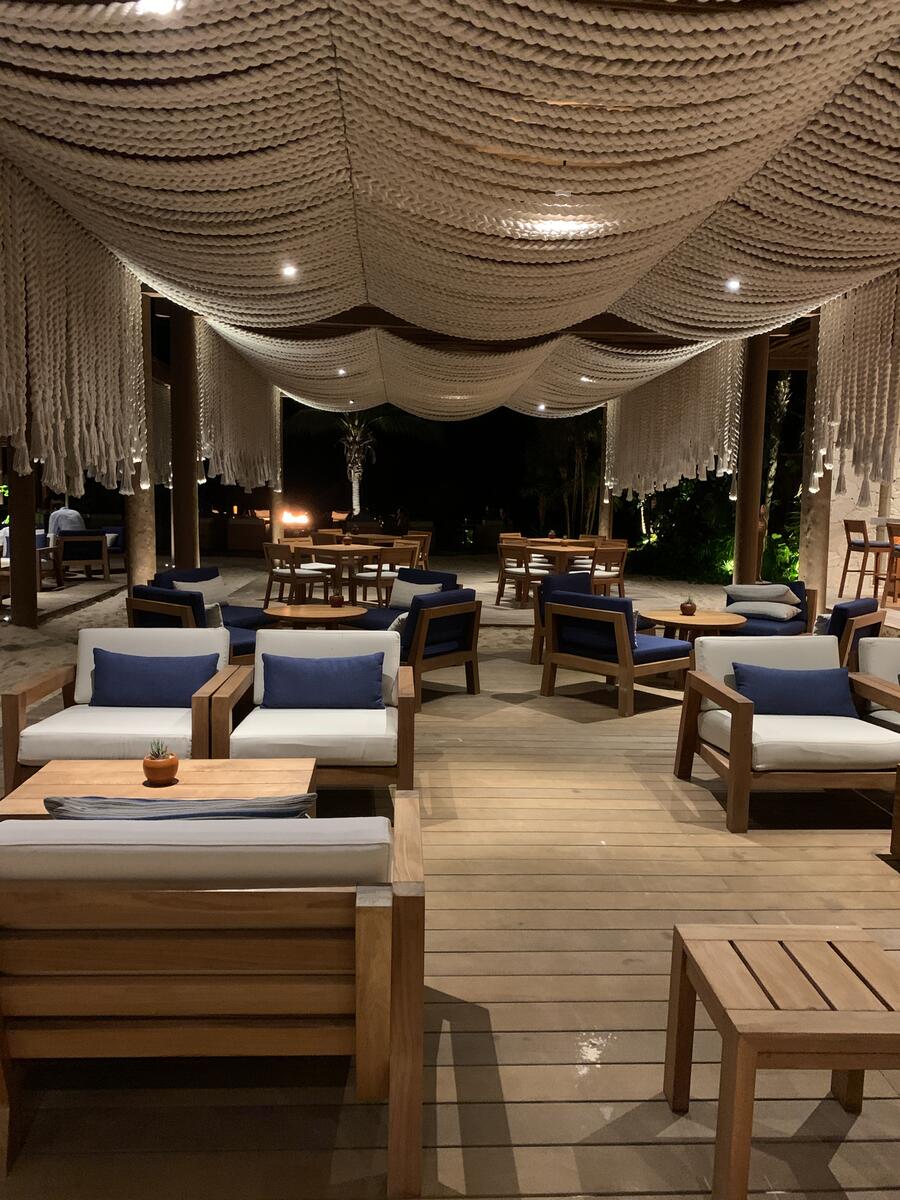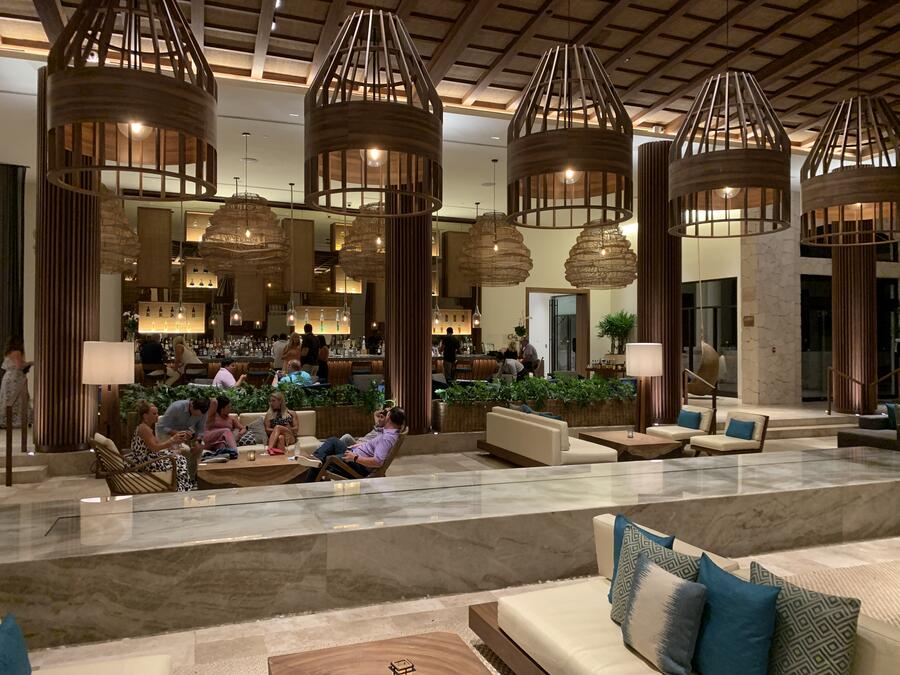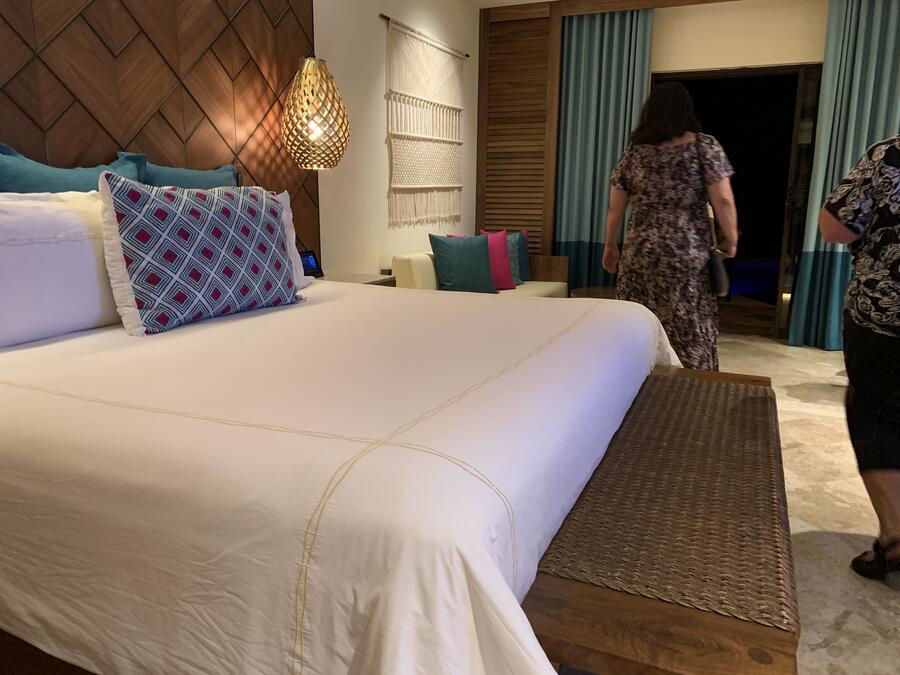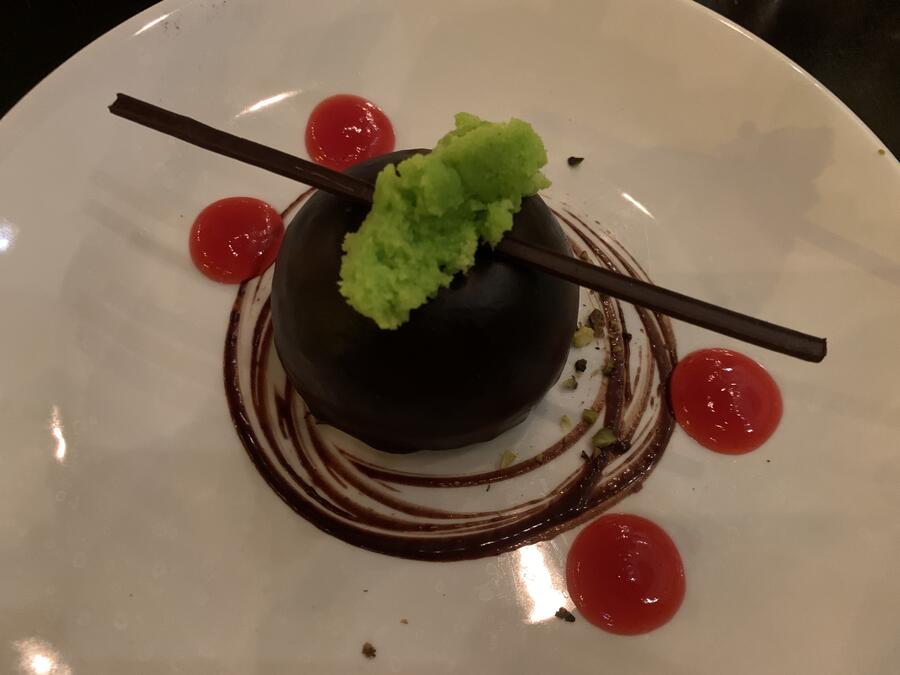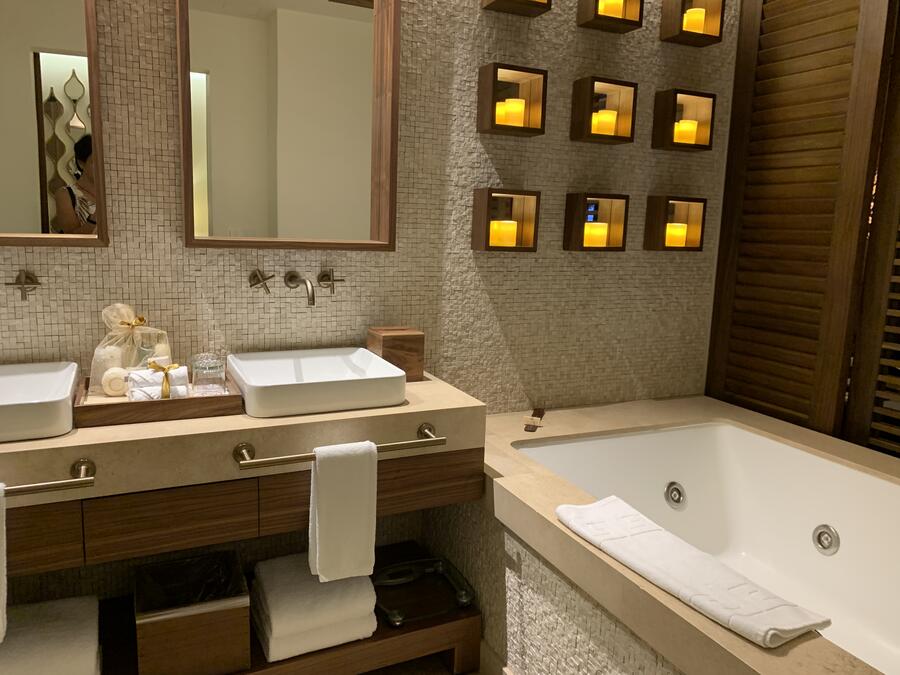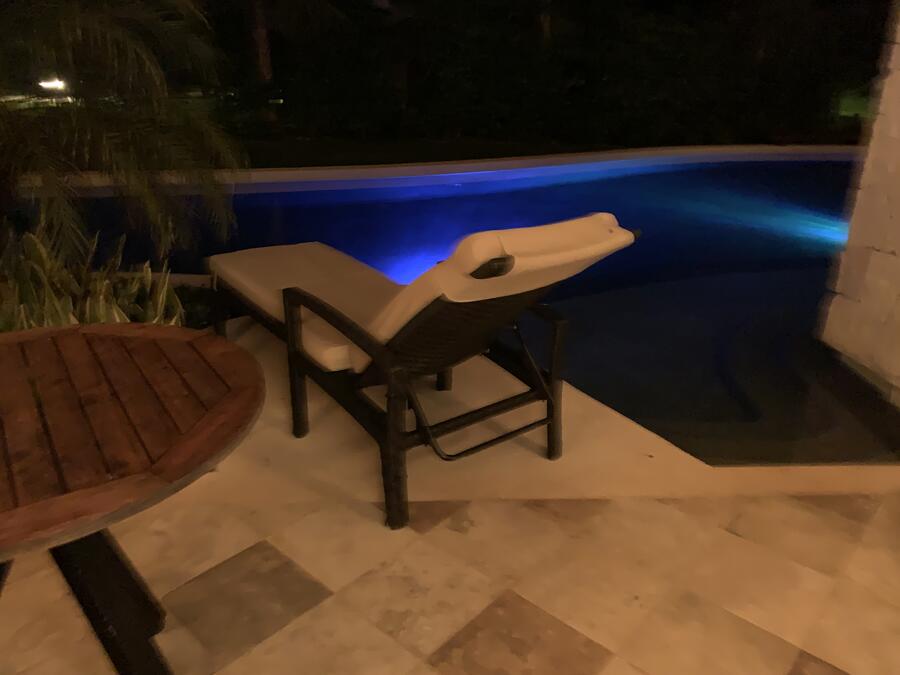 Secrets Maroma beach
Located on another world-class beach, Secrets Maroma Beach is an extensive property that is slightly more energetic than Secrets Akumal.  But it still has the feel of a luxe adults-only getaway, especially if you choose to stay in one of the Preferred Club suites, which gives you ocean views from your room and access to an exclusive beach lounge (Secrets Akumal has this luxury option as well).
Our dinner here was another sampling of what the resort chefs can accomplish.  We dined on spring rolls, Caesar salad and another variation of corn soup.  I then chose mahi-mahi, which was perfectly grilled and flavored just right, and finished everything off with a pecan tart and Mexican chocolate ice cream.
If you didn't think you could ever be an all-inclusive traveler, you just might want to give one of these AMResorts on the Riviera Maya a try.  I personally liked the Secrets resorts, and wouldn't mind staying there at some point.
(Thanks to Carlos Gonzalez, business development manager, and all of the AMR Collection team for hosting this FAM trip for us travel advisors!)